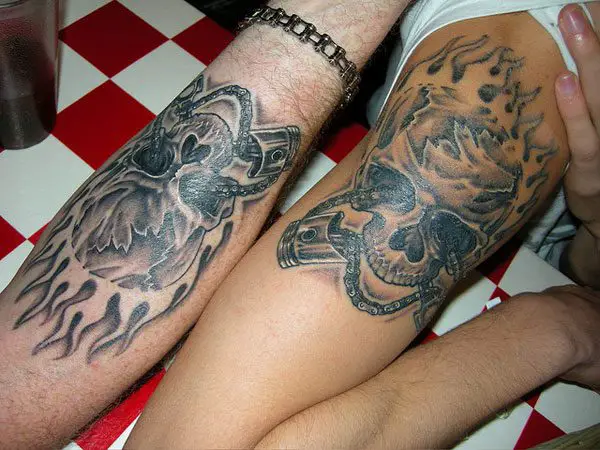 Tattoos are mediums of expressions and are used by people to give vent to their feelings and passion they nurse in their heart for a particular object or a hobby. Biking is one such hobby that is given a shape trough the body art and we call it as biker tattoos. Biker tattoos are worn by the bikers on their body parts to symbolize the skill and craze they possess for biking. It is worth mentioning here that at times the biker tattoo are confused by the people with gangs or prison tattoos which is not true and this tattoo is entirely different from them.
The biker tattoos include designs of bikes and brands to which a biker associates himself with or has been riding for long.
Apart from this, flames, eagles, skulls, the biker cross, etc. are also a very popular choice for the bikers. These symbols represent the freedom, passion, adventure, fun, and fearlessness the bikers carry with them throughout their life. If you are interested in finding out more about other biker tattoos designs then here is a post featuring 25 cool works. Have a look and see for yourself the amazing body arts.
If you like this article, you might be interested in some of our other articles on Chopper Tattoos, Outlaw Tattoos, Gangster Tattoos and Hispanic Tattoos.
Father And Son
The duo share the same passion for biking and have got themselves inked on their arms to give it an expression.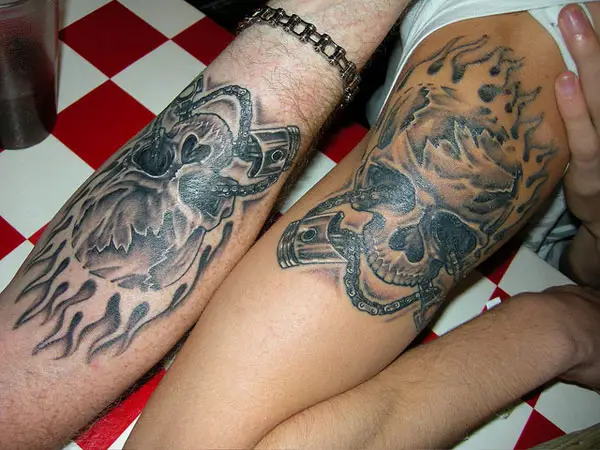 Biker Back Piece
This expansive tattoo having three bikers, riding away on their bikes, depicts the Old School biker life.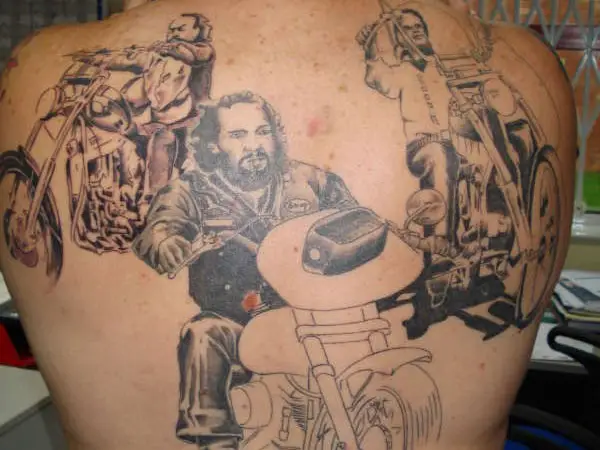 Full Sleeve Tattoo
This biker has got a phoenix in flames, carved on his arm, along with his name which is a symbol of resilience and fighting spirit; the hallmarks of a biker.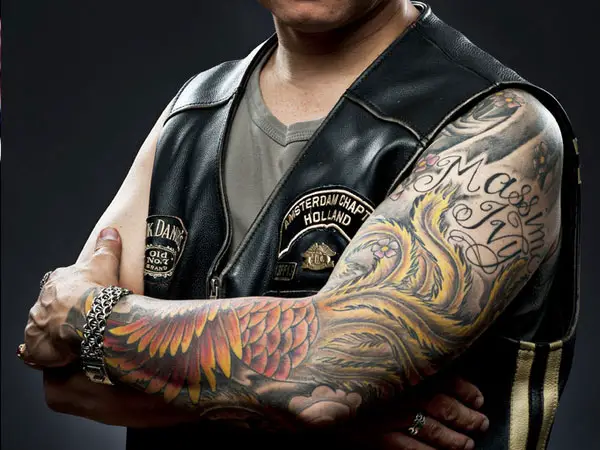 Bike Rider
The biker riding a Harley Davidson bike with his full tattooed arms displaying a tribal design makes for a cool portrait.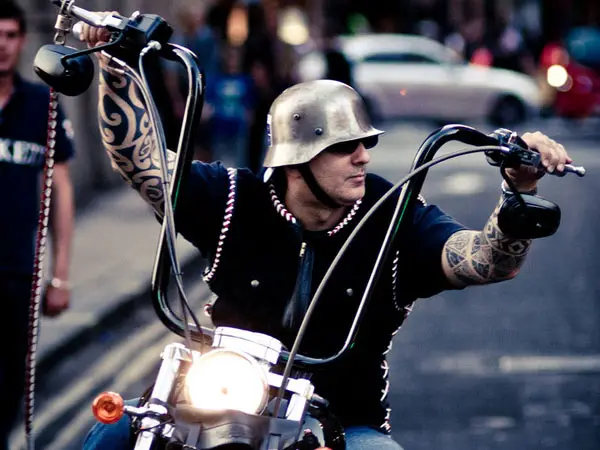 Bike Rider
Robust Biker Tattoo
The hefty biker shows off his bicep tattoo that has a biker cross with skeleton faces; symbolizing freedom and risk.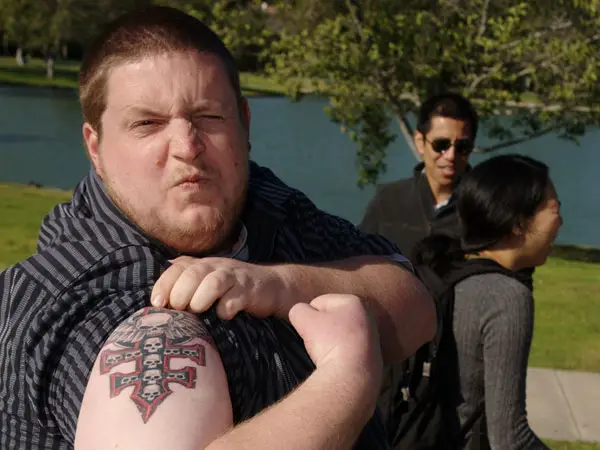 Symbolic Biker Tattoo
The dog skeleton riding a bike stands for the fact that we are all having a temporary ride on the earth as human beings and have to die one day.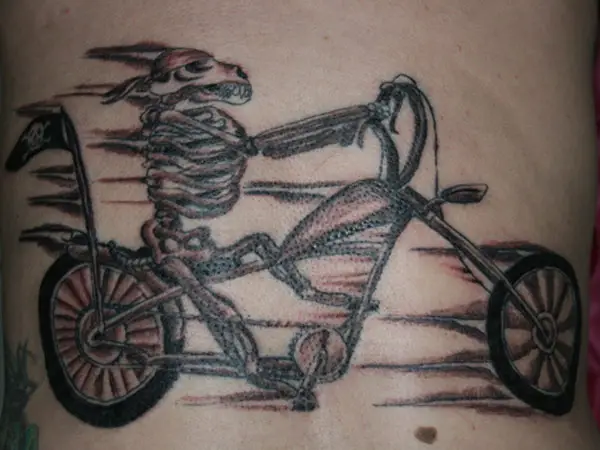 Rally Biker Tattoo
Another muscular biker with flames tattoo on his both arms; the traditional symbol associated with bikers.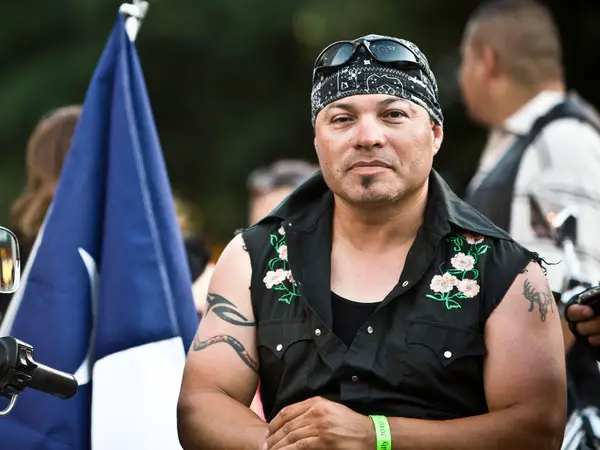 Outlaw Biker Tattoo
These three bikers, sitting on the back of the man, symbolize the risky and glamorous lifestyle of outlaw bikers.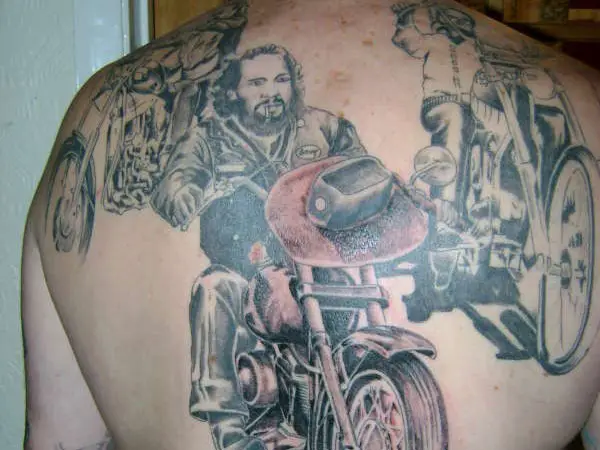 Biker Bicep Tattoo
Biker with flame design on his bicep that represents the blazing passion and raw energy of the bikers when they are on their bike ride.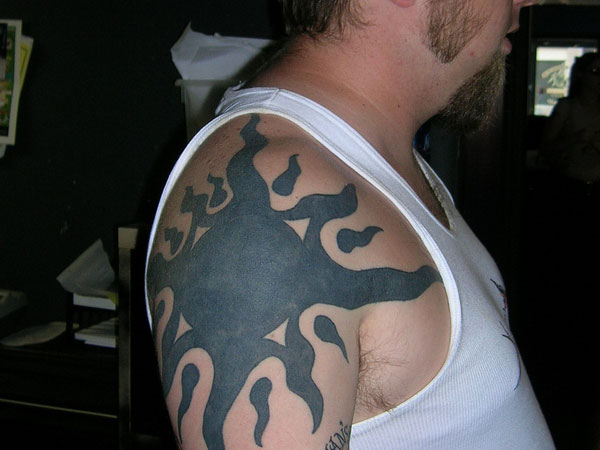 Ghost Rider Tattoo
This man got a creepy biker tattoo that has the face of a flaming ghost rider symbolizing the fearless attitude of the bikers.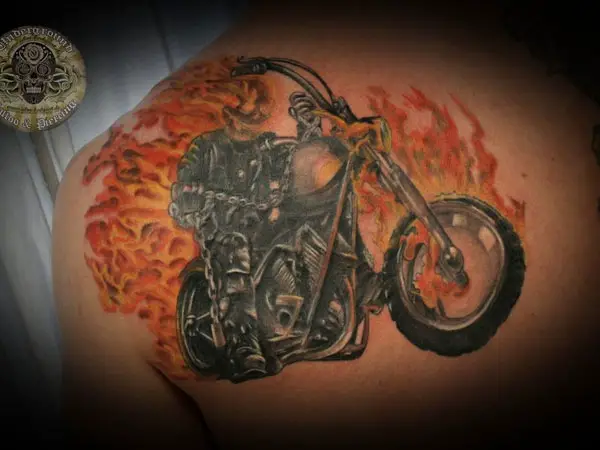 Simple Bike Tattoo
This man got a plain bike tattoo done on his biceps to give vent to his liking and passion which has come out pretty well.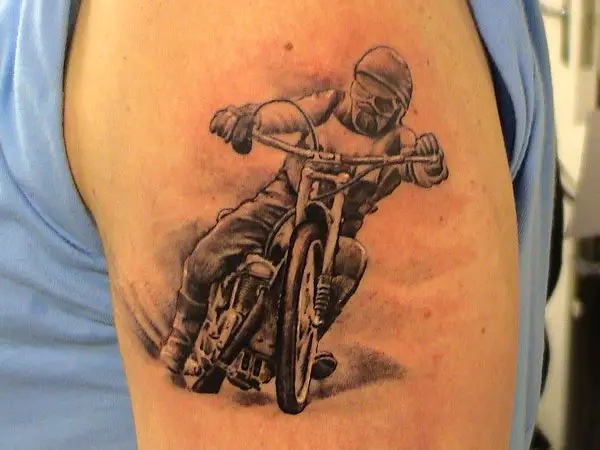 The Biker
The tribal design is also popular among the bikers and this guy has got the same badass body art on his arm.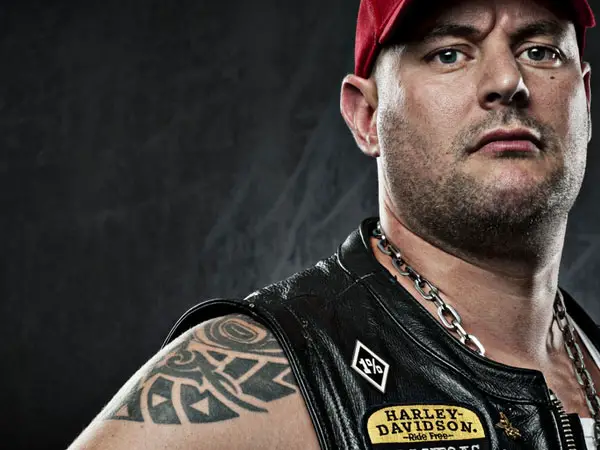 Getting Tattooed
The biker looks so happy to be getting inked because now he can wear his passion on his sleeve.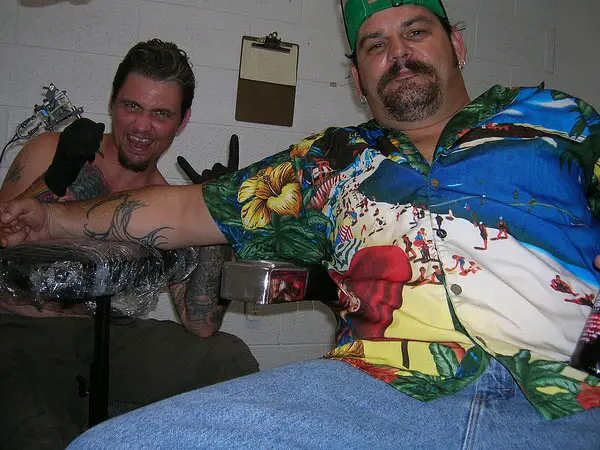 Cool Biker Tattoo
This is a very sporty tattoo with the biker doing a back flip action on his motorcycle that stands for adventure and fun.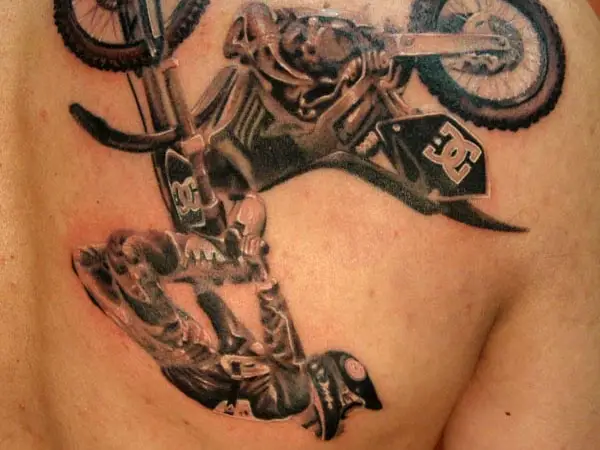 Cheerful Tattooed Biker
This Malaysian biker makes a lively gesture with his tattooed arms during a party that looks very pleasing.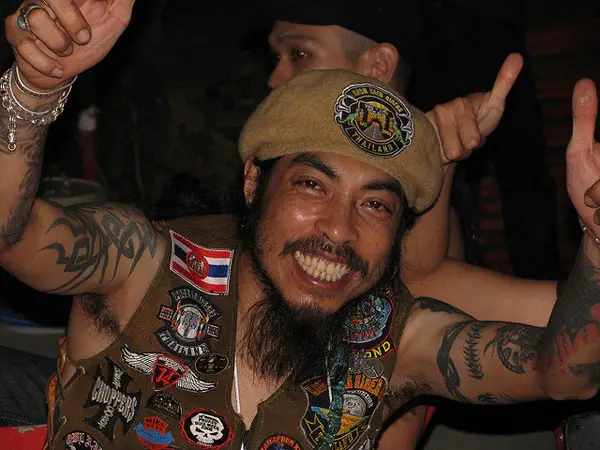 Biker Girl Portrait Tattoo
Sexy biker girl in a bikini standing tall against the heavy engine bike makes for an eye-catching portrait.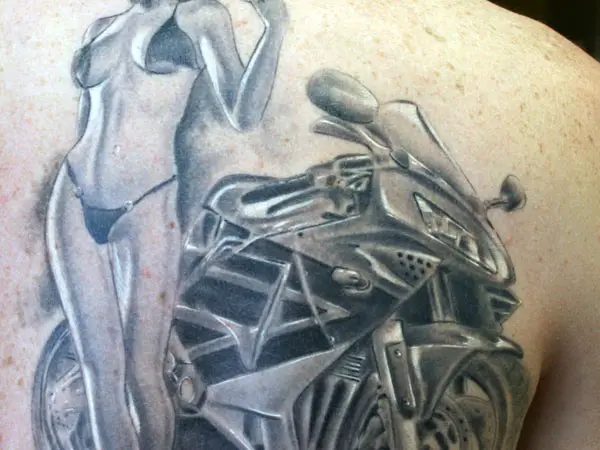 Ironhead
This biker is a Harley Davidson fan of the sportsters that were produced from 1957 to 1985 and has got liking carved as arm tattoo.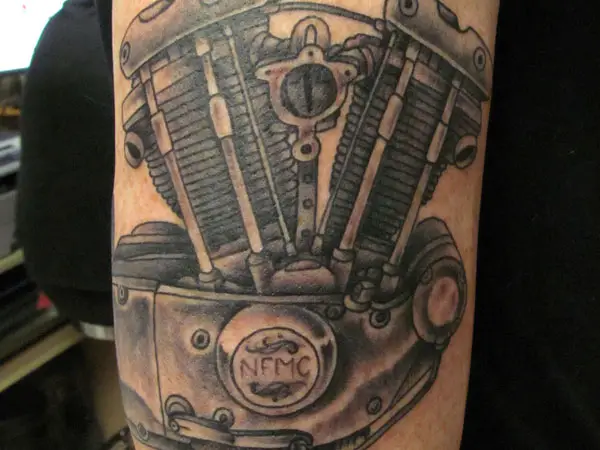 Fabulous Tattoo Idea
The eagle hovering over the biker is a symbol of the lofty heights a biker wants to achieve in his passionate rides.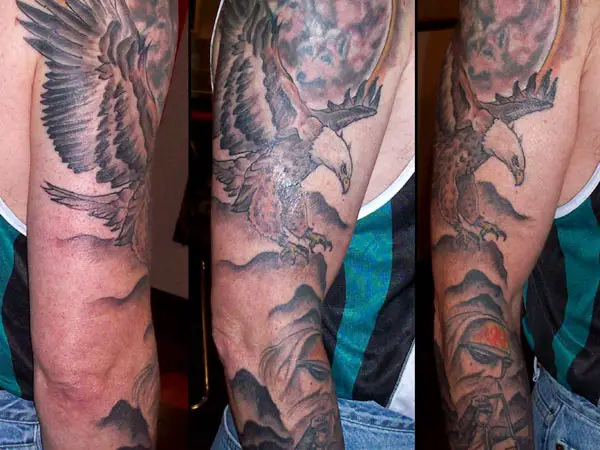 Leg Tattoo
A biker's motto with a flying eagle below it, carved as tattoo, motivates the biker to keep his passion alive and kicking.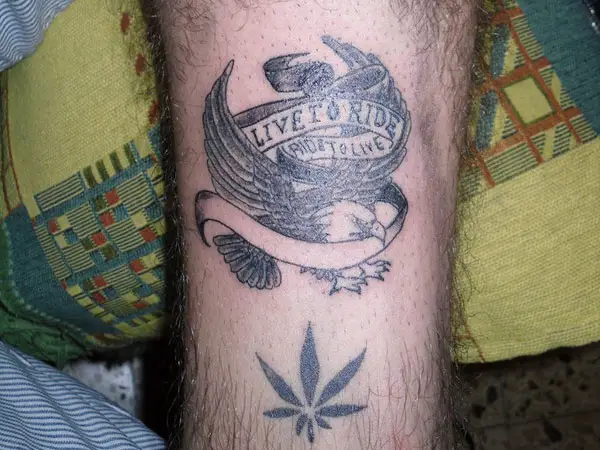 Shoulder Tattoo
The skeleton with flames around it and a cog at the bottom depicts the danger that bikers overcome with their skills and motivation.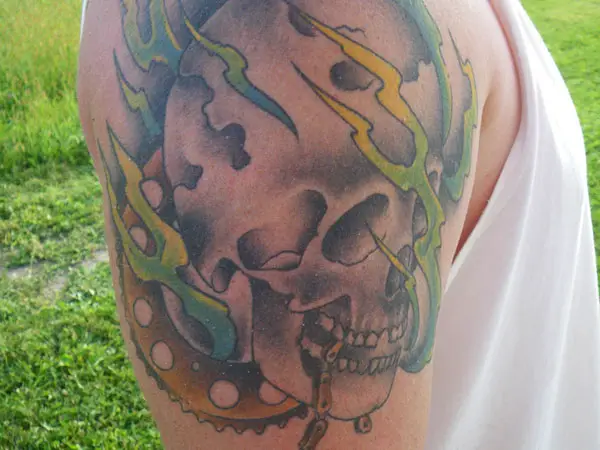 Biker Arm Tattoo
This skull tattoo along with a Latin phrase that means "I came, I saw, I conquered" brings out the victorious attitude inside a biker.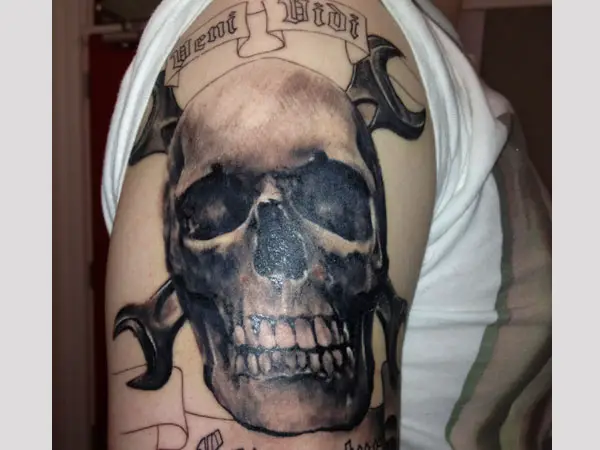 Skull Tattoo
Biker Rib Tattoo
The cog with a rider inside it represents the fact that the life of a biker revolves around his passion.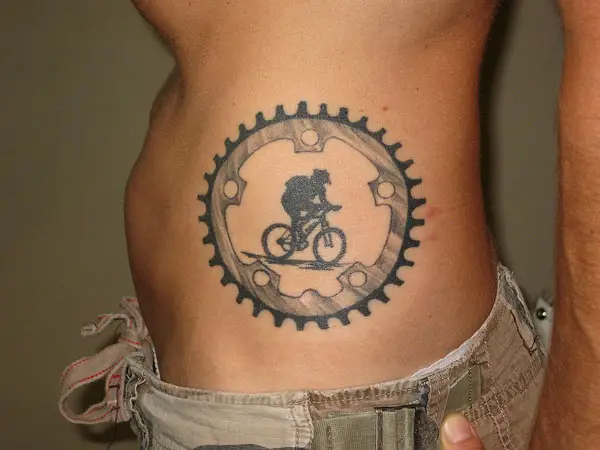 Biker Knuckles Tattoo
Bold and brave, this is how the bikers lead their lives and the lettering tattoo represents the same attitude.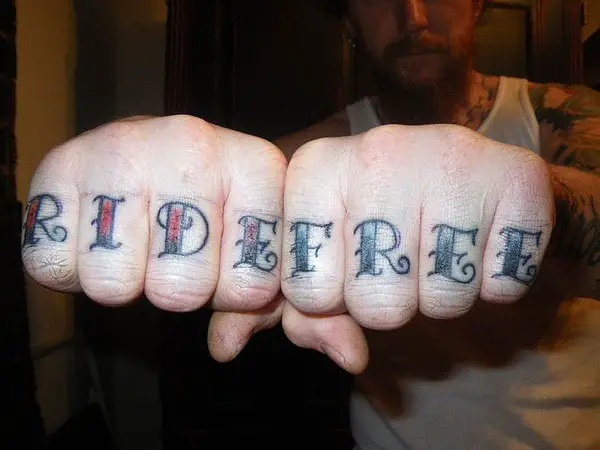 Biker Chick
This tattoo brings out the passion and craze for biking that has crept inside the fairer sex too.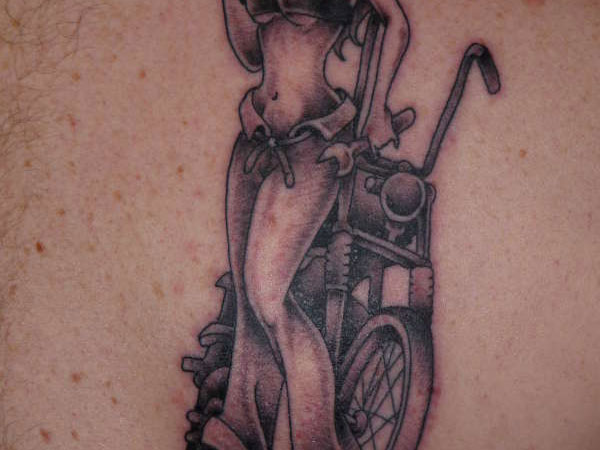 Creative Calf Tattoo
This tattoo embodying the cog and the lungs represents the adrenalin rush bikers get from their adventurous rides.