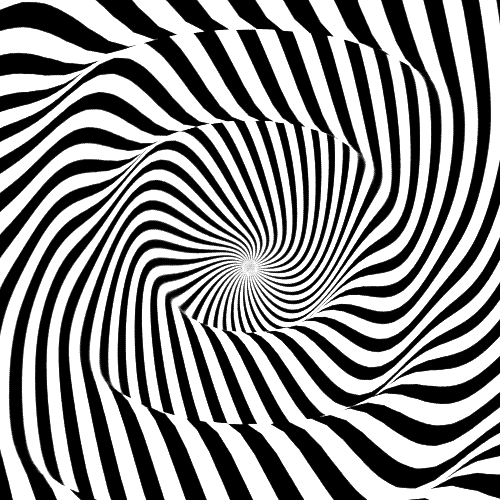 An optical illusion (also called a visual illusion) is characterized by visually perceived images that differ from objective reality. The information gathered by the eye is processed in the brain to give a perception that does not tally with a physical measurement of the stimulus source.
There are three main types: literal optical illusions that create images that are different from the objects that make them, physiological ones that are the effects on the eyes and brain of excessive stimulation of a specific type (brightness, color, size, position, tilt, movement), and cognitive illusions, the result of unconscious inferences. Source Wikipedia. You can get really creative with optical illusions, you can even print a 3D model of an illusion.
Optical illusions for kids
These optical illusions for kids help them in increasing concentration power and sharpen their focus. Though these optical illusions are for kids, we are sure that adults will enjoy them, as well. As this collection is taken from all those chain mails, I have been getting, I don't have the actual source of these illusions. But nevertheless, these illusions will blow you away.  You can also keep your kids attention occupied with an app, check out Cartoon HD App Review.
Pink Dots
If your eyes follow the movement of the rotating pink dot, the dots will remain only one color, pink. However if you stare at the black " +" in the center, the moving dots turns to green. Now, concentrate on the black " + " in the center of the picture. After a short period, all the pink dots will slowly disappear, and you will only see only a single green dot rotating. It's amazing how our brain works. There really is no green dot, and the pink ones really don't disappear. This should be proof enough, we don't always see what we think we see.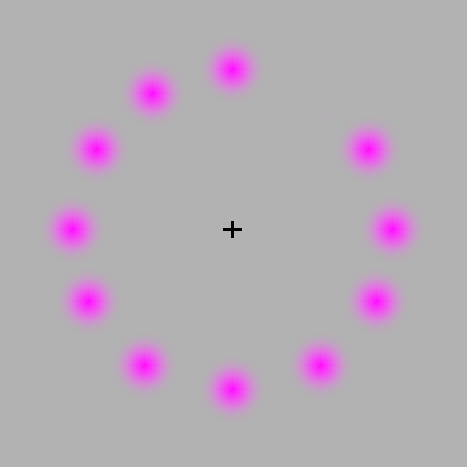 Bird in the bush
A Bird in the the bush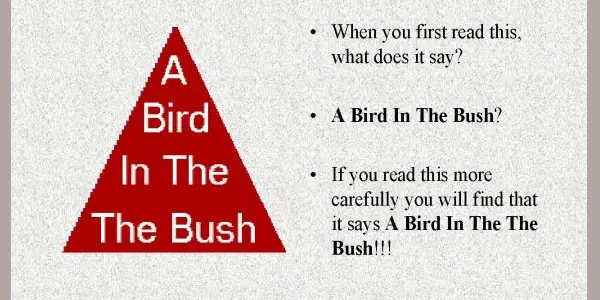 How many human faces can you find in this picture?
There are probably more than you first see, so keep trying. How did you do? Seeing 4-5 faces is average, 6-7, above average, 8-9 very observant, 10-11 extraordinary orbervant.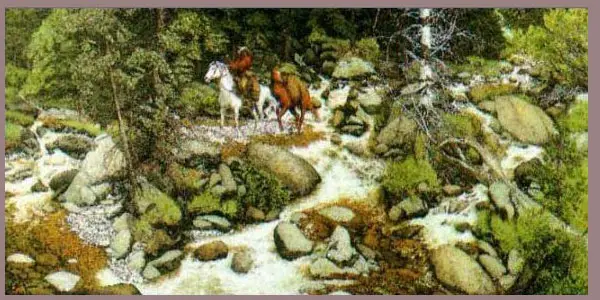 The Man in the Coffee Beans
The "illusion" is that this is just a picture of coffee beans; but it is not. Can you find a man's face among the beans? Some say that if you find the man in 3 seconds or less, the right half of your brain may be more well developed than most.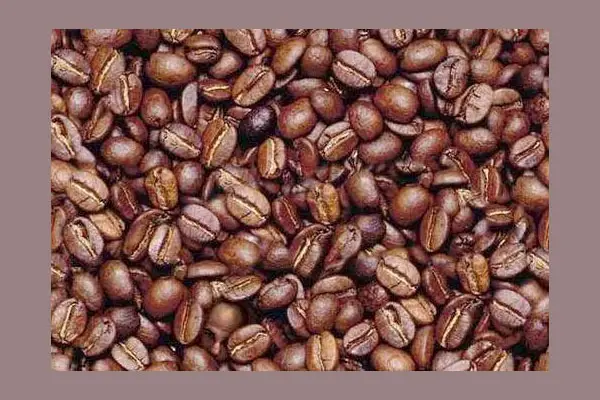 River or Men in white?
Um, you see the top of the picture it looks like river, but wait, aren't they men in white?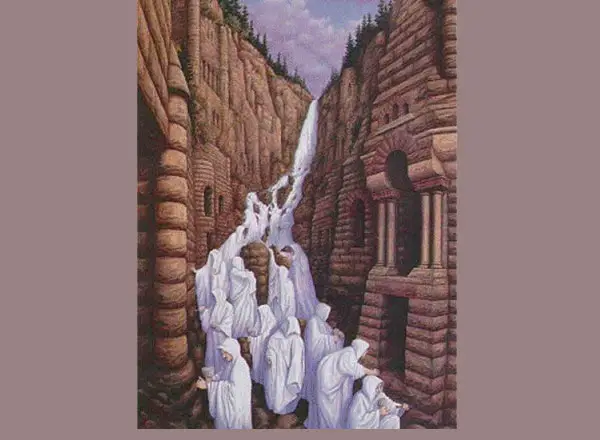 what do you see below?
In black you can read the word GOOD; but the word EVIL also appears in white letters inside each black letter.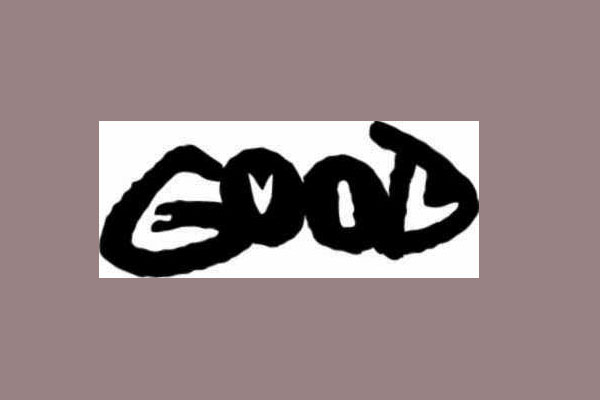 Two elderly faces, or a larger scene?
Two elderly faces, or a larger scene?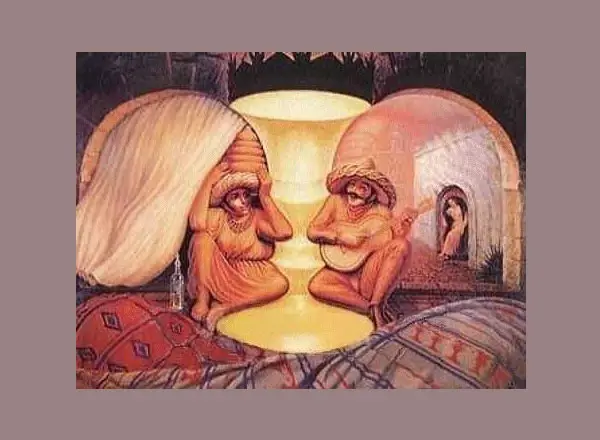 Count the people
Count the people in the picture below. After they shift, count them again!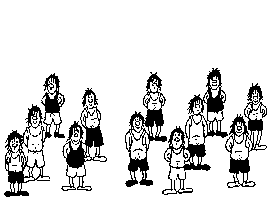 Man playing a horn? Or woman's face?
The man playing a horn is in profile facing right; the woman is facing you, and her right eye is the black dot in front of the horn handle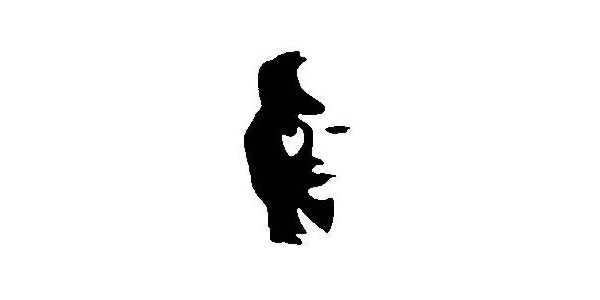 The Sort Of Optical Illusion That Grows On You
Stare at the black center. Do you see it getting bigger? Guess what. It's not changing. Really it's not. It's the same size. But our mind thinks it is.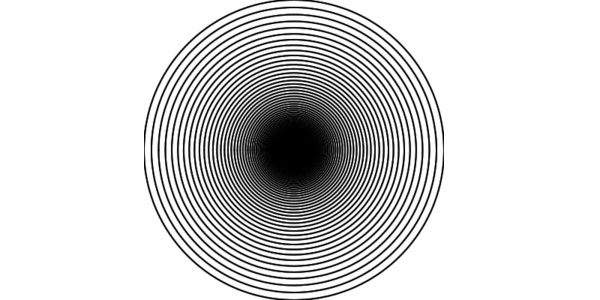 Optical Illusion
Can you count the black dots?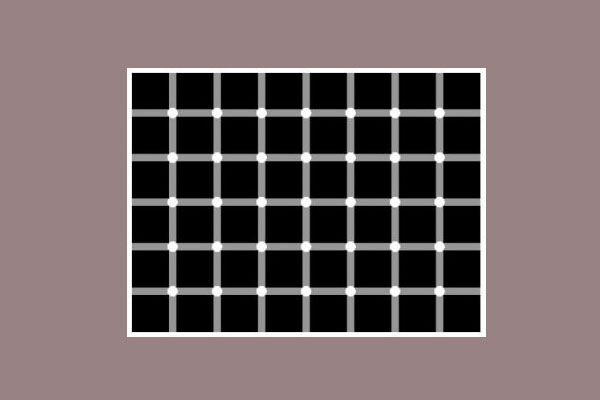 Do you see one man in this picture…
If you look very carefully, you'll find 9 different faces in the picture; the 9th belongs to a dog.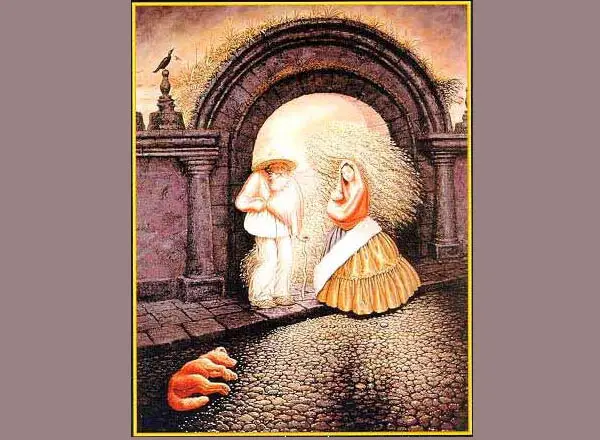 Colors
Read through this list of colors, only, instead of reading the word, say the color of each word.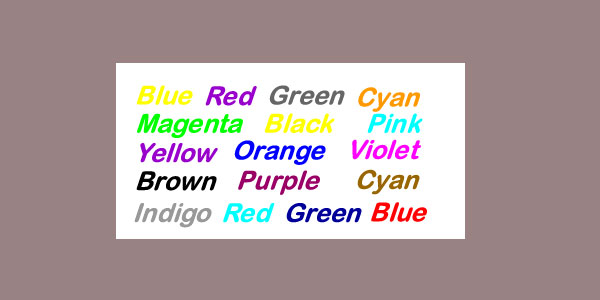 Optical Illusion
Where does the puzzle begin and end?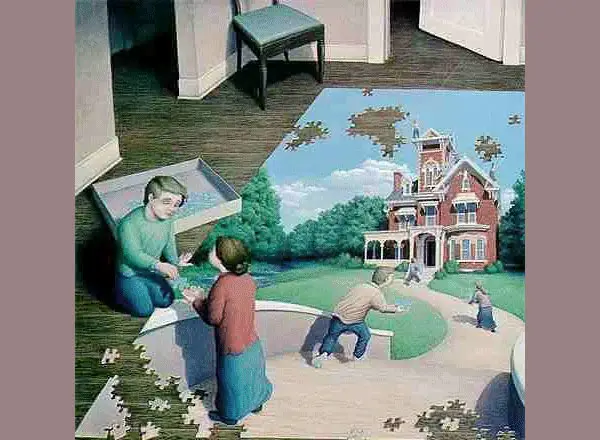 Optical Illusion
This is called an "impossible object", which means that it's impossible to build. But drawing it is not impossible, as you see in the image.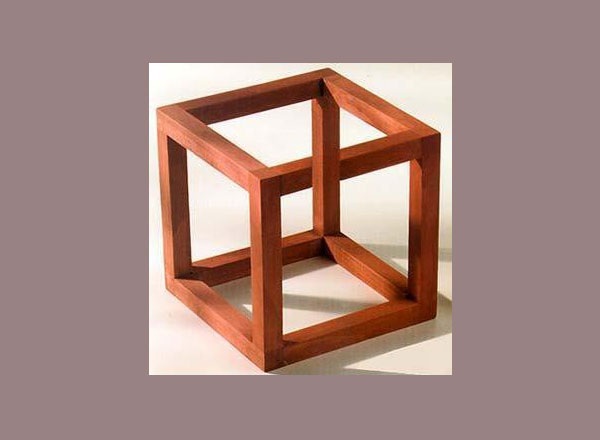 Optical Illusion
Focus on the dot in the center, and move your head forwards and backwards. What happens? The outer circles appear to turn in opposite directions.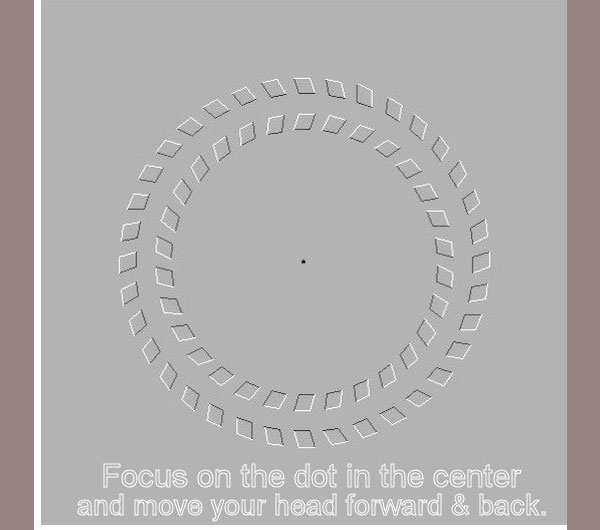 Color Perception Optical Illusion
How many colors are there in this picture, not including white? Answer is Two.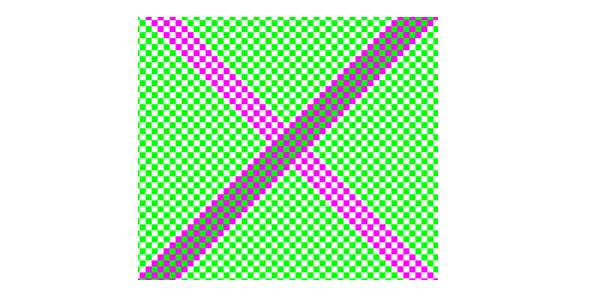 Looking up, or looking down?
Looking up, or looking down?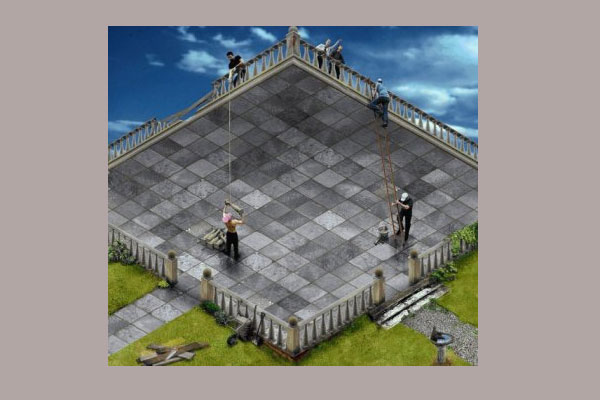 Chalice Artistic Optical Illusion
Can you see two different pictures? By changing your focus, you should also be able to see the white silhouette of two people facing each other in this double optical illusion.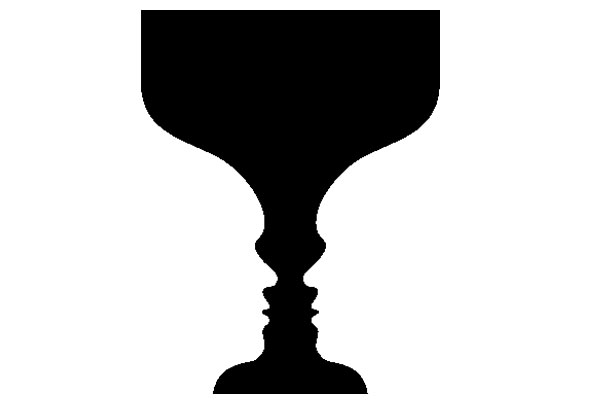 Flying Illusion
watch this picture for some time and you will see a plane flying.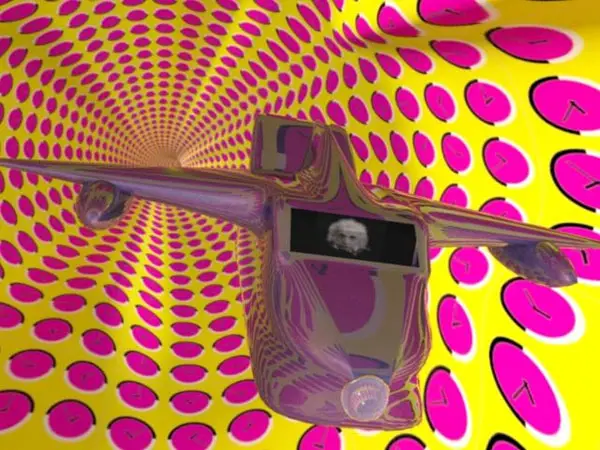 Rabbit or Duck?
A rabbit, looking right? Or a duck, looking left?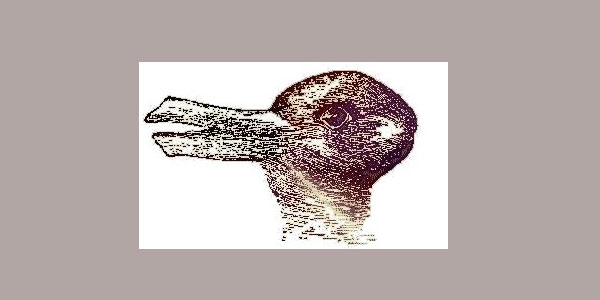 Is this knot pairing of triangles physically possible?
Is this knot pairing of triangles physically possible?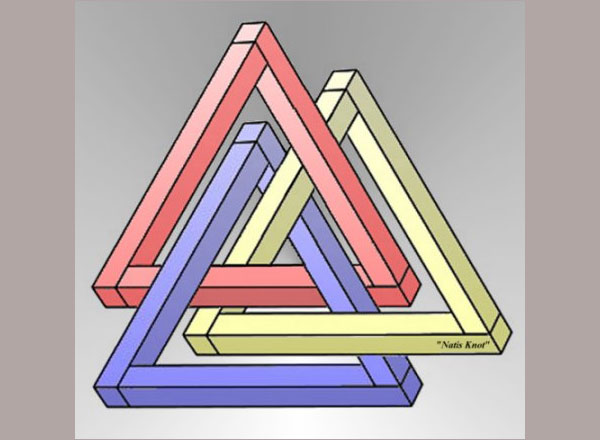 Optical Illusion
What do you see? A face? Watch carefully and you will see the word "Liar".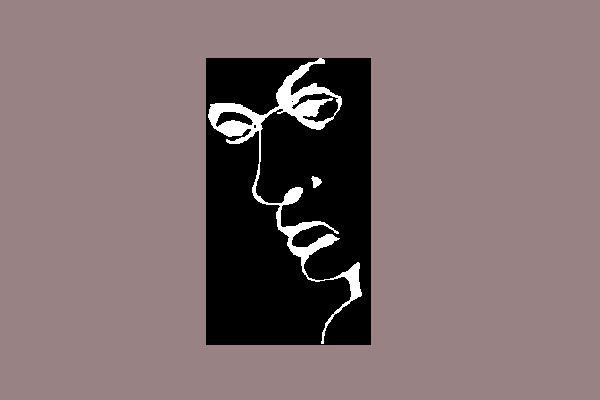 Count Cubes Illusion
Count the number of cubes you can see in this illusion. Be sure not to miss the colored area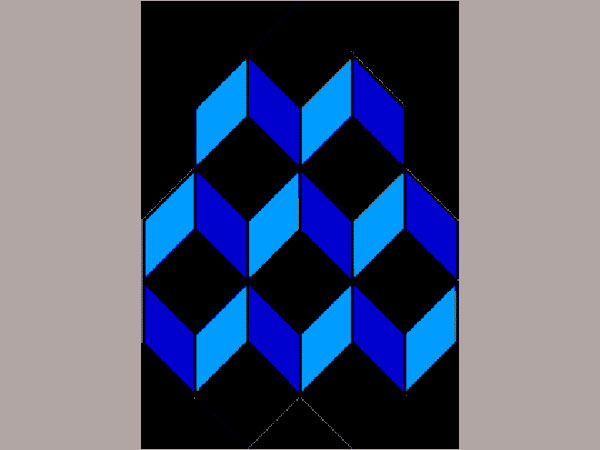 Spinning Wheels Optical Illusion
Do the wheels in this cool optical illusion seem to rotate?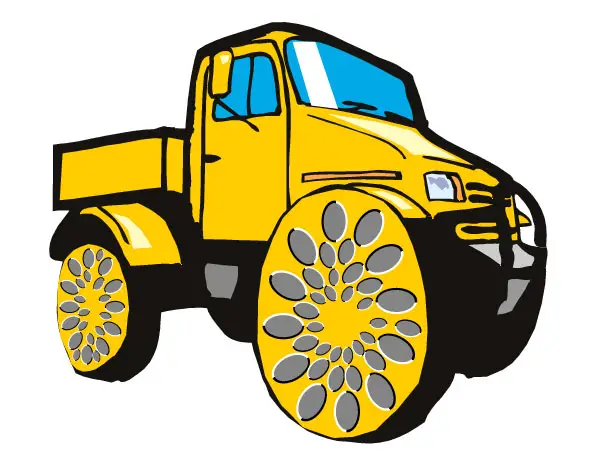 As you can see, there are a ton of optical illusions out there that can really mess with your mind. It's really cool to stare at some of these and daze off into them. Actually, it's somewhat relaxing. However, make sure you don't stare at them for too long, because they could cause you to have a headache.
If you like this article, you might be interested in some of our older articles on  Optical Illusions Pictures,  Pencil Sketches,  Photo-Manipulation Art, and  Astonishing Illustrations.