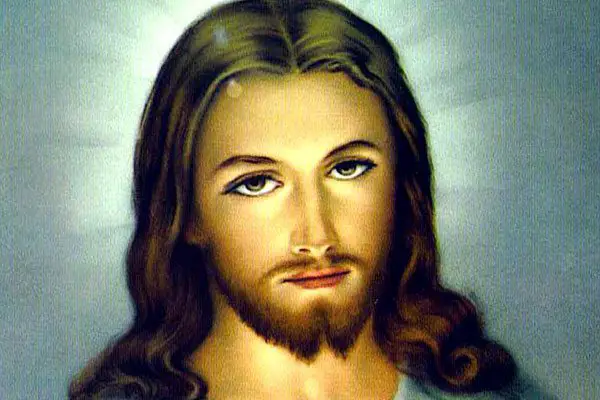 One of the most powerful messengers of love and humanity Jesus Christ is a favorite icon for artists. Everywhere you see depictions of Jesus, be it in an old church, a painting hanging inside a home, or a huge artwork on a wall, you can see how the light is constantly present making His features glow. His eyes shine with kindness and compassion while He holds out His arms in a gentle welcome inviting all to come and be blessed. When you look at a picture of Jesus Christ you simply cannot overlook that divine light and majesty that tell you He is the true Son of God.
Real Pictures of Jesus by master artists:
Real Pictures of Jesus drawn by master artists all point to His beauty and grace. You can find many pictures where Jesus has a burning red heart to show His infinite love and greatness. Light is also a common theme in many pictures of Jesus Christ. With a halo around the head, lines of clear light streaming from the heart, or eyes aglow with light, the pictures of Jesus are touched by beauty. You can also see pictures where powerful red and white beams of light and love shine from the heart of Jesus. With His messages telling of the beauty of God and His features filled with gentle wisdom, Jesus Christ preaches to people in a mountainous valley in one picture, while another picture shows Him revealing His divinity before a crowd. Pictures of Jesus Christ also finds place in modern life in the world of denim trousers, busy city streets, and rapid construction projects. Take a look at these pictures.
If you like this article, you might be interested in some of our other articles on Pictures of Black Jesus, Virgin Mary Pictures, Jesus Optical Illusions and Pictures of Famous People.
Sweet Jesus
Jesus overflows with real love and compassion for all of humanity as you see in this beautiful picture. Just pictures of Jesus can make the viewer feel the Lord's eternal love.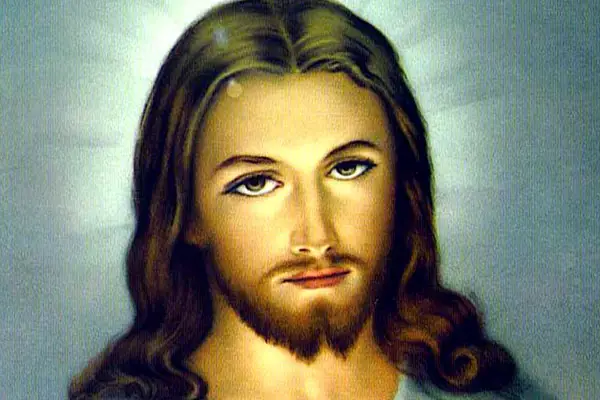 Jesus By The River
Jesus walks by the river as His disciples sit looking at Him from a large boat in this picture. Pictures of Jesus like this reminds us that he led a human life where he went around the commoners. This also causes one to remember that his disciples did not come from noble families but were simple fisherfolk.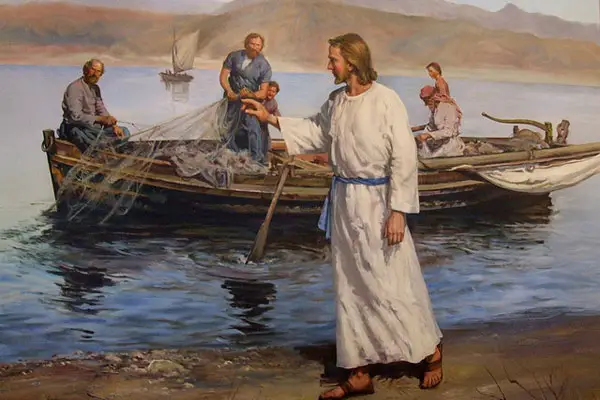 Jesus Divine Picture
There are now many pictures of Jesus Christ with His hands raised in the air and a halo around His head. Here, Jesus is hailed as the true Son of God. His disciples all kneel before Him as they strengthen their faith in Him.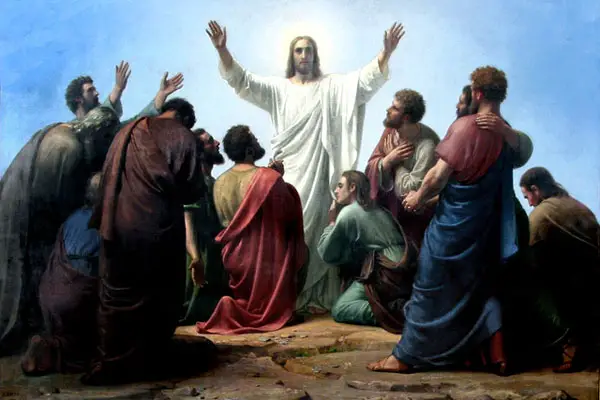 Picture Of Jesus Preaching
The real message of God comes through in the sermons of Jesus as He sits preaching to a crowd. Pictures of Jesus with children and the commonfolk make a very strong image that He does not choose who he hangs out with. Instead, He shares the Word of God with everyone who wants to listen.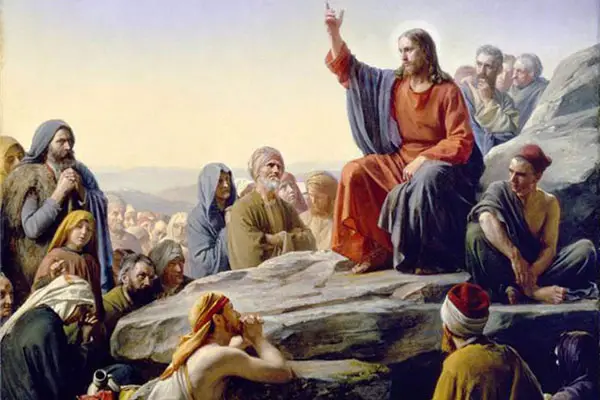 Old Picture Jesus
This black and white picture shows Jesus Christ on the Cross in an old church with beautiful wall patterning. Pictures of Jesus on the cross usually elicits from its viewers reverence and a strong amount of love.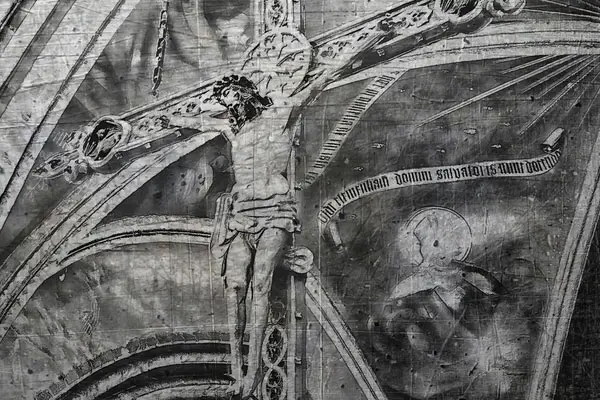 Old Picture Jesus
Real Church Window
This glorious church window depicts the story of Jesus in rich colors. See how the black outlines bring out the beautiful shades used in the glass art. Glass art is an art that is becoming rarer and rarer. This exquisite piece is truly one of its own.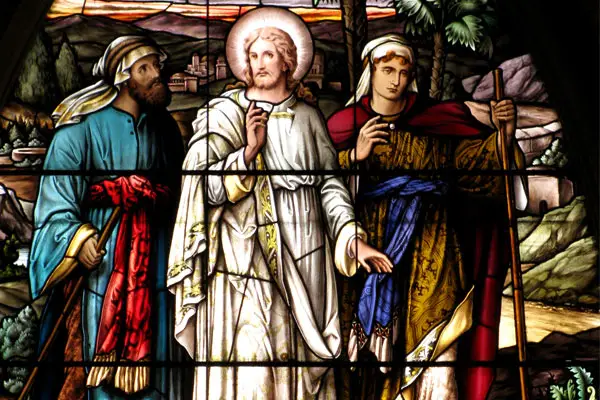 Jesus With A Crowd
These pictures of Jesus revealing His real divinity in a crowd of people is truly an amazement to behold. Note the drama of red and blue in His clothes in the fine painting.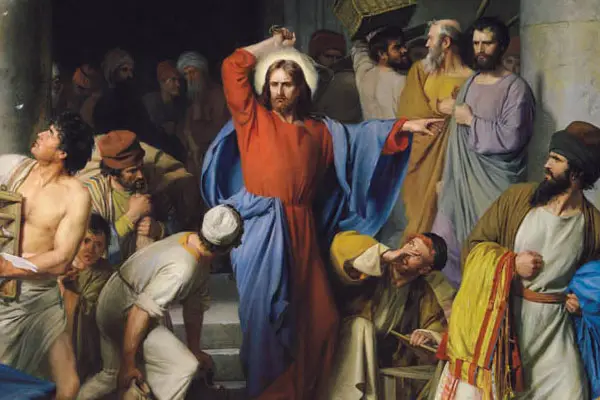 Real Picture
Welcome to the real world where a Last Supper painting is placed carelessly as a pot slowly heats up for supper at a construction site. Funny yet still tasteful pictures of Jesus are far and few in between.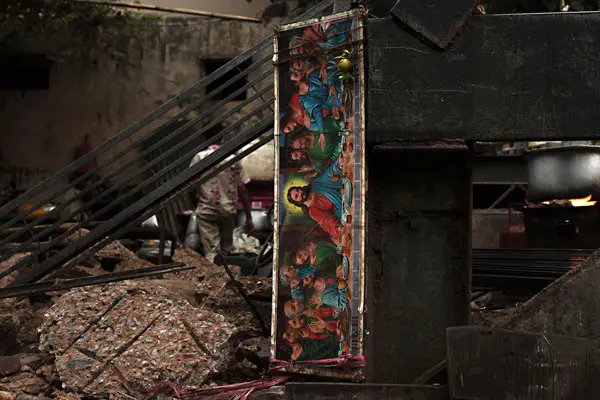 Our Father In Heaven
In a quiet mood, Jesus prays to His father for guidance in this realistically painted black and white artwork. Pictures of Jesus Christ in the Garden of Gethsemane truly captures the emotions that he was feeling prior to his trial and eventual crucifixion.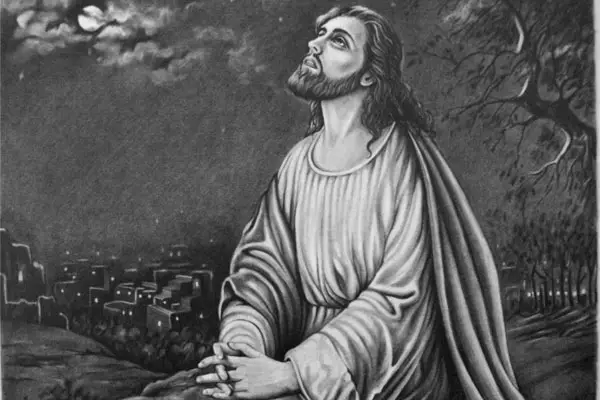 Jesus Of My Heart
It is not uncommon to see pictures of Jesus Christ with red and white beams shining forth from His heart which embodies His eternal love and grace towards humanity.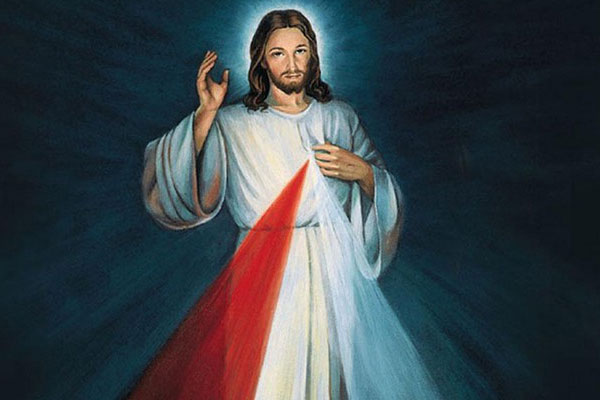 Jesus Real Street
Pictures of Jesus Christ can elicit a lot of reverence even when they are placed in the middle of a busy street. Many still pay their respects towards this beautifully framed picture of Jesus.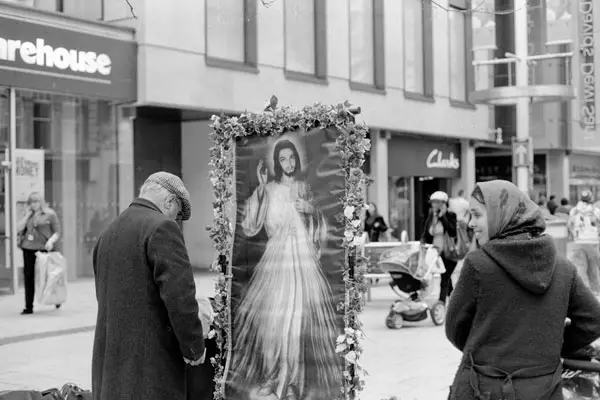 Jesus Real Street
Jesus Looks
Even with a lookalike picture placed beside, there's simply no question which is the real Jesus. There are a lot of lookalike pictures of Jesus surfacing but no one can really dispute that His face stands out from all the fakes.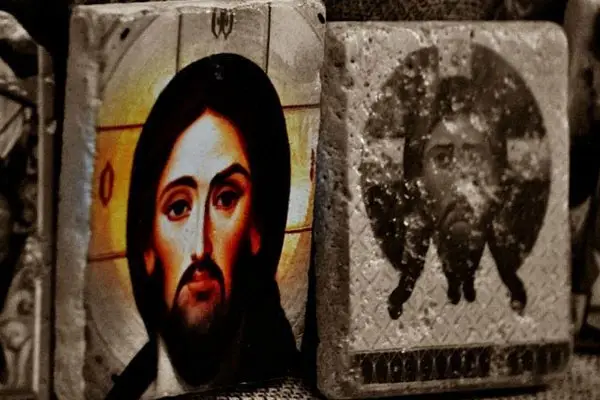 Jesus Looks
Wall Picture Jesus
An old wall with flaking plaster holds this really beautifully shaded picture of Jesus on the Cross. Despite the ageing that this painting has experienced, it still holds the essence of Jesus' sacrifice, getting crucified and dying on the cross to save humanity from their sins.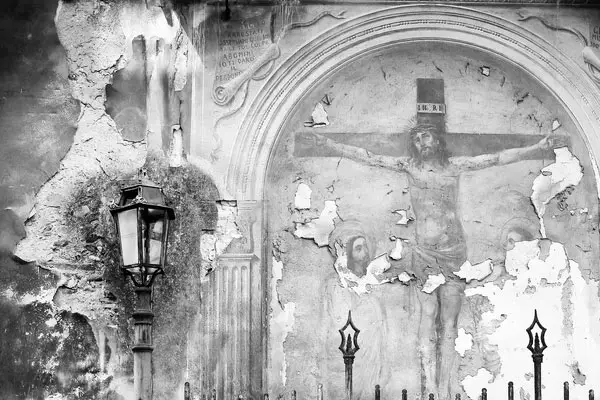 Holy Jesus
Pictures of Jesus Christ with His hands held out, Jesus is motioning for us to come to Him for He is ready to welcome anyone who'll come to Him. See how His red heart burns with real love and mercy.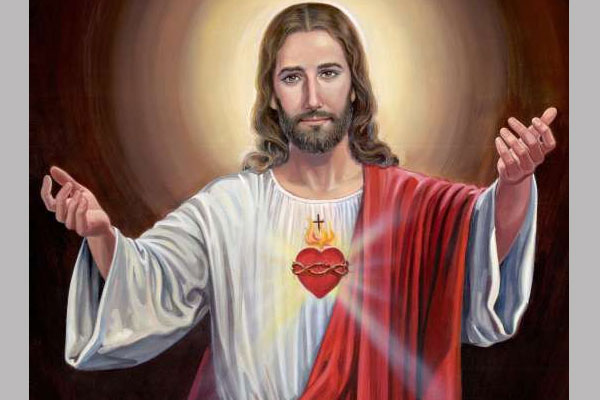 Jesus Picture At Home
The bare walls of this house look perfectly adorned with this gorgeous framed picture of Jesus. It has been a tradition for Christian households to have several pictures of jesus christ all over the house.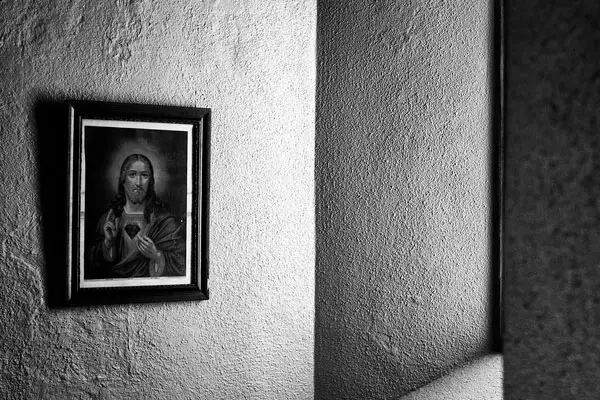 Jesus Picture At Home
Mosaic Jesus Christ
Done with real art and craftsmanship this is an intricate depiction of Jesus Christ in blue and yellow mosaic patterns. Art depicting pictures of Jesus Christ are extremely beautiful and truly a wonder to behold as it is able to capture the love that He graciously gives towards humanity.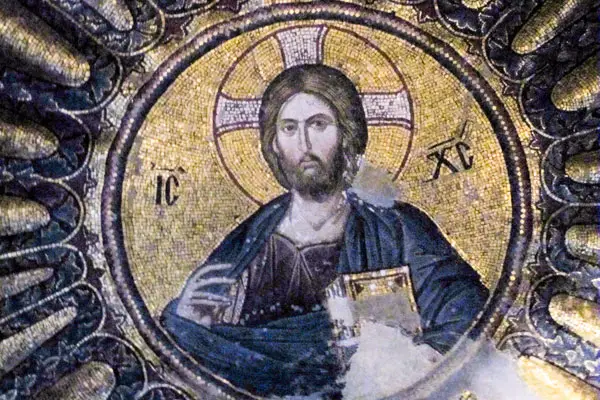 On The Cross
The colors of muted orange and cream bring out the sorrowful and grave mood in this picture showing the Passion of Christ. When Christians see pictures of Jesus on the cross, they are truly astounded by His sacrifice for our sins.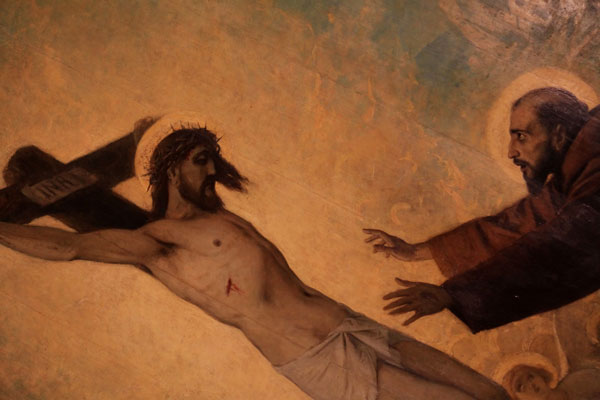 Jesus Welcomes All
This is another common pictures of Jesus Christ, surrounded by light on all sides and clad in a white robe Jesus, the real messenger of love and peace stands in this picture to welcome everyone.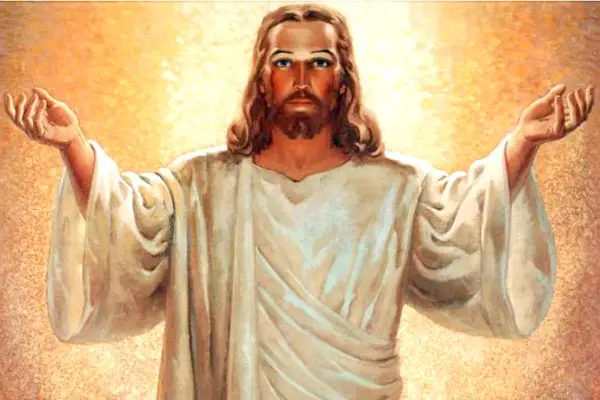 Jesus With Me
Real-life and Jesus Christ go hand in hand in this picture showing a framed Jesus portrait against a backdrop of a denim jacket. It has become customary to incorporate pictures of Jesus on everyday things as could be seen in this example.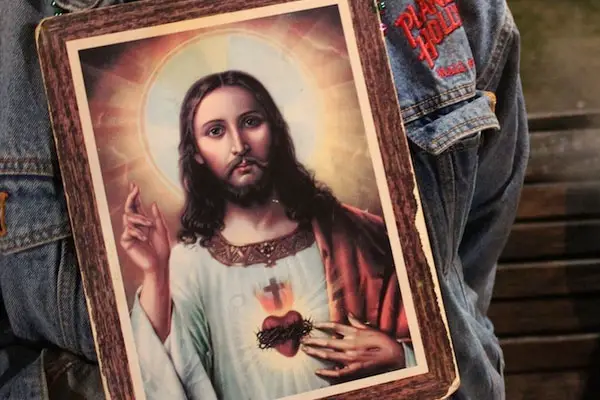 Christ Church Picture
Classical Latin script is etched on both sides of this old and partly damaged wall painting of Jesus Christ. Pictures of Jesus Christ, despite the damage still manage to portray Jesus' eternal love for us.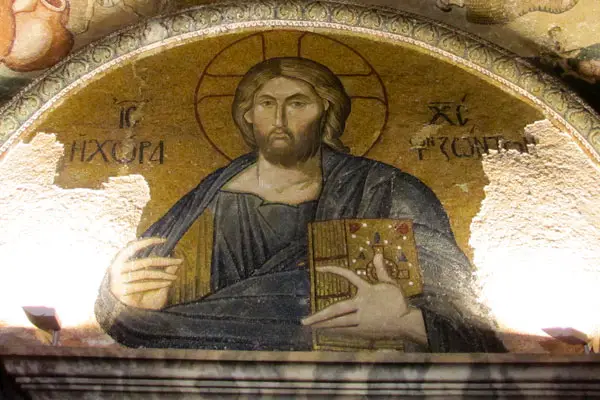 Real Fresco Art
Medieval churches are known for showcasing real artistry and the skills of ancient artists. Properly maintained pictures of Jesus Christ on churches are one of the true wonders that the previous generations have left us. See this marvelous fresco painting of Jesus on the domed ceiling of a church for example.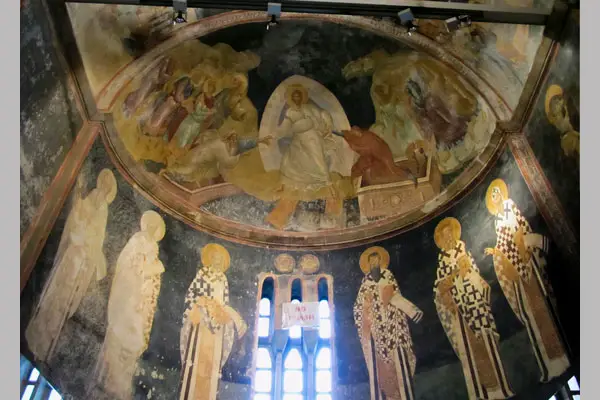 Jesus Stormy Background
The stormy background sets off the black robes in this sober gold-framed picture of Jesus Christ. The sombre atmosphere in this picture is carefully depicted in every fine brush stroke of the artist.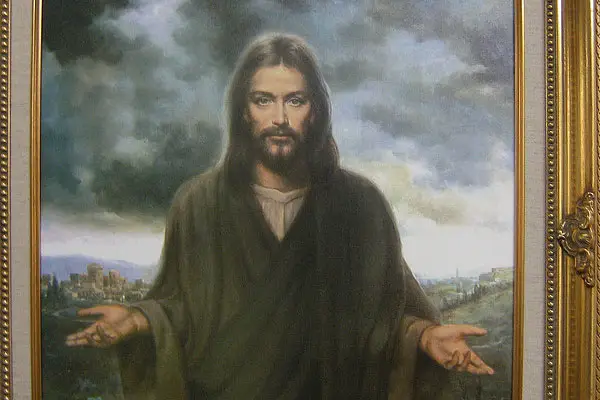 Jesus Black And White Picture
Clear lines of light shine from this dazzling wall picture of Jesus as viewers watch admiringly. You don't need colored pictures of Jesus to properly show His Grace. This classic black and white picture does pretty much it.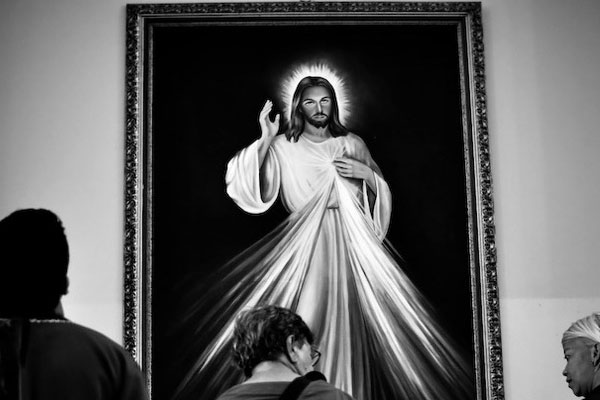 The Real Ceremony
The baptismal ceremony as seen here is one of the intensely real landmarks in the journey of Jesus on earth. Pictures of Jesus with John the Baptist are one of the best ways to show that Jesus, despite having no sins of His own, was humble enough to follow the sacraments laid down by God for man.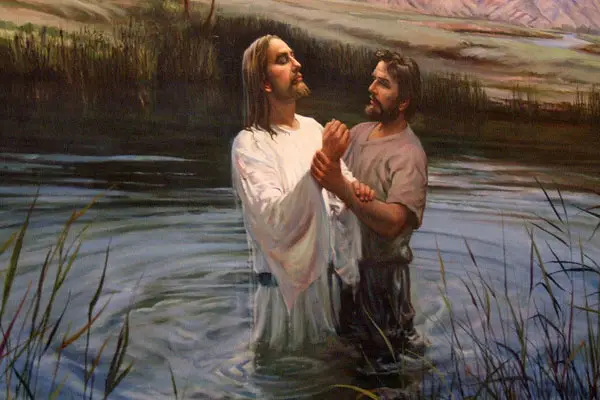 Artwork Jesus
Although partly damaged this wall painting in rich blue and gold still gives an idea of the beauty of the original artwork. Because pictures of Jesus Christ lds has been in existence for hundreds of years, it is understandable that some of them would get damaged. However, a few repairs and restoration efforts will get it back to its old form.