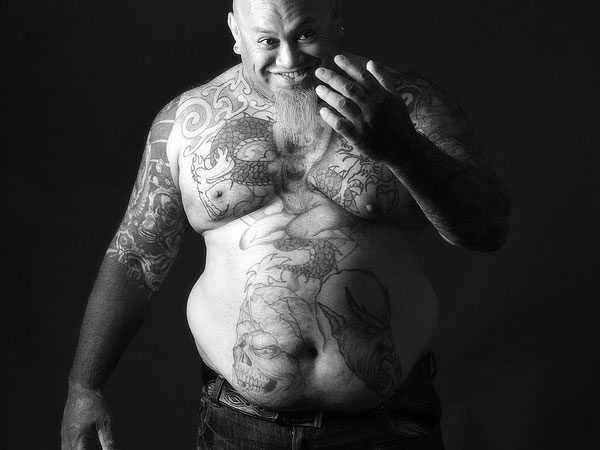 Arms and ammunition mark the world of gangsters so their body art too reflects their lifestyle. Gangster Tattoos are used not only as style statements but also as marks of belonging to a particular gang. Many gangsters get inked all over the front of their bodies while some choose to cover only the sleeve arm. The tattoo designs that gangsters choose the range from patterns with pistols and shootouts, to themes of death with skull faces.
You can see many kinds of body art that tell you what kind of lifestyle a gangster has. Many gangsters get word tattoos with patterns drawn around in cool and colorful designs. Some gangsters choose to stick to a single color with many subtle shade variations adding to a realistic look. You can see the skull motif repeated in many interesting variations in many Gangster Tattoos. Some gangsters also play it cool with tattoos showing a comic character handling a gun. Others may choose to get bold with themes showing Jesus, the icon of peace holding guns. From colorful to single colored, bizarre to interesting, the body art that gangsters choose for themselves play with many themes. Check out some tattoos that showcase fantastic designs.
If you like this article, you might be interested in some of our other articles on Hispanic Tattoos, Outlaw Tattoos, Gang Tattoos and Prison Tattoos.
Seasoned Fun
Check out this seasoned gangster's upper body covered with intricate patterns and skull motifs.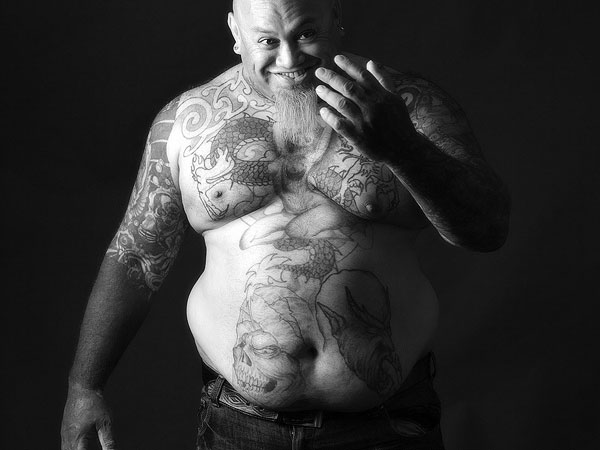 Bare Arm Tattoo
Many gangsters choose large body art themes with faces and words to cover their bare arms.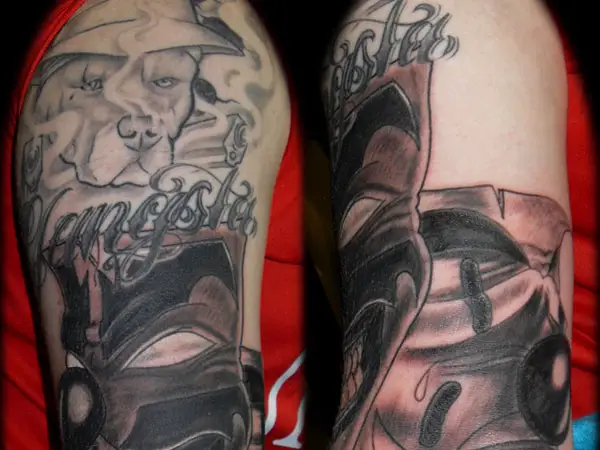 Shootout Tattoo
This tattoo showing a man handling a heavy gun is just right for the upper arm of a gangster.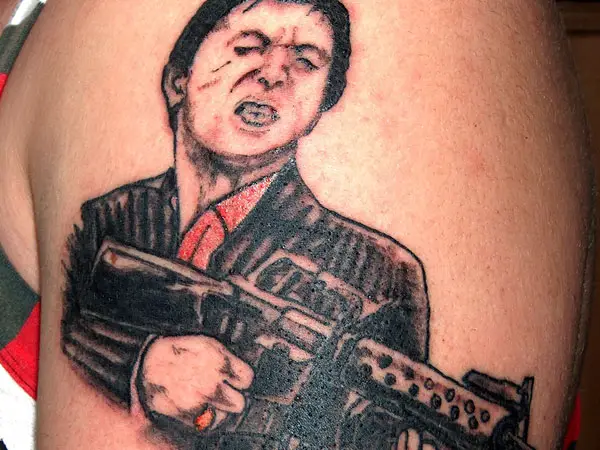 Dressed To Shoot
Dressed to shoot, says this remarkable piece of body art showing a man with his mouth covered with a red scarf and dressed in a top hat.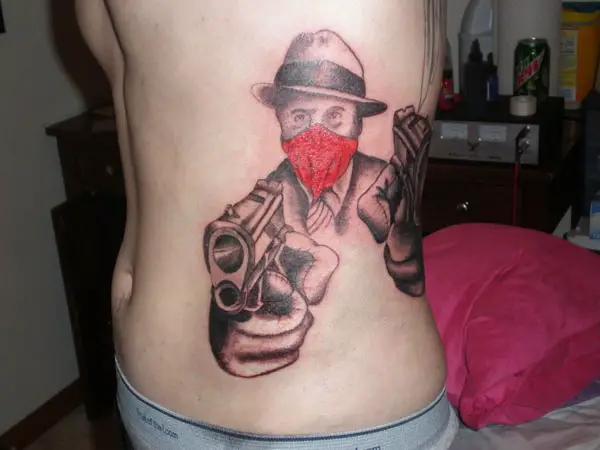 A Different Jesus
This gangster's religion of violence shows in his tattoo of Jesus holding pistols.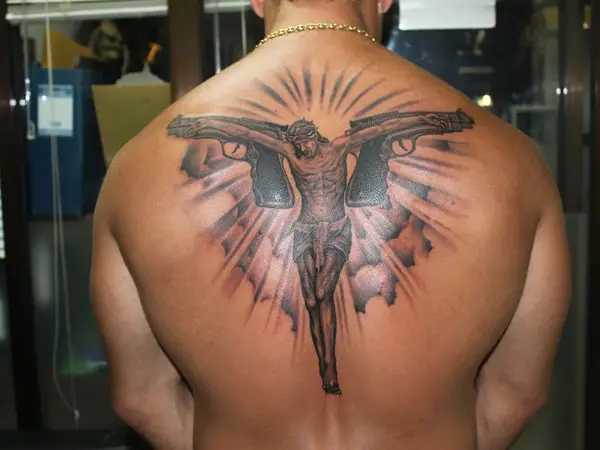 Single Color Gangster Tattoo
This elaborate single color tattoo of a man holding a pair of pistols is ideal for a gangster's forearm.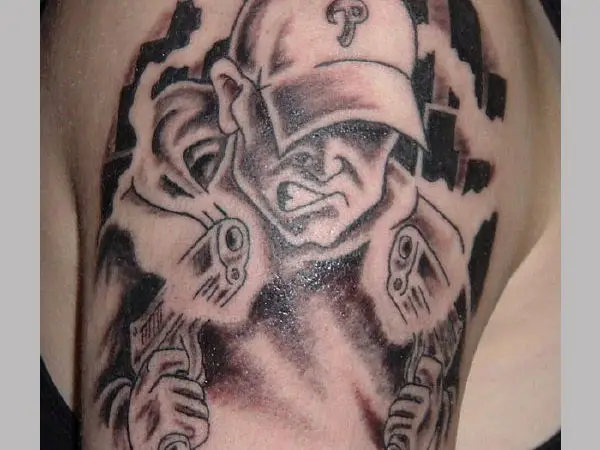 Gangster Skull
Fierce faces and sinister skulls form a common motif for gangster tattoos.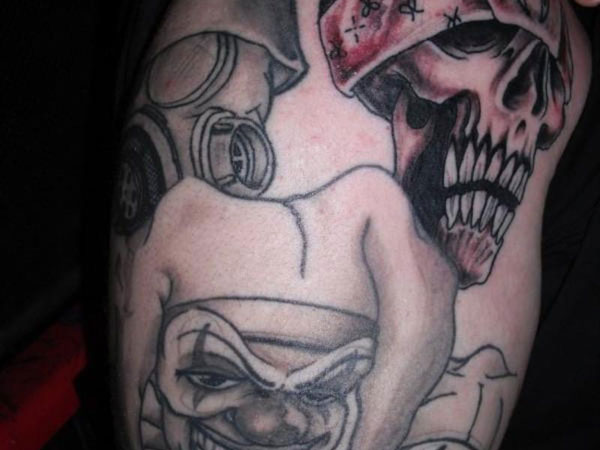 Just Not An Angel
Gangster tattoos often twist and use common religious motifs. Check out this tattoo showing a man in casual jeans and wings like an angel.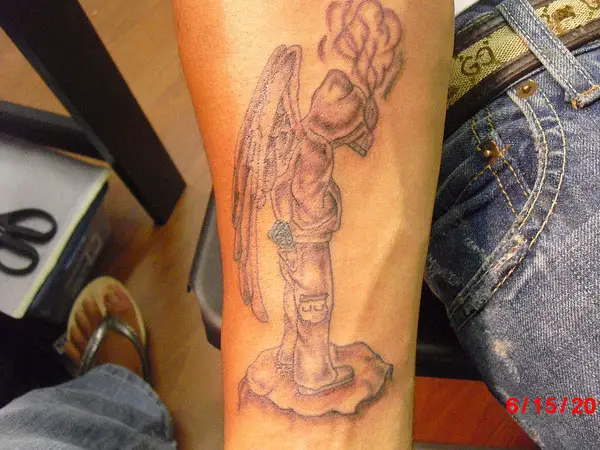 Time To Kill
A mass of ferocious faces, a skull, and a clock show off the violent intent of this gangster.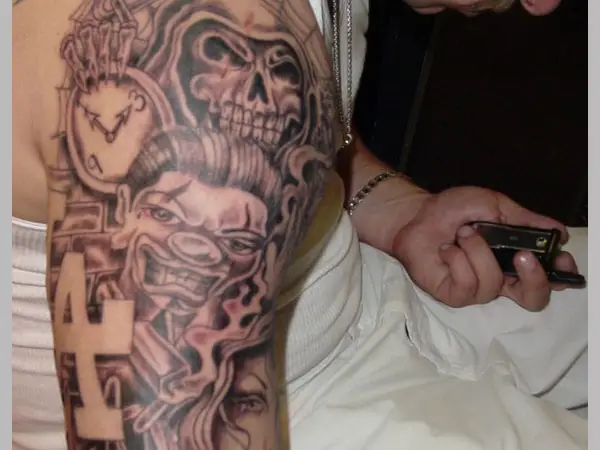 Time To Kill
Gangster Retro Tattoo
His arm covered with a tattoo of a vintage car and casino slots this gangster shows off his love for everything vintage.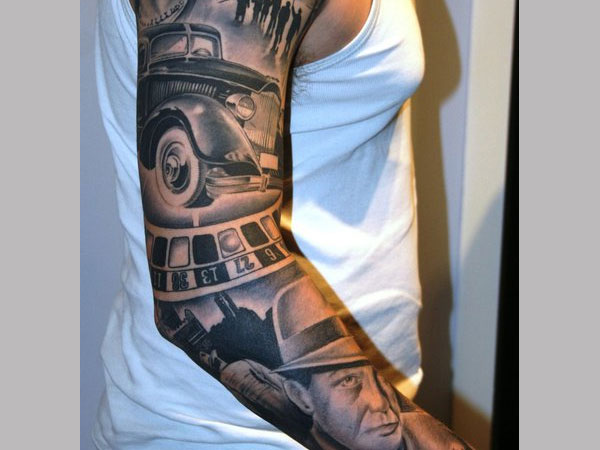 Death By Luck
A pack of cards and the face of a skull showcase the death and fortune theme on the upper arm of this gangster.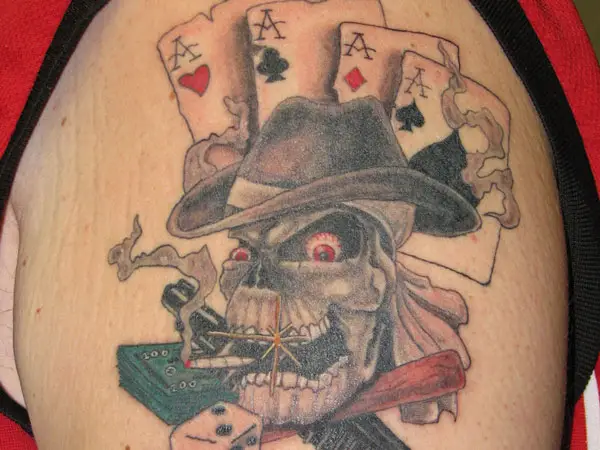 Gangster Calligraphy Style
Written in an elegant retro style this calligraphy style word tattoo sits above the gangster's navel area..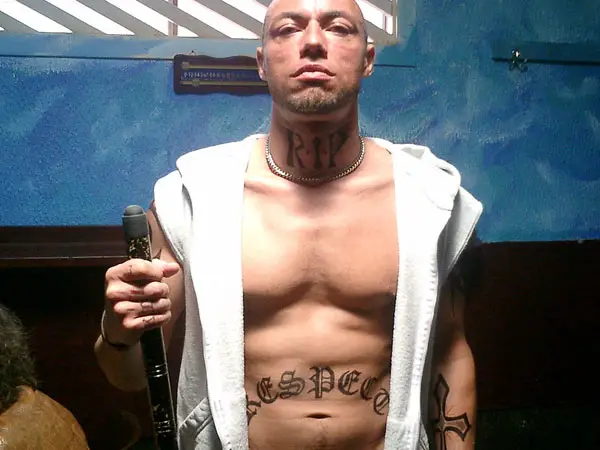 Masked Murder
Inked in green, bright blue and touches of red this colorful tattoo highlights the masked murder theme.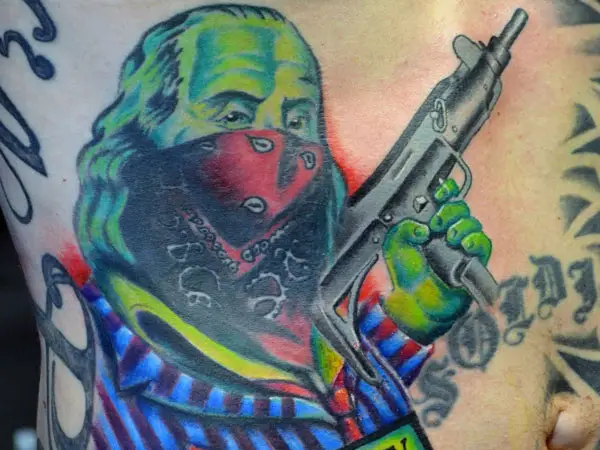 Techno Tattoo
Delicately inked with shades and touches of peach this is a cool retro theme gangster tattoo design.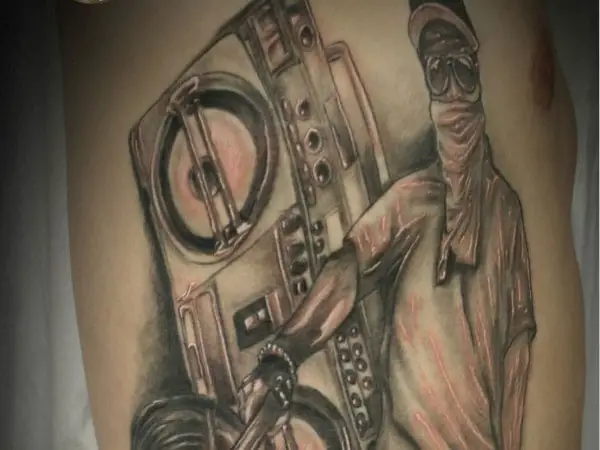 Dream City
The maze of city buildings and a smiling face with a cigar go well with the 'Dream City' word theme tattoo for this urban gangster.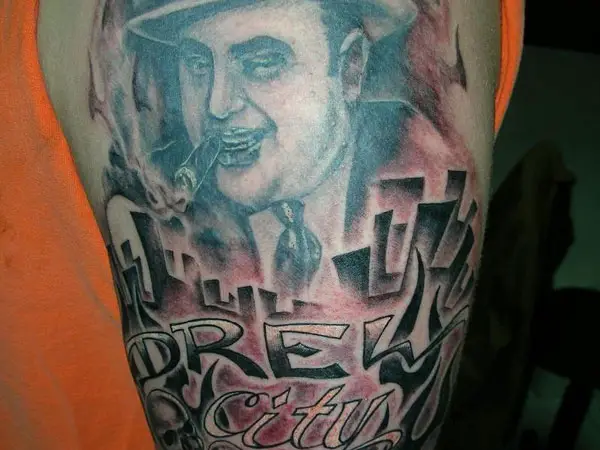 Mad Skull
Styled in hard angular lines this skull shaped tattoo with the mouth open and cool goggles is a fantastic gangster tattoo.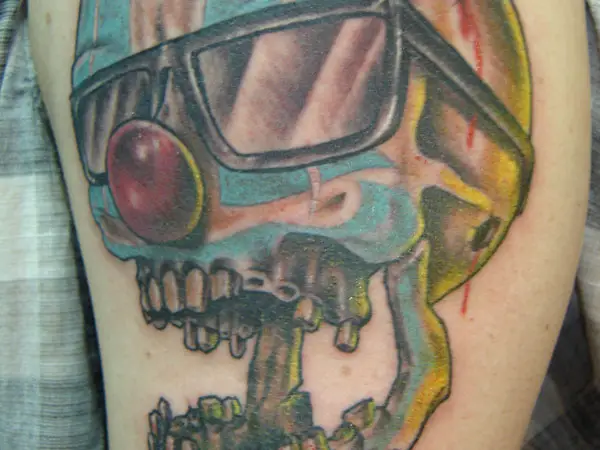 Violent Dog Tattoo
This powerful tattoo showing a huge dog holding two guns is a perfect piece of sleeve art for a gangster.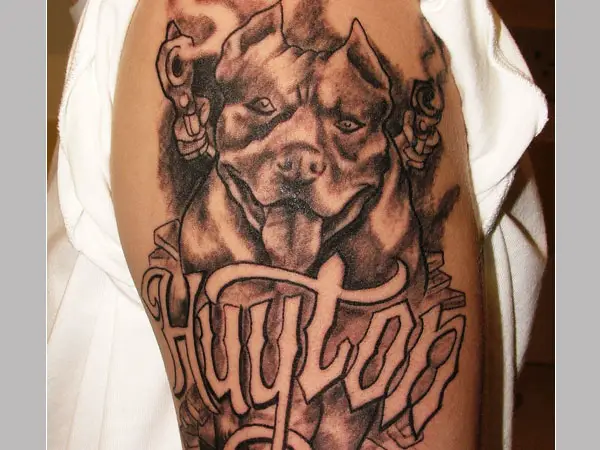 Violent Dog Tattoo
Gun Style
A tattoo showing a featureless face holding two guns highlights the violent lifestyle of a gangster.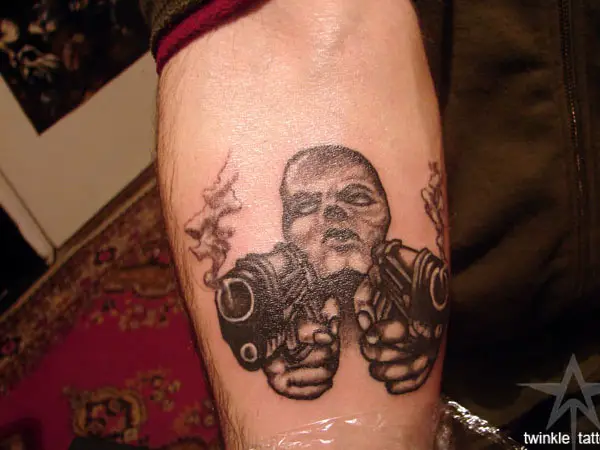 Skull Official
This gangster gets playful with an arm tattoo showing a skull clad in an official suit surrounded by roses.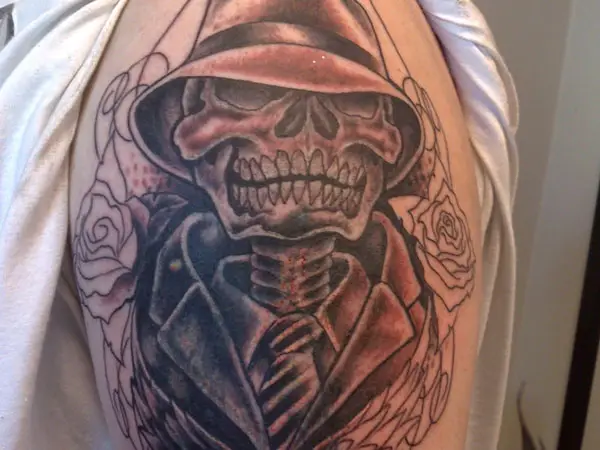 Skull Colors
Strong shades of green mark the face of this skull tattoo with its head covered with a violent red bandana.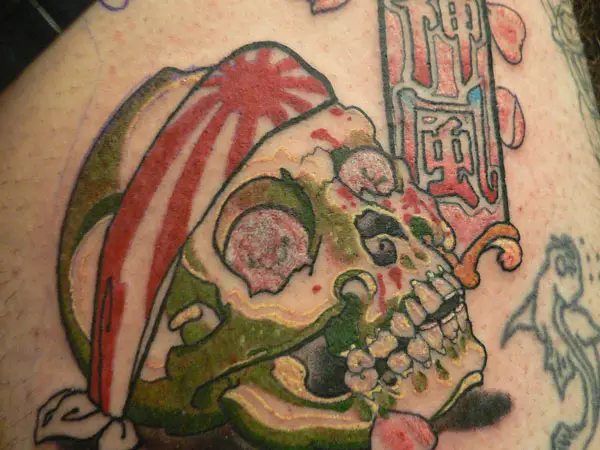 Female Gangster
This detailed piece of body art shows a woman gangster smiling as she holds her rifle.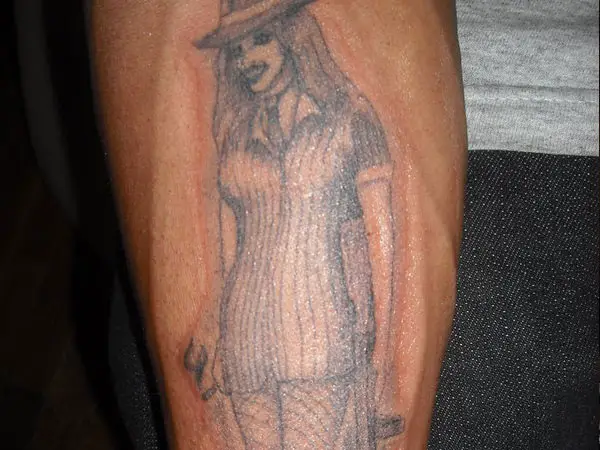 Comic Gangster
The popular cartoon character Hobbes holds a guns in this colorful comic theme gangster tattoo.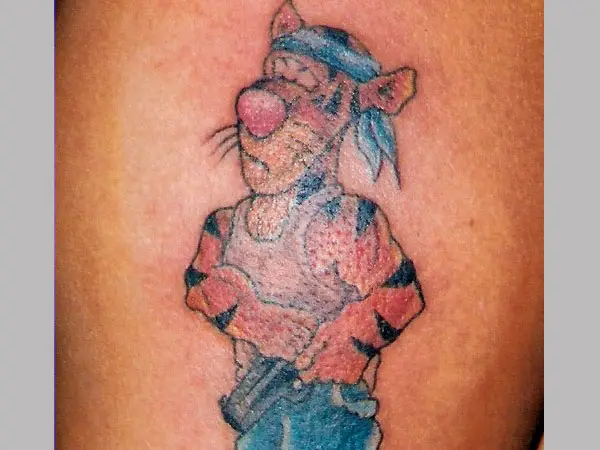 Evil Skull
The huge white spaces, distorted lines, and black eye hollows really add to the evil look of this skull tattoo.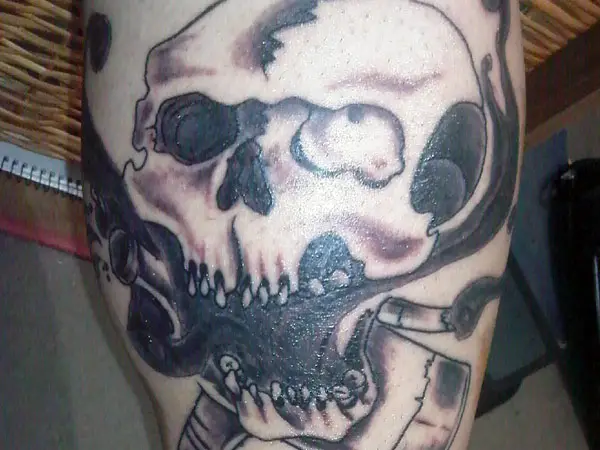 Gangster Pattern
This is a patterned tattoo in pale blue and red with a six pointed star holding a deep meaning.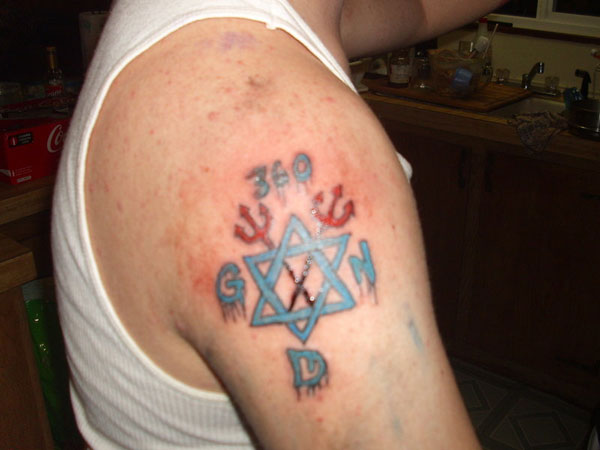 Skull Sports
Styled in red and black this skull tattoo with a sports cap has a playful look.