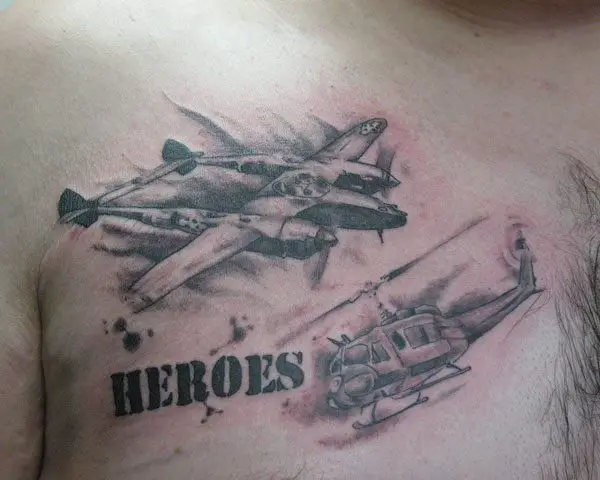 Tattoo designs are something which never have a particular style or fixed trend. The wearers are free to choose any design or motif or image that they want to sport and the good thing is that it always looks cool and makes for a fantastic style statement. You get to look stylish on your own terms and conditions. Besides this, they have a personal touch and carry meaning for the wearer which may be quite different from the perception of the onlookers. Among many such tattoos, the chopper tattoos occupy a unique place.
They are worn by people for various reasons and the onlookers may not get it right every time. Here we have tried to unearth the motives and meanings through these 20 chopper tattoo designs. Take a look at them and you will get to know what lies behind their robust and hardy exterior. They do look adventurous and sporty and indeed they are but there are more facets attached to them. They have sentimental threads and memories of merry occasions engraved inside them. Well, we won't reveal further for you will have to check out these pictures to get more insights.
Aerial Gliders
These two helicopters have been carved on the chest as a tribute to the brave fighter pilots.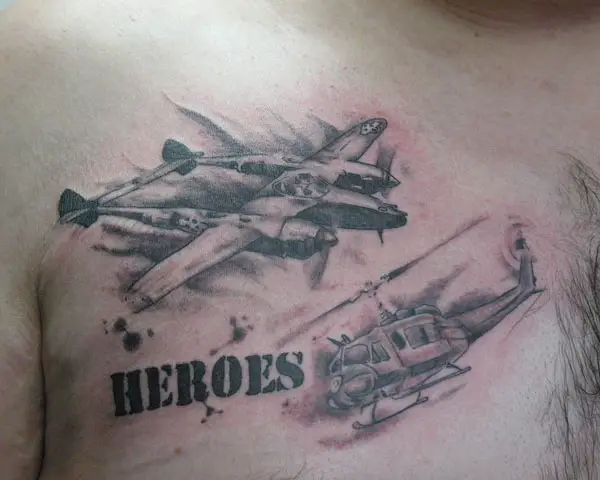 Take Off
This blue chopper carved on the upper back is about to start its flight.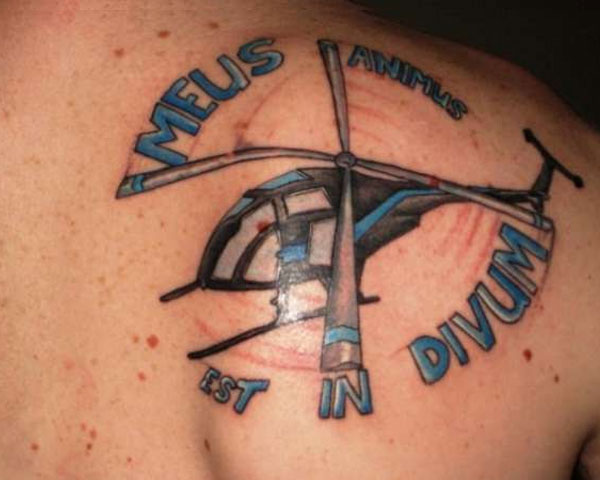 Helicopter Memorial Tattoo
This long and slim helicopter tattoo designed on the upper back is in memory of a dear one who died in a helicopter accident.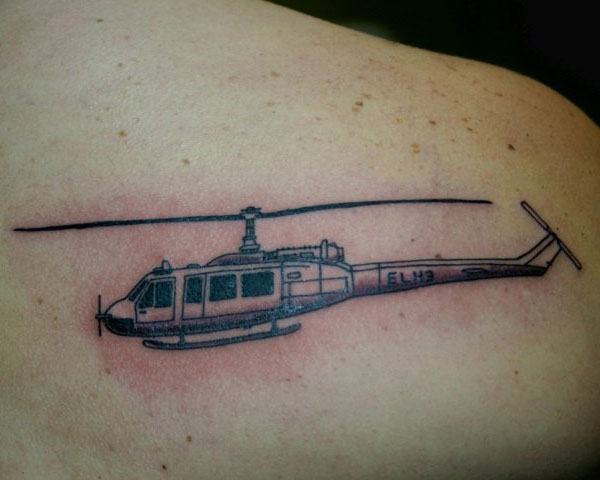 Helicopter Memorial Tattoo
Antique Helicopter
A black helicopter having a strange antiquated look, carved on the back, arouses wonder.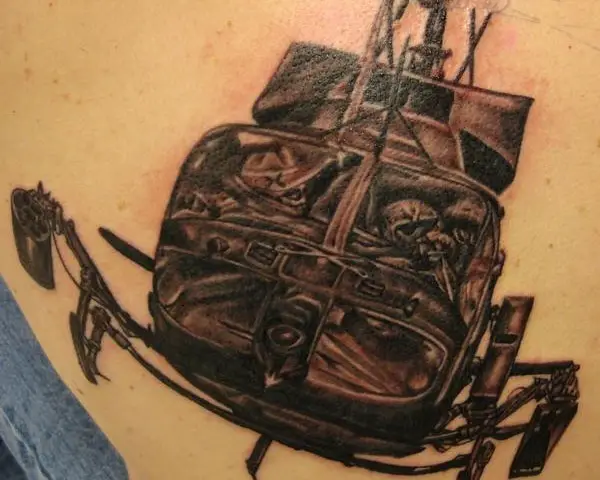 Full Front Helicopter Tattoo
Helicopters with cross, flowers and large angel wings forming a canopy over them present a vivid tattoo piece.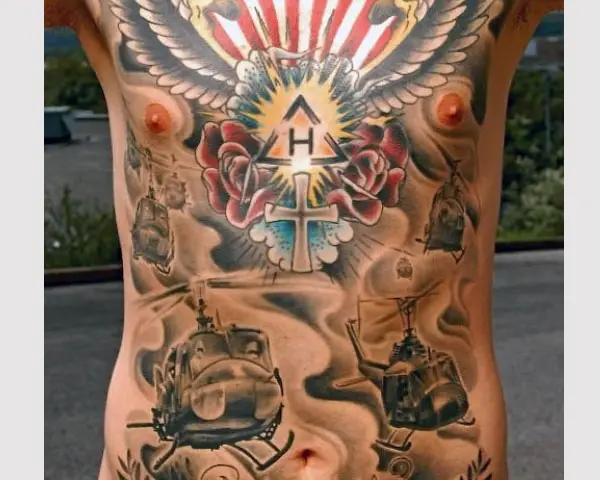 Wedding Tattoo
The man has a black and white helicopter on his arm as a remembrance for his wedding because he got married in a helicopter.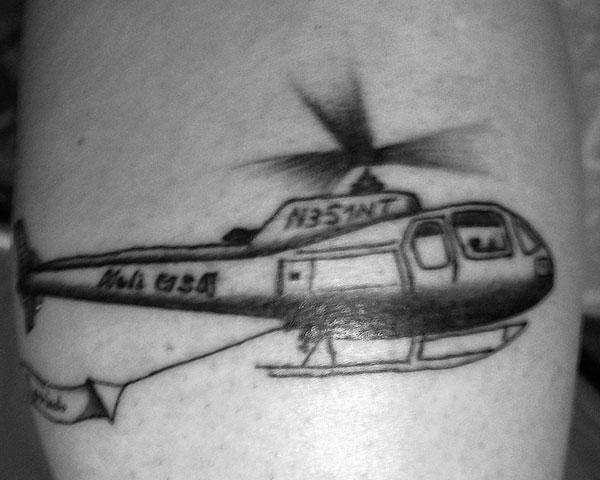 Dear Aviator
This helicopter tattoo with an RIP lettering is in loving memory of the pilot.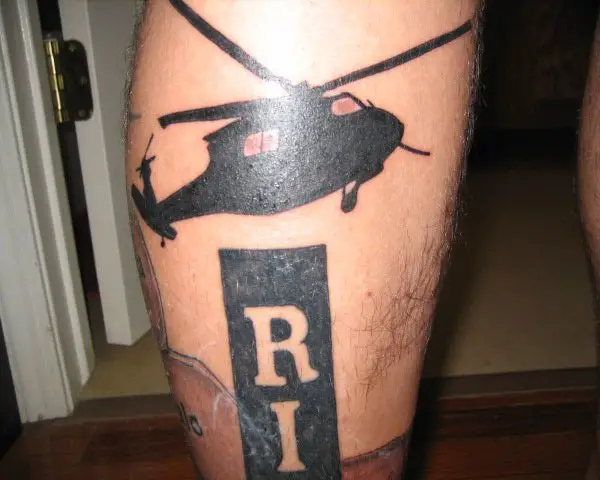 On The Runway
A black and white helicopter carved on arm is preparing to take on its flight.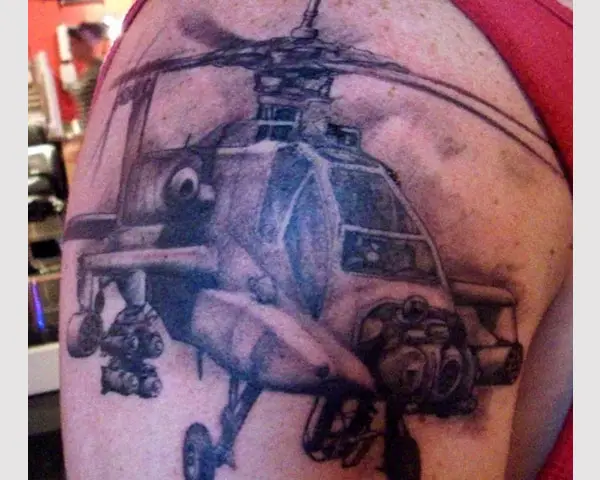 Amazing Piece
Helicopter flying above a long, winding bridge with no pedestrians on it has a romantic aura.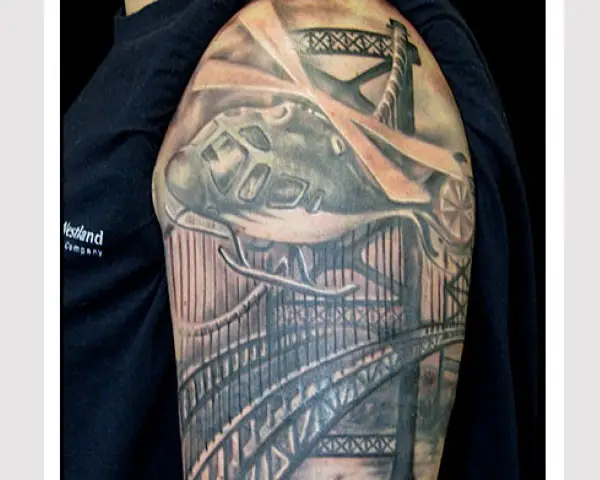 Helicopter Tattoo With Bridge Background
Escape
This comic chopper tattoo with a frog jumping out of it symbolises fighting spirit during a crisis.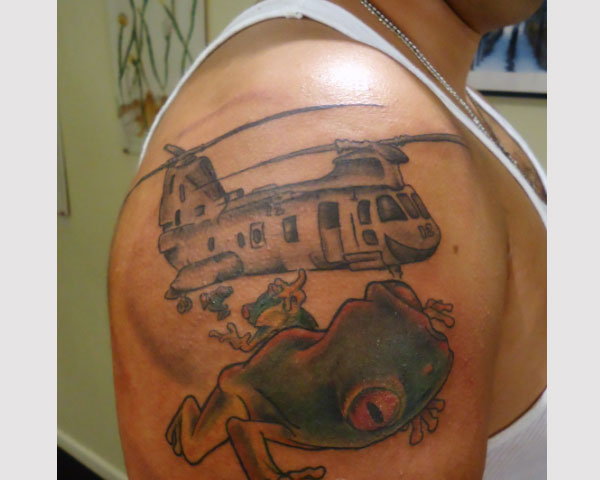 Pondering
This pilot with a helicopter tattoo on his arm is thinking about his next flight.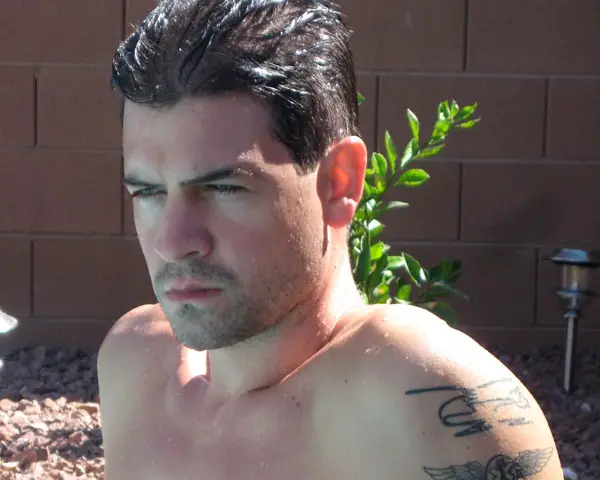 Chopper Tattoo On Shoulder
Swashbuckling
Sliding down towards the ground, this helicopter presents an exciting picture.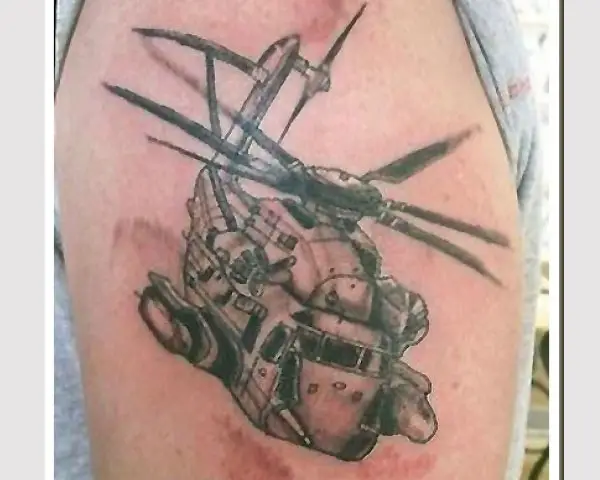 Savior Helicopter
The chopper with a plus sign has come on the fighting ground to give medical aid to the soldiers.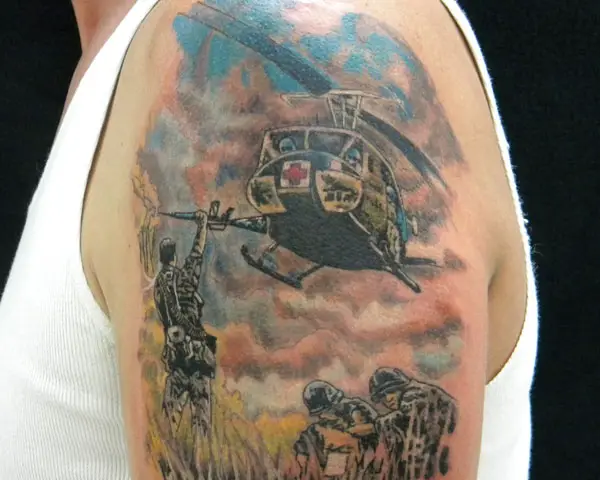 Paramedic Scene
Cool Tattoo
This vibrant orange chopper carved on the calf looks peppy and is fit for a family trip.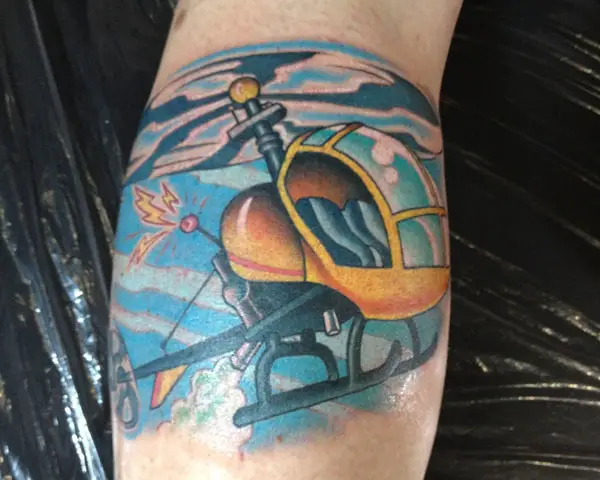 Classic Look
Black and white helicopter tattoo carved on the forearm of this crazy chopper fan is looking elegant.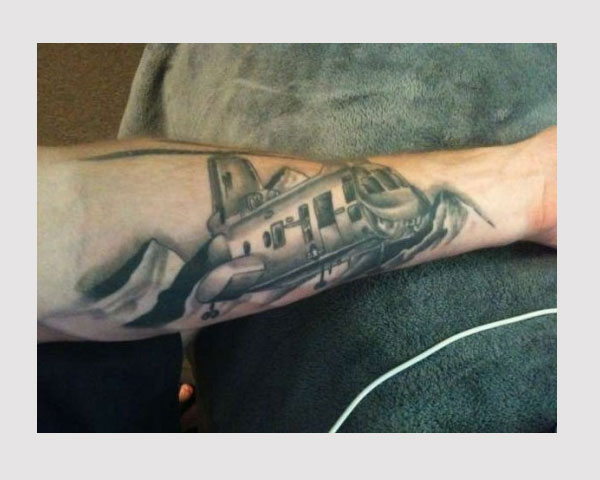 Cute Twin Choppers
These two tiny choppers inked on both the wrists look charming.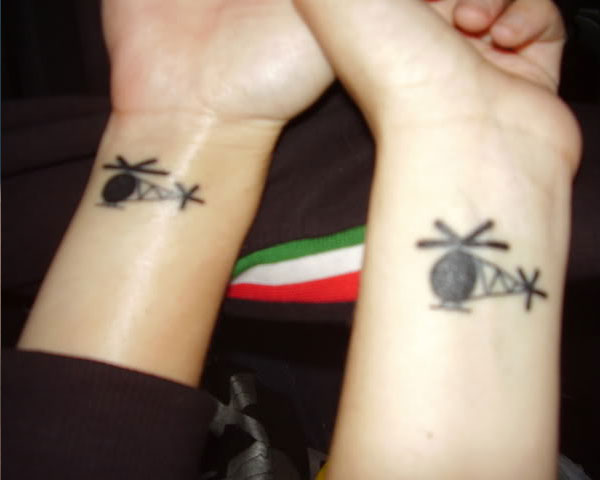 Slow Motion
About to reach its destination, the helicopter has toned down its speed and is looking drowsy.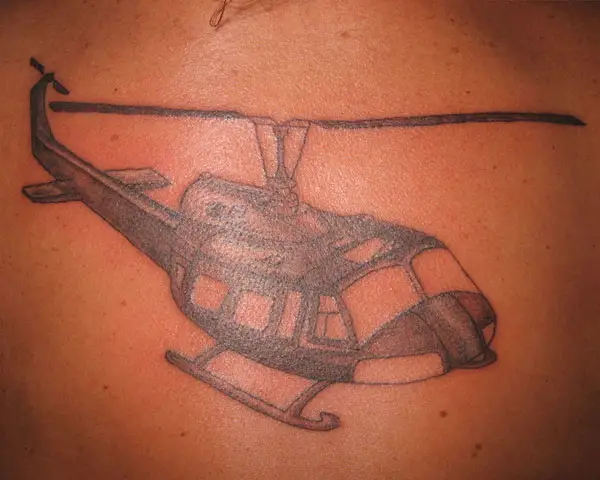 Military Helicopter Tattoo
Strong and massive, this military helicopter tattoo creates an awesome look on the arm.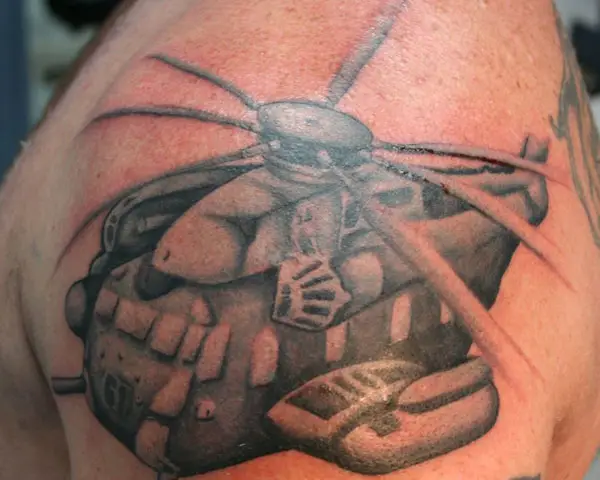 Marvelous
This chopper back piece tattoo with varied motifs is simply beautiful.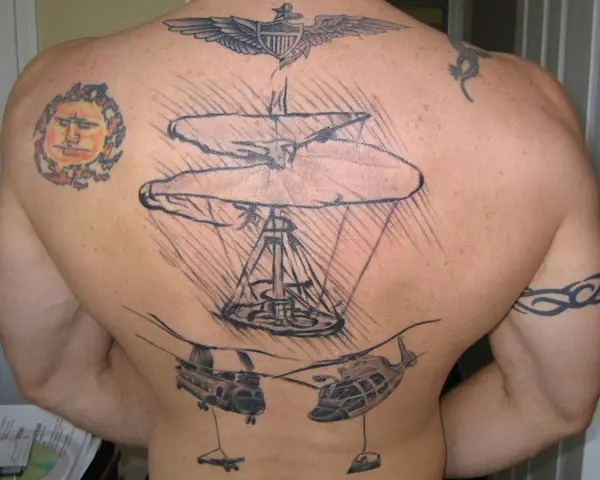 Fighter Flight
Exciting and adventurous, this flight of helicopters, carved on the ribs, gives you an adrenalin run.