Cristiano Ronaldo is one of the most well-known soccer players in the world. He has got a huge fan following that consists of males as well as females. The Portuguese national is not only popular for his skills on field but also makes cool fashion statements with his hairstyles and looks.
Cristiano Ronaldo hairstyles are much admired by the young boys and men and most of them love the soccer star's different hairdos.
Though he is not a guy who frequently experiments with his crowning glory, he is not very slack, on the front, either.
Hairstyles of Cristiano Ronaldo have a kind of moderation in their displays. He mostly keeps his hair in medium short manner that is shorter on sides and back but fuller on top. Spikes are also a favorite with the players and he dons them in a modest amount. The fauxhawk-mullet hairstyle is also very much associated with the hunk. If you want to get more details about his various hairdos then take a look at this post. It features 25 different images that show the footballer donning different hairdos. You are sure to find them interesting and informative.
If you like this article, you might be interested in some of our other articles on Protective Hairstyles, Vintage Wedding Hairstyles, Toddler Haircuts and Hairstyles For Black Men.
Cristiano Cool Hairstyle
Close up shot of the footballer showing him in a side parted, welltrimmed, dark hair having a tapering back and short spikes on the crown.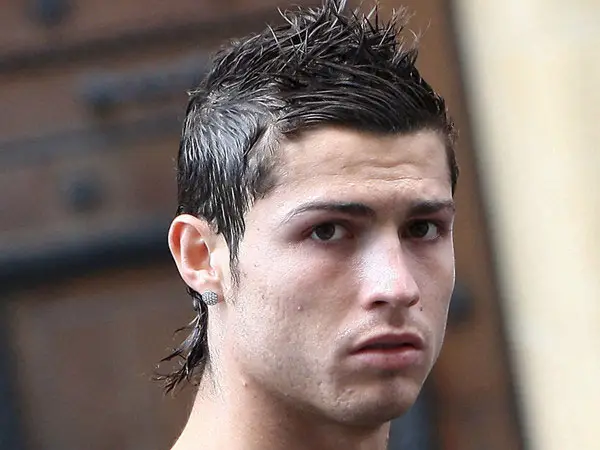 Highlighted Hairstyle
The Real Madrid forward flaunts his spikes that have been given a cool flavor with the help of blonde highlights.
Cristiano Ronaldo Mohawk
Ronaldo set a trend of sorts with this hairstyle and we must say no one carries it as perfectly as he does.
Cristiano Ronaldo Mohawk Hairdo
Adorable Hairstyle
Ronaldo looks magnetic in this green t-shirt and his trademark, short spiky hairstyle.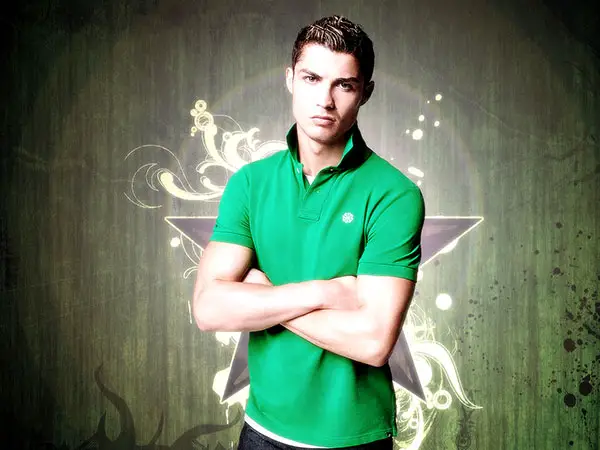 Short Casual Hairstyle
This is a simple and elegant hairstyle that is perfect for the footballer as it is comfortable and easy-going.
Cristiano Cute Hairstyle
This hairstyle of Ronaldo is easy to carry and also looks stylish without being boring and too short.
Medium Short Hairstyle
Ronaldo prefers to keep his hair longer on the top and shorter on sides and back, in order to have a cool and graceful look.
Sleek Short Hairstyle
The handsome hunk looks quite magnetic in his short hairstyle that is fuller on the top and cropped on sides and back.
Rocking Ronaldo Hairstyle
Wearing a red jersey and dark hair styled in spikes on top, Ronaldo makes for an alluring portrait.
Cristiano Faux-Hawk Mullet
Check out this image of Ronaldo that gives a nice view into his cool and distinctive hairstyle.
Sexy Hairstyle
The wet hair looks appealing as it sits in a sweet, restful manner on the head of Cristiano.
Cristiano Spikes Hairstyle
Ronaldo sports the cool and rocking, spikes hairstyle that is a rage among the youth and makes him look smarter and sexier.
abc
Cristiano Sweet Hairstyle
The spikes, sitting on the crown and the cropped sides make for a lovely combination that also give a boyish charm to the footballer.
Dark Spiky Hairstyle
The footballer looks back in style, posing with his spiky hairstyle that he wears in a simple, side parted manner.
Complementary Hairstyle
Take a look at the beaming Cristiano who looks superb in his short and well -trimmed hairstyle.
Casual Spiky Hairstyle
Ronaldo has got a fabulous personality and his hairstyle is really something that makes him more dashing.
Nice Hairstyle
Ronaldo's face shape is well framed by his hairstyle and it looks like the hairdo was tailor-made for him.
Smiling Ronaldo Hairstyle
Watch out this cheerful avatar of Ronaldo showing him wearing his favorite hairstyle that has spikes on top and cropped sides.
Trendy Ronaldo Hairdo
The sweet smile sitting on Cristiano's face looks pleasing and the spiky haircut complements the face to the hilt.
Cool Easy-going Hairstyle
The cropped sides and back coupled with a relatively dense top create a groovy hairstyle for Ronaldo.
Simple & Stylish
The excellent footballer, in his short, uniform, layered hairstyle, looks damn hot as he blows a flying kiss.
Cristiano Ronaldo With Goldenboot
Cristiano, in his signature, dark, spiky hairstyle kisses his goldenboot, making a sexy pose, in turn.
Cristiano Ronaldo With Goldenboot
Cristiano Wet Hair
Wet with champagne, the back swept hair of Ronaldo looks classic and adds to the appeal of the victorious event.
Dapper Ronaldo Hairstyle
The long and sculpted face looks very flattering with the short and dark hairstyle that is puffy on the top.
Wavy Spikes
The sexy footballer stands tall, sporting his spiky hairstyle, that flows backwards in a smart, sexy manner.