For most people, belly button rings are considered body art, like tattoos. They are best worn with a crop top or a swimsuit along with your summer buffed body as you try to emulate one of your favorite famous icons.
However, it does not matter whether you choose a stone belly ring, gemstone belly ring, or a slithering snake belly ring. Observing proper aftercare is essential.
Thus, this article will help you learn how to take care of your navel jewelry to avoid untoward complications.
What Is A Belly Button Piercing?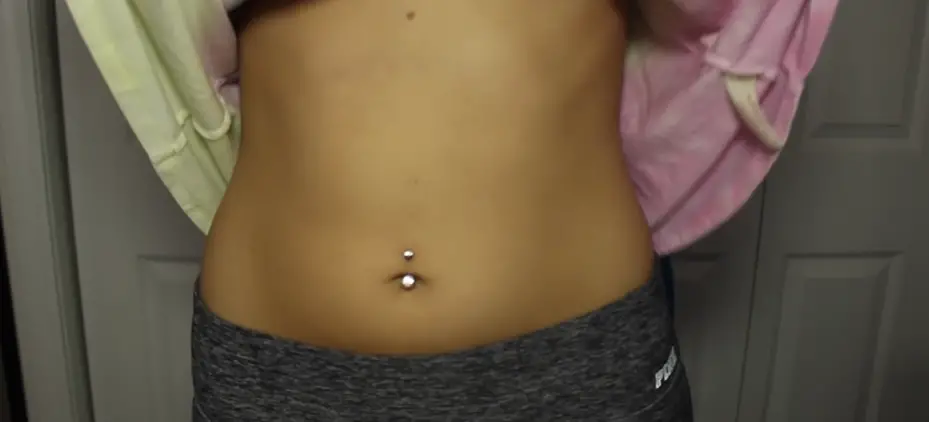 A regular belly button piercing is positioned 1/2′′-1′′ above the belly button and extends down and out through the top lip of the navel cavity.
The bottom ball of your belly button ring should nestle within or on top of your belly button as a final result. 
After attaching the piercing, the bottom ball of your belly ring should still lie overtop your belly button. If you have an "outie" belly button, it may have a minor impact on the placement of your belly piercing.
How Long Does A Belly Button Piercing Heal?
How long does a navel ring heal? The answer is it depends from person to person. Usually, it takes 3 to 6 months up to 1 year.
And when we say healing, we mean entirely, inside and out. The healing process also depends on how religious you are when in terms of aftercare.
8 Tips on How to Take Care of Your Belly Button Piercings
We all know that our belly button is just a scar. However, it is an erogenous zone. It has a lot of nerve endings, the reason why you feel ticklish when you poke it.
Since it is a sensitive part of the body, you need to do and avoid certain things after having a piece of navel jewelry. This is to ensure that it undergoes a proper healing process.
1. Keep it clean
Before cleaning your newly pierced belly button, do not forget to wash your hands. Use a saline solution to soak a clean gauze or paper towel. Touching the piercing with a contaminated hand will increase the likelihood of an infection.
There are ready-made brands available in the market. However, you can also use a DIY version. In a container, put a ⅛ teaspoon of salt.
Then, pour one cup of warm distilled water. Mix the solution well. After that, you can already use it to clean your pierced area.
Remember to dry your belly button very well after cleaning. When your piercing is always moist, it will delay the healing process.
Suppose your piercer told you to use soap when washing; preferably, choose a mild or organic one. Make sure that it is scent-free. Rinse it well, and do not let any soap residue get stuck in your wound.
2. Do not change or remove prematurely
Wait for your piercing to heal. Please do not remove the jewelry only to be replaced it with a new design.
We know it is so tempting to mix and match your belly button piercing, but try to resist. Note that a small amount of dirt can become caught in the fistula at any moment. It could create swelling and discomfort.
Thus, continuing with the lengthier jewelry for the first few months is recommended. Changing jewelry might also aggravate a healing belly piercing, especially using externally threaded belly button jewelry.
Changing can scratch the healing fistula. Only if you have an allergic reaction should you replace jewelry before your belly button piercing has fully healed.
3. Avoid putting oil, balm, or cream
Oil, balm, and cream are products that can clog the fistula. When there is oil and dirt build-up within the area, bacteria also thrive, increasing the chance of infection to occur.
If you want to moisturize the skin around the piercing, it is better to use tea tree essential oil. 
If you start to develop problems with a new piercing, tea tree oil is one of the essential substances to keep on hand.
Tea tree oil can dry any lumps that grow around your piercing and any tear caused by stretching too rapidly. Drop the tea tree into your saline solution. 
This will significantly minimize swelling and scarring. The ratio should be three drops per cup of sea salt solution. Do not apply it directly to your piercing.
4. Gently remove crusties
It would be best if you were delicate when removing "crusties". Your body's natural reaction to piercings is to generate lymph, a fluid that dries to a white crust. Do not turn and twist your jewelry to remove the crusties. 
Moving your jewelry to break up the crusties can introduce bacteria into the healing fistula, resulting in an infected navel piercing.
We recommend using cotton balls drenched with sea salt solution or simply warm water to soften the crusties before wiping them away.
5. Do not put pressure to the area
Putting pressure on your navel area will slow down the healing process. An experienced piercer is expert enough to know where to place your belly button rings.
If you have an outie, the wrong placement could put too much pressure on the are. Remember that the navel jewelry should be able to sit above and below that small flap of skin without tugging or putting too much pressure on your nub. 
Instead of wearing tight clothing, wear loose ones. Tight and coarse fabric rubbed against your piercing will scratch the area. Also, try not to slouch or sleep on your stomach to avoid putting friction on the site.
Aside from wearing loose clothing, you can use an eye patch over your navel to shield the area. You can also wrap a stretchable bandage. The belly button ring should have a little movement during the healing process.
6. Avoid beaches and pools
Do not subject your navel to infection. If you know that it is still not fully healed, please do not swim into bodies of water like swimming pools, streams, and rivers.
Beaches are salty like your saline solution but remember that the sand could enter your navel area. You should always avoid taking baths in hot tubs.
Pools contain lots of chlorine which can irritate your belly piercing. Bacteria are also here. That moment that bacteria and chlorine collide, it could be a vital source of contamination. 
7. You can use lavender oil
Using medicinal-grade lavender oil along with soap and water, you can speed up the healing process of your navel rings. After washing your belly button:
Step 1: Grab a cotton swab.
Step 2: Put about two drops of lavender oil into the cotton bud and swap it delicately around your jewelry. If there is excess oil in the area, get a tissue to wipe it off.
Step 3: Remember that lavender oil is not a substitute for your saline or sea-salt solution, yet it can reduce the inflammation of your piercing.
8. Do not use unprescribed substances
Knowing which substances you should avoid when cleaning your navel is essential. Aside from several oils, balms, and creams, steer clear of hydrogen peroxide and alcohol.
They dry your skin out. Dry skin is prone to irritation, preventing skin cells from regenerating back to the piercing. 
On the other hand, antibacterial lotions can give you a super moist wound acting as a barrier. It prevents oxygen from entering the skin, leaving your belly button ring to heal longer.
Signs That Your Belly Button is Healing
You will get a bit sore
It will turn red
There is drying or crustiness happening
There will be a presence of pus and swelling
The pus should be white, off-white, or a tint of yellow in color
Belly Button Piercing Risks
Allergic reactions towards the type of jewelry
Too much bleeding
Infection due to bacteria
Rejection or migration of jewelry
Rash
People Who Should NOT Get A Belly Button Piercing
People with the following conditions need to consult a doctor first before proceeding with the piercing procedure:
Heart complications
Diabetes
Autoimmune Disorder
Pregnant
Overweight
Hemophilia
With skin conditions
The Most Common Jewelry Material Used for a Navel Piercing
Titanium
Medical-grade titanium is your best choice if you'd rather avoid the potential side effects of surgical steel or if you know you're allergic to nickel.
Gold
If you like gold for its overall aesthetic and appearance, feel free to use it for your new piercing. Also, make sure it's 14 karats or above since anything less is too delicate and dangerous for the body.
Stainless Steel
Due to its minimal irritating or allergic sensitizing potential, implant-grade stainless steel is typically the safest form of metal for a piercing.
Are You Planning To Get One?
We hope that this guide helped you understand the proper cleaning process and other relevant information on belly button rings.
This type of accessory is beautiful and adorable to look at, especially during the summer, but bear in mind that it takes a considerable length of healing time.
Before having one, you need to make sure that you are invested enough to do the aftercare method to avoid the risks mentioned.
Belly Button Rings Gallery
Looking for inspiration? Take a look at these belly button ring pictures.
Stone Belly Ring
These rings look mesmerizing. The colors will make you want to be like a mermaid.
Faux Belly Ring
Still not sure if you should get one? Get a faux belly ring and see how it feels like to have one!

Slithering Snake Belly Ring
Want to add a bit of mystery to your look? A slithering snake belly ring like the ones below should do the trick.

Gemstone Belly Ring
Gemstones can help you feel more positive and peaceful in life. You can pick based on color, clarity or carat.
Pearl
Pearl symbolizes wisdom, good luck, and wealth. Try attracting these things in your life by wearing a pearl belly ring.
Something Cute
Admit it. Belly rings can intimidate some people. Pick something nice and cute to change the way they look at piercings with these designs.
Blue
If blue is your favorite color, try getting something like the ones below. They are truly eye-catching!
Crystal
Like gemstones, crystals can attract positivity into your life.