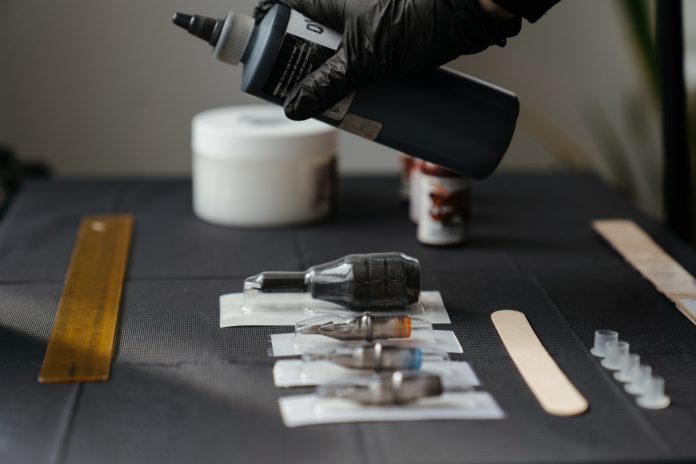 Tattooing is an art.
The art of tattooing is very personal since it leaves a lasting mark on the body. If you are going to engrave words or a portrait onto your customer, you understand that you must perform it using the most suitable medium, and in that case, you should use a spot of ink that ensures safety and will last forever.
The good thing about it is that you can easily find the best tattoo ink brands in the market. But the question is – what are the best tattoo ink brands?
It even becomes a challenge if you are new to tattooing. You have to be certain about which brand could do the job. This article aims to help you with your search for the best tattoo ink brand.
We have collected information on some of the best brands in the market to help those who are still clueless about this topic.
Things to Consider in your Search for the Best Tattoo Ink Brands
When choosing the best tattoo ink brands, you will certainly be bombarded with numerous choices.
The benefits which tattoo brands promote are often similar and they often use these benefits to claim that their brand is the best in the market. But how do you determine the best tattoo ink brands?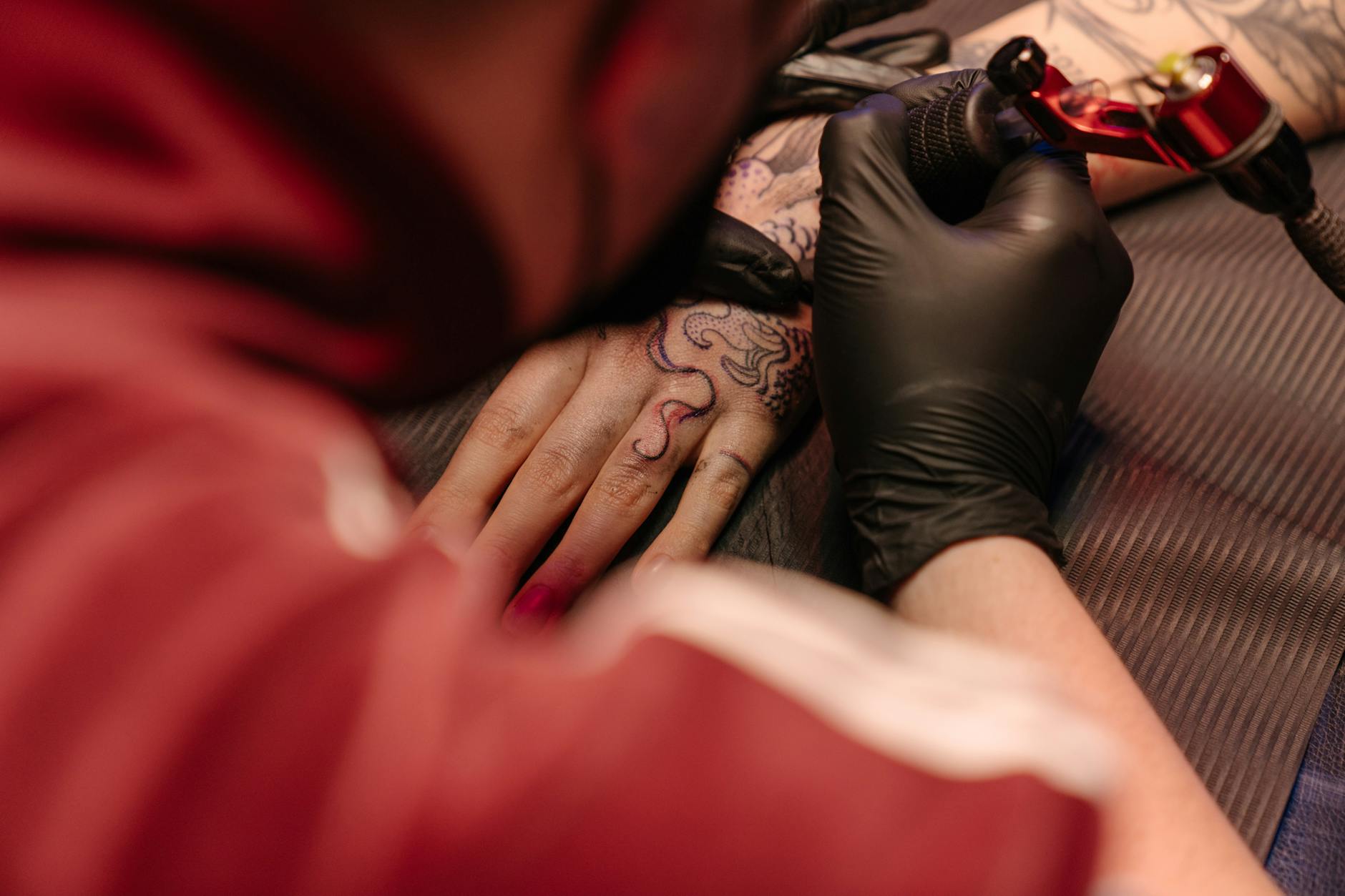 You will find numerous tattoo ink brands in the market nowadays. Many of them assert the good quality of their products; however, not all of these products are suitable for everyone.
There are still some factors to consider. Here are some of the things that you should check before choosing the best tattoo ink brand.
Choose a reputable brand and manufacturer
Credible manufacturers will always offer excellent and high-quality products.
For instance, they formulate products using the highest standards. These companies devote plenty of time for research and spend a huge amount of money to introduce an excellent tattoo ink product.
hey always make sure that their production goes through several rigid tests before being distributed to the market.
Choose brands that use safe ingredients
Tattoo inks can be formulated from various kinds of ingredients. Some brands use organic compounds while others use a chemical compound as one of the ingredients. The latter is noxious and damaging to the skin.
Hence, you must always review the ingredients used in a particular tattoo ink brand. Your best choice is the one that uses an organic compound since it is safe and gentle to the skin.
Avoid harmful ingredients, examples of which are arsenic and lead. Furthermore, you must also check whether the customer will need alcohol-based or water-based ink when tattooing.
It would be safe to buy alcohol-based or water-based inks. By following these basic rules, you will avoid  gratuitous health risks, complications, and other harmful effects of noxious ingredients.
Vegan-friendly
Vegan-friendly tattoo ink often herbal ingredients. These herbal ingredients can be leaf extracts, vegetables, oils, etc. Furthermore, these brands do not use animal-based ingredients such as gelatin, bone char, glycerin, fat, hooves, etc. Before you choose your tattoo ink brand, do not forget to check the herbal components
Ethical and safe
For a tattoo ink brand to be considered safe and ethically produced, it has to be sterilized, not tested on animals, vegan-friendly, non-toxic, and at par with US and EU standards.
Choose tattoo ink brands that last longer
Essentially, bases and pigmentation are culpable for the penetrability and durability of the tattoo ink. If you choose to get a more enduring tattoo ink, then you should choose brands that offer alcohol-based ink.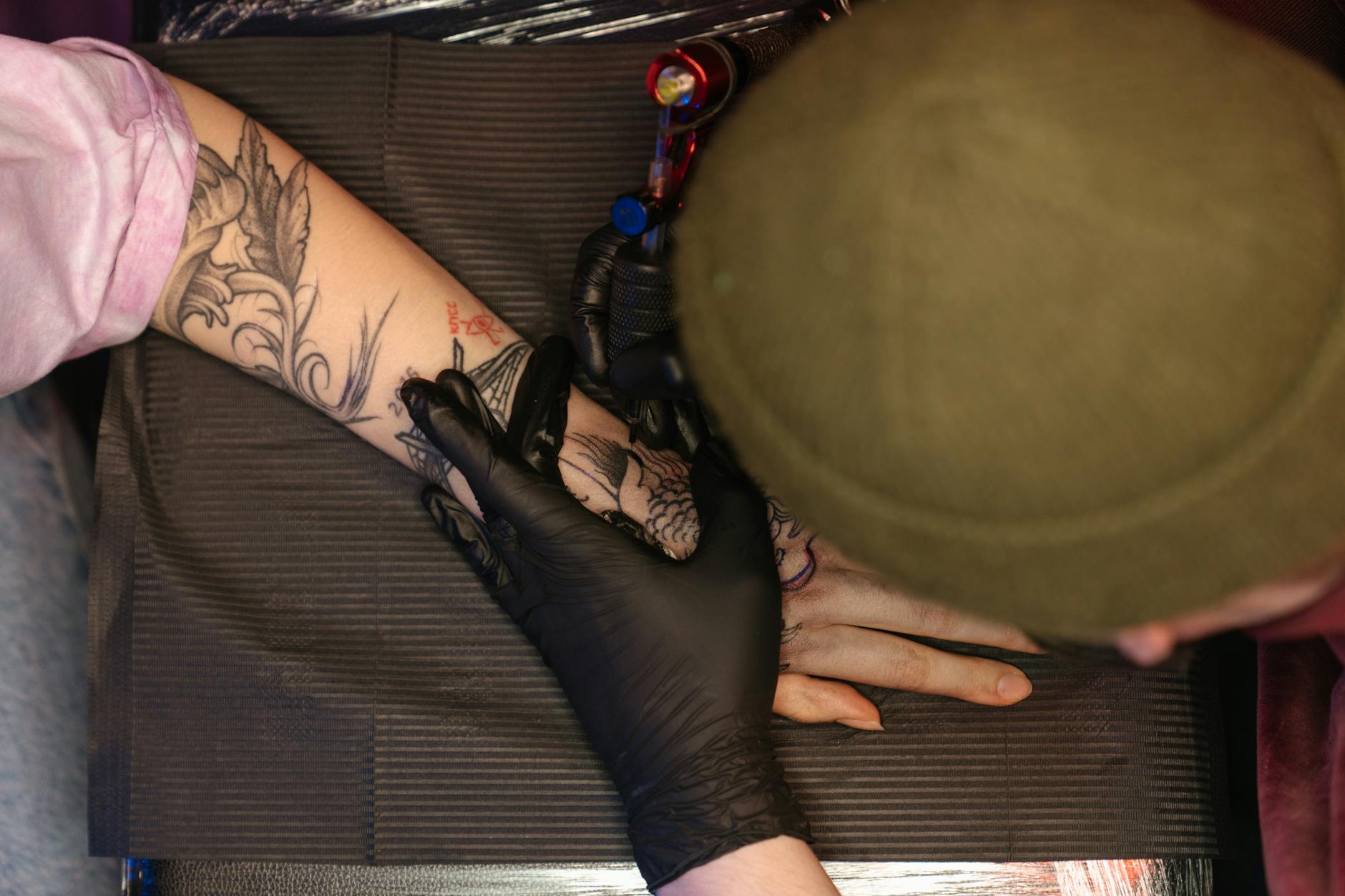 Alcohol-based ink penetrates the skin more efficiently. However, because of its chemical composition, it can cause skin irritation (as compared to the water-based ink). Water-based ink is formulated from organic and unrefined pigmentation and vegetable tints.
Know the usage of the tattoo ink brand
If you are planning to buy a particular tattoo ink brand for your task, you should make sure that it is the best ink for the project. You should be able to determine whether it is for poke or stick. You already know that some brands are better compared to others. 
Furthermore, you should know whether it is for gray washing. If you like grays, then there are bundles particularly designed for that. Are you shading, lining, or filling in? These factors are necessary and can save you more money in the future if you plan your requirements in advance.
See to it that the tattoo ink comes with the right value
When choosing the best tattoo ink brand, cheap products do not always equate to a good or high-quality product, thus it should not be the primary thing for consideration.
As a matter of fact, for a thing that is as crucial as tattooing, getting a cheap brand can be disadvantageous. You have to evaluate whether the ink is flexible enough to be blended or if it can be applied for numerous styles.
The Product Should Meet the Safety Standards
Before choosing a tattoo ink brand, see to it that health Ministries have granted their approval. Check whether the brand has already acquired a license from the E.U. regulation.
Commonly, US-formulated ink brands are recommended since they utilize excellent-quality material during production, and also because E.U. guidelines are already implemented. Tattoo ink brands that are certified by the authorities will surely provide safe and efficient products.
Consider the reviews of the experts
Get more information by reading reviews from experts about the strong and weak points of a particular tattoo ink brand. The best way of determining the best ink tattoo (for both professionals and beginners) is by performing thorough research. You must check all existing reviews about the particular tattoo ink brand.
Top 10 Best Tattoo Ink Brands
We want to assist you in choosing the best tattoo ink brands. There are numerous tattoo ink brands in the market today; however, there are only a few that were able to produce top products.
To give you an idea of what brand to choose, here is a list of the top 10 best tattoo ink brands:
Intenze is a tattoo ink brand that was founded by Mario Barth in 1978. Currently, they have introduced over 250 shades of tattoo ink. The intention of the brand is not just to offer the best quality ink, but at the same time, reach out to artists and encourage their skills.
Safety and excellent quality are the top priority of the Intenze Tattoo Ink brand. They disinfect, blend, and place the tattoo ink in a container in a sterile area. They also employ third party biochemists who focus on sterilizing and testing the quality of each bottled ink before distributing them.
This brand introduced a 100 percent vegan ink which does not utilize any animal product, and they also did not test their ink on any kind of animal.
Furthermore, this tattoo ink brand abides by the American Safety Standard and is EU-quality accredited. They made sure that the safety and quality of their ink fulfill the global health guideline and they also consistently improve their product.
If this is your first time to get a tattoo and you are quite hesitant about the results of tattoo ink, then this brand is the best one for you.
Pros:
Has enticing and shiny colors
Nice color concentration
Regular upgrading to achieve the best quality
Includes a money-back policy
Does not use animal products
Abides by the American Safety Standard
EU-quality accredited
Cons:

World Famous tattoo ink has an adequate background in the tattoo world and is generally acknowledged for the quality they provide.
This brand is one of the oldest tattoo ink companies, having started their operations more than 50 years ago, led by Lou Rubino, Jr.
The brand garnered fame in the tattoo world by consistently producing superior quality ink in accordance to the most updated safety and health guidelines.
This ink is presented in excellent quality. The best thing about it is that it is long-lasting even after many years of tattooing. This American-made brand creates bold, vividly-colored inks that meet strict European regulations.
This top of the line ink can make your tattoo appear shiny and in its best condition. The bottle is secured with an airtight seal so that air cannot get inside. Furthermore, this tattoo ink is vegan-friendly, which guarantees that no harmful ingredients are used for this ink.
Furthermore, this tattoo ink brand is recommended for the committed black and gray tattoo experts who are searching for unique distinctions in the beginning edges for their gray ink. It is mainly adapted towards shadier style grays, although it can be thinned for lighter shades.
Pros:
The bottle is secured with an airtight seal
Affordable
Long-lasting
Vegan-friendly
Cons:
A collection of the best tattoo ink brands is incomplete without an incredible set. Bloodline (Skin Candy) is another brand to consider. Bloodline started its production in 1995. 
Bloodline's top-selling 7-color set is an exceptional choice. It is even offered with a free 20-ink cap. They developed vegan water-based inks in the state of California, where guidelines for superior-quality production are known to be the most rigorous in the world.
Rather than dissipating the pigments with noxious bearers, their usage of water implies that tattoos will heal quicker, and the ink is also of superior quality. Bloodline utilizes distilled water to deliver the pigment.
This tattoo ink brand offers a large array of colors that have a lifespan of more than two years. Weighing only one ounce and exhibiting a very dense texture, Bloodline is thus suitable for various uses.
Pros:
Pleasant smell
Easy-to-use
Multipurpose 
Available in 7-ink set
USA-made
Cons:
StarBrite Colors tattoo ink has been one of the best choices since 1990, and it managed to introduce 160 shades of colors. It offers dazzling, strong hues which are adored by many tattoo artists. This tattoo ink is pre-dissipated, genuine, uncut pigments with a thin consistency that works to make the ink flow evenly.
The company left an impact on the tattoo world and forever altered it by providing tattoo artists inks in incredible shades that healed amazingly.
If your objective is to get an ink product with a vibrant, consistent flow rate, and safe-to-use tattoo ink, then you will never be disappointed with this brand. This brand is more affordable as compared to other tattoo ink brands and they contain long-lasting and intense colors.
This tattoo ink is also organic and vegan-friendly. The glycerin that is used in this product is plant-based. This is an impressive beginner set which contains all primary colors.
You can buy the 7.5-ounce bottle in Canary Yellow, Brite White, Crimson Red, Country Blue, Tribal Black, Lime Green, and Jet Black Outliner. This tattoo ink set will let you start coloring and lining immediately.
This tattoo ink has been sterilized, examined, and bottled in accordance to the standards of FDA. The manufacturing of this product was done in Connecticut, USA using the newest technology and in compliance with the recent ink standards.
This brand is mostly chosen by artists who need smoothness and consistent flow. Furthermore, this brand heals the skin and penetrates the color through the skin easily. It is surely long-lasting!
Pros:
Long-lasting
Every bottle has 100 percent authenticity
Consistent and smooth
Certified quality
Cons:
Bottle size is comparably smaller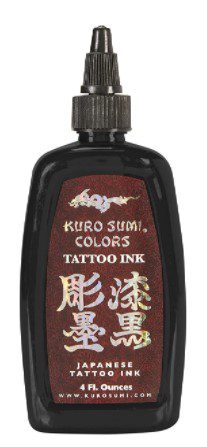 Kuro Sumi is a Japanese brand. The name was taken after the famous Japanese noble warrior Kumo Sumi Tangnumi who was known to wear designations on their bodies and instantly see extraordinary from others.
The Kuro Sumi tattoo ink brand is the most used superior-quality ink with a mysterious formulation from Japanese artist contemporaries.
This brand is 100 percent vegan and organic; it offers the safest ink that is commonly opted for by vegan and people with sensitive skin (those who are likely to get skin irritations when exposed to chemicals). 
This ink was formulated using the best ingredients. It is one of a kind and is actually one of the top choices by tattoo artists all over the world because of its excellent consistency, color brightness, and color schema. According to some artists, this brand leaves behind a smooth surface. Subsequently, the tattoo heals quickly without any loss of color. 
Particularly known for the black and gray colors, any shading and lining work will be exceptional if you decide to use this tattoo ink brand. Also, do not restrict your work to outlining. Remember that this brand comes in numerous colors, so you can literally use it for any client.
It was first developed in Japan using safe ingredients and an effective formulation If you want to revive or modify an old tattoo, this brand would be best, considering its abundant pigments that swiftly supersede the old ink.
Pros:
Safe to use
Comprised of organic tattoo color
Vegan-friendly
Colorful and lively tattoo ink
Cons:
Inkcap is a bit uptight
May spill if not closed securely
Millennium Moms is one of the most prominent and most lasting tattoo kits in the market. Mom's Tattoo Ink has an extraordinary glaze and consistency. Its color is very lively which could help improve your tattoo quality.
Hence, if you are an enthusiastic tattoo artist, this tattoo ink brand might fit you best. Its vibrant color scheme and deviation are admired and recognized by known artists from all over the world. This brand commits to providing the best quality pigment that applies smoothly and easily into the skin.
When it comes to pigmentation life, consistency of color, and flow, Millennium Moms would be the best choice. Starbrite have 84 kinds of color shades, and that includes the Mom's Nuclear Color. The ink color is wonderfully and efficiently applied into the skin and allows the artist to create an exciting, vibrant tattoo.
The consistency of this brand is highly commendable. The brand has actually reached a milestone, it started from a few shades way back in the 1990s to more than 84 shades, as of today. Mom's ink is thoroughly inspected, re-inspected, and even triple inspected for pigment life, consistency, and flow rate.
Although color ink can be bought separately, this brand's method is to pack it into half-ounce bottle sets. This brand has an incredible reputation for superior quality color ink that lingers well and flows easily. Furthermore, the brand has a Nuclear collection of blacklight and UV sensitive ink.
Pros:
Bright and smooth tattoo ink
Superior quality
Distinct color selection
Very economical
Cons:
It comes in a big box which is hard to carry
Some users expressed that it is watery
Radiant Colors tattoo ink truly lives up to its name. This brand is a popular tattoo ink brand that is known for its performance and quality. They use an uncut homogenized type of pigment for their ink. The ink undergoes sterilization as well. 
This tattoo ink constitutes a range of radiant colors that sparkles even after years of application. The colors were formulated by Radiant and artists who have expressed their requirements for more promising ink selections.
The ink is available in 7 primary colors, namely: canary yellow, tribal black, lime green, super white, scarlet red, blue, and orange. This is to allow enthusiasts to choose based on their needs.
Radiant tattoo ink was designed using the newest technology of ink pigmentation. Hence, they are pre-dissipated instead of pigment-based. Furthermore, these are sterilized inks formulated with genuine, uncut, and homogenized pigment along with a homogenic fluid mix to achieve a fine consistency that easily flows into the skin.
On top of their collection of dazzling color tattoo inks, this brand provides Harajuku Sumi black outlining as well as shading inks.
The tattoo ink package is comprised of a ball bearing, which will facilitate the blending pigments. But what makes this brand even more enticing is its affordable cost. Hence, if you are new to tattooing, this brand would be good for starters.
Also, this tattoo ink was developed from 100 percent organic ingredients; thus, it can be used on any skin type without encountering any issue.
Pros:
Available in all primary colors
Long-lasting
Formulated from organic ingredients
Affordable price
Cons:
Some users encounter problems with the packaging

Dynamic Tattoo Ink boasts of a high stature in the tattoo industry for its quality (and variations of its black ink and other color products). This brand has been in the business since 1990.
Being one of the first companies ever to engage in tattoo inks, artists can expect this brand to get impressive colorants that are both safe and long-lasting.
The intensity of some of its colors is very strong that Dynamic suggests using white to reduce them or putting yellow to the combination when playing down browns.
Applied in any style and popular for its colorfastness and long-lastingness, it easily and smoothly penetrates the skin and retains the color even after healing. It is the best choice of black and gray artists. It comes very dark and can also be obtained with thrice the amount of pigments.
The 8oz tattoo black ink is a top seller that provides the best value for money. It is well-known among artists who make their version of gray wash tattoo ink using a base black and also those who show great appreciation for excellent lining and shading concentration black ink.
Moreover, users have demonstrated their contentment with the performance of this ink. It is known to be hypoallergenic, and artists appreciate the idea that it lays down quite dark and still remains dark upon healing (without causing allergic reactions).
Some artists also expressed that this tattoo ink brand is not too thick or too thin, hence making it an excellent choice as lining ink.
Pros:
Remains black once healed
Long-lasting
New packaging
Hypoallergenic
Cons:
Containers are built with PET plastic

It would be fair to say that Panthera is one of the safest tattoo inks. This brand was developed by an Italian company named Futura.
They obtained their experience and knowledge and utilized it to develop more promising products while considering safety and health. The ink is a unique black ink series which is described  by the site of Panthera as the ink that "brings life to your tattoos."
Panthera had only introduced black and white inks. This brand is another favorite of tattoo artists who prefer a smooth and efficiently workable black.
Their colors are vegan, sterilized with gamma rays, and have complied with the standards of the German Tattoo Regulation. This brand has been in demand in Europe and Italy and is now being introduced in the USA.
Panther tattoo ink is a limited line of basic-black tattoo inks that are both gamma ray-sterilized and vegan-friendly. The ink flows through the skin evenly. The black tones exhibited in the series – which is comprised Panthera Black Ink, Light Sumy, XXX Tribal Black, and Dark Sumy – are known to maintain their bright black color even after several years.
Its ink line also includes a Polar White color which is applicable for highlighting and shading which allow the black lines to excel more in diversity. 
The Panthera Tattoo ink brand is particularly appropriate for shades, lines, and tribals. Its Polar White is known for its superior light resistance, luster, and smooth gloss.
Every pigment they used is evaluated to determine if it passes the international and European standards when it comes to purity and quality. They also did not incorporate carcinogenic compounds in their formulation.
Pros:
Vegan colors
Ink has been disinfected with gamma rays
Smooth and efficient
Cons:
Available in black and white inks only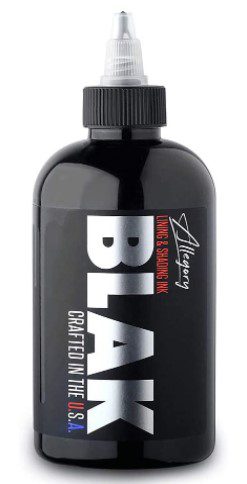 Boasting of its significant years of experience in tattooing and extensive brand bottling, the Allegory tattoo ink meant to give artists abundant and decent pigments for superior tattoos.
Their trademark, the Blak tattoo ink, offers everything to an artist when it concerns black pigment.
Allegory ink is a kind of liquid-dissolved black pigment that is usable for numerous tattooing procedures. Formulated to be creamy-smooth and rich, this tattoo ink is presented in a reusable travel-friendly sampling-size bottle.
Every bottle is designed with a bendable dispenser top accentuated with a seal. This ink creates smooth and glossy designs on the skin without causing any allergies because of its vegan-friendly ingredients.
Additionally, the vegan formulation has a glossy and smooth texture. You should maintain its best condition by rocking the bottle; it has a glass-type marble agitator inside. Every bottle is composed of see-through PET plastic, along with a tamper-resistant spin top.
Pros:
Vigorous pigmentations
Applicable for numerous tattooing procedures
Formulated to be creamy-smooth and rich
Cons:
A short period of expiration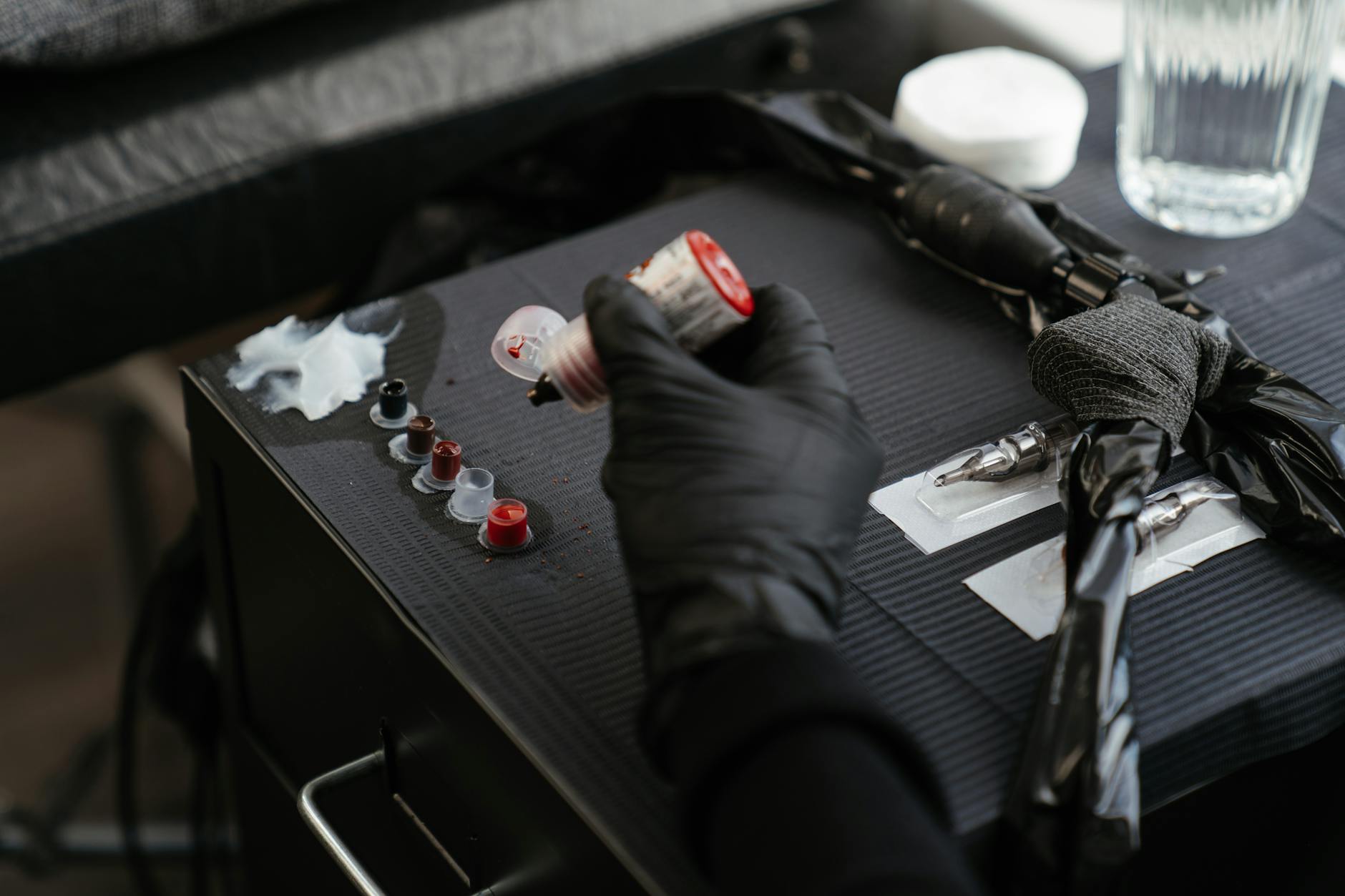 What are UV Tattoo Ink Brands?
UV tattoos are surely one of the most interesting tattoo types. Although they may seem like the average tattoo during daylight, they glow when placed under black light.
You can even find some photochromatic tattoos to be literally invisible the moment the scars are healed but still manage to glow under UV lighting.
So, what are these UV tattoo ink brands? The black light ink applied for UV tattoos should not contain any phosphorous. Remember that phosphorous can still radiate even after turning off the light, but UV ink will not.
Phosphorous is known to be toxic and can cause burning of the skin. In high quantities, this element can also become carcinogenic. 
UV tattoo ink brands are ideal since they have pigments that fluoresce when exposed to UV light. You might have noticed similar pigments before in laundry detergent or cosmetics.
When getting a UV tattoo ink, you must be informed ahead that it will cost a bit higher as compared to the conventional tattoos because of the tedious application process. Another factor for its high cost is the kind of ink used.
You must look for an artist who has enough experience in UV tattooing since UV tattoo inks are more complicated to apply (since they are applied more faintly as compared to the conventional inks). Getting an inexperienced artist for UV tattoo ink can likely lead to several problems, such as infections, because of the complexity of the procedure.
Today, the majority of the UV tattoo ink brands have a faded but discernible pigment that appears in tattoos non-observant of the lighting.  Since UV tattoo ink brands fluoresces brightly, the ink are commonly suggested for use in highlights.
It has a charming significance in contrast to the darker inks. Furthermore, these tattoo inks are also favorable for small-sized tattoos that stay practically invisible when exposed in normal settings.
However,  the drawback is that this tattoo ink dims faster as compared to other kinds of tattoo inks. It is also applied more thinly than regular tattoo ink and more complicated to use.
Remember that if you add a regular tattoo ink over a UV tattoo ink, it will ruin the effect. You must finish the regular ink sections first before putting the UV highlights to ensure the art snaps.
What to Avoid When Buying Tattoo Ink Brands?
After identifying some of the best tattoo ink brands, it would be a shame to identify brands that are not worth buying. However, in general, tattoo inks that are developed in the European Union or the USA likely conform to the safety standards.
They do not use heavy metals as well as other contaminations as per FDA guidelines. Moreover, credible brands maintain fresh stock and label the expiration date on every bottle.
In 2018, the FDA determined several brands that have violated the safety guidelines. Some of these tattoo ink brands were discovered to be infected with bacteria.
These inks have microorganisms that can trigger skin infections and other kinds of health problems. Some manifestations include allergic reactions, rashes, and permanent scars. 
Not all countries have tight policies when it comes to the tattoo ink ingredients, as well as its production. This is the reason why a lot of artists do not patronize cheap tattoo inks that are formulated in Asia.
If you are uncertain about the safety of the tattoo ink brand, do not hesitate to contact the company directly.
Furthermore, cheap and poor-quality tattoo ink brands can lead to several health problems, so you must avoid them too! These brands can possibly poison you, making you sick.
It can trigger infection, sepsis, or could even cause a serious allergic reaction due to its chemical or artificial ingredients. A lot of these harmful inks have chemicals that are known to cause cancer and must be avoided no matter what.
How Much Do the Best Tattoo Ink Brands Cost?
The cost of tattoo ink is one thing you will most likely consider. Normally, the cost of the best tattoo ink brands ranges from $0.5 to $1 per 1-ounce bottle. The cost can vary for prime products like the black inks, although it will remain close to the given range.
If you are new to tattooing, you can start with a single-color bottle or choose the 3-color or 6-color set of various brands. For the professionals, it is suggested to use one superior brand and get their full-color set since it will cost them a bit lesser for each bottle.
Tips for Finding the Best Tattoo Online Shop When Buying Tattoo Ink Brands
Tattoo inks are available online. For those who want to experience a convenient shopping of tattoo inks, checking online shops can be suitable. However, you should not discount the fact that there is also a risk when buying tattoo ink online. Hence, it would be useful if you follow the tips below:
1. Buy from a reputable online shop
You cannot just randomly choose an online shop when buying your tattoo ink brand. You should only transact with a credible seller. Choose a tattoo ink online shop that offers safe and superior-quality tattoo inks. It is recommended that you buy straight from the online retailers you know and trust.
2. Only go to familiar websites
Begin by browsing a trusted website. If you are familiar with the site, there will be less chance that you will be swindled. Do not be fooled by misleading sites. Many of them may offer enticing sales and that is how they typically deceive their victims.
3. Check the return policies
When finding the best tattoo online shop, always check the return policy. Some websites do not allow returns. Some would require a fee. Others permit free returns.
If you are an impulsive buyer, you must go for websites with generous return policies. You wouldn't want to waste your money by transacting with shops that do not allow the return of items.
Indeed, buying tattoo ink brands online is a lot more convenient. You only need to click several buttons, and it will arrive at your place.
However, there is a valid reason why post offices pout when sending liquids via mail – they break, they crack. Thus, they create a significant mess, and the package will likely become a disaster. A lot of customers are complaining about this.
There is no doubt that it is a genuine concern; however, this is something that you can still address.
First, you can always talk to the seller before deciding to purchase the tattoo ink. Have an agreement that they must securely send the item to make sure it will not burst during transit.
Next, if this still happens, contact the seller to request a money-back and purchase again. Although tattoo inks are non-refundable, a mailing or packaging problem is still commonly resolved by the seller.
Final Thoughts
There are numerous accessories and tattoo equipment being used during the tattooing process. However, it is the tattoo ink that becomes visible in your skin, and it can stay there forever.
Therefore, you should make sure that you choose a tattoo ink brand with superior quality. Poorly-developed tattoo inks can injure the skin and cause more harm than good. 
If you are a professional tattooist, regardless if you are just new to the job, grasping the trade, or a veteran, there is no question that you can always take advantage of obtaining the best tattoo ink brands.
Nothing should restrict you from using the advantage brought by good tattoo brands. Thus, if you can find another product that you think possesses the potential of providing you the best and safe outputs, you should not hesitate to try it.
Just like the best tattoo ink brands that are featured in this article, it would be typical for any artist to continuously improve. You will go far in your search for the best.
Check for the latest technology and utilize what is advantageous for your clients. You should understand that the list above is not definitive; it is certain that you will find a lot more tattoo ink brands in the market that offer quality, functionality, and safety.