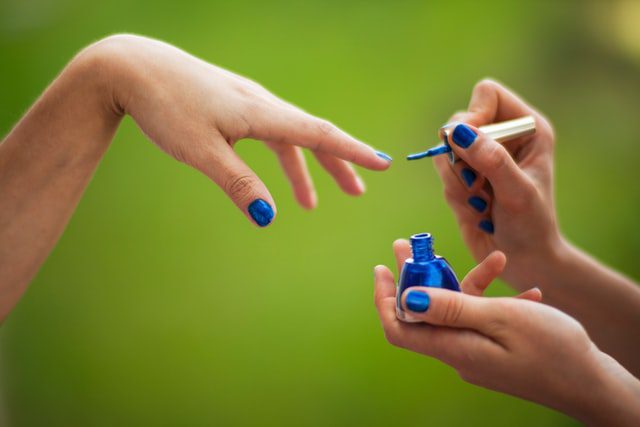 Nice Navy Blue Nail Designs
When it comes to fingernails, some of the more popular designs involve dark colors like black, dark brown, and also navy blue. However, women may see navy blue as too dark, but that is really not true at all considering all the really cool designs that can be used on the nails. We have searched high and low for some really cool navy blue nails, and we have finally found a few Nice Navy Blue Nail Designs. Curious? Well let's check them out!
We promise that once you are done looking at this list of navy blue nail designs, you'll change your mind about the fact its a dark color, and may even go shopping for some great navy blue nail polish of your very own! Enough of our rambling though because it is time to start looking. Are you ready to check out the list of navy blue nail designs? If so, you can go ahead and scroll down now.
Navy Blue Nails
Plain navy blue nails look great because the blue nails really do look shiny, which can be just as appealing as having them decorated with anything.
Navy Blue Nails with Glitter Tips
These navy blue nails need some sparkle, so their design is half navy blue and half glitter tip! Do they not look great all shiny?

White Nails with a Navy Blue Background and White Stars
Why settle for a plain navy blue nail, when you can make the nails white instead, and add a navy blue background with white stars?
Beautiful Blue And Gold Nail Art Designs
Gold nail polish should be a staple for any nail art enthusiast. It makes a beautiful and luxurious accent color for nearly every other nail color, and it's the go-to polish color for festive party nails. Gold goes especially well with blue nails!
Blue and gold nail art can be put together with light hues, like turquoise, as well as medium and dark hues, like royal and navy blue. Shimmery gold polish looks fantastic with blue nails, but for a little extra sparkle, a gold glitter polish or loose nail glitter can really amp up some blue and gold nail art!
Blue and Gold Glitter Gradient Nails
A bold gold glitter gradient turns these medium blue nails from drab to fab with just a little extra effort!
Turquoise and Gold Rose Nail Art
Rose nails are super pretty and feminine, especially on the light blue background with a glitter gradient design!
Blue and Gold Nail Art White Accents
Use a thin nail striping brushand a nail dotter tool to add some fun white accents to your blue and gold nail art design!
Wild Blue Nail Designs
Blue nail designs are a nice change from the typical nude, red, and pink nails. They're a little edgy and a little unexpected. There are so many shades of blue to choose from too! Light blues, dark blues, and every blue in between can be used for blue nail art. You can combine blue nail polish with other colors, like white and black, to create interesting designs, or you can combine different shades of blue.
Need some ideas for your own blue nail art? These wild and fun blue nail designs should give you lots of great inspiration!
Gradient Blue Nail Designs
From black to blue to white, these nails do it up right!
Black and Blue Glitter Stiletto Nails
Feisty stiletto nails look pretty wicked with blue glitter over black polish!
Geometric Blue Nail Art
A glossy geometric pattern lends a hint of wild and crazy fun to these more subdued matte blue nails.
Lovely Light Blue Fingernail Designs
One of the most popular colors out there is blue, and there are so many different shades of it that it can be tough to pick one for your fingernails. However, one great shade that would look nice on fingernails is blue, and we have searched high and low to find a few Lovely Light Blue Fingernail Designs! Think light blue nails can be boring! Scroll down to find out more and take a look for yourself!
We promise that once you get done looking at these lovely light blue nails, you'll have a new appreciation for this lighter shade of blue weather it is the color of the sky or the ocean on a clear day. Okay, the time for talking is over because now it is time to start looking at the lovely light blue nails. If you are ready to see the nails, you can go ahead and scroll down now.
Light Blue Nails with White Glitter and White Cupcake Design
These light blue nails have a layer of white glitter, and also a cute little cupcake design.
Light Blue Nails with Rainbow Pearls
Rainbow pearls looks just little sprinkles, and they can be added to any nails to make them look unique.
Plain Nails and Half Light Blue with Rhinestones
Some women like to keep their nails plain, and with the half light blue design and rhinestones, the nails are bright and sparkly.
White and Blue Rhinestone Winter Nails
A white and blue gradient makes for some super pretty and simple blue winter nails! Add a few rhinestones for a little winter sparkle.
Glitter Blue and Snowflake Nails
Subtle snowflakes added to some blue glitter nails quickly turns them into some gorgeous blue winter nails! Add some thin white tips for a classic look.
Glitter Blue Nail Tips
Alternatively, glitter blue tips make for some super simple and beautiful blue winter nail art!
Turquoise and Silver Gradient
Blue and silver just go together perfectly for winter nails! This turquoise and silver gradient is a perfect example of this!
Light Blue and Glitter Gradient
A silver glitter gradient over light blue nails? Stunning winter nails!
Blue Glitter Gradient Snow Flake Nails
A blue glitter gradient makes some beautiful winter nails. But, the addition of subtle white snowflakes really pulls this winter mani together!
Blue Winter Sweater Nails
A winter sweater prints give you a pretty and fun blue winter nail design. Use a nail stamping kit to replicate this design quickly and easily.
8. Metallic Teal Winter Nails
This shade of metallic teal is simply gorgeous by itself! The addition of some silver snowflakes, though, really completes these blue winter nails.
9. Dark Blue Winter Nails
A dark blue polish can look stunning for your winter nail designs. Add some silver snowflakes as accent nails for a wintery look.
Red and Blue Glitter Snowflake Nails
The addition of a subtle red glitter polish can make a fine addition to blue winter nails. Add some white snowflakes and you're good to go!
Blue Gradient Snowflake Nails
With a light blue to dark blue gradient, you can't help but add a few snowflakes to this mani in the winter!
Teal Snowflake Nails
I love, love, LOVE this color of teal nail polish! Adding the white snowflakes and chunky glitter topcoat makes these some gorgeous blue winter nails!
Stamped Blue Winter Nail Art
Here's another example of some simply gorgeous blue winter nails!
Dusky Blue Snowflake Nails
These winter nails were created with a little help from some cute little snowflake stickers. Easy peasy!
Striped Winter Nails
Adding a silver stripe to your winter nails not only helps give them a fun winter wonderland feel, but it also creates the illusion of length.
Waterfall Winter Nail Art
These silver and blue winter nails remind me of waterfall nails. The design isn't far off, and it really resembles icicles here!
Falling Snow Nail Art
A gradient polka dot design is an easy way to create some falling snow nail art on blue nails.
Snowy Window Nail Art
The view from a snowy window in the morning can be simply breathtaking! Recreating this look on your nails can be a fun way to ring in the winter season!
Blue Snowman Nails
What's a list of blue winter nails without some snowman nails?
Snowy Tips Nail Art
Dripping nail art is always a fun and simple design to try. I never realized how much white "dripping" polish on blue nails looks like piled up snow, though!
Blue Snowy Trees Nail Art
Here's one last example of some stunning blue winter nails…
Hopefully, you enjoyed these blue winter nails. With any luck, you got some great inspiration for your own winter nail art!