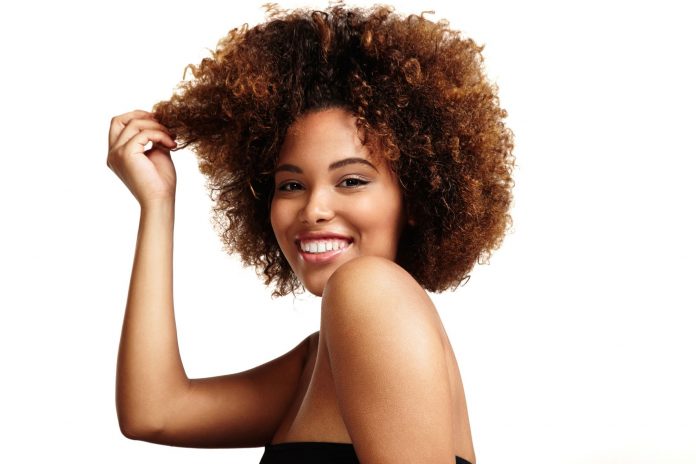 Short haircuts and natural hairstyles are a form to stand out and distinguish yourself as an African-American. If you're ready to give yourself a makeover, you have come to the perfect place. You can't go wrong with these easy-to-do hairstyles for a natural but creative look. 
Short natural hairstyles for black women include the TWA (Teeny Weeny Afro), mohawk, and short dreadlocks. The classic and traditional styles include a short twist, pixie cut, bob cut, buzz cut, and short weave. Consider an undercut, faded sides, patterns, and surgical lines if you want something bolder.  
Show off your innate beauty and read on for more natural hairstyles you can choose for your next appointment. 
Quick Navigation
Short Twist Hairstyle
Twists are an afro hairstyle that involves splitting a strand into two and twisting them on top of the other in the same direction. It is a hairstyle used by black people, usually done on natural or artificial hair.
Short twists can be Senegalese twists, Havana twists, kinky twists, Marley twists, and so on. Several tried-and-true twisting techniques make your short hair more attractive and solid. 
Bandana Updo With A Twist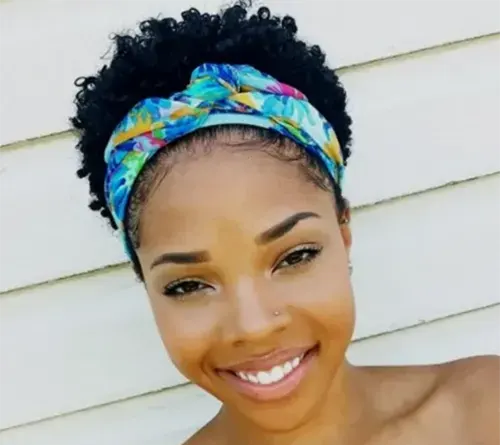 Sometimes little is more; you don't need to add weaves or braided style to your short hair to get a colorful look. Allow your natural curls to fall freely, and use hair accessories like a tropical bandana.
It is a simple method to improve your daily look. Whenever you want those short twists off your neck, collect them into a high updo and wrap them in a vibrant bandana or headband. Leave the shorter pieces in the front out to soften the effect. 
Kinky Twist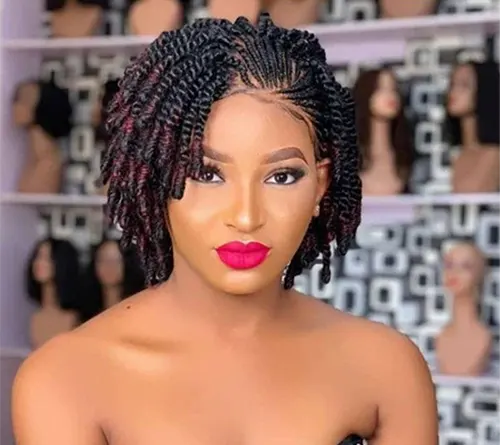 Twists are one of the most popular African-American hairstyles. This unique style suits curly-haired ladies or anybody with "kinky" hair.
If you want your hairstyle to have a bit of an extra personality, you will love the kinked form of these short twists for black women. Because this style already has a lot of flairs, it requires low maintenance, needing just a center part. 
TWA Hairstyle
All black ladies with natural hair may sport short haircuts like a teeny weeny afro or TWA. TWA is a short natural hairstyle with a maximum hair length of 2 inches. It is the look you get after a major cut, either as a consequence of heat damage or as a transition from relaxed to natural hair.
TWA may be pretty adorable, fun, and flattering. Although having an oval-shaped face is preferable for the TWA hairstyle, wearing whatever you enjoy is still allowed if you don't have much bone structure. 
Classic TWA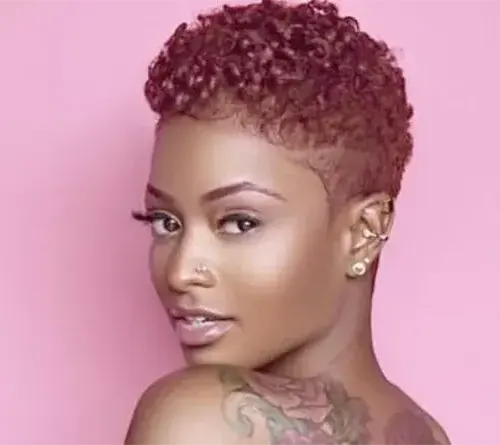 The versatility of the classic TWA's styling options is its main feature. It emphasizes a woman's fierceness and confidence. If you're thinking about getting this classic teenie weenie afro 
haircut, be sure that you want a shorter one since the grow-back procedure may be difficult.
Mini-Afro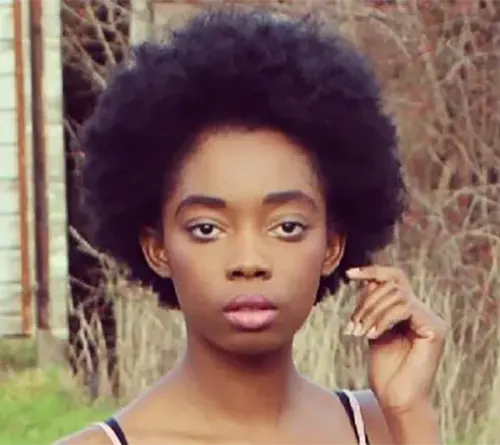 With this Mini-Afro, you can embrace your natural curls and show them off. This excellent technique accentuates your volume while maintaining an easy-care style.
Natural afro hair is not difficult to keep; it only requires a healthy regimen, high-quality products, and a little drive! 
Pixie Cut
Think about getting a pixie cut if you want to restart your hair care regimen from scratch. You may concentrate on the new growth of your roots for healthy hair by shaving off the ends and mid-strand. Now, most black women visit the salon to keep their hair this length looking presentable unless it is naturally curly.
Short Curly Pixie Style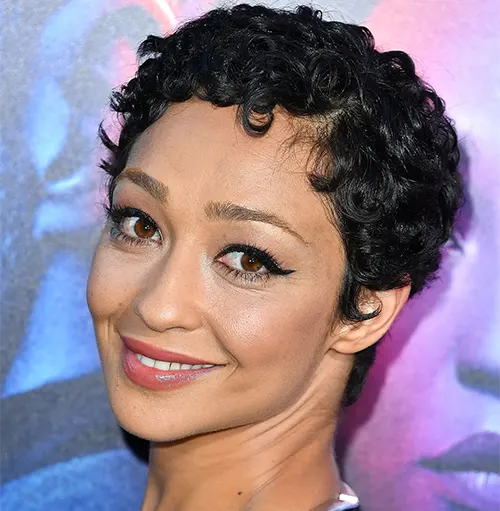 A short curly hair with a pixie cut is both very feminine and unconventional. This style is an excellent illustration of a short haircut for a black woman that suits every face shape.
Although hair texture dramatically impacts how the natural curls lie, you can do it with a flat iron and little to no product.
Stylish Razor Cut Pixie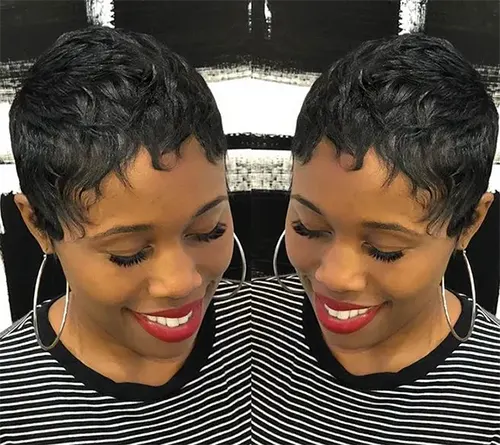 A flawless, fashionable, short razor cut looks great on ladies as long as you have the guts to flaunt it.
You will need a textured, layered pixie cut to appear fantastic in any attire, so keep it basic.
Short Natural Bob Hairstyles
There are several techniques to cut a bob on short hair, such as angled, graduated, inverted, asymmetrical, and many more. You may personalize your short hair to fit your personality with many trendy and creative styles. Change your angle by adding big chop layers to a traditional bob for a simple and enjoyable change of pace. 
Sleek Modern Bob With A Side Part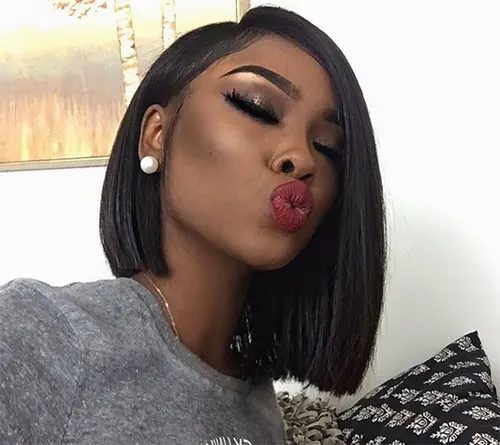 A modern bob with a side part is timeless and adaptable to your preferences. Many contemporary bobs lack layers.
Ask your hairdresser to add natural hair texture and layers if you want a fuller appearance! 
Full Curly Bob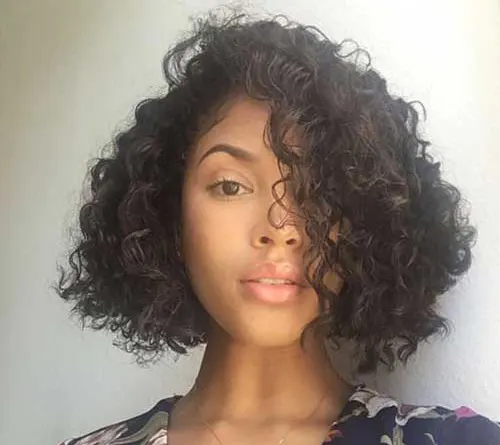 With a black woman's natural short bob haircut, let your envious-inspiring locks go!
Use the stylist-recommended products to display the structure and volume of your natural hairstyles correctly. 
Mohawk for Black Women
Mohawks are popular among black women who wish to appear fierce and more powerful. Although current Mohawks are often more on the faux hawk side, this cool hairstyle never fails to make a statement.
Short Afro Mohawk with Patterns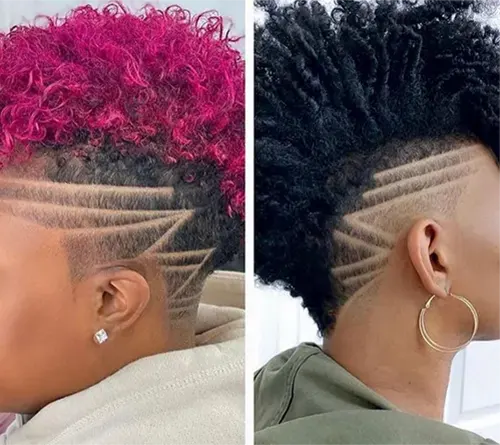 Mohawks are a terrific technique for some black females with naturally curly hair to prevent too much frizzy volume.
You may look young and playful with patterns on a short afro mohawk. The curly hair twist with black tips successfully creates that appearance. 
Braided or Cornrow Mohawk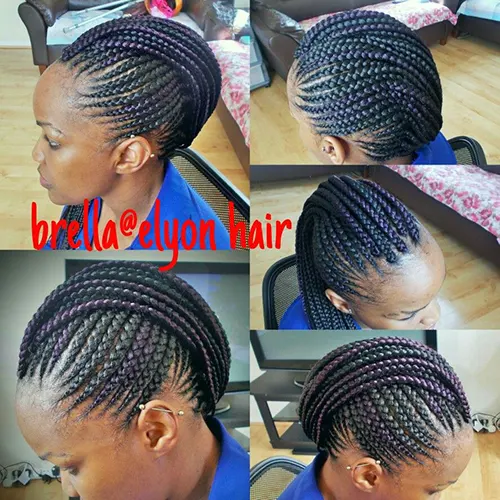 Make a unique full or side cornrows by braiding your whole head of hair and sweeping the braids on top. You may shape the mohawk or pompadour in any way you like.
To keep it together, you will need a lot of hair gel and leave in conditioner after. The best part is that there is no need to trim your hair. 
Modern Buzz Cut
Shaved line is in! Don't want to bother with a lot of hair products or styling? Choose a buzz cut! Those with equally proportioned diamond, square, or oval faces will look awesome in this style. If you don't fit into that category, you may be able to pull one off, but it will most likely take some creative grooming to level off your jawline.
Classic Modern Buzz Cut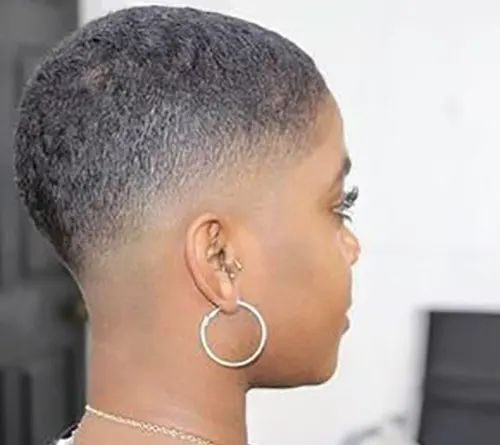 Women with short black hair have outgoing personalities that complement their appearance. The classic, modern buzz cut for ladies exudes a distinct type of femininity.
You may cut your hair down without any shaved lines if you want a smart approach to a feminine buzz cut. It's sophisticated, sassy, and tasteful all at the same time.
Close-cropped Buzz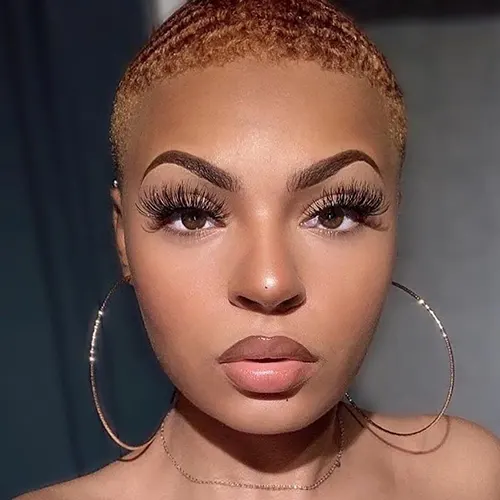 Close-cropped buzz cuts are one of the most straightforward short natural hairstyles for black women to achieve. The perfect style is simple to maintain and enables your natural beauty to come through!
Choose a single length to keep things simple, as shown, or leave a bit extra length on top to give height and volume to this stunning, no-frills cut.
Short Weave Hairstyle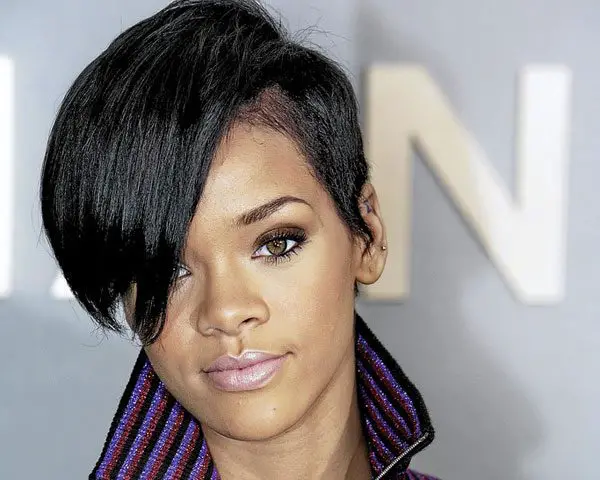 Over the last decades, various short-weave hairstyles have arisen among African-American women. Celebrities popularized many of these fashions.
A weave might be the solution if you need to give your strands a break after heat styling. While many women prefer longer hair, we like the stylish refinement of a shorter weave hairstyle for a graceful look. 
Sleek Finger Waves With A Weave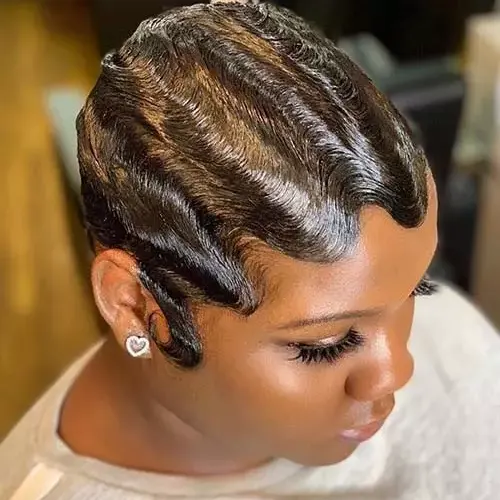 Although fashionable, short hairstyles for African-American women don't necessarily seem contemporary as they age.
For black women in their 40s, sleek finger waves with a weave help you look fresh and younger-looking. 
Simple Bowl Cut with Short Weave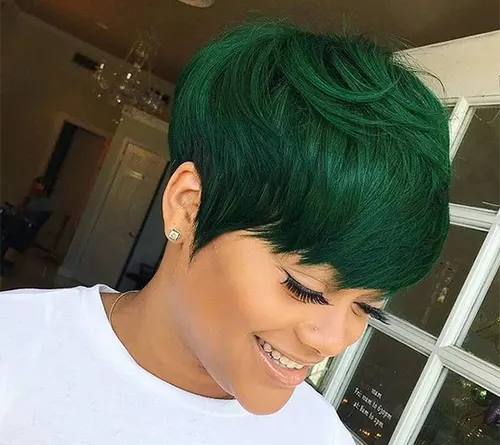 A bowl cut, also known as a mushroom cut, is a basic haircut in which the front hair has a straight fringe, and the rest of the hair is left longer, the same length all around, or the sides and back are the same short length.
Black ladies who wear this simple bowl cut with a short weave hairstyle have an effortless, natural vibe because of the straight hair texture. Mix it with striking bright colors or caramel highlights for a fun, unique hair. 
Short Dreadlocks
If you don't want to, you don't have to wear curly short hair! If you want to keep it natural, you may go for dreadlocks. Short dreadlocks on ladies are adorable and flexible.
If you have short, coarse hair and wish to develop dreads, use a soft-bristled brush or a sponge brush to make tiny circular movements until the hair forms into balls. Add hair natural oils to maintain your small natural locks nourished and healthy.
Faux Locs Bob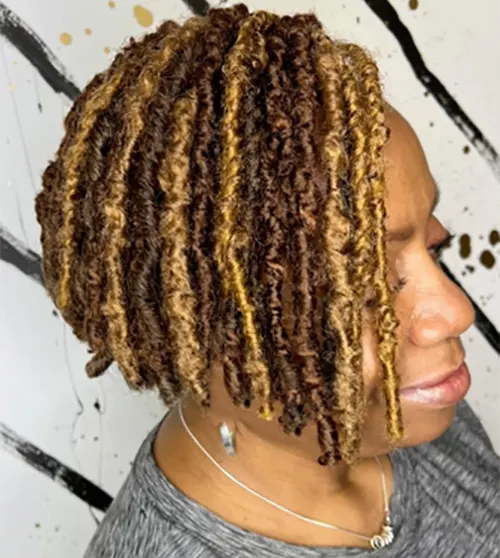 Dreadlocks take as much care and upkeep as any other hair type, if not more. After all, it takes time to go from ear-length locks to back-length locs. Growing healthy dreadlocks isn't easy, but it's also not impossible.
Only black women can pull off the quirky crochet tresses in this neck-length faux locs bob haircut. Faux locs bob is proven to flatter every facial features and hair types. We don't see this trend going away anytime soon, so be ready to sport your faux locs bob look every day!
Wavy Dreadlocks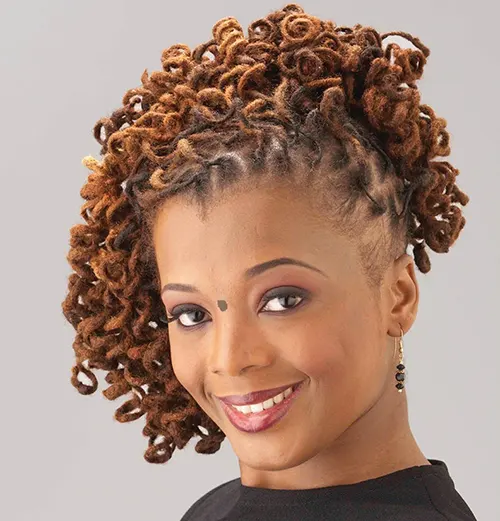 Choose a wavy style for your locs to add texture. This style is a great way to spice up your typical locs look. Try this short curly dread haircut for additional fullness in your dreadlocks.
These tight curls will give your dreads more glitter, and the curling spirals move with a lot of body.
Conclusion
Natural hair, indeed, does have a flair all of its own. You can have different hairstyles to create a look that's unique to you.
Whether it's a pixie cut, bob, or any other natural hairstyle, there are plenty of great options for some amazing short haircuts for women. Showing off a short natural hairstyle is a great way to show other women your confidence in your natural beauty.