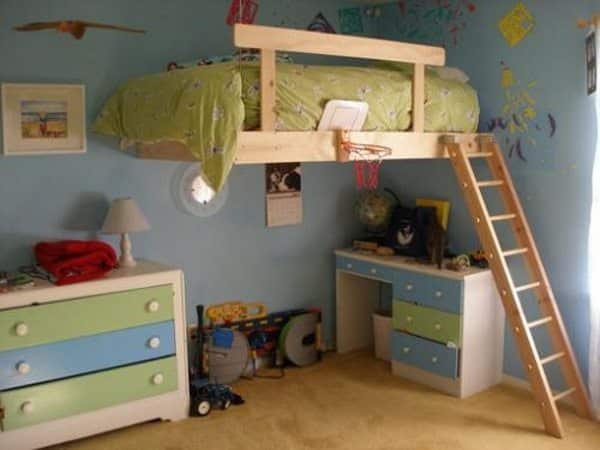 A loft bed is an amazing space saving solution for small bedrooms. Loft beds can also be used in living spaces without separate bedrooms, like efficiency apartments, to effectively keep the living area separate from the sleeping quarters.
There are a variety of already constructed loft bed available on the market today. Although these are portable and sometimes very attractive, some people still choose to make their own built in loft beds. Oftentimes, a DIY built in loft bed is less expensive than already constructed loft beds. Constructing your own built in loft bed, however, also allows you to create a custom piece of built in furniture that suits all of your wants and needs.
If you're looking for DIY built in loft bed ideas, check out the awesome list below for a little great inspiration!
1. Simple DIY Built In Loft Bed
Not all DIY built in loft bed ideas are complex bulky pieces of furniture. This built in loft bed for instance is a very simple design, yet it does the job it was intended to do very nicely!
2. Loft Bed Suspended By Chain
Suspending a loft bed by a chain from the ceiling is a very unique way to tackle a built in loft bed! This give the room a slightly industrial chic look.
3. Built In Loft Bed With Ladder
Obviously you'll need some way to get up into your DIY loft bed. A ladder at the end of the bed provides both access and additional support, while the area underneath can be utilized for just about anything.
4. Very Functional Loft Bed
A built in loft bed can be extremely practical and functional. This particular loft bed idea, for instance, also includes bookshelves, cupboards, a desk, and a place to hang clothes.
5. Loft Bed in a Nook
Awkward nooks and crannies in some homes can be hard to maneuver around. However, an awkward nook is actually a great location for a built in loft bed!
6. Crib Under Loft Bed
Finding room for a new addition can be tricky, especially if you live in a small space. Place a crib under a built in loft bed to make a room pull double duty and save space while you're at it.
7. Loft Bed Over Cabinets
Add tons of storage space with a built in loft bed. This particular addition has lots of cupboards and even a nook to hang clothes.
8. Loft Bed With Stairs
Stairs are a nice option for higher DIY built in loft beds. In addition to providing easy access to the bed up top, they also add extra storage underneath.
9. Entertainment Center Loft Bed
With a little work, it's not hard to convert the area underneath your built in loft bed into an uber storage space This loft bed idea includes an entertainment center as well as areas to hang clothes and store shoes!
10. Loft Bed Over a Door
The unused space above a door is a great place to stash a DIY loft bed! The space underneath makes a fantastic place for a sitting area!
11. Above the Door Loft Bed
Here's another gorgeous example of a built in loft bead above the door! This one also has enough room to incorporate stairs for easy access.
12. Loft Bed in the Ceiling
Does your home have super high ceilings? You may be able to tuck away a loft bed up there!
13. Loft Bed in the Rafters
Open ceilings with exposed rafters already have great bones for a built in loft bed. Just add a ladder and a base to rest your mattress on.
14. Loft Bed With Play House
Little ones will love this built in loft bed with playhouse design! It gives them a comfy elevated place to sleep and a private place to play and imagine.
15. Loft Bed in a Closet
A large walk-in closet may not make much sense in a kids' room, but converted into a set of bunk beds or a loft bed, and it makes perfect sense! The beds actually extend further into the closet for a little added privacy.
16. Closet Loft Bed With Doors
Want a hidden built in loft bed? This converted closet is perfect for guests, since the doors can be shut and the extra room can be hidden when company isn't coming. Plus, you have the added satisfaction of seeing the looks on your guests faces when you tell them that they'll be sleeping in a closet!
Built in loft bed ideas are pretty creative, no? Plus, many of them aren't too difficult to create. Even if you aren't very handy, you should be able to construct a simple built in loft bed with just a few simple tools and inexpensive supplies. Just be sure that your DIY loft bed has lots of support for safety's sake! If you've already created your own loft bed, be sure to show us in the comments below!