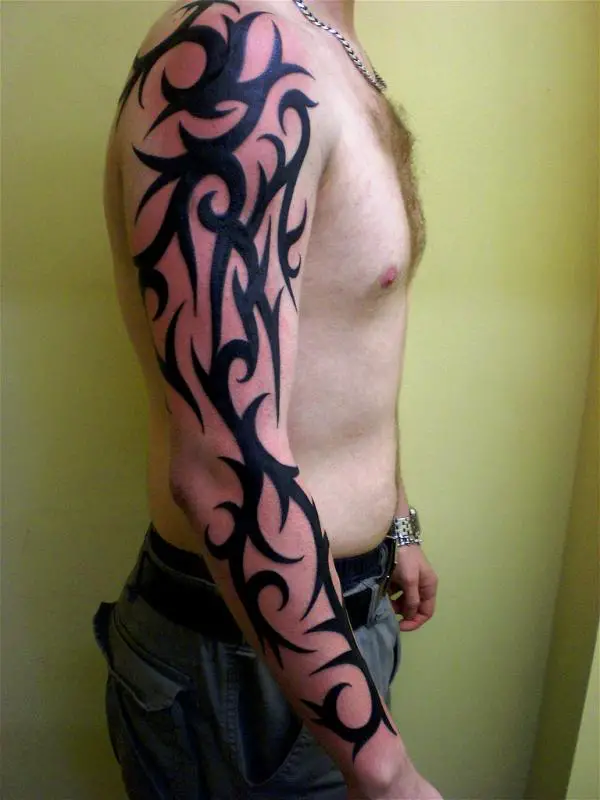 Tattoos help in expressing your individuality to the fullest and if you are that kind of a person who wants to stand out in the crowd, tribal patterns are the best option for you. I love the bold black prints; they give a very strong look to the personality of the bearer.
The best place to get a tribal design inked is the lower back for woman and the shoulder blade for men.
Tribal arm tattoos help in giving a traditional plus modern look as in the earlier times they were drawn to mark the passage to new responsibilities like adulthood.
Scroll down for 30 tribal designs and choose the one you would like to have.
If you like this article, you might be interested in some of our other articles on Hand Tattoos, Half Sleeve Tattoos For Men, Tattoo Ideas and Knuckle Tattoos.
Custom Tribal Arm
This is a popular traditional design modified with some slight custom styling. These tattoo designs are one of the classic arm tattoo designs for men. Arm tattoos are best done with a professional tattoo designer. These tattoo designs are one of the hardest tattoos to cover up making living with a botched tattoo extremely difficult.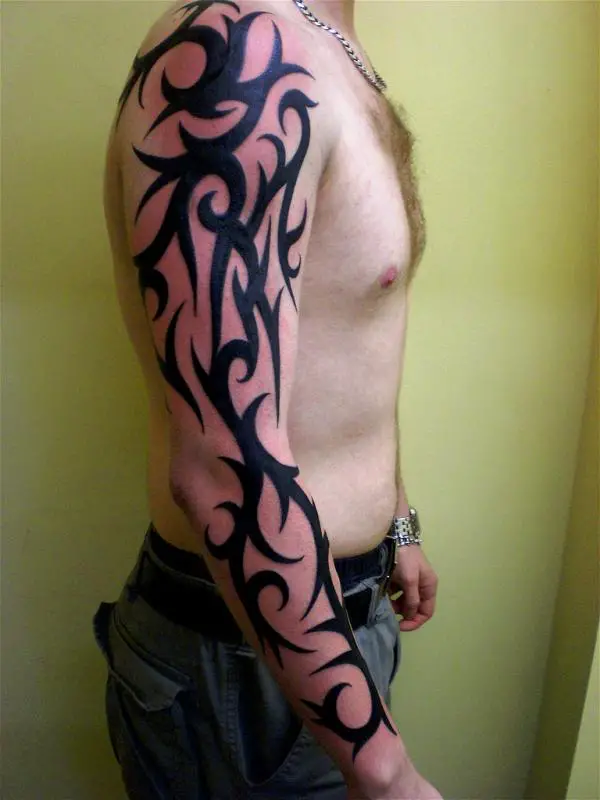 The Catalyst
One side effect of getting tattoos is that many become so enthused at with the idea of going to tattoo parlors to get inked that they cover their entire body like this guy right here. This guy really went to a tattoo designer and had all of these tribal art tattoos inked on his face and body. For his sake, I hope it's just an airbrush instead of a permanent tattoo.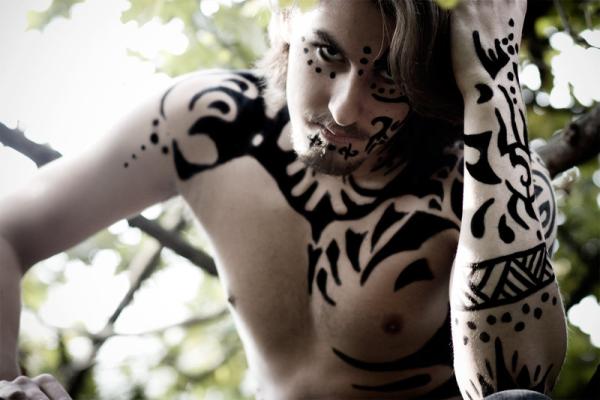 Back Forearm Tattoo
A tribal tattoo with is one of the most popular tattoo ideas for men. In this particular back forearm tattoo, tribal outlines are drawn to represent the outlines of a fish. This clever tattoo art requires the viewer to stare at the tattoo for more than a second to see the actual shape of the tattoo.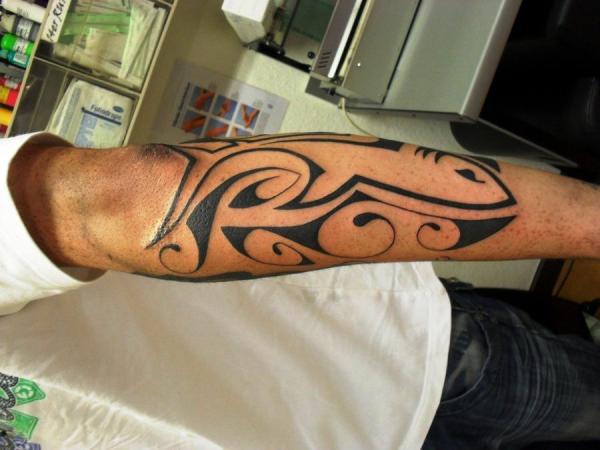 Huge Tribal Arm
This collection shoulder tattoos are made with fuming tribal flames all over the arm, reaching up to the chest. The wearer had to be very brave and have high tolerance to be able to have this tattoo done. Ranking moderately in the Tattoo Pain Chart, arm tattoos and shoulder tattoos are usually minimalist tattoos and simple tattoo designs so the wearer does not have to endure so much pain.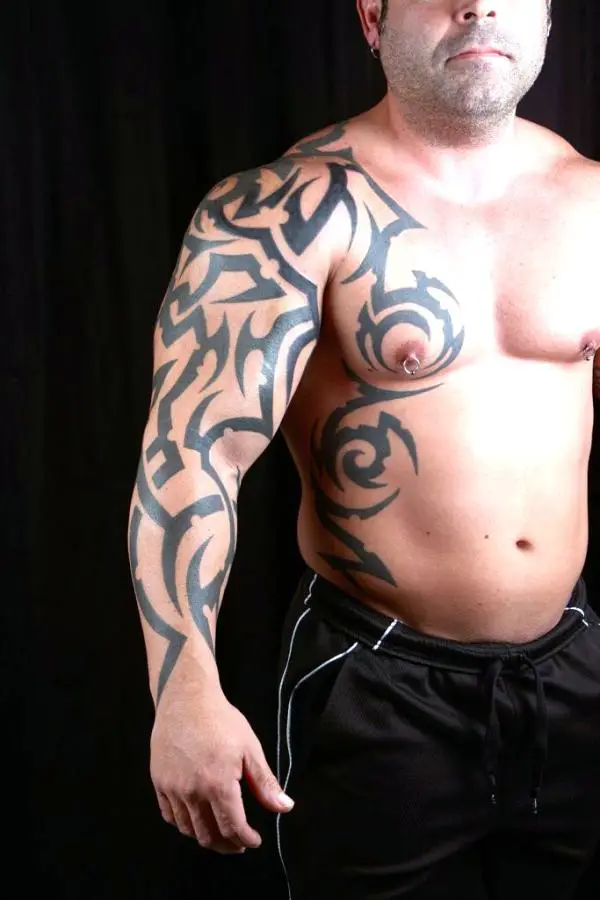 Tribal Arm Piece
Some of the most common arm tattoos for men are of tribal designs. This great looking pattern in bold curves make for a really good tribal arm piece. Tribal tattoos are also known to add a genuinely nice masculine appeal to the wearer.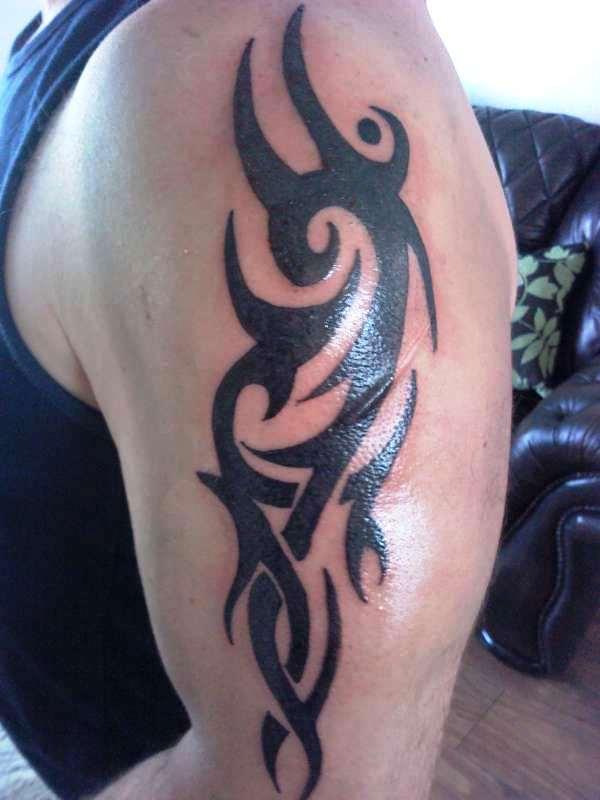 Tribal Arm Tattoo
This cool vertical Barb & Trib tribal design on the half sleeve is one of the simple tattoos for men that shows how bad ass they are. Historically speaking, tribal tattoos symbolized a rite of passage which could, in modern times, translate to the wearer going through, and successfully moving past, a life-altering situation.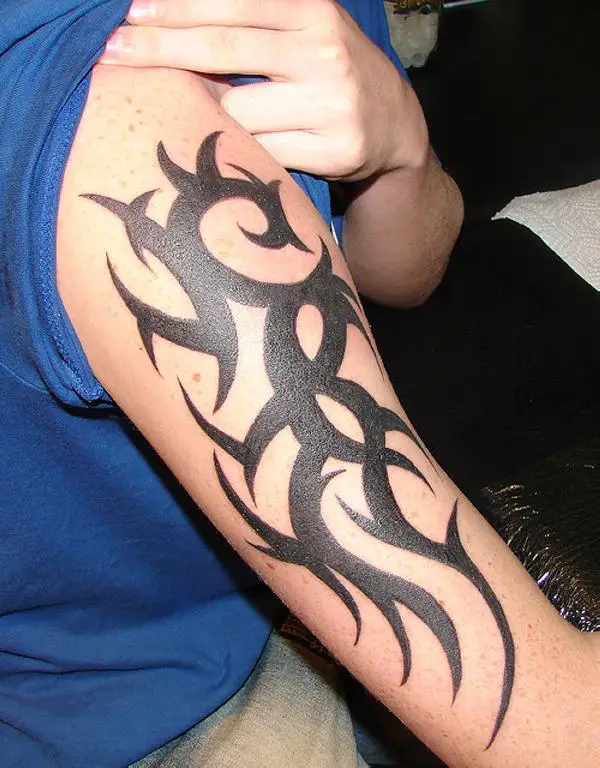 Half Sleeve
Arm tattoos using tribal tattoo designs is one unique way of increasing your body's aesthetics. Tattoo styles like this which also add a religious symbol from Hindi culture makes for a distinct tattoo that many people will remember you for.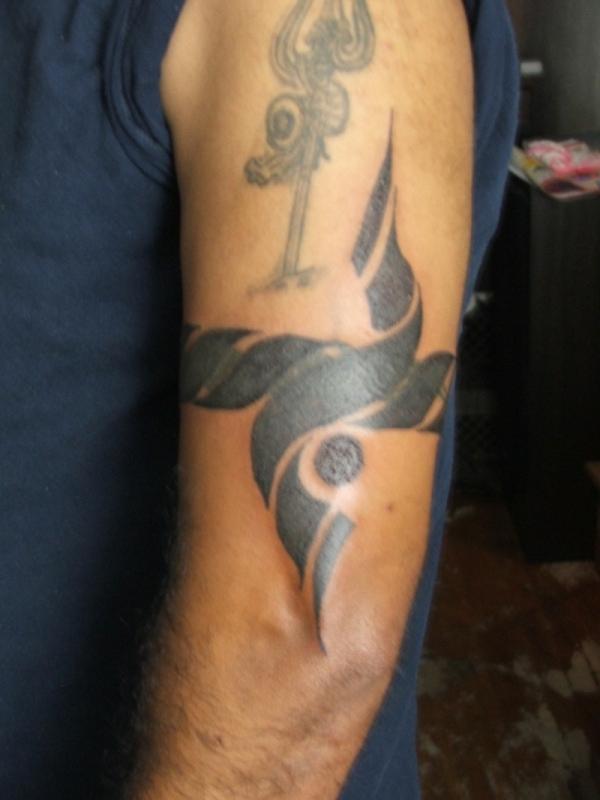 Tatuagem Tribal Arm
This ornate tribal design in audacious black ink on the arm add a certain exquisite touch to the wearer's body. Tribal designs are one of the most common yet tasteful of the tattoo styles that you can get inside tattoo parlors. It is also currently one of the best selling tattoo ideas.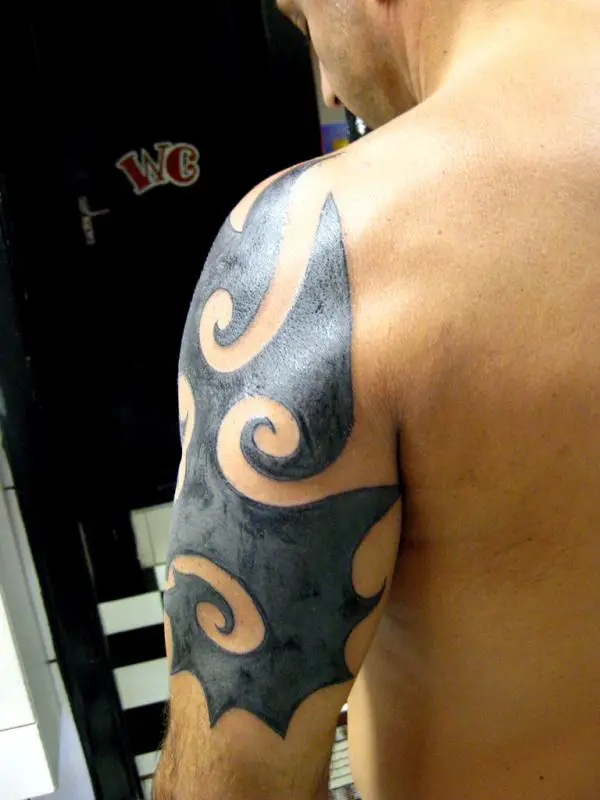 Starting The Full Sleeve
These arm tattoos that fully encompasses the entire arm are stunning. This particular tattoo design features Celtic knot symbols and patterns which could stem from the wearer's Celtic heritage. After all, one common use for tattoos is to identify yourself within a specific group or class.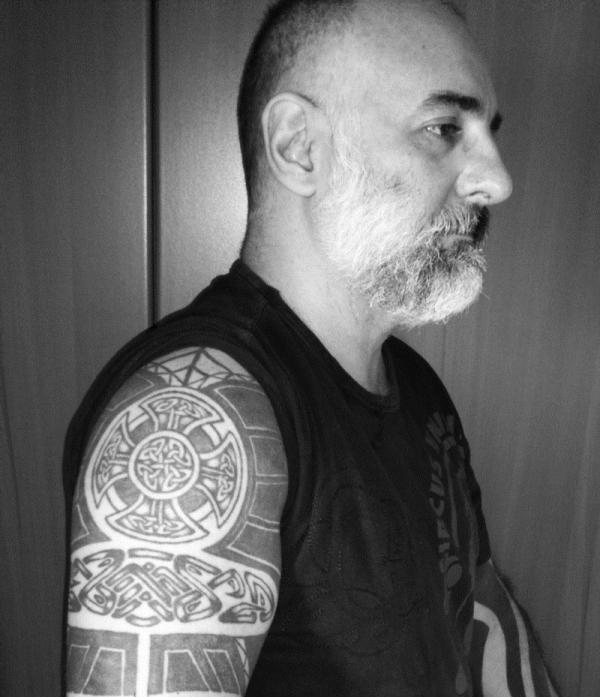 Large Tribal Arm
These tribal tattoos with large Celtic knots inspired by the Celtic culture. This is one of the best tattoo ideas for men as it also adds a masculine touch to the wearer's body. This is one wild yet very royal tattoo.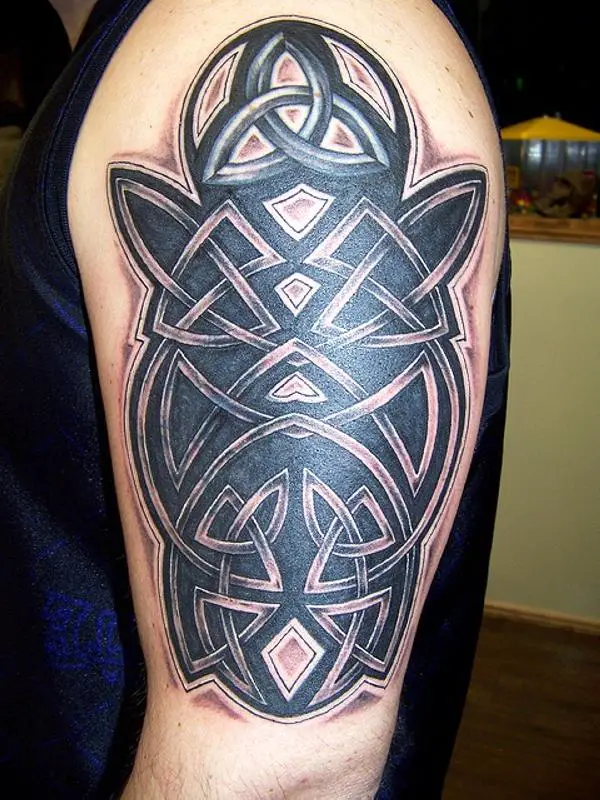 Mat Style Tribal
Tribal tattoo designs as showcased by this full arm tribal design in light brown shade resembling Barb & Trib. This tribal design is one of the best tattoo to get if you want to get the attention of everyone you pass by.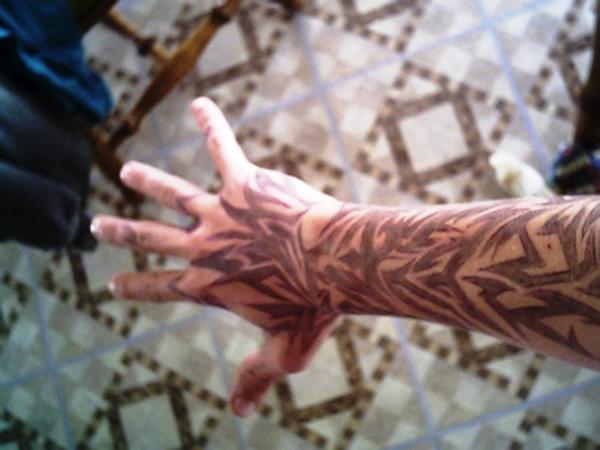 Tribal Cool Arm
Tribal tattoo designs are currently one of the best selling tatato ideas for men. This bicep tattoo, in particular, is a cool trybal style that depicts the figure of an athelete. The lettering below also says Anchor which could have deep personal significance to the wearer.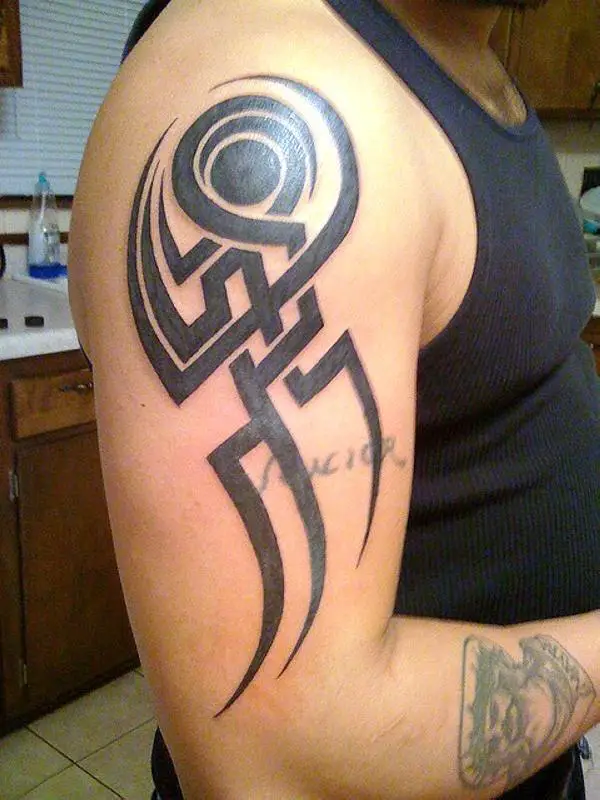 My Unique Tribal Tattoo
Cool tattoos like this are rare to come by. Onlookers may even say that the tribal designs may also portray a unicorn or a bull. This beautiful tribal tattoo designs are made in bold and curvy lines accentuating the wearer's arm.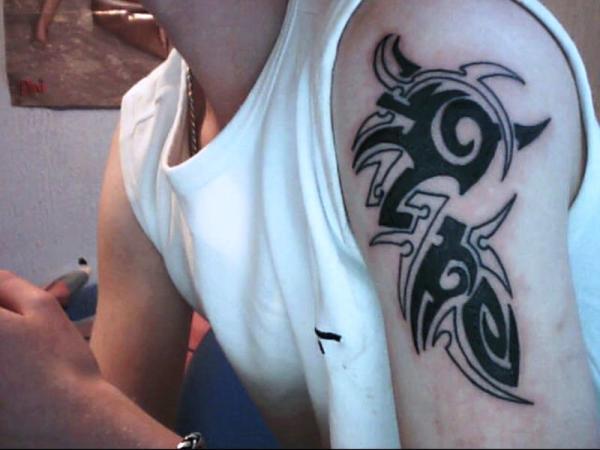 Full Wolf Tribal Arm
Make a wild and powerful impression with a tribal wolf. Wolf tattoos are one of the most badass tattoo designs for men. This tribal wolf tattoo makes for a very badass and macho tattoo. Wolf tattoo designs that are as meiculously inked as this piece are hard to come by as it takes skill to create this intricate masterpiece.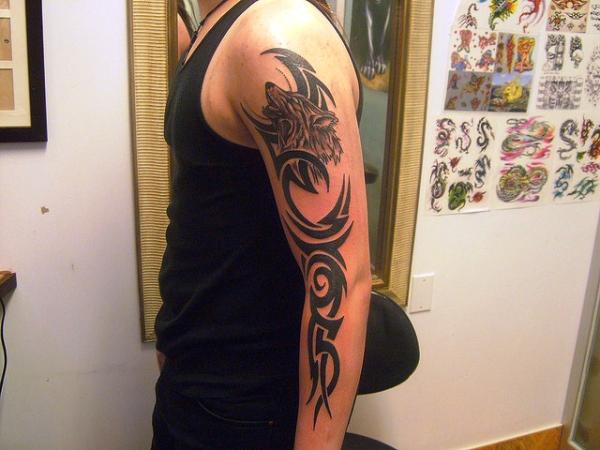 Tribal Skull Tattoo
This is one of the tattoo designs for men which showcases their toughness. This tribal tatoo has, in its centre, a deadly tribal skull which could also be interpreted as a demon face. The skill required for a tattoo designer to create such an artistic masterpiece is truly astounding.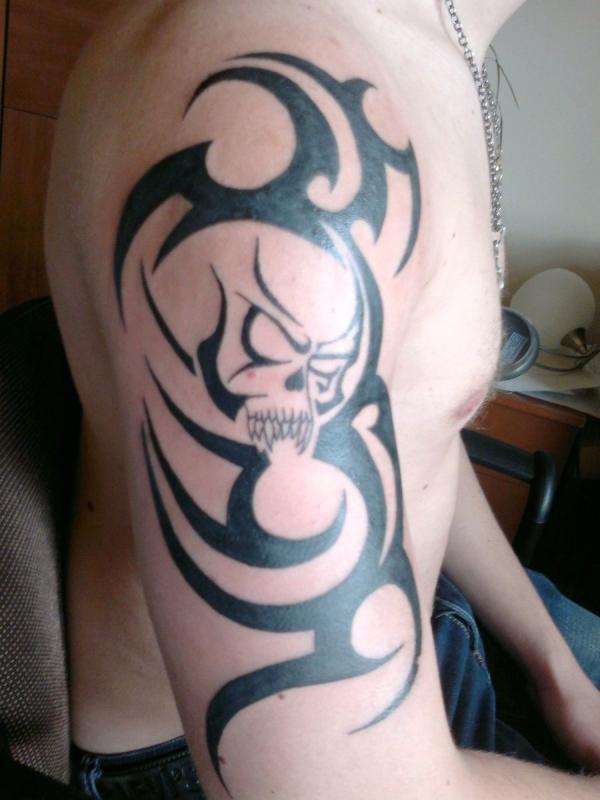 Outside Forearm Tattoo
Getting a tatoo for men is almost considered as one rite of passage. The wearer of this is proudly showing off his tribal tattoo that has the designs of an armor. This badass tattoo idea will truly get people to remember you.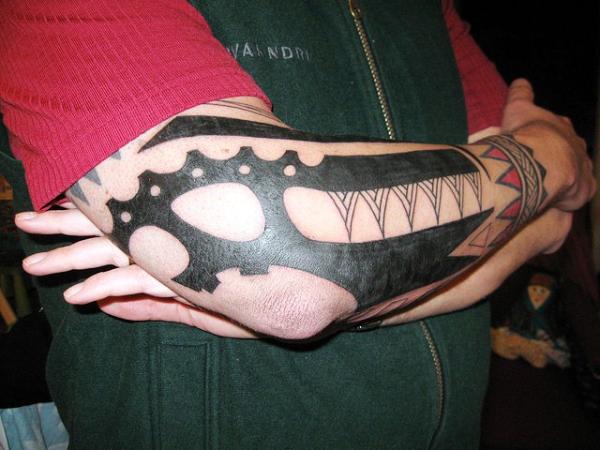 The Rock Maori
These tribal tattoo designs originated from the Maori culture from New Zealand. The Maoris had faith in gods which represented the sky, earth, forests, and other forces of nature. Their culture is rich with songs, tales, art, dance, and of course, spiritual beliefs. Having it inked on the body could be testament to the wearer's faith.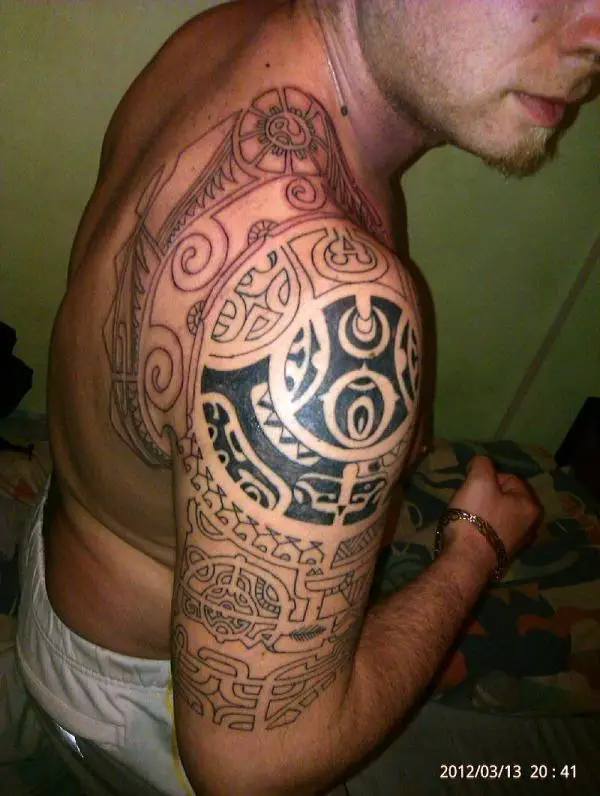 Full Arm Tattoo
This amazing tribal tattoo designs starting from the back neck going up till entire arm is one of the best arm tattoos for men. It not only looks badass but also has the potential to be a conversation starter among friends and strangers alike.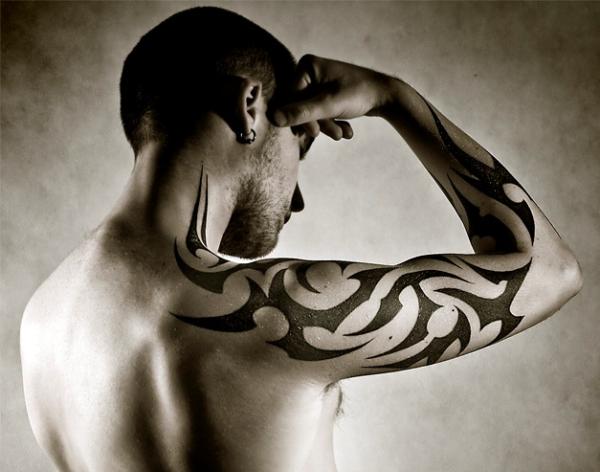 Full Arm Tattoo
Tribal Forearm
Forearm tattoos requires a lot of pain tolerance as it ranks moderate to high on the tattoo pain chart. These tribal tatoo designs make up a sea horse silhouette that definitely make for cool tattoos. This is a very bold statement choice which will get you remembered by everyone the wearer meets.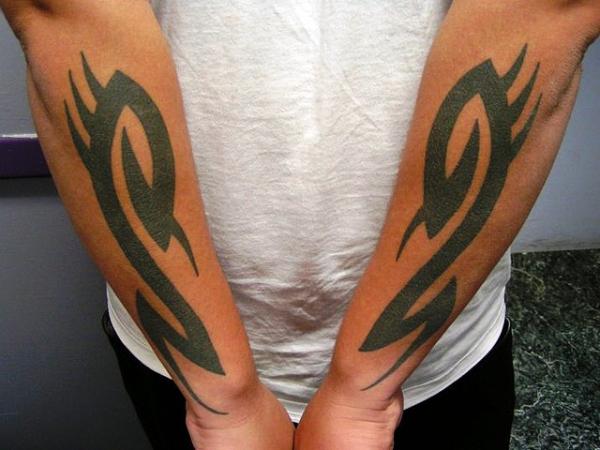 Animal Contact
This minimalist tattoo displays a classic tribal tatoo design that provides a bit of spice to the wearer's wrists. This is best paired with wolf tattoo designs that will complement the tribal tattoos. Its rich curves guarantees a tattoo style which perfectly designs your wrist.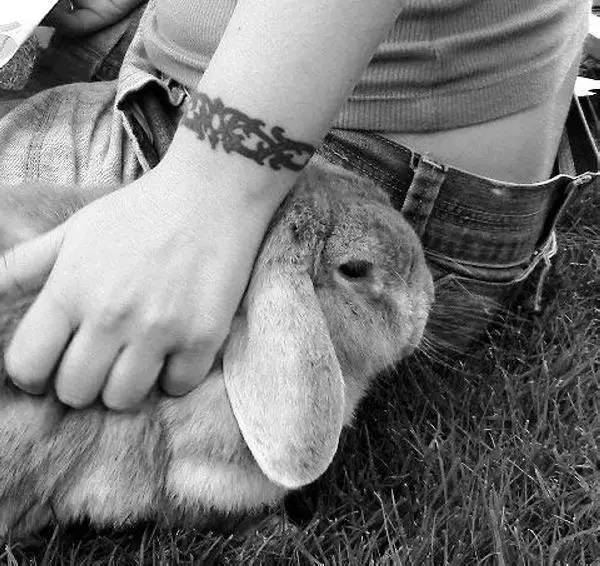 Tribal Shoulder Tattoo
It is hard to get a complex arm tattoo that is as intricate as this piece. Derived from the culture of the people of Polynesia, this tribal shoulder tattoo is a perfect way to decorate the wearer's body. Polynesian culture came from the Aboriginals which originated in mainland Asia. The wearer is then just paying homage to his heritage.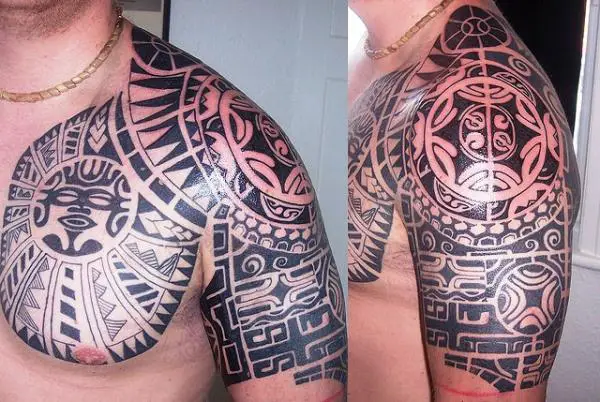 Fresh Tribal Arm
It is not a secret that tattoo designs make the wearer look cool. This tribal tattoo design perfectly covers the arm which makes for a badass tattoo design. Tattoos for men also increase their toughness and masculinity, a great plus according to women.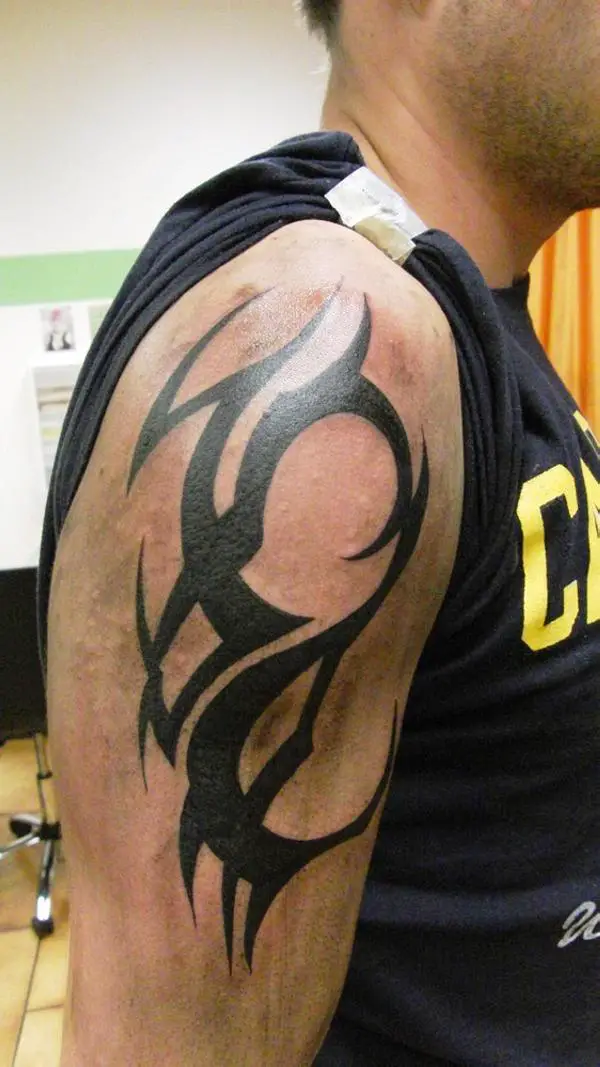 Side Tribal Arm Tattoo
It has become common to include religious beliefs in tattoo designs for men. By incorporating tattoos with their own faith, the wearer adds personalizes that tatoo designs to be uniquely his. This piece, in particular, has the Holy Cross portrayed through tribal lines.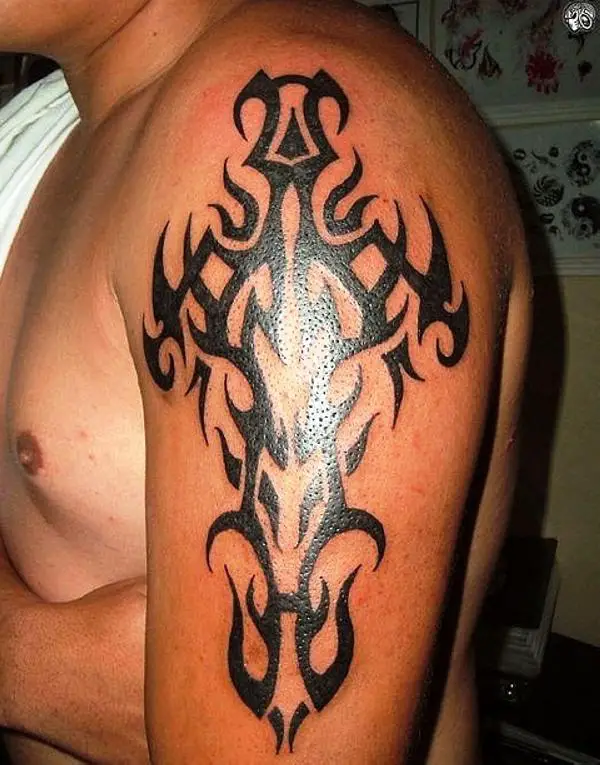 Side Tribal Arm Tattoo
Cool Looking Arm
This tattoo design make up for a very cool tattoo ideas. The terrific shading in this tattoo piece make for a very whimsical yet tough tattoo. The striking strokes in this tribal tattoo make for a great shoulder and bicep tattoo that not all tattoo designers could recreate.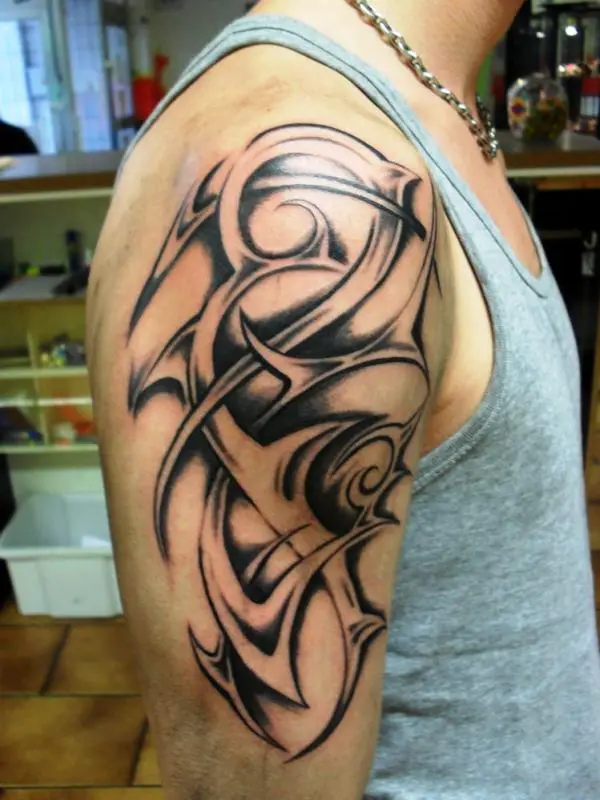 Half Sleeve Tattoo
Depicted in this arm tattoo is a bird figurine that is derived from the Maori culture. The Maori culture is the belief system of the Maori people of New Zealand which originated from Polynesian culture. According to their beliefs, some birds, like the now-extinct huia, are sacred which could be this person's way of honoring its existence. Truly a stunning tribal tattoo, this masterpiece is surely an eye-catcher.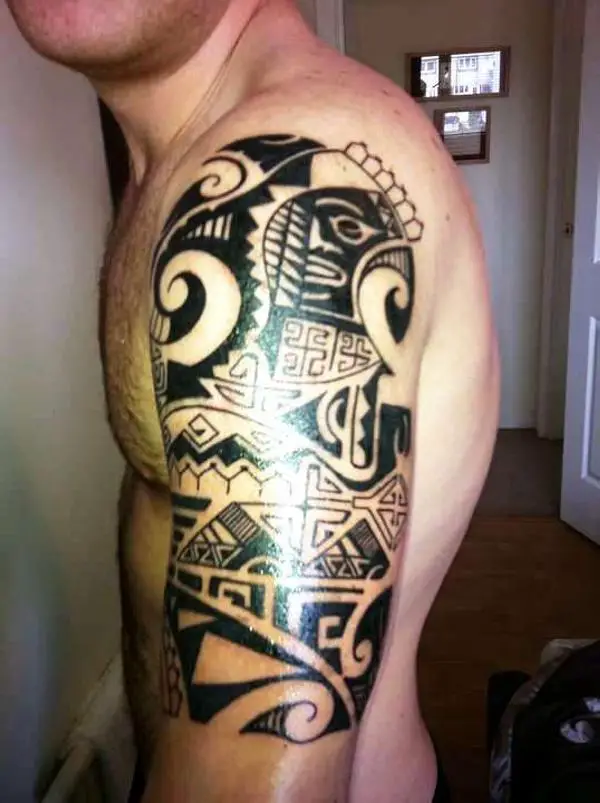 Tribal Arm Band
Created by Elzie Segar, Popeye the Sailor is a cartoon character that gained popularity in the 1930s onwards. Popeye's distinct feature is his unique ability to achieve superstrength from engulfing a can of Spinach. This tribal arm band creates a special tattoo combinatino of whimsy and badass.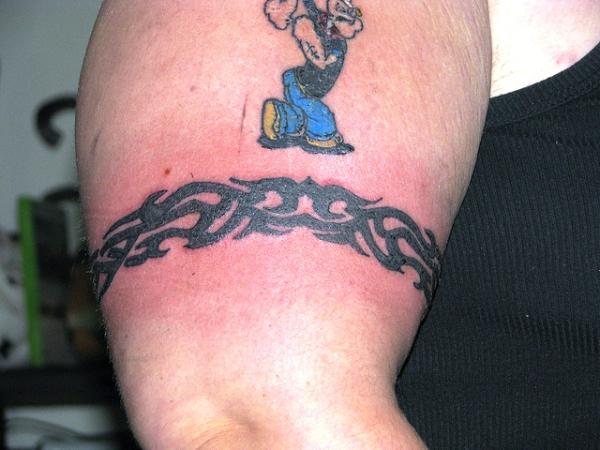 Dark Tribal Tattoo
Tribal tattoos are cool tattoo ideas for people who want to show off how tough they are. This tribal arm piece, for example, is made up of bold, black patches that makes for a very simple tattoo. Shoulder tattoos like this make the wearer's shoulder and biceps look very masculine.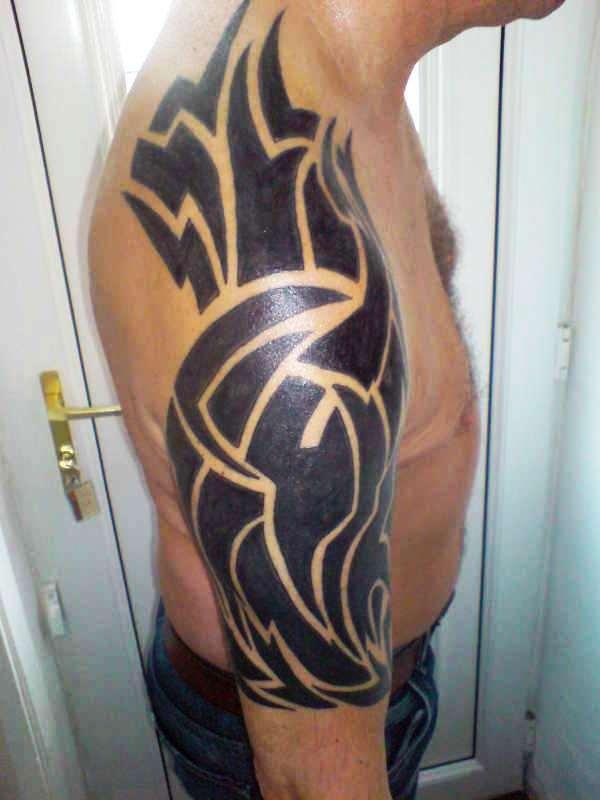 Half Sleeve Tribal
Tribal sleeve always make a spectacular expression and also adds a strong dimension to your personality. This tribal tattoo is definitely one of the best simple tattoos to have inked as it can be used to self-identify yourself.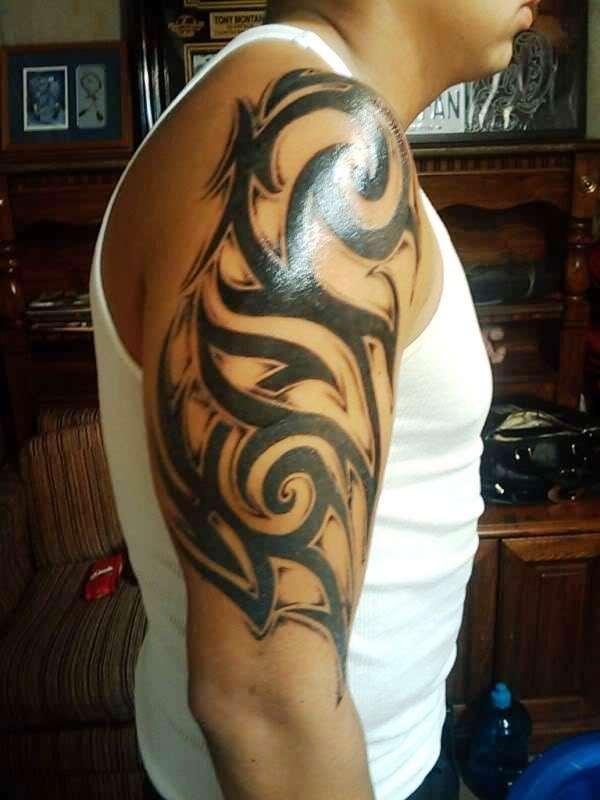 Complete Tribal Arm
This amazingly tribal tattoo is a very intricate piece that is made up of several elements. The Tribal Sun is in the center as is consistent with many cultures. Celtic symbols also surround this tattoo design making it a complete tribal piece.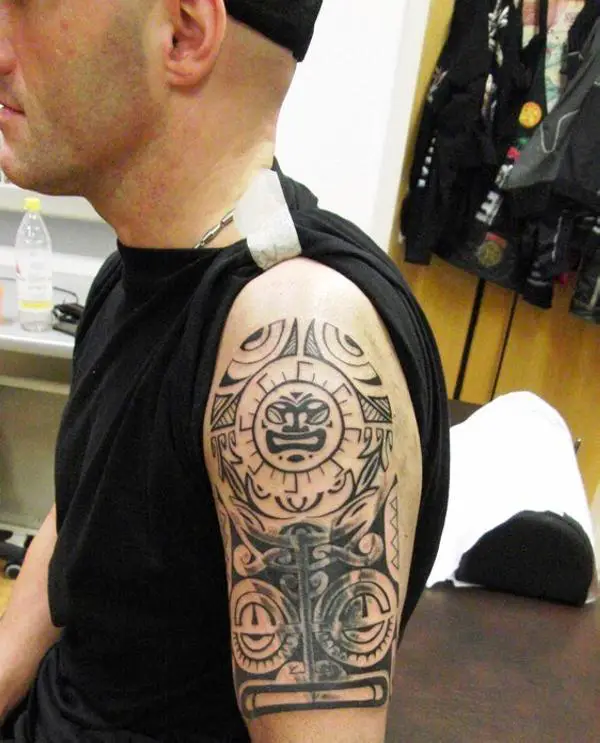 Connected Tribal Arm
This piece is a simply exotic tribal arm pieces which makes a fabulous hummingbird with a flower. Usually, flowers are just small tattoos for men as they are considered as a feminine image. Not this piece as it is the central subject of the tattoo. This just proves that mens tattoos can also have flowers on them.