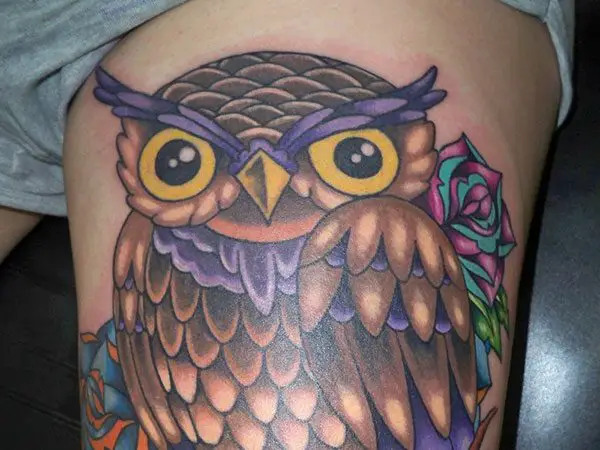 Following a tradition is not always wrong. There is a certain charm in traditional designs and concepts, be it art or fashion. That is the reason why some old designs have been repeated generation after generation. These are some traditional tattoos that have a slight difference to make them trendy. Whether they have bright colors or simple gray shades, each of them are unique and worth copying. These tattoos will show you as a follower of customs yet make you look very modern and stylish. The themes may range from romantic to horror, but the fact remains that these are very popular designs.
When you think of getting a tattoo for the first time tattoos of traditional way are the best choice. They are themes and designs that have been copied by many generations; thus proving how versatile they are. Just a bright splash of color makes a traditional horror theme look trendier. Traditional tribal art looks chic when designed in bold lines. These are tattoo designs that will please even the fussiest person you can find. They are creative and artistic in their form. The bright ones are of course attention seekers. But even the ones in subdued grays have classy shading that makes you want to copy them.
If you like this article, you might be interested in some of our other articles on Small Cross Tattoos, Number Tattoos, Good Tattoo Ideas and Cool Tattoo Ideas.
Feathered Wisdom
This owl is true to his reputation of wisdom. The shaded feathers look fantastic in this traditional tattoo.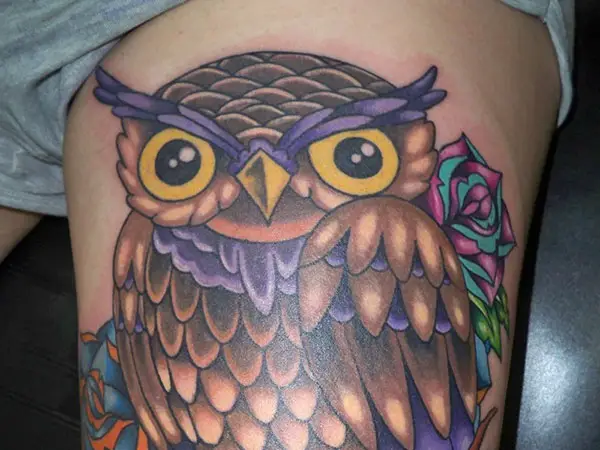 Time Stood Still
This traditional tattoo with the hourglass is so artistic that one feels time stands still in reverence.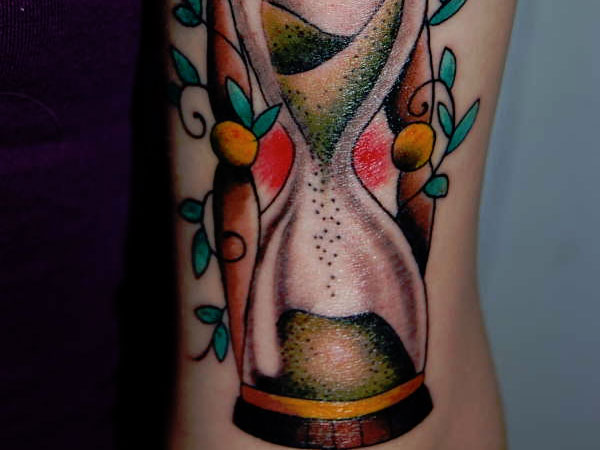 Wing Span
The owl in this traditional tattoo shows off its glorious wing span while watching with beady knowledgeable eyes.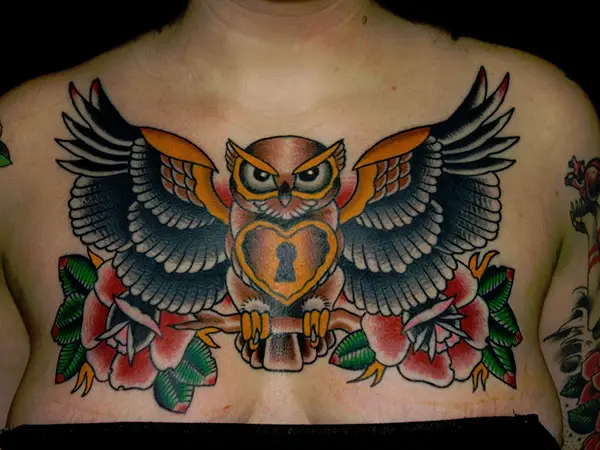 Concentric Circles
This is a very lovely traditional tattoo. The concentric circles are formed with very attractive designs.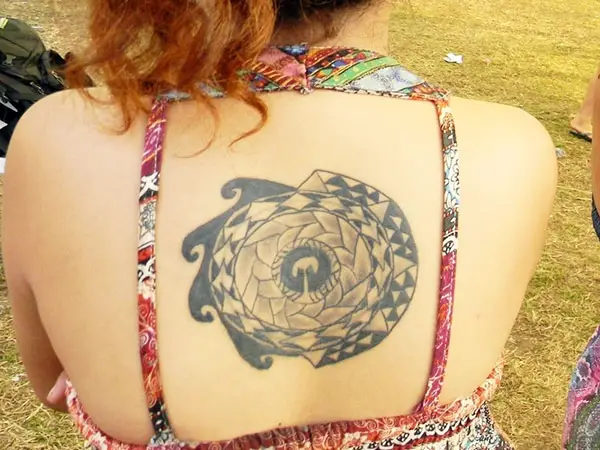 Tribal Maori Tattoo
The typical geometric shapes and bold black lines give this tribal traditional tattoo look very striking.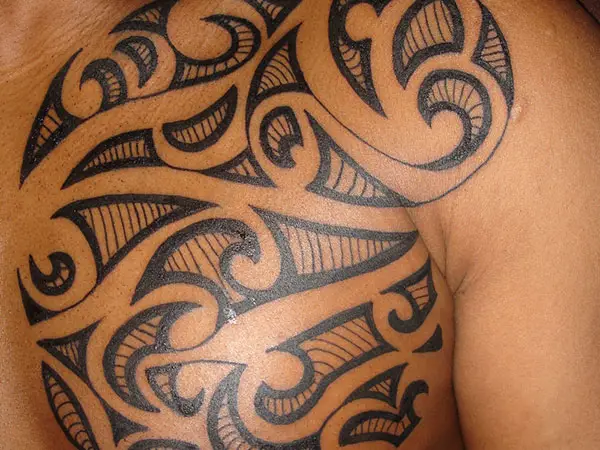 Sailor's Gal
This sailor's gal loves to show off the twin traditional tattoos with the marine theme.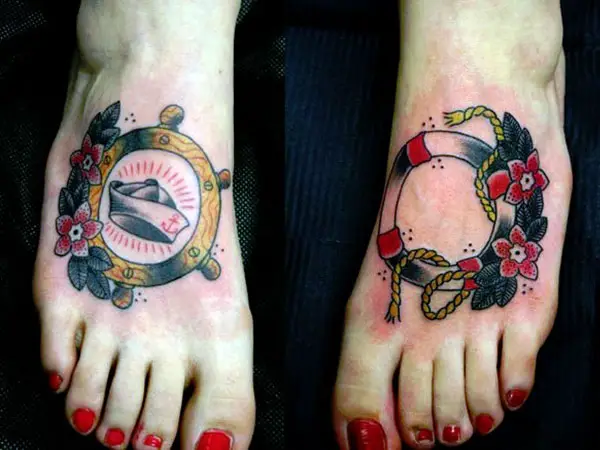 Passion of Christ
This traditional tattoo is a great depiction of Christ's supreme sacrifice for humankind.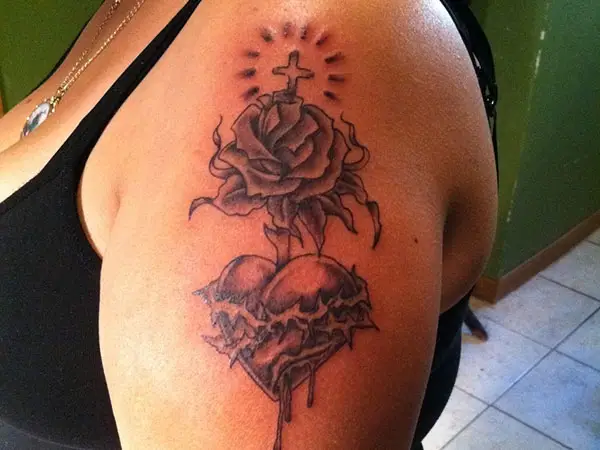 Power Of The Cat
The Bengal Tiger is shown in its ferocious form in this striking and colorful traditional tattoo.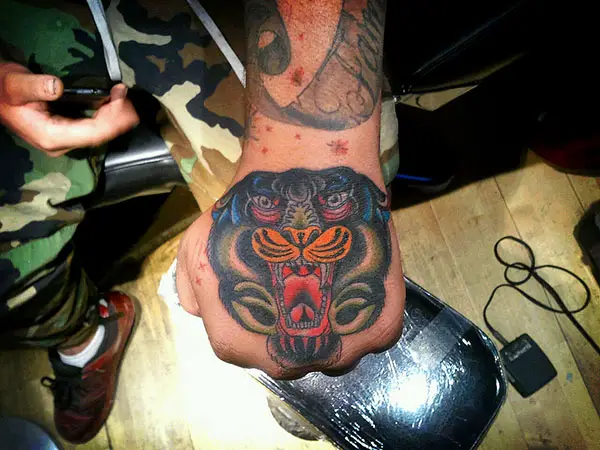 Hellenic Stixis Tattoo
This is a brilliant traditional Greek tattoo. The "Om" sign looks really artistic like the rest of the design.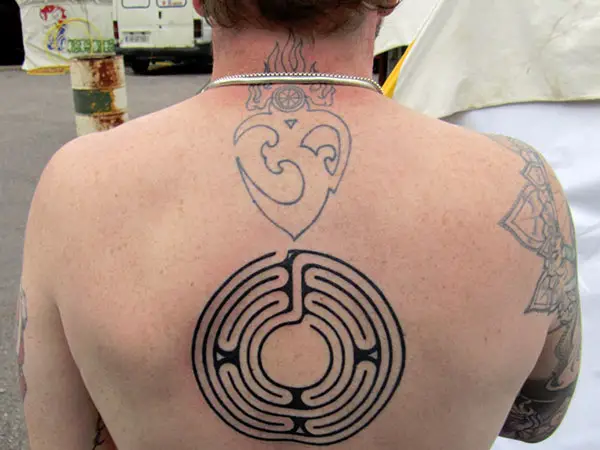 Cheers
Is this tabby is surely enjoying the October Fest. His beer mug is full to the brim with season's joy.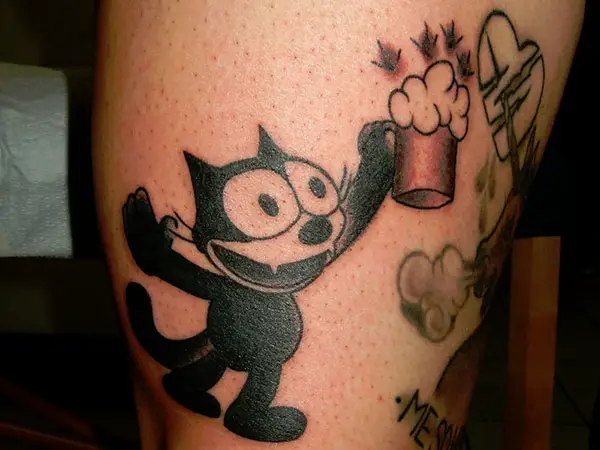 Red Indian Bombshell
This bombshell is a superlative traditional tattoo. The classic lines and bright colors make her seem so real.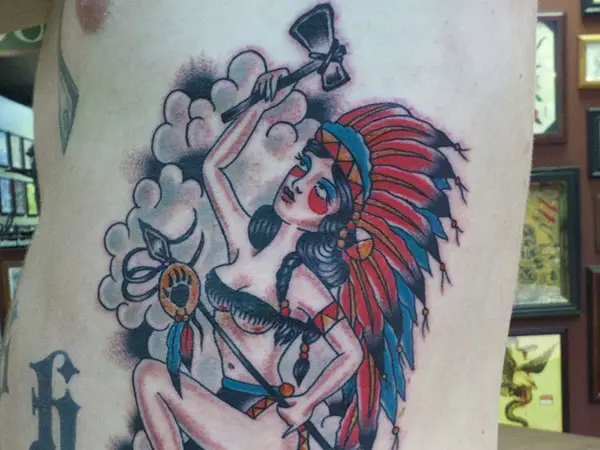 An Unusual Combo
This traditional tattoo with the lovely rose deviates from the theme with the blood-dripping severed leg!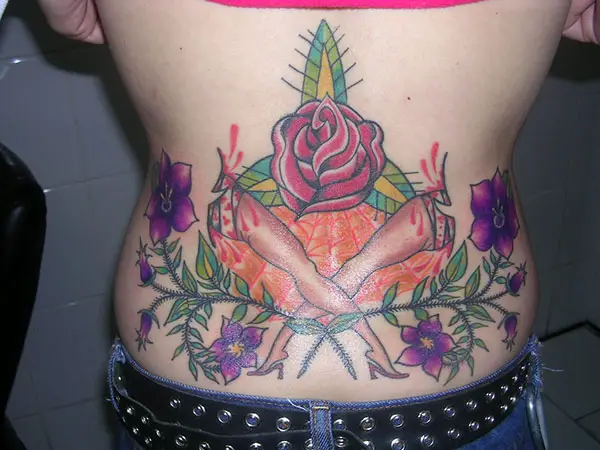 Beauty Without A Doubt
When you say a traditional tattoo is beautiful, this is probably what you mean. The Indian girl looks gorgeous.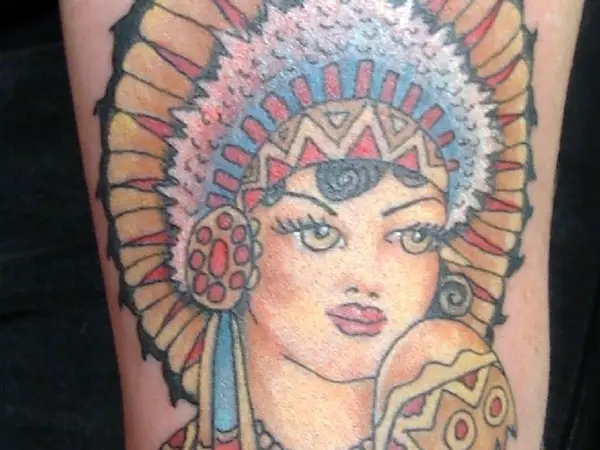 Small And Attractive
These traditional twin tattoos look really nice despite their lack of size. The intricate designs are superb.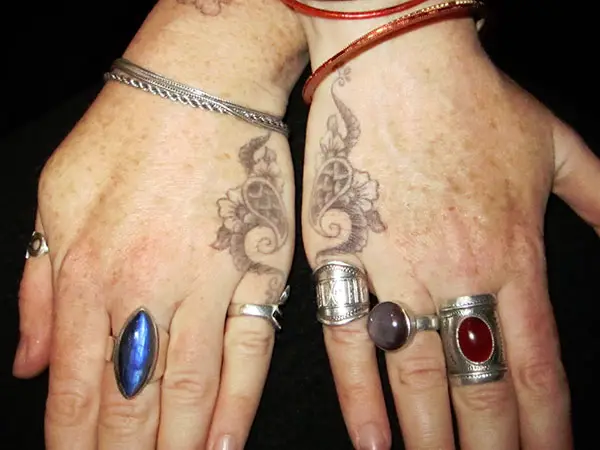 A Splash Of Colors
This traditional tattoo with an anchor and rose is a great splash of many vibrant colors.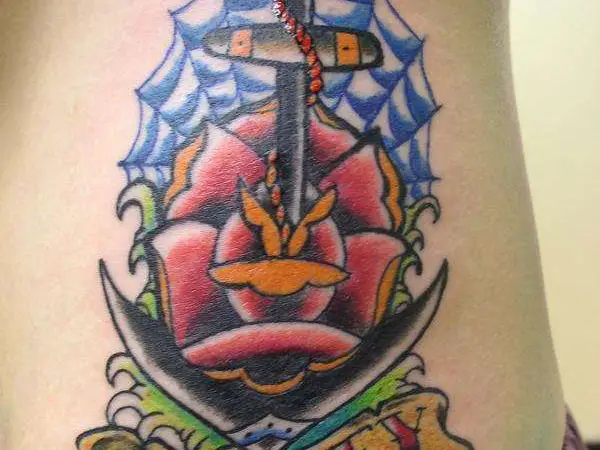 Ancient Mariner
The sail ship in this traditional tattoo has been very artistically designed with classic shading.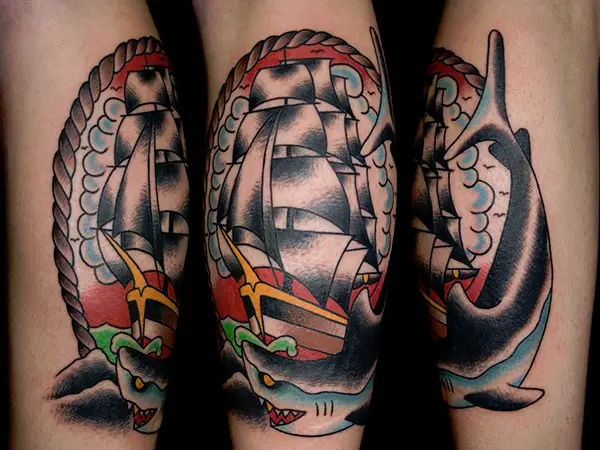 Traditional Lighthouse
This is surely the brightest lighthouse in the world! The red shades of this traditional tattoo look great.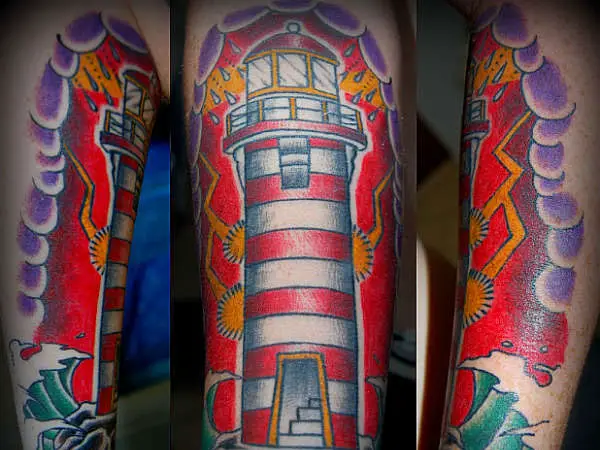 A Great Mix
Handshake, rose, gramophone and a heart in bright colors makes a very pleasant theme for this traditional tattoo.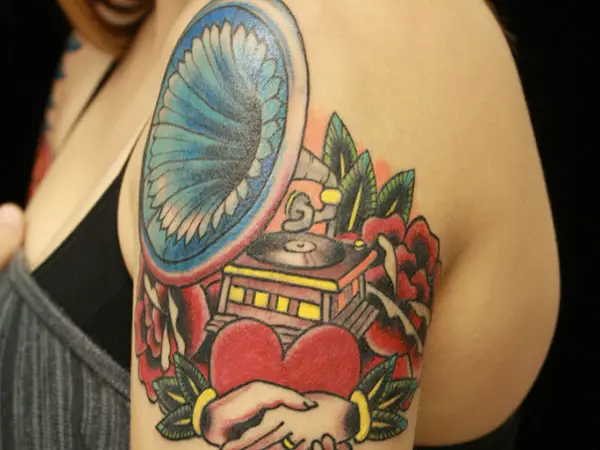 Serpentine Effect
These entwined serpents form a striking and attractive traditional tattoo that draws attention easily.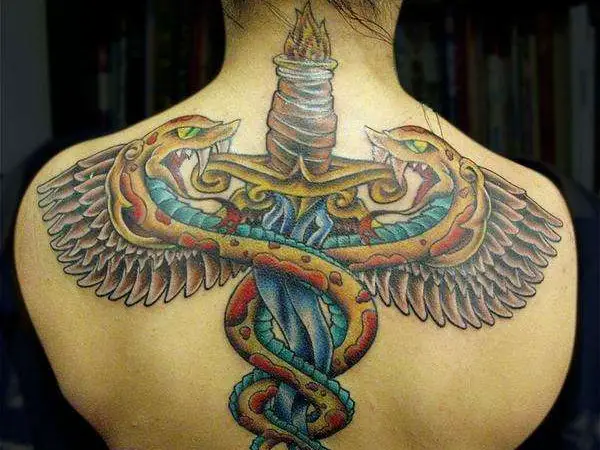 Precious Gift Of Freedom
This traditional tattoo with the marine theme spells freedom and joy. It is classic tattoo art.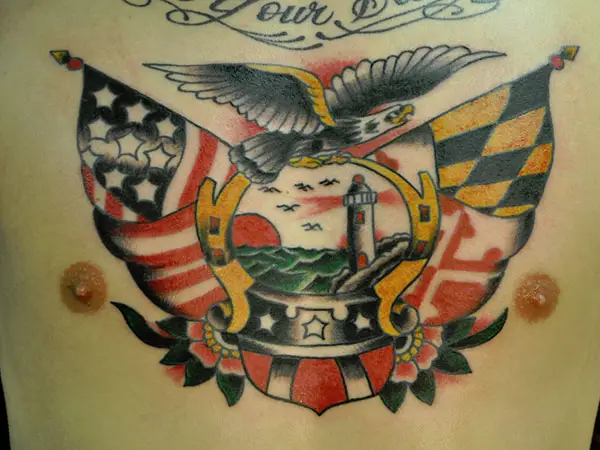 Artistic Beauty
This beautiful girl has been tattooed with fantastic shading making it a classy traditional tattoo.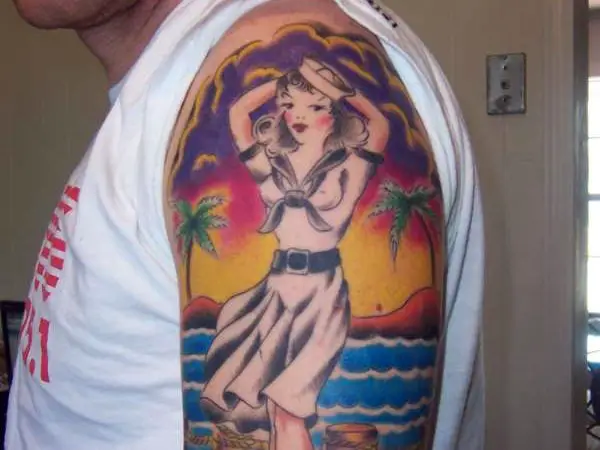 Mum
The artistically designed sewing machine looks superb in this traditional tattoo with the "mom" theme.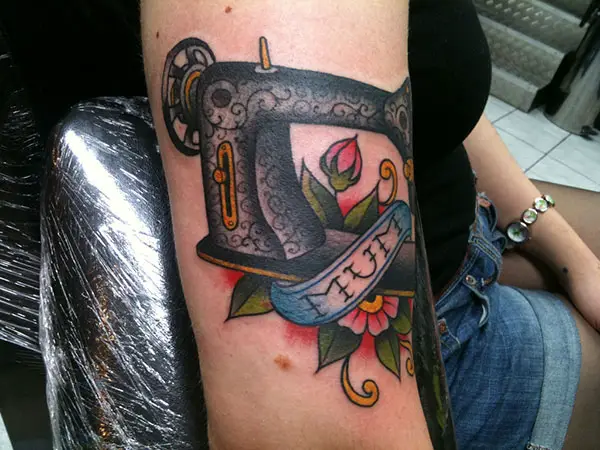 Portrait Of A Beauty
This traditional tattoo is a brilliant portrait of a beautiful gypsy. The shading makes it look almost life-like.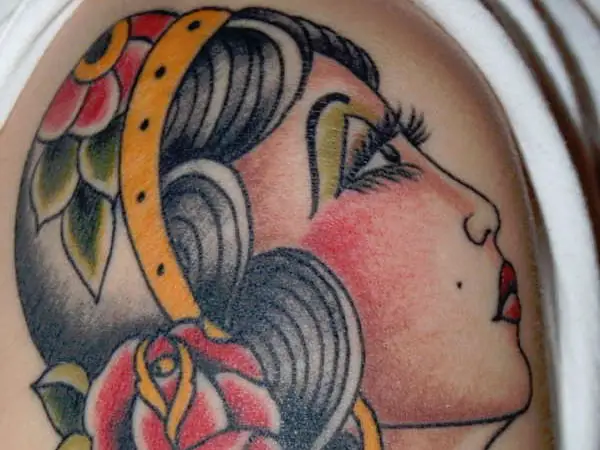 Religious Pride
This is an example of a simple yet attractive set of traditional tattoos with a Catholic theme.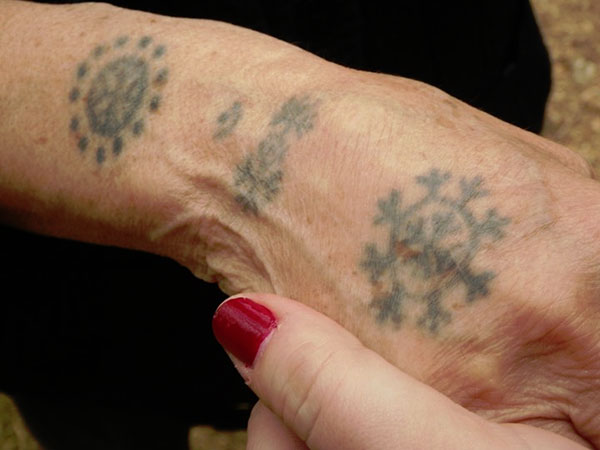 Bronzeage Petroglyphic Tattoo
This is a very unusual piece of art. Classic geometric curves and shapes define this traditional tattoo.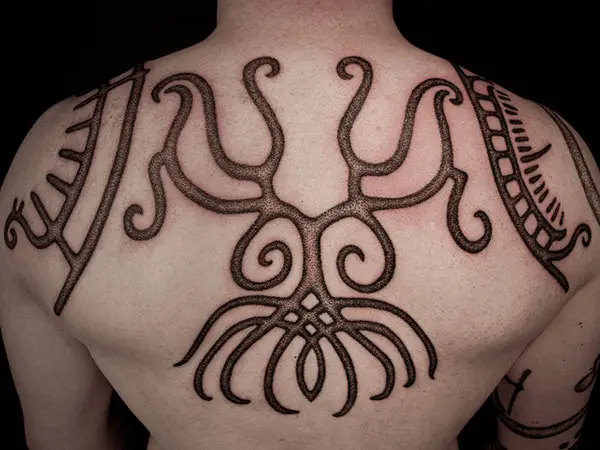 Riveting Tattoo
This is a riveting traditional tattoo with its bright colors. The Indian headdress, skull and panther together look great.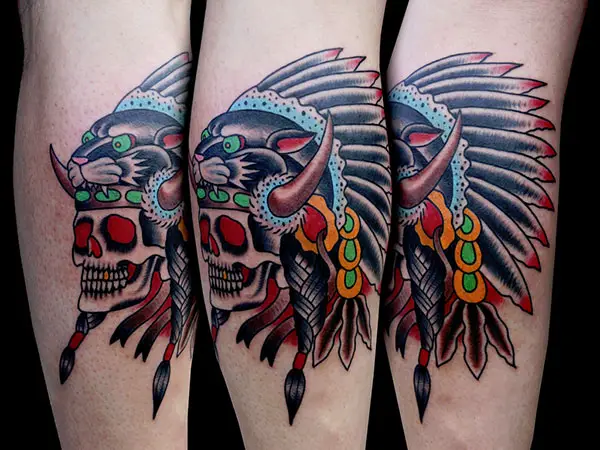 Traditional Celtic Stag
This traditional tattoo has a superb representation of the stag in a Celtic design. The design is very intricate.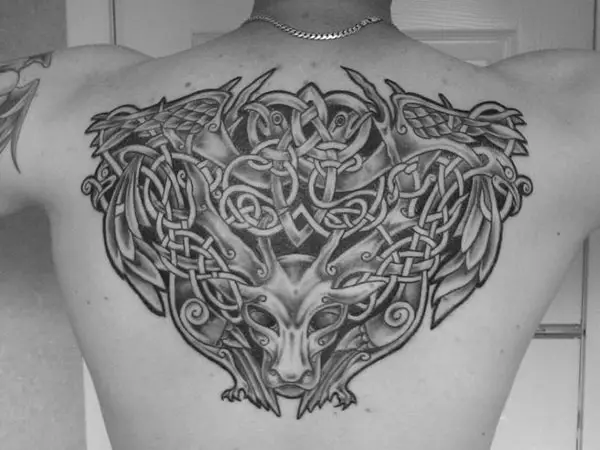 Royal Tradition
This royal crown designed in lovely pink and blue makes a simple yet classy traditional tattoo.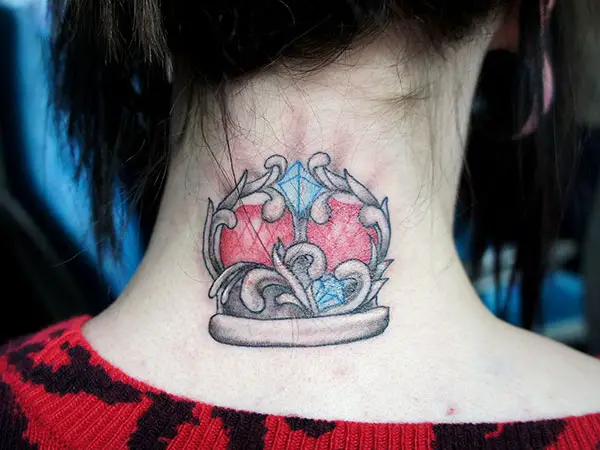 Scary Or Funny
The Mohawk makes this zombie look quite funny. As a traditional tattoo this is very imaginative.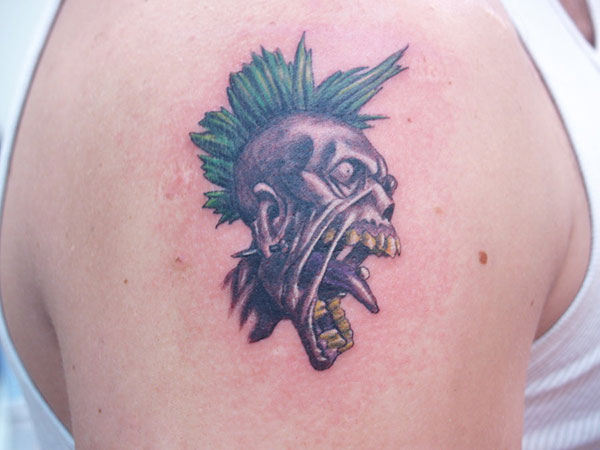 A Rose For Love
As traditional tattoos go, this is classic. The deep red rose with its brilliant shading is worth imitating.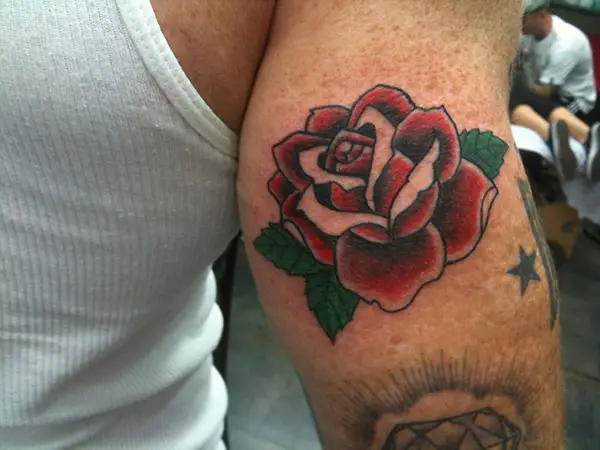 Balding Pride
The skull and serpent theme in bright colors makes a fantastic traditional tattoo to grace a stylish bald pate.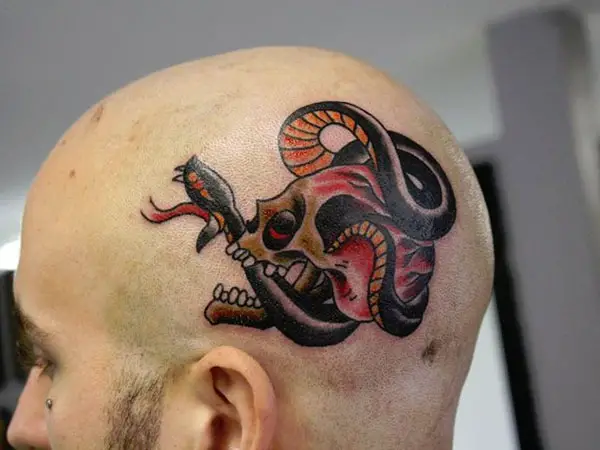 Oriental Pagoda
This Pagoda style traditional tattoo looks neat and classy despite its simple lines.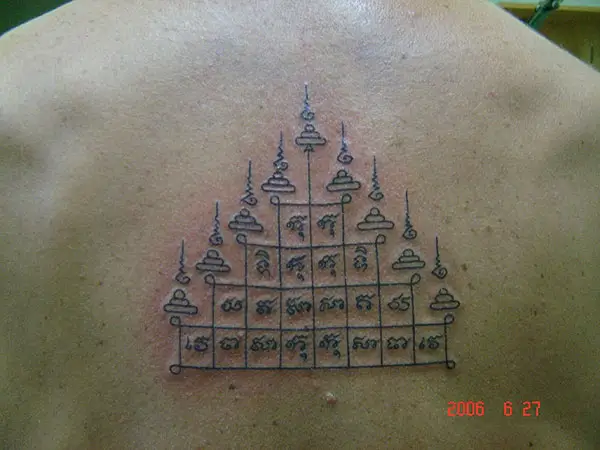 Just For Style
These twin chest tattoos are perfect traditional designs when you want body paint just for style.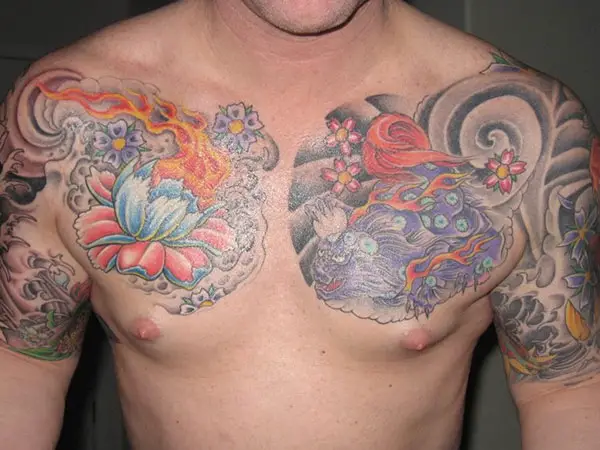 Designed Well
This partially hidden traditional tattoo still looks great with its intricate design around the waist.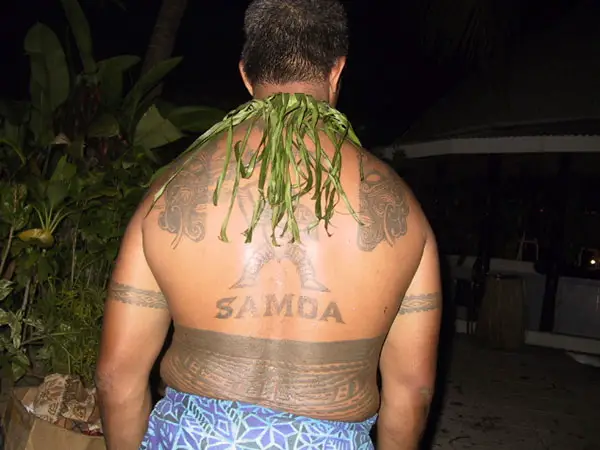 Menacing Tradition
As traditional tattoos go this menacing looking wolf is a classic design. It is effective despite its simple lines.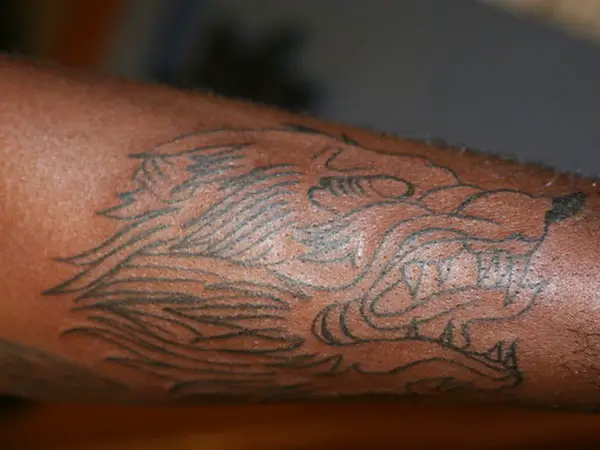 Exploring The Unknown
This is an unusual tattoo that looks traditional in its colors and form, but somehow seems to explore the unknown.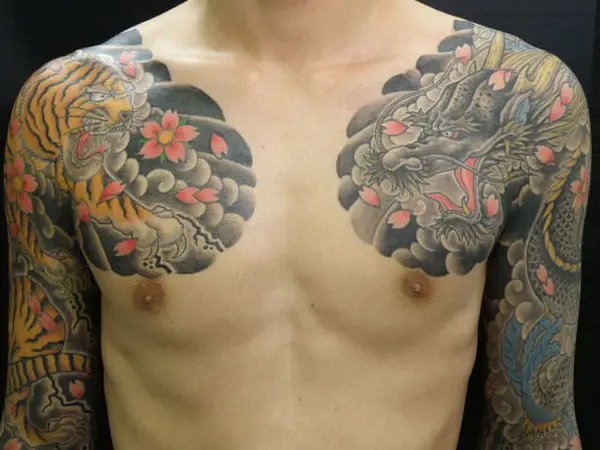 Winged Dragon
The fire-breathing winged dragon designed so artistically is a fantastic form of traditional tattoo.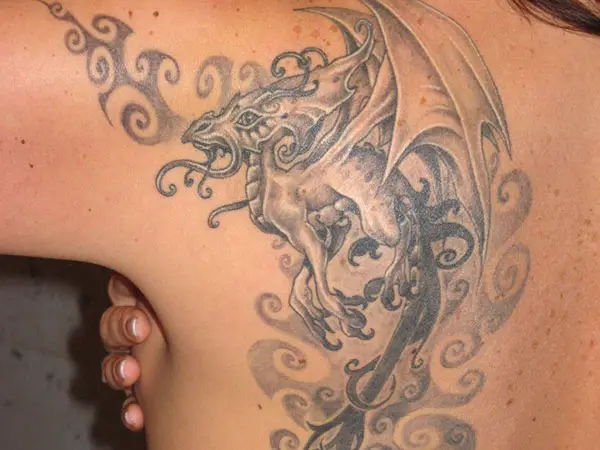 Fishy Business
The waves in gray and the fish in bright orange hues make this a superb piece of traditional tattoo art.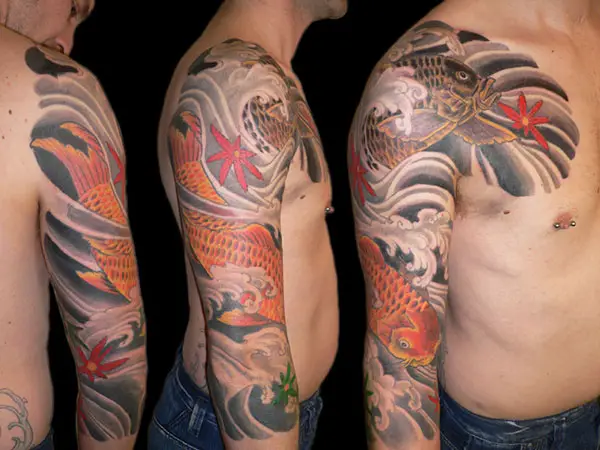 Pretty Little Birds
The pretty little twin swallows add a touch of modernity to these twin traditional tattoos.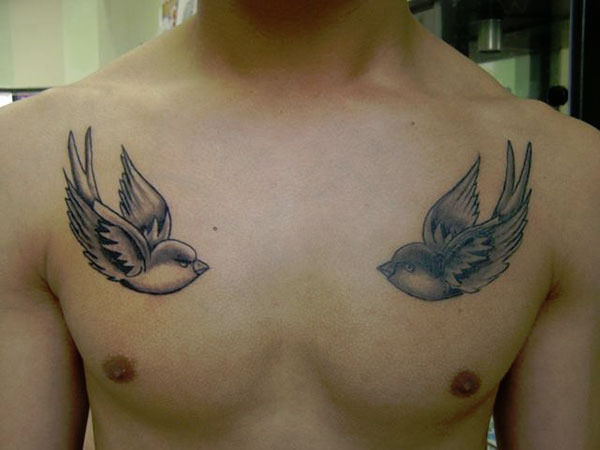 All Seeing Eyes
These all-seeing eyes lend a new wave touch to the traditional tattoo. This is simple yet striking tattoo art.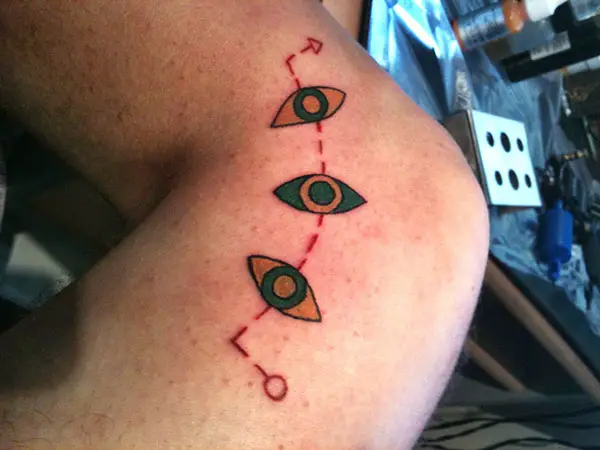 Well Designed Rose
The shading and the deep red color of this rose renders this traditional tattoo truly worth copying.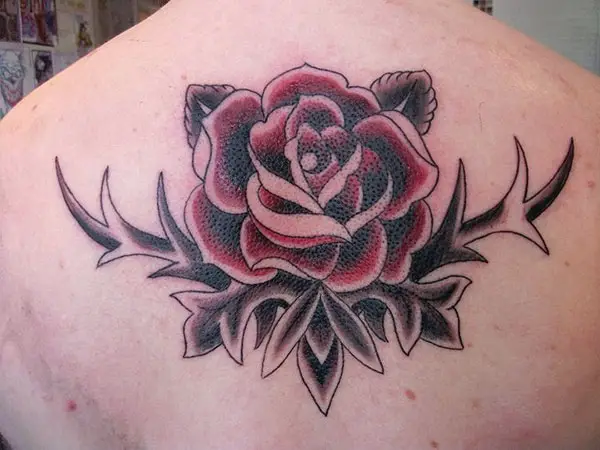 All Over Art
A back full of tattoo art is the best way to show off a traditional tattoo like this man is doing.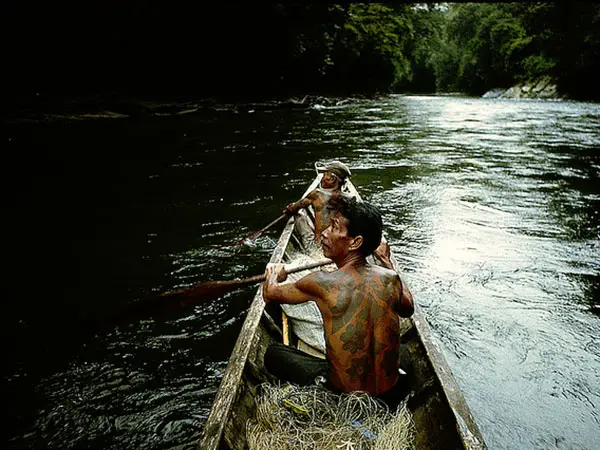 Double The Effect
A mixture of themes and colors is what makes these two traditional hand tattoos attention grabbers.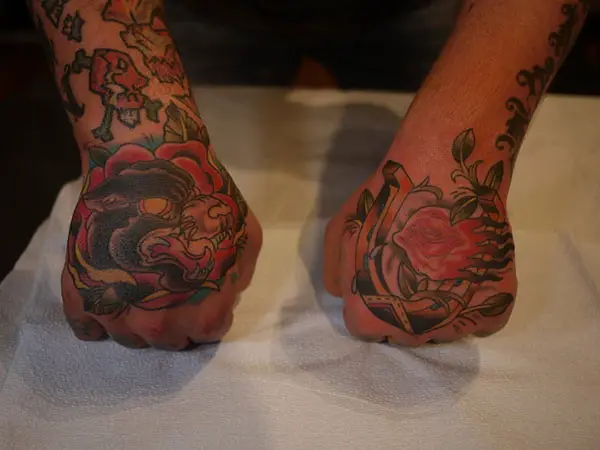 Brightened Up
When you are looking for a bright and attention seeking effect, this traditional tattoo is just what you need.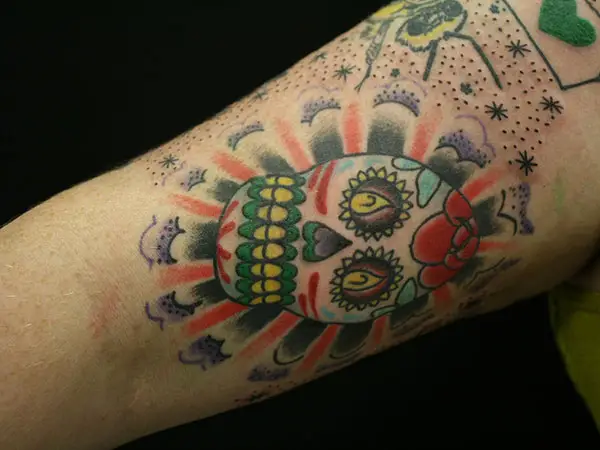 Tribal Tradition
This is the simplest yet classiest traditional tattoo with is geometrically shaped tribal art.