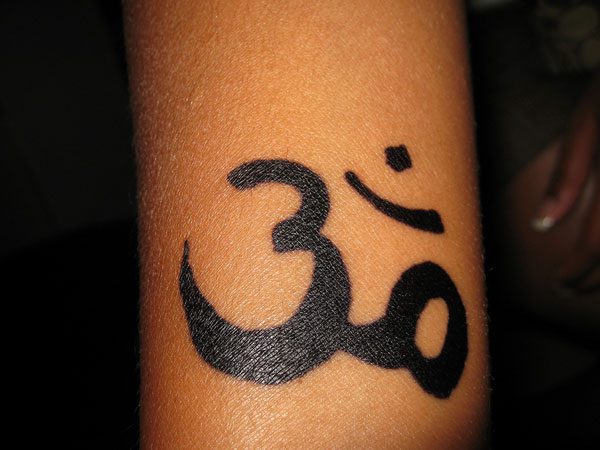 Tattoos are a great cultural phenomenon and its roots are firmly stored in symbolism and superstitions prevalent in the particular culture.
The traditional Indian tattoos are crafted through the henna leaves that have a temporary color.
Mostly they are worn by women and girls. However, with time they have also graduated into modern tattooing art and henna designs are not the only thing that you get in the Indian tattoos segment. There are various other symbols and images that are worn in beautiful patterns and looks. The Indian gods, tribal faces of men and women and holy symbols enjoy huge popularity with the people.
Some people wear it just as a mark of pride in their culture while others go for it due to aesthetic reasons or because they are fascinated by the art and culture of the country. These tattoos have a distinct look and they are quite attractive. Popular throughout the world, they have been also sported by celebrities. David Beckham's Victoria tattoo in Hindi is a great example and there are many more. Below is a list of 30 Indian tattoos that will give you more details and information about them. Have a look.
If you like this article, you might be interested in some of our other articles on Chinese Writing Tattoos, Foo Dog Tattoos, Samoan Tattoos and Chinese Tattoos.
Om Tattoo
The holy symbol, carved in bold font with henna looks quite catchy and has a beautiful display. The Om Tattoo is a staple when it comes to Indian Tattoos. Deeply rooted in Hinduism, Buddhism, Sikhism and Jainism, this Om tattoo has become a celebration of someone's faith and culture.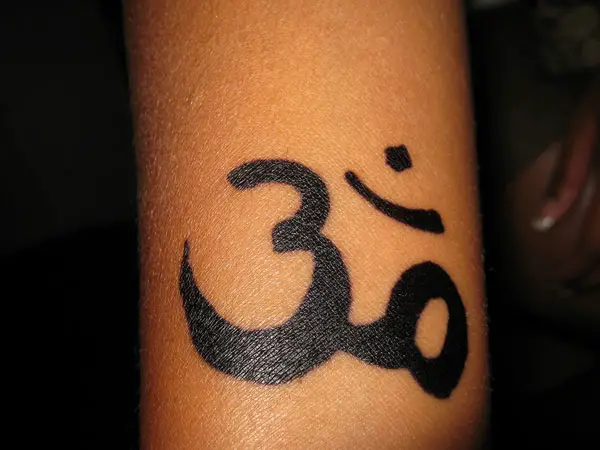 Ganesha Custom Tattoo
The cute and chubby Indian god with an elephant face has a benevolent and sweet aura. Ganesha is known for the Hindus as the remover of obstacles, the patron of Arts and Sciences and the Deva of Intellect and Wisdom. He is also known as the god of beginnings which is why he is honoured at the start of rituals. An indian tattoo such as this pays homage to the wearer's faith and belief.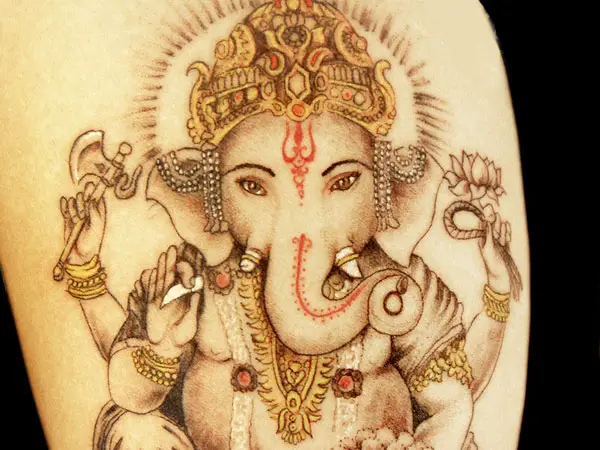 National Flag Symbol
The Indian chakra tattoo is a symbol of truth and victory which is also in the center of the national flag. A minimalist tattoo such as this may not get as much attention but for the Hindus, it definitely means a lot.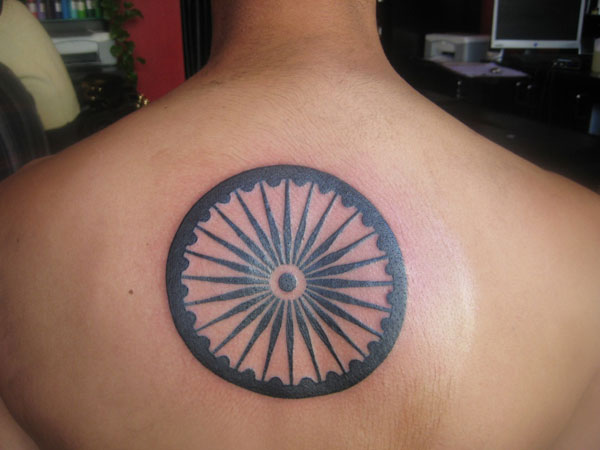 National Flag Symbol
The toe decorated with red nail polish looks more pretty when the blue peacock feather sits on it. These creative and colorful tattoo styles guarantee that you can walk barefoot without worrying about the aesthetics of your feet. Indian tattoo designs such as this stray away from the norm.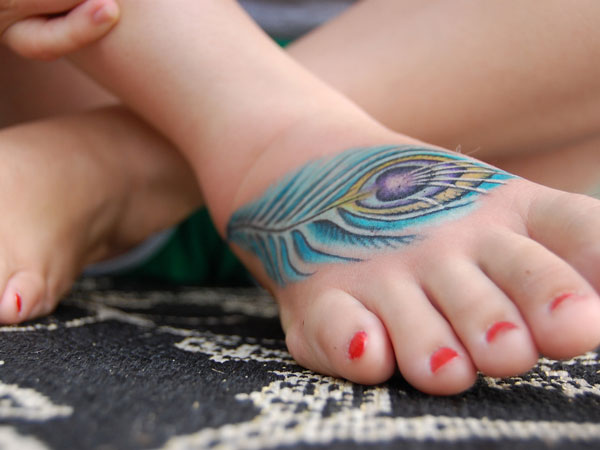 Elephant Pair
The twin elephants walking together create a lovely tattoo featuring the majestic animal. These Native American designs commemorates the gentle and kind behemoths which have been part of humanity for millions of years. These tattoo design also celebrates the idea of friendship as seen by the two elephants holding tails.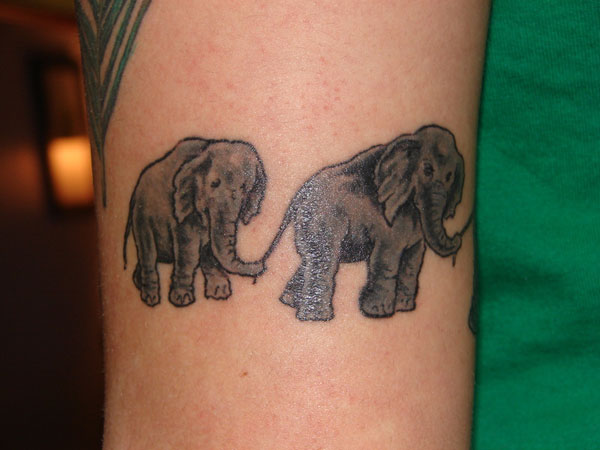 Hanuman Tattoo
This is a Thai version of the warrior god with a monkey face who had a pivotal role in the epic Ramayana. This Indian tattoo of Hanuman allows for the wearer to flaunt his passion for the Ramayana, one of the two major Sanskrit epics of ancient India.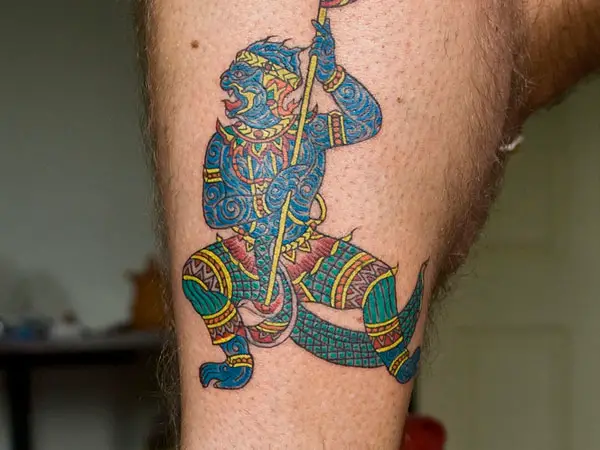 Indian Head Tattoo
This colorful neck piece has the face of a tribal woman with long feathers and a braided tail. This Native American designs allow the wearer to proudly show off his Native American blood and heritage. There are many Indian tattoos for you to choose from should you decide to get one.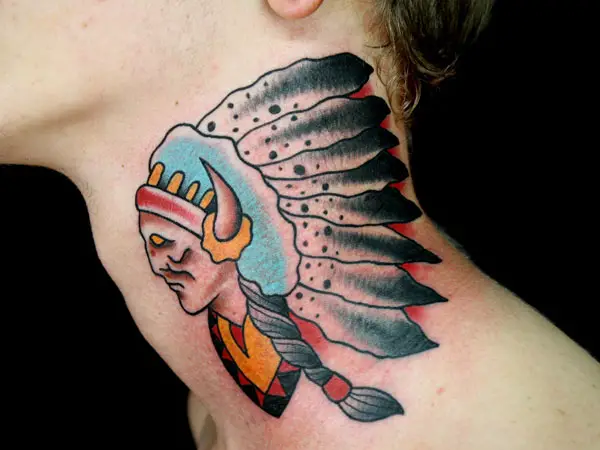 Indian Dagger Tattoo
The black and white dagger with a wolf face and sharp edge looks evil and dangerous. This piece is a perfect example of arm tattoos for men as it shows both fierceness and reverence.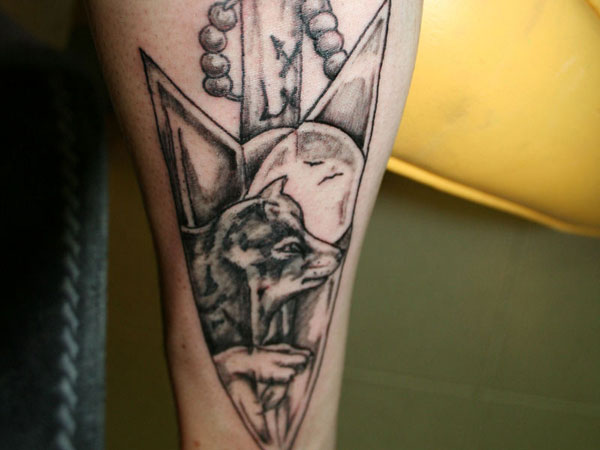 Chest Tattoo
A bold and bright skull with a feather headgear that resembles a tribal chieftain. Getting an Indian Skull tattoo will surely improve the aesthetics of your body. Composed of differents shades and colors, this Indian headdress tattoo makes for a great surprise to anyone who sees it.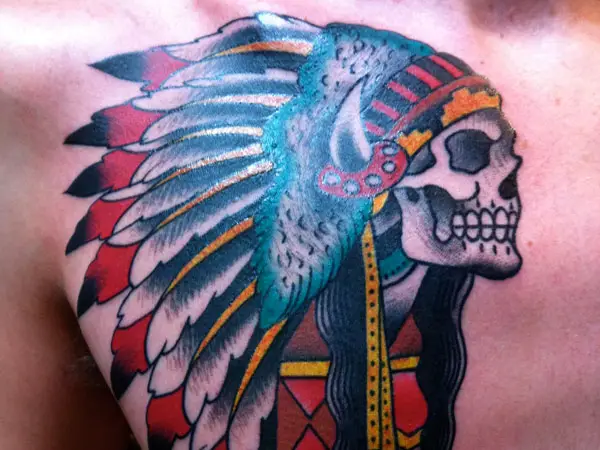 Arm Piece
The profile image of a tribal girl with feather and colorful beads in her hair looks charming. It has become a trend to have their loved ones' faces inked on their bodies as Tribal tattoos for men. This unique tattoo styles shows your love for the person as you have their face tattooed on your body.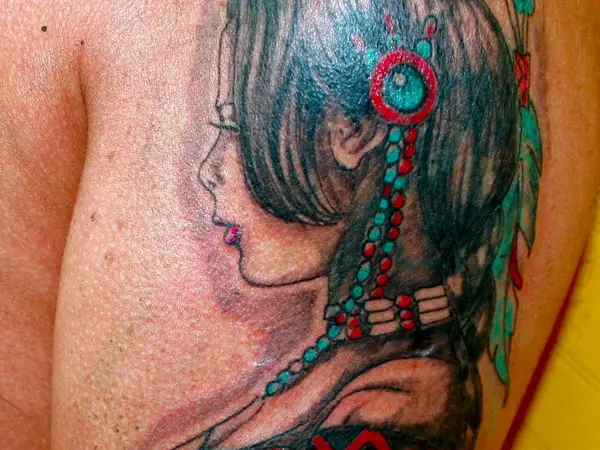 Saint Tattoo
This is the image of an ascetic holy man with his name and trident carved on the arm. This wearer is able to proudly proclaim his strong belief by having it tattooed on his body. Asceticism is the act of severe self-discipline not allowing the follower any form of self-indulgence.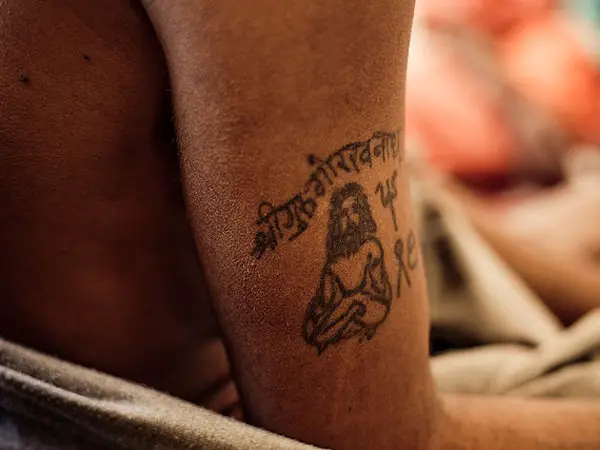 Tribal Tattoo
Another tribal man's face with a sombre look and wrinkles on forehead, thinking about his tribe's problems. Having this Indian headdress tattoo inked on his body is in celebration of the wearer's birthright as a Native American.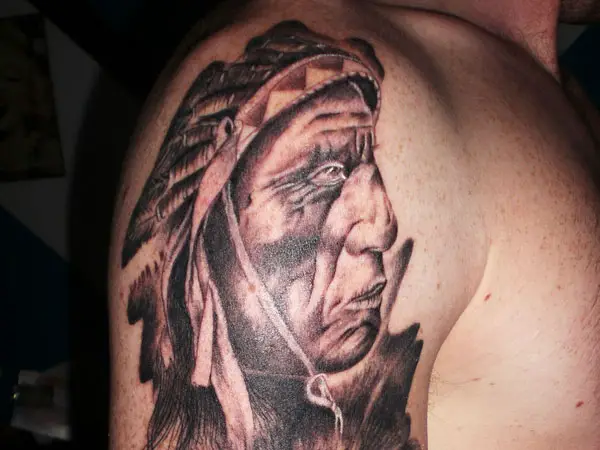 Serious Look
Unique tattoo piece with a metal color shade and a different mouth shape that is slightly messed on the side of the forehead. This serious Indian Headdress tattoo is a great addition to your body's aesthetics.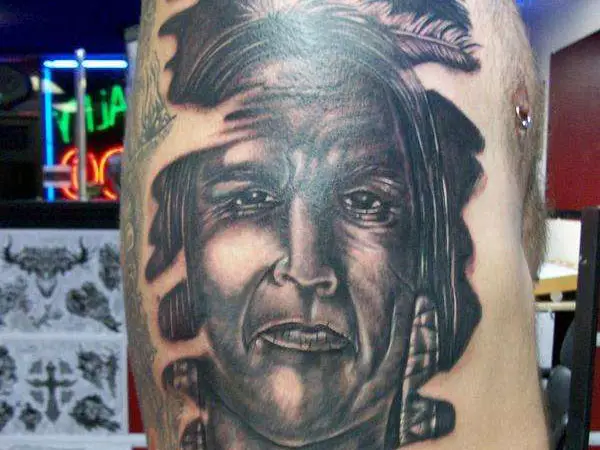 Indian Chief
Another arm piece with the face of the chieftain who is growing old but still looks handsome. An Indian Headdress tattoo has to be done with a lot of care. The tattoo artist took extra care in paying attention to detail when creating this masterpiece.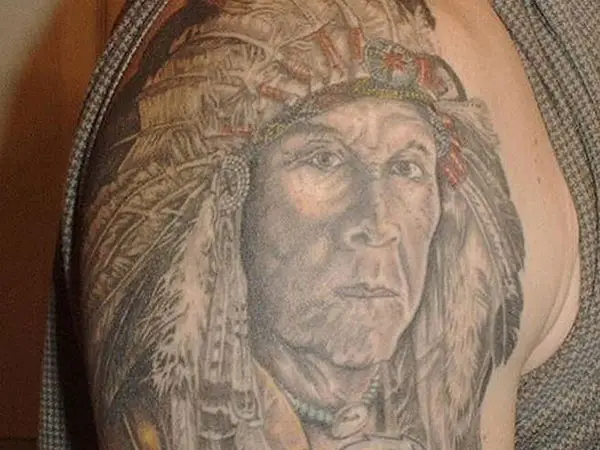 Forearm Tattoo
Featuring a skull with feathers in head, a red-head band and a beaded piece running across his face, this tattoo is really cool. This Indian Skull Tattoo adds some color to this man's forearm. A forearm tattoo like this will definitely get anyone's attention.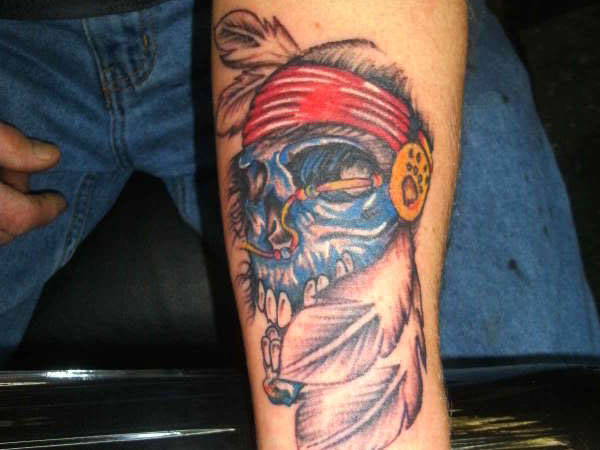 Indian Picture
Another tribal design with horns and feather that has a colorful and scary feel. This intimidating tattoo adds to the wearer's menacing auro. This is one definite way of getting others to fear you.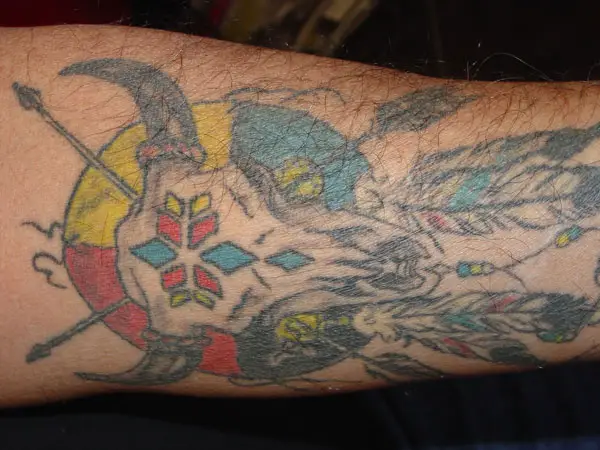 Arm Band Feather Piece
This is a nice band with a star and a feather hanging from it that features a tribal face. This is one of the best tribal tattoos for men. Wearers can also opt to have their faces inked onto the feather. Or have their loved ones' faces to pay homage to them instead.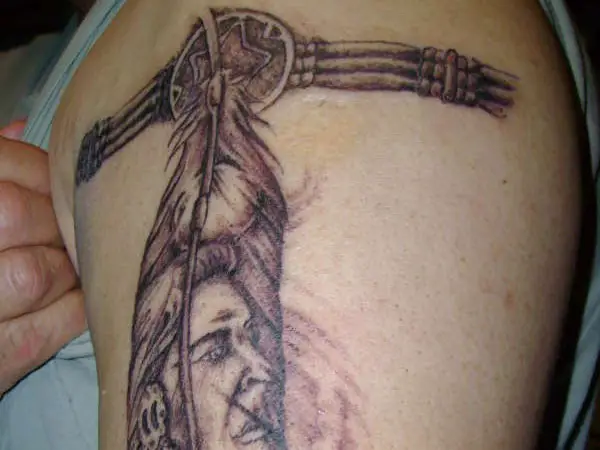 Indian Gal
The sweet Indian girl with red feathers in her head and rosy cheeks etched near the flower looks amazing. This colorful Indian headdress tattoo is the perfect tattoo to get to remind the wearer of his or her bloodline.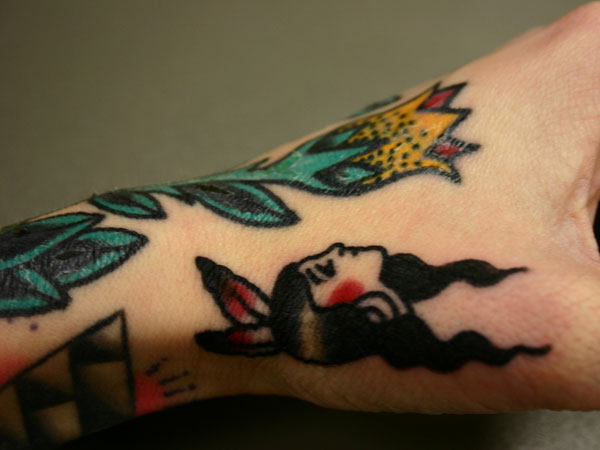 Indian Armband
Encircled around the arm, this is a knotted band with an eagle at the center and colored beads and feather hanging from it. This Indian tattoo is great as it allows the wearer the best of both world. It celebrates not only the Native American bloodline but also of modern America, as represented by the head of the Eagle.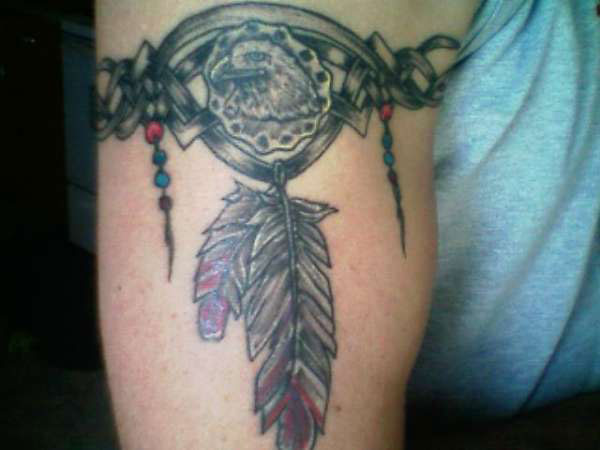 Sombre Face
The large and typical tribal face of the man has sleepy eyes and a calm look on his face that appears sad. Native American designs are usually sombre and has a serious aura to it, providing respect to the rich history of the Native Americans.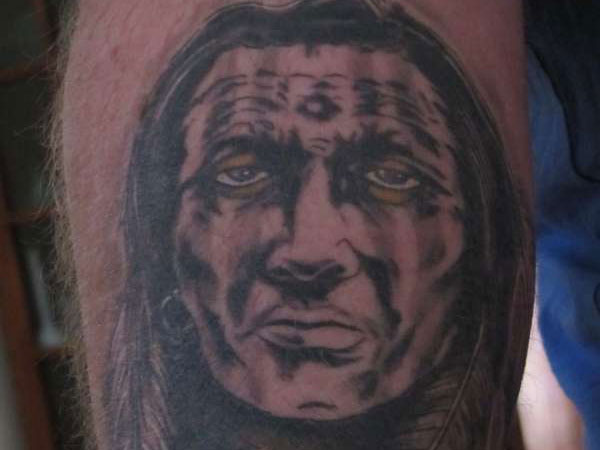 Indian Elephant Tattoo
This royal elephant has anklets in its legs and a decorative back piece that looks cute. The elephant is one animal that has been looked at as a royal and majestic creature for hundreds of years. Getting this Indian tattoo is believed to bring good luck and fortune to the wearer.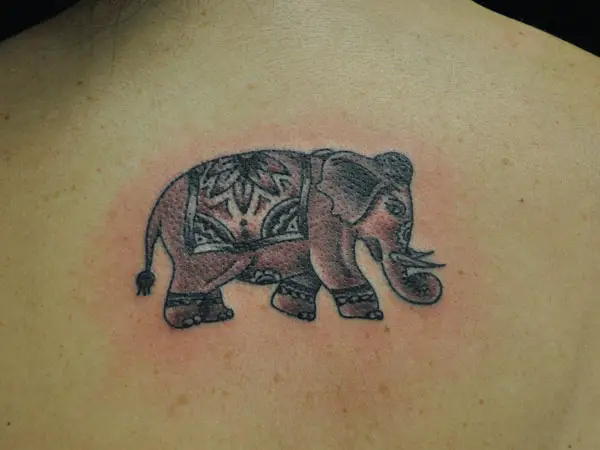 American Indian Tattoo
This old man with loosened skin and long hair-bearing feathers seems to have widened with age. You can see the wisdom in the man's eyes in this Indian Headdress tattoo. The details on this tattoo is astoundingly clear.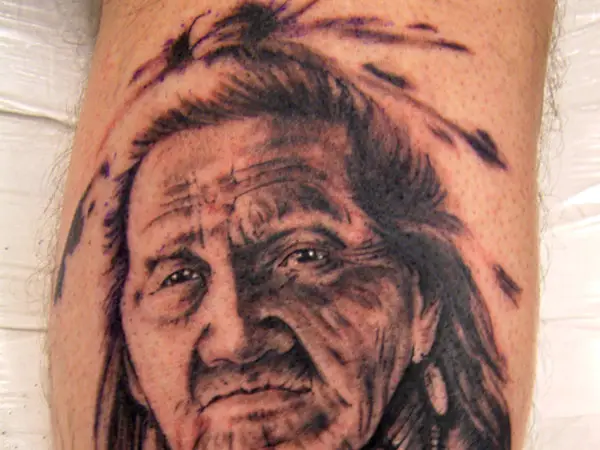 Henna Design
The henna pattern, on the hand, is a popular Indian design and looks quite beautiful. Sometimes, a minimalist tattoo is enough to pay respects to your Indian bloodline. This design is perfect for those who only want a simple tatoo design.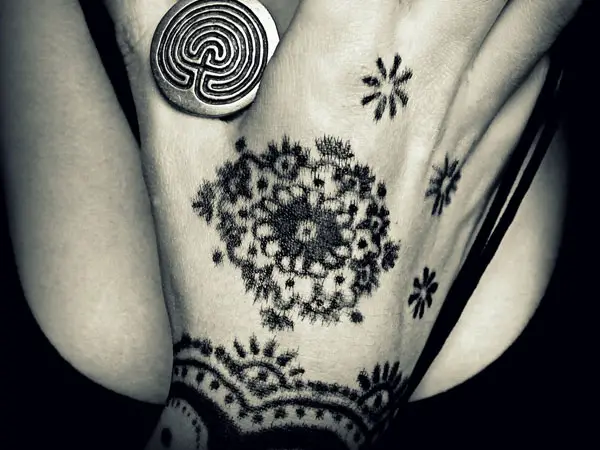 Holy Tattoo
The knotted armband with beads, Celtic design and a feather looks artistic and serves as an ornamental piece. This bicep tattoo is great for your arm's overall aesthetic. You can wear sleeveless tank tops and get the attention of anyone who passes by.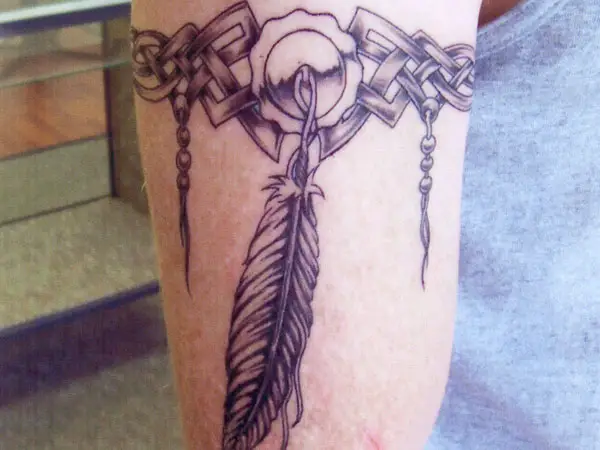 Mister Elephant
The Ganesha tattoo is considered to be auspicious and worn by many as he is a very popular Indian god. Elephants are majestic creatures. They are also revered by the Indians as the avatar of the Indian God Ganesha, remover of obstacles, patron of Arts and Sciences and the Deva of Intellect and Wisdom.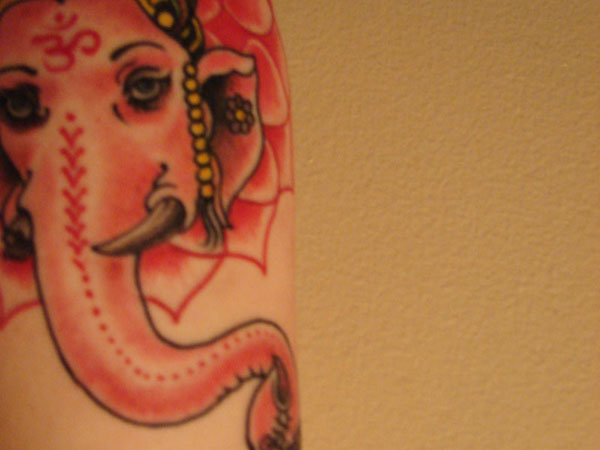 Modern And Traditional
This Indian woman, wearing a sari and holding a guitar, with angel wings presents a cool tattoo piece. This bicep tattoo allows the wearer to proudly show off not only his beloved but also his belief. The Om tattoo on the middle is in respect to the Hindu's culture.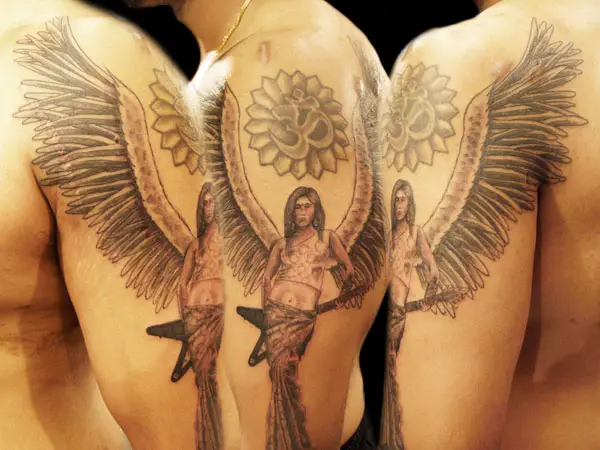 Lotus Flower Tattoo
This is a memorial tattoo with father, grandfather and little sister carved around the lotus flower. Losing a loved one is a bitter affair. This tattoo wearer immortalizes the memories of his loved ones with this Indian tattoo of a Lotus flower.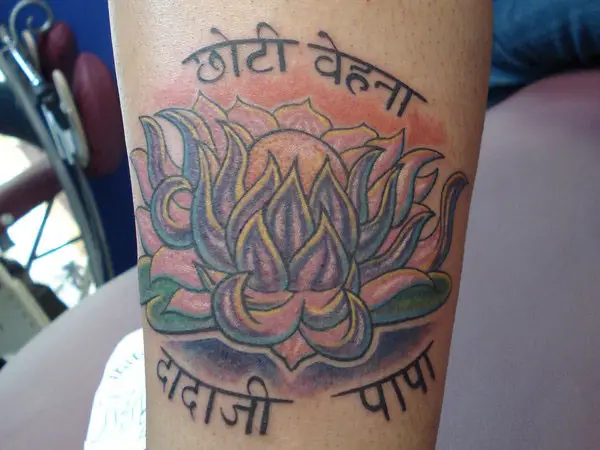 Indian Leg Tattoo
The two tribal Indian back to back birds, etched on the calf, present an attractive look. This Indian tattoo design is perfect as tribal tattoos for men. With black lines and mysterious figures, this tribal tattoo can ellicit a lot of looks and queries.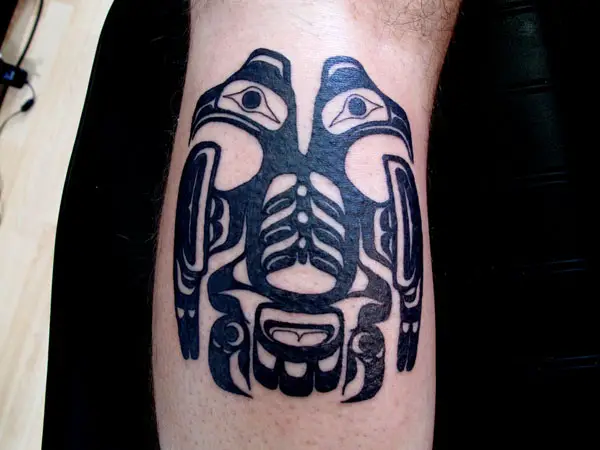 Indian Girl Tattoo
Amazing arm piece that has a girl's face with large and colorful feathers in her hair looks very pretty. Going away from the traditional Indian headdress tattoo, this tattoo is colorful and stands out on the wearer's skin.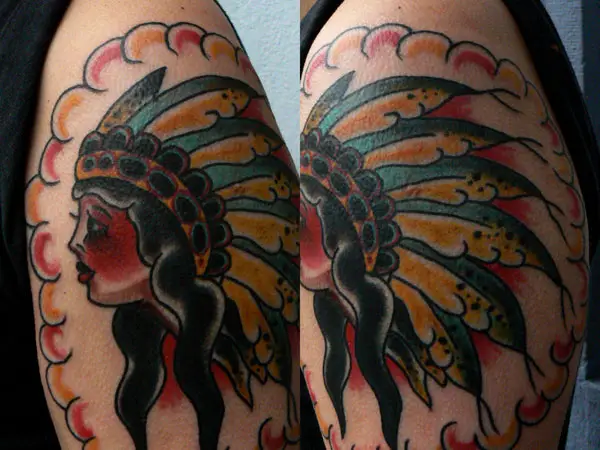 Hunter Tattoo
Throwing a harpoon to kill an animal, the tribal man with his flowing hair presents an awesome picture. This tribal tattoo promotes an intimidating picture that adds to the wearer's serious outlook on life.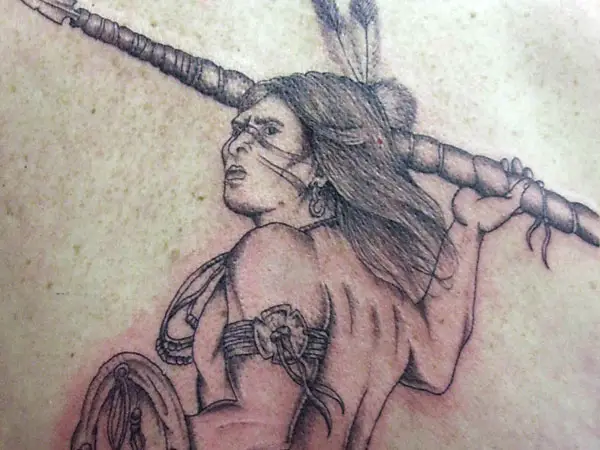 Hunter Tattoo