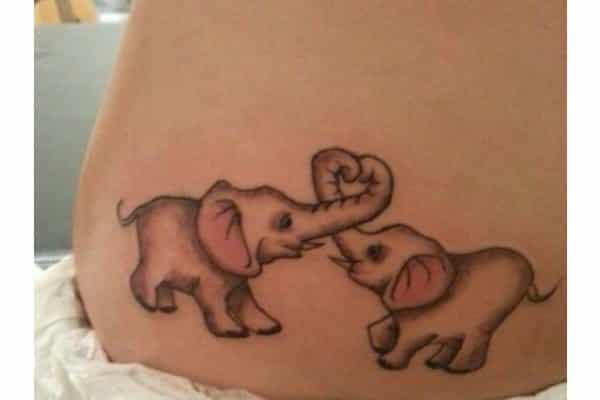 Elephants have been revered for many years in several cultures. They symbolize strength, power, wisdom, and good luck. The elephant is a majestic and beautiful beast. One that is also loving and nurturing and loyal.
It's not a wonder why so many people are drawn to the idea of  an elephant tattoo!
An elephant tattoo can look amazing almost anywhere on the body—the shoulder, neck, back, arm, or even foot. It can also bring the wearer good fortune and protection, some believe.
Deciding to get an elephant as a tattoo is the easy part. Choosing from all of the great elephant tattoos out there, on the other hand, is a little more difficult.
Fortunately for you, we've rounded up 12 great elephant tattoo design ideas to give you a little inspiration!
1. Realistic Elephant Tattoo
Go big or go home, right? Well, this elephant tattoo is definitely big, and it's definitely amazing! The realistic detail just puts it over the edge, and although this is an arm tattoo, it would also look incredible as a back tattoo.
2. Ceremony Elephant With Feather Headdress Tattoo
This tattoo depicts a beautiful elephant decked out in full ceremonial garb. The feather headdress adds some bright colors, and this elephant is absolutely magnificent!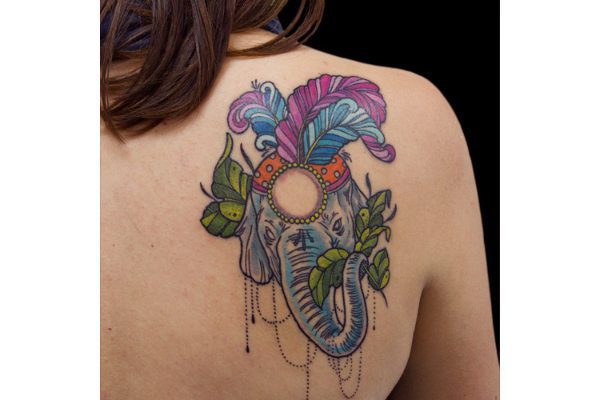 Brian Ragusin on Mechanical Concept
3. Elephant with Ducks Tattoo
Here's another super cute elephant tattoo idea for women. This realistic elephant is spraying water from its trunk, which transforms into ducks.
4. Cute Baby Elephant With Butterfly Tattoo
If you're trying to decide between a butterfly tattoo and an elephant tattoo, here's an interesting choice. There's no doubt that the cute baby elephant takes center stage in this tattoo, but the butterfly still makes an appearance for a more whimsical tattoo design.
5. Elephant With Moth Ears Tattoo
This next tattoo design idea is truly unique and gorgeous! A realistic elephant face takes center stage, but if you look closely, the ears are the wings of a moth.
6. Mother and Baby Elephant Tattoo
Elephants are amazing mothers, who care for their young for years. Parents especially can see the sweetness of this elephant tattoo. It would also look sensational with a short line of baby elephants, one to represent each child.
7. Elephant Hand Tattoo Design
The intricate detail combined with the placement of this tattoo make it absolutely stunning! When the finger is extended, the elephant even has a working trunk!
8. Pink Elephant Tattoo Design  
Do you see pink elephants from time to time? No judgement here! Pink elephant tattoos might be right up your alley, though.
9. Circus Elephant Tattoo With Quote
Elephants are the epitome of strength. Pairing a memorable quote with this elephant tattoo gives it a much deeper meaning.
10. Elephant outline Tattoo
If you're not looking for realistic elephant tattoos, maybe this elephant outline is more your style. Its comprised of nothing but dark black lines, but it definitely conveys the idea of an elephant. This one would look great on an ankle, wrist, shoulder, or just about anywhere else.
11. Tribal Elephant Tattoo Design
Here's another great depiction of an elephant in a tattoo. Although it doesn't contain realistic details, the bold lines and addition of the red and yellow make it a stunning tribal tattoo design idea!
12. Baby Elephant Love Tattoo
This one is such a sweet tattoo design! I love how the baby elephants' trunks create a heart.
These were definitely some amazing elephant tattoos, but, there're lots more out there! If you're still on the hunt for some elephant tattoos, make sure you check out our nice big list of 35 astonishing elephant tattoo designs!