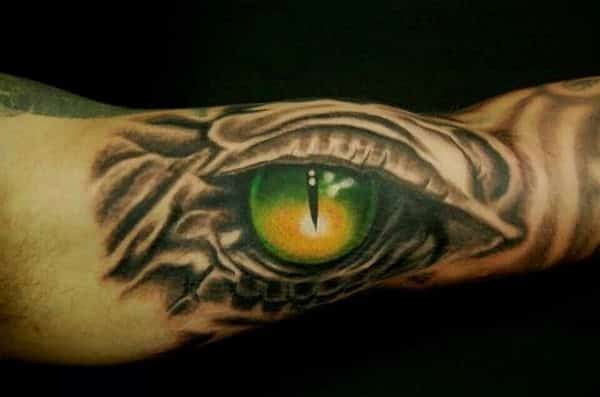 Dragon tattoos are quite popular among both men and women. These mythical beasts symbolize power, strength, royalty, wisdom, and protection. It's not a wonder that so many people are drawn to dragons for their tattoos. In fact, some people may feel drawn to dragons for tattoos, but also feel that these designs have become somewhat too mainstream.
If you're looking for something a little different, a dragon eye tattoo may be just the thing!
Dragon eye tattoos are still representative of dragons and everything that they stand for. However, they're slightly more unique than full dragon tattoos. You won't see as many dragon eye tattoos on the streets.
When done correctly, dragon eye tattoos can be exquisite and breathtaking! Take a look at some of these dragon eye tattoo designs to see for yourself…
1. Green Dragon Eye Tattoo
This piercing green and yellow dragon eye tattoo is sure to stop at least a few people in their tracks.
2. Ripped Dragon Eye Tattoo
A bright green dragon eye peeking thorugh ripped skin makes for a chilling sight…
3. Dragon Eye and Sun Tattoo
This dragon eye and sun tattoo design is actually a clever cover for an unwanted butterfly tattoo.
4. Green Dragon Eye Bicep Tattoo
Biceps are a great place for detailed dragon eye tattoos, like this shimmering green tattoo design.
5. Realistic Dragon Eye Tattoo
The detail in this realistic dragon eye design is simply exquisite!
6. Dragon Eye Tattoos on Shoulders
Chinese dragon eyes surrounded by red scaly skin peek out from this man's shoulders.
7. Tribal Dragon Eyes Tattoo
Red dragon eyes incorporated into a simple, bold black tribal tattoo makes a gorgeous lower back tattoo design for women!
8. Dragon Eye Elbow Tattoo
Elbow tattoos can be pretty tricky to pull off, but this yellow dragon eye design is spot on!
9. Realistic Dragon Eye Biceps Tattoo
Here's another amazing example of an amazingly detailed and realistic dragon eye bicep tattoo design.
10. Red Dragon Eye Tattoo
Most dragon eye tattoos are bright green or yellow, but this bright red dragon eye is a pretty awesome variation!
11. Red Dragon Eye Through Ripped Skin
This red dragon eye design is even more chilling as it's peeking through ripped skin.
12. Galaxy Dragon Eye Tattoo
This amazing tattoo design combines two beautiful elements—a galaxy and a dragon eye—into one seamless piece!