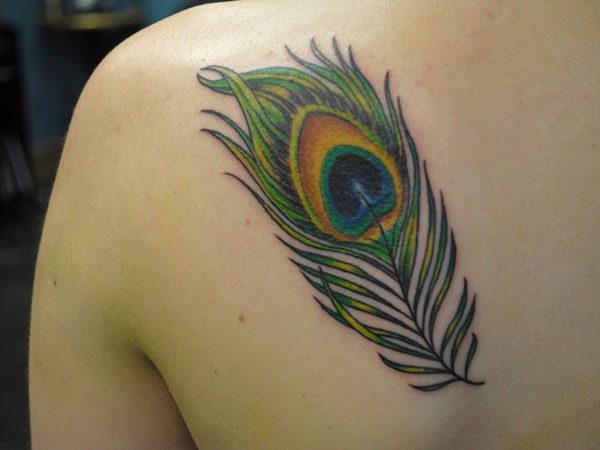 Peacocks are one of the most beautiful birds in the world. They are tender, colorful and full of feminine grace and manly pride. These praise-worthy qualities make them quite sough-after when it comes to tattoo choices for men as well as women. The latter i.e. the women are simply crazy after the peacock feather tattoo. They love the bird and like to decorate their body parts with the tattoos of peacock feather. Men too like peacock feather and can be seen sporting the soft and soothing tattoo on their different body parts.
This tattoo is popular for its beauty as well as for its rich symbolic meaning. Colors and designs, as mentioned above, are its USPs but symbolism also plays a major role in their popularity. The peacock feather stands for beauty, honesty, optimism, kindness, patience and different other traits. So, are you looking out for designs and meanings related to the tattoos featuring peacock feather? Well, then you are on the right turf. The post that we have created below is dedicated to this very topic. Here you will get to see 26 beautiful images that show the lovely dimensions of this delicate and delectable tattoo. Take a look.
Gorgeous & Graceful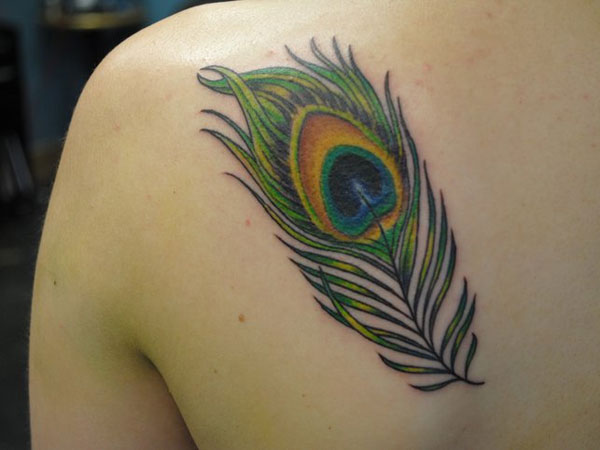 Decorate your upper back with this traditional and tasteful peacock feather that is all about beauty and charm.
Gorgeous & Graceful
Fine & Flirty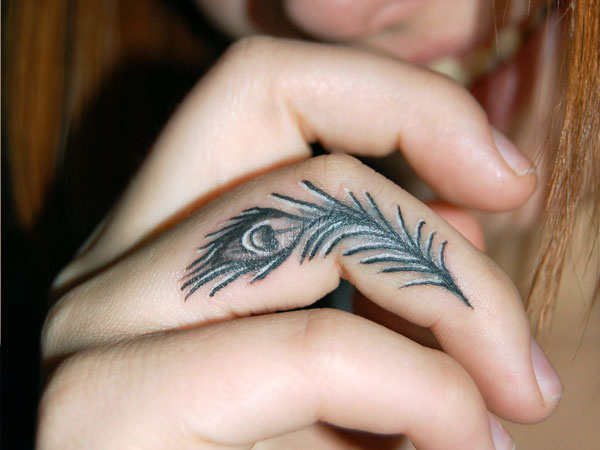 Look at this middle finger with a black and white peacock feather tattoo that symbolizes the fact that the wearer belongs to the fashion industry.
Fine & Flirty
Green & Glowing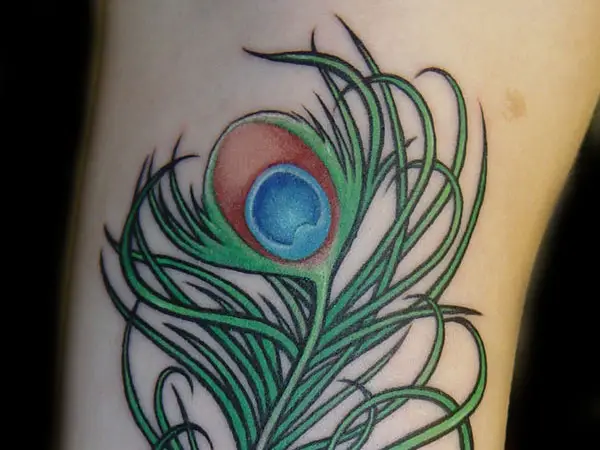 If you love greenery and grace then this peacock feather tattoo is just the right choice for you.
Sexy Style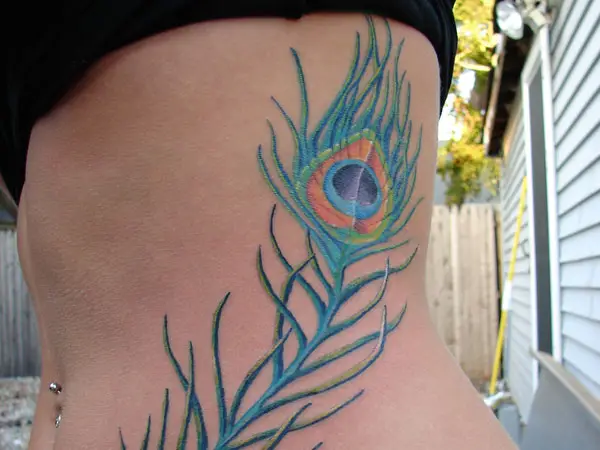 Adorn the side of your waist with this colorful and charming peacock feather to express your love for beauty and grace.
Really Rocking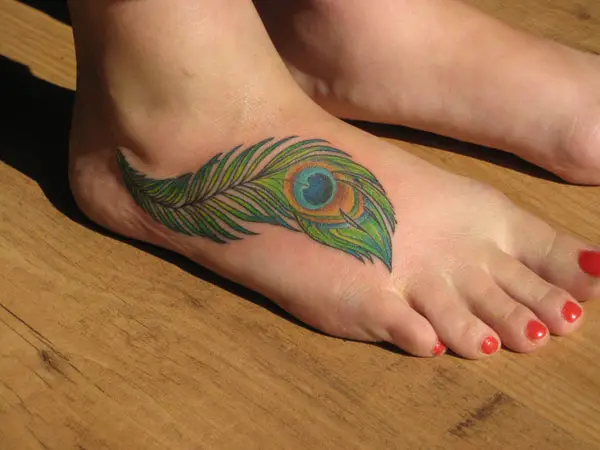 Walk in style expressing your optimistic side and broad outlook with this lovely peacock feather tattoo on your foot.
Different Design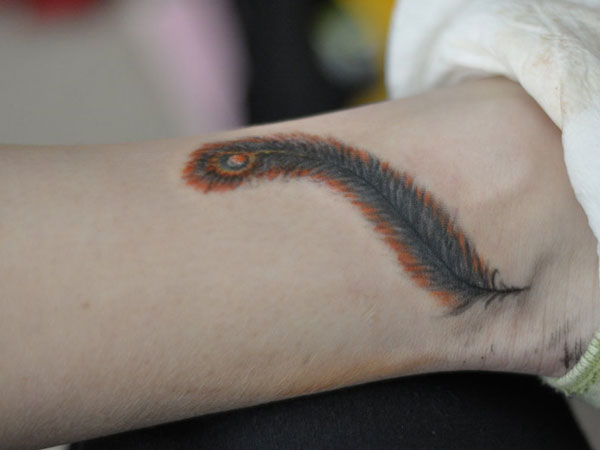 If you are creative, cool and possess a keen aesthetic eye then this peacock feather tattoo is sure to attract you.
Cute Creativity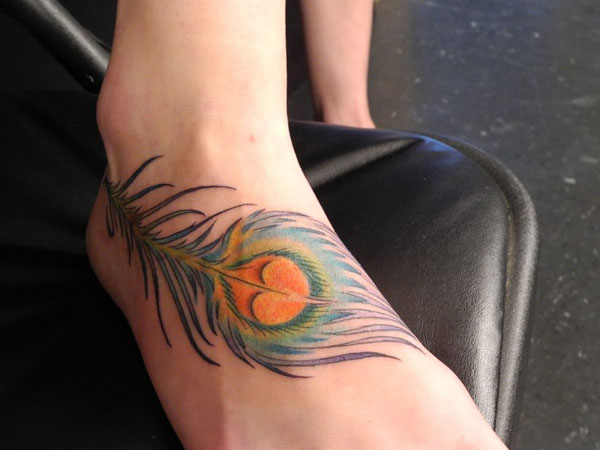 This lovely peacock feather tattoo gives the impression of a face with closed eyes. It denotes patience as well as playfulness.
Soothing & Serene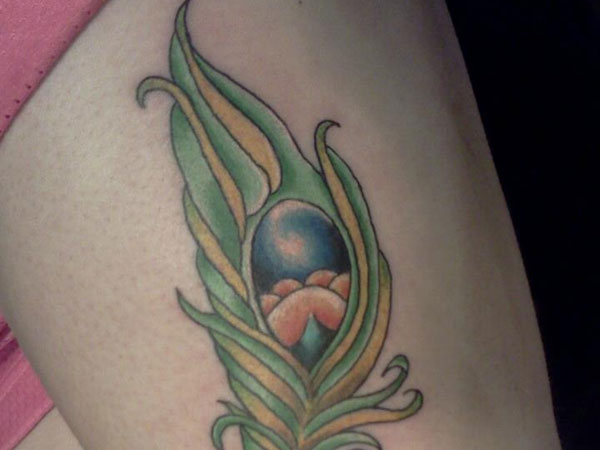 Symbolic of tenderness, elegance and peace, this peacock feather tattoo looks very decent.
Colorful Charisma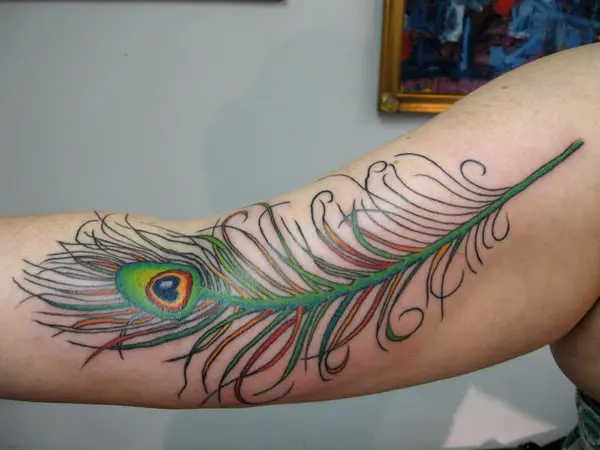 Check out the splash of colors visible in this peacock feather tattoo that is catchy to the core.
Bold & Beautiful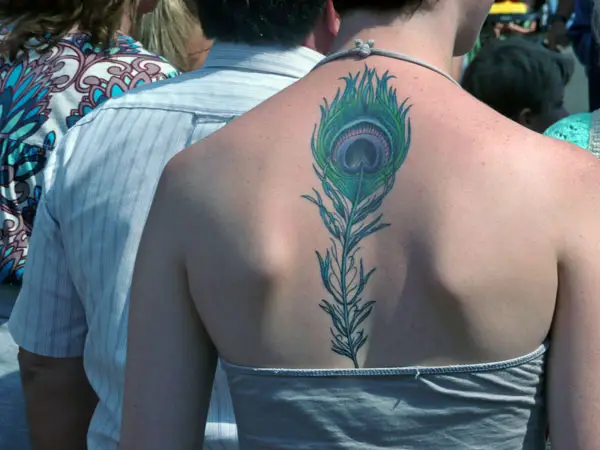 This green and soothing peacock feather tattoo adds to the charm of the girl's sexy back.
Classic Curve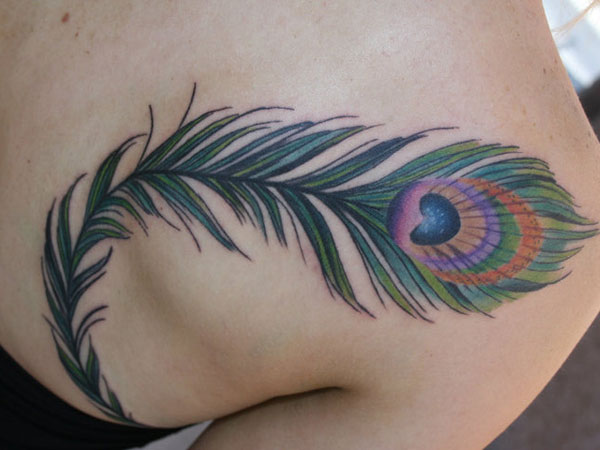 Feminine grace and sexy charm find a place in this feather tattoo gracing the upper back of the girl.
Classic Curve
Earthy Elegance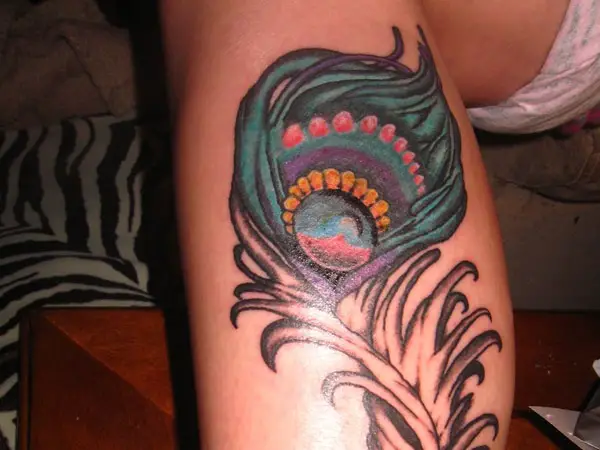 This leg tattoo looks very rustic and symbolizes immortality and purity of soul.
Smooth & Soft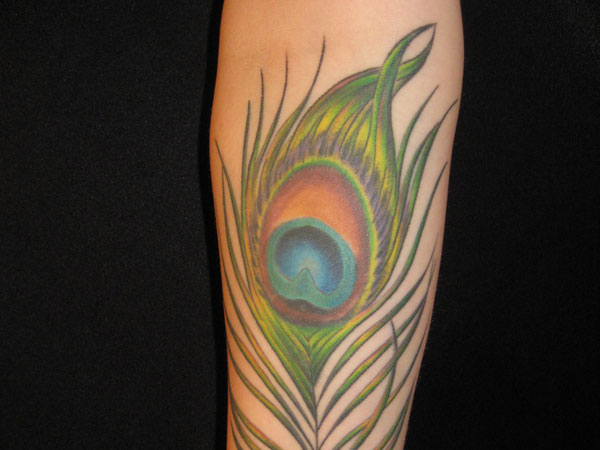 This forehand feather tattoo represents the spiritual side of the girl. Its clean contours and cool display make it quite attractive.
Simple & Sober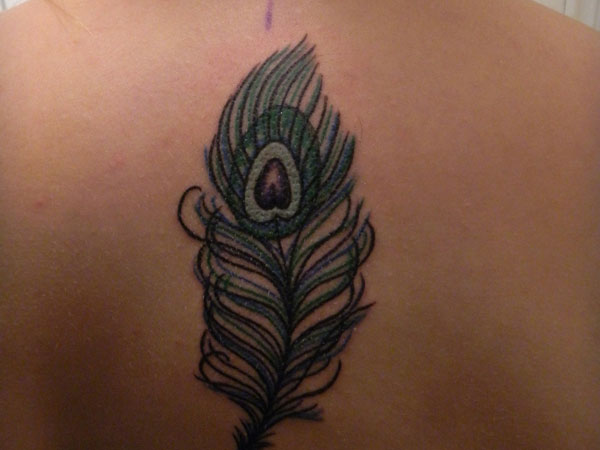 Have a look at this easygoing and sober peacock feather tattoo. It is a metaphor for the motto 'simplicity is beauty'.
Simple & Sober
Four feathers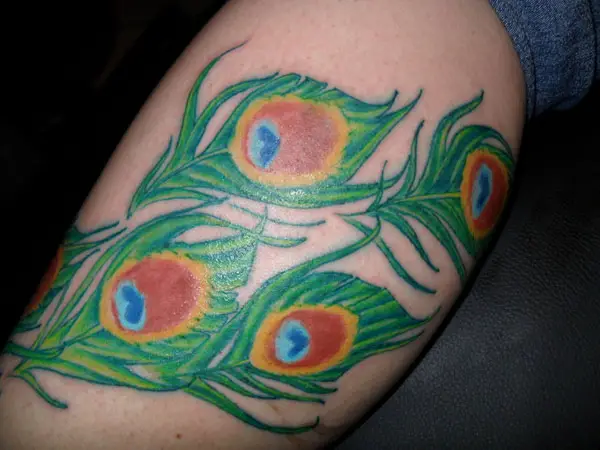 The wearer got this feather tattoo to celebrate her four successful years in the fashion industry.
Rainbow Representative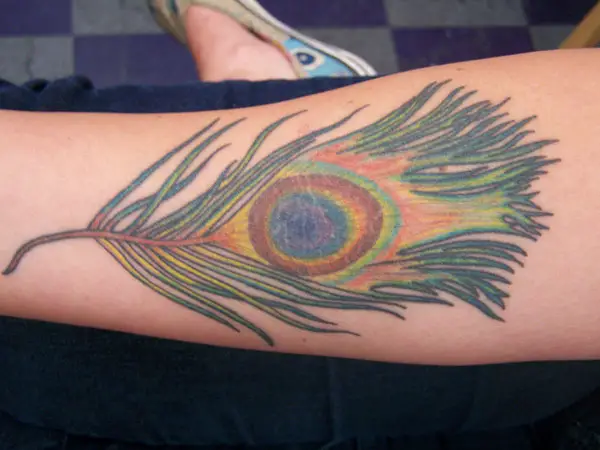 This peacock feather tattoo is sure to attract those who love colors.
Catchy Charm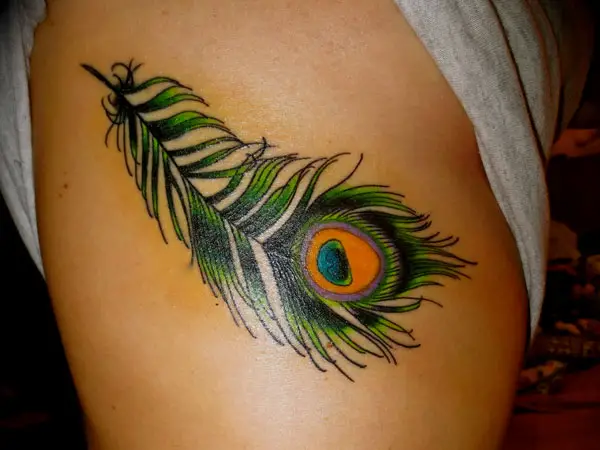 Get an eyeful of the bright shades present in this peacock feather tattoo. They make it very fetching.
Catchy Charm
Grungy Grace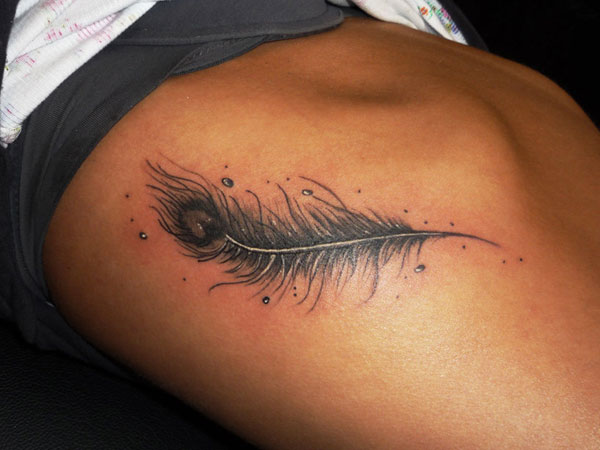 This rib feather tattoo looks unique. It represents resurrection and immortality.
Cool Colors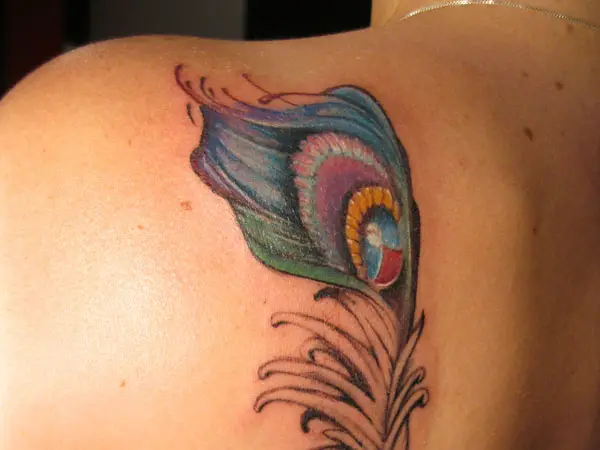 The variety of colors gracing this peacock feather tattoo stand for the wearer's open-mindedness and broad outlook on life.
Sharp & Sexy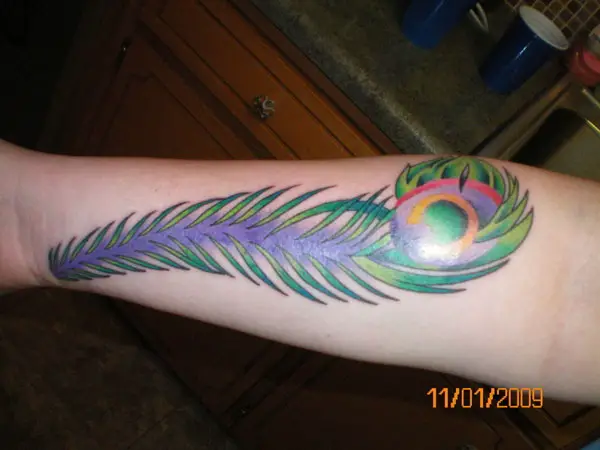 The tattoo artist has done a classic job in this colorful and clean peacock feather tattoo gracing the inside of the forehand.
Delicate Design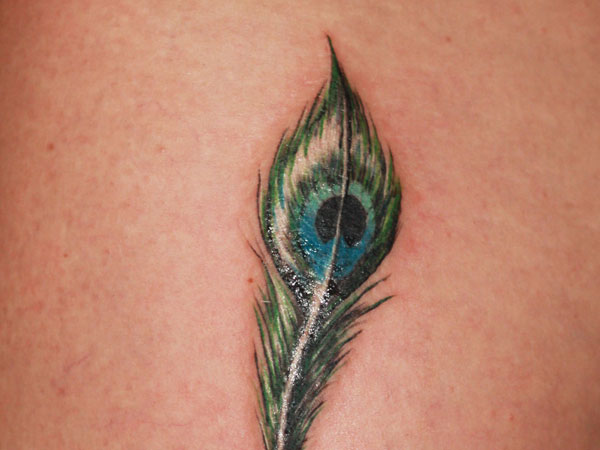 Having a tender elevated posture, this peacock feather tattoo inspires positivity and optimism.
Feathery Foot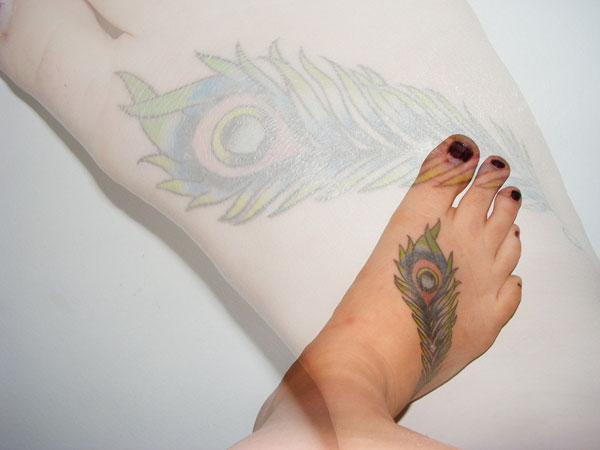 The foot is the favorite spot of many for peacock feather tattoos. It looks very elegant when placed here.
Fresh & Fetching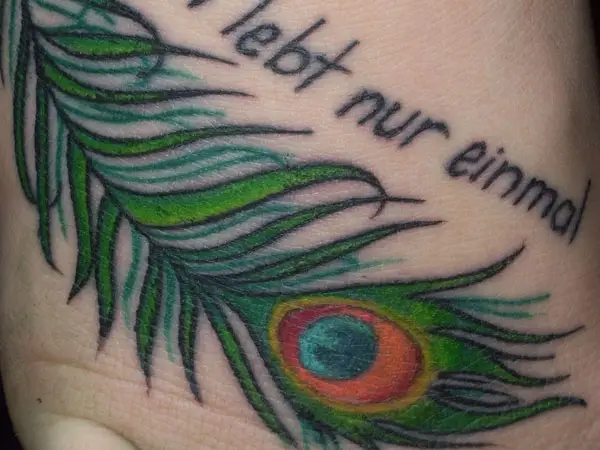 This bright green feather tattoo has got a very refreshing aura that is indicative of the wearer's optimistic attitude.
Quote & Feather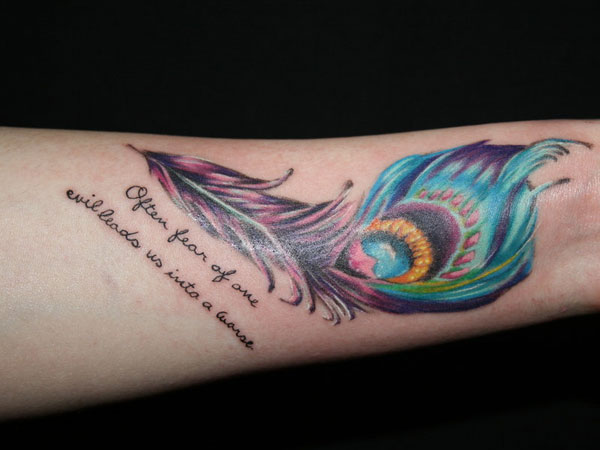 Add more meaning and grace to your peacock feather tattoo by getting it tagged with a quote just the way shown here.
Awesome Threesome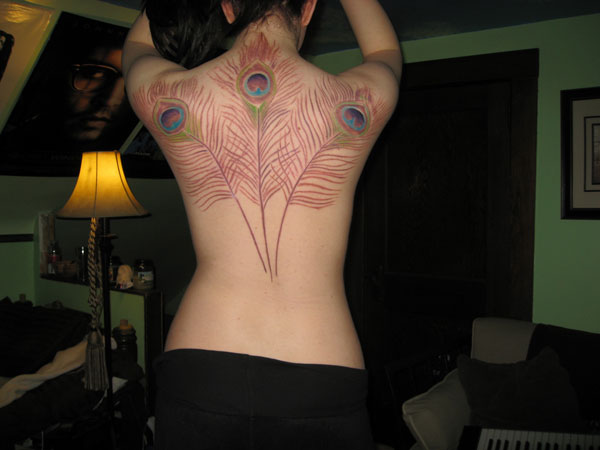 These big three peacock feathers stand for immortality, resurrection and resilience.