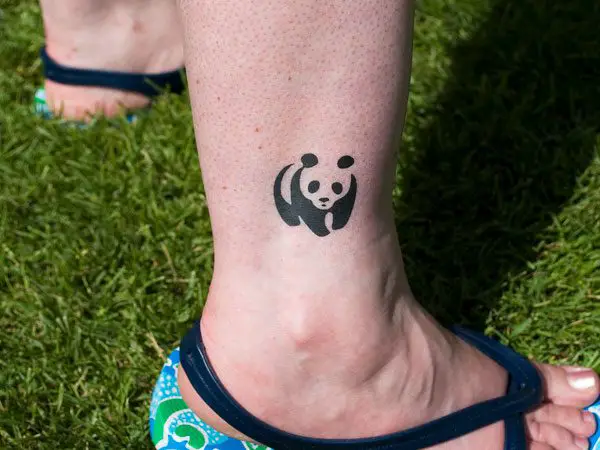 The tattoo art is practiced in almost all the countries of the world and each nation has its own specialty. The fastest growing economy of Asia i.e. China too possesses a rich history of the body art. In the last decade that saw globalization, making its presence felt in the art and culture domain, many changes have come over us. The Chinese tattoos have also crossed their national frontiers and become common in western countries. China has a lot of popular symbols that make it stand out and gain edge in the tattoo designs. Among these the Buddha, dragon and the artistic script are most popular. People take great interest in getting these three symbols inked on their body.
The translation of names and messages in Chinese script enjoys huge popularity in the masses. Similarly, the great Buddha also holds a kind of indefatigable sway on the minds and hearts of people. They are in love with this enlightened soul. His various avatars can be seen as tattoo designs and forms and they are really cool. Coming to the dragon, it is the most common and ubiquitous Chinese tattoo design which has a special ferocious display, its USP (Unique selling Proposition). The story does not stop here. Go ahead and find more details with these 40 Chinese tattoo designs.
Panda Tattoo
A tiny, black panda carved on leg looks cute and exquisite.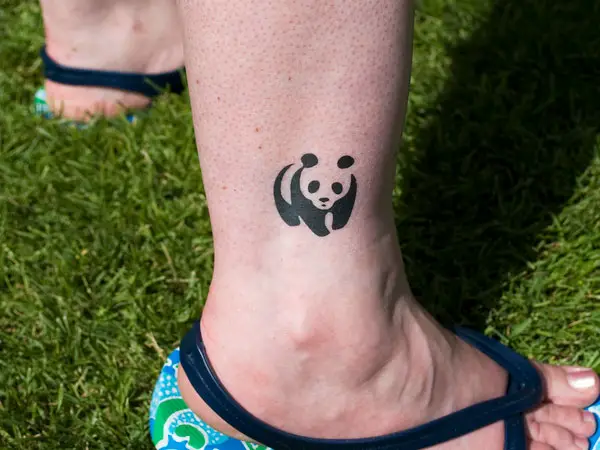 Chinese Lady
This black and white tattoo of a lady, on the hand, with floral motif above and below creates a queer look.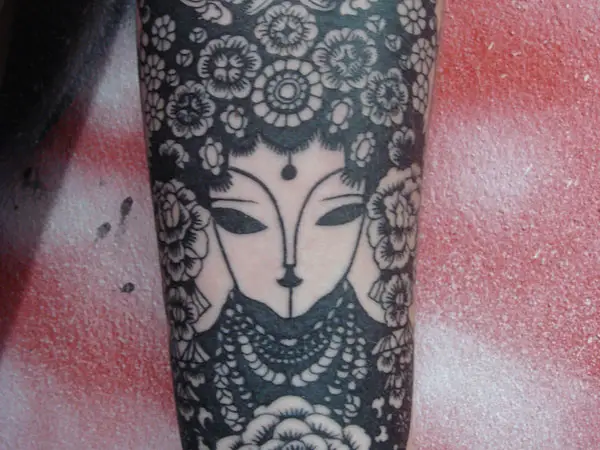 Chinese Tattoos: Creepy
The girl holding a red lantern along with skull tattoo on her hand looks mysterious and fearsome.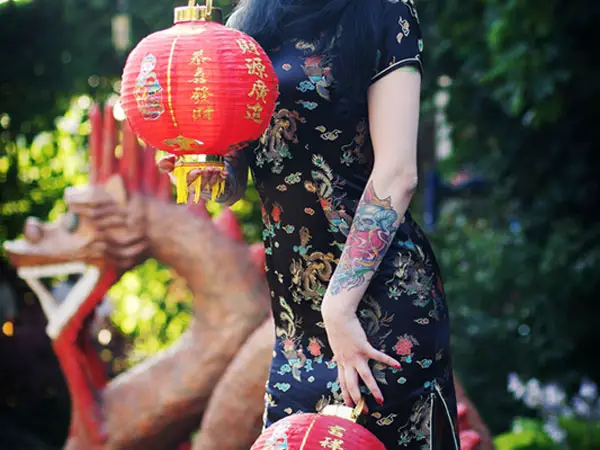 Red Lantern
Tattoo Chinese Script
These three characters on the forearm have been taken from the Chinese Script.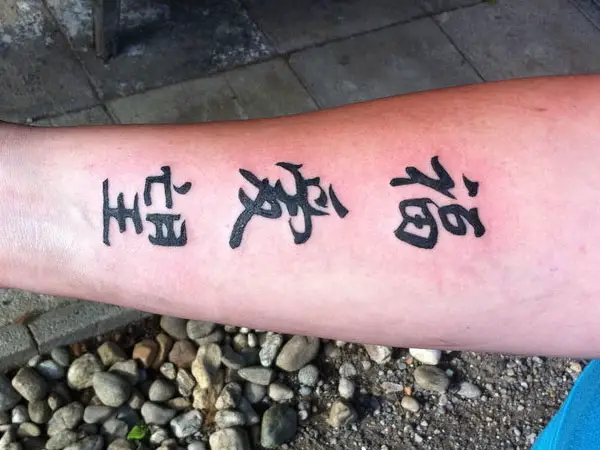 Chinese Crow
This tattoo wearer seems to be a crow lover as he has a crow tattoo carved on his arm.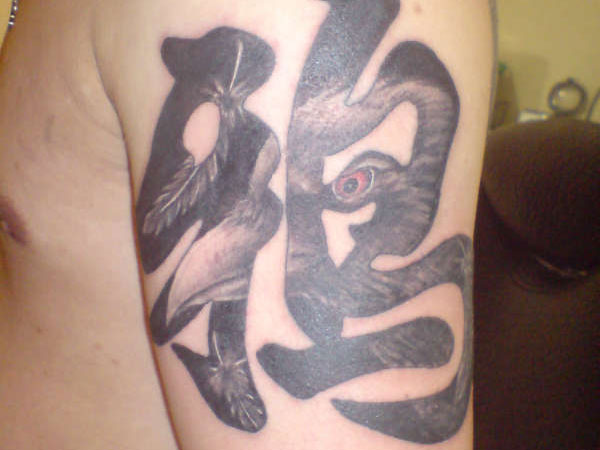 Prayerful
This tattoo piece of a woman with a lotus in her hands looks very artistic and has a traditional look.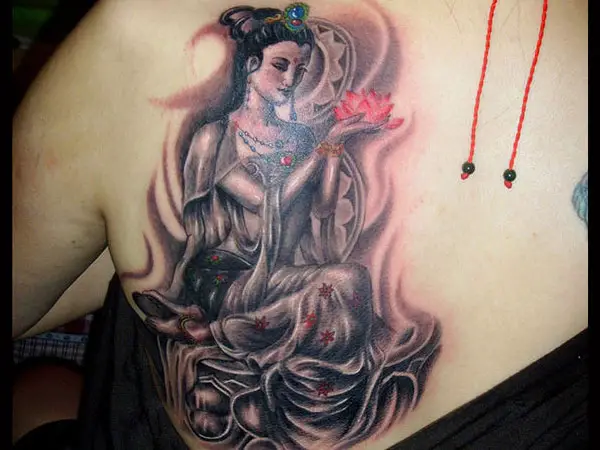 Auspicious Symbol – Chinese tattoos
The epic Chinese lion with her cub and a blue lotus flower surrounded by water, created as tattoo design holds spiritual meaning.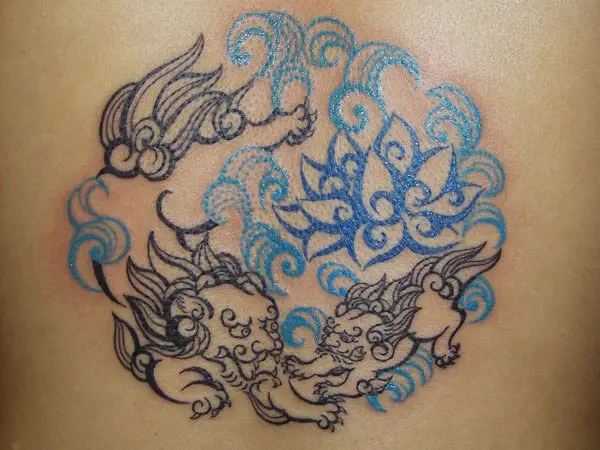 Flying Phoenix
The vibrant and colorful Chinese Phoenix with wings spread out, inked on inner side of the forearm, looks pleasant.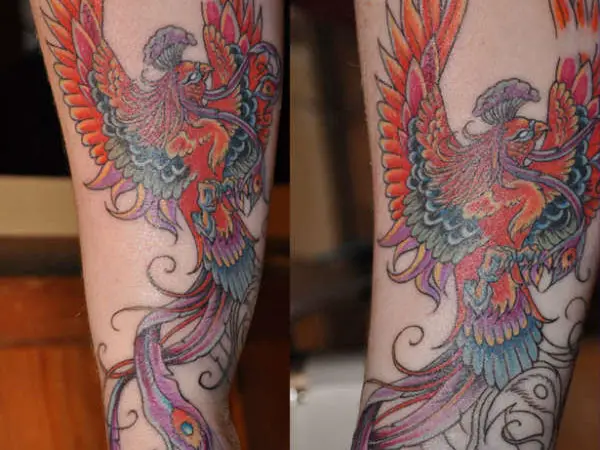 Lovely
The Chinese bird, sitting on a branch, inked in Chinese brush style looks quite adorable.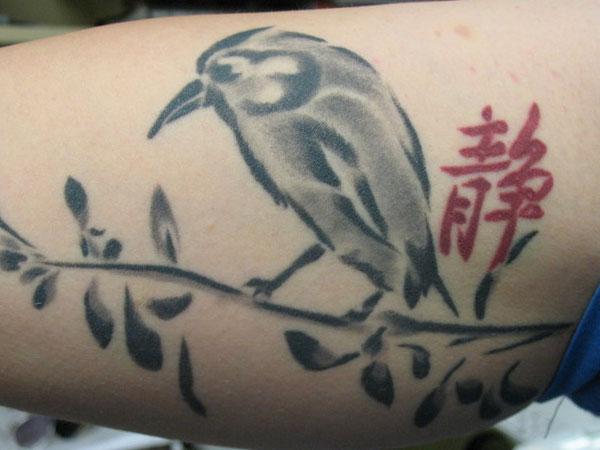 Back Tattoo
An elegant and dainty piece of art with plant motif, inked below the neck, has a hidden meaning inside it.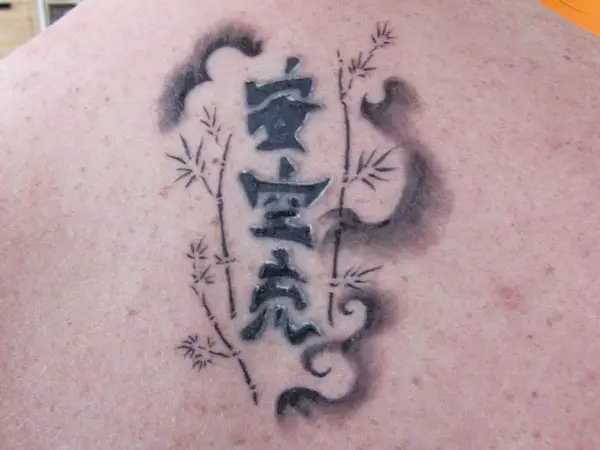 Chinese Character
This Chinese symbol inked in big, thick fonts stands for strength.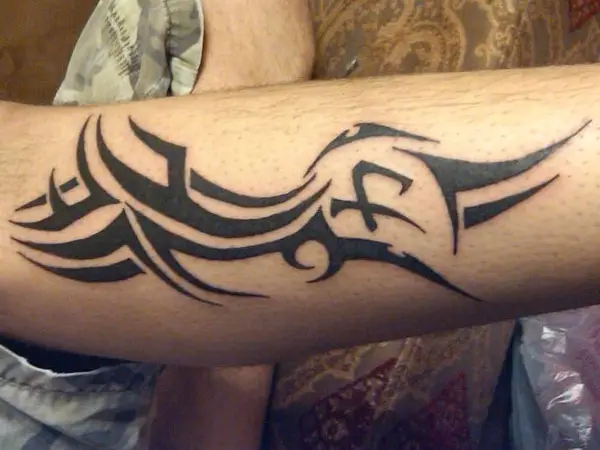 Fortune Harbinger
The roaring Chinese Foo dog sitting inside a lotus flower is considered to be auspicious and brings good luck.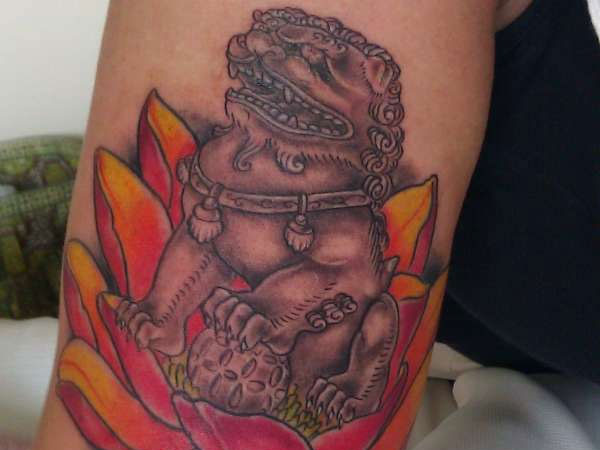 Musician
The guitar wielding artist has a colorful tattoo on his hands and chest to get a rock star look.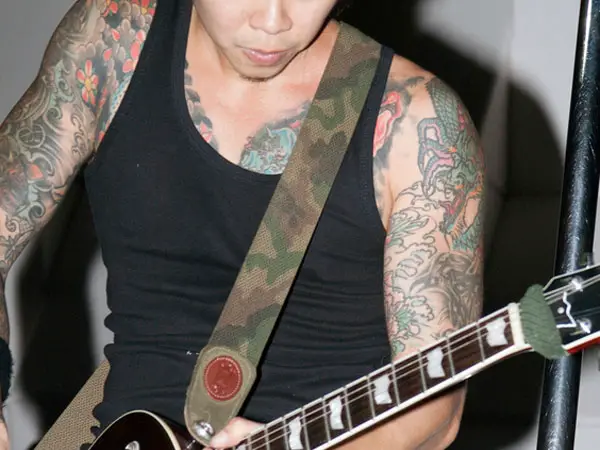 Cool Derrick
Sexy Side Piece
The lady looks sensuous in her curvy, side piece tattoo that accentuates the turns and twists of her body.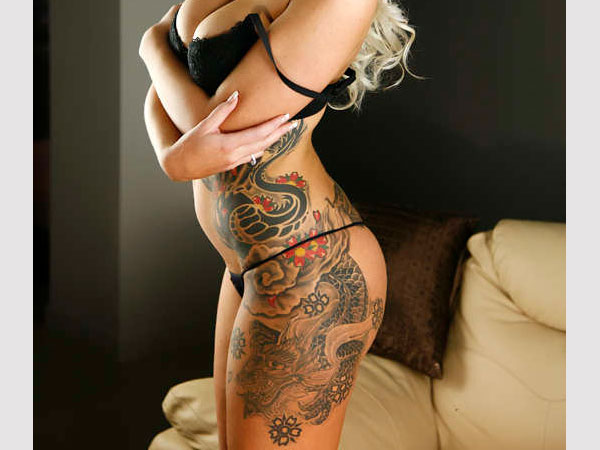 Love Birds
The two Chinese plate blue doves carved on back symbolise the lovely chemistry between couples.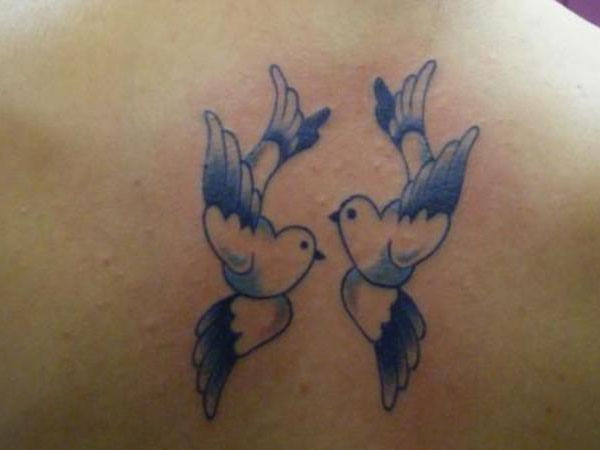 Chinese Handwriting
This tattoo piece on arm gives an insight into the look of the running Chinese handwriting.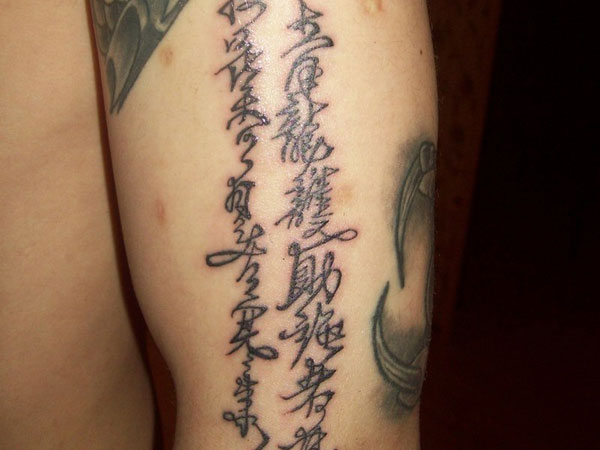 In Thoughts
The beautiful girl pondering over some matter and decked with jewellery is a sample of the Chinese pin-up tattoo.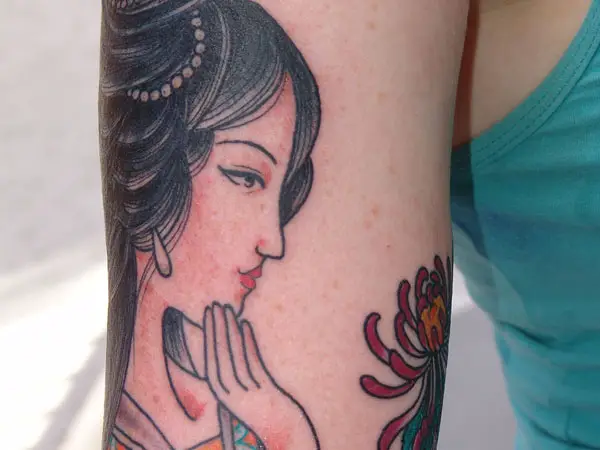 Out To Kill
A flaring Chinese dragon engraved on the neck, at back, looks like it is on a murderous rampage.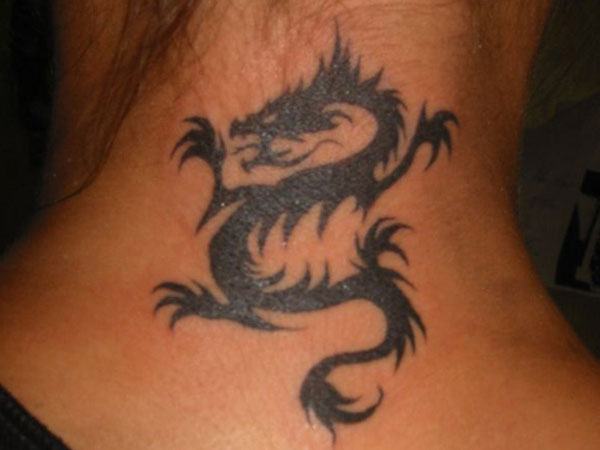 Biceps Tattoo
The scroll with some Chinese character on it and two flowers on the sides, signifies power.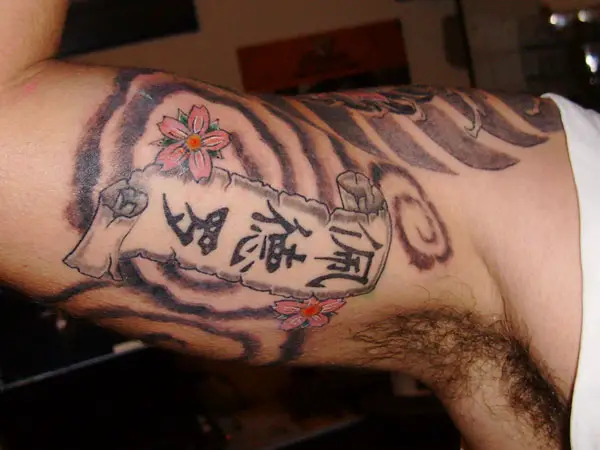 Graceful
The black and white flowers interspersed with Chinese characters running through the middle of the back have a sexy look.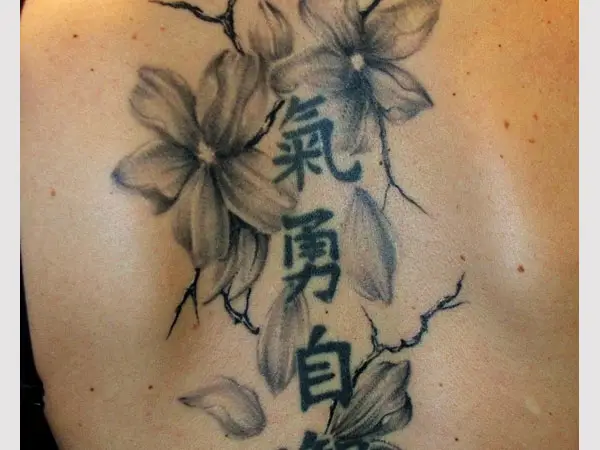 Garden Snap
The Chinese flowers and the butterfly together create a vibrant and fresh look on the leg in the form of a tattoo design.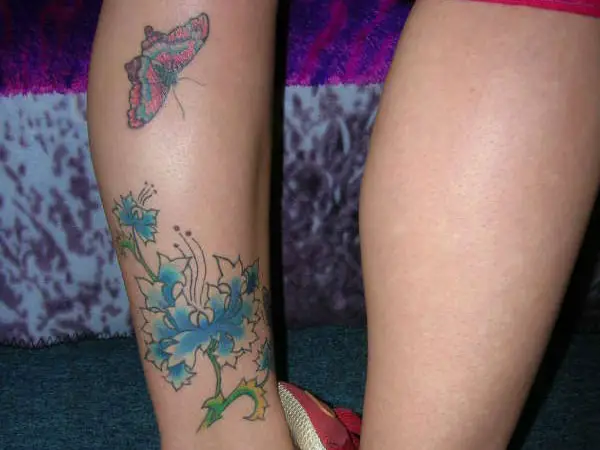 Frightening Dragon
A colorful and vivacious Chinese dragon with flames coming out from its body looks terrifying.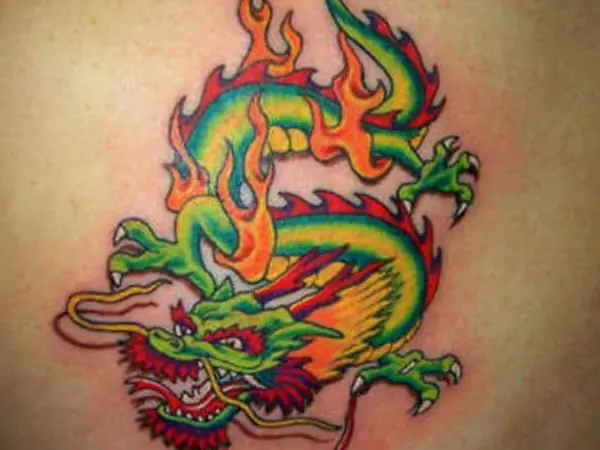 Death Awaits
The faceless man with a crow on his shoulder and an owl flying over the head creates an eerie and creepy atmosphere.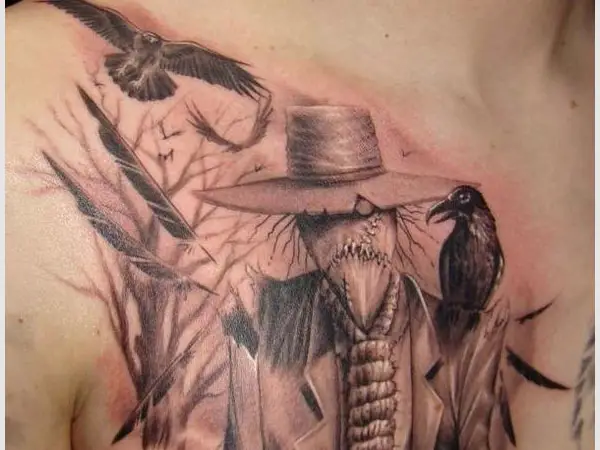 Vertical line
Chinese writing inked in the middle of the back shows the love of the person for her language.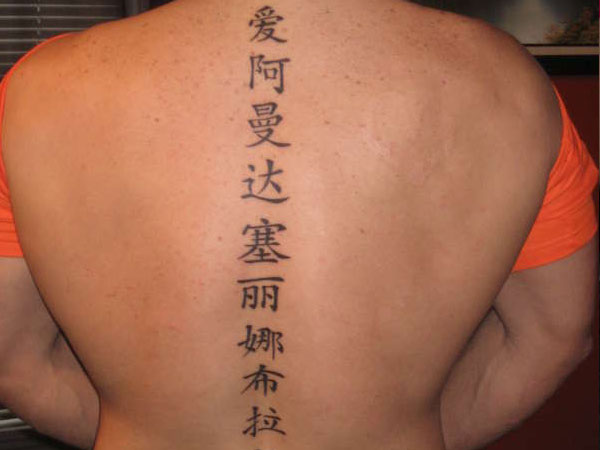 Terrific
This green Chinese dragon with a large open mouth, shouting loud, creates a fearsome look.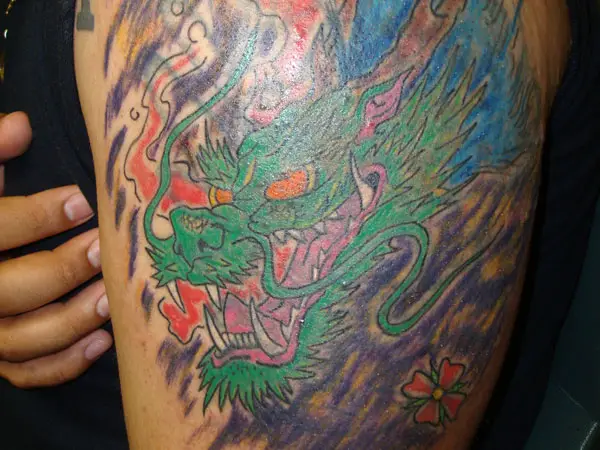 Beautiful
Flowers hold an eternal charm in all cultures and the Chinese tattoo art is no exception.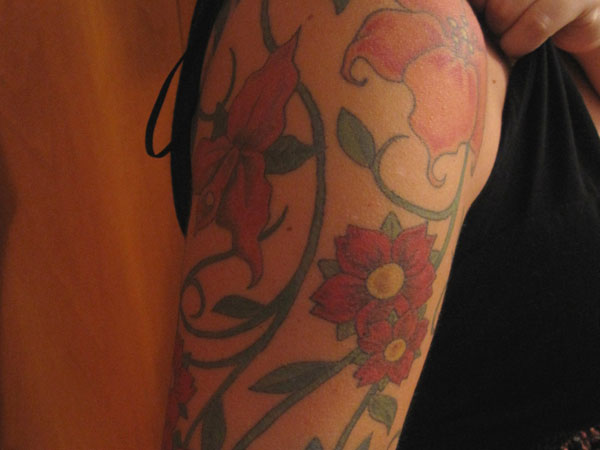 Cherry Blossom
A pink cherry blossom flower tree with twin Chinese characters around it creates a soothing and pleasant display.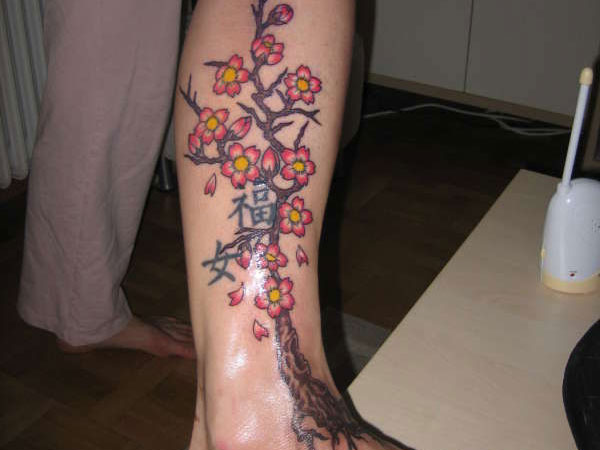 Looking For Prey
The Chinese style eagle, with drooping head, carved on arm, fascinates with its majestic look.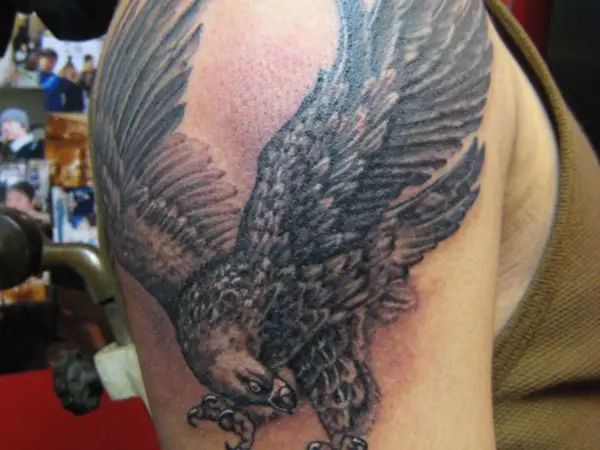 Panda Arm Tattoo
The sweet, little panda makes one feel cuddly and has a pretty, warm appearance.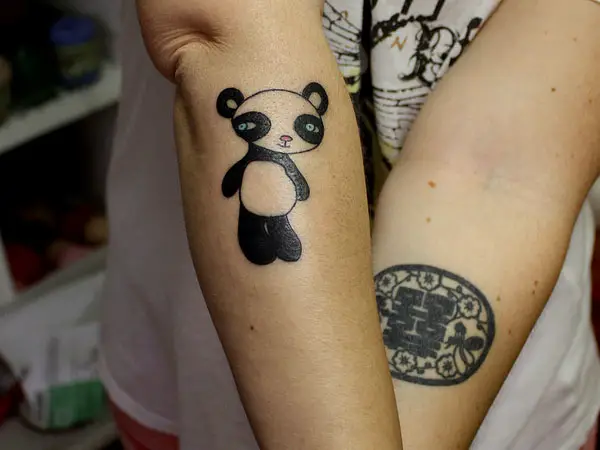 Awe-inspiring
Travelling Buddha tattoo with peacock feathers, flowers and butterflies looks incredible.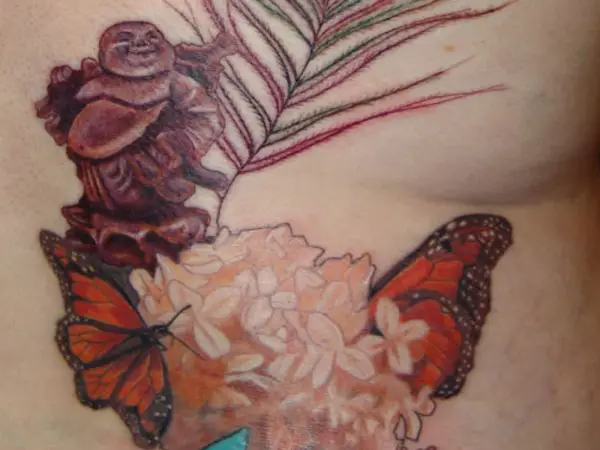 Edgy
This black and white, full back tattoo has a devil face in the center and resembles a gothic art form.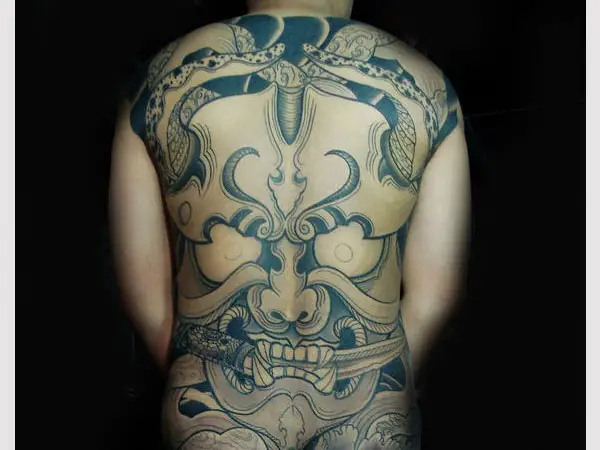 Inside It
The subdued and sober shedding of the lantern with a rosary hanging around it, arouses curiosity.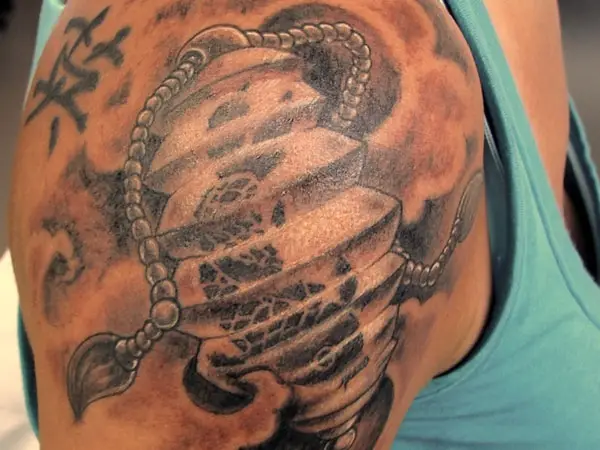 Styled Chinese Name
This back tattoo is the name of the person in stylish, thick black fonts.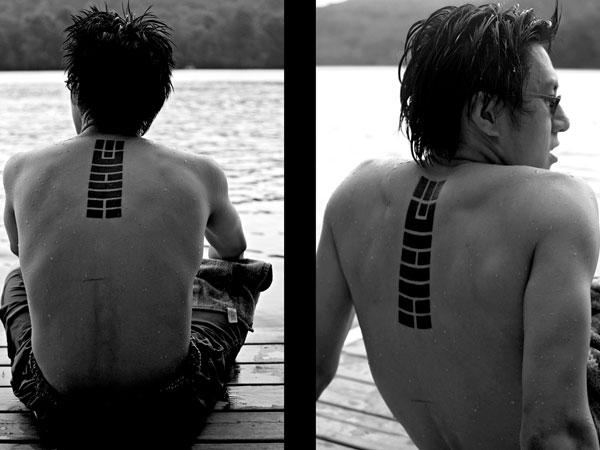 Thigh Tattoo
The orange flames engulfing the dragon's body, carved on thigh, convey passion and energy.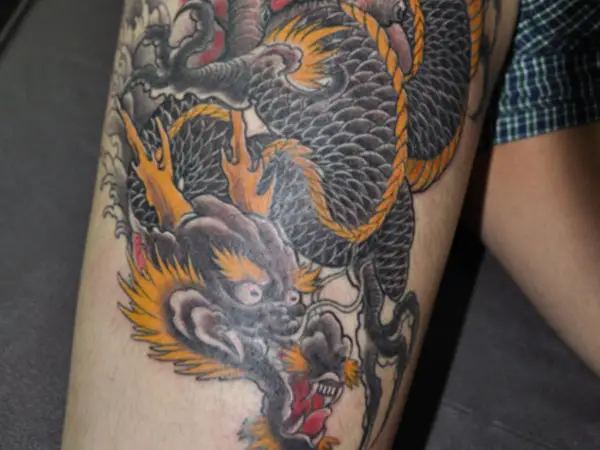 Chinese Wording
Words are the most preferred option while getting a particular nationality tattoo.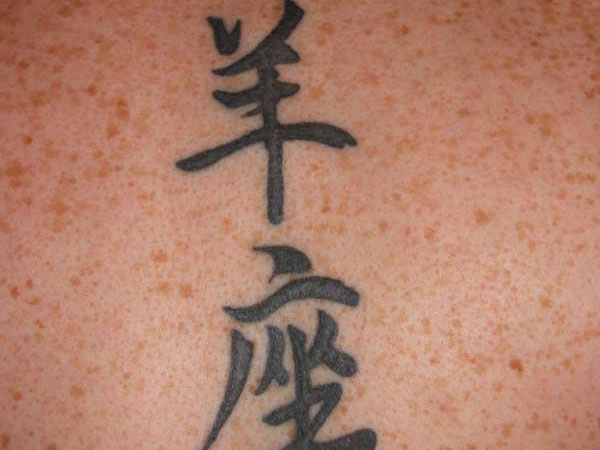 Back Tattoo
Cute, red flower design with Chinese lettering in black looks elegant and decent.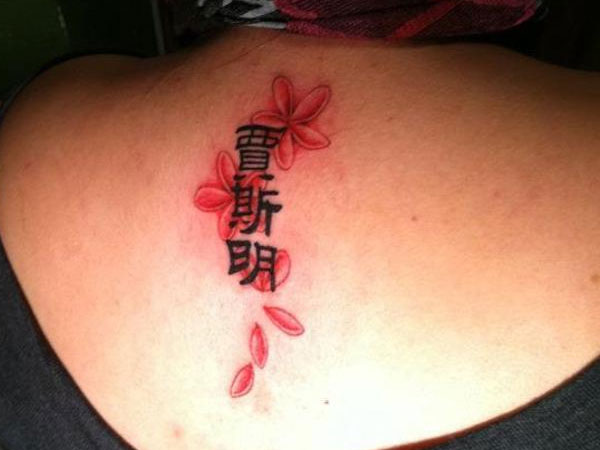 Chinese Letter And Flower Desing
Bless Me
This girl from the religious lot has the tattoo image of the Chinese goddess on her arm.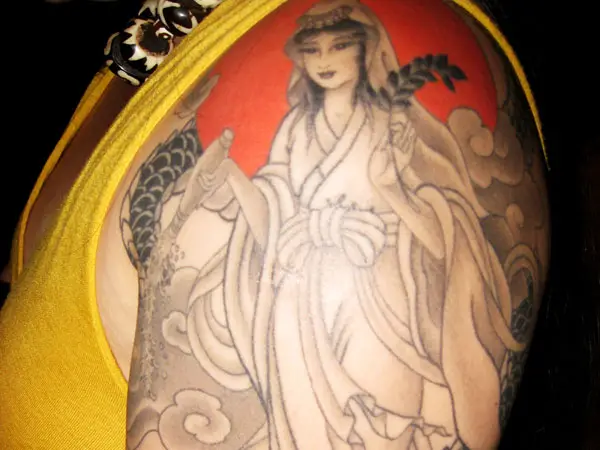 Sacred Presence
The Chinese dragon is said to own divine powers and its presence is considered auspicious.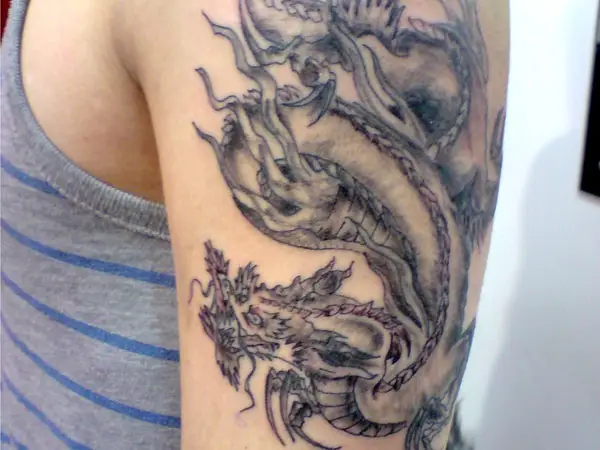 Chinese Love Tattoo
This fashionable girl has a tiny, Chinese symbol on her neck that stands for love.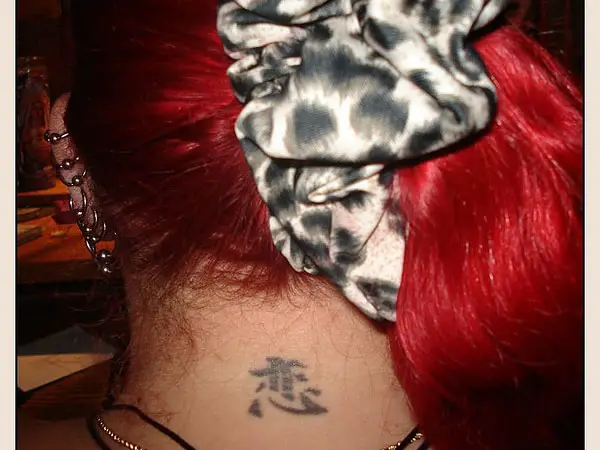 Luck Respect Strength
These Chinese symbols represent luck, respect and strength, the valued assets of life.