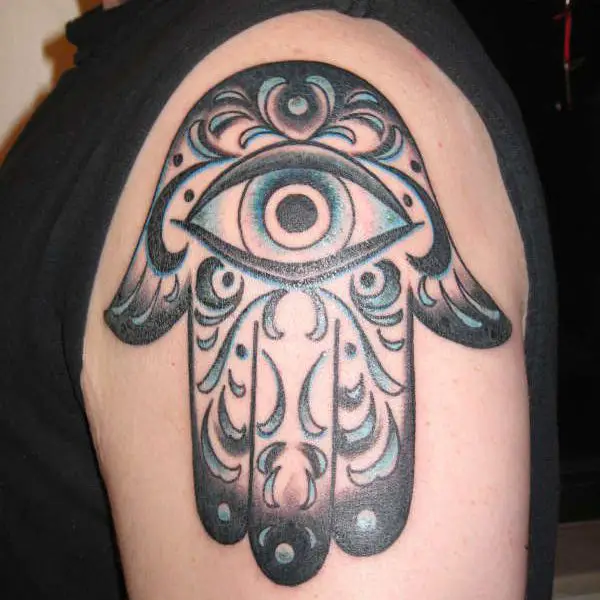 Rich with spiritual meaning a Hamsa Tattoo is a great tattoo to have on your skin as you journey through life. The 'Hand of God' that the Hamsa shape symbolizes has been around in the Middle East since the ancient times. Today it has become a powerful and intricate tattoo design idea. Many Hamsa tattoos come with a beautiful eye set at the center of the design, and this eye stands for inner vision and understanding. Hamsa tattoos are meant to protect and guide you as you go along life's way.
The basic shape of a Hamsa is a hand with the palm showing. It is this base design that is filled with an amazing variety of intricate details and patterns.
Often tattoo artists go for strong designs inked in flowing black lines and ornamental shapes to make a single colored Hamsa tattoo.
While gray and black are the usual shades used in the design to let the strong patterns be clearly seen, a touch of color is also sometimes used. You may see Hamsa tattoos in which some areas of the palm in the design are touched up with shades of blue or red. Many of these beautiful tattoo designs also use elaborate framed borders, shapes of fish and other creatures, and vines to make up the interior patterns. Others keep the look simple with a hand outline with an eye inked into the design. You can also see delicate ornate patterns drawn along the outer edges of a Hamsa tattoo giving it a unique and rich look. Hamsa tattoos come with the ancient wisdom of Middle Eastern cultures, and open up creative and artistic design ideas for tattoo artists.
If you like this article, you might be interested in some of our other articles on Filipino Tattoos, Chicano Tattoos, Mayan Tattoos and Halo Tattoos.
Hamsa Soft Shades
This elegant design showing the Hamsa tattoo is touched up with black shades at the edges while the centers come alive with a soft blue hue.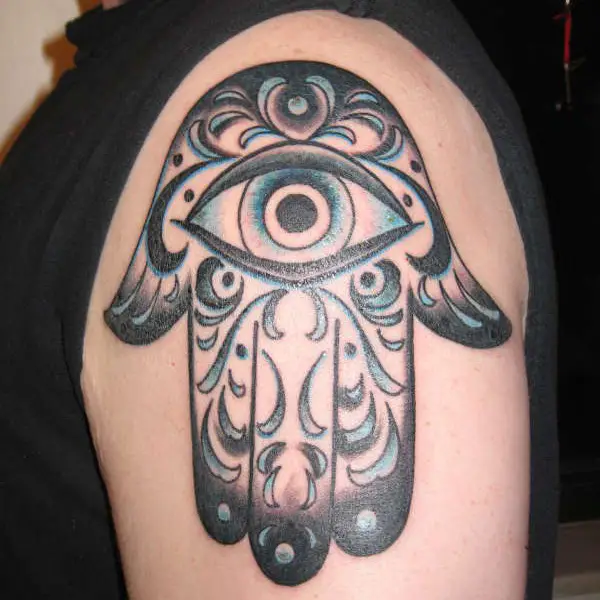 Star Hamsa Tattoo
Bold black lines bind this gorgeous Hamsa tattoo complete with a strong and geometric five sided star at the center of the design.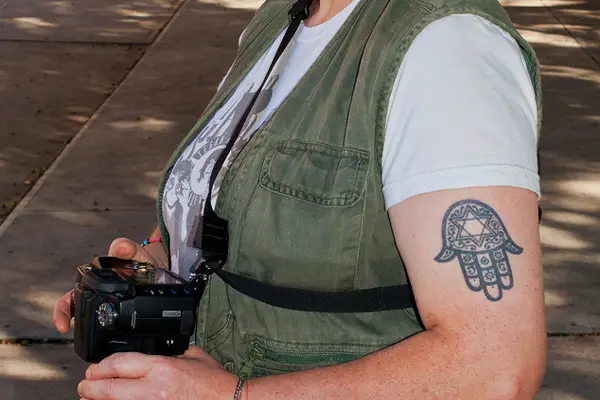 Hamsa Symmetry
Inked with flowering vines and a heart this Hamsa tattoo makes for a beautiful symmetrical design on the woman's back.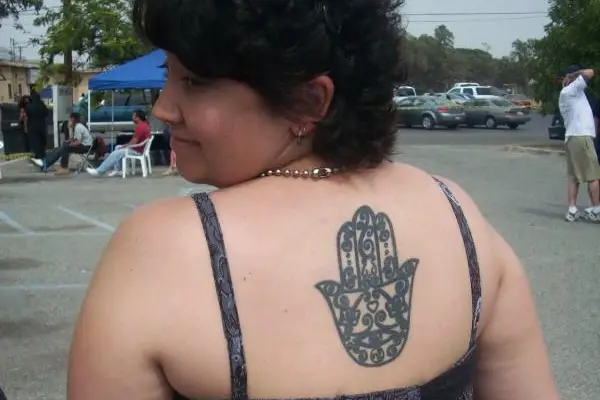 Hamsa Foot Tattoo
Take a look at this elegant Hamsa tattoo inked in a mix of black and blue patterns on the foot.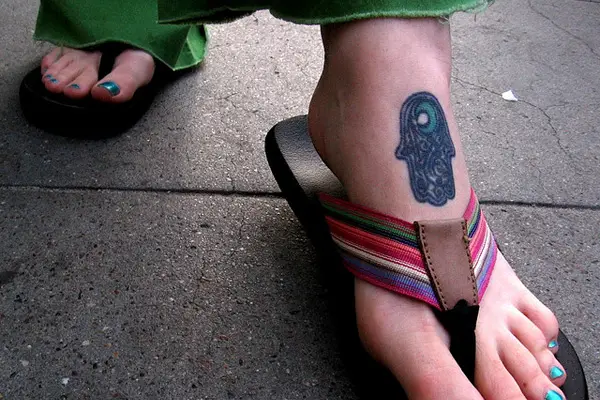 Inner Beauty Hamsa Tattoo
Inked in a simple black color this Hamsa tattoo shows a pattern of symmetrical vines on the fingers area of the design.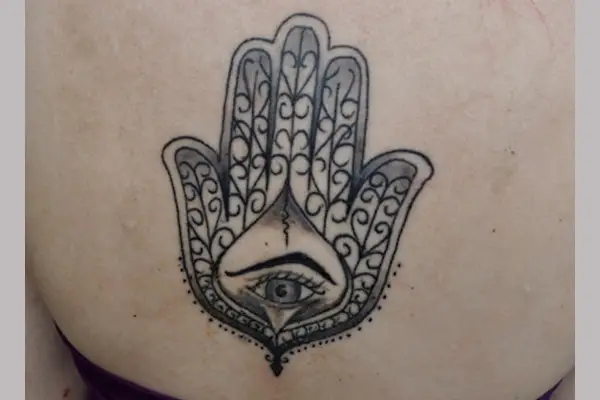 Inner Beauty Hamsa Tattoo
Hamsa Wrist
The beautiful 'Hand of God' sits inked on the wrist area in elegant black patterns.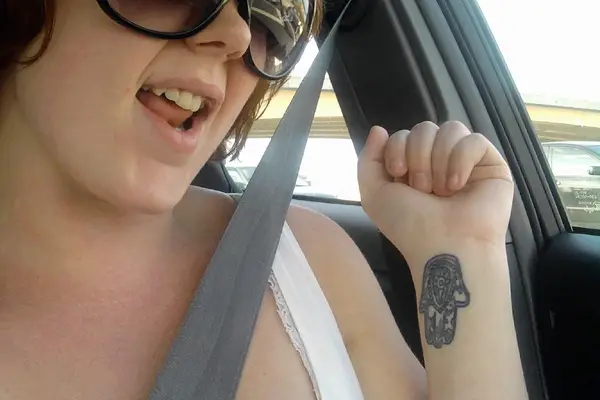 Protective Hamsa Tattoo
A large eye shape sits at the base of the design in this Hamsa tattoo on the lower arm just above the wrist.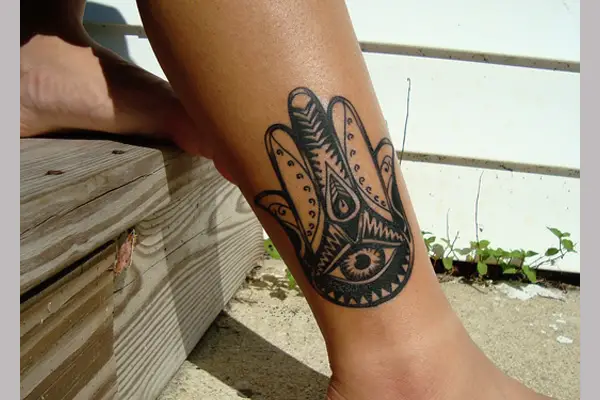 Protective Hamsa Tattoo
Hamsa Spiritual
The five-pointed star and the Hamsa shape come together in this powerful spiritual tattoo design.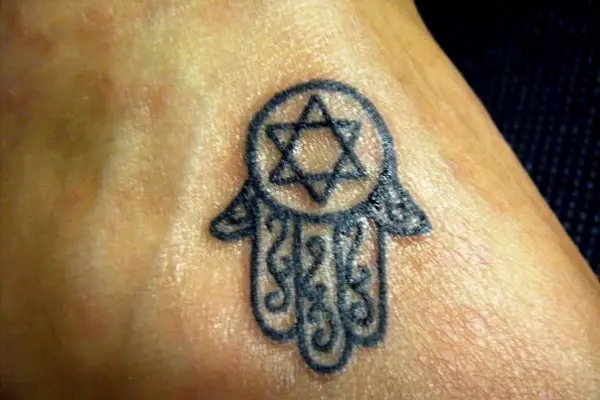 Vine Hamsa
A delicately inked Hamsa tattoo sits pretty between two vine shaped patterns in this stomach tattoo design.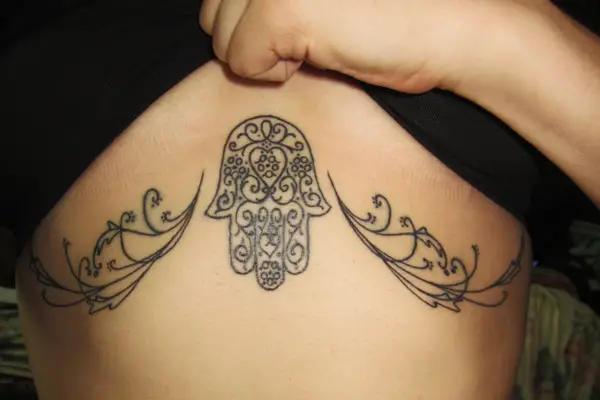 Vine Hamsa
Hamsa Small Heart
Take a look at this elegant Hamsa tattoo with the shape of a heart done artistically on the palm area inside the tattoo design.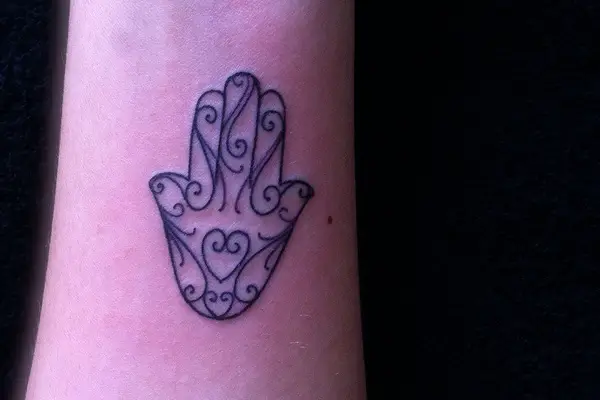 Space Hamsa
Carefully inked black spaces make a fine border for the design of this patterned Hamsa tattoo.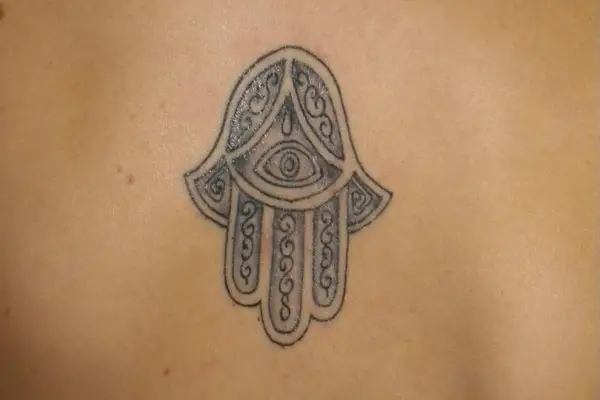 Hamsa Blue Shaded Tattoo
The blue areas of this shaded black Hamsa tattoo make an interesting four-sided pattern within a pattern.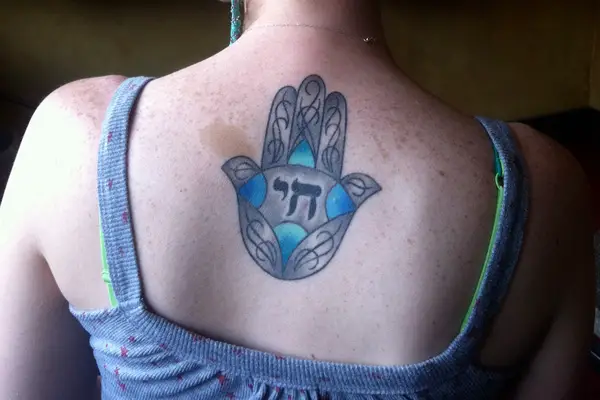 Hamsa Asymmetry
Rich with symbols of fish, plants, and flowers this Hamsa tattoo has a tiny flowering plant inked on one side of the tattoo making for a unique asymmetrical design.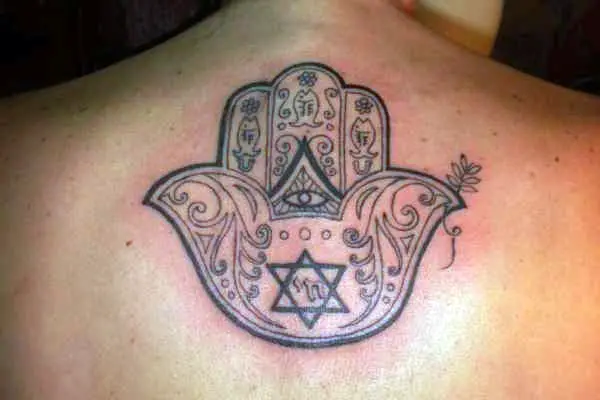 Hamsa Arm Tattoo
The rich black patterns of a Hamsa tattoo come alive on the woman's arm just below her short sleeve in this picture.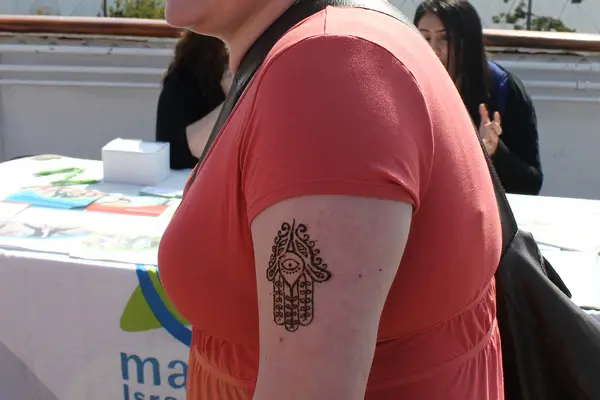 Six Petal Flower Hamsa
A beautiful six petal flower sits at the heart of this symmetrical Hamsa tattoo design that symbolizes peace and balance.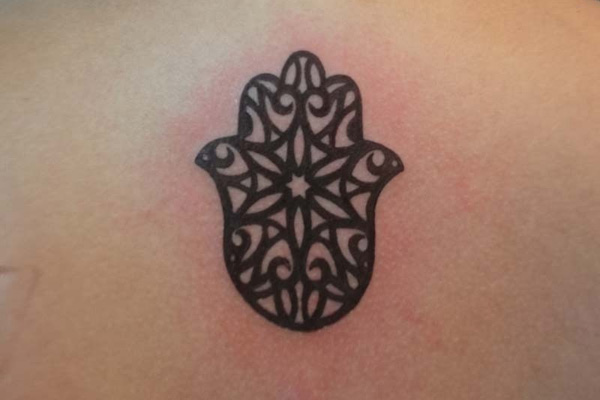 Fish Hamsa
This blue shaded Hamsa tattoo is decorated with a pair of golden fish playing on the lower curves of the palm in the design.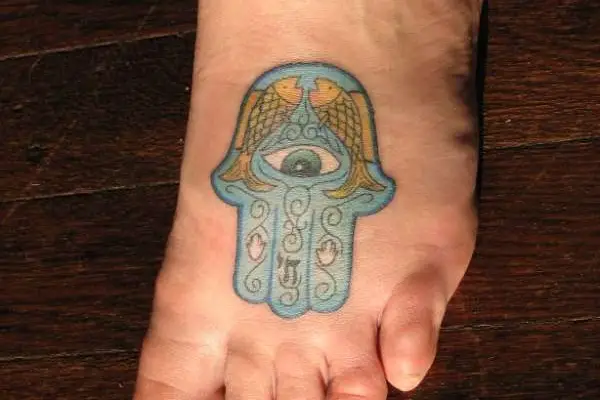 Hamsa Vivid Tattoo
Neon pink, dark blue, and gold go into making this colorful and intricate Hamsa tattoo design.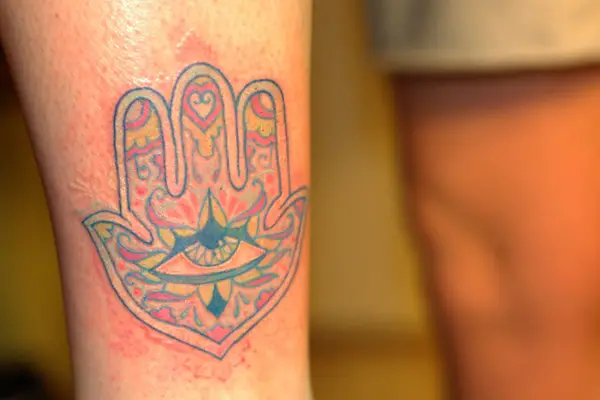 Hamsa Vivid Tattoo
Hamsa Universe
Flying birds, flowers, delicate vines, and an eye combine to showcase a world of creativity in this Hamsa tattoo.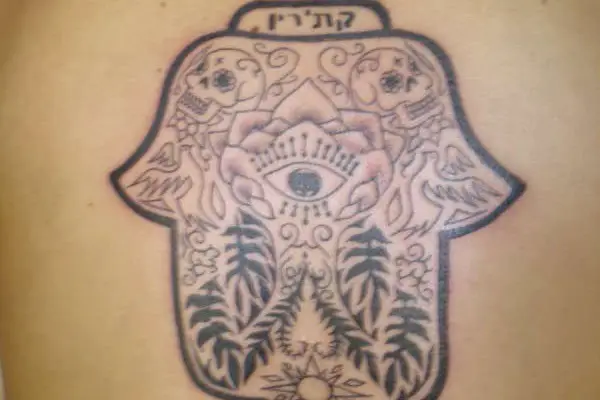 Vision Hamsa Tattoo
An eye looks on prominently from this simply inked Hamsa tattoo designed with spirals and flowy lines.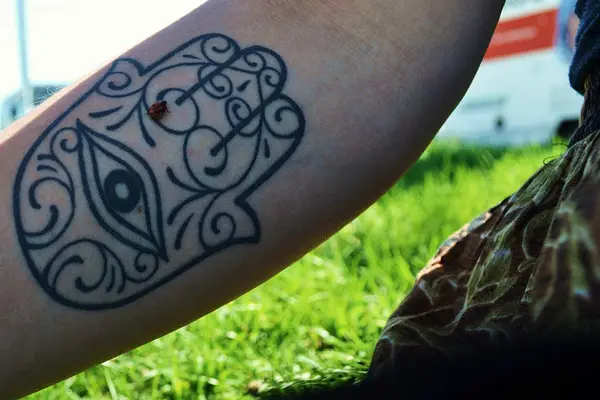 Hamsa Bordered Tattoo
Double borders frame this Hamsa tattoo inked in rich and delicate patterns on the arm.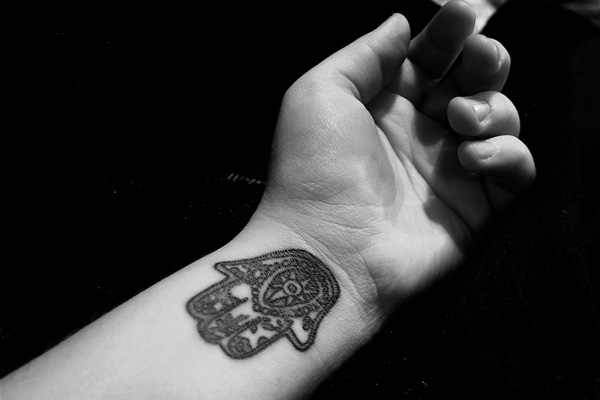 Eye Hamsa Tattoo
Inked with a reddish edge on the outer corner this eye with a blue pupil looks almost real within the Hamsa tattoo.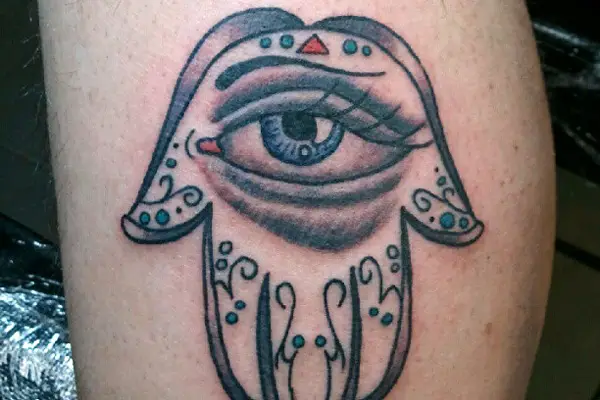 Simply Hamsa Tattoo
A simple black outline bounds this Hamsa tattoo leaving the palm area bare and only a few floral patterns on the finger areas of the design.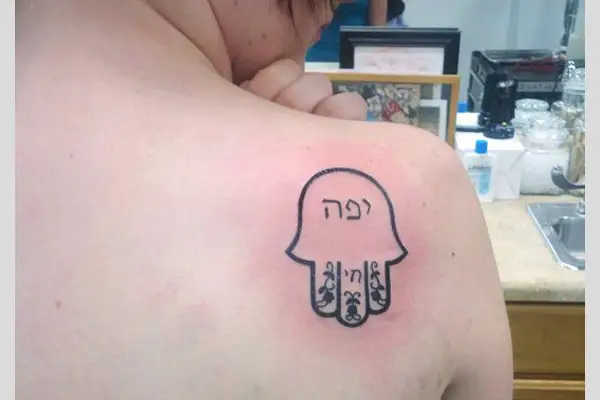 Our Unique Hamsa Tattoos
This great couple arm tattoo idea showcases a detailed Hamsa with an eye and two lion shapes for him, and a tiny intricate Hamsa with black leaf patterns outside for her.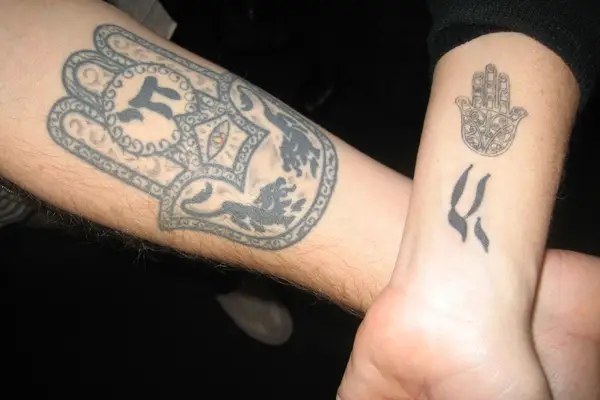 Bare Hamsa Tattoo
This Hamsa tattoo goes for a bare and elegant look with a simple line of black dots inked in the center of the design.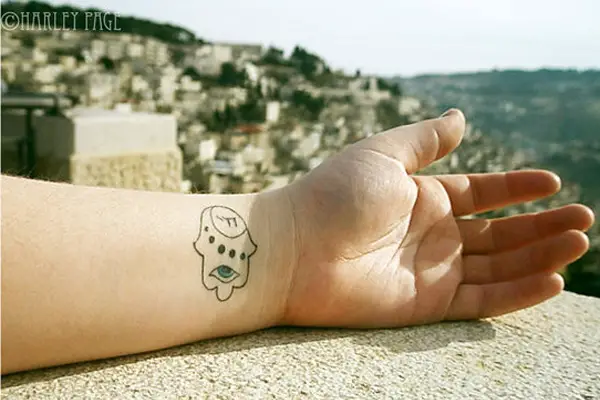 Hamsa Colors
This Hamsa tattoo shows off rich shades of brown, yellow, blue, and green framed by fine black outlines.