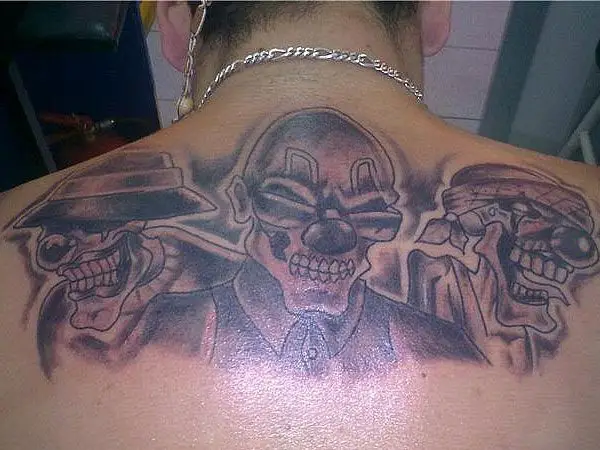 Mexican Americana has given rise to a wealth of art and culture, and self-expressive styles. In the world of tattoos designs Chicano Tattoos are unique, artistic, and represent the bold and colorful American Mexican identity. Murals form a great influence for many Chicano design ideas, so the tattoos that are inspired by Chicano art often have strong elements of mural, graffiti, and graphic design. Powerful strokes, delicate shades, and lifelike human forms are some of the main features you find in many Chicano tattoo designs.
The world of Chicano Tattoos is varied and colorful, ranging from simple name tattoos to those carefully depicting beautiful Mexican women. To retain the strong artistic element many of the tattoos are done in a single color that highlights the delicate details and effort needed to ink the tattoo. Chicano tattoo designs often involve sitting for long hours as the tattoo artist creates the design with great care and patience, but the completed design looks really cool and well worth all the effort. 3D styles often come up in many tattoo designs as the shading used in the ink creates lifelike effects. You can see Chicano style skull tattoo designs that look dramatic enough to pop out of the skin, and faces of beautiful women complete down to their eyelashes. The native language is often used with the visual depicted in the tattoo, so many designs have a bold mix of words and text. Every theme from religion, to death, to fantasy looks gorgeous in the elaborate Chicano design style.
If you like this article, you might be interested in some of our other articles on Texas Tattoos, Filipino Tattoos, Mexican Tattoos and Indian Tattoos.
Chicano Mob Design
These three powerful clown faces inked in careful shades makes for an amazing upper back tattoo design.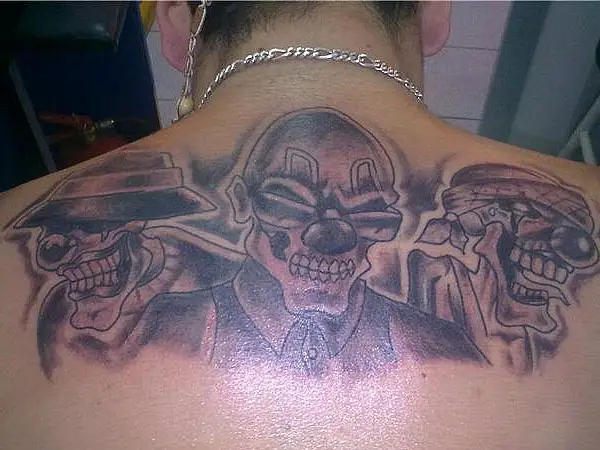 Floral Chicano Pattern
Look at the awesome details of the petals in this three flowers Chicano tattoo design spread out on the upper back.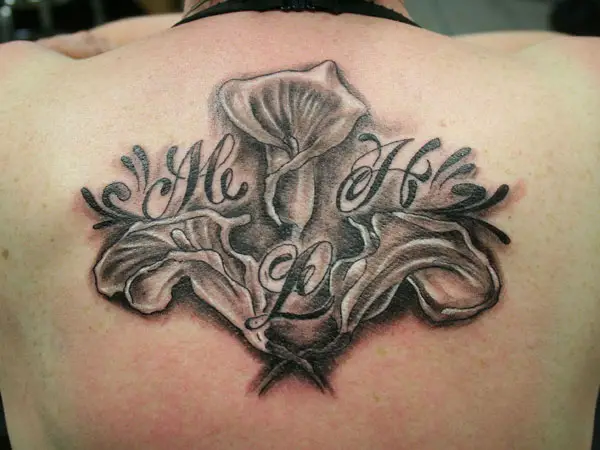 Simply Gangster
With a scarf and a typical Mexican cowboy hat in place this Chicano face looks stunning as a calf tattoo design.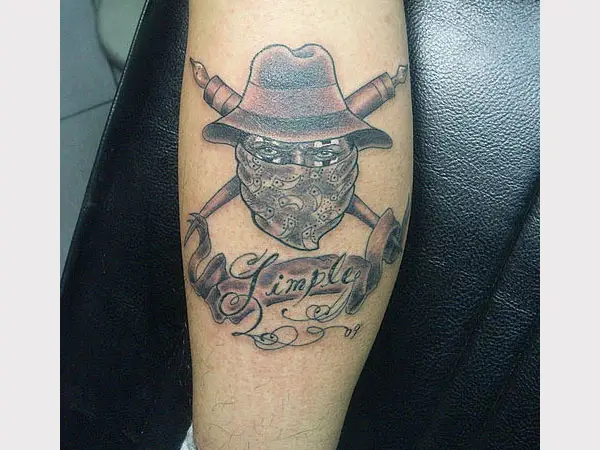 Names Mexicana
Check out this elegant names tattoo inked in a formal flowing script below the woman's collar bones.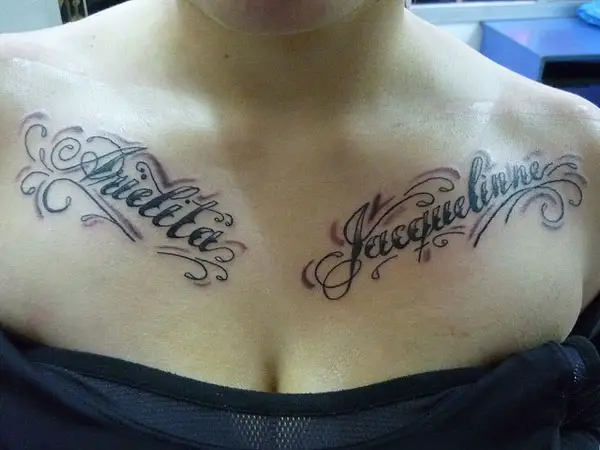 La Familia
Styled in a mixture of large and small cursive fonts this is a really elegant script tattoo for the foot.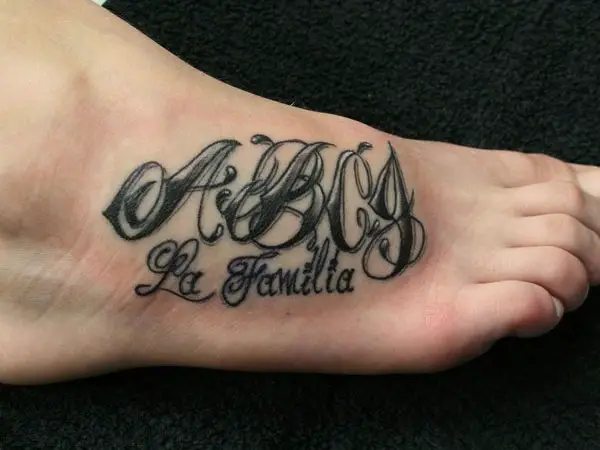 Chicano City
A medley of city buildings, faces, graffiti-style text, and patterns makes up this very cool and complex Chicano tattoo design.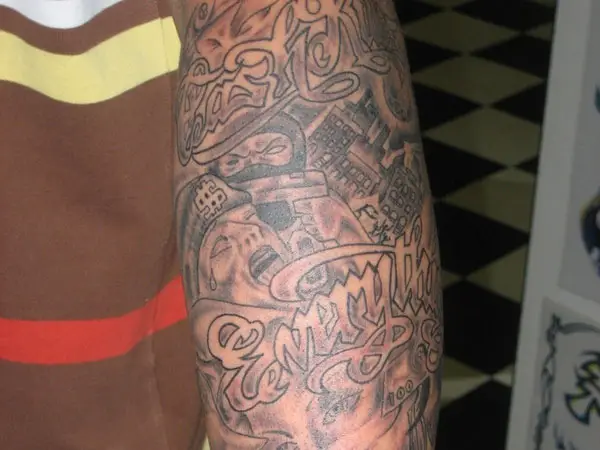 Roses And Chains
The elaborate petals of a rose combine with pretty chains in this artistic Chicano tattoo pattern on the forearm.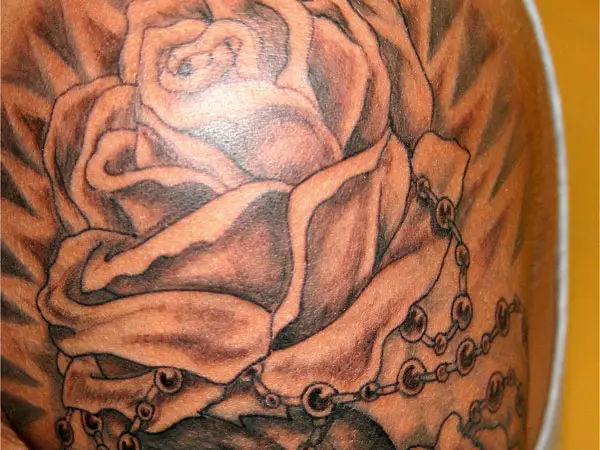 I Love Skateboarding
This flowy script tattoo is a cool Chicano design to have on your leg when you are out skateboarding.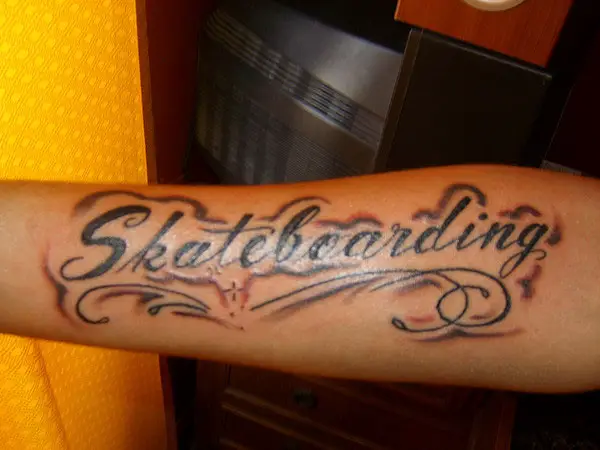 C'est La Vie
Inked in an elaborate style over a small space on the side of the hand this tattoo design spells 'C'est La Vie'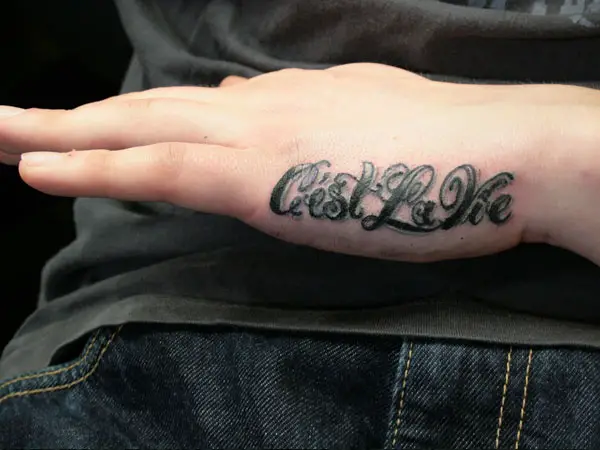 Leg Skull Chicano
The delicate ink shading makes this powerful Chicano skull tattoo design on the leg look like it's alive.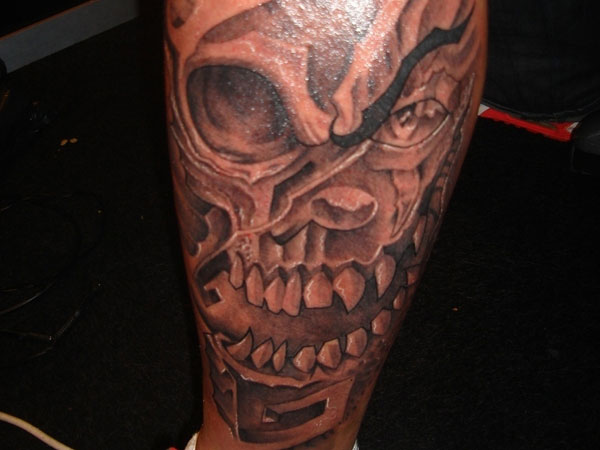 Chicano Clown Smile
The realistic face of a joker with white highlights sits smiling in this detailed Chicano tattoo design.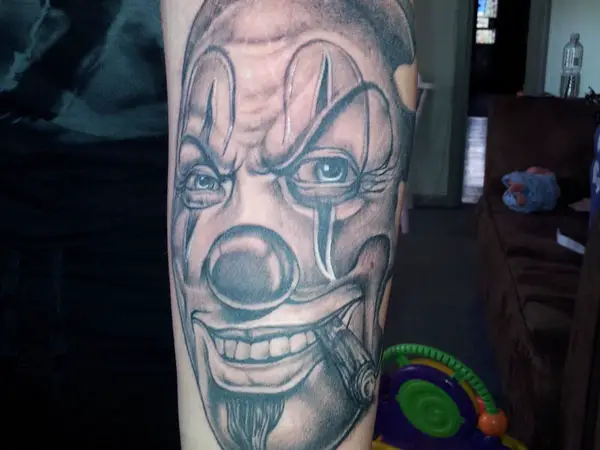 Stomach Tattoo
Curving in an elegant arch over the stomach this bold and shaded word tattoo spells 'Familia' in large letters.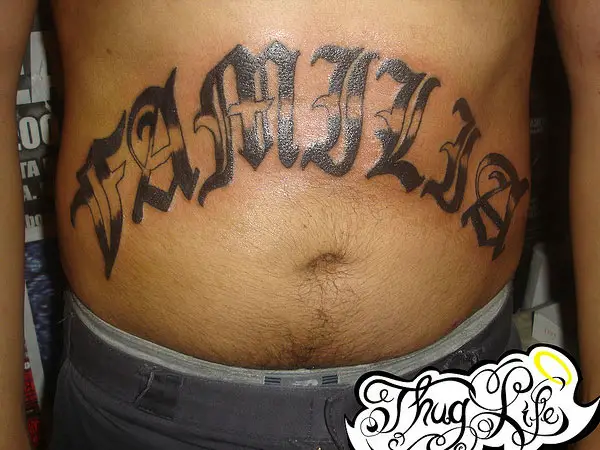 Chicano Helene
This is a fresh name tattoo inked in the Chicano style at the back of the neck. Note the artistic flowy font and angular style of the letters.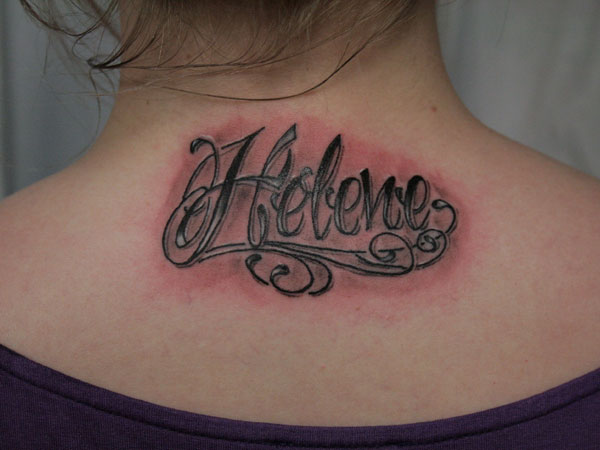 Femme Fatale
This carefully inked portrait of a hot female makes for a stunning bicep tattoo. Check out the sun motif in the background.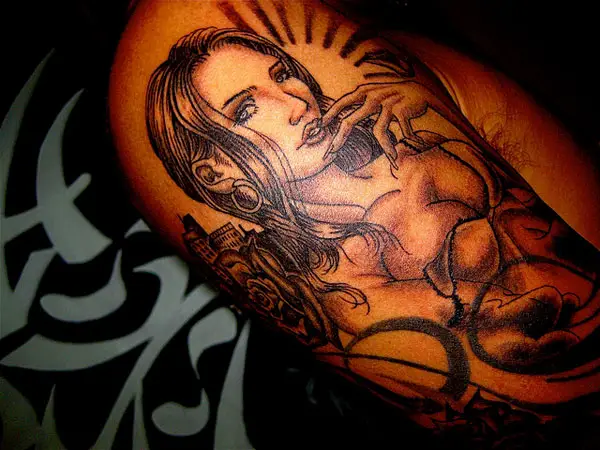 Femme Fatale
Flying Words
Styled in an extremely slanted design with a winged pattern this is a beautiful script tattoo in a Chicano style.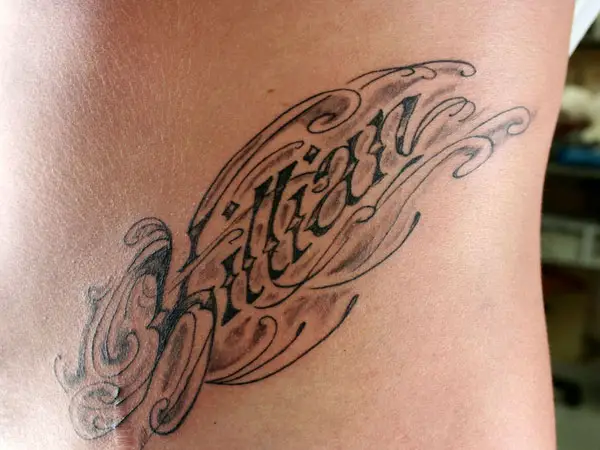 Chicano Food Tattoo
This gorgeous forearm tattoo showcases the rich and colorful world of Mexican cuisine. Check out the delicious looking potato inked into the design.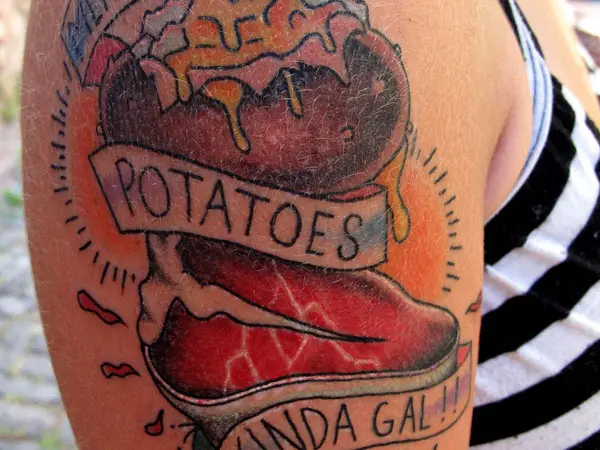 Chicano Food Tattoo
Chicano Birds
Delicate shades have been used to ink two flying birds in this beautiful tattoo design that combines both words and pictures.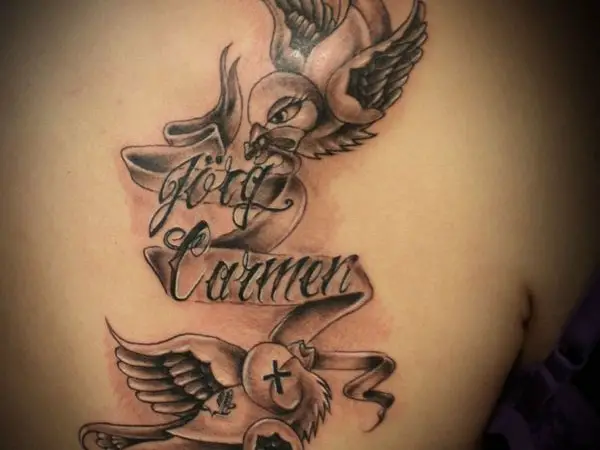 Gangster Tattoo
An elaborate ink design showing angels, faces, and the word 'Lucia' spreads over the stomach in this fine Chicano tattoo example.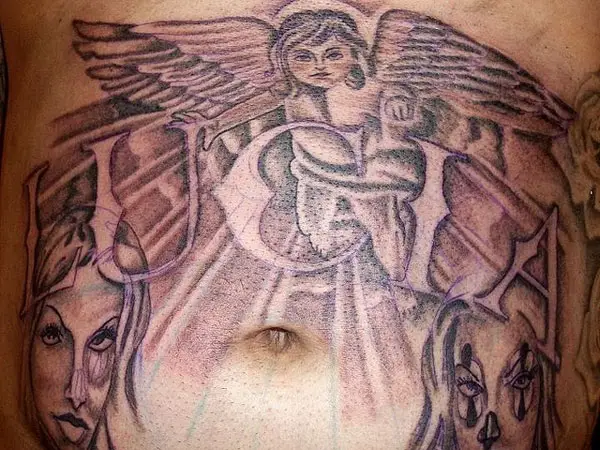 Suited Skull
A grinning skull in a formal suit with a pattern of roses all around makes for a great tattoo design.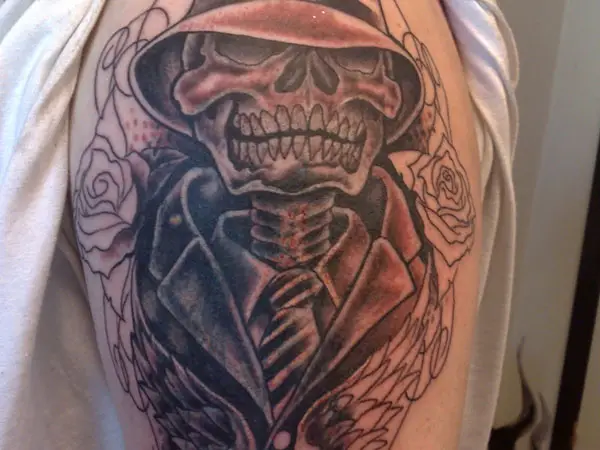 Traditional Chicano Art
The ancient sculptures and art forms of Mexico are inked in this intricate circular design upper chest tattoo.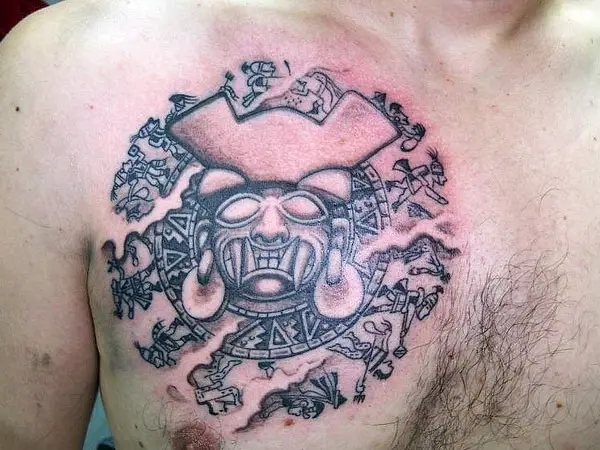 Shining Eye Tattoo
A very realistic looking eye complete with eyelashes sits above this stunning Chicano names tattoo surrounded by the rays pattern.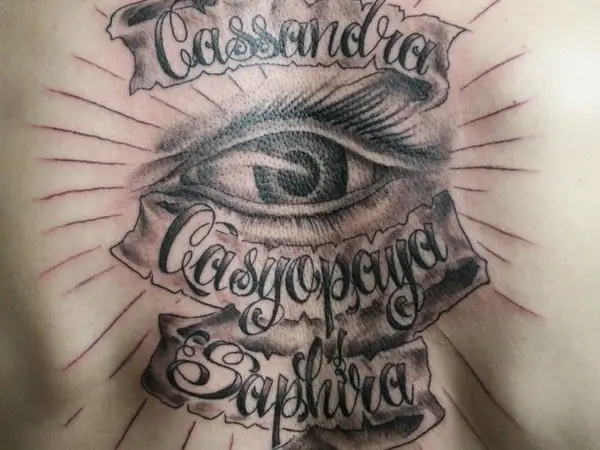 Her Eyes Take Me Away
Elaborate and artistic shapes make up this romantic script tattoo on the chest that declares, 'Her Eyes take me Away'.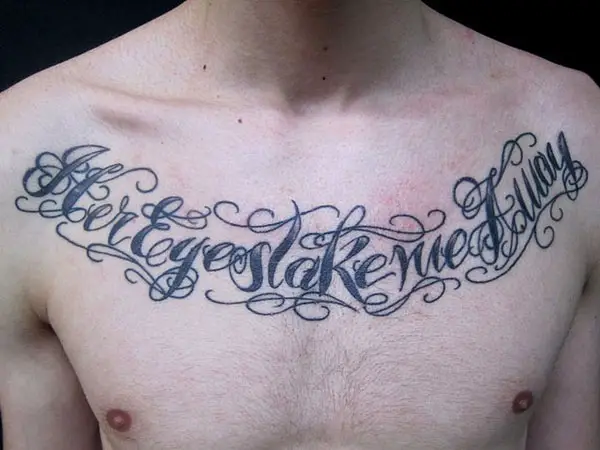 In Memoriam
This beautiful name and date tattoo in memory of a loved one passing away uses a Chicano style flowing font with spirals and loops for extra effect.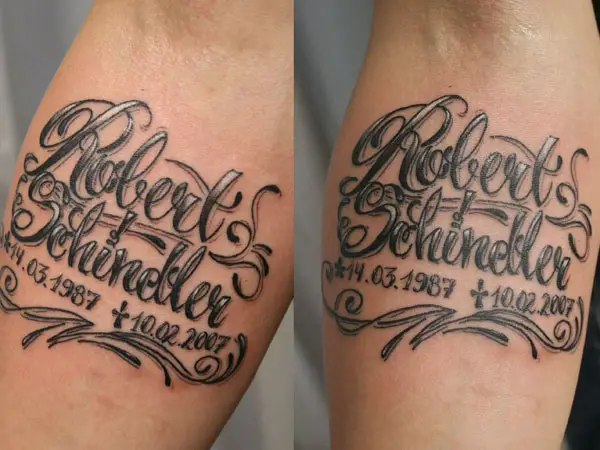 Elegant Woman's Tattoo
Rich leaf patterns trail down the leg to reach the foot in this delicately shaded tattoo. Note how the name sits neatly inked near the ankle as a part of the design.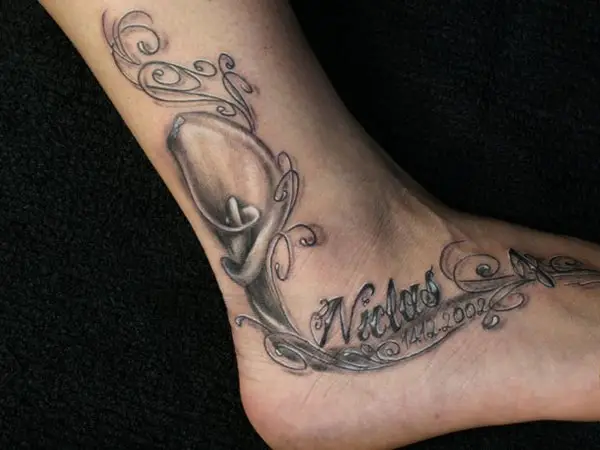 Chicano Female Clown
This very interesting tattoo shows s female clown inked in the realistic Chicano style.