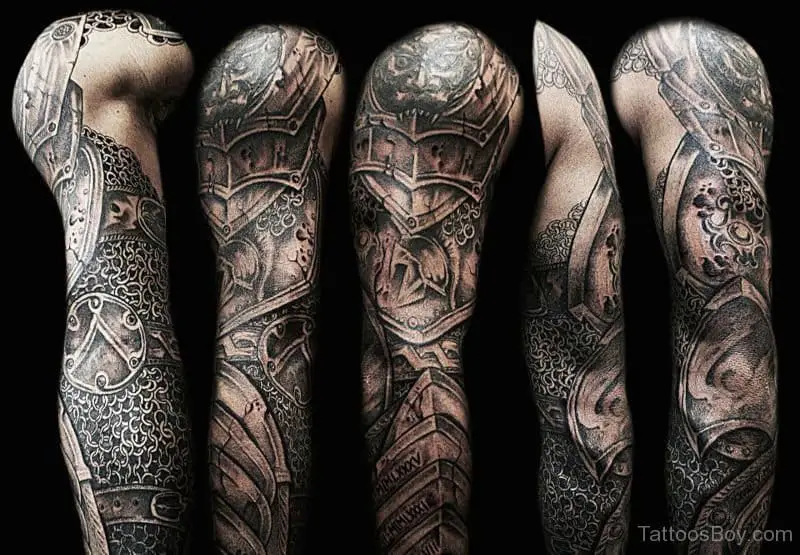 In addition to the strong religious meanings they tend to have behind them, Armor Of God tattoos are also incredibly appealing, often featuring amazing imagery and bright, vibrant color-schemes.
The meaningful symbolism and visually pleasing imagery has not only allowed Armor Of God designs to become incredibly popular amongst followers of Christianity, but it has made them one of the tattoo world's more popular styles. In fact, due to how appealing they are, these tattoos can even be seen on people who don't follow a specific religion, and individuals who rarely go to church. Therefore, whether you are a follower of Christ or not, you should certainly appreciate the designs below.
1.  A Full Armor Of God Sleeve  Tattoo
Done solely in black and white, this amazing Armor Of God sleeve tattoo is a great example of how appealing these designs are – even without color added in!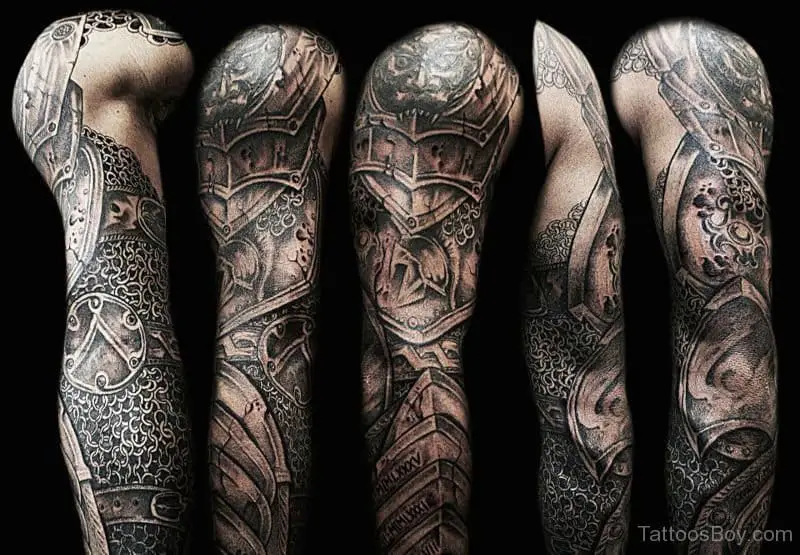 2. A Very Nice Gauntlet Armor Of God Shoulder Tattoo For Men
As you can see, this design is not only incredibly realistic looking, but it is done in a very nice shade of blue and a great choice for those in need of a shoulder tattoo.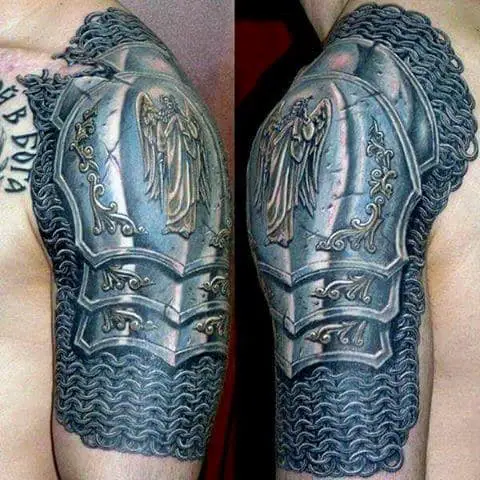 3. A Skin Colored Armor Of God Tattoo Design
Not only is this design colored similarly to this person's skin tone, but it appears to be coming through his skin as well – this one is bound to "wow" anyone who looks at it!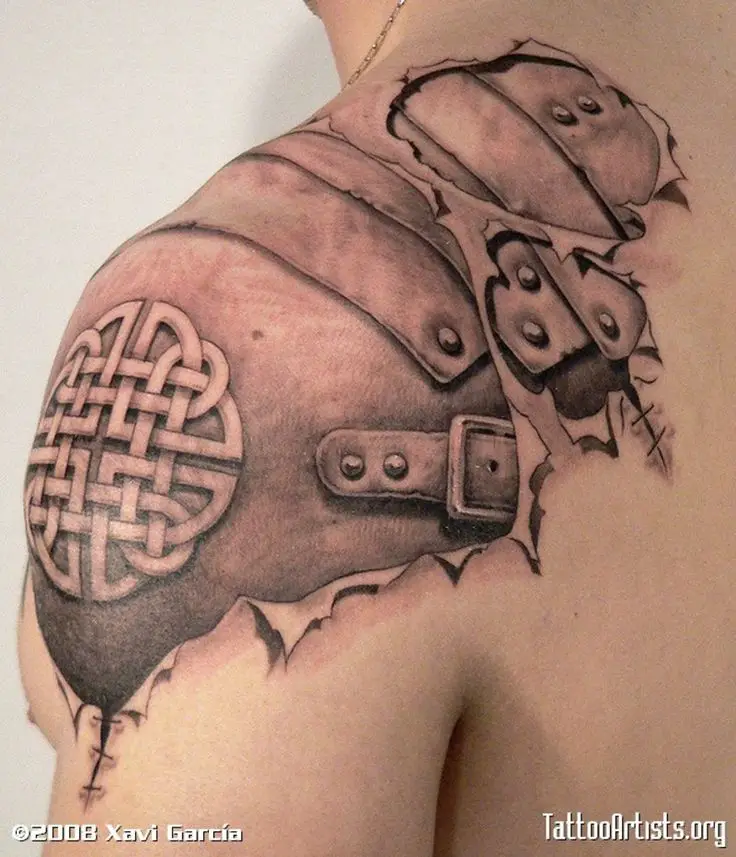 4. A Nice Aztec Armor Of God Half Sleeve Tattoo Design For Men
It may be hard to believe, but this is an actual, unedited, three dimensional tattoo design…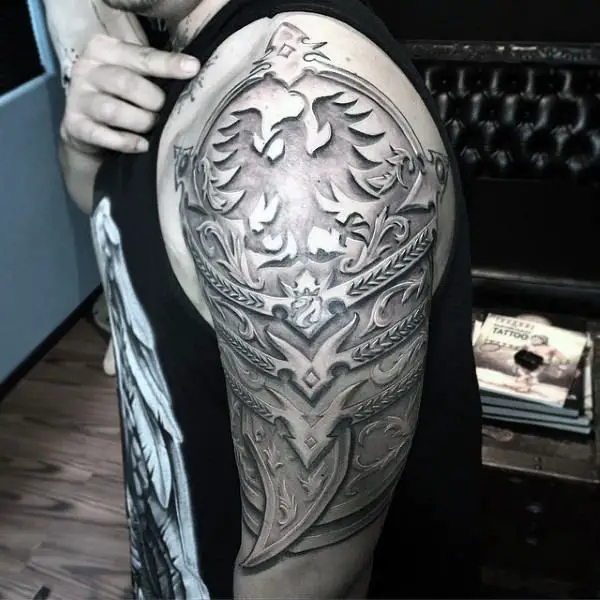 5. Another Very  Realistic Armor Of God Shoulder Tattoo
Very well done, highly detailed, and a great choice for those in need of a unique shoulder design!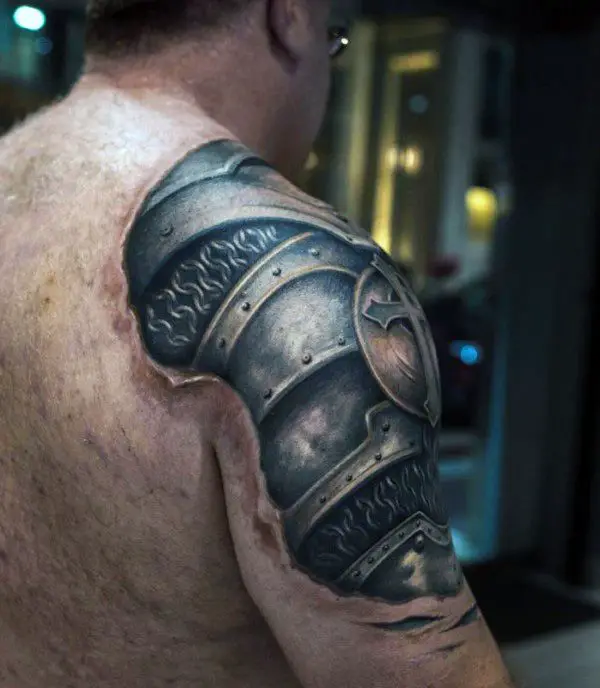 6. An Armor Of God Half Sleeve,  With An Angel In The Middle
Much like some of the others on the list, this design is completely colorless, yet very aesthetically pleasing. If you look closely, you can also see a lot of intricate detail!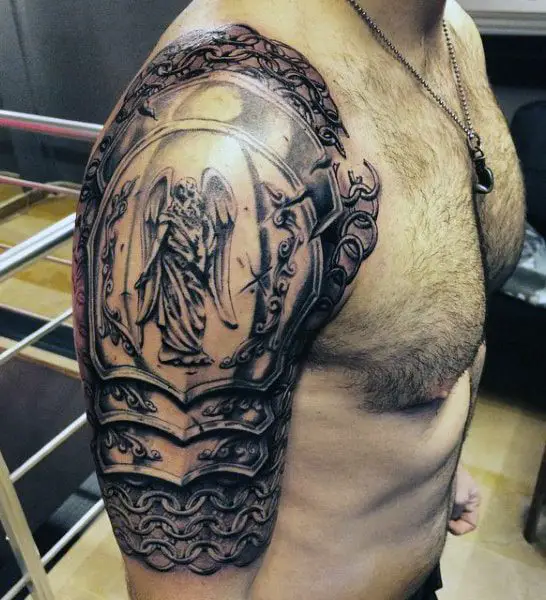 7. A Green, Blue, And Gold Armor Of God  Half Sleeve Tattoo
As you can see in the image below, what was once just a small little leave, is now an amazingly appealing Armor Of God half sleeve.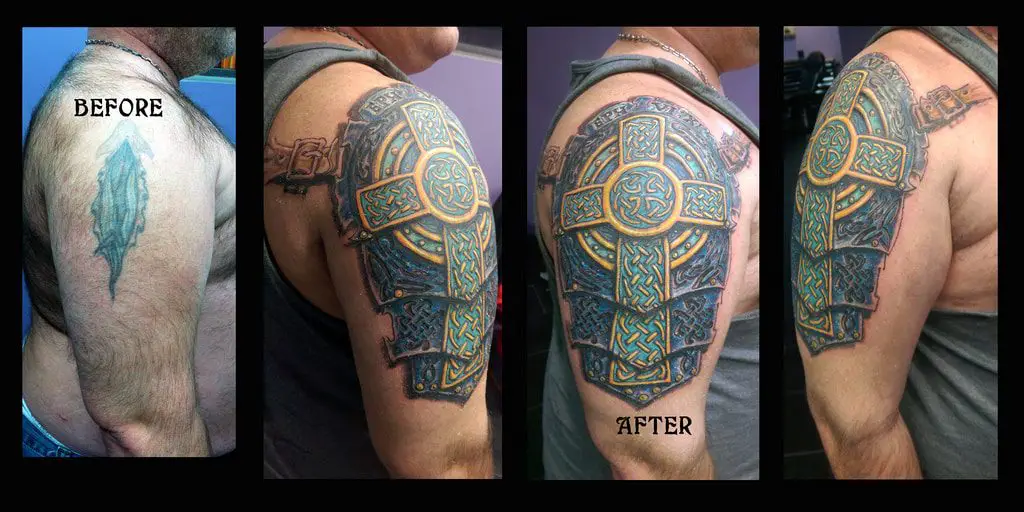 8. An Armor Of God Forearm Tattoo For Women
This forearm tattoo is not only very unique (featuring a helmeted women ready for battle) but it is a great choice for any woman wanting to show off a meaningful, faith-based design.
9. A Polynesian Armor Of God  Staircase Tattoo
Not only is this tattoo very well done, but it is perhaps the most unique design on the entire list – featuring a polynesian staircase, done in an amazing traditional styling.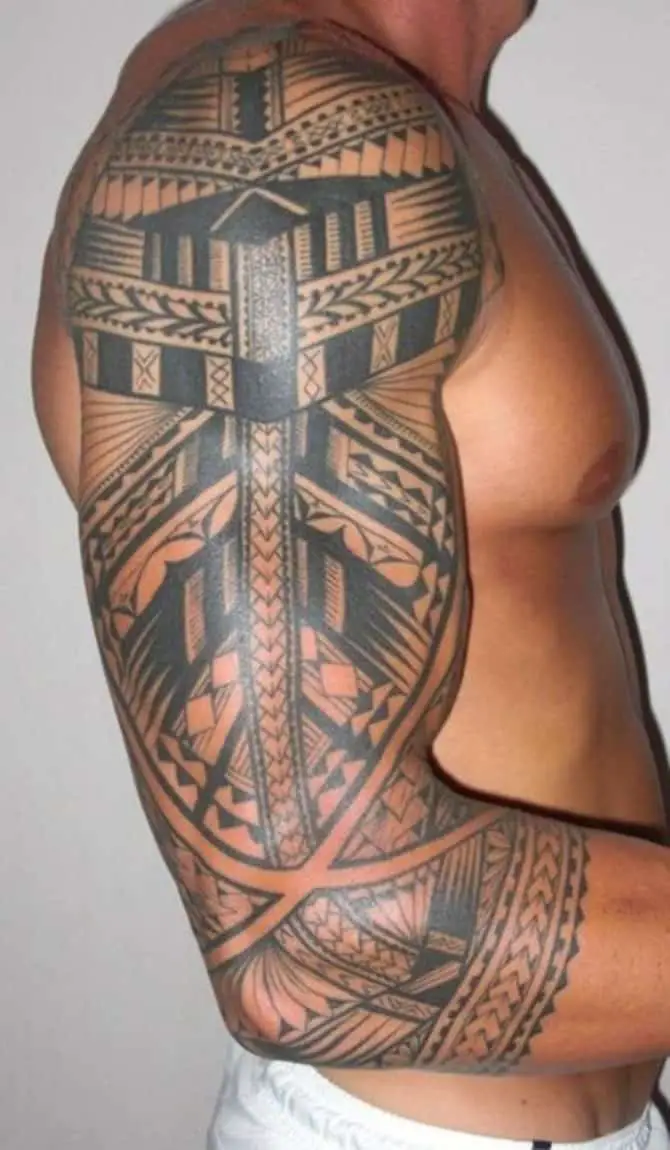 10. An  Amazing Three Dimensional Armor Of God Three-Quarter Sleeve Tattoo
Featuring some amazing art and covering almost the entire arm, this tattoo is perhaps as visually pleasing as it is meaningful!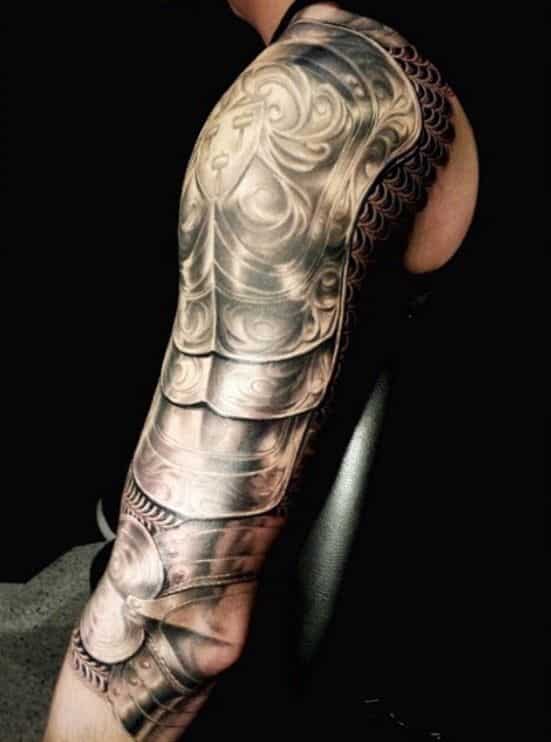 11. Two Great Angles Of An Incredibly  Well Done Armor Of God Tattoo
Giving you not one, but two different looks at this amazing tattoo, the image below proves just how well this design came out!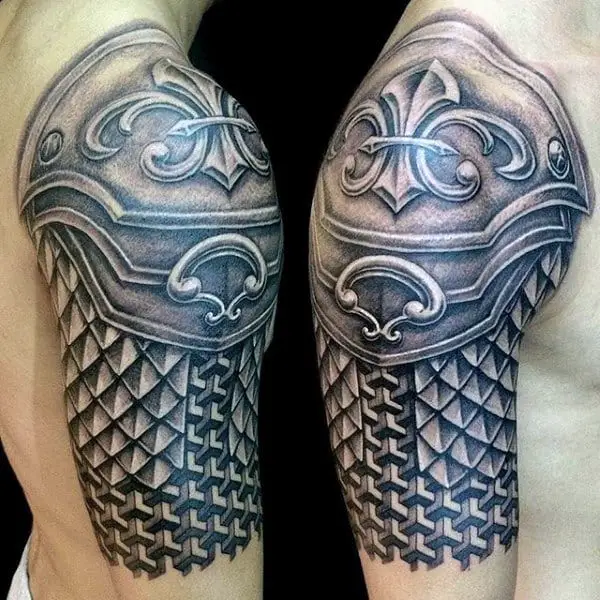 12. An Armor Of God Tattoo Featuring The God Of War Himself
For those unfamiliar with the God Of War, his name is "Ares" and he is the primary feature of this amazing tattoo!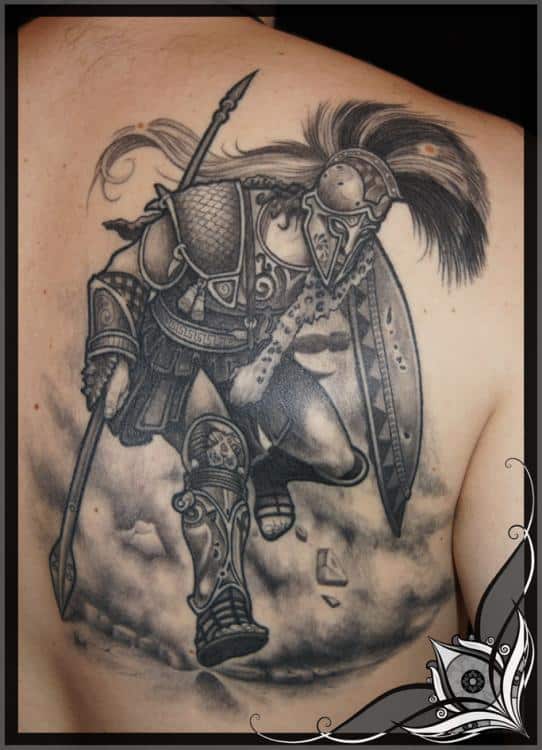 13. Another Very  Unique, And Very  Realistic Armor Of God Tattoo Design
Covering the entire arm and featuring a lot of intricate detail, this tattoo is certainly a great choice for those wanting a meaningful full sleeve design.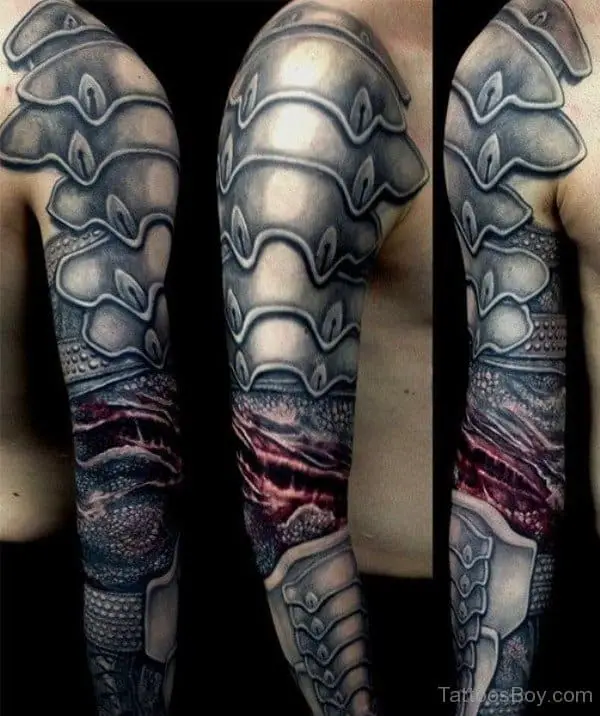 14. A Black And White Armor Of God Tattoo, With A Red Cross And A  Family Portrait
Thanks to the amazing artist who did this tattoo, the portrait is incredibly realistic, and thanks to the bright red ink that he used, the cross certainly sticks out well!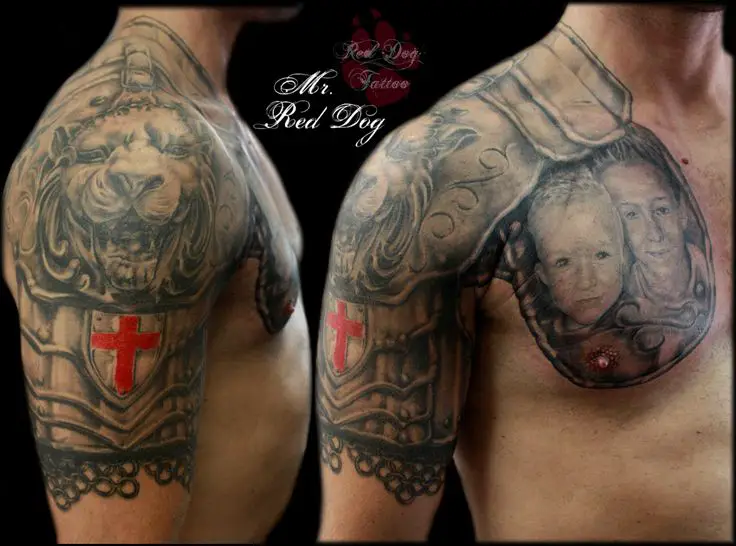 15. A Very Well Shaded Armor Of God Tattoo Design, Done Solely In Grey Ink
Not only does this design feature some seriously well done shading, but it also features a very nice Celtic cross, making it a great choice for those with an Irish heritage.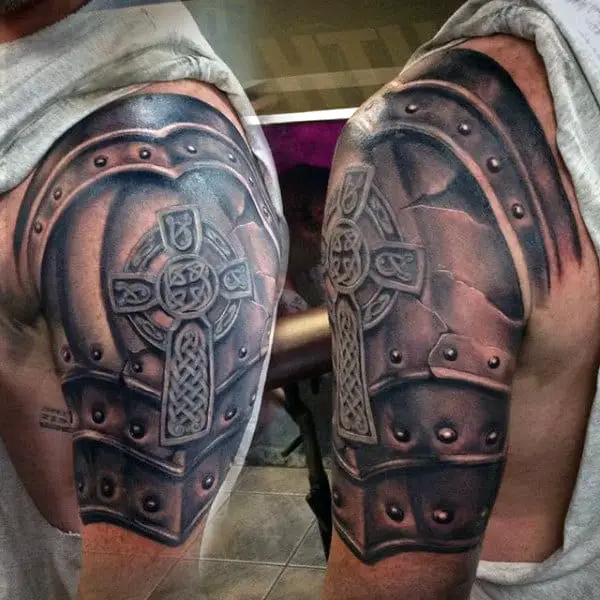 Conclusion
The list above was not only put together to give tattoo fans some neat designs to look at, but also to prove just how versatile, meaning, and appealing Armor Of God tattoos can really be. Fortunately, in addition to the designs above, there are also many others that can be found on the internet, so if you enjoyed scrolling through the images above, be sure to check online for more Armor Of God tattoos!