Tattoos tell tales about what people love and what they live for. Tattoos inspire with their creativity, bold imagination, and colorful designs. One of the oldest living examples of body art tattoos have been used in tribal ceremonies for centuries. Today tattoos are a brilliant instance of self-expression and a way to tell your story. Whether you get a tattoo with a fantasy theme blue dragon, or one with a graphic novel style superhero, or a delicate and abstract theme tattoo, each piece of body art has its own story. Among the different places to get tattooed the calf is very popular.
Being a fatty part of the body a tattoo on the calf is less painful than those on thinner parts of the body, and the elongated surface is great for different designs. You can go for single color shaded designs like a fish theme tattoo, or touch up a black hummingbird theme tattoo with red and green.
As designs for Calf Tattoos you can choose everything from evergreen comic characters like Calvin and Hobbes, to retro style video game figures, to elaborate dragon theme tribal motifs, and lots more.
Tattoos for you calf can range from long designs like an S-shaped arched dragon that covers a large portion of the calf to a small and cute cow design. Here's a look at some cool tattoo ideas for your calf.
If you like this article, you might be interested in some of our other articles on Hand Tattoos, Knuckle Tattoos, Finger Tattoos and Face Tattoos.
Dragon Motif
This S-shaped calf tattoo design with sharp spikes and gentle curves depicts the form of a dragon to perfection.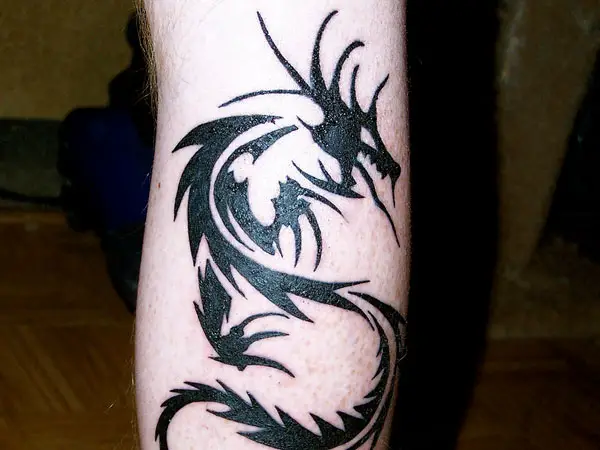 Cool Kitty
Check out this modern style 'Hello Kitty' wearing a pink bow decorated with a skull.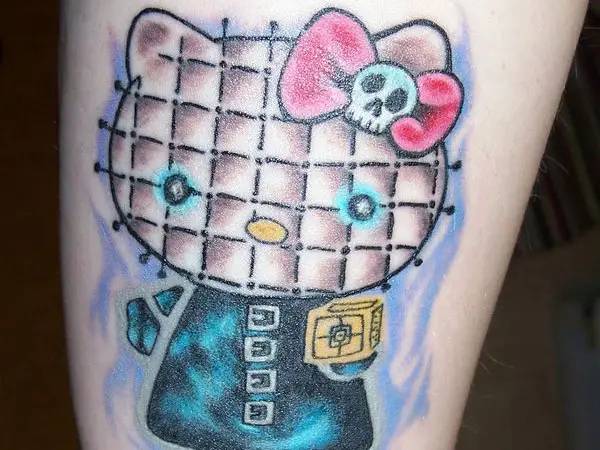 Realistic Warrior Tattoo
Bring out the warrior in you by getting inked with this single color realistic warrior figure tattoo.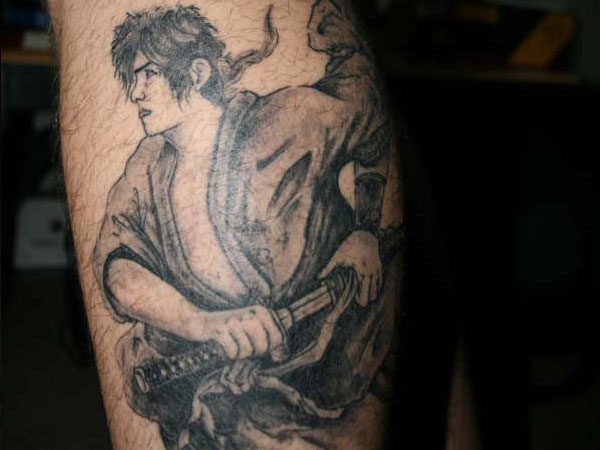 Cute Cow
If you are looking for a small and cute tattoo getting a this cartoon-style cow inked on your calf is a cool idea.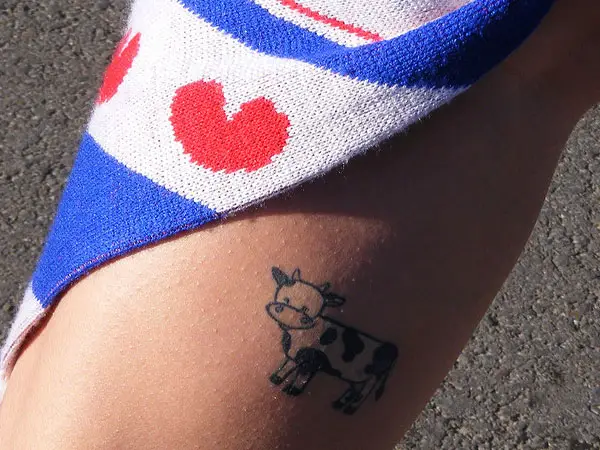 Flower Power Kitty
Drawn with bold black outlines and a vivid pattern of flowers this is a cool version of Kitty.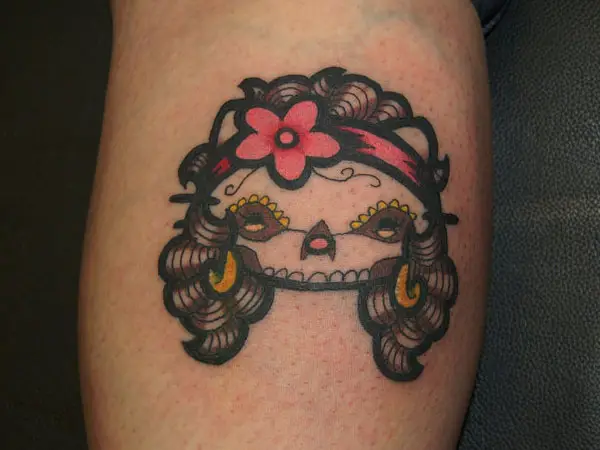 Flower Power Kitty
Calf Owl
A perfect tattoo for night-birds this tattoo depicts a brown-feathered owl that looks like it might hoot any moment.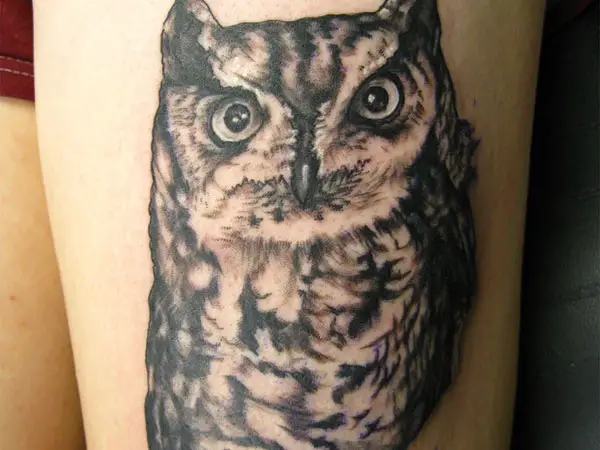 Pink Ghoul Girl
For Halloween you can get this ghoulish green-skinned girl tattooed on your calf. Also check out the glaring pink costume adding a colorful effect.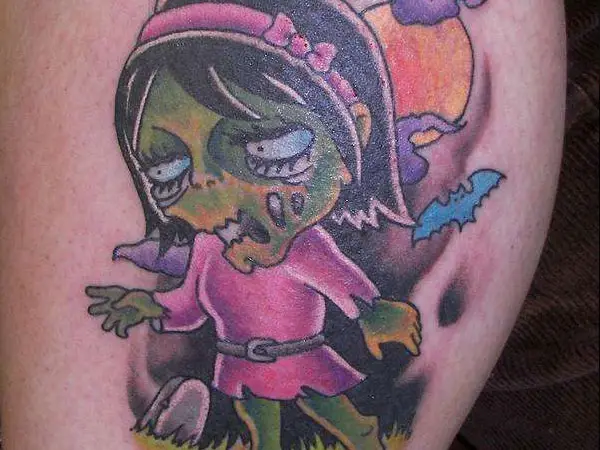 Colorful Calf Tattoo
This striking tattoo has a circular design with 11 spikes shaded in yellow, gray, and, brown, and white.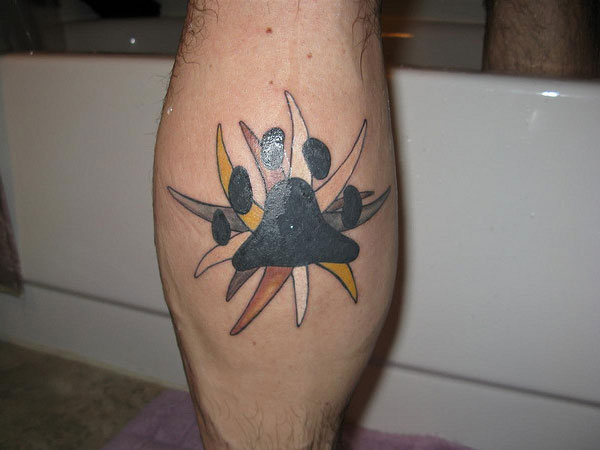 Prehistoric Tattoo
This detailed and colorful tattoo in many shades takes you back to the times when huge dinosaurs roamed the earth feeding on smaller beasts.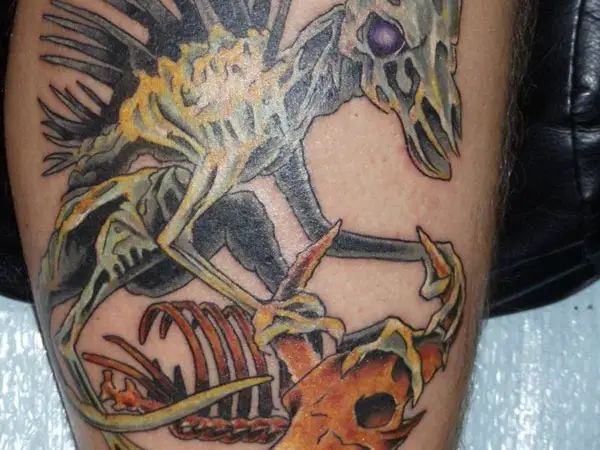 Calf Comics Character
Here you see one of the world's most popular comics characters, Calvin and Hobbes tattooed in a black ink newspaper format.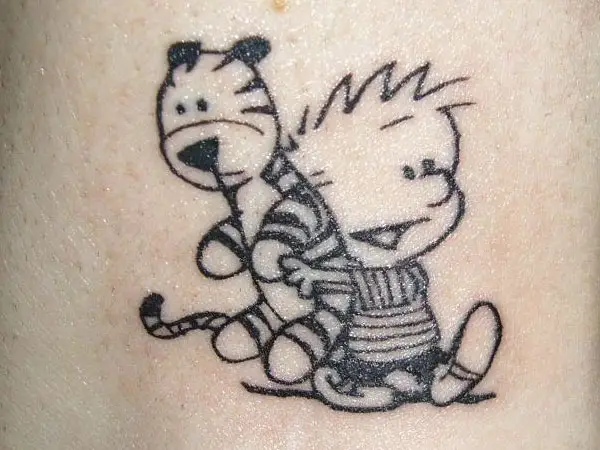 Blue Serpent Dragon
This intricate design of a scaly blue dragon with a fierce red mouth is awesome as a calf tattoo.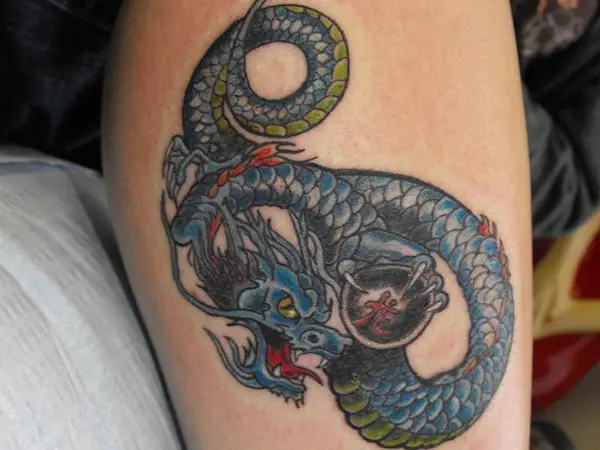 Video Game Blue Man
Get into retro mode with this cute tattoo showing an old style video game pixellated figure.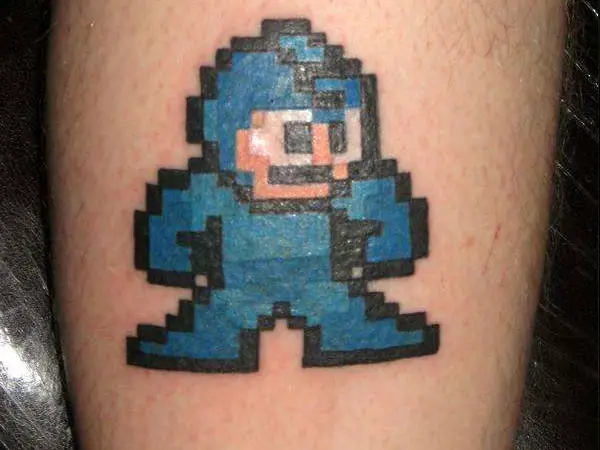 Delicate Calf Design
This is a really delicate tattoo design. Check out the graceful black arches and the pattern of three blue stars.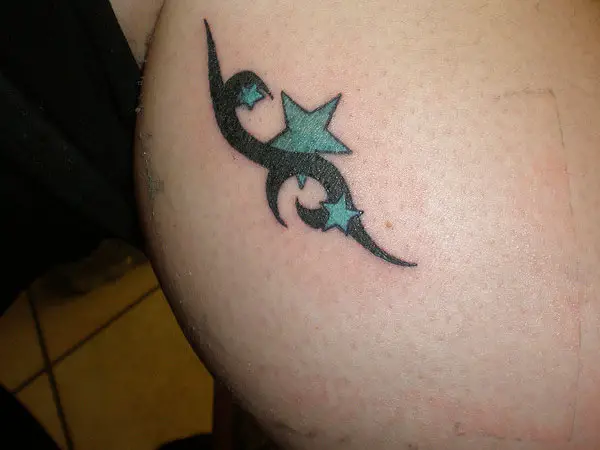 Red Bull Tattoo
Get your inner animal out with this charging bull tattoo drawn in shades of red and black.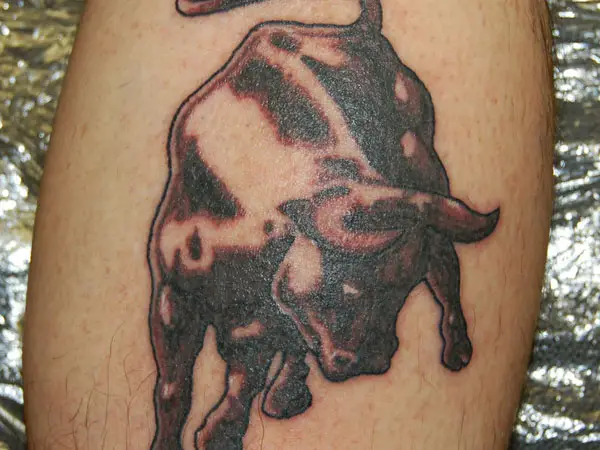 Hummingbird Tribal Design
Styled in black flowing lines this hummingbird calf tattoo gets a tribal motif touch with red and green ink.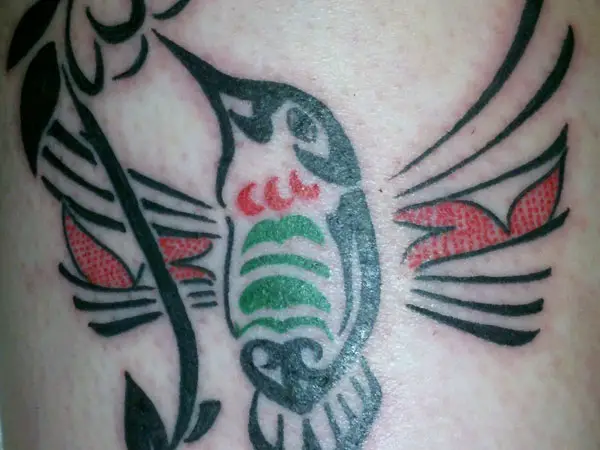 Tiger Calf
Fire burning the night, that's what a tiger is all about. Carry the power of the tiger by getting this brilliant tiger tattoo inked in golden hues and flowing black lines.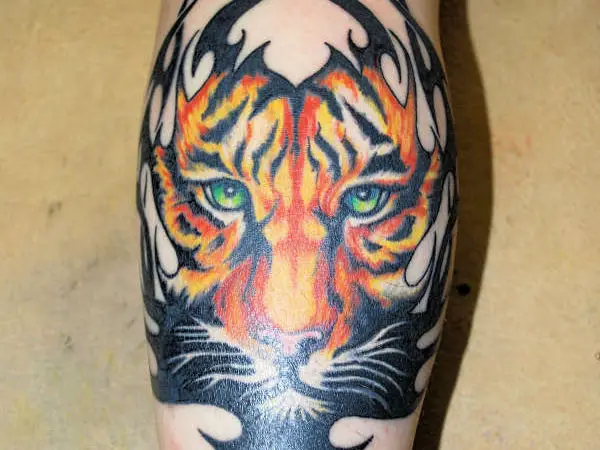 Shaded Fish
Artistic shades of brown make this fish theme calf tattoo look almost real. Note the delicately drawn fins and lines on the body of the fish.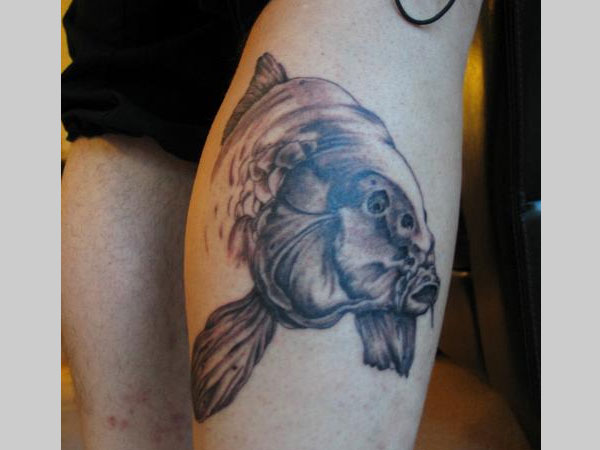 Halloween Calf Tattoo
Brilliant green, red, and touches of pink go with the bold black outlines of this zombie girl theme Halloween tattoo.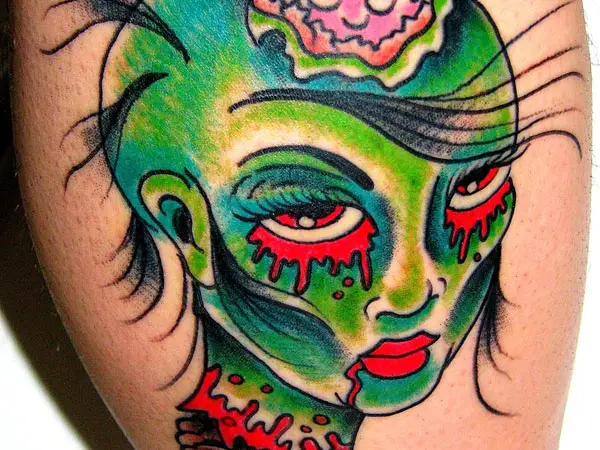 Traditional Lion
You can go for a lion inked in a traditional style in a single color as your calf tattoo design. Check out the decorative style of the paws.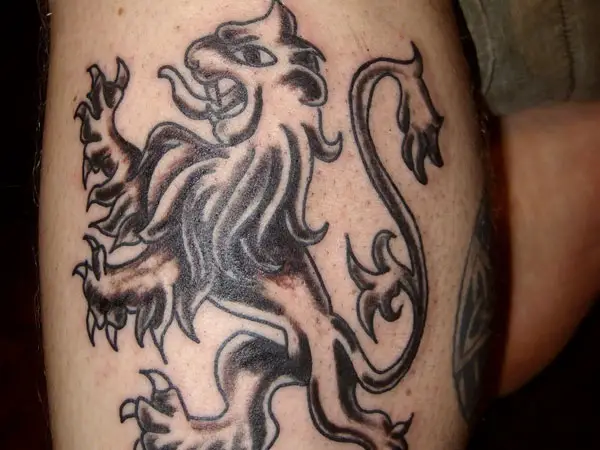 Dragon Number
Make 13 your number of fortune with this cool tattoo with a graceful dragon motif curved around the number in green and black.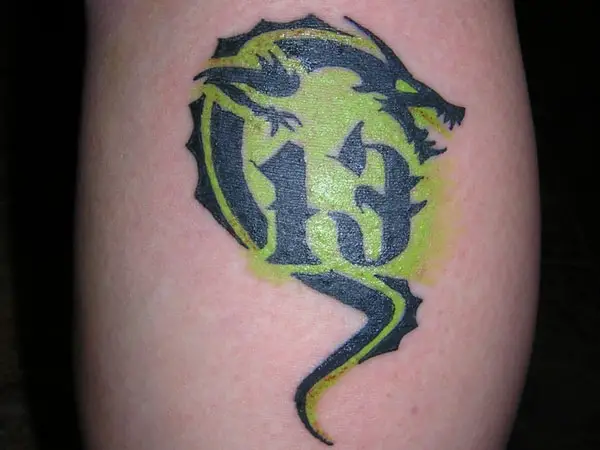 Dragon Number
Saucy Tattoo
Hot and spicy a bottle of tabasco sauce is the perfect mischievous tattoo for your calf.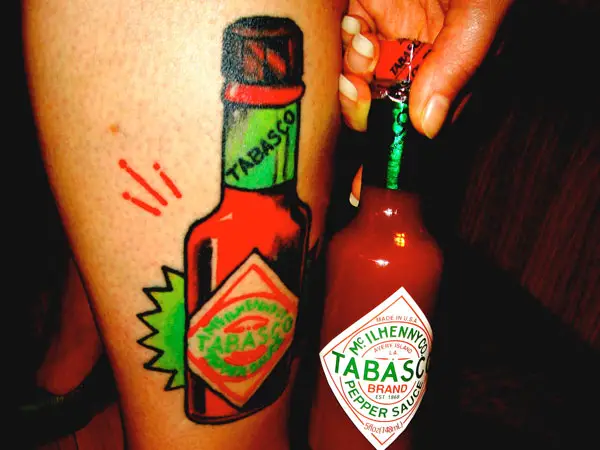 Cartoon Calf Tattoo
Cartoons make cool themes for tattoos. Check out this hooded red and green cartoon figure holding a pistol.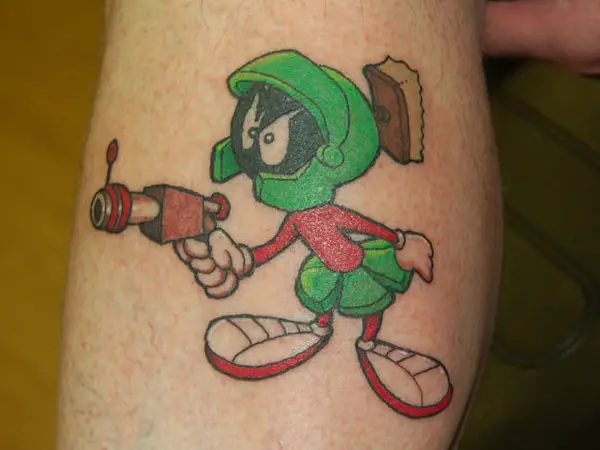 NY Calf Tattoo
Black is a simple, bold, and extremely effect color for a tattoo. Check out this neat initials theme tattoo saying 'New York'.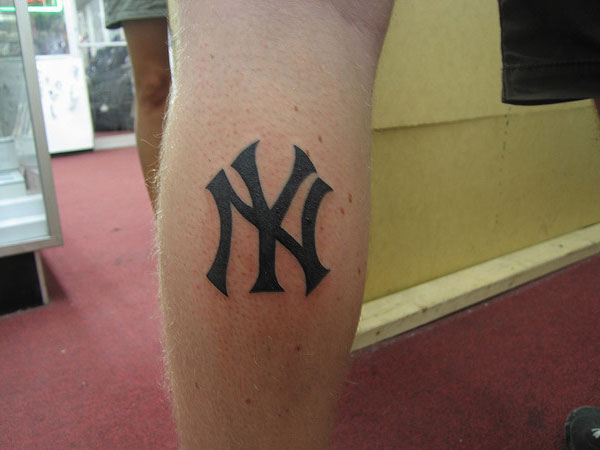 Iconic Tattoo
Shaded in grays much like one would sketch with a pencil this iconic tattoo of an eagle shield looks great on the calf.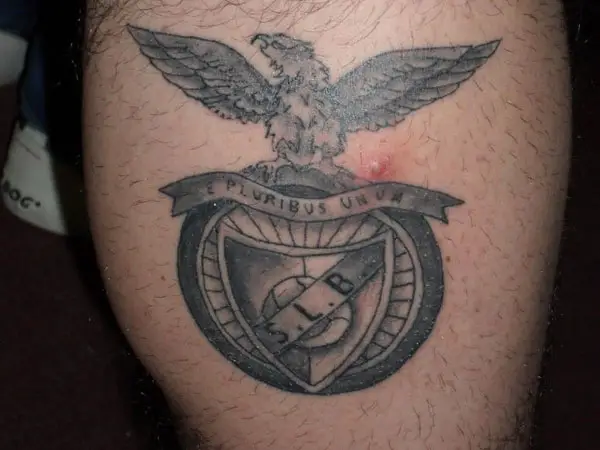 Graphic Novel Tattoo
If graphic novels are your love you can get an elaborate and muscular superhero theme tattoo inked on your calf.