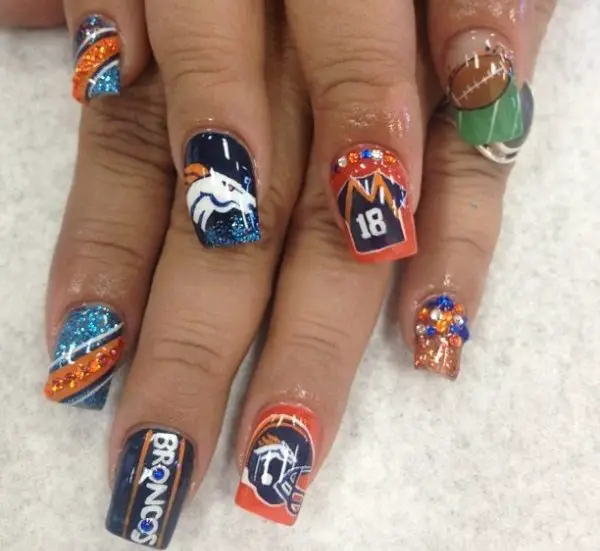 The Super Bowl is just around the corner, and everyone is getting ready to root for their favorite team. The Denver Broncos and the Carolina Panthers will be going head to head in Super Bowl 50. Female Broncos fans can show their support for their favorite team by painting some awesome Denver Broncos nail art!
Orange, blue, and white—the Broncos team colors—are the typical colors used in Denver Broncos nail designs. However, silver also looks smashing and brown can be used for fun accents like footballs. Broncos nail art designs can include the teams mascot, a racing bronco, but a fun nail art design in the team colors can look just as awesome.
Will you be rooting for the Broncos this year? Check out these spectacular Denver Broncos nail art designs for a little inspiration to add to your team spirit!
1. Broncos Jersey Nails
Show your support for your favorite Broncos player by painting a little jersey on your nails.
2. Acrylic Broncos Nail Art
Here's some seriously stunning Denver Broncos nail art, done in acrylics.
3. Scalloped Denver Broncos Nail Art
A scalloped design done in Denver Broncos colors makes for some super cute Denver Broncos nail art!
4. Denver Broncos Football Nails
What better addition to some Denver Broncos nail art for the Super Bow than a football accent nail?
5. Nail Striping Tape Broncos Nails
An orange and blue nail art design made with nail striping tape is a quick and easy Denver Broncos nail art design!
6. Orange and Blue Polka Dot Nails
The only Denver Broncos nail art design easier than the zig-zag striped design above might be these orange and blue polka dot nails!
7. Chevron Broncos Nail Design
A trendy chevron pattern on your nails makes a nice addition to thesewhite nails with Denver Broncos nail decals.
8. Orange and Blue Diagonal ail Tips
Ditch the traditional French manicure this Super Bowl season for some orange and blue diagonal tip nail art!
9. Denver Bronco Thumb Nail Art
The bronco painted on the tip of this thumb makes for a pretty awesome accent nail!
10. Orange Glitter Tips
Support your Broncos with some fiery orange glitter nail tips outlined in blue. A football design on an accent nail adds a nice touch for game day!
11. Polka Dot Broncos French Manicure
Not only is the polka dot design in this French manicure a little unique, the color scheme is perfect for Denver Broncos fans!
12. Blue Denver Broncos Nail Art
Some glitzy blue nails can easily be turned into some awesome Denver Broncos nail art with some range and white stripes!
13. Orange and Blue Glitter Gradient Nails
Glitter gradient nails are so gorgeous, but they're even better when they're created with your favorite team's colors.
14. Denver Broncos Nails
Carefully painting "Broncos" across your nails should get the message across about who you're rooting for this Super Bowl!
15. Rhinestone Denver Broncos Nails
Add some rhinestones for some sparkly Denver Broncos nail art!
16. Splattered Denver Broncos Nail Art
A splattered paint design in blue and orange is a quick and funky Denver Broncos nail art design!
17. Mismatched Broncos Nail Art
Can't decide on just one Broncos nail art design? Try a mixture of a few different designs!
18. Orange and Blue Water Marble Nails
An orange and blue water marble design is sure to get you a few compliments on game day from both sides!
19. Denver Broncos Toenails
If you're painting Denver Broncos nail art on your fingertips, don't forget your toenails!
20. Glitter Broncos Nails
The powerful Broncos on these nails are enhanced by the sparkly orange and blue glitter nail polish!