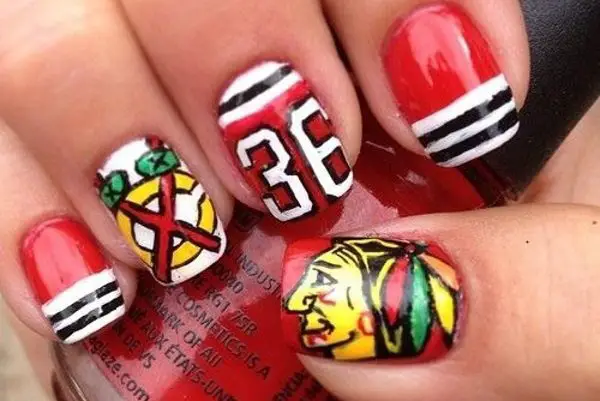 Sports fans are known for their ferver and intensity. It's not unusual at all to see a sea of team colors at sports events. Many fans wear their favorite team's colors or merchandise to sporting events. More hardcore fans may also paint their faces or even temporarily color their hair.
Female sports fans have one more fun option to support their favorite teams—nail art!
Jersey nail art in particular is a great way to show support for a favorite player or players during a sporting event. Jersey nail art ideas usually start with team colors. Player's numbers can then be added as well as other design elements, like team logos and and jersey details. When planning jersey nail art designs, women can use small nail art brushes to paint freehand or nail decals.
Looking to support your favorite players? Check out these jersey nail art ideas for a little inspiration!
1. Chicago Blackhawks Jersey Nail Art
Chicago Blackhawks fans will love this jersey nail art!
2. Spurs Nail Art
Are you a San Antonio Spurs fan looking for jersey nail art ideas? These Spurs nail designs may be a little hard to paint freehand, but you can always make your own nail decals.
3. Patriots Nail Art
Lady Patriots fans are sure to swoon over these jersey nail art ideas! The marbled design on the accent nails also give this mani a unique look!
4. Basketball Jersey Nails
One accent nail really adds the finishing touch on these cute basketball nails!
5. V-shaped Jersey Nail Art Ideas
If you're on the hunt for actual jersey nail art ideas, this easy V-shape nail art design transforms your nails into some cute jerseys!
6. Detroit Red Wings Nail Art
A fun French tip nail art design in your teams colors makes a great base for lots of jersey nail art ideas! All you need is a couple of your favorite players' numbers painted on your nails to complete the look!
7. Hockey Jersey Nail Art
Hockey fans are known for being pretty hardcore, so these cute hockey jersey nails are pretty tame. But, that doesn't mean that they aren't super cute!
8. Glitter Jersey Nail Art Ideas
If you need some girlier jersey nail art ideas, try some glitter! A glitter nail polish can turn your jersey nails from pretty cool to downright fabulous!
9. Green Bay Nail Art With Jersey
Don't you love all of the different design elements on these Green Bay Packers nails? The Glitter jersey is just one part of a fantastic design!
10. Dallas Cowboys Nail Art
These blue, white, and silver Dallas Cowboys nail art design must have taken forever to create, especially the jerseys. But, the final look is pretty fabulous!
Hopefully you found a few fun jersey nail art ideas by now! So, next to you're gearing up to head to a game, don't forget to paint your favorite players' jerseys on your nails. If you just don't have the time or patience to spare, you can also add a simple jersey number to just one nail for an accent.