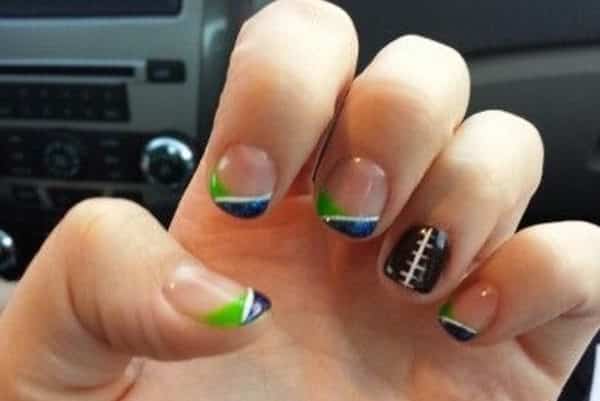 Some people just love their football, and the ladies are no exception! Ladies in Seattle can really get into their beloved Seahawks! Many are routinely decked out in their green, blue and silver duds every Sunday! Seattle Seahawks nail art are the perfect final touch to game day!
Creating Seattle Seahawks nail art can be as simple or complicated as you want to make it. All you really need are Seattle Seahawks colors for a fun design. However, if you want to get a little more detailed, you can also paint the Seahawks logo on your nails as well. Cute football accents are also a fun touch.
Check out some of these Seattle Seahawks nails for some fun inspiration!
1. Diagonal Tips With Football
The diagonal tips on these Seattle Seahawks nails are painted in Seattle's colors. The little football accent nail makes this unmistakable Seattle Seahawk nail art!
2. French Seattle Seahawks Manicure
Bright green tips are fun and perky, sure. But adding the Seattle Seahawks logon on the ring finger transform these nails into some fun fan nail art!
3. Blue Tipped Seahawks Nails
Dark blue nail tips make for some simple yet beautiful Seattle Seahawks nail art, especially when lined with bright green! Add your favorite player's number as a final touch.
4. Blue Seattle Seahawks Nail Art
Dark blue nails are super pretty, especially when accented with a glittery silver stripe! The finishing touch to these Seattle Seahawks nails, though, is the bright green nail with the team logo!
5. Seattle Seahawks Colors Nail Art
Simply using the team colors is enough to create some stunning Seattle Seahawks nail art!
6. Rhinestone Seattle Seahawks Nail Art
Rhinestones add a fun and feminine touch to these Seattle Seahawks nails! It's such a simple design, but still so glam and full of team spirit!
7. Blue and Green Seattle Seahawks Jersey Nails
THe bright green contrasts beautifully with the dark blue in this Seattle Seahawks nail art. The jersey numbers on each ring finger also add a nice touch for fans!
8. Silver Seattle Seahawks Nails
Silver glitter polish is so glam and girly. But, that doesn't mean it can't be combined with dark blue and bright green for some super fan nails!
9. Seattle Seahawks Logo Nails
This Seattle Seahawks nail art most likely took a steady hand and some time to complete, but it was so worth it! The Seahawks logo spanning the nails is sure to get a few compliments, possibly even from rival team members!
10. Gray Seattle Seahawk Nails
The gray base color in this Seattle Seahawks nail art is far from dreary! Fresh and fun blue, green, and white team themed accents really jazz these nails up!
11. Plaid Seattle Seagull Nails
Looking for some fun Seattle Seahawks nails? Try this funky plaid nail design!
12. Woven Seahawks Nail Design
A woven nail art design is fun and funky. Seahawks fans can use team colors of red, blue, and silver for Seattle nails.
13. Polka Dot Stripe Seattle Seahawks Nails
Polka dots and stripes together? Why not? They seem to work perfectly together in these Seahawks nails!
14. Seattle Seahawks Logo Nails
Finally, we have some amazing Seattle Seahawks logo nails!