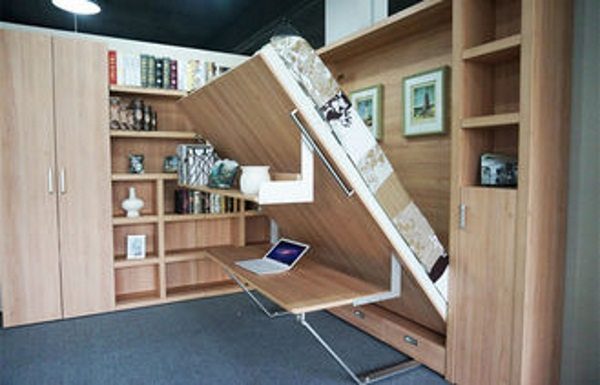 Carving out home office space can be a bit tricky, especially for those of us living in small spaces. An office in a small home, however, doesn't have to be impossible. It just takes a little creativity and ingenuity.
To make the most of a small space, many home workers also strive for a hidden home office.
This helps keep work and home life separate and hides the clutter of a chaotic workday. Hidden home offices will either blend in with the existing decor or be completely hidden from sight.
There are a couple of different ways to create a hidden home office space. The first uses special pieces of furniture that is designed to hide away all of the office and workday items, like computers and office supplies. A hidden home office can also be carved out of existing living space in some unusual areas. Closet offices are an excellent example of this.
Looking for some ideas for your own hidden office space? Check out these home office designs for some amazing inspiration!
1. Murphy Bed Home Office
For very small spaces, this Murphy bed with hidden home office is an excellent option. During the day, the bed can be folded up into the wall and the shelves can serve as a desk and office storage.
2. Convertible Desk Home Office
A convertible desk is a great way to create a hidden home office. This desk slides together into a small cabinet when the workday is done.
3. Hidden Desk and Chair Office
This hidden home office hides not only the desk, but also the chair. The false drawers in this creative piece of furniture can be pulled out to reveal a comfy place to sit.
4. Large Hidden Office Armoire
A large armoire can easily hide a home office. When the space is not being used, it can all be hidden away behind two large doors.
5. Repurposed Hutch Home Office
An old hutch can be miraculously transformed into a beautiful hidden home office. This is a great way to reuse an old piece of furniture while also giving yourself a cute little workspace.
6. Sliding Panel Hidden Home Office
Large built-in bookcases can also house a hidden home office. The center panel can be slid to one side at the beginning of the workday and pushed back when it's time to clock out.
7. Recessed Hidden Home Office
Folding doors can be used to hide a recessed home office too. A pull out desktop gives you a nice work space, and it can all be concealed behind folding doors when necessary.
8. Closet Office
Hidden home office ideas often bring about thoughts of the closet office. Nestling a home office in a closet is a great way to maximize your space and carve out a clever hidden home office space.
9. Hidden Shelf Office Desk
A series of shelves behind a curtain makes for a pretty clever hidden home office. The front of the wall cabinet opens to reveal a work surface similar to a desk, but can also be closed to hide work supplies.
10. Office Under the Stairs
All sorts of different spaces can be hidden away under stairwells. In addition to a nice little closet for extra storage, this stairwell also houses and clever little hidden home office.
11. Office Behind Folding Screen
Folding screens are a simple and inexpensive way to partion off rooms. A hidden home office can be easily tucked away behind folding screens or doors when not in use.
12. Home Office Behind a Curtain
Unused alcoves and nooks can easily be turned into hidden home offices with the addition of a desk, some shelves, and a heavy privacy curtain.
13. DIY Pallet Hidden Home Office
A DIY pallet room partion is a cheap way to carve out some workspace. Tuck a desk behind there, and you have an instant hidden home office with a rustic feel!
14. Home Office Behind Bookcase
Large bookcases come in handy for more than just holding bookcases and knick knacks, Place one perpendicular to a wall to separate a large room and create a hidden office nook.
15. Attic Office
Finally, if you have a little unused space above your head, you might as well use it! Attics can make surprisingly spacious and convenient home offices. Plus, they're out of the way of the rest of the house, meaning that you don't have to have your work materials sprawled out around you home for all to see.
Remember to get a little creative when you're trying to create a hidden home office. A certain piece of furniture might serve another purpose, for instance. Or, a small area of unused space might come in pretty handy when trying to carve out a home office in a small space!