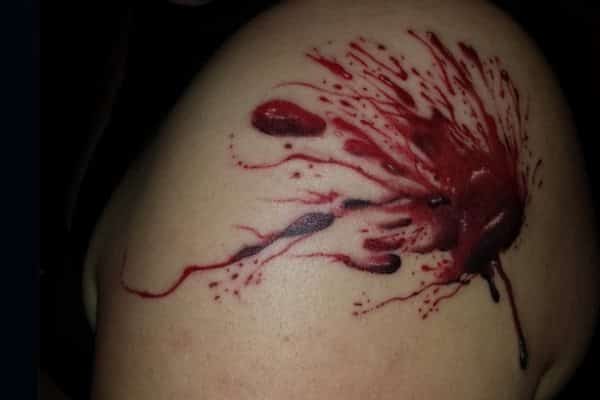 A splattered tattoo design is a nice option for anyone looking for an unusual and unique tattoo design. Splattered tattoos aren't something you see every day, partly because this is a somewhat new tattoo style.
If you've never seen a splattered tattoo design, you're in for a real treat! These types of tattoos look messy at first glance. However, look at it again, and you'll notice that it's more of an artistic type of messy. These unique tattoos are usually designed to look like ink or paint has been spilled or splattered across the skin. It's definitely a perfectly imperfect look!
Tattoo artists can turn nearly any tattoo design into a splattered tattoo design too. All it takes is some well placed splotches of ink and highlighting and shading. Check out these splattered tattoos to see what I mean…
1. Blood Splattered Tattoo
Dark red ink makes for an interesting splattered blood design on the skin. It's a little grotesque, sure, but it's also quite original and different!
2. Splattered Red and Black Tattoo
This splattered tattoo design reminds me a bit of a Rorschach test. What do you see in the ink?
3. Ink Splotch Side Tattoo
Here's another rather ambiguous and enigmatic splattered design. Use your own imagination to find the image in this ink splotch tattoo!
4. Splattered Heart and Lady Tattoo
Now, here's a splattered tattoo design that's a bit more recognizable. You can clearly see a red heart and the silhouette of a woman…who happens to be missing her guts?
5. Splattered Strawberry Tattoo
Here's an interesting variation of a strawberry tattoo! The detail in the strawberry itself is pretty amazing, and the detail in the splatter isn't far behind!
6. Splattered Black Heart Tattoo
If negative space tattoos are your thing, check out this dark splattered heart tattoo!
7. Heart With Ink Splotches Tattoo
The ink splotches surrounding this sketched heart tattoo add some great visual interest and an interesting design element!
8. Splattered Bird Tattoo
It's a little hard to make out that this is actually a splattered tattoo design at first. However, when you look a little closer, you can see the subtle ink splatters surrounding it.
9. Splattered Music Tattoo
This is the perfect splattered tattoo design for music lovers!
10. Quote Splattered Tattoo
You can pretty much turn just about any quote into a splattered tattoo design. Just add some light ink splatters in the background, similar to a watercolor tattoo.
11. Splattered Rose Tattoo
This tattoo design combines a classic rose element with a slight more modern splattered ink element. The blue also adds a nice different pop of color.
12. Splattered Wolf Face Tattoo
Wow! The time and detail that went into this splattered tattoo design is simply amazing! It's definitely an amazing take on a wolf tattoo!
13. Jumping Wolf Splattered Tattoo
Here's another amazing splattered tattoo design idea for wolf lovers!
14. Splattered Celtic Bird Tattoo
There are a few different design elements in this tattoo across the shoulders. It's an amazing combination of a bird, Celtic knot, and splattered ink!
15. Patriotic Splattered Tattoo
Patriotic individuals looking for a splattered tattoo design will fall in love with this red, white, and blue bird chest tattoo!
16. Splattered Ink Skull Tattoo
I love the subtle shaping of the skull in this black splattered ink tattoo design!
17. Splattered Skull Tattoo
It's a little dark and macabre, but this splattered twist on a classic skull tattoo is still stunning!
18. Ink Splotch Steer Skull Tattoo
The black and colorful ink splotches in this steer skull tattoo help soften it a little and make it absolutely gorgeous!
Remember to choose your tattoo artist carefully. Not all tattoo artists can whip up a beautiful splattered tattoo design. Be sure to check out examples of previous work, especially any splattered tattoo designs before committing to anything. And, don't be afraid to speak up if there's something in the initial design that you don't like!