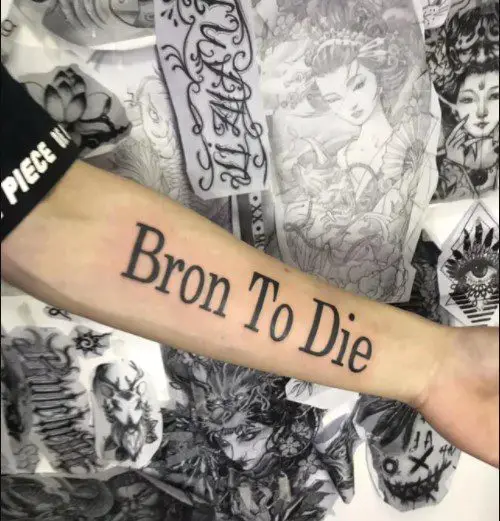 Skin art has enjoyed a rich, vibrant and colorful history right from the beginning of time until the present day. Here we look at the evolution of the tattoo, as well as the best and worst tattoos of the past year.
Skin art was valued in ancient cultures for therapeutic, religious, tribal and cosmetic reasons. Today, people wear tattoos more as a form of decorative skin art,
although some sport tattoos are tokens of love and promises.
There was a time when tattoos were stigmatized as a mark of slavery, crime, and disgrace, especially during the Greek and Roman era. In fact, the Latin word for tattoo is Stigma.
Tattoos have now evolved from being a taboo to a pop-culture obsession thanks to celebrities, rock stars, and influencers.
Over the past 20 years, tattoos have enjoyed enormous popularity as the craze for skin art exploded. It's hard not to follow suit when scantily-clad celebrities flaunt their gorgeous tattoos on Instagram.
Tattoo trends in 2018
The year 2018 saw the tattoo trend of artists working directly over the top or around existing tattoos, using thick dark lines.
Frequent requests also included black and gray fine lines, smaller Illustrations that use black ink with little or no shading at all, minimal tattoos that include scripted lettering,
and blended tattoo styles from different countries.
The most popular tattoo locations were the wrists, hands, and fingers, behind the ears and under the boobs.
The trend for minimal tattoos continued in 2019, with any shading discarded
altogether. In addition to scripted lettering, popular designs now include faces, flowers, and bodies. Even men are sporting tiny little balloons on their forearms!
View this post on Instagram
But with all the trends that come and go, many tattoo artists still prefer traditional tattoos. Black and grey, photo-realistic tattoos, ultra-realistic tattoos, and geometric work still dominate the scene.
View this post on Instagram
Ten Best Tattoos of 2018/9
Choosing a tattoo design is like choosing a partner in life – some of them you'll regret, some of them you'll cherish. Whether you're a newbie or a seasoned tattoo enthusiast, your luck in finding the perfect tattoo boils down to your personal preferences. So here are the coolest tattoo designs that have impressed over the past year.
Our Picks
Emma Watson's Time's Up Tattoo would have made it to this list, not because it's a typo but because of the buzz it created. But sadly it doesn't qualify as a tattoo, so here are our best picks of 2018-2019.
1. Mamba Out! The sweat beads tho.
View this post on Instagram
Steve Butcher doesn't have a million followers for nothing. It was only two years ago when the ink he made of McCaw's bloodied face on a fan's leg was dubbed by NewstalkZB and NZME broadcaster Tony Veitch as "the greatest sports tattoo". This time, he has outdone himself with this ultra-realistic, painstakingly detailed rendition of Kobe Bryant. It's not even photorealistic because it doesn't look like a photograph, it looks life-like! "The hardest part about realistic tattoos is getting the likeness 100 percent because unlike a painting, you can't paint over a tattoo." says Steve.
2. Finger Candles
View this post on Instagram
This wicked piece freaked us out the first time we saw it! Jak Connoly's clever manipulation of negative space, extraordinary attention to detail, and profound symbolism make this incredible skin art absolutely phenomenal!
3. Is this the real life, is this just fantasy?
View this post on Instagram
This freaking fantastic killer work by Mark Wosgerau made our jaws drop, literally. The perspective of depth, the sharpness and blurriness, the contrast and the subtle transitions come together to create this dramatic effect. It's, quite simply, a masterpiece.
4. The Brave, the Dead and the Beautiful
View this post on Instagram
This wondrous portrait of a girl with a tiger headdress was rendered by Guzman Perez of Miami Florida, the man behind the name of Bolo Art Tattoo. According to Guzman, the girl is his client's daughter, and by the looks of it, no one can mess with her. Guzman's lifelike
renditions, glamorous compositions never cease to amaze us.
5. New Legs!
View this post on Instagram
This biomechanical tattoos by Cheyenne artist Roman Abrego just blew us away! They're so realistic you'd think that the wearer is capable of giant leaps. Uncanny photorealism on a live canvas!
Best Tattoos Picked by Tattoo Artists
Asking tattoo artists to pick the best tattoo other than their own is like asking Miss Universe contestants to pick their winner for Miss Universe. Of course, they would be coy about picking their own works so the next best thing to do is choose the work of someone whose style resembles theirs most. So we choose 5 well-known tattoo artists and peeped on their preferences.
Revered cartoon tattoo artist, and illustrator aka "Tattoonist" Thom Bulman certainly did not start with a mouse, but his playful and wonderful colors caught the attention of fans all over the planet and admirers in the tattoon world including Steve Sklepic. For Steve, this Mickey Mouse rendition of Thom Bulman is a total stand out. Steve has over 10 years of experience in tattoo art and enjoys all things colorful – from portrait realism to cartoons and pop culture. It's little wonder he loves Thom Bulman then.
2.Top of the Game
View this post on Instagram

Marc Roy loves the black and grey realism of Thomas Carli Jarlier. "His level of realism is just off the charts," Roy says of Jarlier. Many fans of Jarlier share Roy's sentiments, and needless to say, Roy's works are also outstanding pieces of real and surreal black and grey. He enjoys inking ornate and intricate subject matters, especially subjects that are off the beaten path.
3. Wait till you see the eyes open…
View this post on Instagram
Daniel Armitage, a hyperrealist and surrealist, points to Dmitriy Samohin's hyperrealistic work. "Dmitriy Samohin has always been a big inspiration", says Daniel Armitage. We totally agree. Ukrainian tattoo artist Dmitriy Samohin takes tattoos to a whole new level. The details are uncanny – the beard, the hair and the beads, this work is so lifelike you can't help but wait for the eyes to open. But sorry to disappoint you guys, only Pinocchio comes to life. Or does he, really?
4.The Man with a Dragon Armpit.
View this post on Instagram
Lexi Hanna of Honor Bound Tattoos goes for Jeff Gogue's masterpiece. "I love solid big pieces that cover the body and become a part of you," says Hanna. JeffGogue is considered by many as one of the best in the tattoo industry. Seeing the quality of his works, it's easy to see why clients travel from distant lands just to get tattooed by Jeff. You can also see traces of Jeff Gogue's influence in Hannah's amazing full sleeve tattoos.
5.The Most Famous Tongue in the World
View this post on Instagram

Carlos Torres picks the work of Robert Hernandez. "He's the one who influences me the most. He's the Dali of the tattoo world, I love his surrealism", Torres says of Hernandez. This 3d tattoo is so mind-boggling you can almost feel Gene Simmons' tongue stick out of the wearer's skin. Torres himself is a popular surrealist. "Black & grey was something that I was attracted to. I find it timeless; like a black & white photograph will always look cool no matter what. It also works well with tattoos. I am happy to just do black & matter what" bulmantattoons.com