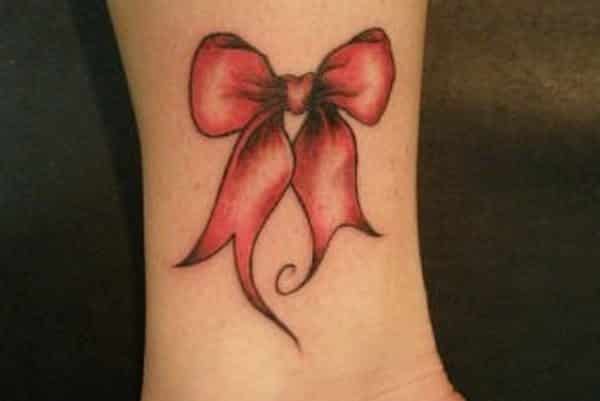 Ankle tattoos for women are some of the most popular tattoos for women. An ankle tattoo can easily be covered up, making it an excellent option for women who don't always want their ankle tattoo on display.
There are so many different designs for ankle tattoos for women too. Some women choose ankle tattoos that are feminine and girly, like hearts and flowers. Other women, however, prefer more masculine designs, like skulls and dragons. Ankle tattoos can be tiny enough to fit on the ankle bone or on the heel, or large enough to also cover part of the foot or leg. The size of an ankle tattoo will really depend on your own wants and needs as well as the design itself.
If you're on the hunt for an ankle tattoo, the sky's the limit! You can choose nearly any design that you want, as long as it can be drawn small enough to fit on your ankle.
If you're looking for ideas, check out these awesome ankle tattoos for women!
1. Red Bow Ankle Tattoo
A sweet little red bow is a feminine and sweet ankle tattoo for women, and it adds a nice pop of color.
2. Heart Ankle Tattoo
Lots of ankle tattoos for women include hearts, but this design is particularly cute!
3. Tribal Dragon Tattoo
Tribal dragon tattoos are simple, yet powerful, designs, and they make great ankle tattoos for women and men alike.
4Chinese Dragon Ankle and Foot Tattoo
If Chinese dragons are more your thing, this ankle and foot tattoo design is definitely an amazing design!
5. Butterfly and Lily Ankle Tattoo
Feminine ankle tattoos for women look gorgeous, and this purple butterfly and lily design is no exception!
6. Owl Ankle Tattoo
A little owl tattoo on the ankle is a fantastic design for bookworms or night owls!
7. Music Note Ankle Tattoo
Music lover? Music notes might be just the ankle tattoos for women that you want to be looking at!
8. Dragonfly Ankle Tattoo
Whimsical dragonflies can be an awesome option for ankle tattoos for women!
9. World Map Ankle Tattoo
If world travel is in your heart, world map ankle tattoos for women have a certain charm, don't they?
10. Ankle Wings Tattoos
A pair of wings can be the perfect choice of ankle tattoos for women on the fly!
11. Periwinkle Tattoo on the Ankle
Ankle tattoos for women don't have to be big and gawdy. This precious little periwinkle flower ankle tattoo makes a sweet statement without being too over the top.
12. Mountain Ankle Tattoo
Who knew that something as large as a mountain range could be so small and cute?!
13. Celtic Tree Ankle Tattoo
Celtic designs, like this Celtic tree, make some amazing ankle tattoos for women!
14. Small Skull Ankle Tattoo
Wanna show off your wicked side? A tiny skull ankle tattoo should get this point across.
15. Lip Print and Skull Tattoo
Here's an interesting twist on your typical skull tattoo, complete with blood red lip prints!
16. Jellyfish Ankle Tattoo
If you're on the hunt for truly unique ankle tattoos for women, consider a jellyfish. They're a symbol of health and eternal life, and it's not a tattoo design that many people have.
Whichever ankle tattoos for women that you're considering, make sure that they are meaningful to you. Sure, it's great is a tattoo is pretty and all, but a deeper meaning for your tattoo is always nice.