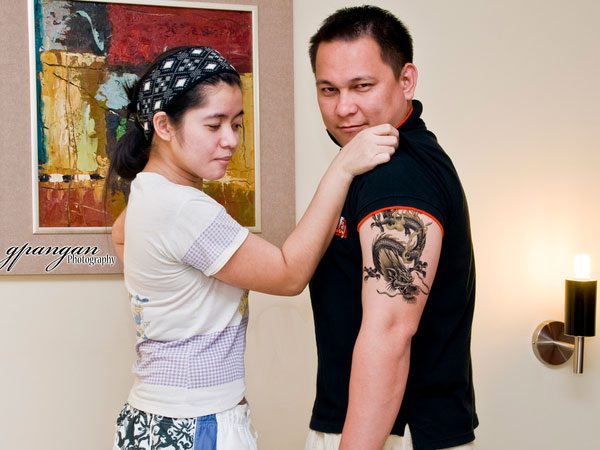 Tattoos is an art form that impresses irrespective of whether the design is simple or complicated. There is so much choice in tattoo designs for men that it would take some time to select the perfect one for you. The patterns, themes and colors add to the variety. There are tattoos to suit every personality and nature of a person. From dark horror and death, there are tattoos depicting sublime godliness. From romance and joy to death and sorrow, every aspect of life can be depicted through tattoo art.
Men usually prefer tattoo themes that signify power, strength and invincibility. Even the tattoos that express their love will be interspersed with other depictions of strength. If not, then the strong muscled arm or torso itself will be showed off with a tattoo.
But the theme of machismo is never too far where tattoo designs for men are concerned.
Even the human figures and flowers in the tattoos will have an element of some mysterious and unleashed strength.
The Chinese dragon is a mythological symbol of power and retribution. This tattoo looks absolutely super on such a well-formed bicep. Together they produce an effect of invincibility.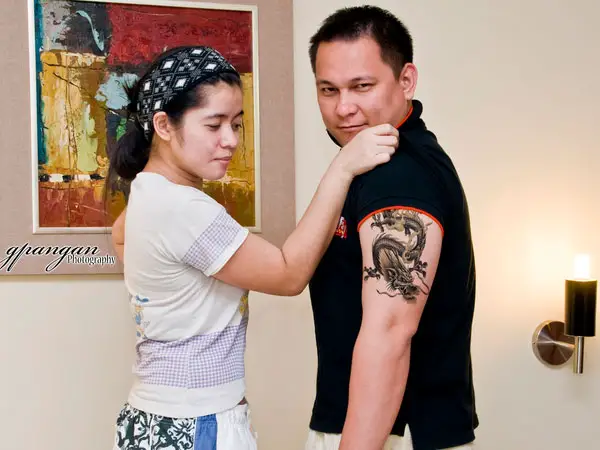 Collage of Life
The tattoo this man is sporting, with its myriad colors seems like just a splash of color and a style statement. But if you look closer it defines the cycle of life with the stylish woman on a sofa at the top and the zombie limping about below her. A lot of color has been used so it is definitely an attention grabbing tattoo.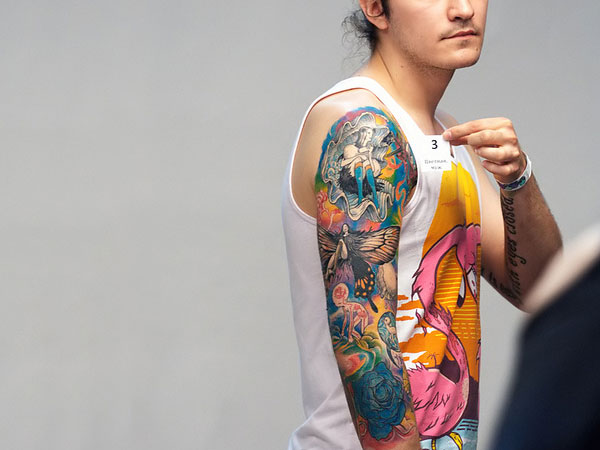 Mythology and Dark Power
The mythological head of medusa and the skull combine to give a menacing impression of the tattoo wearer. Then there is the splash of beautifully designed red roses that signify love. This is surely a mixture of emotions, but which is depicted very artistically.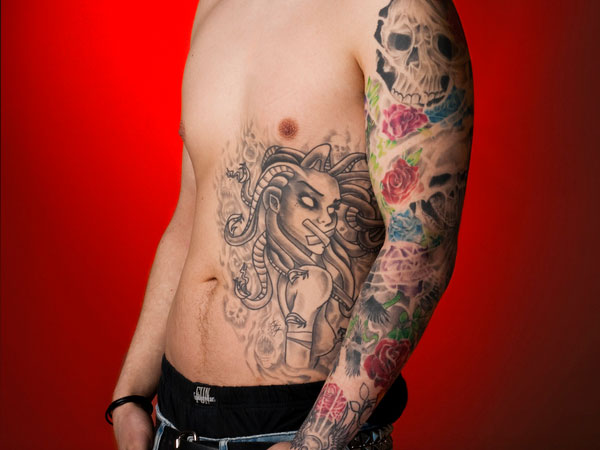 Mixed Splendor
Attention! This tattoo is definitely an attention seeker. The theme is dark with the depiction of the evil eye and skulls. But the brilliant color combinations of the different body and arm tattoos make it style statement.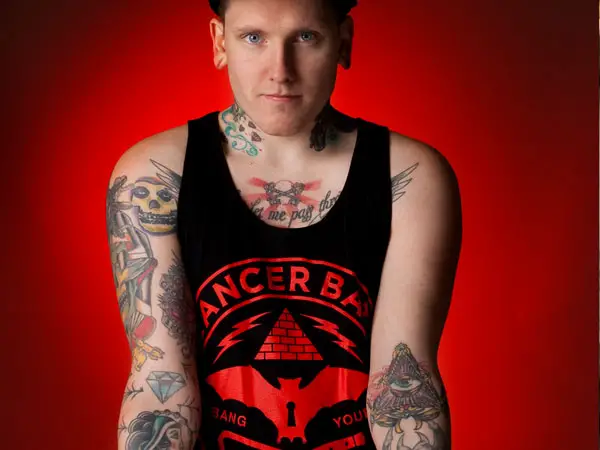 The Classic Art
Liner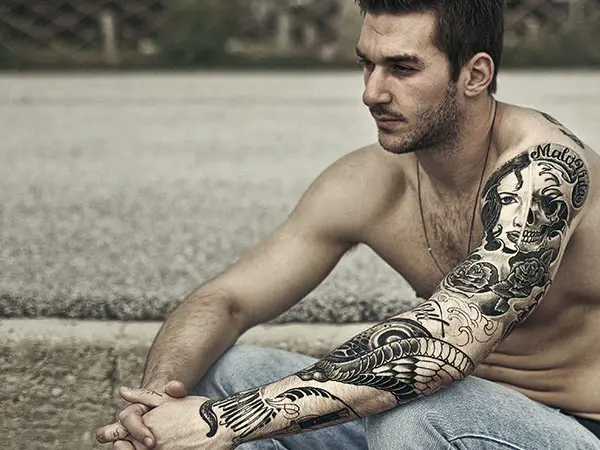 Occult
Occult power has always had a scary attraction. The fear of the unknown has its own form of excitement. This tattooed symbol designed like a star within a sun has an unusual charm of ancient occult mysteries.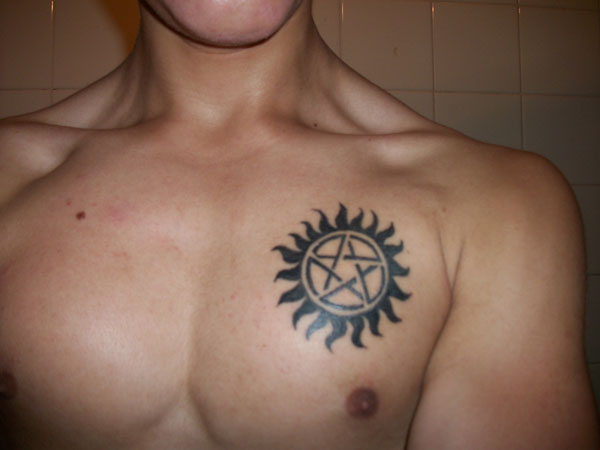 Occult
Frog Prince
This is fairytale inspired tattoo art. The frog turns into a prince when he meets his true love. This man is a romantic at heart and wants to show it off with this small frog prince tattoo on the neck in a dark and bold design.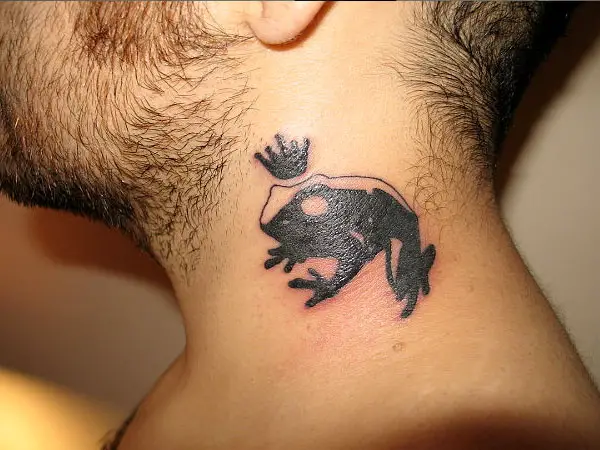 Crusaders at War
Many a battle has been fought due to conflict in religion and ideologies. This battle scene of the crusaders is an intricate piece of tattoo art. Each line, each figure has been carefully designed so that the scene almost comes alive.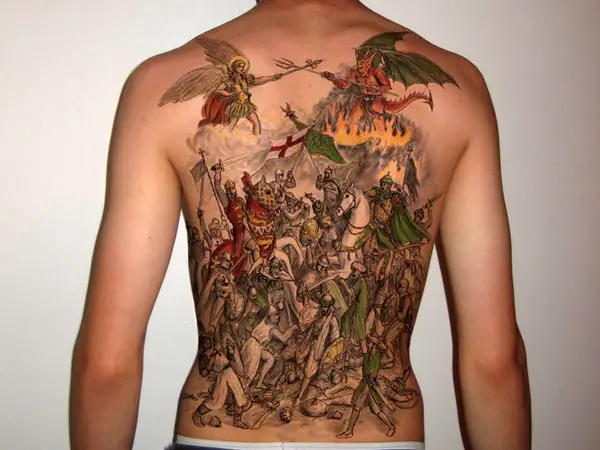 Flavors of the Orient
This back tattoo is a story in itself. The cat-like man's face, the fan, the geometric circles with oriental letters in each…all tell a tale of magic and intrigue. Without using colors except black and gray, the story unfolds before your eyes.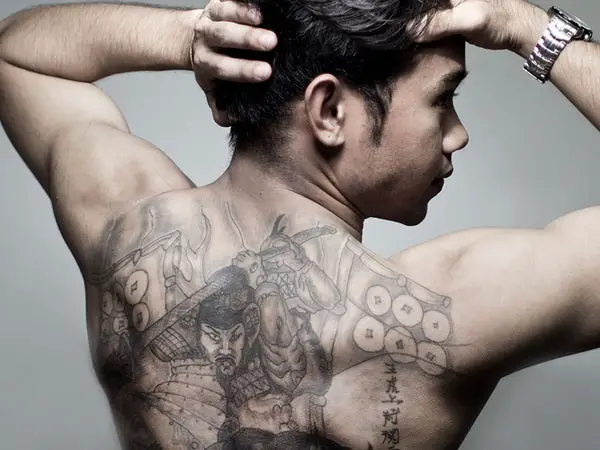 Hope-the Lifeline
Is this inside a spaceship? The graffiti showing the word "hope" with a sci-fi machine resting on it makes one feel that the wearer is adventurous and wants to explore new worlds.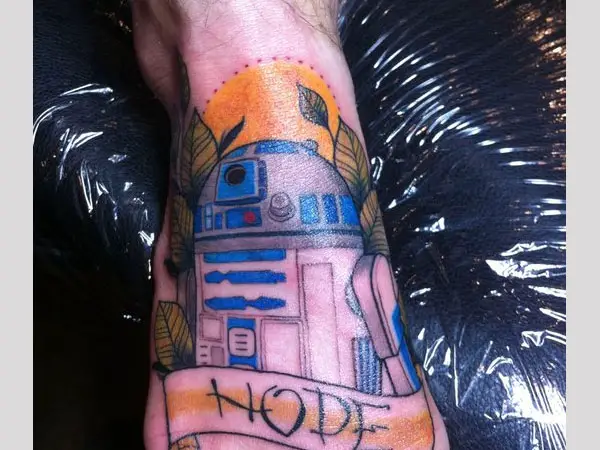 Lure
The apple is a sign of temptation and enticement. This apple-shaped tattoo is a great example of simplistic expression of tattoo art. Someone could not resist the temptation and has bitten a portion of the apple!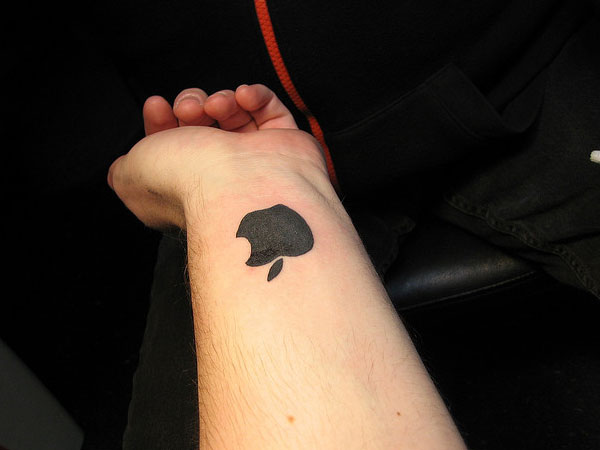 Land's end!
This tattoo shows a will to explore the world. The wearer probably likes a taste of adventure and finding the unknown. The two children and dog look like storybook characters on some mysterious quest. It is actually the artwork from the cover of a book of poems by Shel Silverstein entitled "Where the Sidewalk Ends."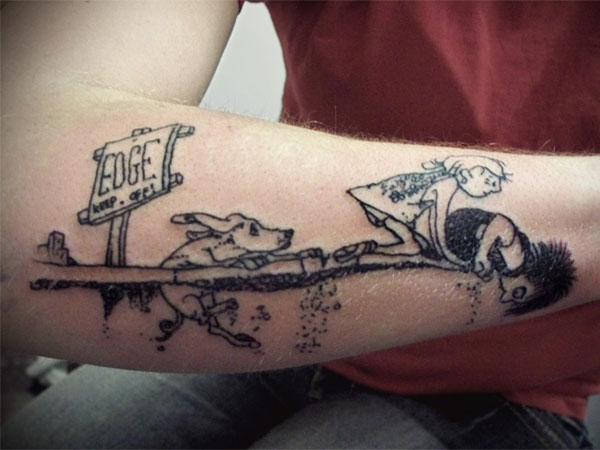 Land's end!
Blend of the ages
The Sun has been an inspiration over centuries for different types of artists, so why not tattoo artists? This back tattoo has a Sun and two stars blessing a warrior who is ready for battle. The canopy-like design adds a touch of the modern to the ancient theme.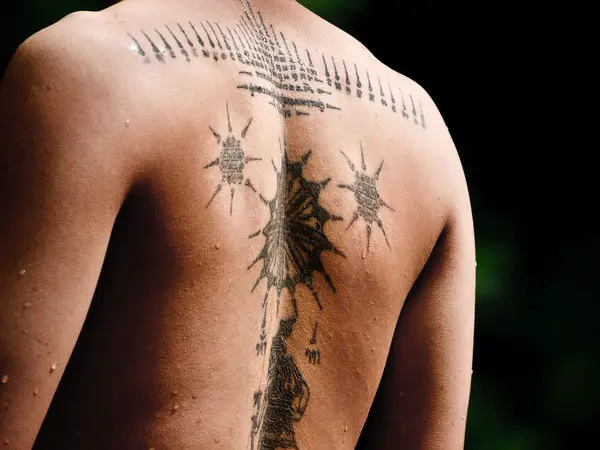 War and Mayhem
This tattoo is very artistically designed to depict a war scene with fighter planes flying among the clouds. This patriotic tattoo in a combination of gray, red and blue is a marvelous one to be proud of.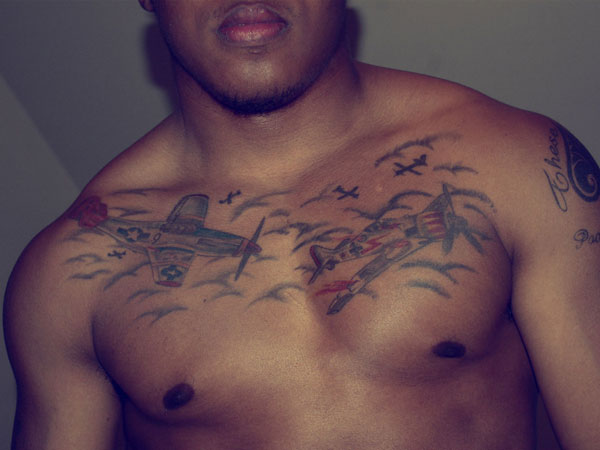 War and Mayhem
Geometry
Geometric designs are the best style in men's tattoos when you want a style statement without any message going across. The idea is to get attention and not to preach. A few swirls and curls in perfect symmetry and you have a simple yet attractive shape.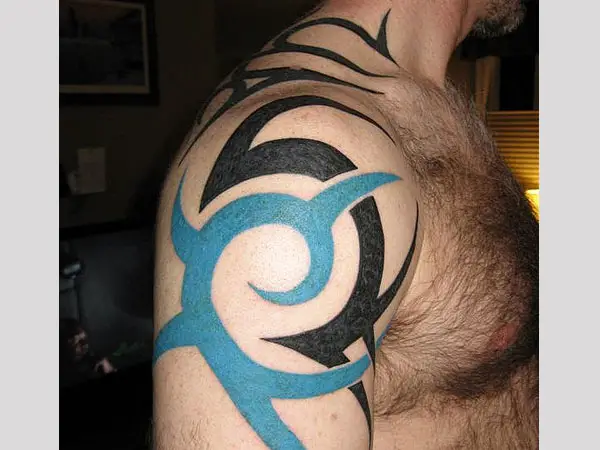 Seamen's Knots
This picture shows a chest tattoo for men in a simple yet unusual design. The rope tied in seamen's knots is wrapped in bands of graffiti. The clear strokes in black and gray have a great 3D effect.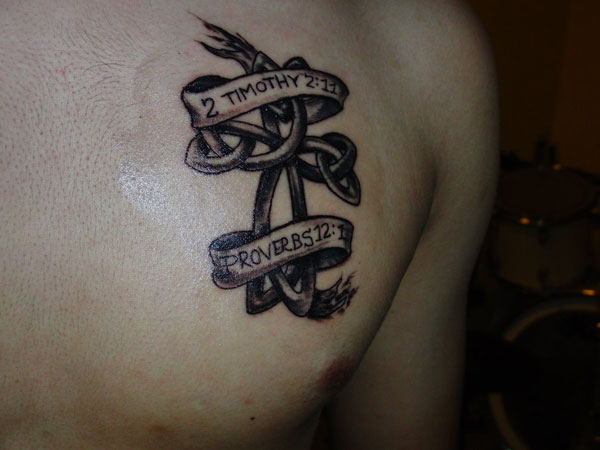 Graffiti is Enough
Graffiti is the simplest and most artistic forms of tattoo art. There are different fonts that artists use like this one which is very attractive. This art form is very versatile as it can be combined with designs as well to make a superb blend.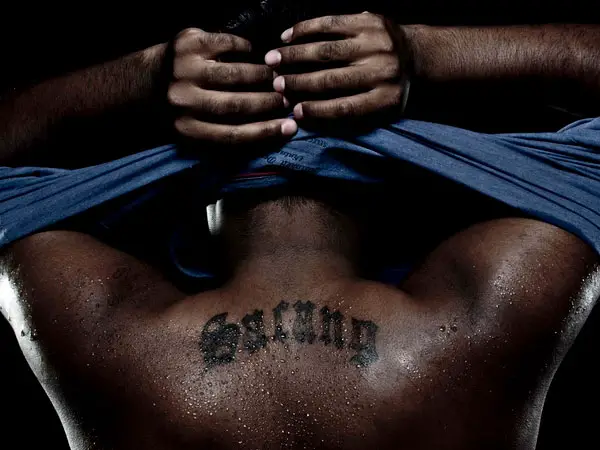 When Time Stood Still
Liner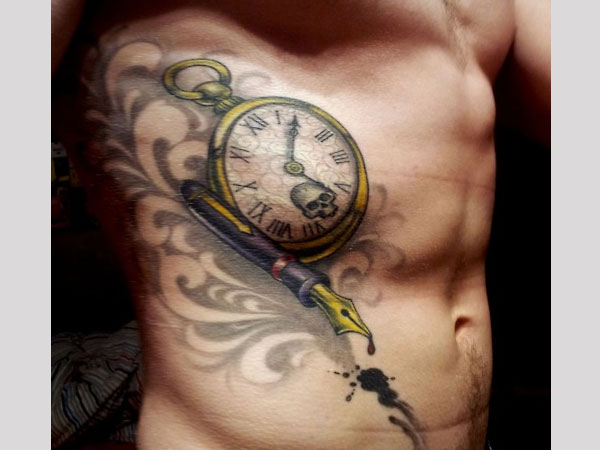 When Time Stood Still
X Men Symbol
For a trend-setting macho look this tattoo of the X men symbol designed in pitch black in bold lines is the perfection of simplistic art. The cross within a circle has an intimidating effect or it could be just a style statement. Either way it is an eye-catching design among tattoos.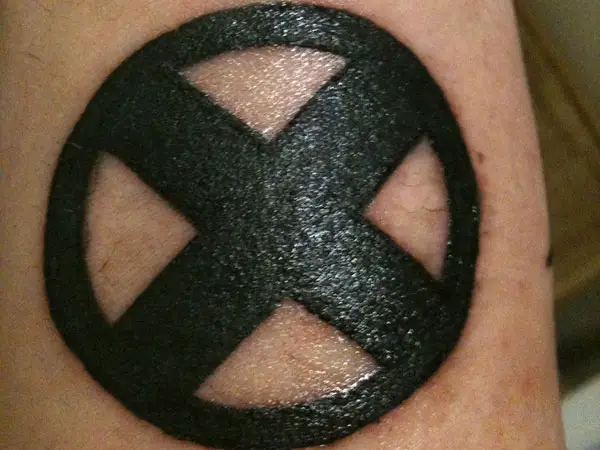 The Dark Trinity
The skull shapes inside the geometric shapes makes this a very unusual tattoo. The shadowy skulls in pink tones and the bold dark background shapes are a marvel of artistic talent worth copying.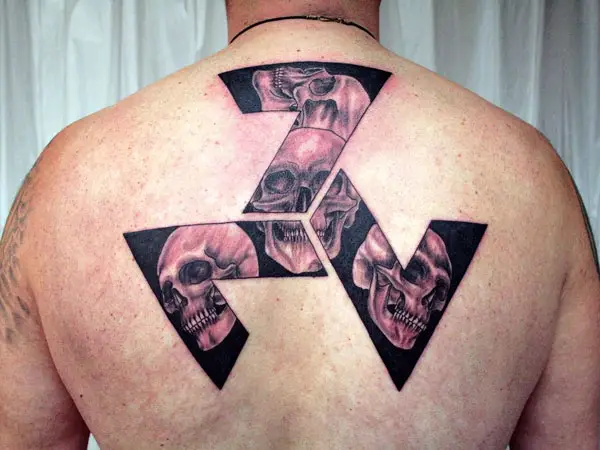 The Dark Trinity
Shaded Brilliance
This is class where tattoos are concerned. The shading has turned a simple creeper and its leaves into an art piece. Then, you have an unexpected splash of bright orange and green of the gorgeous flower at the end.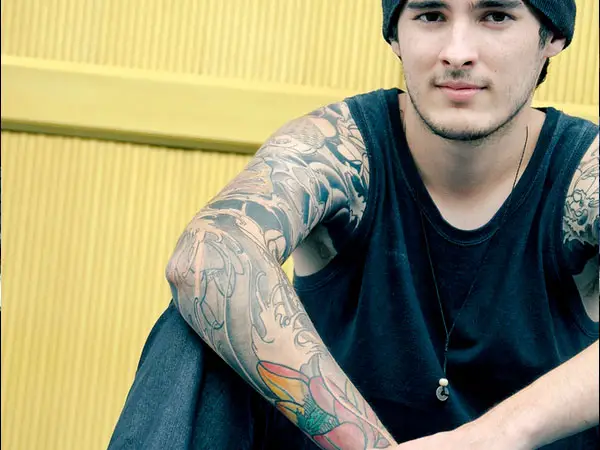 Geometric Concentration
As tattoos go, this palm tattoo is has a simple theme but a complicated design despite its small size. The perfectly proportioned geometric shapes…circles, semi-circles, triangles, etc with perfect unwavering strokes is a great display of tattoo art.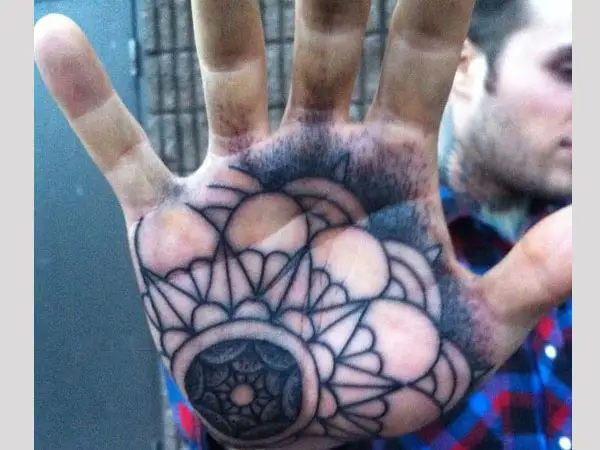 Artistic Splendor
When you want to show off your perfect muscles there is nothing better than body art. This is an example of tattoos in different designs…geometric shapes, figures, stars, etc. that can highlight the well proportioned muscles to perfection.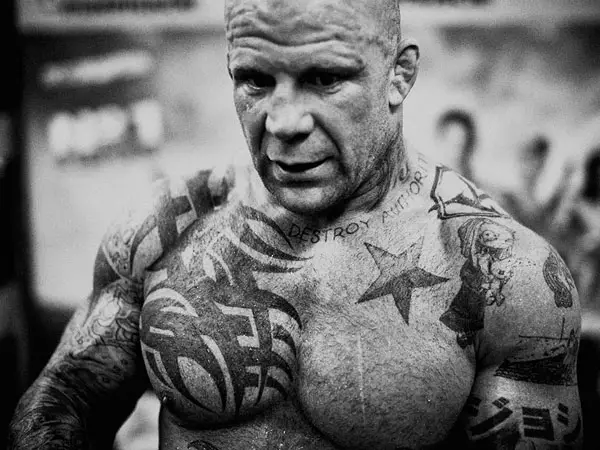 Portraits
Tattooing portraits is an art that requires a lot of skill as well as talent. The portraits in this tattoo have a touch of class in their clean lines and perfect shading. Every muscle and every contour has been designed to perfection. Class!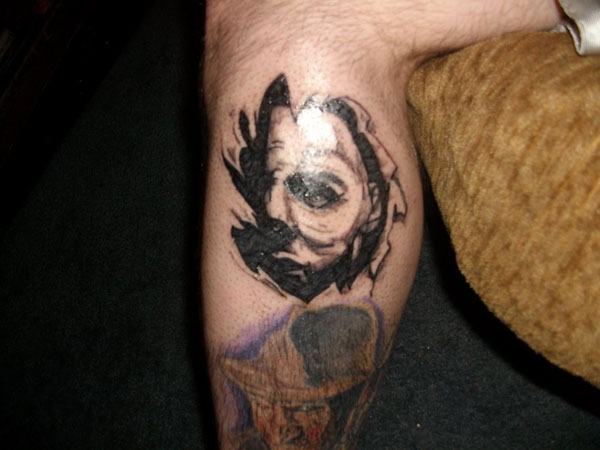 Being Different
Why miss out the face when you want tattoos? This man has tattoos all over him including the face. The simple design of stars and swirls accentuates his strong features and pleasant half-smile.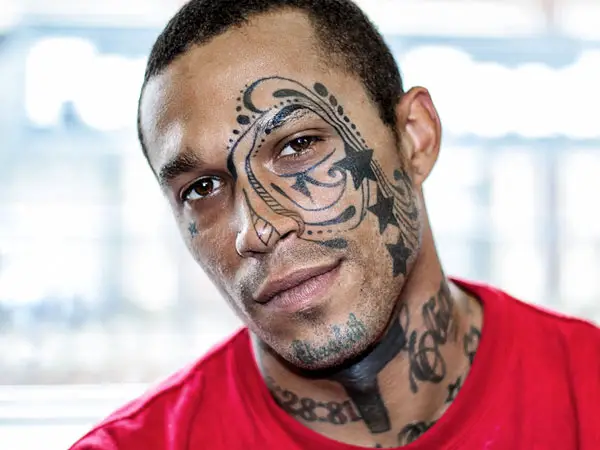 X Men Fan
The tattoo in this picture is a like an advertisement of the X men series. The vibrant colors of the background, the blazing red hair and sculpted figure of the woman, all combine to make it a class apart among tattoos.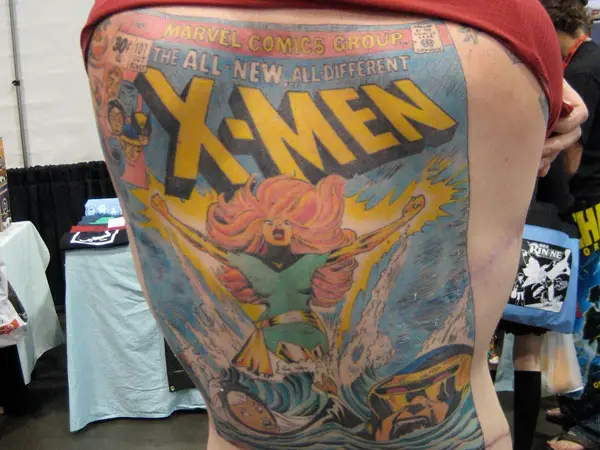 Little Mermaid
Is that a woman or just a swirl of tattoo ink? Or maybe she is a little mermaid luring unsuspecting men into her den! Whatever it may be, the bold lines of the tattoo on such strong biceps make it a superlative piece of art.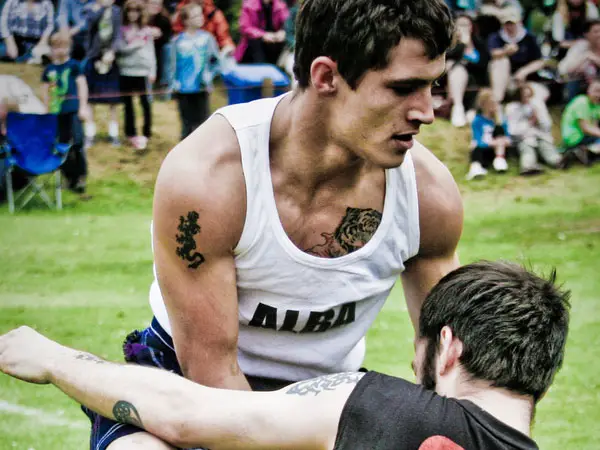 Little Mermaid
The reader's Nook
This young man has obviously grown up reading comic books. The three characters have been tattooed with precision and a great balance of colors to make them look like covers of comic books.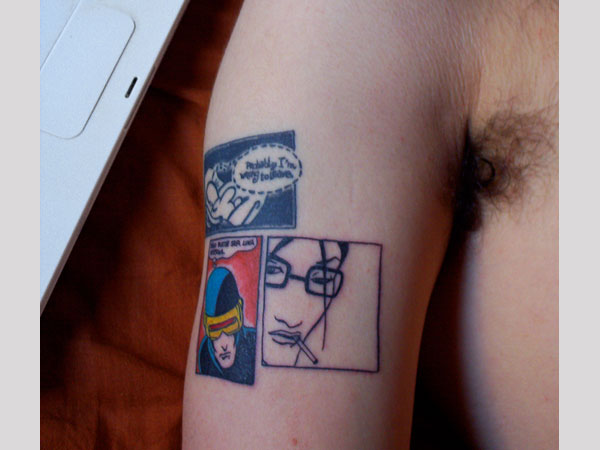 The reader's Nook
Jekyll and Hyde
The dual personality of a human being is exemplified in this portrait-like tattoo. The strokes and form of the faces is classic and perfect in proportion. The eyes seem alive and seem to be saying something.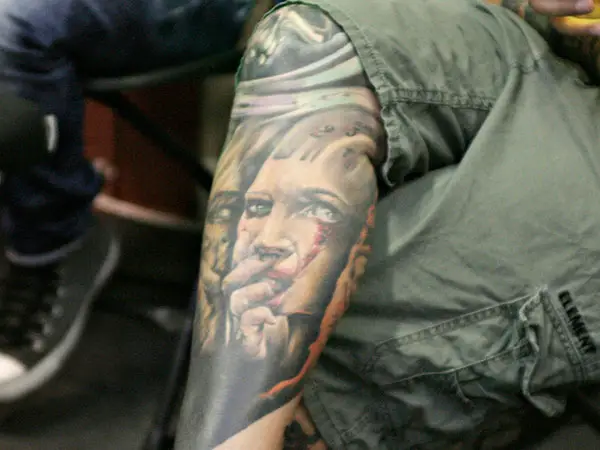 Witchcraft
There is a strange appeal in tattoo art that depicts the dark side of life. Witchcraft and horror are two themes that are frequently used in tattoos. A raven is a witch's companion and the skull…well, the end of you if you challenge her, of course!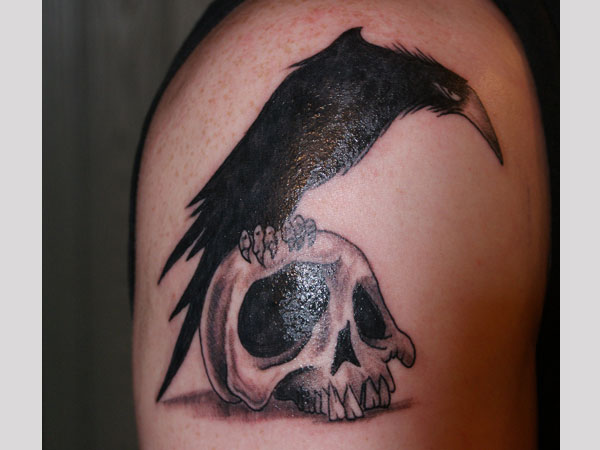 Simplicity of Geometry
You want style that is simple yet one that stands out? This simple tattoo of triangular and diamond shapes is a classic example of the kind. Its simplicity emphasizes the toned muscles of the torso.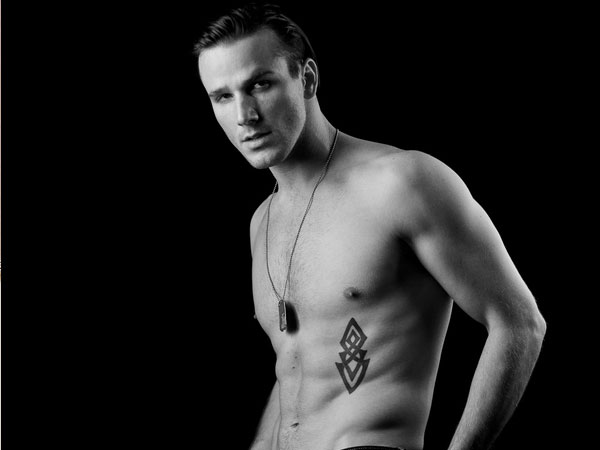 Space Warrior
This warrior is arming himself to save the universe from evil forces. This tattoo has a sci-fi look with meteorites around the man. Black, gray, yellow and pink colors have been used to perfection to create a modern masterpiece.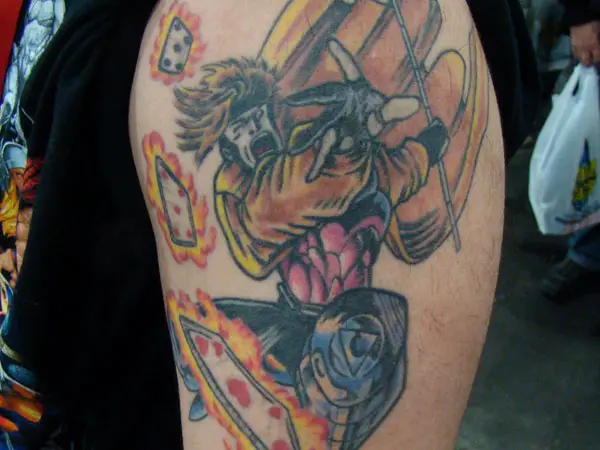 Blinking Smiley
A smiley is one of the most popular designs in tattoo art. This particular one with its concentric circles, wide smile and blinking eyes is a simplistic and attractive form of the smiley. A little splash of red and blue color adds an extraordinary touch to the whole design.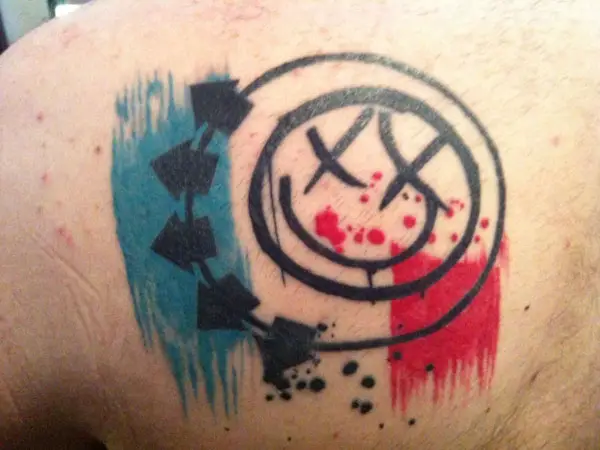 Blinking Smiley
The Ultimate Threat
The message in this tattoo is menacing. The cross in dark gray and black and the skull baring its bloody stained teeth is a popular form of dark art. Keep distance or meet your doom! This would be a perfect tattoo on a bicep.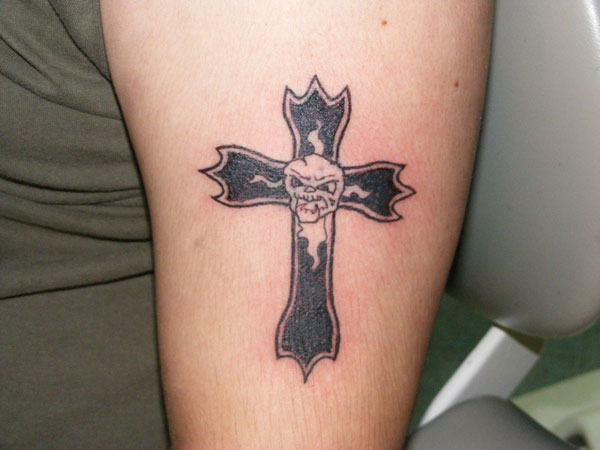 The Christ
This man is surely proud of his religious sentiments. The tattoo of the Christ on his chest is a definite sign of his devotion and faith in God. The eyes seem alive and very real, reflecting the burden that He has to carry for us.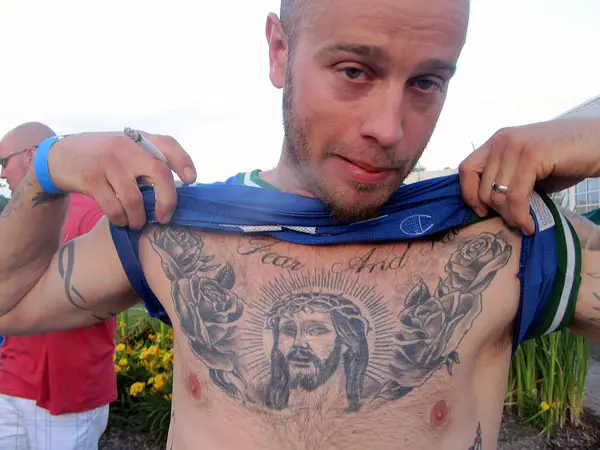 Gargoyles and Demons
The demonic gargoyle-like face tattooed on this man is an artistic marvel of sorts. The expression in the eyes, the contours of the face, the hooded features and the mane of thick hair has been tattooed with enviable skill.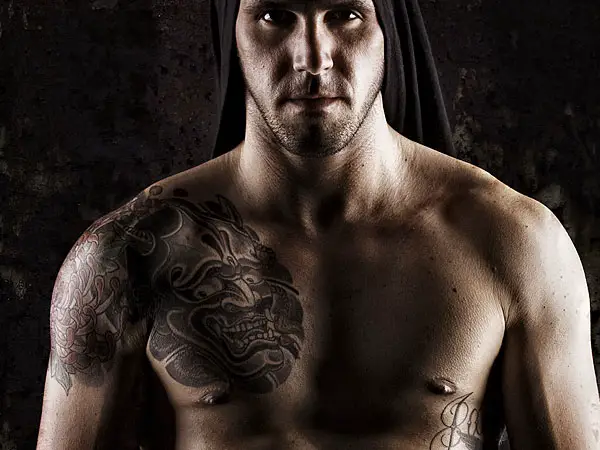 Gargoyles and Demons
Bounties of Nature
The bounties of nature look great as tattoos. This upside down mushroom looks superb in its simple black lines, bold patches and gray shading make it a lovely and simple design.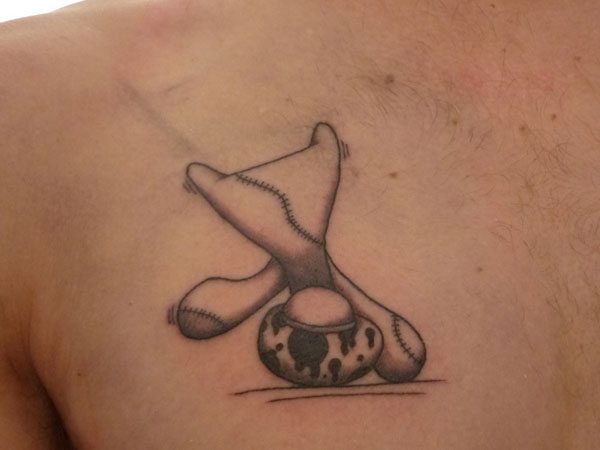 Bounties of Nature
Heart has Wings
This is a beauty if you want to make a huge statement of freedom to love. The colorful heart flying with wings is a superb example of tattoo art. The vibrant colors are many yet blend in well to form an artistic whole.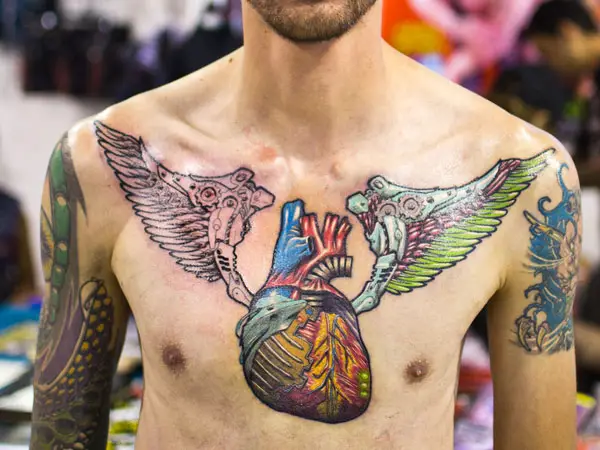 Mythological Wonders
A tattoo like this one is an amazing artistic display and the wearer's joy. The dragon and the phoenix are both symbols of extravagant beauty, magical power and retribution. This is a superlative display of design and color worth showing off.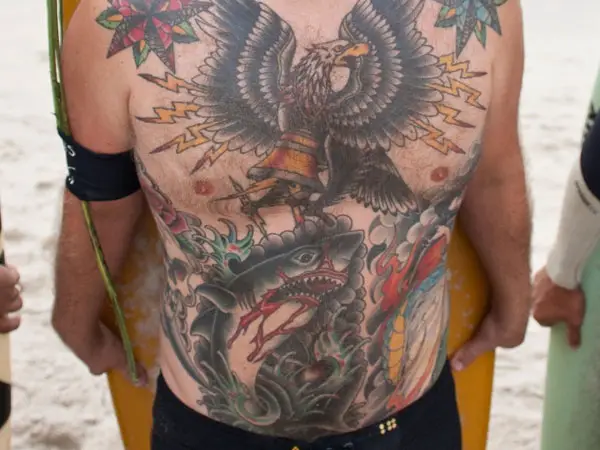 Zebra Stripes
Can any other tattoo be simpler and yet bolder? Just two broad strips in black along the back and a thin line of graffiti on an arm look brilliant and modern.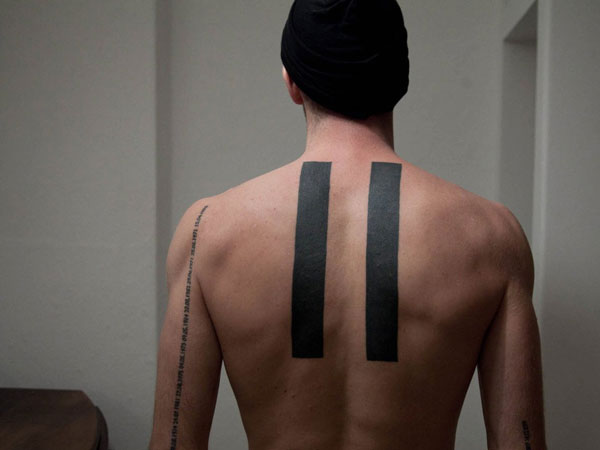 Zebra Stripes
Splash of Color
This tattoo is a definitely an attraction-grabbing one. It myriad colors and peculiar design immediately draws attention of the passersby. It is a style statement and creates a splash with whichever garb you choose.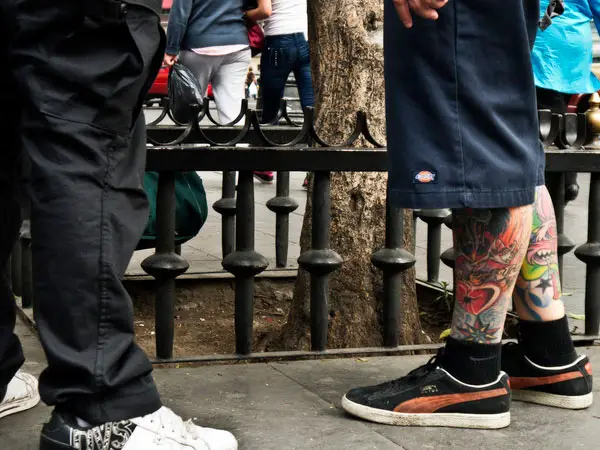 The Geisha
A geisha has always been a symbol of grace and beauty. A tattoo that has fine artistic strokes, a perfect blend of colors and an oriental touch…that's how one would describe this tattoo for men. It is a piece of art worth showing off.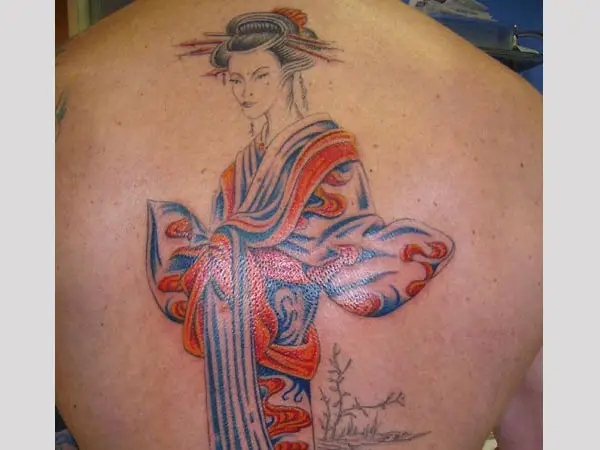 The Macho Style
To emphasize the macho look even a small tattoo will do. But when the entire arm is tattooed along its length line in this picture, the effect can be quite devastating. The human-like central figure with a design in swirls framing it is the wearer's pride.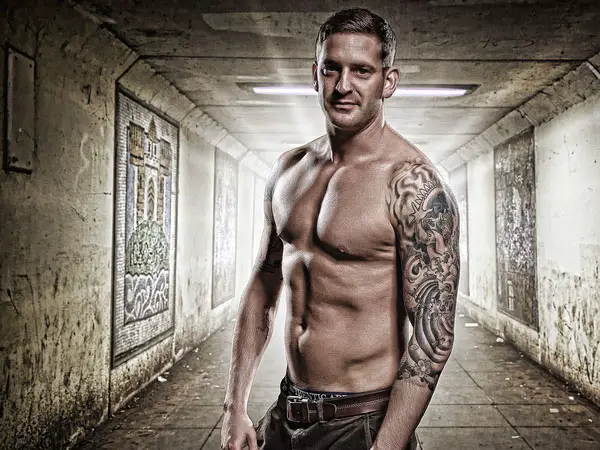 Seeking True Love
This tattoo is very explicit in its message. The letters are asking for love that is as pure as a mother's is. The letters of the tattoo form a design showing how even simple letters can look classic.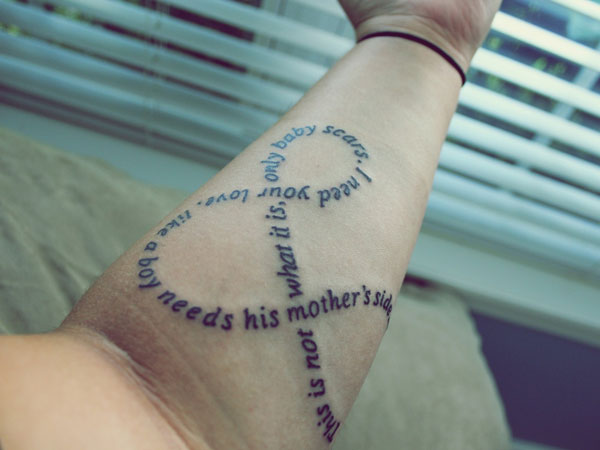 Seeking True Love
Geometrical Art
Geometrical shapes have a timeless appeal whether it is clothes, accessories or tattoos. This tattoo with a dark and bold design shows a circle within a star. The lines are simple but have a strong symmetry that shows artistic precision.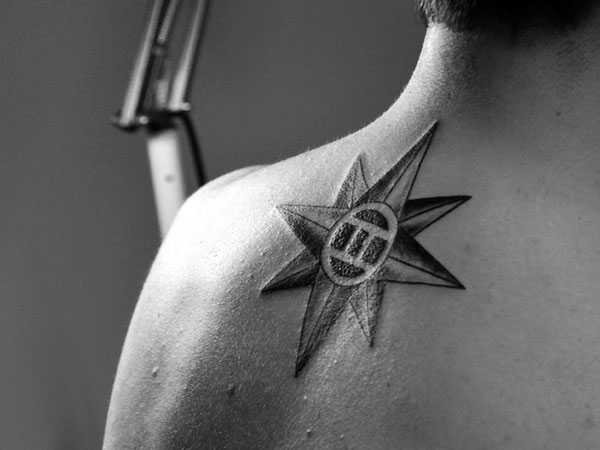 Geometrical Art
If you like this article, you might be interested in some of our other articles on  Knuckle Tattoos,  Hand Tattoos,  Prison Tattoos,  Gangster Tattoos.