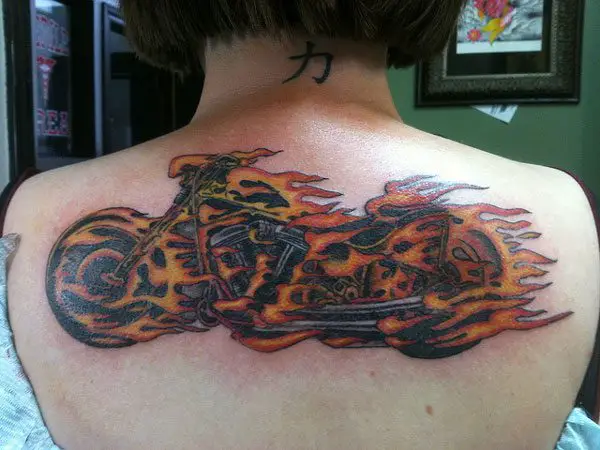 Motorcycles are symbols of status, power, speed and control. They come in a variety of styles, makes and designs. In the same way, motorcycle tattoos come in various shapes and sizes. Some look simple yet tell you the same message whereas others are a little more colorful and trendy. Most men like bikes to cars, especially when they are young. So owning a bike that is classy with high horse power is a matter of pride. Then, why will the tattoo not be?
Motorcycle tattoos usually are designed in simple black and gray shades.
The simplicity of the colors is not matched by the designs because there is a huge variety of designs one can pick from. There are those which only focus on the speeding quality of the bike. Then some combine the horror theme along with the bike theme. Then again some have just the usual bike and rider with the full ensemble of dark glasses, leather garments, gloves, etc. in a tattoo form. There is no limit to the imagination where bike tattoos are concerned.
If you like this article, you might be interested in some of our other articles on Pirate Tattoos, Gangster Tattoos, Sailor Tattoos and Chicano Tattoos.
Splashing Color
This motorcycle tattoo is a showpiece and meant to be a fashion statement. Of course one can't miss the man's love for motorcycles! The bike has been tattooed so artistically that one almost feels as if it is moving.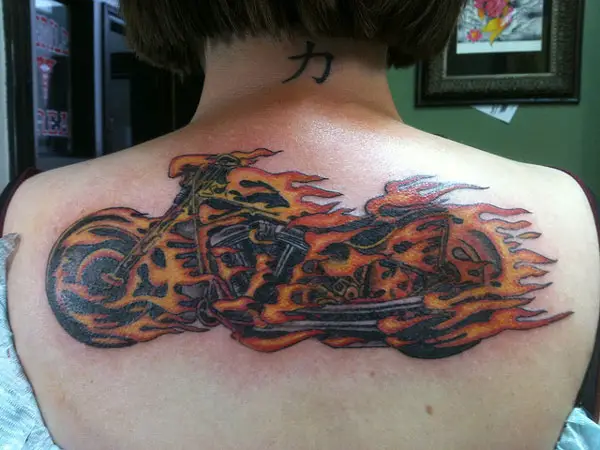 Stylish Motorcyclist
The green-blue color used in this motorcycle tattoo has brightened up the simplicity of this design. The biker is in full regalia with sunglasses and jacket to suit the stylish bike.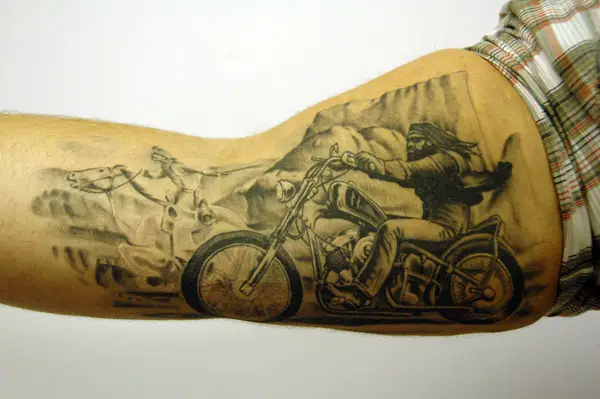 The King of Bikes
How can there be a motorcycle tattoo without mentioning a Harley Davidson? This tattoo brings out the perfect design and style of the bike with sharply etched outlines and blue filling.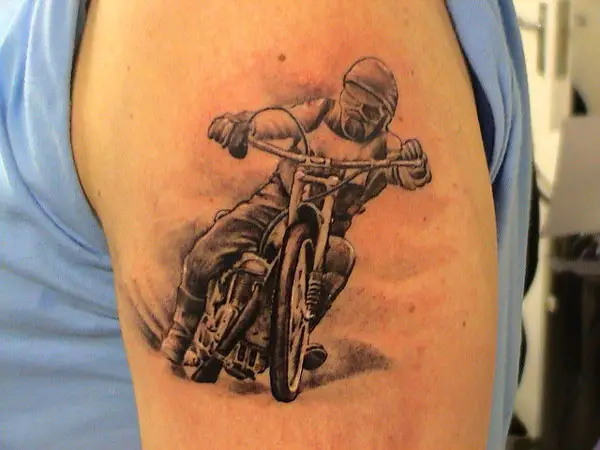 A horror theme with a motorcycle theme for a tattoo is definitely new. The skull like faces and the huge bike, the chain and the harpoon, all combine together to create a tattoo with a dark theme, whatever the wearer's intention may be!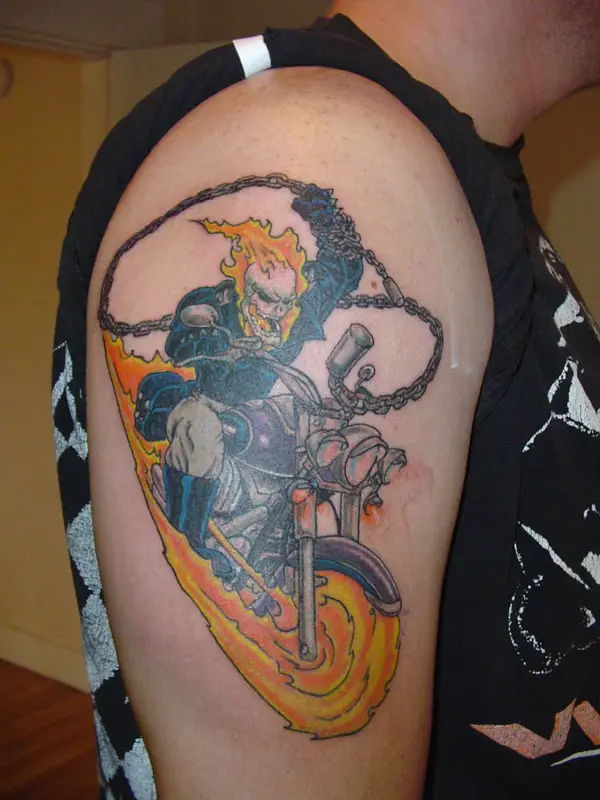 Artist's Expression
This motorcycle tattoo is truly brilliant. Despite not having many colors, its simple lines and shading has made it an artist's pride and wearer's joy. It looks almost as if it going to zoom past.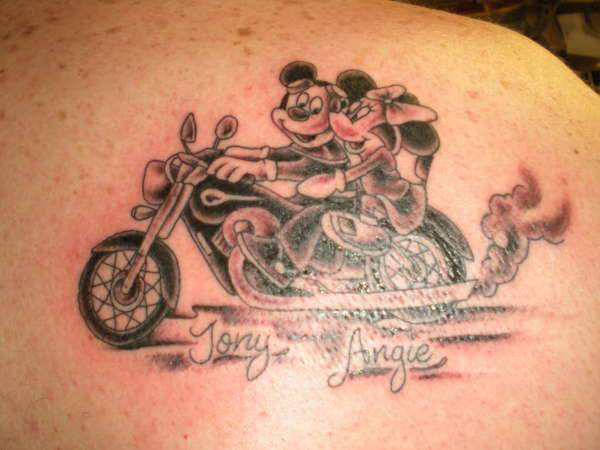 Flashing Past
Bikes have a stylish look even when they are in simple colors. Add a splash of red and you have a masterpiece. This bike tattoo is superb with its artistic shading and smooth contours.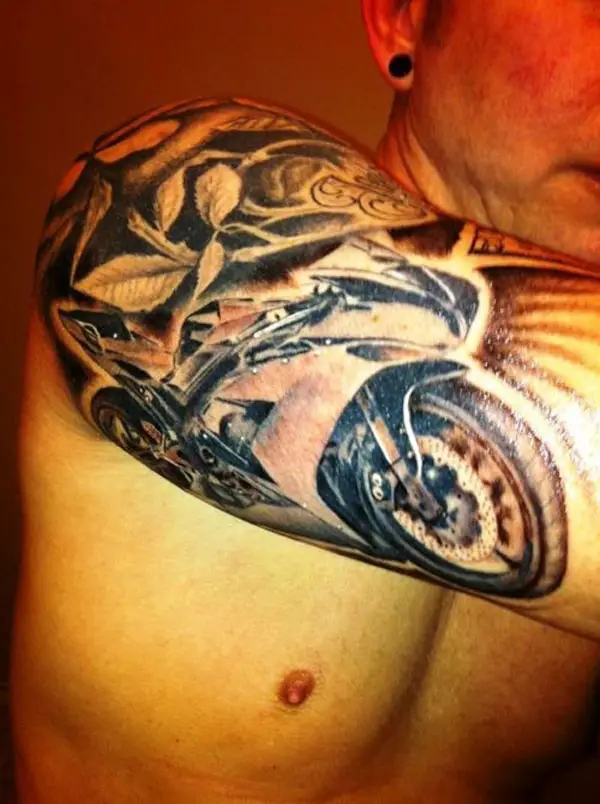 Love Ride
Mickey Mouse and Mini are two cartoon characters that epitomize love. This bike tattoo shows them going on a motorcycle ride with happy smiles. Tony and Angie's love too seems to have the same everlasting quality.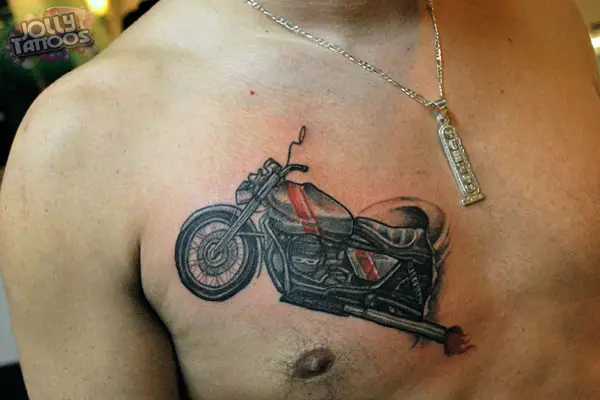 Heavy Duty Bike
This bike tattoo depicts a man who likes a heavy-duty bike with a lot of power. The rider is all togged up to suit a motorcycle ride. The tattoo is an artistic splendor making the man come alive and the bike look as it is about to take off.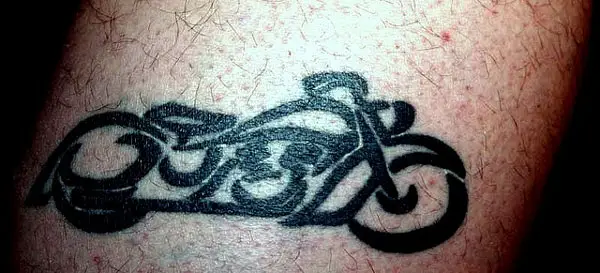 Demons and Chains
This demon with his chain like weapons and skull like face is all set to ride a high-powered motorcycle that he doesn't deserve. But his evil intentions are reflected in the fire trail around him.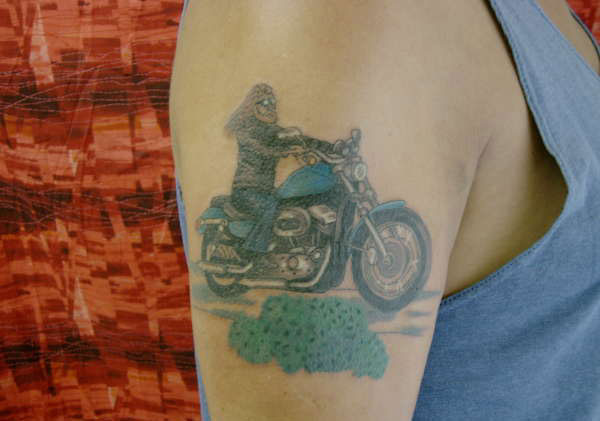 Skeletal Ride
A skeleton riding a motorcycle must be the most unusual tattoo in the world. But this takes the cake for its artistic creativity. The tattoo displays how just black and gray shades can create a classic tattoo.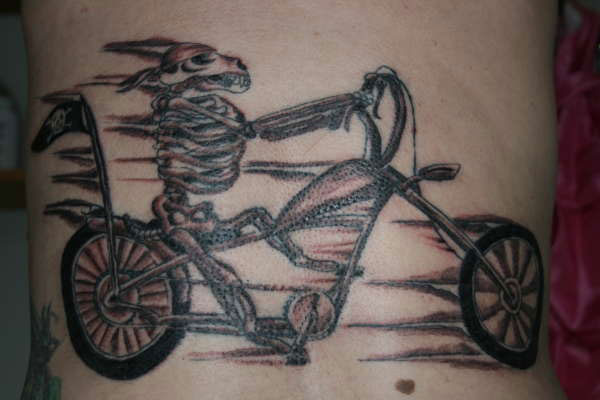 Horse Power
This is an example of brilliance where tattoo art is concerned. The bike rider not only looks as if he is about to shoot off, but the shadowy horses in the background look as if they are moving. This tattoo is class apart.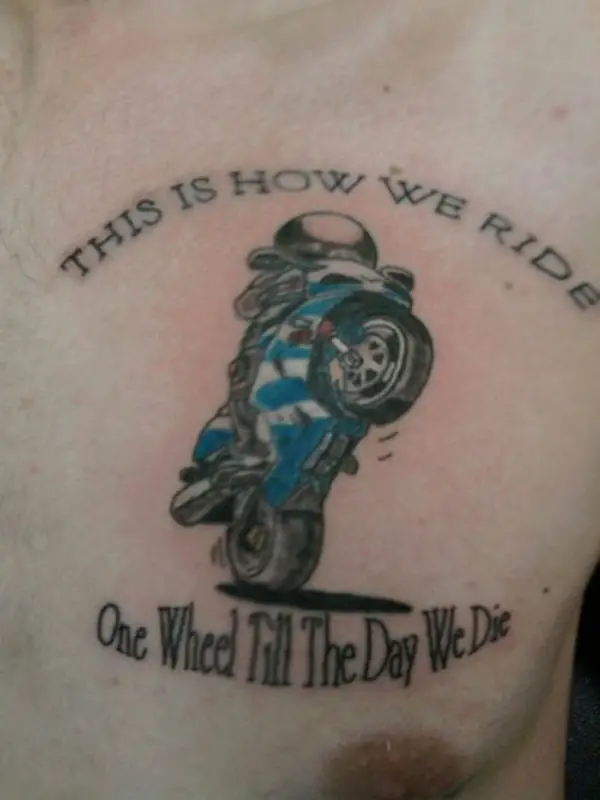 Speed It Up
When you think of motorcycles you think of speed. This motorcycle tattoo seems to define speed. The bike is tattooed in such a way that it looks as if it is leaning forward in anticipation of zooming off into the horizon.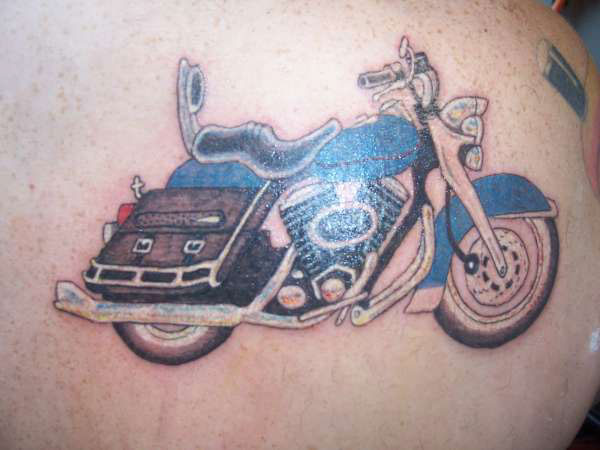 Love for a Bike
People love their vehicles, gadgets and gizmos. This man expresses his liking for bikes by sporting a small motorcycle tattoo in simple lines on his chest. The design is small but stylish.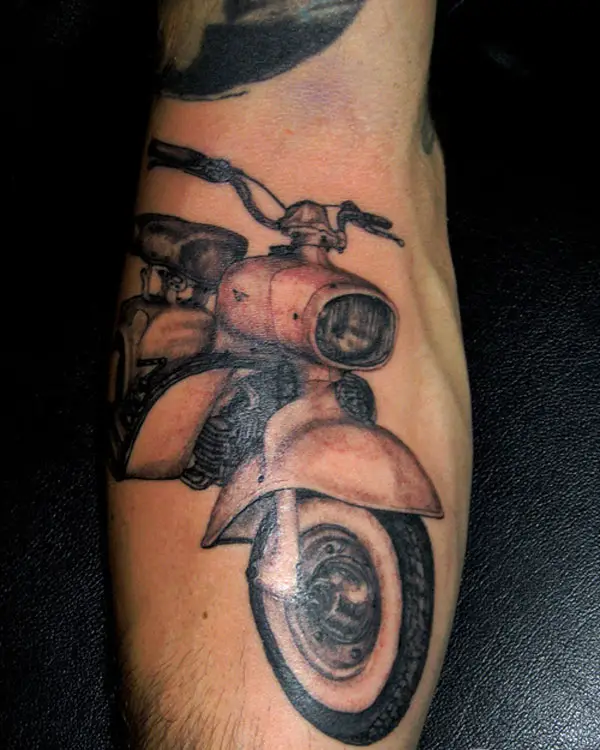 Terrible Trio
This is a blatant display of artistic freedom. The three skull-headed bike riders going in three different directions spell power and doom. The graffiti art combines to form a very vivid picture despite the fact that only black and gray have been used for most of the design.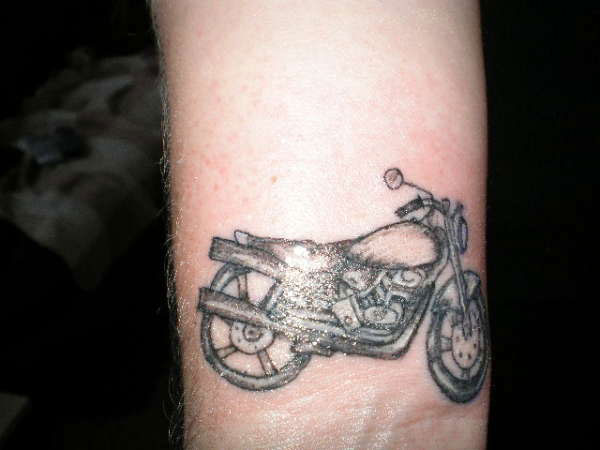 Fire Power
This motorcycle tattoo is very explicit in its design. This bike is obviously way above other bikes where speed is concerned. It has a fire power that no other bike can match. The orange flames say a lot.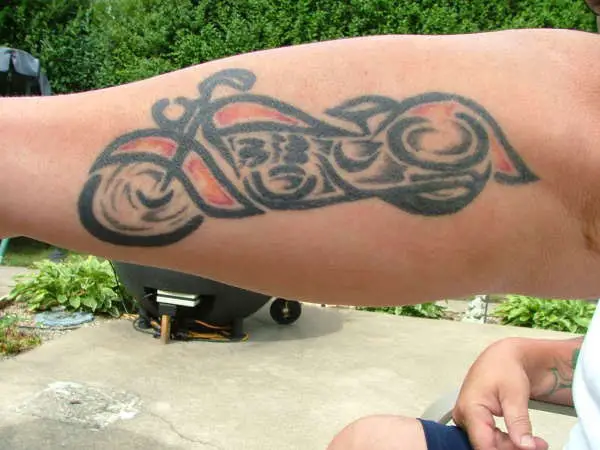 Gearing for Speed
This motorcycle tattoo has brought the biker alive in its simple yet classic design. The rider will probably zoom off at break-neck speed before you say the word "tattoo"!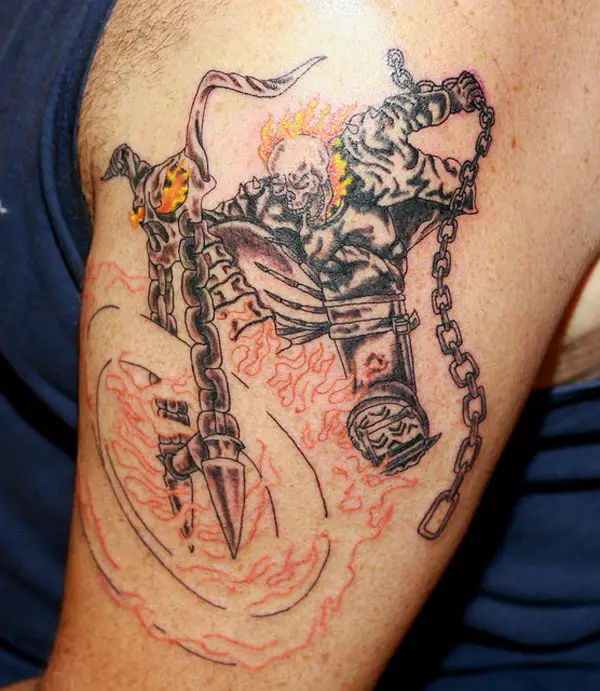 Style Bike
This motorcycle tattoo is purely a style statement. The design in black and gray with just a strip of red is a simplistic design with a touch of class. Every part of the bike has been carefully tattooed to make it almost real.
The Racer
Is the girl in this tattoo racing ahead of everyone on her stylish bike? Or maybe she is a super girl is going on a mission to save the world from doom. This tattoo is truly creative and imaginative.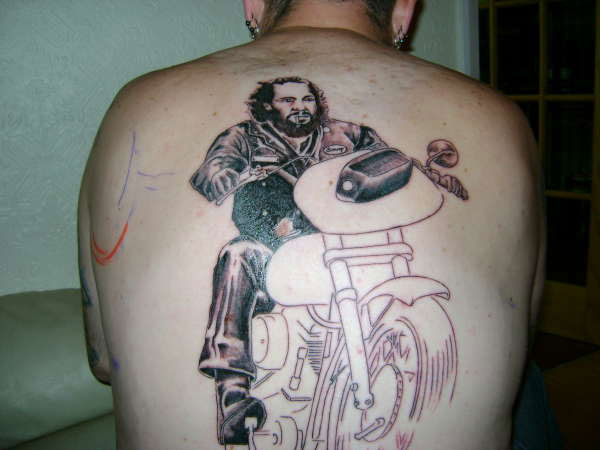 Scooter Tattoo
Just black and gray can create such a splendid image. This motorcycle tattoo is designed in simple strokes to make it look as if it is real. Every part of the wheel and handlebars can be seen to perfection.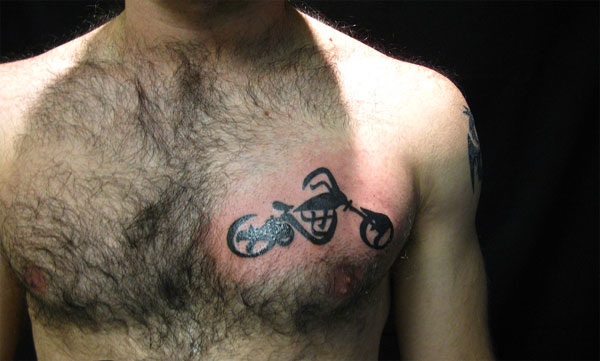 One  Riding
This is a tattoo that spells the words control and speed. The horse power of this bike is obviously worth testing, so says the biker when riding on the back wheel. This motorcycle tattoo is stylish and unique in its concept.