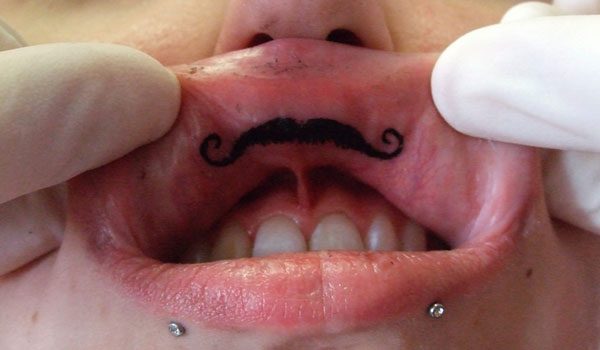 With a graceful arch and associations with romantic kisses, Lip Tattoos are the perfect symbols of love and romance. If you enjoy romancing life, or want to celebrate a great relationship, you can get a lips tattoo anywhere on your body. Imagine a permanent kiss on your wrist or one on your beautiful back, and you get an idea of how hot a lips tattoo can be. You can also get naughty with a pretty lips tattoo right near your waistline.
You can also pair Lip Tattoos with your favorite quote about life by screen goddess Marilyn Monroe.
Or go for a simple name tattoo with lips alongside your lover's name.
You can go for pirate skulls to touch up the design of lips, or try a design with fantasy ships within evil-looking lips. While red is a great color for lips theme tattoos, black has a bold and graphic effect. For a really cool look you can get inked with a design showing black lips combined with pirate skulls. You can get tattoos inked right on your lips so that they remain easily visible. Words are a great tattoo for lips as they keep the look simple yet effective. Tiny symbols also look great as tattoos for lips. The arched shapes of lips look great when you pair them with different designs.
If you like this article, you might be interested in some of our other articles on Crazy Tattoos, Ugly Tattoos, Inner Lip Tattoos and Stupid Tattoos.
Lip Macho
A graphic design style pair of lips inlaid with a pirate skull theme this is a great single color tattoo.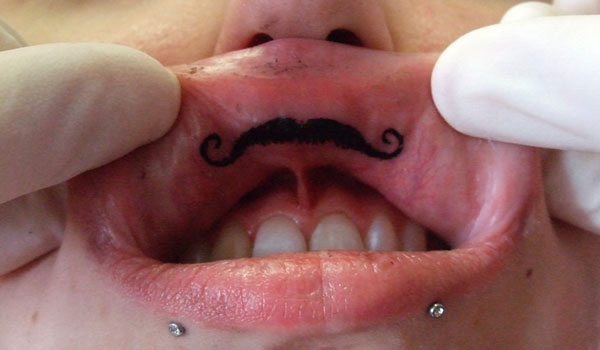 Question On My Lip
Life is an amazing series of questions. You can get one inked with a question mark on your lip.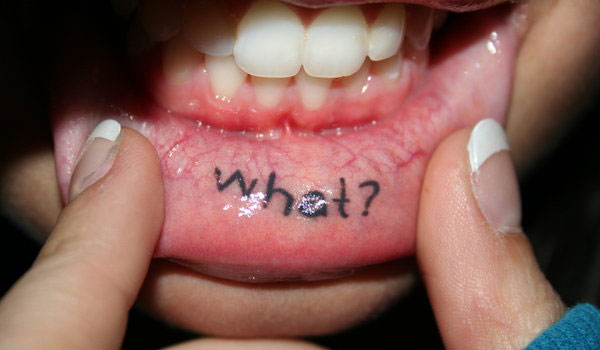 Skull Lip Tattoo
Flash your dark side right on your lips with a cool black skull lower lip tattoo.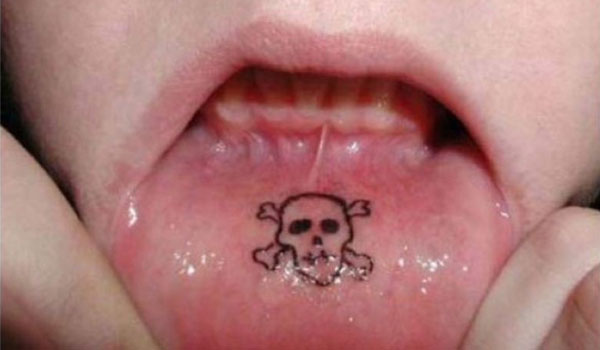 Skull Lip Tattoo
Fantastic Idea
Red lips with black outlines is a fantastic finger tattoo design to play with.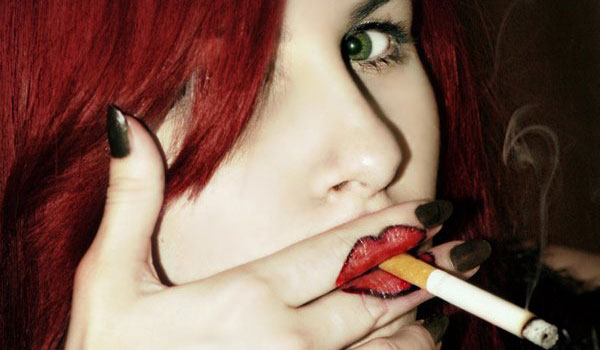 Gift Lip Tattoo
Everyday is a gift. Celebrate with a gift bow tattoo on your lower lip.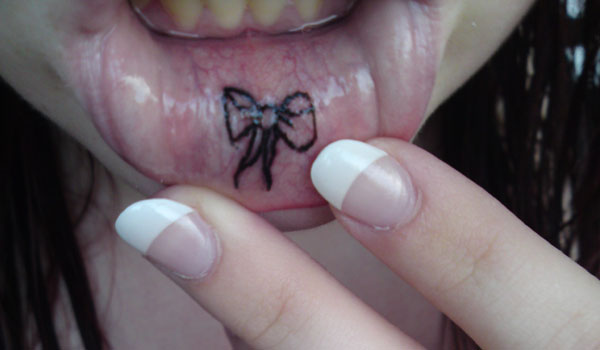 Respect On My Lips
Respect is such a powerful word to get tattooed on your lips. Check out the small lettered tattoo with this deep word.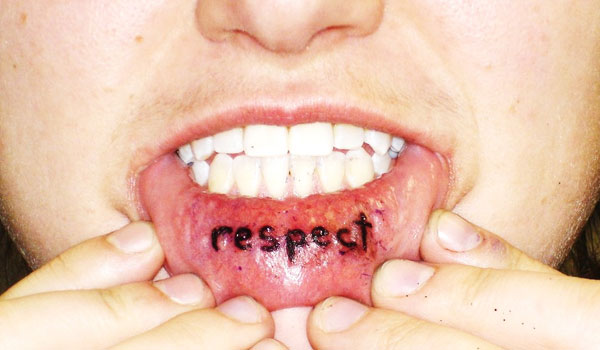 Eye Lips Tattoo
If you want to create a sensation with your tattoo this design with a purple eyeball locked in by lips is just perfect.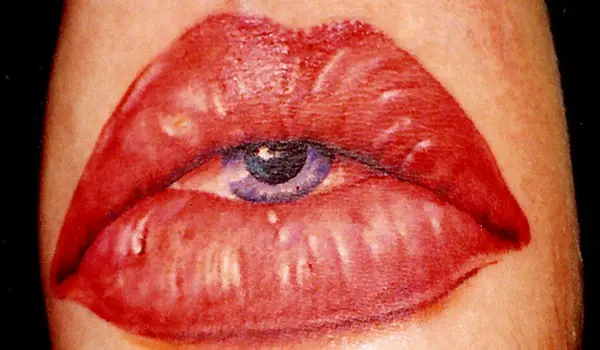 Tiny Lip Tattoo
You can get a lip tattoo of a 'pi' symbol to sit near the middle of your lower lip.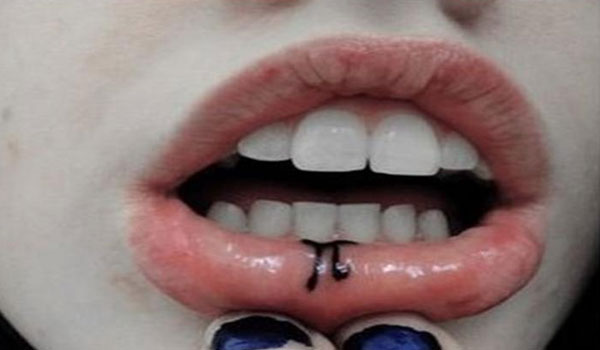 Net Lip
Insects can be a great lip tattoo inspiration. Check out the spider net tattoo inside the lips.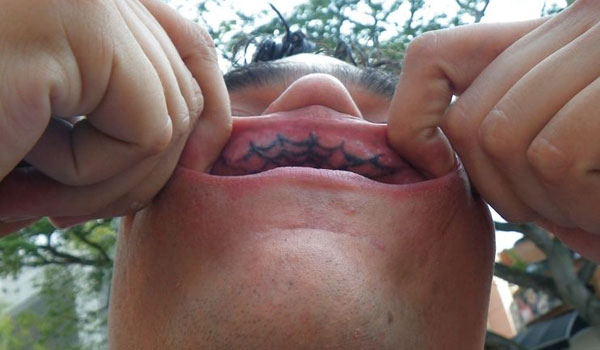 I Love Louise
You can look super hot with stylish red lips and your lover's name inked on your arm.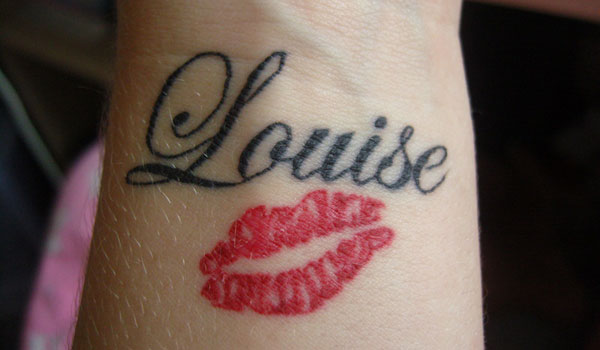 Marilyn Tattoo
Love the golden screen goddess, Marilyn Monroe? Get a tattoo with her name inked alongside beautiful red lips for the style.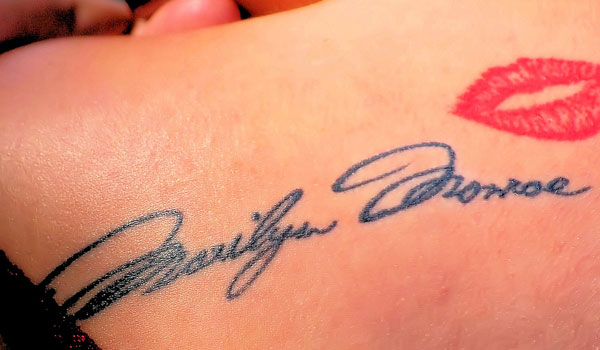 One Last Kiss
A great way to celebrate a breakup is with this tattoo with lips and the words 'One Last Kiss'.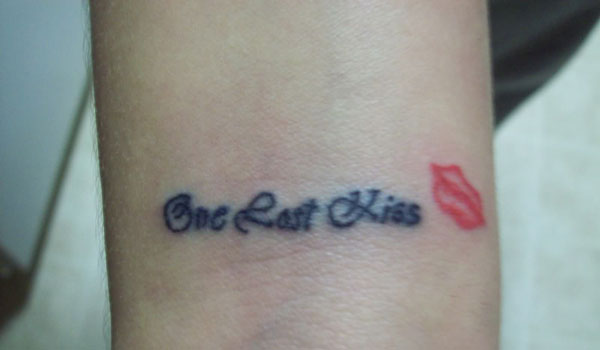 Crazy Lips
Life is crazy, and you can simply celebrate with a 'Crazy' tattoo inked on your lip.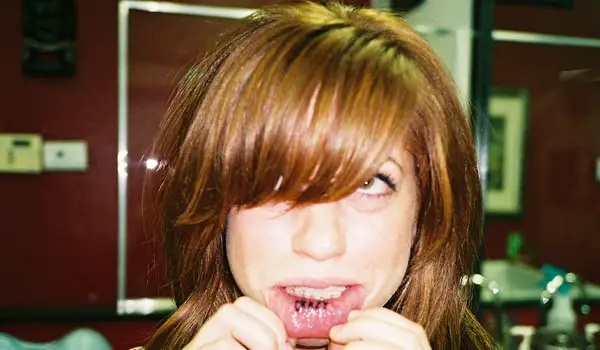 Bare Back Kiss
Designed like a pair of lips this is a perfect tattoo for your beautiful bare back.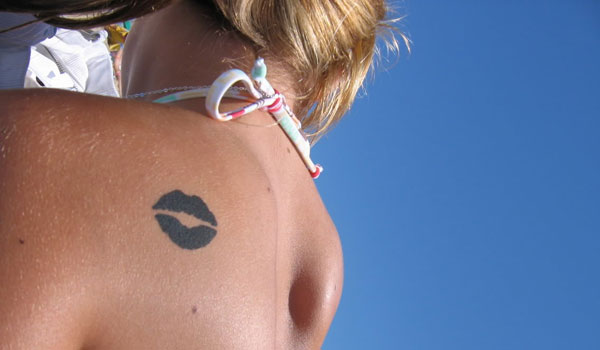 Power To Refuse
Your lips are yours to refuse or share with anyone in a kiss. Express this idea with a 'Refuse' tattoo on your lower lip.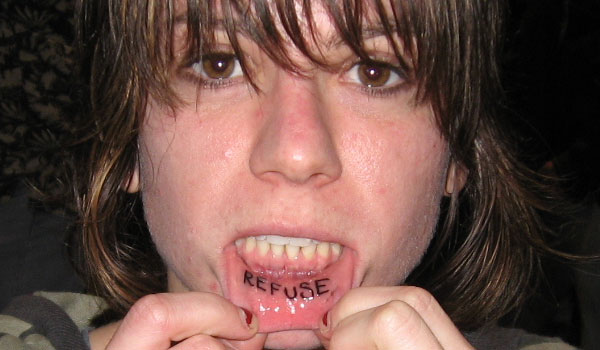 Self-Confidence Tattoo
This script tattoo in a flowing style with red lips is a great design below your shoulder-blade.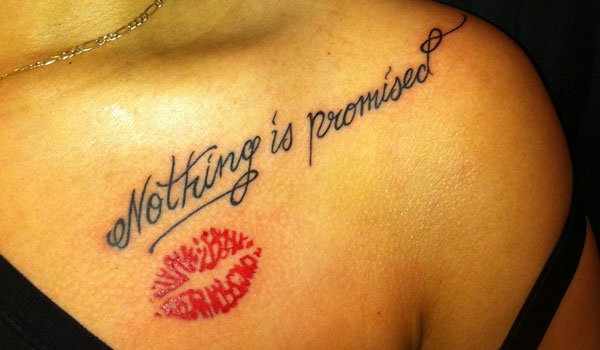 Self-Confidence Tattoo
Free Lips
When you chant the song of freedom let your lips show the 'Free' tattoo art.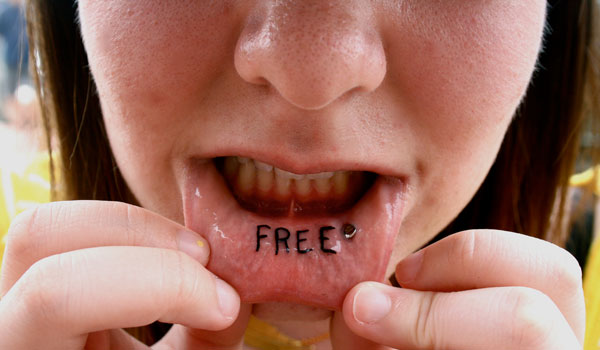 Ship In My Lips
This colorful tattoo comes straight out of fantasy with a design of a storm-tossed ship locked inside evil-looking lips.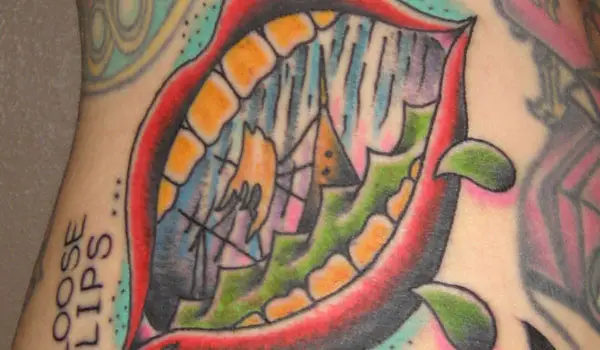 Vegan Love
If you are a newly turned vegan you can celebrate with this word tattoo on your lips.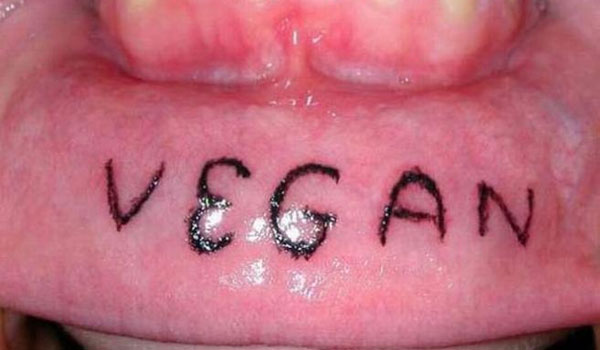 Vegan Love
Red Kiss
This tattoo of lipsticked red lips in a kiss is just great if you want a neck tattoo that turns heads.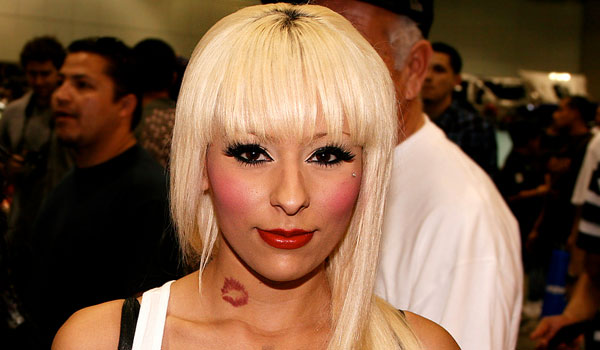 Sexy Chest Tattoo
Get yourself a permanent lip tattoo on your chest to add to your great looks.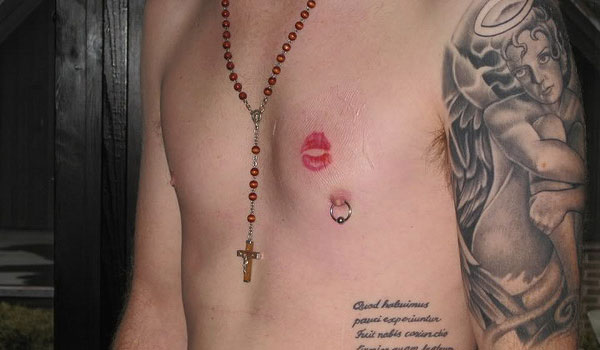 Passion Redefined
Show off your passionate side with a super large red lip tattoo right on your arm.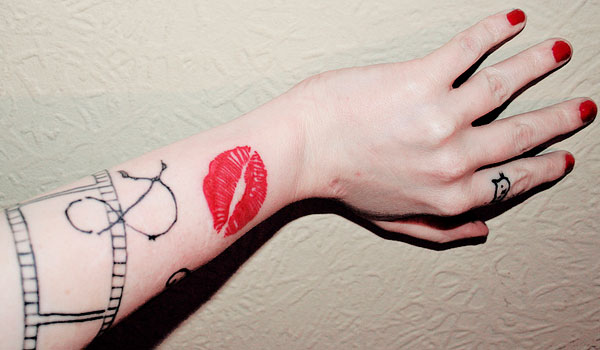 Pirate Lips
Looking for a cool back tattoo? This lip design tattoo with a black skull shape is just perfect.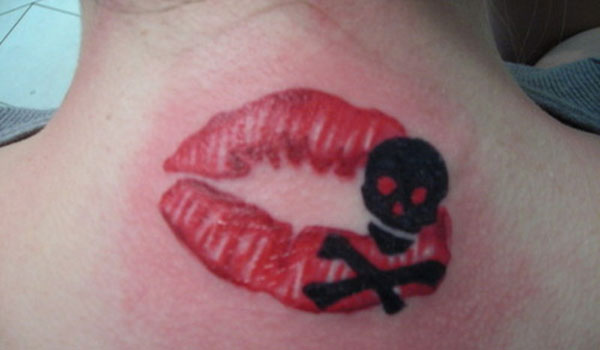 Kiss Tattoo
You can get an attractive open pair of red lips as a tattoo right below one of your shoulder blades.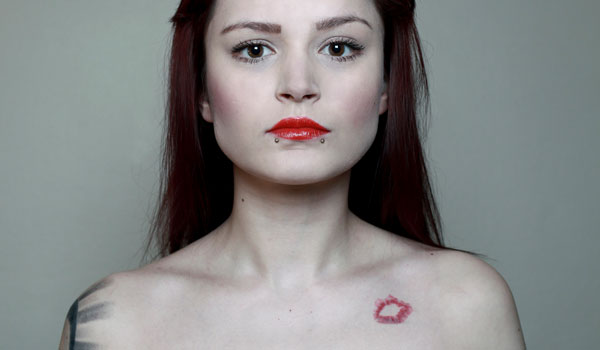 Private Tattoo
When you are with your lover showing off a red lips tattoo near your waistline can be a really romantic idea.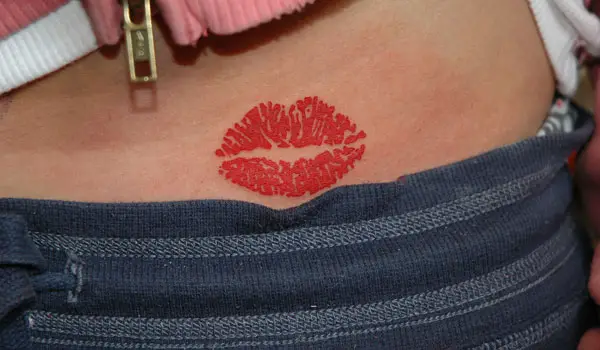 Amazing Lip
Try a word you find really interesting as a tattoo for your lower lip. Get it inked in bold like this 'Zombie' lip tattoo.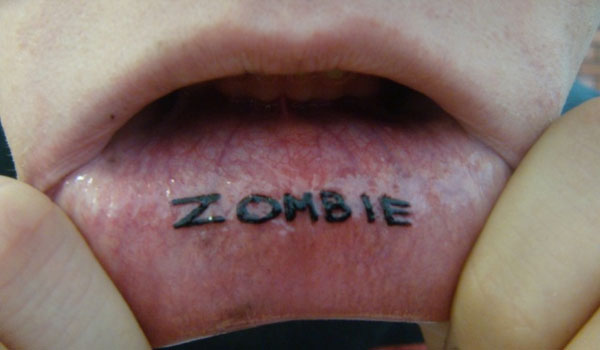 Amazing Lip
New Tattoo
You can get wild with a piece of body art inked on your lip. A word tattoo works really well.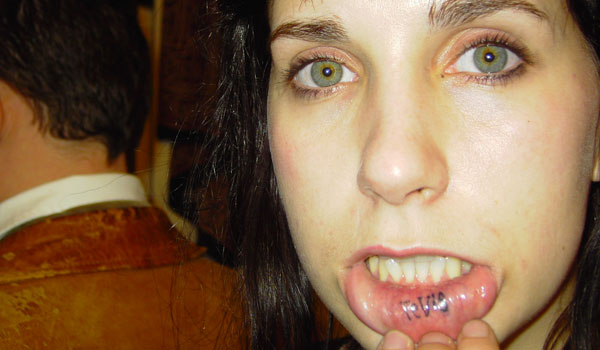 My Love Tattoo
Express your love in this Italian language tattoo with red lips to complete the design.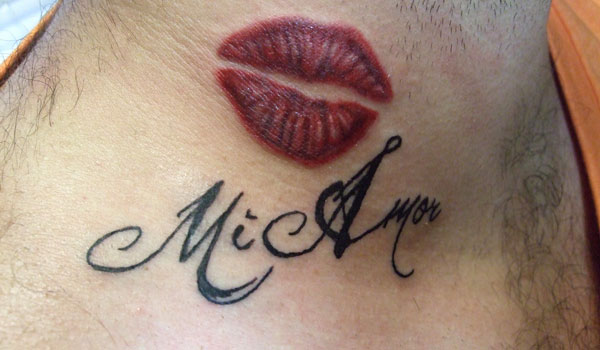 Rock It!
Get into rock n roll mode with this perfectly inked tattoo with 'rock n roll' on your lower lip.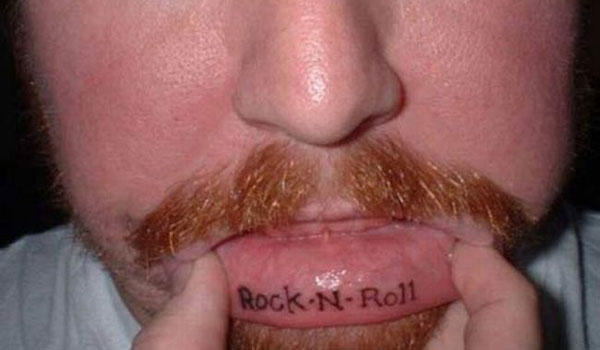 Evil Lips Tattoo
This design in red with touches of black and white shows evil lips with a long flowing tongue. It's a great upper arm tattoo.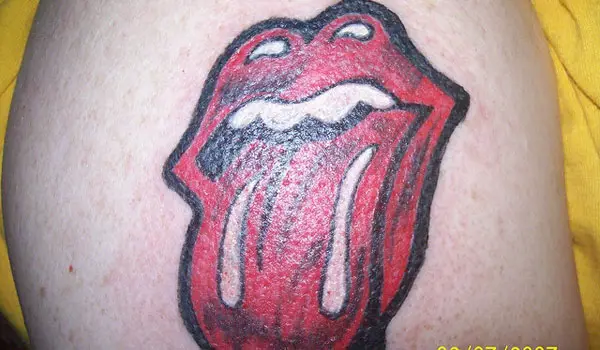 Death By Lips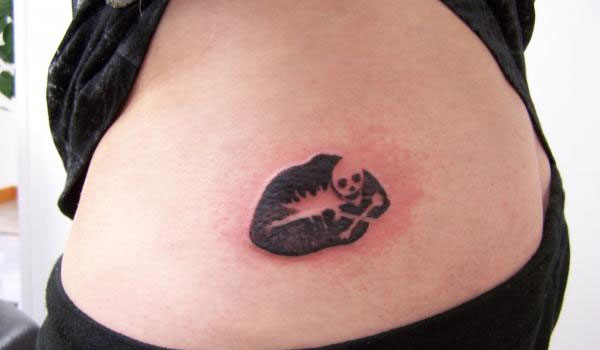 Wrist Kiss Tattoo
Shaded with dark lines to set off the red lips this is a bold wrist tattoo.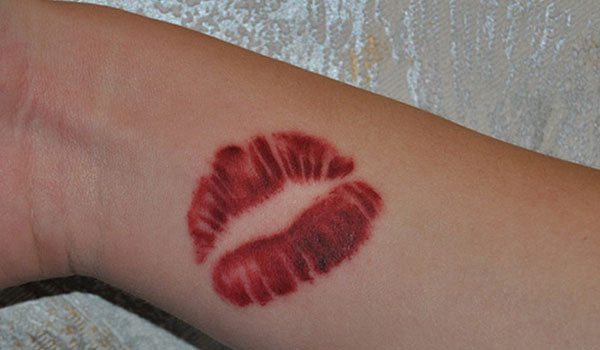 French Style
This tattoo with a naughty mood looks really cool with lipsticked a red lips design.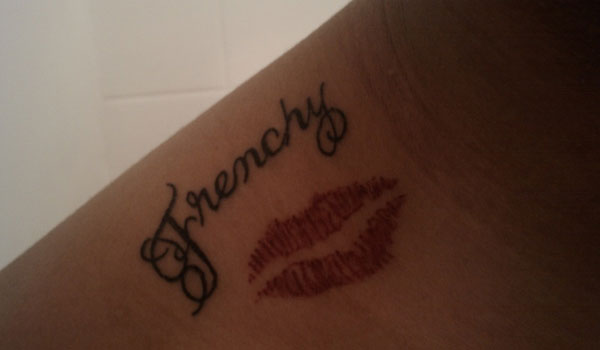 Racy Tattoo
You can get really romantic with this great lips design tattoo near your sexy waistline.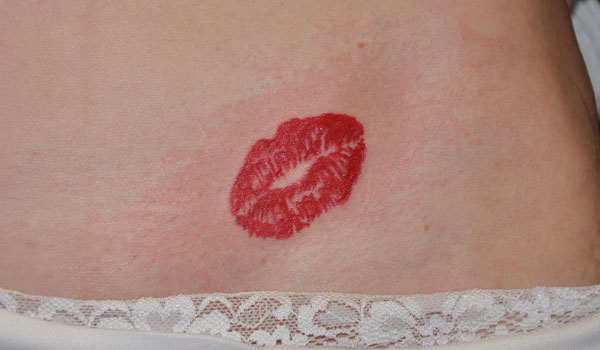 Mom Tattoo
Celebrate your love for the baby inside you with this beautiful red lips tattoo.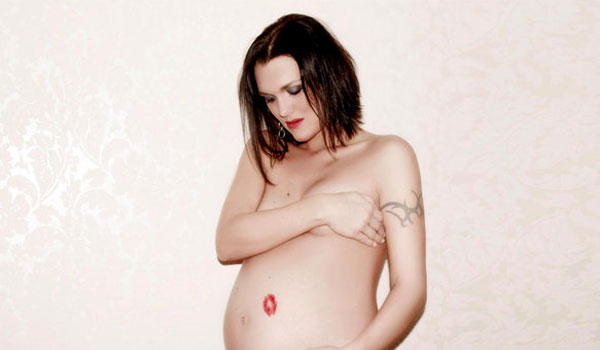 Wicked Design
Get your wicked side out to play with a lip tattoo like this with the word 'Rogue' inked.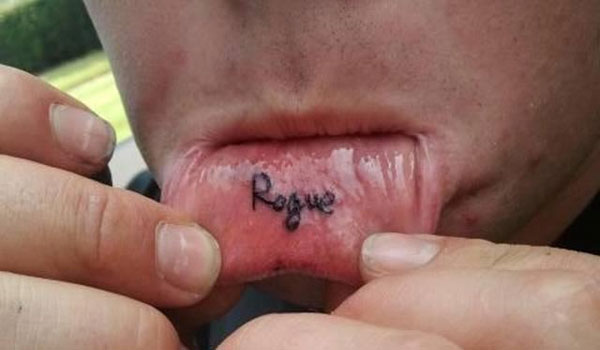 Lip Design
Traced with fresh red lines with a realistic effect this sexy pair of lips is a great tattoo anywhere on your body.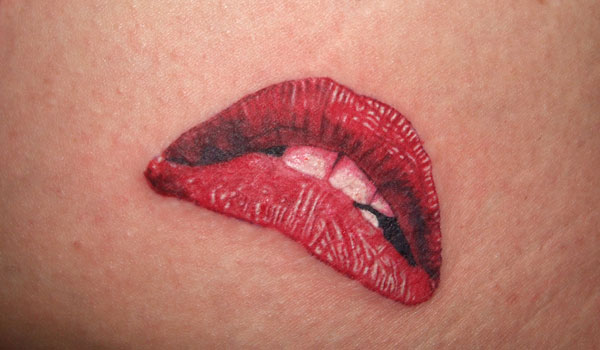 Bad Mood
If you are in a nasty grouchy mood this can be just the perfect piece of body art.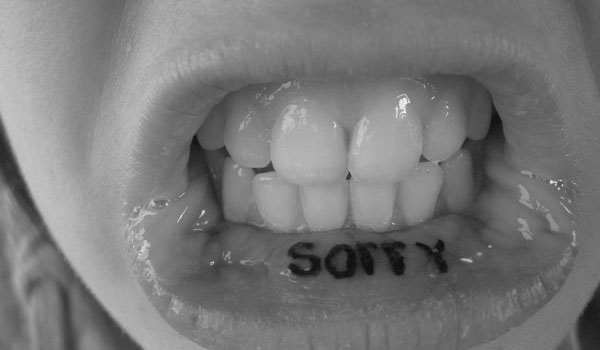 Quote Monroe Tattoo
Monroe had many beautiful quotes about living life that make perfect tattoos. Check out this flowing script tattoo with red lips inked.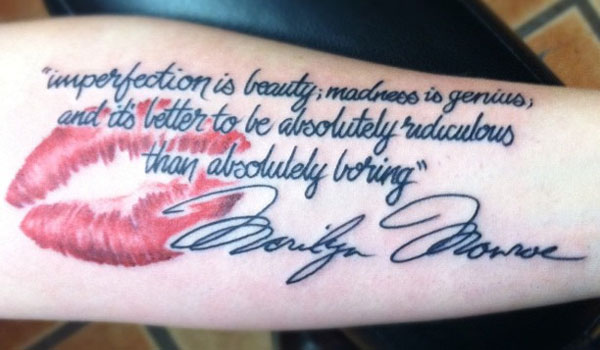 Devil's Own
What better place to get the number of the devil inked than on your lips? This tattoo shows you how.