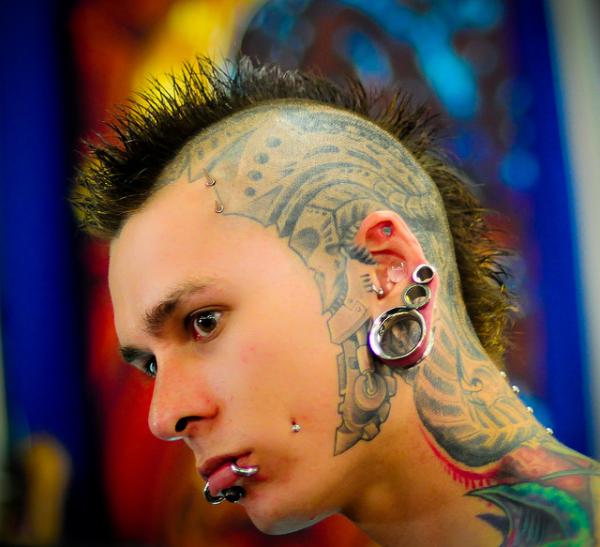 Today's article packs passion, action and extreme fanaticism for tattooing. Crazy tattoos, the sight of which is enough to petrify you to the core of your heart, are actually worn with pride by these extraordinary enthusiasts. You need not only be passionate but mad about tattoo art to sport such eye-popping designs on your body for all your life.
Amazing out-of-the-world concepts for full back or sometimes full body pieces are spectacular. Not only the designs, but locations which these enthusiasts may choose are even more surprising. For instance this very list includes a mind-blowing full face tattoo and brain-ripping head piece, which look remarkable.
Take a look below for more fabulous crazy tattoos.
If you like this article, you might be interested in some of our other articles on Old School Tattoos, Owl Tattoos, Octopus Tattoos and Snake Tattoos.
An Artists Palette
Display of extreme body art with an eye-popping head tattoo enhanced with piercings and the Mohawk hairstyle.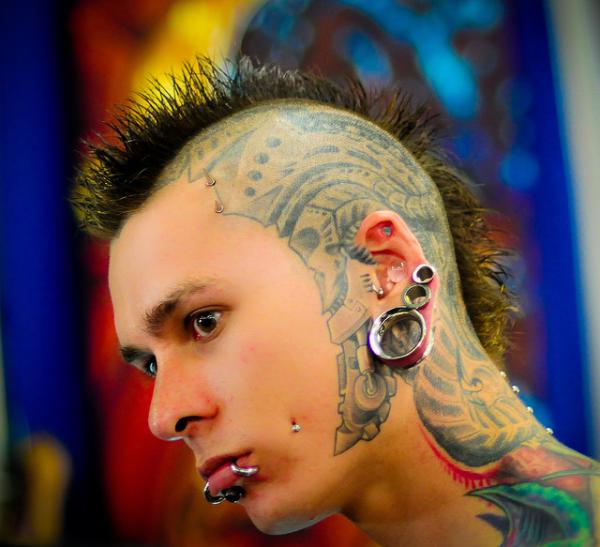 Painting The Roses Red
A sweet rose border encompassing a freaky cards story and jokers.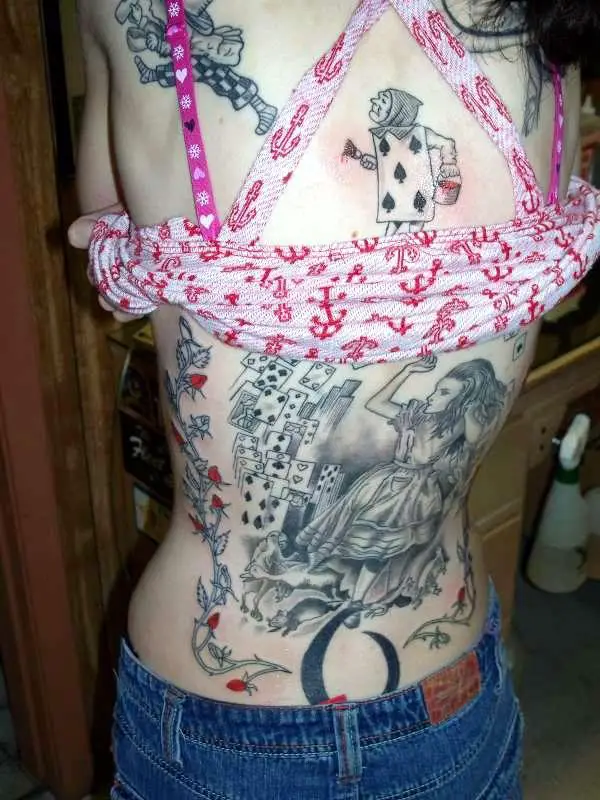 Xed Le Head
An amusing sight of a super tattoo enthusiast inking a super tattoo fanatic.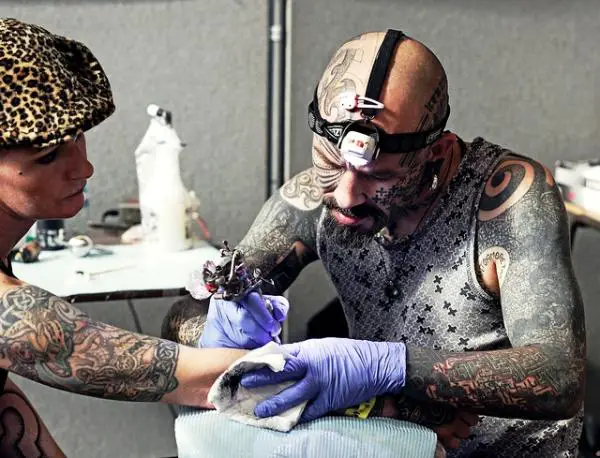 Queen Of Tattoo
Truly a queen of tattoos with ink art flashing all of her body.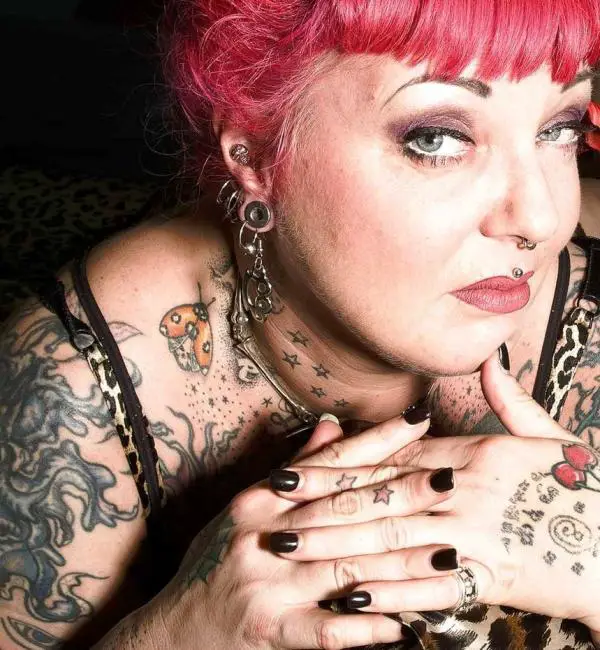 Tatuaje Extremo
Extraordinary enthusiasm for tattooing that looks real head-turner.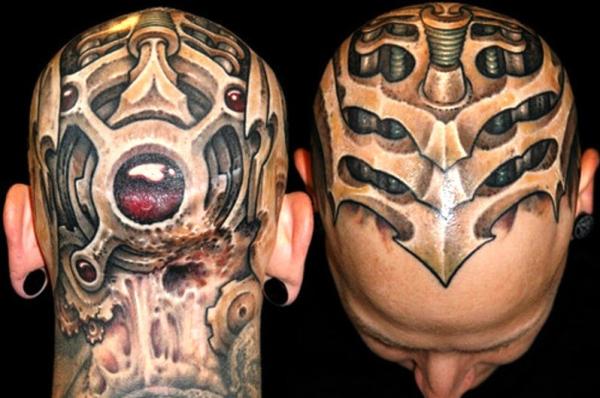 Serious Tribal
Full back tribal piece with a mystic flaming sun and moon in the centre.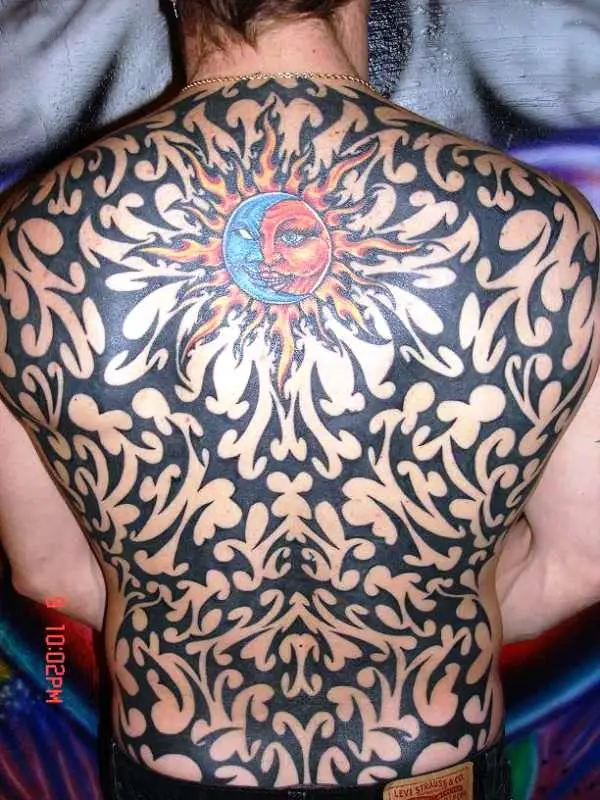 Crazy Back Tattoo
Amazing show of such intense passion for tattooing with terrific concept and details.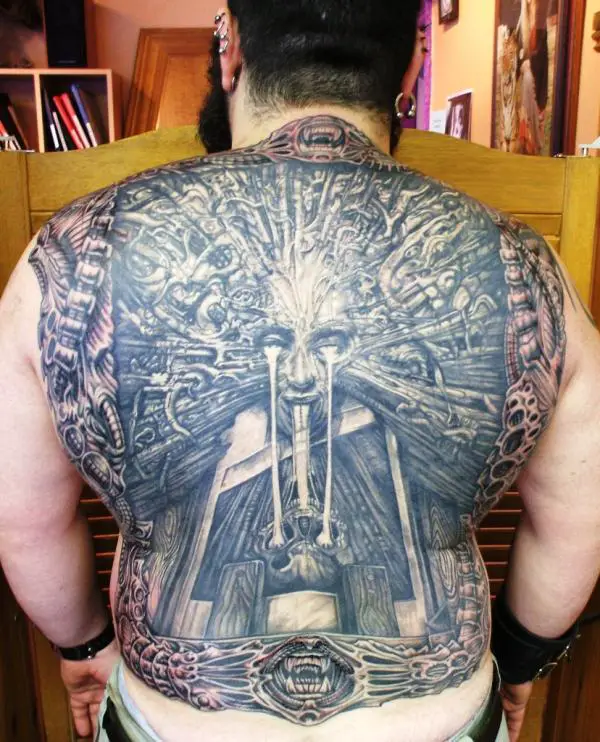 Freaky Wonderland
Incredible artwork featuring a wonderland tale with exotic characters and vivid colors.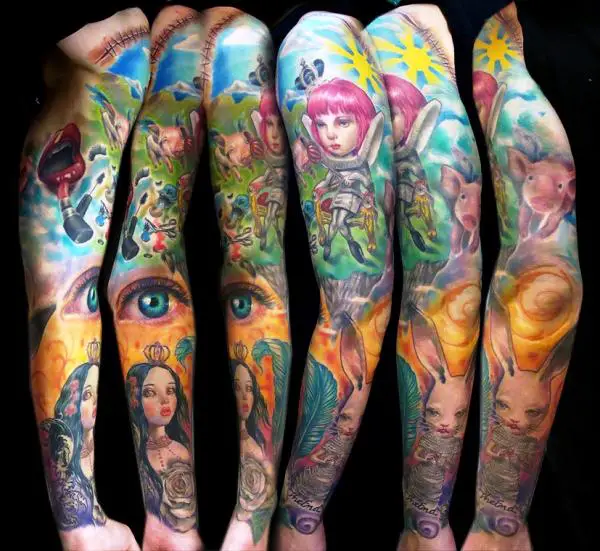 Riton Tee Tattoo
Riton T-shirt design turned into an astounding real tattoo with a fantastic appeal .It's the Rob Koss piece from the tee design.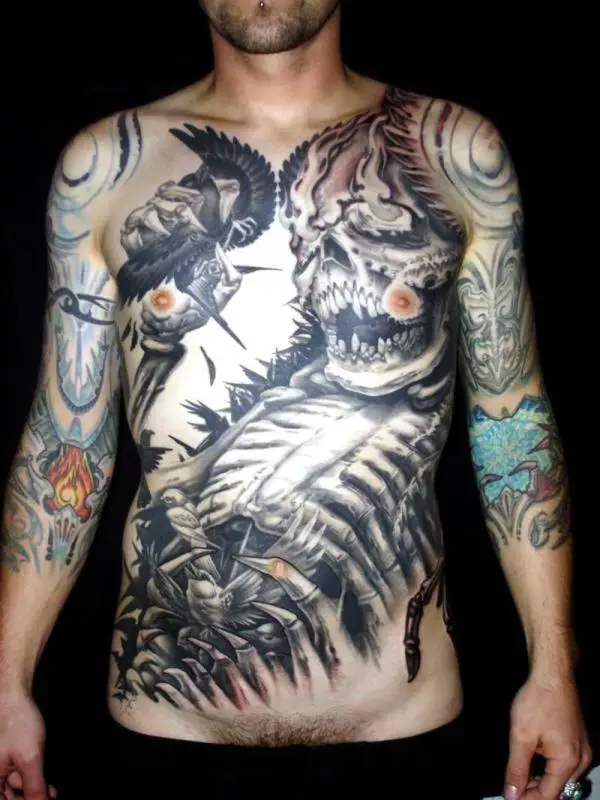 Phoenix Rising
Rising phoenix with a massive dragon making an intricate full back piece with fabulous color treatment.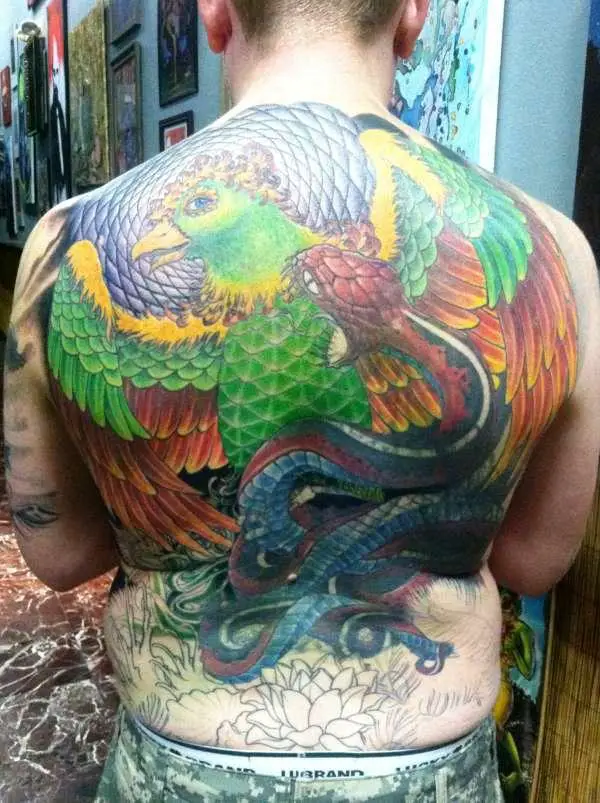 Phoenix Rising
Crazy Boar
A crazy wild boar above stomach for an unusual expression of love for wildlife.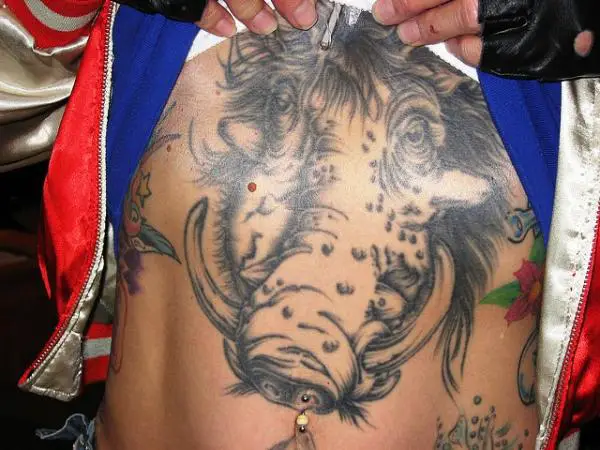 Old School
A ghostly concept tattoo making a crazy front body piece.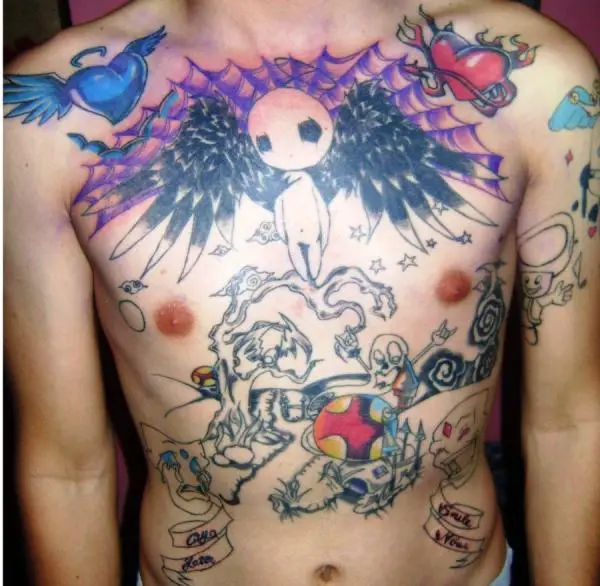 Jigsaw Tattoo
A jigsaw puzzle full back tattoo, if you want to create a baffling sight on your body.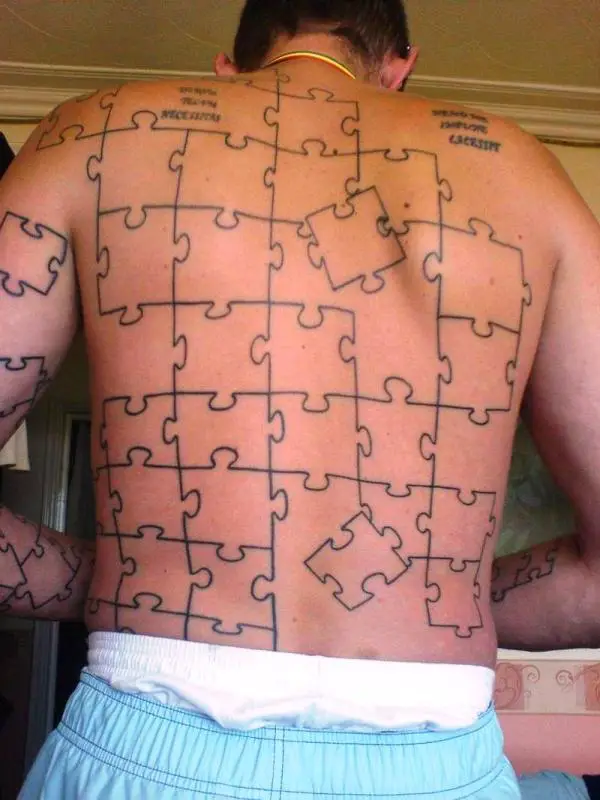 Tree Tattoo Back-piece
A devilish tree with mysterious barks and branches inked all over the back.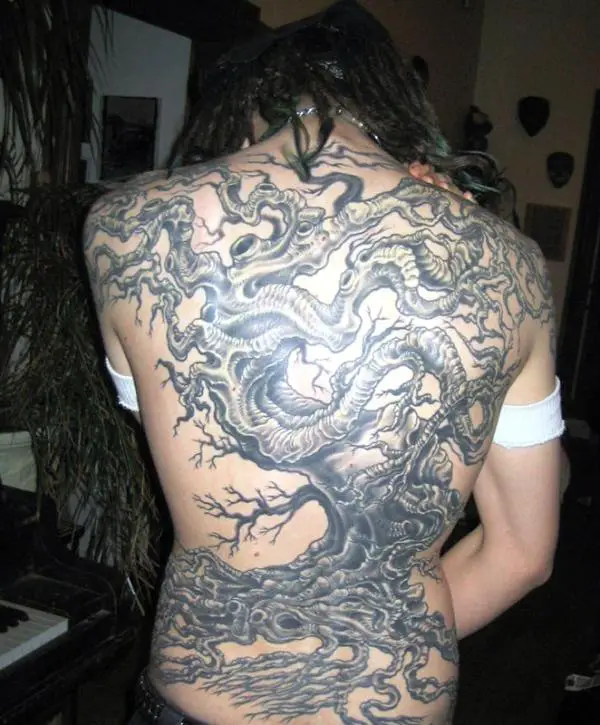 Colored Tribal
An enthusiast who is crazy about wearing tribal designs with different effects.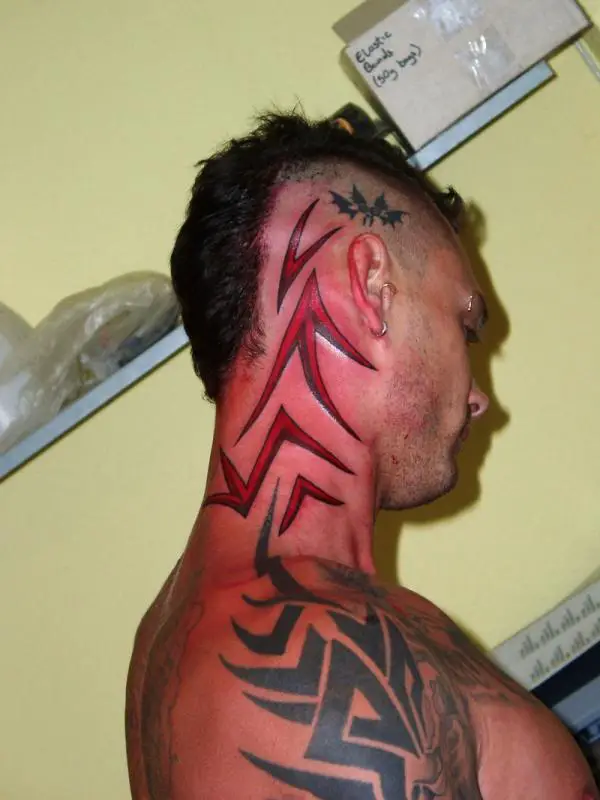 Crazy Face
No words to describe this extremely passionate old man, who has lost his face to the love of tattooing.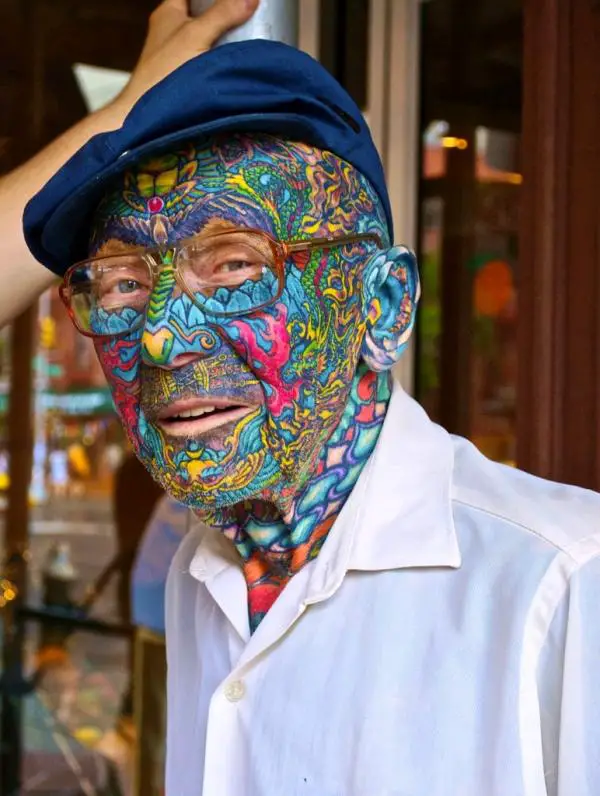 The Reaper Watches and Waits
Immense Reaper in his full attacking mode ruling the entire body and soul of this enthusiast.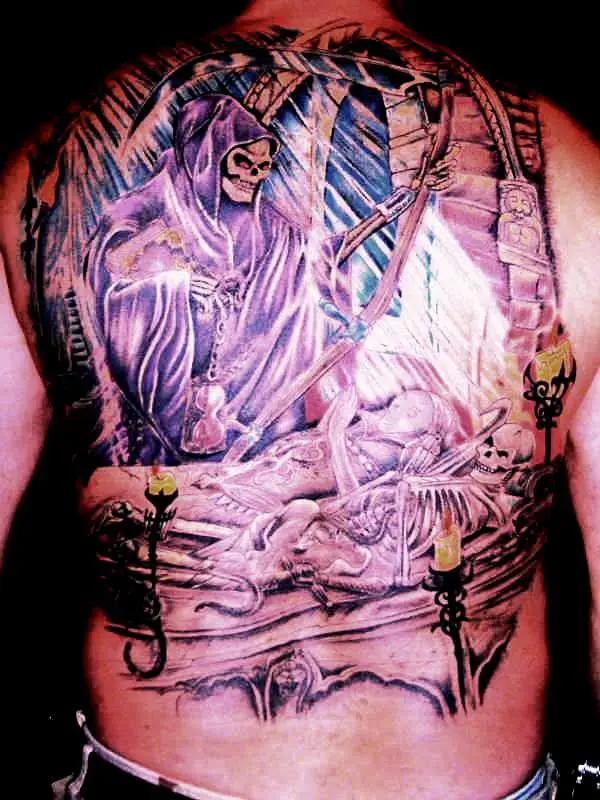 Bacon And Eggs Head Tattoo
Crazy food lover expressing his fanaticism with a bacon and eggs tattoo.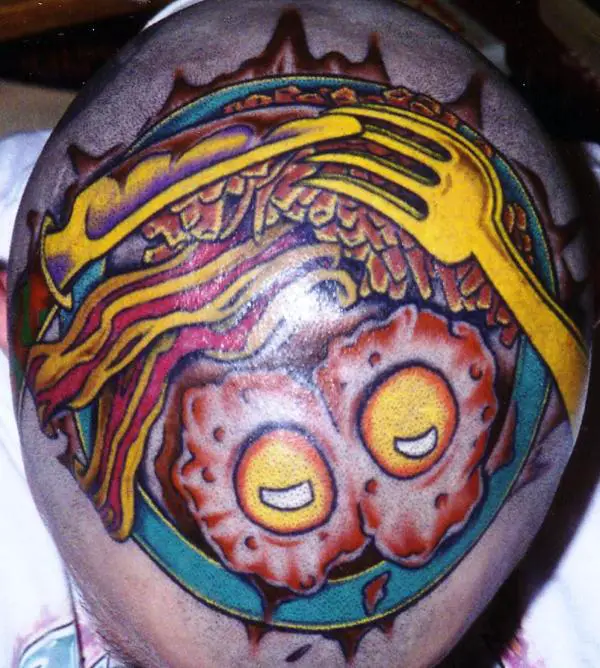 Skull Celtic Back-piece
Gothic skull piece for full back paired with a crow and large Celtic design.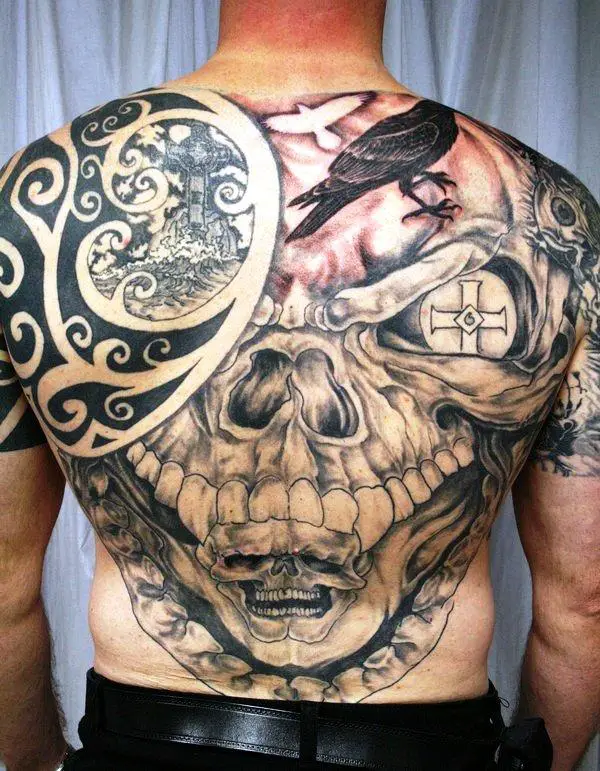 Skull Back Piece
The big deep penetrating eyes of the massive skull piece can scare the onlookers to hell.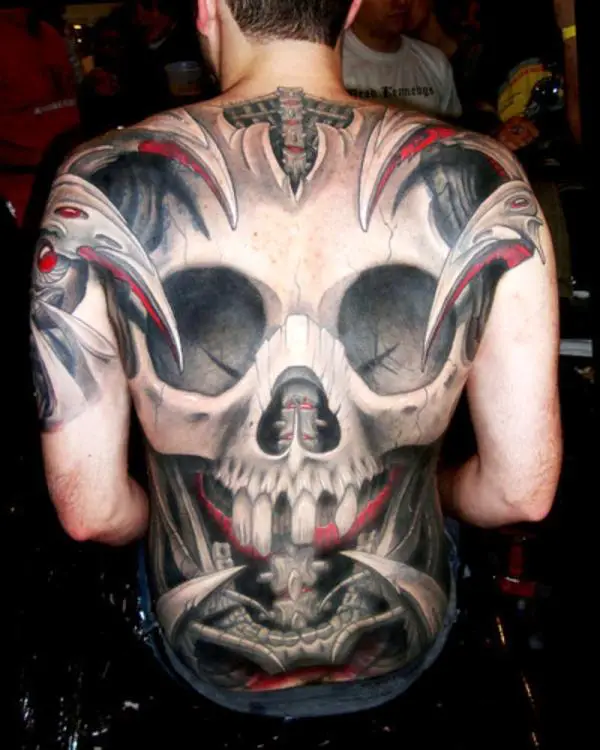 Skull Gun Demon Face
Fantastic skull gun demon firing in all the directions, making it a killer back piece.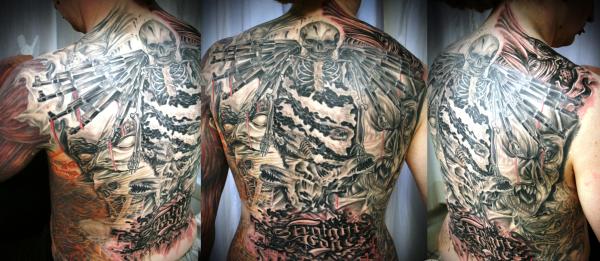 Back piece Tattoo
Crazy would be a small expression to describe this exotic Japanese full back and sleeve tattoo.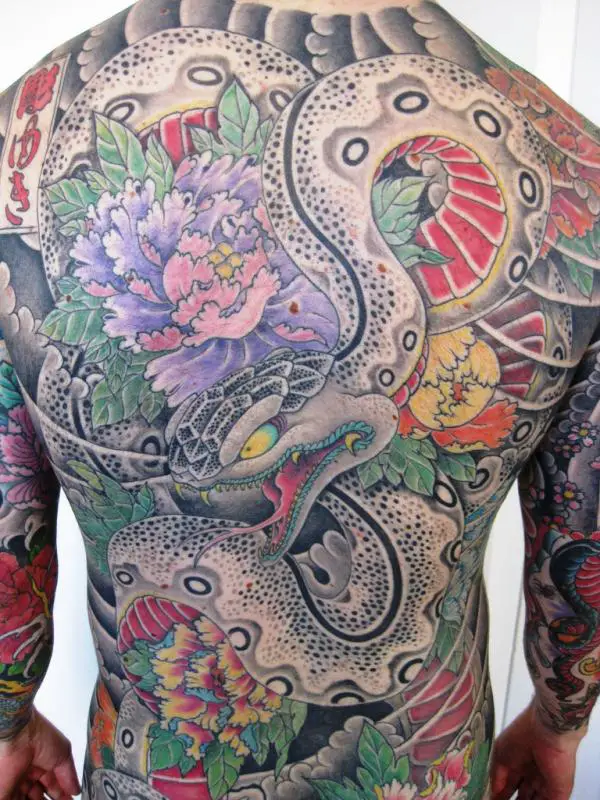 Full Crazy Tattoo
No corner left un-inked. It's a crazy but cool concept to show enthusiasm for out-of-the-box tattoo designs.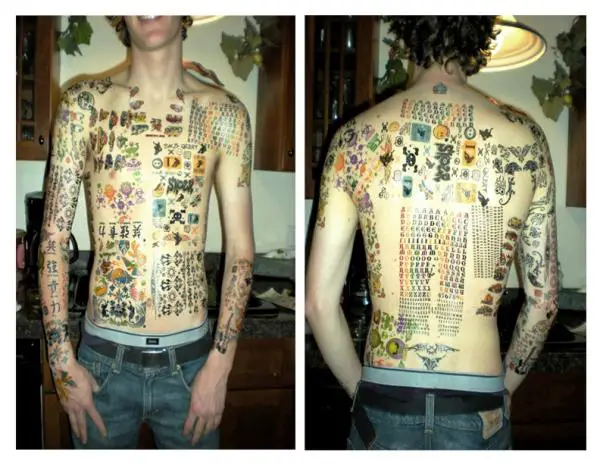 Brothers Head
Seems it's plain devil fantasy in his head, which resulted in this piece.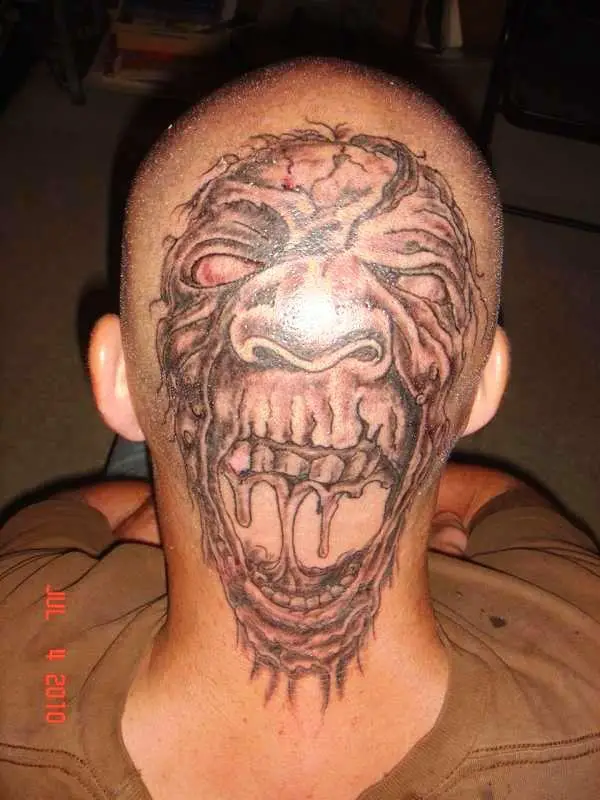 Parade Escort
A face behind a face leaving us curious how the real one must be looking like.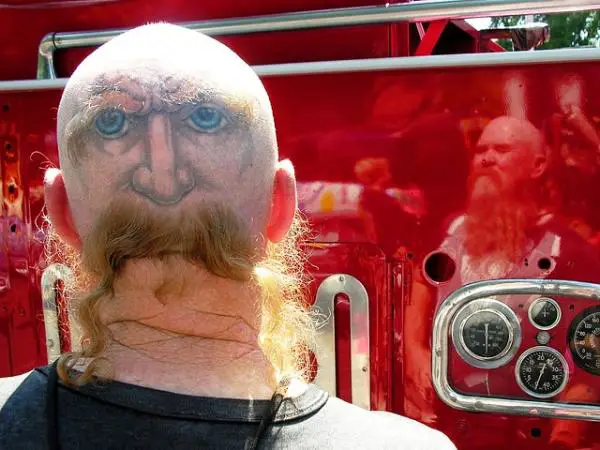 Misfits Bone Glove
A grenade that might have ripped off his hand to show out the bones inside.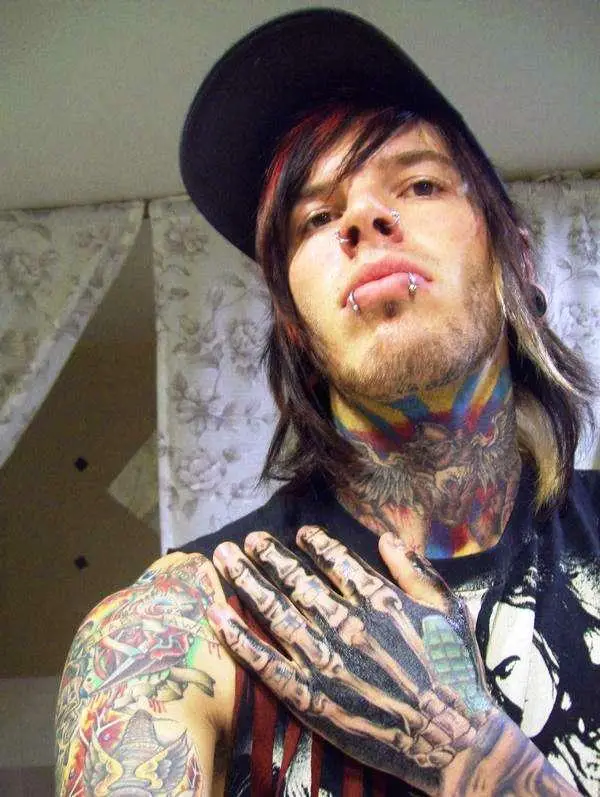 Zombie Tattoo
If someone has a wild fantasy to look like a zombie with a soul, it got to be like this.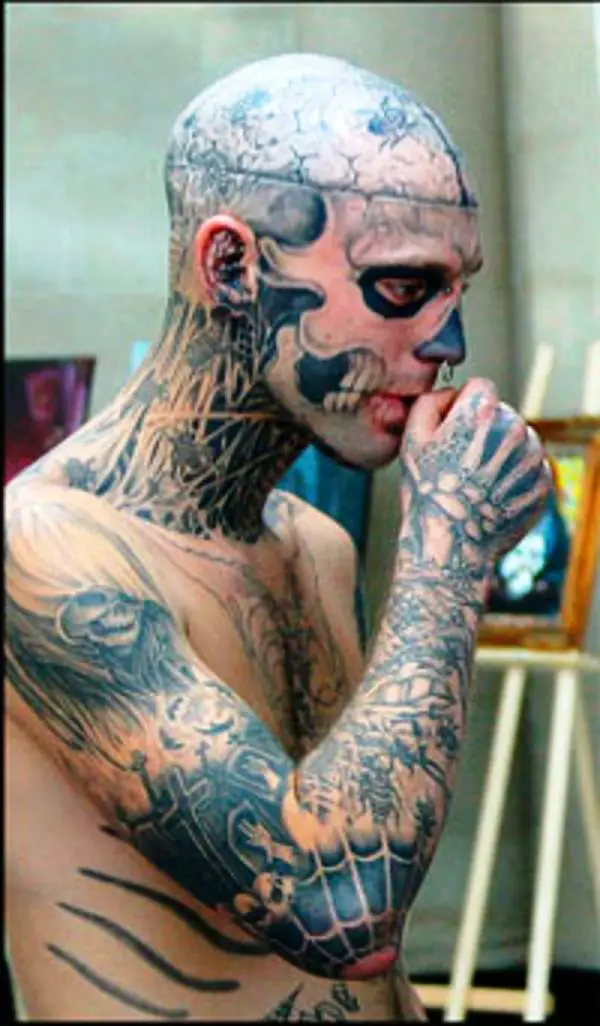 Crazy Eye
He can see all what is going behind his back with this big crazy eye.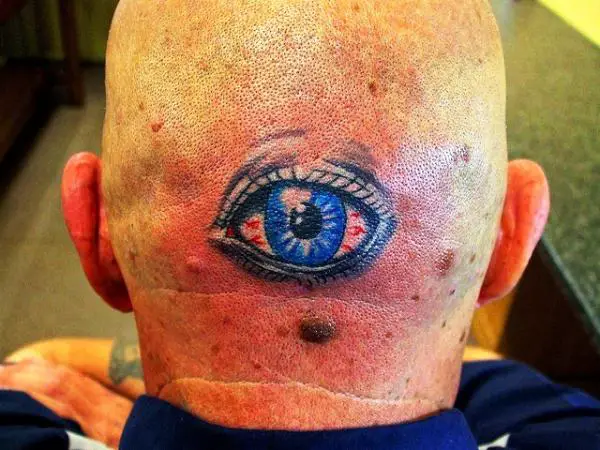 Head And Back
A snake head looking at the destructive Godzilla smashing the God's place.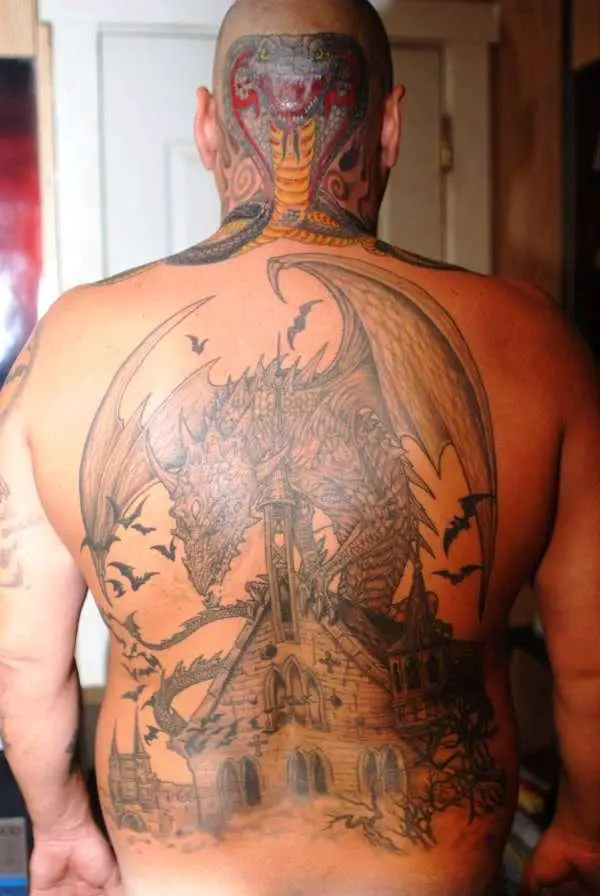 Oni Tattoo
Hungry devil hunting for his human preys with blood drops around him.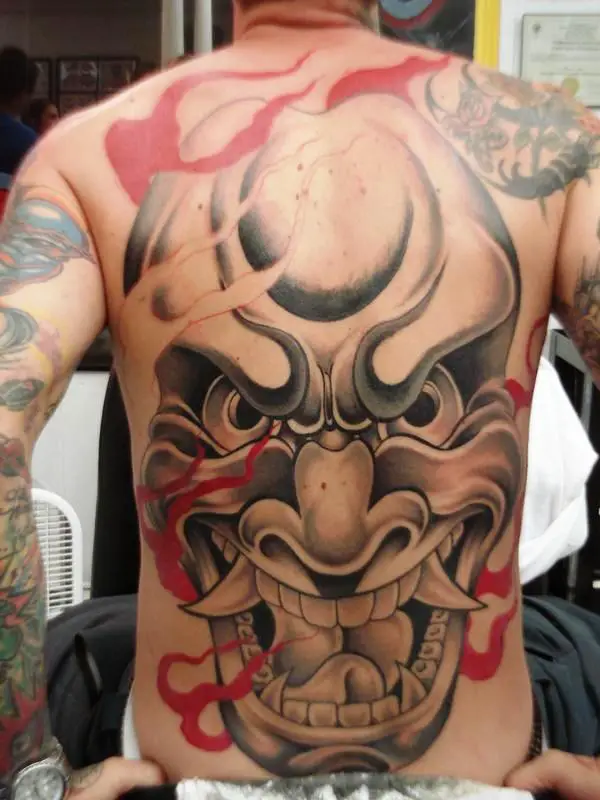 Sam Martin Tattoo
When your back bone is made of metal and rock sturdy elements, you can never fall off your legs.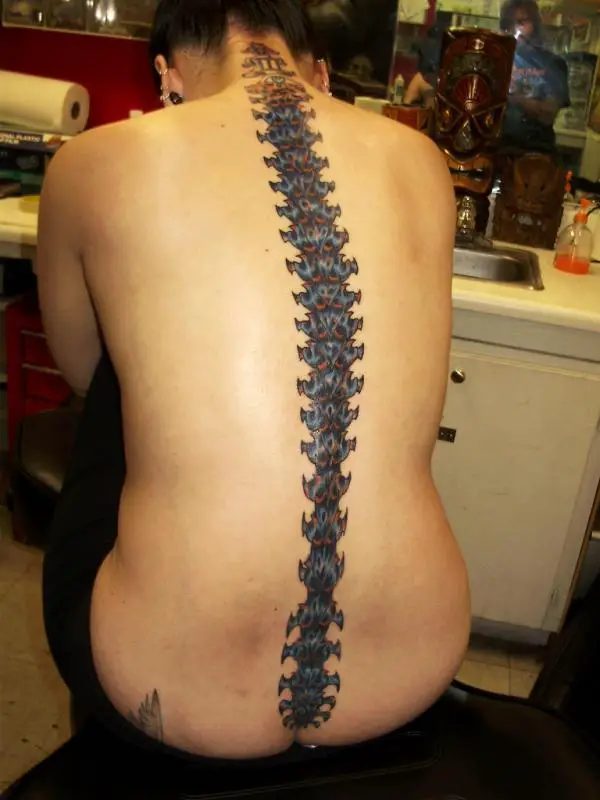 Work On Head
Amusing inside of the head brought out with this incredible work of art.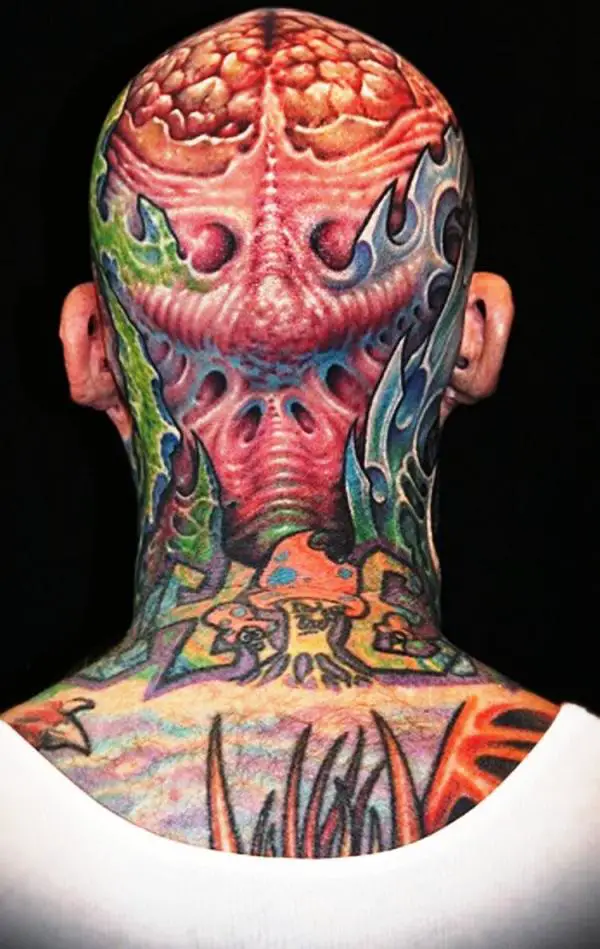 Freehand Skull On Head Tattoo
An air of a evil figure staring from behind his ear.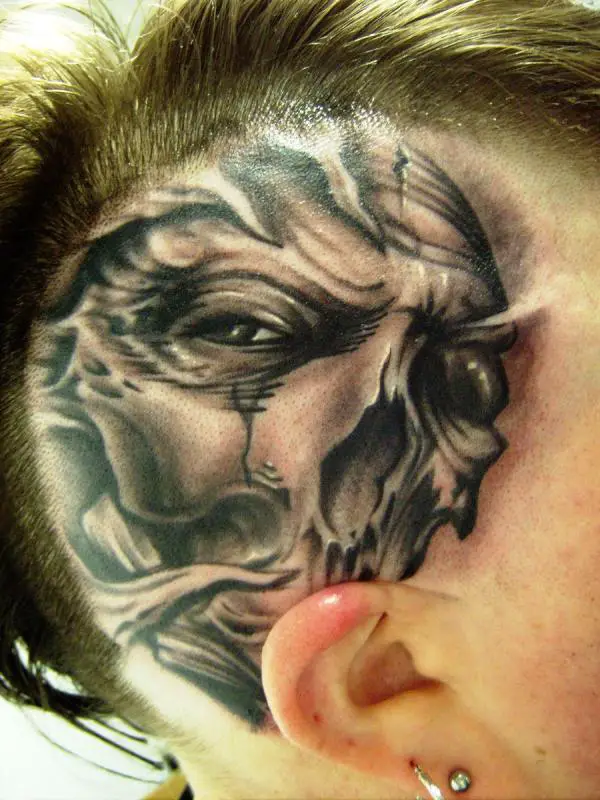 Fish Tattoo On Back
Looks like a Koi fish piece in making. The details and size are spectacular.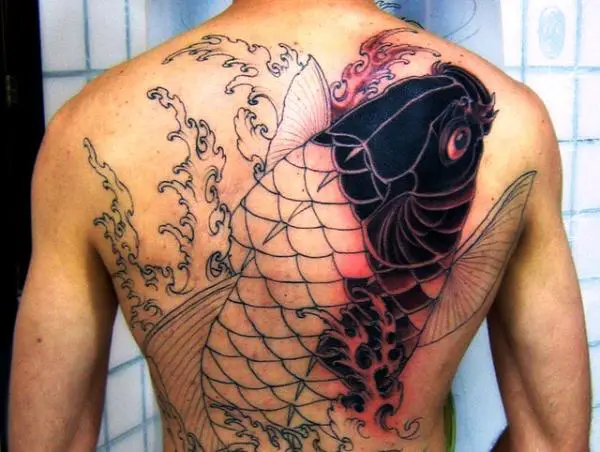 The Joker Tattoo
A demon in disguise of a joker with blood stains on his mouth.