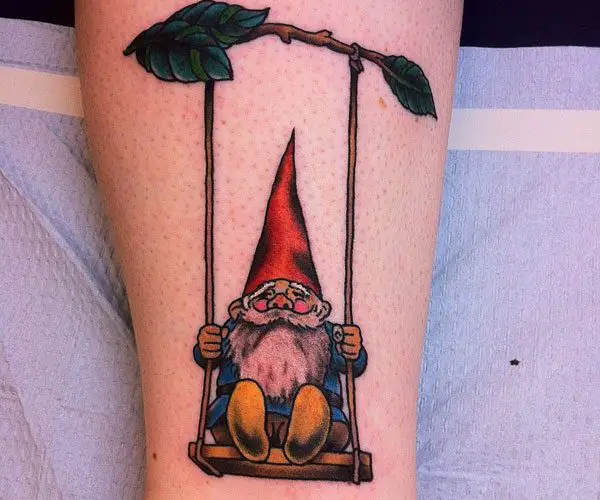 There is a huge variety of designs in the tattoos segment and people like to wear what they want to sport. Some are very much in love and fascination with the mythological creatures and therefore, look for tattoos that have similar images.
The gnome tattoo also derives inspiration from mythology.
Gnomes are believed to be dwarfish creatures that dwell beneath the earth and guard its underground mineral resources. There are many stories about them related to their benevolence and magical powers. Though it is said that they are kind-natured, it is also a strongly held belief that they do not spare those who plunder the natural resources and punish them using their might.
The gnome tattoo is based on these very myths but also carved with some modern motifs and images. The gnomes are mostly featured as a short old man with long beard and a pointed red hat. They have a cute and funny appearance resembling to that of Santa Claus. These gnomes can be seen carrying a lantern or backpack or riding a turtle. Whatever the pose, they always look sweet and illicit warmth and mirth. In this post we have compiled a gallery of 20 gnome tattoos in colorful and animated designs. Take a look and get some positive doses of fun.
Delightful
The gnome is having a playful time on a swing hanging from a branch.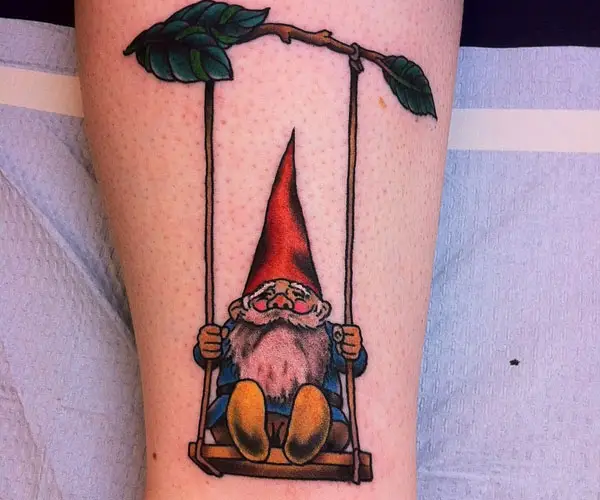 Granny Gnome
The sweater knitting gnome and the rat holding the woollen ball present a cute picture.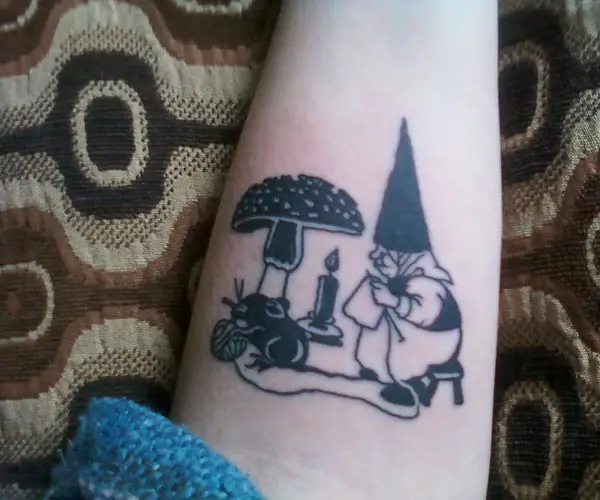 Walking Tall
This gnome has got a good idea to add height to his diminutive stature and the stilts have really done the trick for him.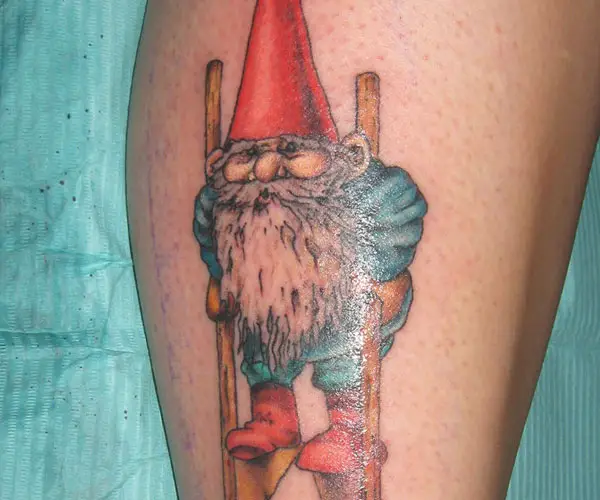 In Thoughts
The bearded gnome sitting on his foot is thinking about the solution to some serious problem.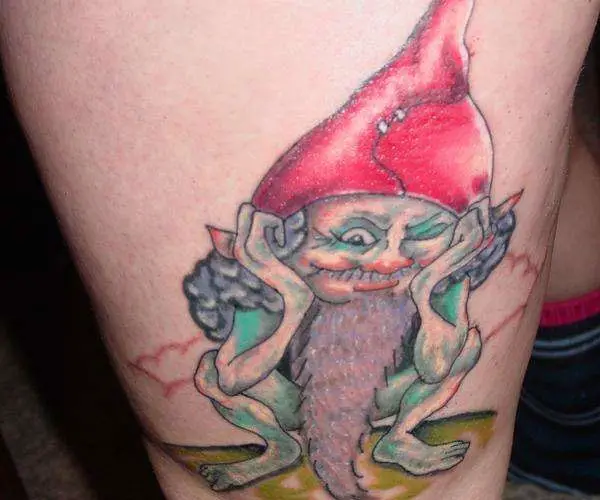 Grim
A cigar piping gnome with hands folded at back and carved above the ankle is looking serious.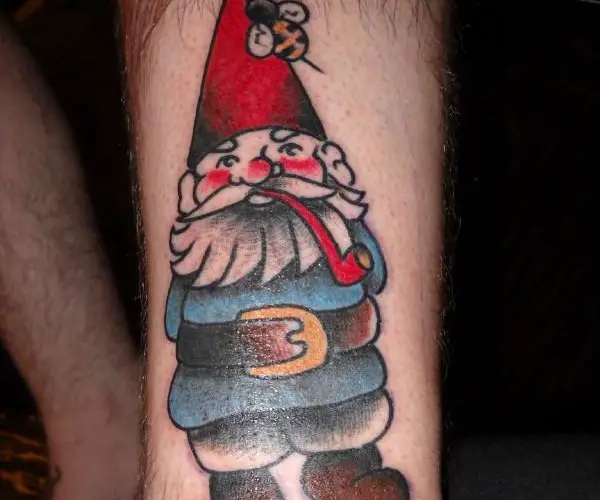 Light Your Way
This gnome holding a lantern in his hand has come forward to light the path of travellers taking journeys at night.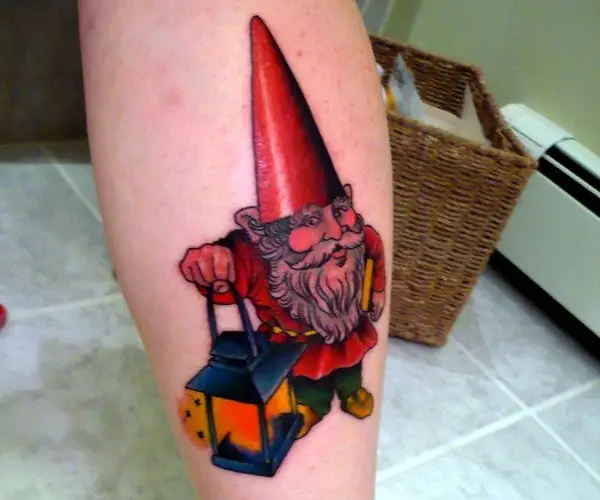 Thumbs Up
A rotund gnome fully wrapped in woollen clothes carved on ribs is looking satisfied.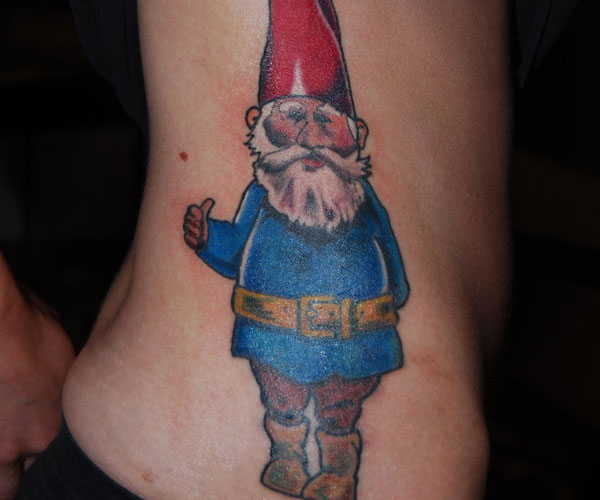 Ready
A black and white gnome with hands inside pockets and wearing boots along with a bag tucked in his belt is out on an excursion.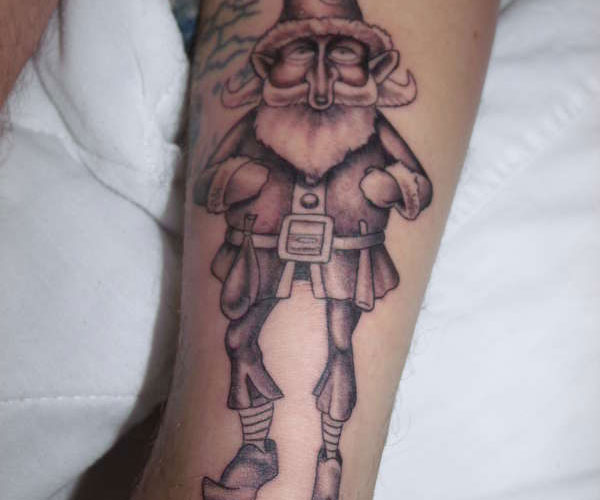 Foodie Gnome
Proudly displaying a fork in his hand and a glass with a straw placed near him indicate the gnome's love for food.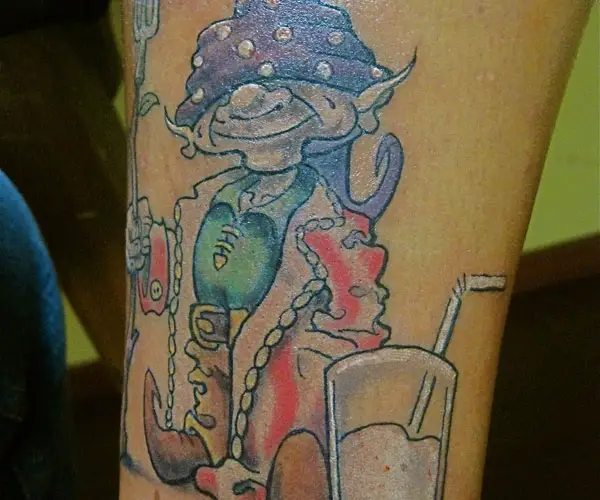 Gnome Riding A Turtle
The sunglasses sporting gnome is having a nice time on the back of the turtle.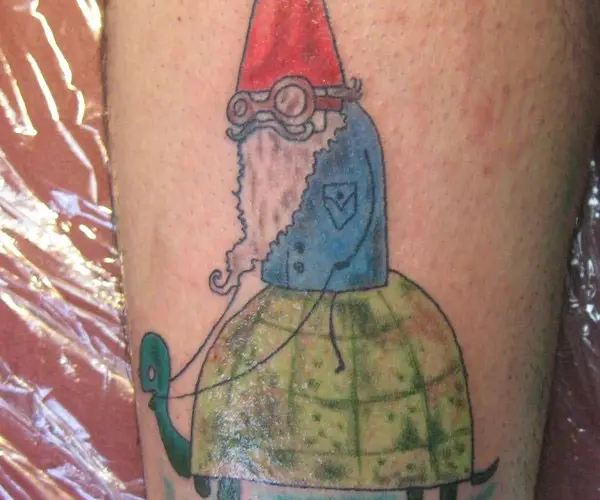 Earth Guard
The benign gnome guards the underground treasures of mother earth but those who fiddle with it are not spared.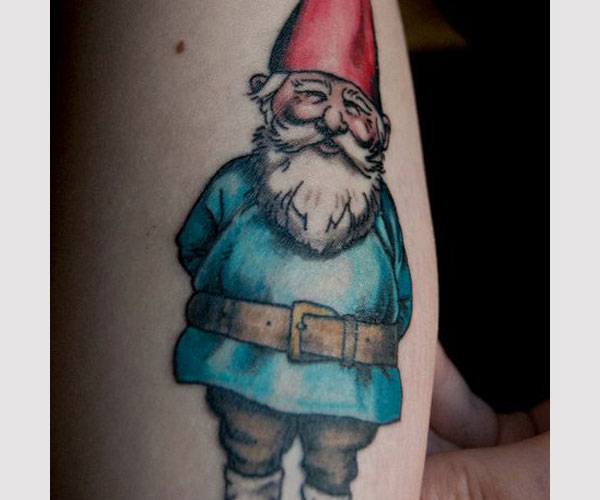 Gnome
Raging gnome
This bicep tattoo shows a warrior gnome fighting with a plunderer who is out to take away the treasures of the earth.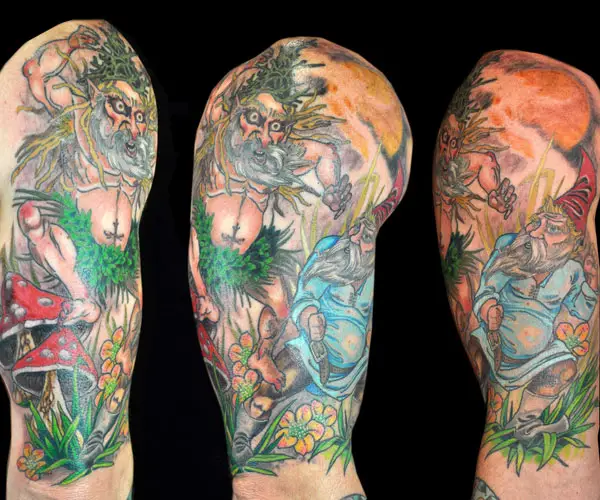 Amazing
See the magic of the gnome, the turtle has also started walking at a faster pace.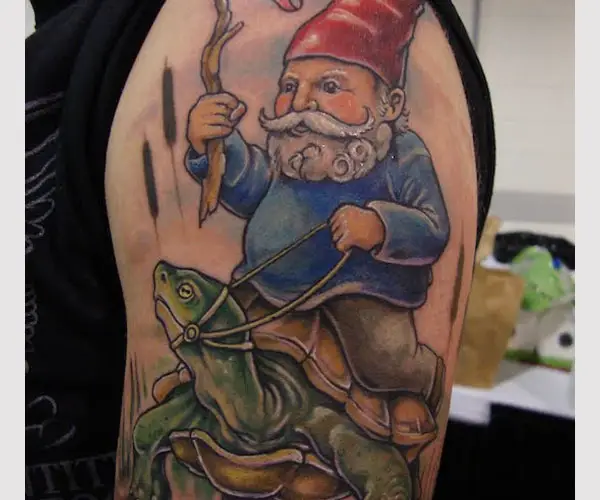 So Glad
This gnome is in an ecstatic mood and seems to be narrating the happy tale to others.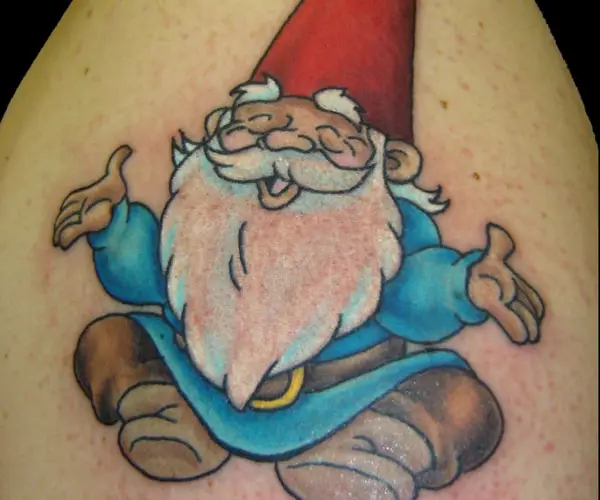 Lovely
The gnome pin-up girl wearing a pointy green hat and red bows in her braided tails looks like a chubby doll.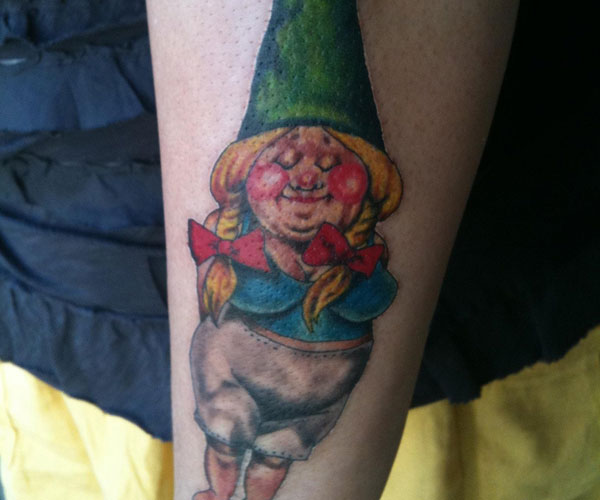 Shaddix Gnome
A smart little boy dressed up as a gnome with "Shaddix" embossed on his hat looks daring.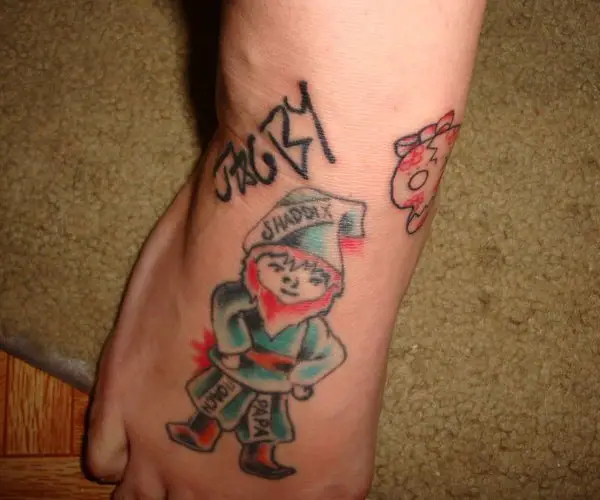 Shaddix Gnome
Among Mushrooms
The white beard and red pointy hat of the gnome match with the red mushrooms having white spots.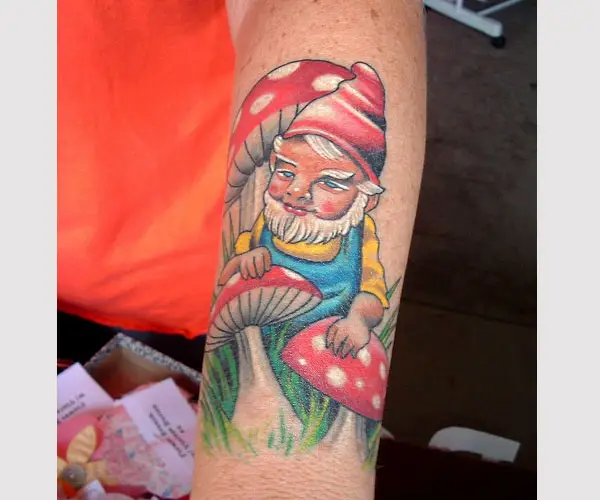 Eagle's Eye
The old gnome has very sharp and strong eyes and no one can escape his vigil.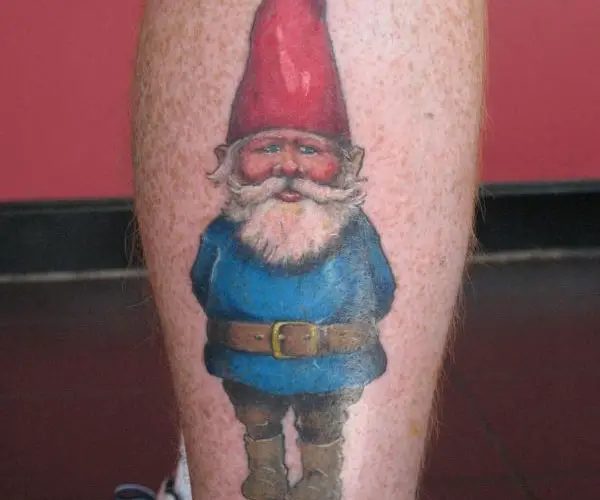 Instructing The Stars
The stars also follow the guidelines of the wise and all-powerful gnomes.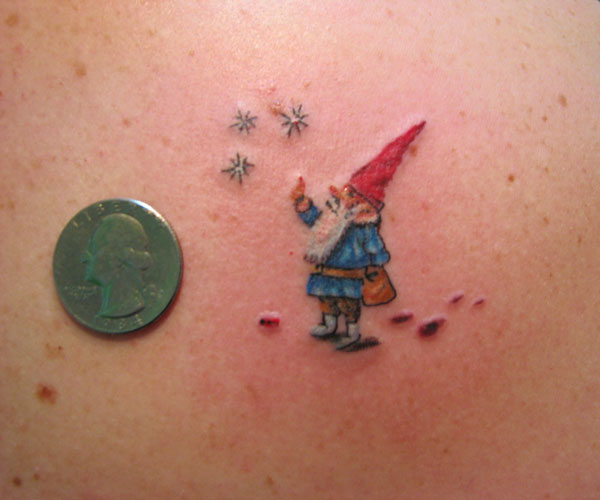 A black and white gnome emerging from the sunflowers has a generous look on hos face.