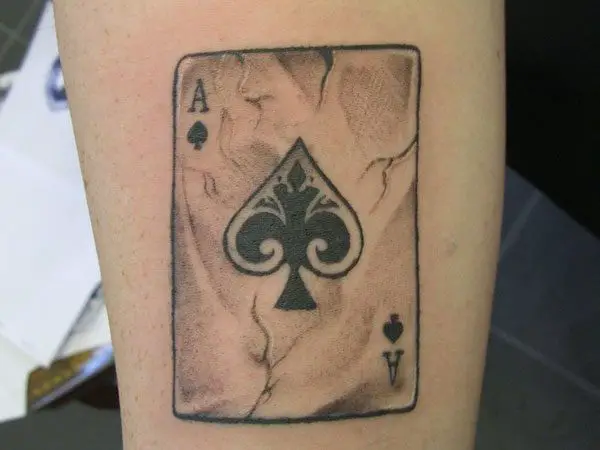 Playing cards and tarot cards have been around for years to add excitement to normal life. While playing cards are all about gambling and the spirit of luck tarot cards are meant to describe the future using traditional symbols. When these cards are used in tattoo designs the effect is impressive and rich. You can see card tattoos ranging from ones with simple black outlines, to those inked in a mix of sepia and black, to those inked in a splash of bright colors like red, green, and blue.
Card Tattoos are full of meaning, and are used in imaginative ways by tattoo artists.
You can find tattoos using symbols like the King of Hearts, the Queen of Hearts, and the Joker to make meaningful statements on life, death, and love. As an unusual idea for a couple in love check out tattoo designs that play on the Ace of Hearts. The Queen of Hearts also makes for beautiful designs, such as a pair of queens in a single design showing women in love, or two sisters' love for one another. The Joker and the Fool figures can be combined with words to make rich tattoo designs. You also find the Ace of Hearts combining with a skull to make a powerful statement on death in a tattoo idea. A similar theme tattoo using tarot cards instead of playing cards may show a death rider on a horse. Playing cards can be combined with many other elements like flying birds, dices, and colorful patterns to make rich and powerful tattoo designs.
If you like this article, you might be interested in some of our other articles on Cool Tattoos Pictures, Free Tattoo Pictures, Tattoo Patterns and Biker Tattoos.
Old Card Tattoo
Styled with folds and smudges much like a real old card this Ace of Hearts card shaded in black has a cool 3D effect.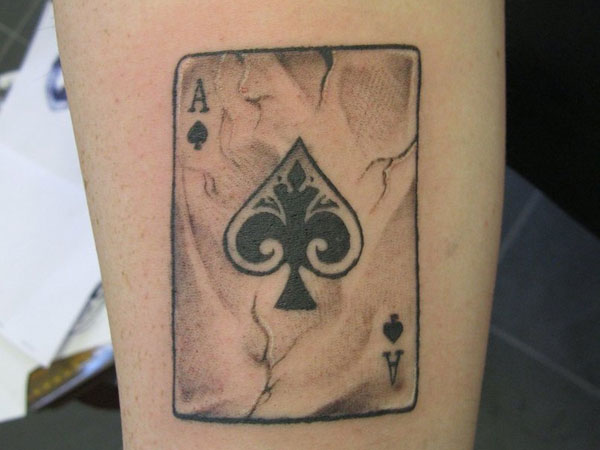 Arm Tattoos
Rich details on both arms bring out the magic of tarot cards in these colorful arm tattoos saying 'Ace & Cups' and 'Strength'.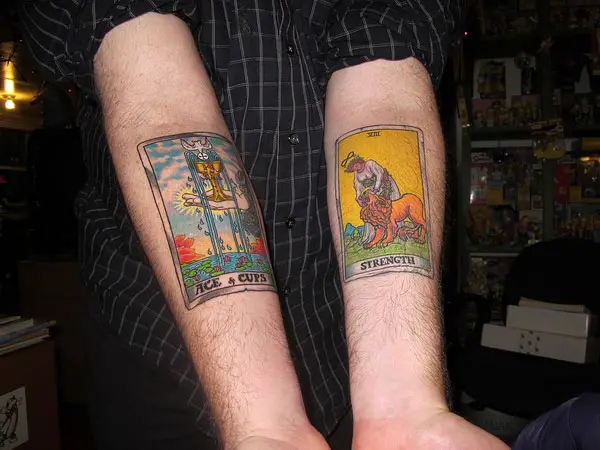 Lucky Tattoo
This stomach tattoo design combines cards and dice to make a powerful tattoo symbolizing luck.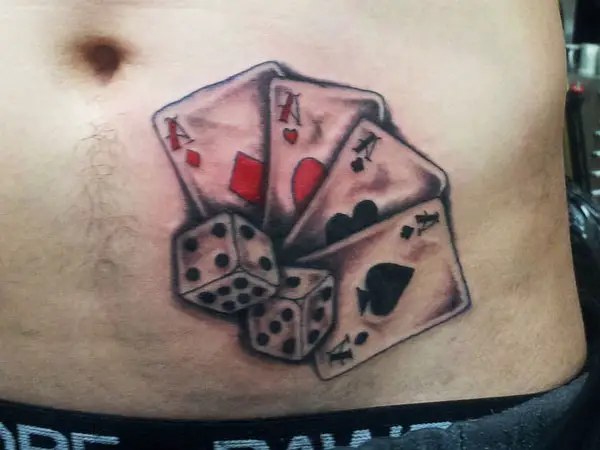 Couple's Card Tattoo
Shades of black mark the realistic inking of cards and two dice in this offbeat tattoo for a couple.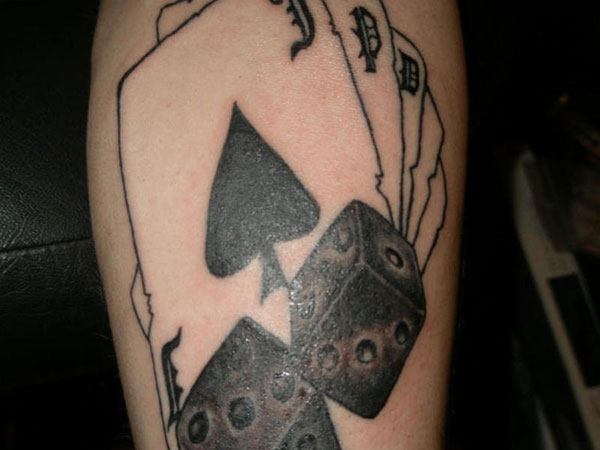 Skull Reminder Tattoo
This tattoo combines the design of a skull with an Ace of Hearts in sepia and shades of black.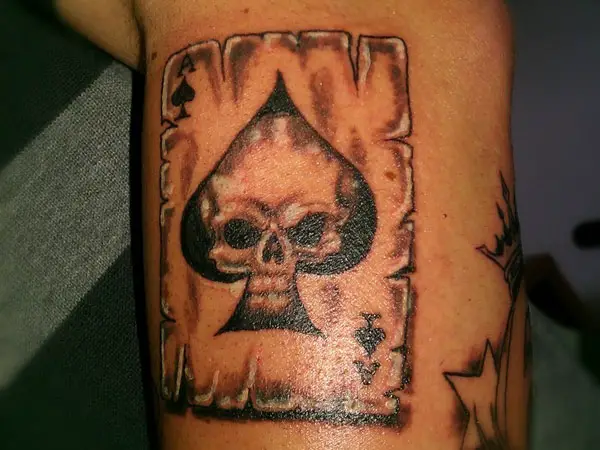 Queen With Text Tattoo
A pretty Queen of Hearts card rests, face up, among the stack of cards in this detailed pictures and word combination tattoo.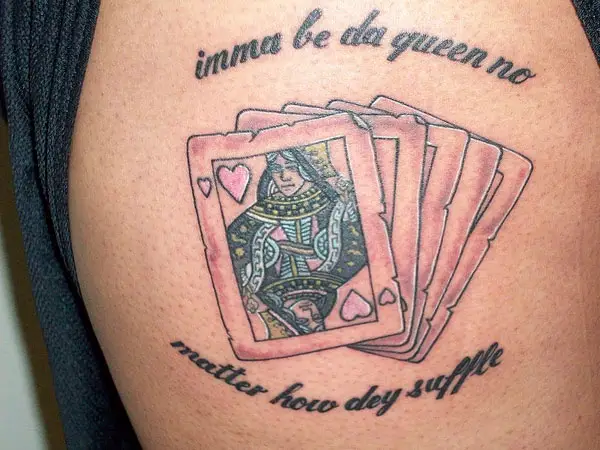 Death Cards Tattoo
Yellow and green form bright splashes of color in this skull, cards, dice, and patterns theme calf tattoo design.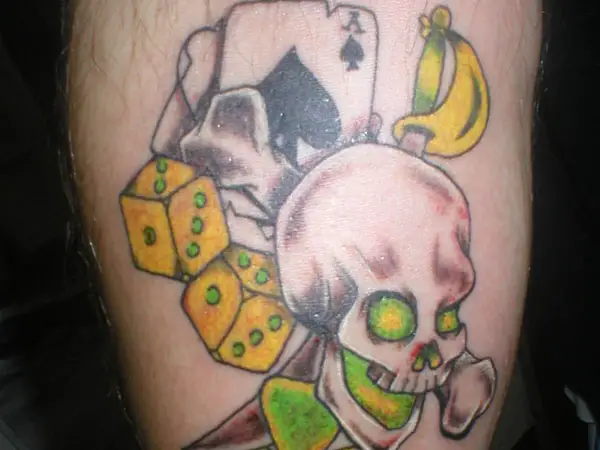 Two Queens Tattoo
Inspired by the Queen of Hearts card, this rich and colorful tattoo showing two queens is perfect for women in love, sisters, or lifelong friends.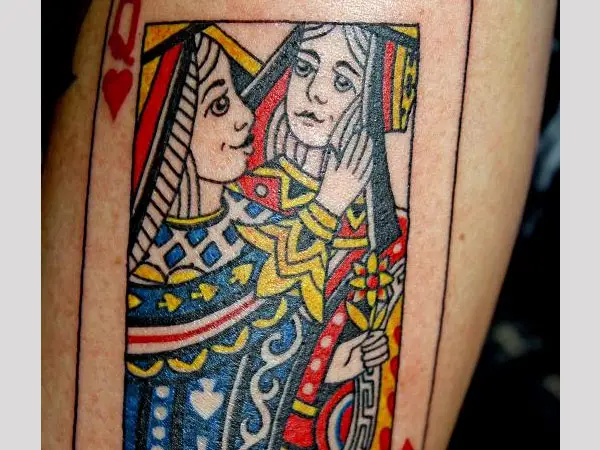 Two Queens Tattoo
Skull Heart Tattoo
Delicate shades of brown and black make up the form of the skull in this powerful death card theme tattoo design.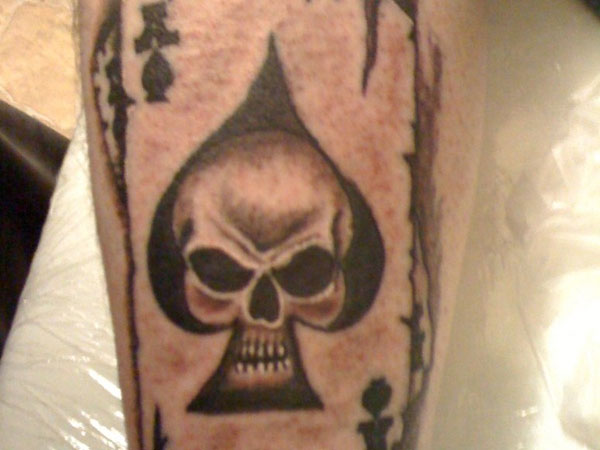 Infinity Cards Tattoo
Three cards with different symbols, a fire, and a black round numbered ball come together in this magical and colorful tattoo design.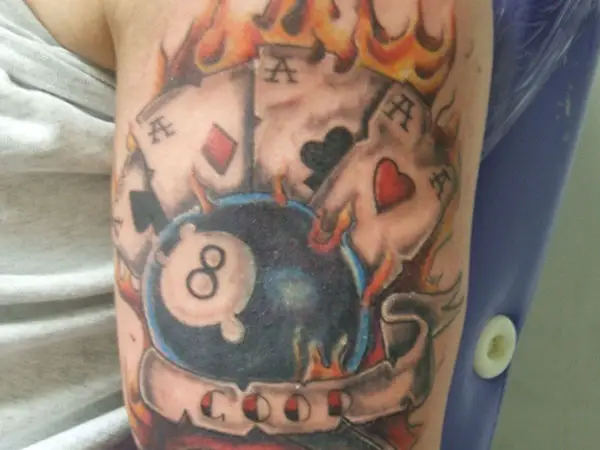 A King Card Tattoo
An elaborate King of Hearts theme with an 'A' written on top inside a circle makes up this colorful card tattoo.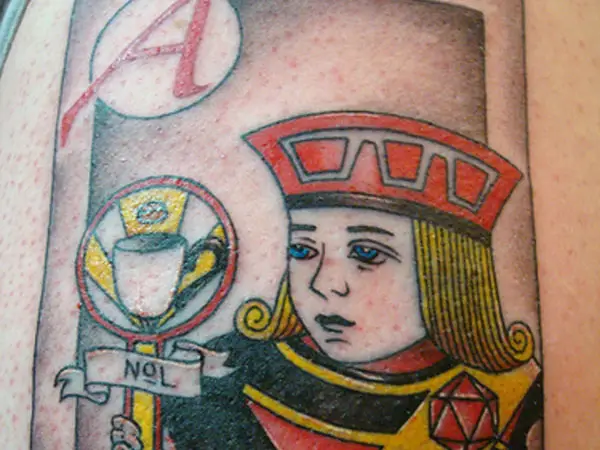 Circus Master Tattoo
With the whip in hand this is a circus master tattoo for the leg. Check out the rich details of the costume.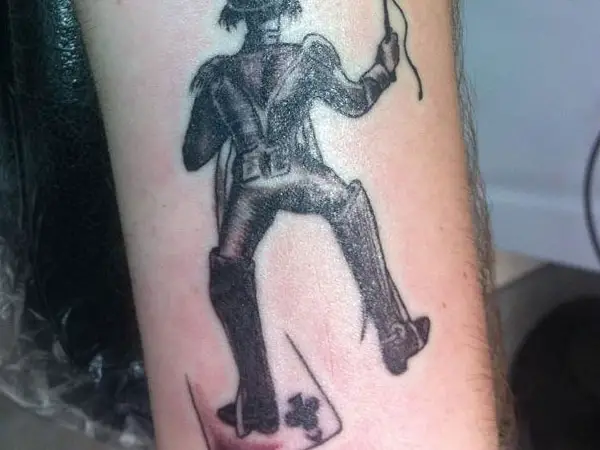 Circus Master Tattoo
Red Harlequin Card
A red pixie, purple and green patterns, and mysterious text come together with the Joker theme design in this colorful tattoo.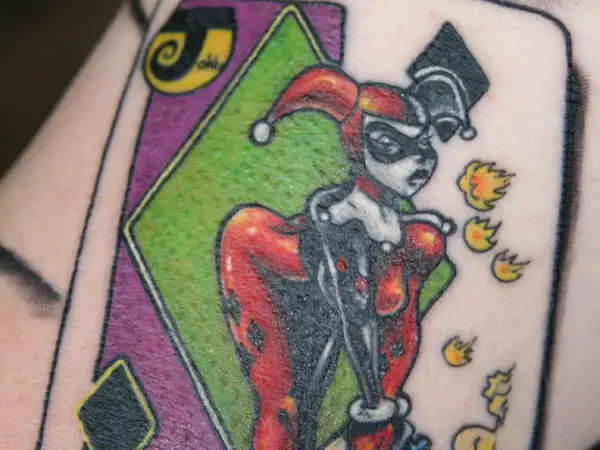 Regular King Card Tattoo
Styled in solid shades of red, blue, yellow, and green this tattoo completely replicates the design and picture on a real card.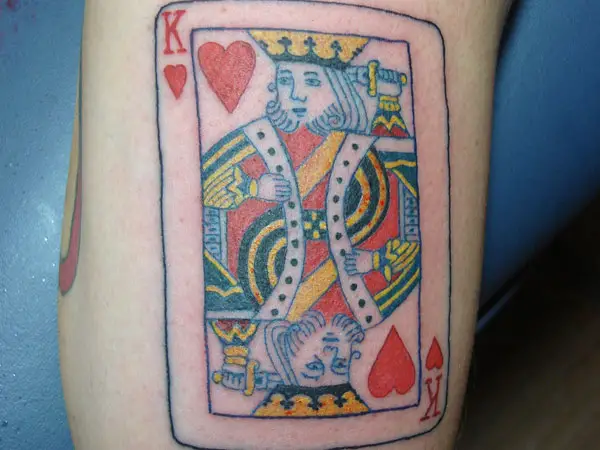 Jack Of All Trades
This unusual Jack has the portrait of a dear one inked in shades that make it look almost real.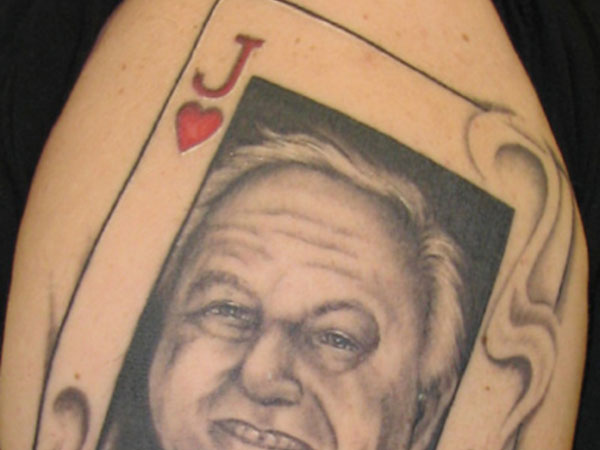 Death Rider Tattoo
Death is the rider on the back of the horse in this powerful tarot card theme sepia and black tattoo.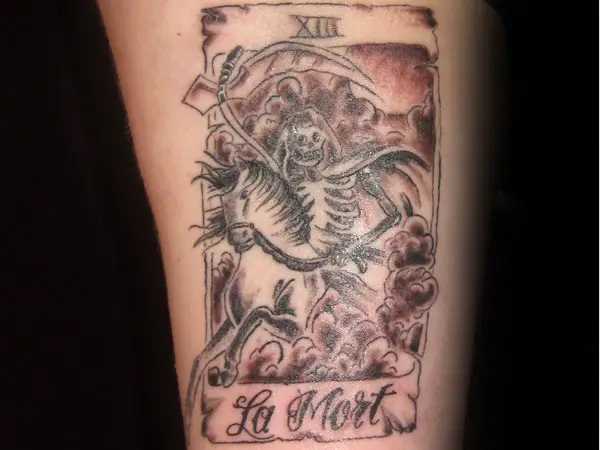 Sepia Intricate Tattoo
An Ace of Hearts, dice, flying parrots, a pattern of words, and crowns come together in this mysterious and intricate tattoo design.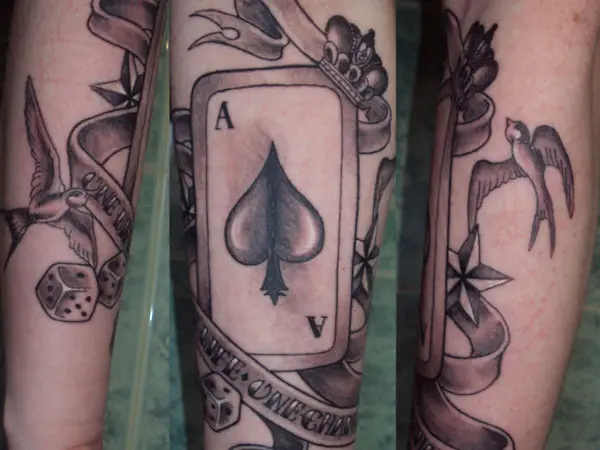 Life Symbol Tattoo
Love seems to be in the air, as this elegant black and red life and love theme cards tattoo seems to be saying.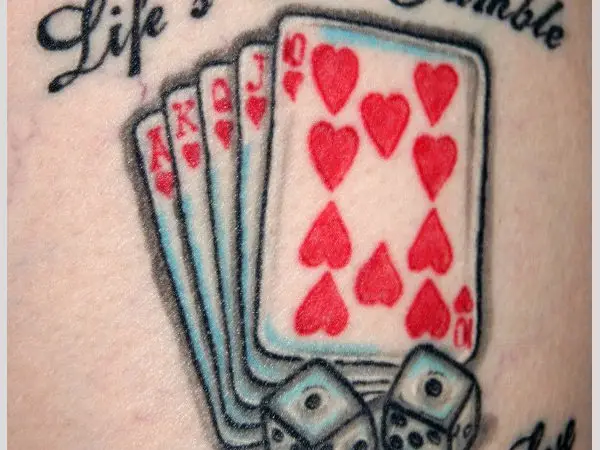 Dealing Cards Tattoo
Styled with four cards, swirling colorful ribbons, and a text saying 'It's Your Deal' this tattoo on the arm combines pictures and words in a single design.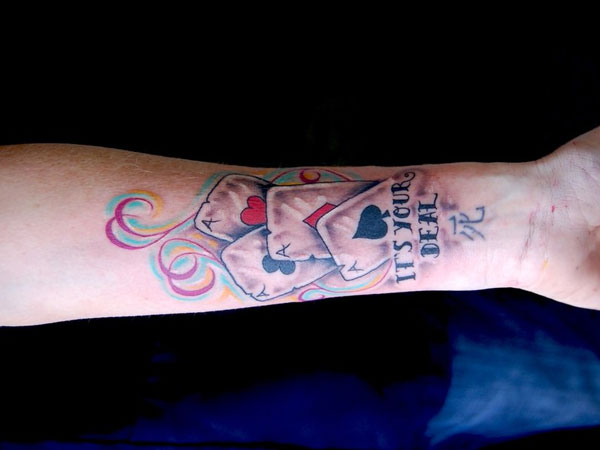 Tin Card Tattoo
Simple outlines in black mark this elegant Ace of Hearts tattoo saying 'Tin' right above the wrist.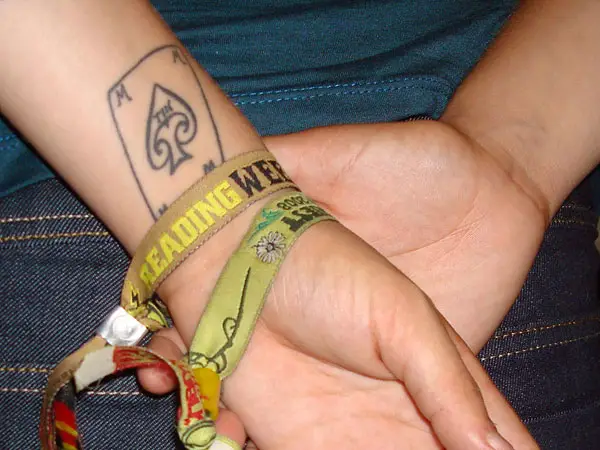 Colorful Card Tattoo
Bright splashes of red and blue mark this 3D style King of Hearts card tattoo inked on the side of the neck.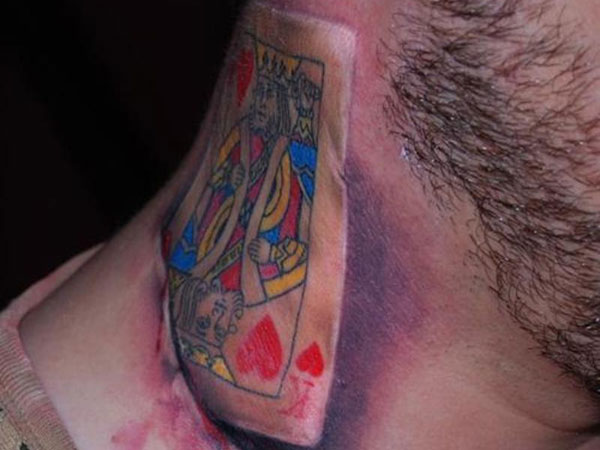 Card Frame Memorial Tattoo
This gorgeous memorial tattoo uses a card frame with an oval mirror showing the face of the dear one who's departed.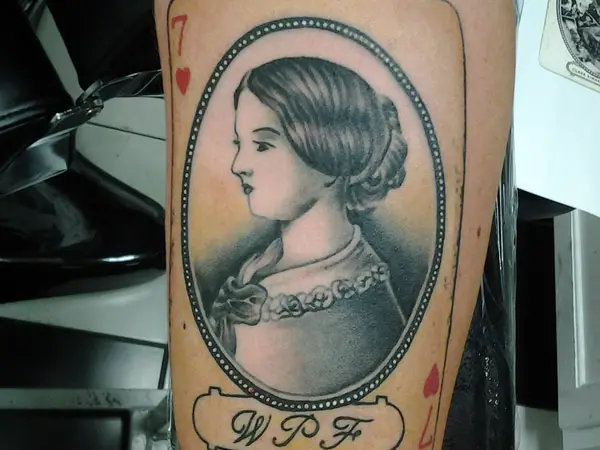 Colors Of Life Tattoo
Black outlines define the many-colored figure of the Fool in this beautifully inked leg tattoo.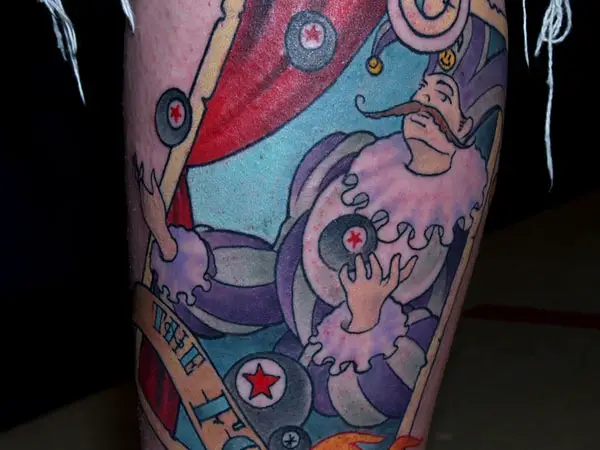 Hanged Man
Delicate cartoon style black lines mark the figure of the colorful man in this detailed tattoo.