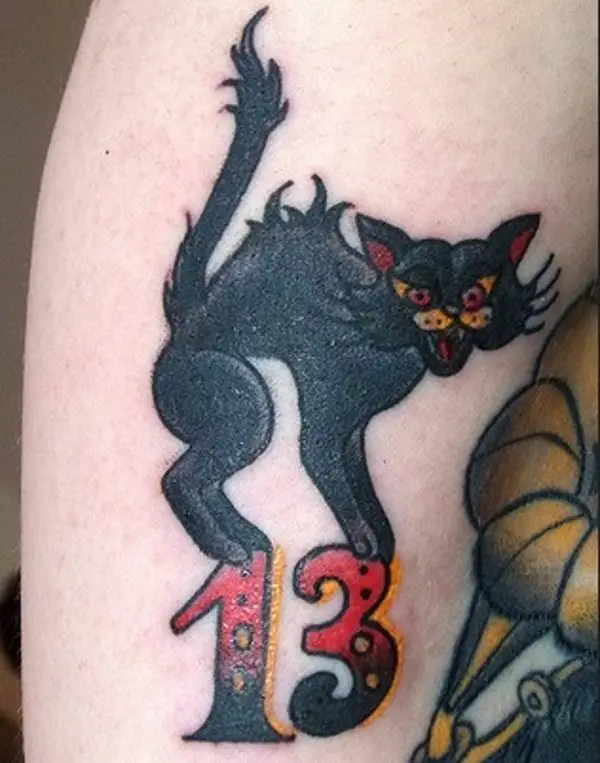 Black cats are often seen as omens of bad luck. When a black cat crosses your path, you're supposed to hope and pray that you won't be plagued with unfortunate events. Despite this, black cats still remain objects of affection and intrigue. They're often seen as mysterious and even a little mystical.
Of course, anyone who has ever owned a black cat knows that they aren't bad luck at all! They're just as affectionate and loyal as other types of cats. Black cat owners may even regard these dark little creatures as good luck rather than bad luck.
Whether you own a black cat or are just intrigued by them, black cat tattoo designs are super cute and fun tattoos, especially for women! If you're looking for a cute black cat tattoo, check out these adorable ideas!
1. Glaring Black Cat Tattoo
I have a black cat that give me this exact same look…
2. Green Eyed Black Cat Tattoo
Piercing green eyes give this black cat tattoo a bit of realistic black cat attitude!
3. Evil Black Cat Tattoo
All kitty cats, especially black cats, have a bit of a devilish streak, so these devil horns are pretty fitting!
4. Black Cat and Celtic Moon Tattoo
This cat is sure to be up to no good, but it's still a beautiful tattoo, perhaps in spite of his nefarious intentions!
5. Ankle Black Cats Tattoos
Two black cats means double the trouble!
6. Black Cat and Flowers Tattoo
This sweet little kitty probably has a sweet side, but you can tell that, deep down, she's as mischievous as they come!
7. Stretching Black Cat Tattoo
All kitties just a good stretching from time to time!
8. Black Cat Music Note Tattoo
Music and cat lovers might like this tattoo of a black cat shaped like a music note. Or is it a music note shaped like a black cat?
9. Black Cat Neck Tattoo
If you're looking for a neck tattoo, this creepy black cat is ure to raise a few hairs and eyebrows!
10. Black Cat Silhouette Tattoo
It's a classic and classy tattoo for crazy cat ladies!
11. Scratching Black Cat Tattoo
Anyone who has owned a mischievous black cat knows this situation all too well!
12. Black Cat Hanging On Tattoo
This little bugger looks like he's hanging on for dear life!
13. Yarn and Black Cat Tattoo
You just know that this mischievous black cat is just waiting to unravel that ball of yarn!
14. Black Cat 13 Tattoo,/h2>
For some, this tattoo would be a double whammy of bad luck; but for others, maybe they just like to live on the edge!
15. Cute Black Cat With Footprints
Who wouldn't fall in love with this adorable little black cat?
So, did you fall in love with one of these black cat tattoo designs? You can use these as an inspiration for your own black cat tattoo, with the help of a talented tattoo artist, of course!