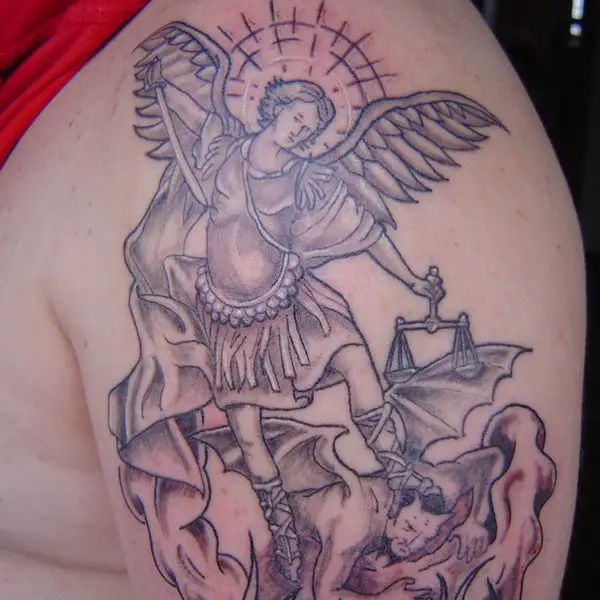 Angelic tattoos are always fascinating. Angels appear in almost all the religions across the world and are considered as messengers of God. This makes angelic tattoos very popular throughout the world. Lots of people get these types of tattoos inked on them for different reasons like religious belief, love and artistic work or just for beauty.
Angel tattoos can be made of any size, making it possible to carve them on any part of the body. These tattoos are not restricted to women alone, it is a popular choice even for men. There are a lot of different types of angelic tattoos and archangels, guardian angels, cherubs, and baby angel tattoos are the popular ones. People even choose wicked or fallen angels to get a catchy appearance.
Among the archangel tattoos, St. Michael tattoo is the most chosen one by all.
These tattoos are exceptionally beautiful and always carry a deep meaning. Here are 27 amazing angelic tattoos that are intricately designed with beautiful shading. Each tattoo has a special and unique meaning and it is entirely up to the individual to choose one that suits their taste.
Attractive St Michael
Be protected and loved throughout your life with this beautiful Saint Michael tattoo.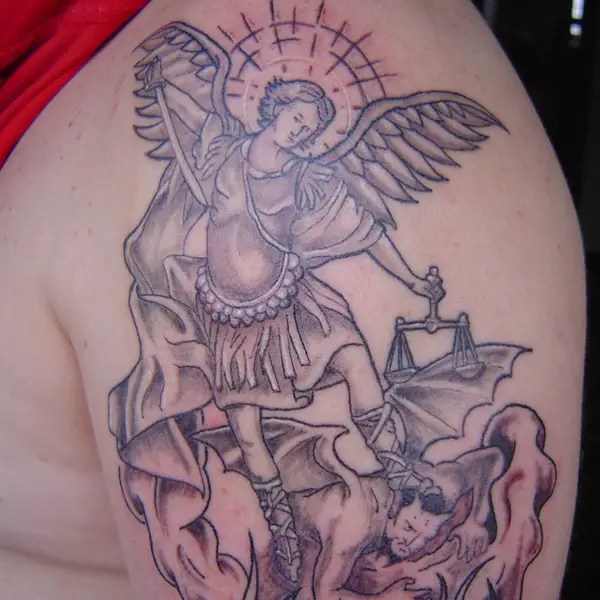 On The Arm
Unique and special, this stunning guardian angel tattoo will guard you throughout your life.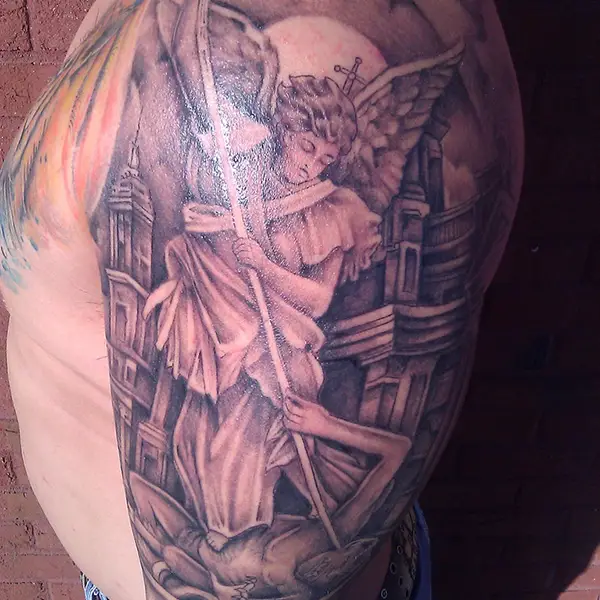 The Archangel Tattoo
With detailed features and elaborate shading, this Saint Michael tattoo elegantly covers the entire arm.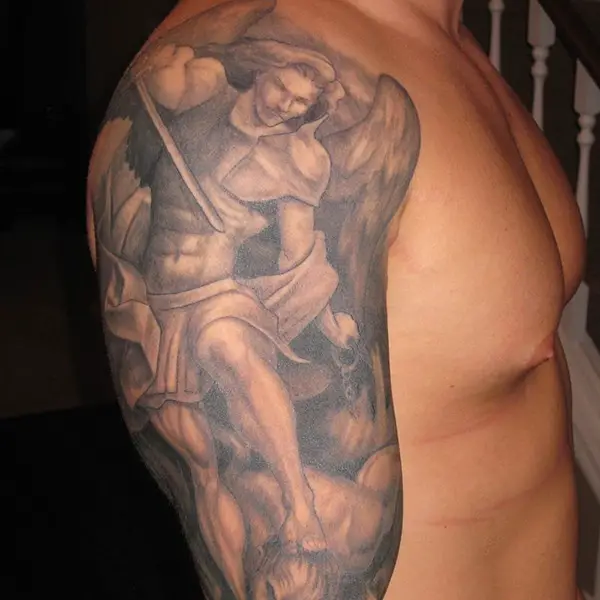 Guardian Tattoo
Exquisitely designed with bright colors and shading, this archangel tattoo is a stunning work of a genius.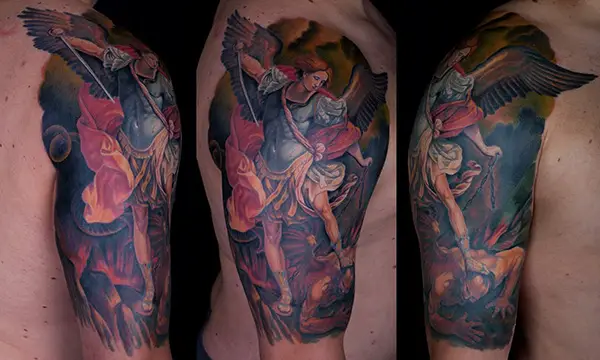 Saint Michael Slaying
Absolutely incredible to watch, this Saint Michael slaying the Satan tattoo is captivating and interesting.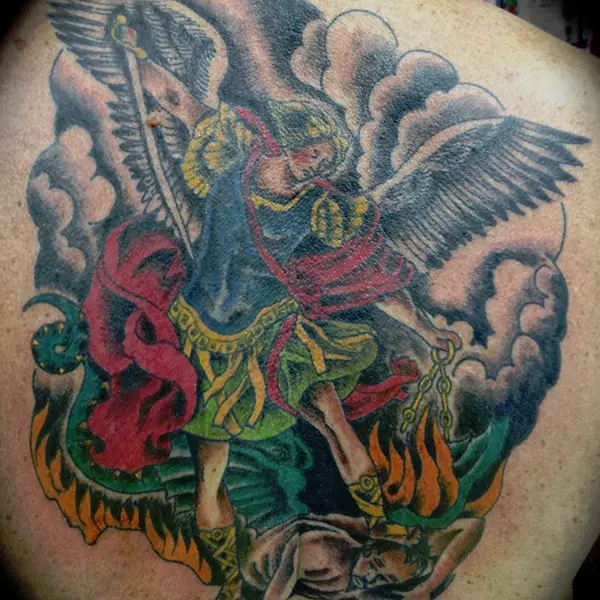 Saint Michael Tattoo
Guard yourself from all evil wherever you go with this guardian Saint Michael tattoo.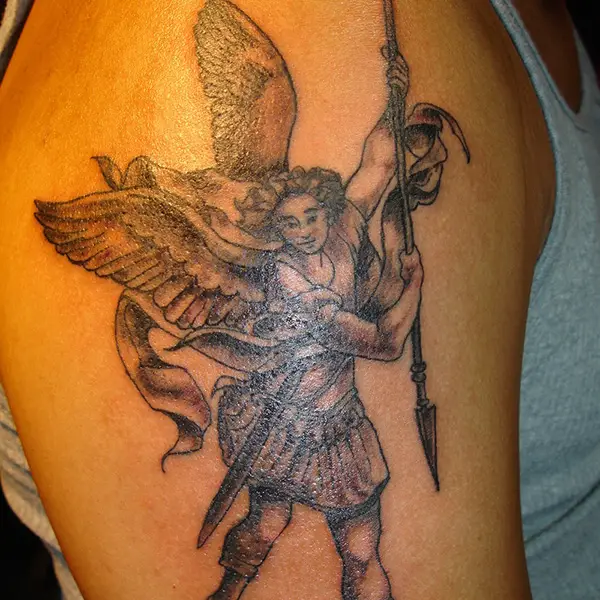 Slay The Devil
Intricate details and lovely shading makes this Saint Michael slaying the devil tattoo attractive.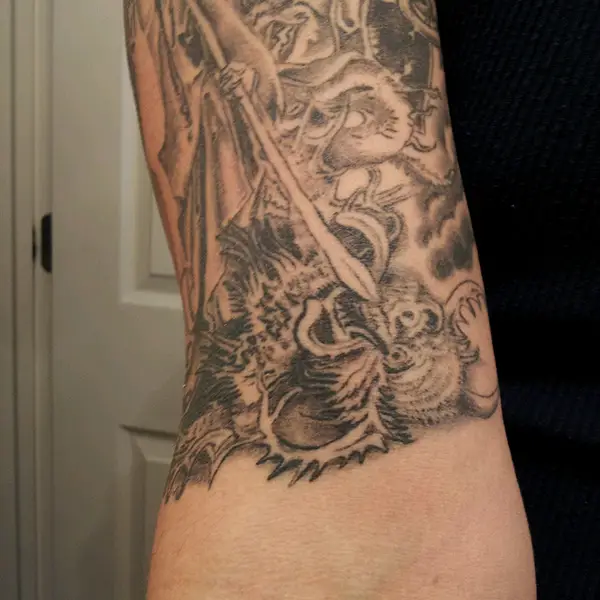 Saint Michael Yellow
The guardian angel portrayed beautifully in yellow and red color is an awe-inspiring sight.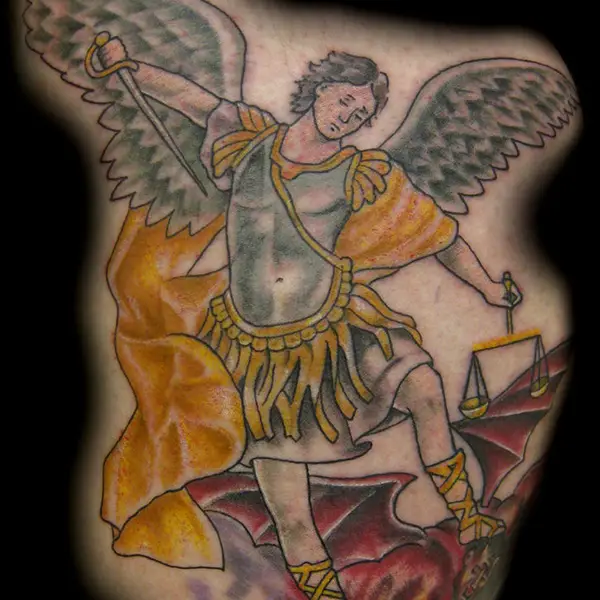 Saint Michael Black
Beautifully done in bold black outline, this Saint Michael tattoo is a treasure to keep for a lifetime.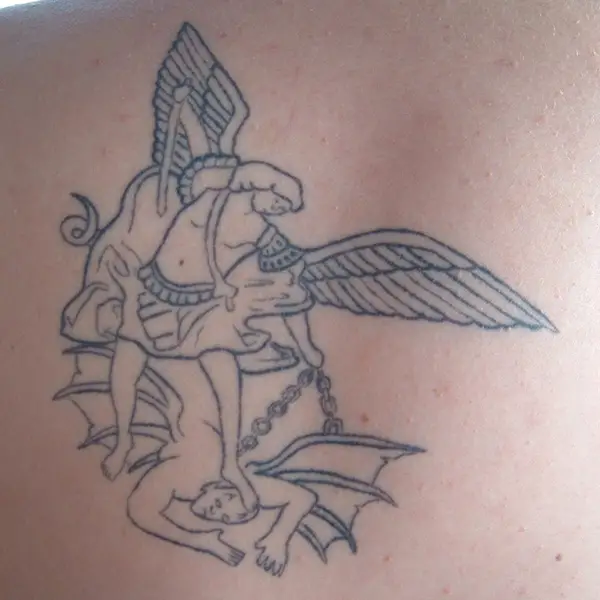 Full Back Tattoos
Exquisitely done covering the entire back, this Saint Michael tattoo is a true masterpiece.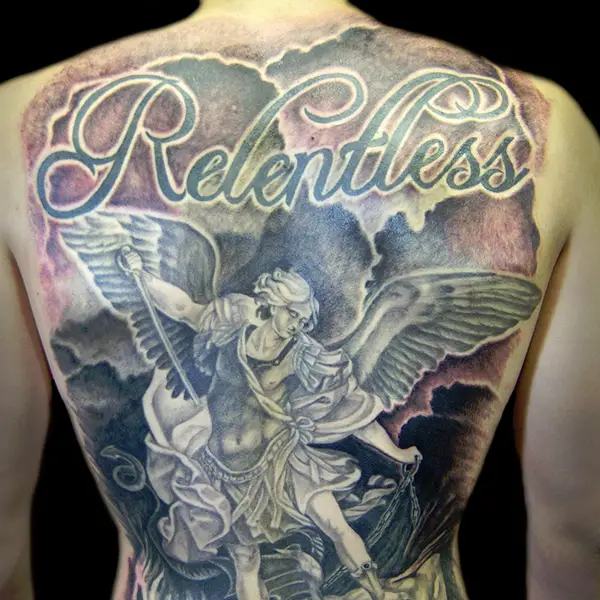 Faithfulness
Capture purity and faithfulness in your soul with this majestic and colorful Saint Michael tattoo.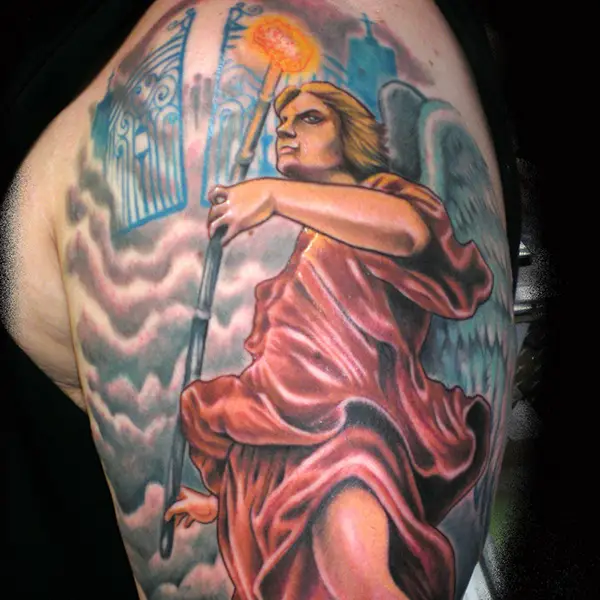 Protected
Carry your own intricately designed guardian angel wherever you go. It will bring joy and happiness to your life.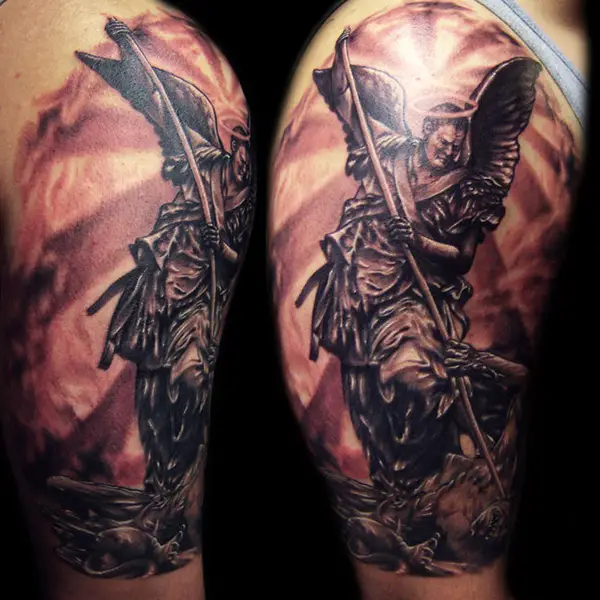 Spiritual Words
Beautiful Saint Michael picture along with a lovely message is a great beauty to be treasured.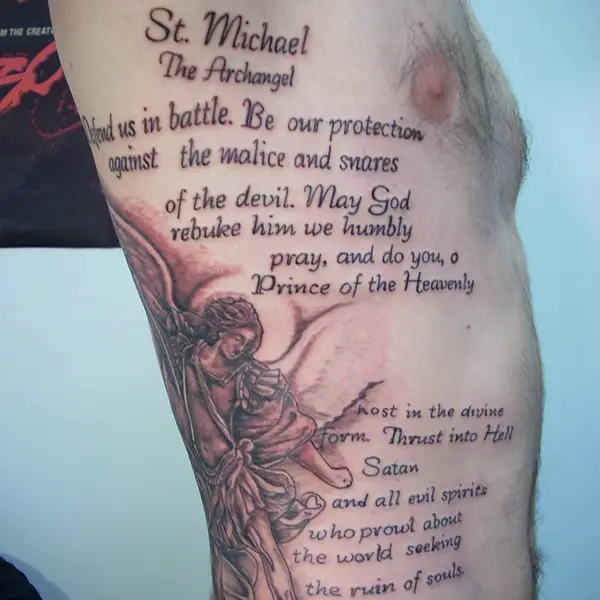 Angel Tattoo
Exceptionally beautiful, this Saint Michael tattoo adds a significant meaning to your life.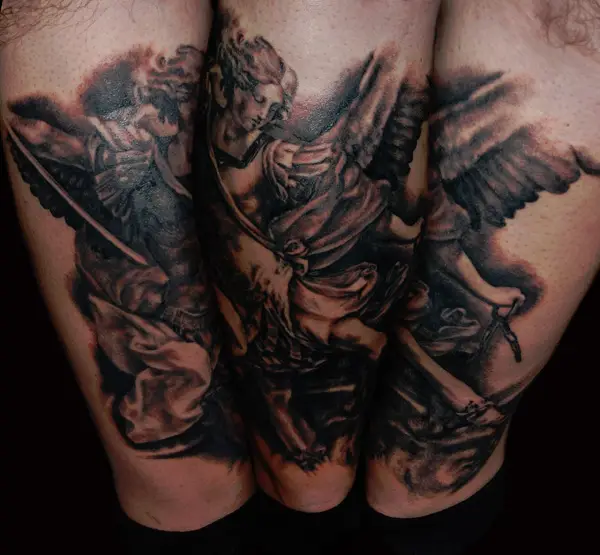 St Michael Slaying
Protect yourself from all evil with this Saint Michael slaying the devil tattoo. The shadow effect and bold black outline makes it a special tattoo.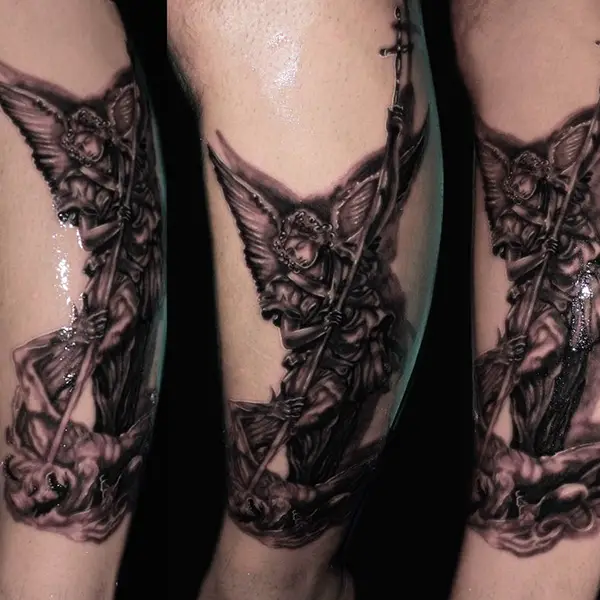 Guardian Angel
Get an overwhelming sense of comfort from this guardian angel that is sure to protect you always.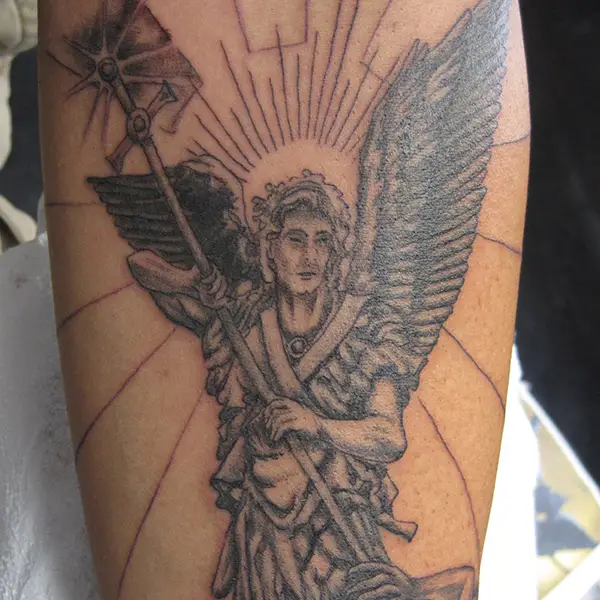 Elegant Archangel Tattoo
Elegantly done with intricate details, this archangel will keep you safe and protected from harm.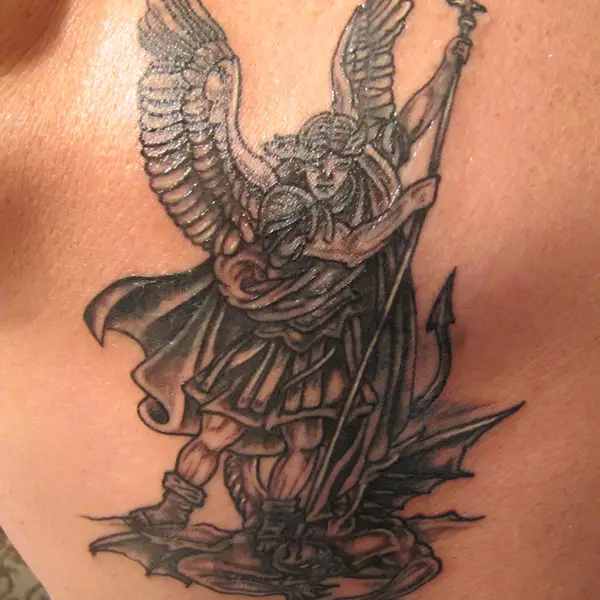 Arm Saint Michael
Your life will be complete with this beautiful black and white guardian angel Saint Michael tattoo.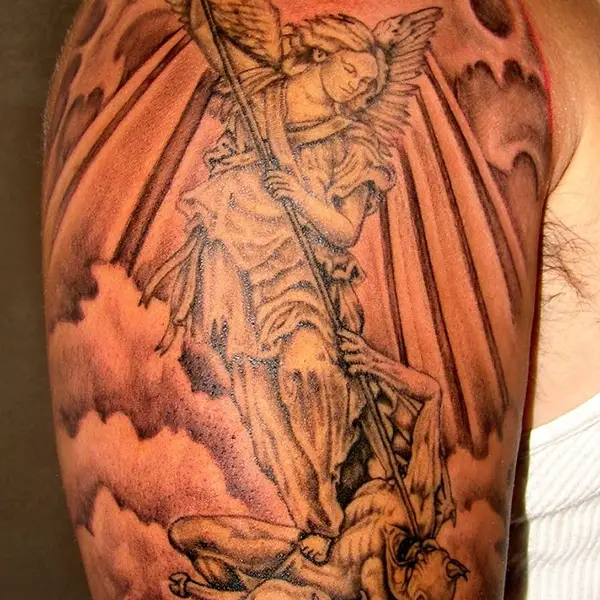 Open Wings Tattoo
This elaborately done guardian angel will bring protection, serenity and comfort to you.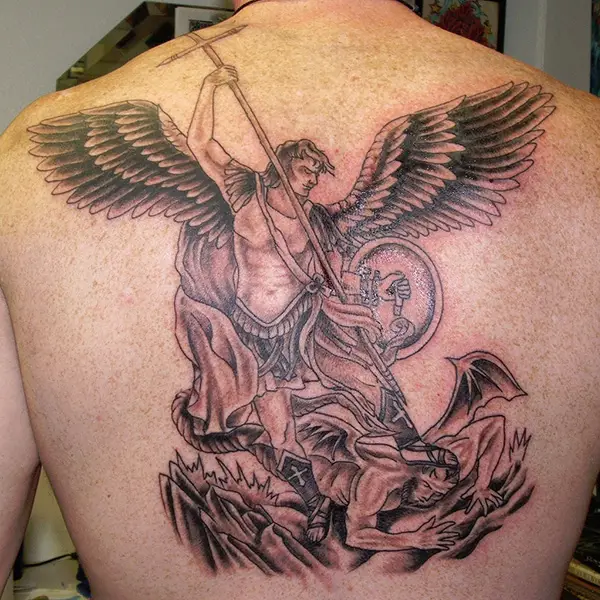 Angel Art
Eye-catching and captivating, this guardian angel tattoo elegantly done covering the entire back is a spectacular work of art.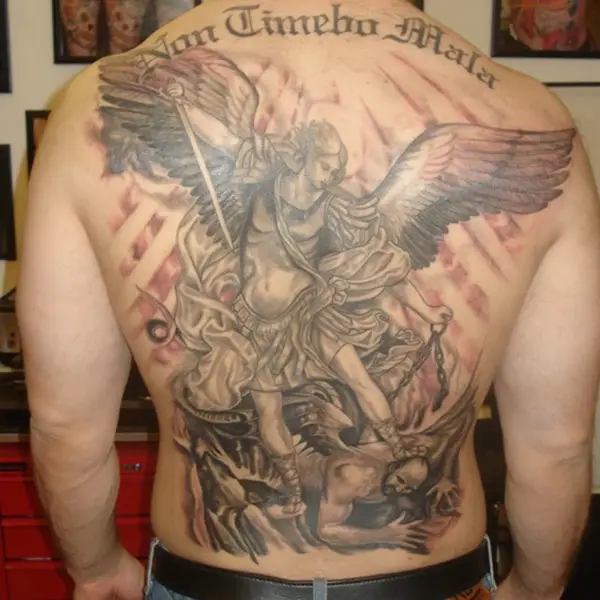 Colorful Art
Fill each day of your life with love and faith with this colorful and intricate body art of Saint Michael.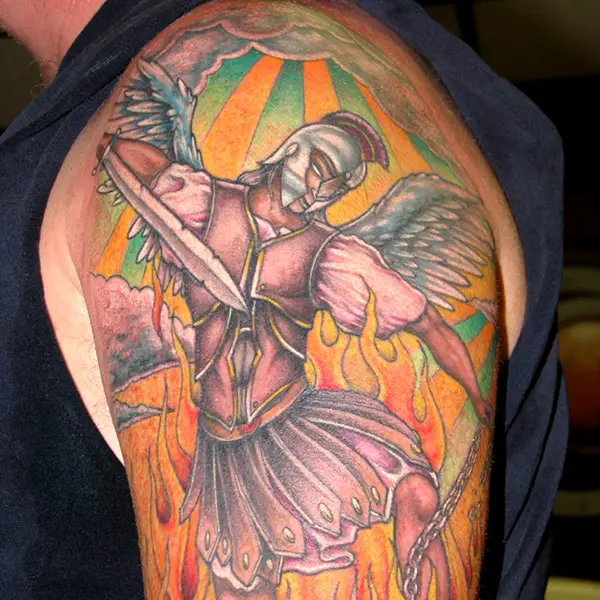 Winged St Michael
Make life interesting everyday with this exquisitely designed Saint Michael tattoo that is complete with red accents.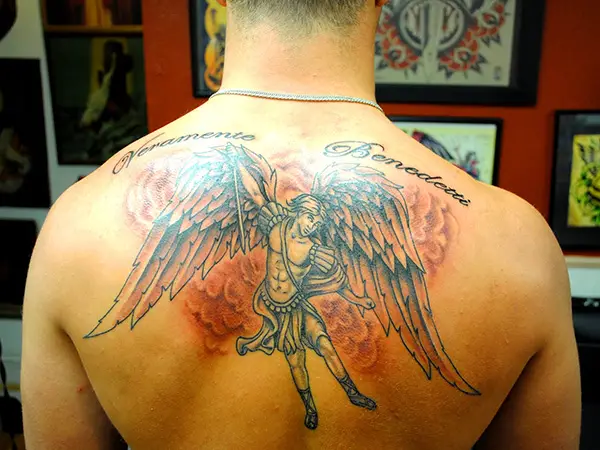 In Faith
Adorn your upper arm with the beautiful image of Saint Michael and make your life meaningful.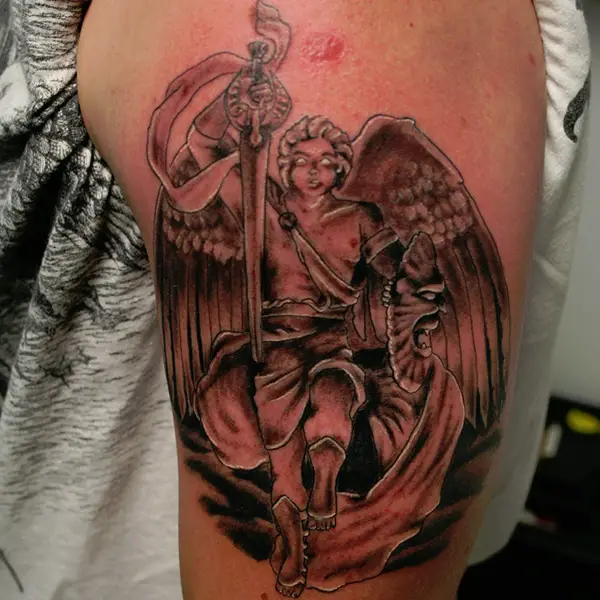 The Archangel Tattoo
Lovely shades and intricate details make this tattoo of the guardian angel a treasure to keep for a lifetime.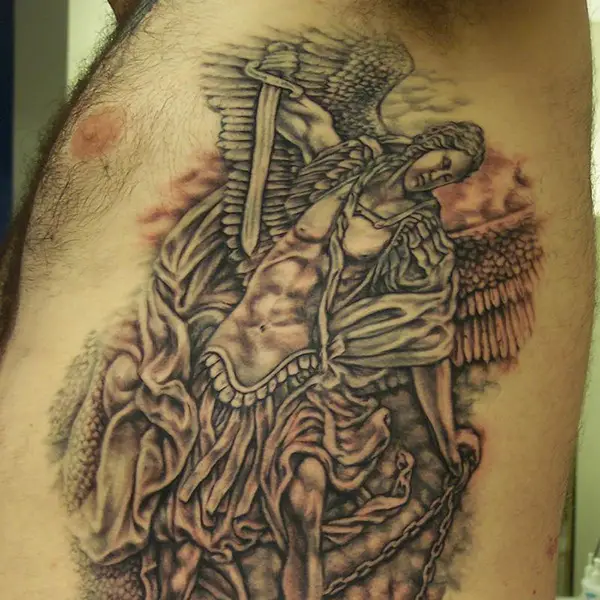 Colorful St Michael
Vivid and colorful shading makes this Saint Michael tattoo an exquisite piece of art.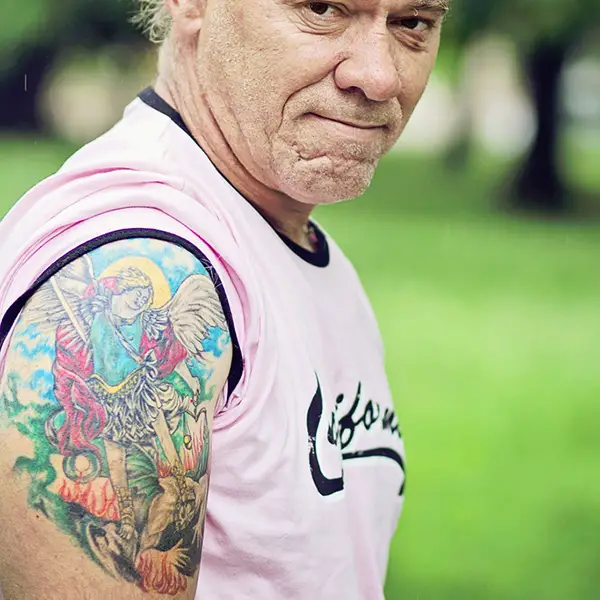 Black Outline
Aspire angel-like qualities in you with this bold black outlined Saint Michael tattoo on the upper arm.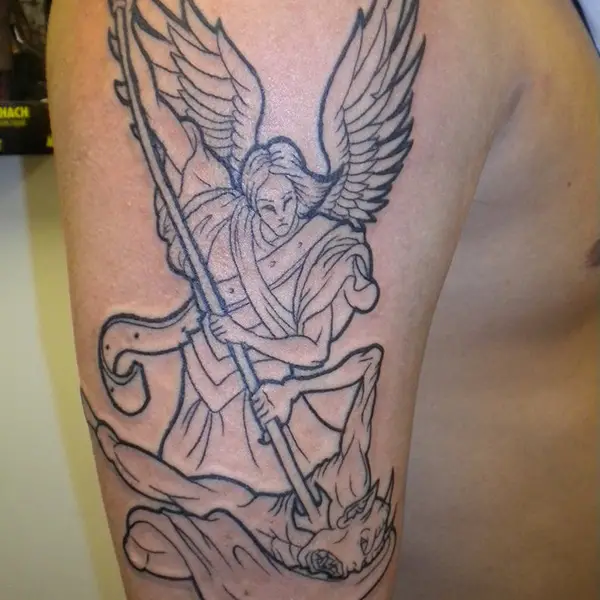 Black St Michael
Make your life special with this Saint Michael guardian angel tattoo that carries a unique meaning with it.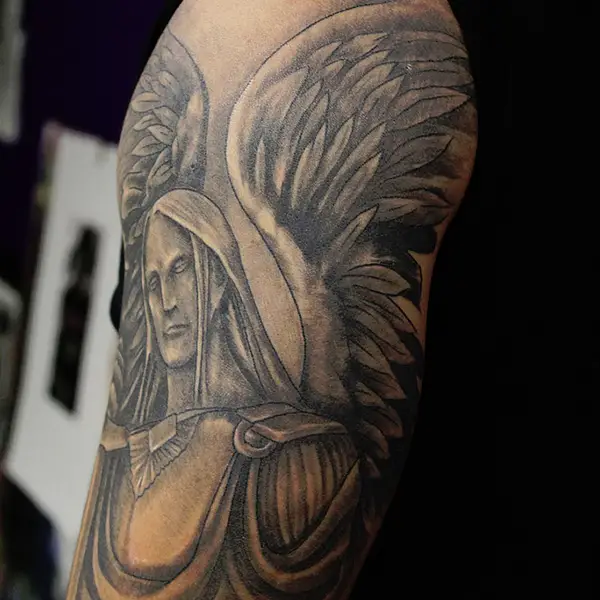 If you like this article, you might be interested in some of our other articles on  Calla Lily Tattoo,  Ancient Art Tattoo,  Sacred Art Tattoo  and  Tattoo Lettering Styles.