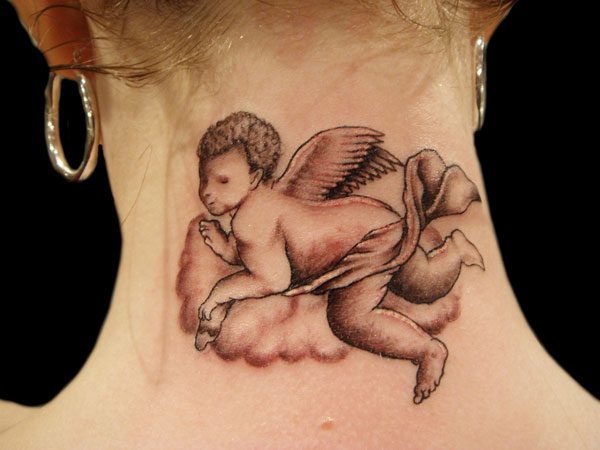 Mythical religious figures always fascinate us. All of us have heard numerous stories about their miracles and divine powers that they possess. We love to read their tales and also like to wear tattoos with the different mythical figures as the central theme. Well, among the various mythical figure tattoos, the cherub enjoys huge popularity among men as well as women. The cherub, as you know, is a kind of spiritual being who looks like a small child with wings. It is also known as a baby angel or a Putti.
That's why original cherub tattoos are so popular among people.
The cherub tattoos are worn by people as a symbol of love, hope and protection. It also serves as an excellent inspirational and spiritual tattoo piece. The tattoos of cherub are also an excellent way of expressing one's love for one's child. On the other hand, memorial tattoos also use the cherub to convey the grief of a bereaved parent. If you too love the toddler angel with wings who is considered to be a link between people and god and want to get a tattoo bearing its image then check out the post we have created below. It features 25 images of tattoos with different types of cherubs. Take a look. You will find excellent ideas and inspirations for your own cherub tattoo.
Cherub On Neck
The woman got a cherub tattoo etched on her nape to wear as a protective emblem.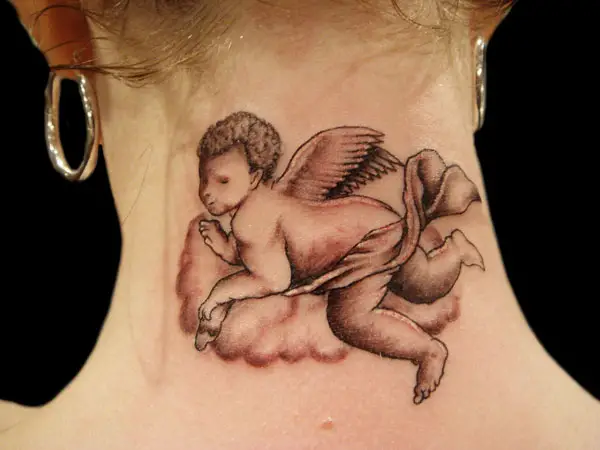 Ankle Cherub Tattoo
Symbol of innocence, love and hope, the cherub tattoo inspires the girl to be positive and have faith in herself.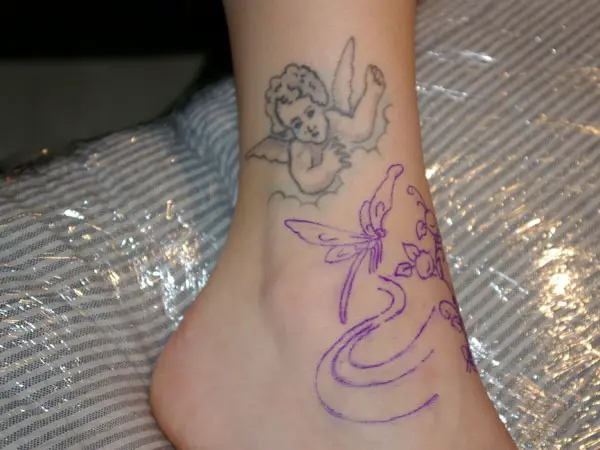 Pair Of Angels
Solemn and serene in outlook, this cherub tattoo has a very unique display.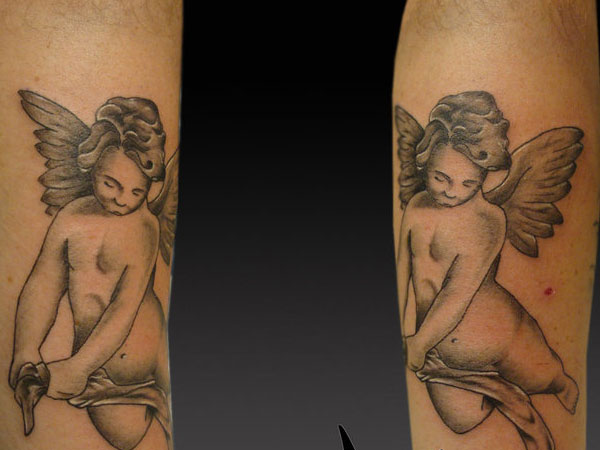 Loving Memory Cherub Tattoo
This catchy cherub tattoo is a tribute to the little angel who left for her heavenly abode.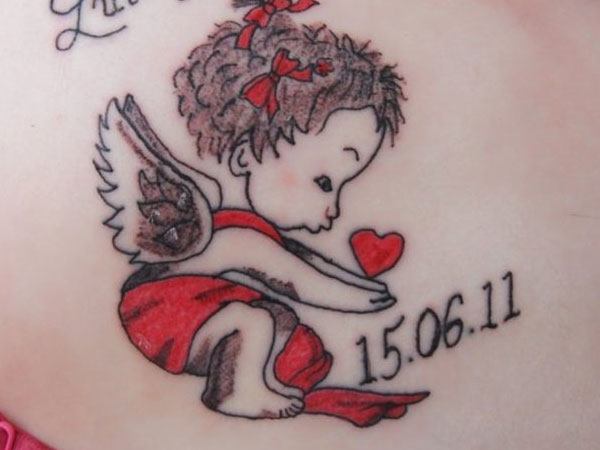 Sweet Cherub Tattoo
Lovely little cherub tattoo created with pink, red, yellow and blue shades is a symbol of love and hope.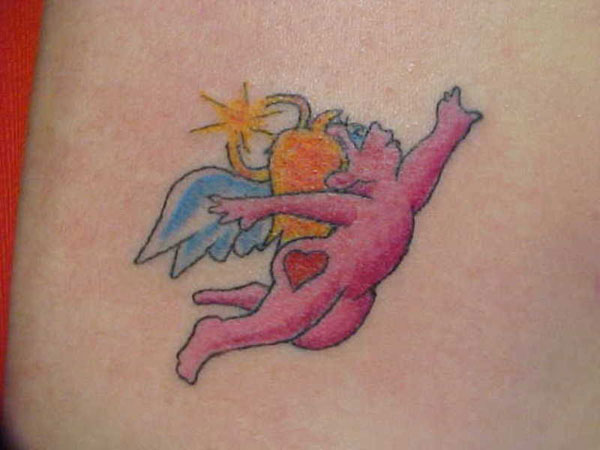 Prayerful Tattoo
Check out this arm tattoo that shows a cherub in the hands of God. It is a symbol of protection and security.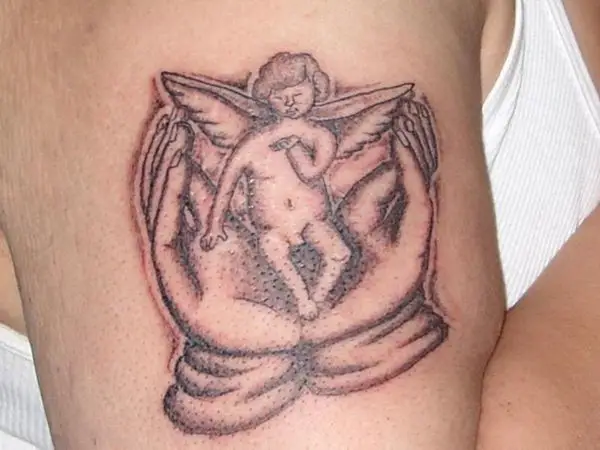 Father Son Bond
This tattoo stands for the love and protective attitude of the father towards his little son.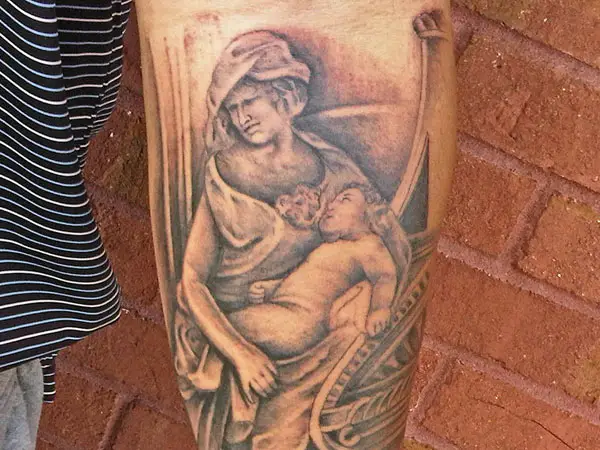 Siblings Love
Shown as hugging each other, this pair of male and female cherubs is a symbol of love between brother and sister.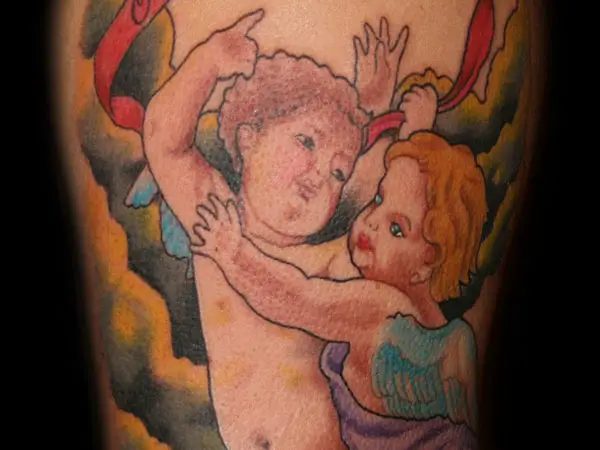 Lovely Foot Tattoo
The cute little cupid carved along with stars looks very charming and is a symbol of love.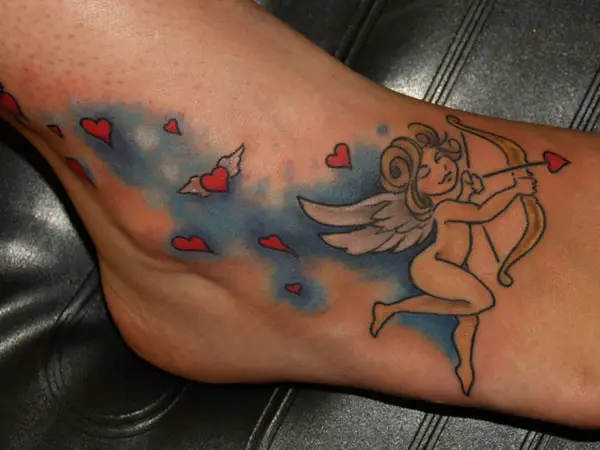 Guardian Angel & Cherubs
This cherub tattoo embodies the love and affection of the wearer for his son and daughter.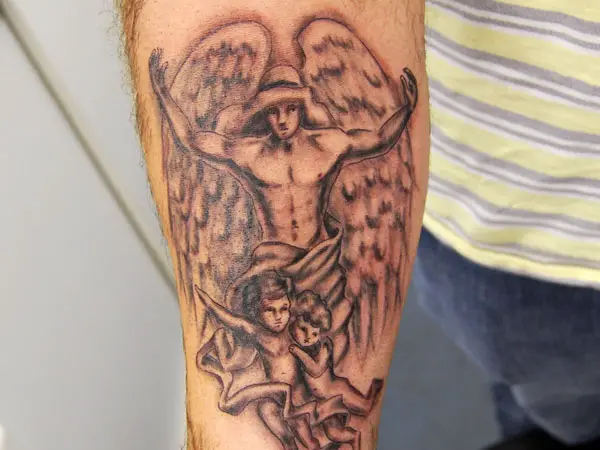 Memorial Cherub Tattoo
Carved along with birth and death dates, this cherub tattoo is in loving memory of a deceased child.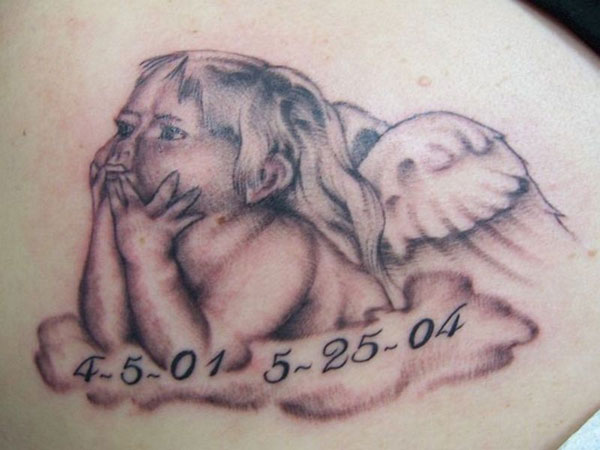 Chest Cherub Tattoo
The guy wears a cherub tattoo on his chest as an expression of love for his kid who is very close to him.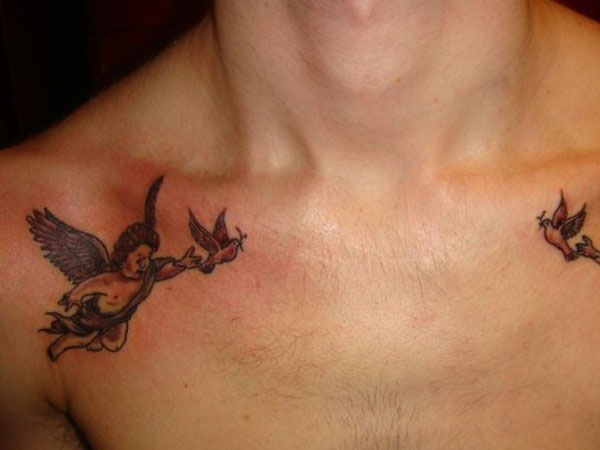 Spiritual Angel Tattoo
The praying cherub and the dove look very divine and ethereal together and stand for protection.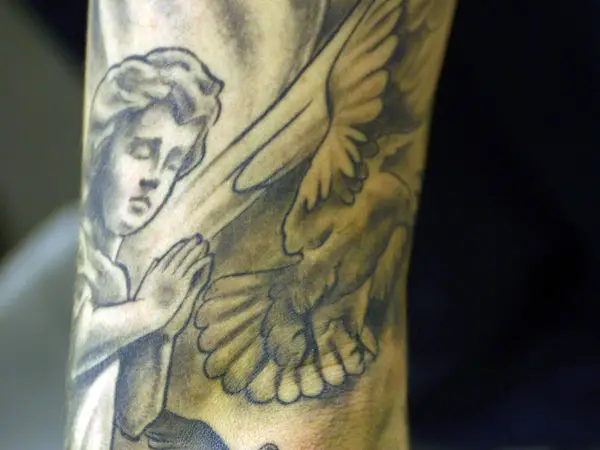 Devotional Cherub Tattoo
The prayer bearing scroll and the twin cherubs look very solemn together and make for a beautiful holy tattoo piece.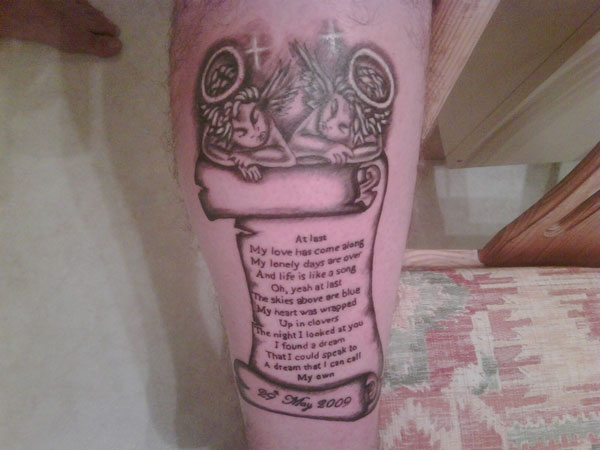 Sleeve Cherub Tattoo
Realistic looking cherubs gracing the forearm of the wearer are a symbol of hope and love.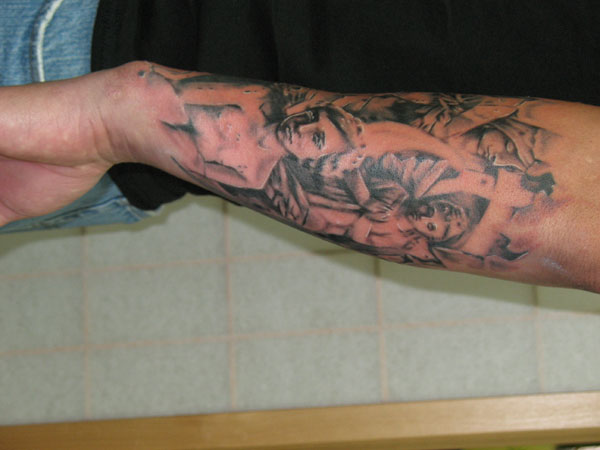 Sleeping Cherub Tattoo
This cherub tattoo stands for faith and love. It keeps the wearer going and also gives him strength.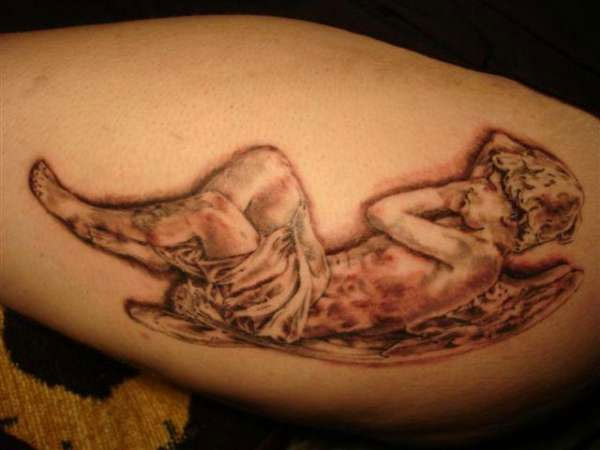 Cherub Tattoo For Children
Etched on the upper back, this sleeping cherub and names tattoo conveys the love of the wearer for her three children.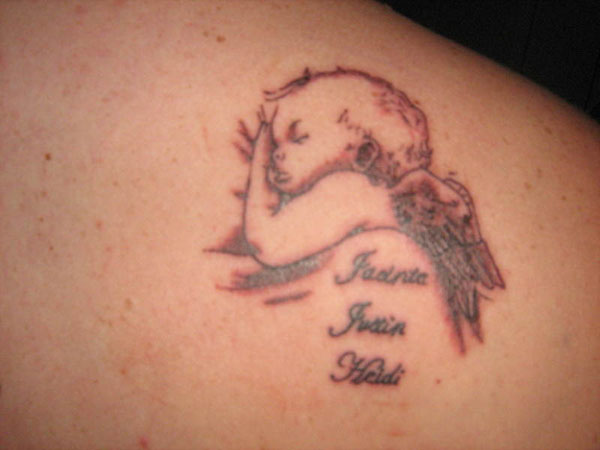 Comely Cherub Tattoo
Exhibiting a cute and calm charm, this cherub tattoo is symbolic of hope and happiness.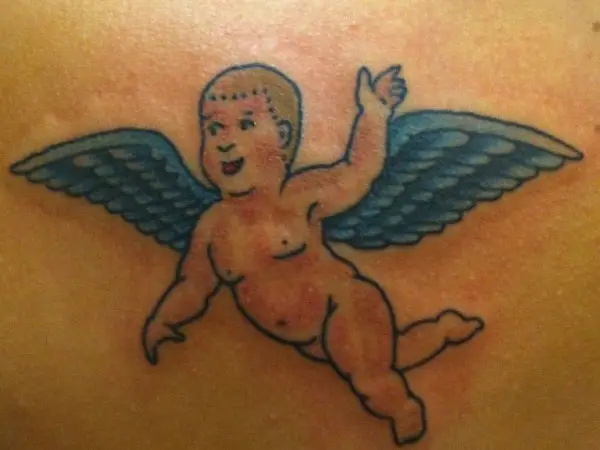 Cheeky Cherub Tattoo
Etched on the lower back, this small cherub tattoo is symbolic of mischief and playfulness.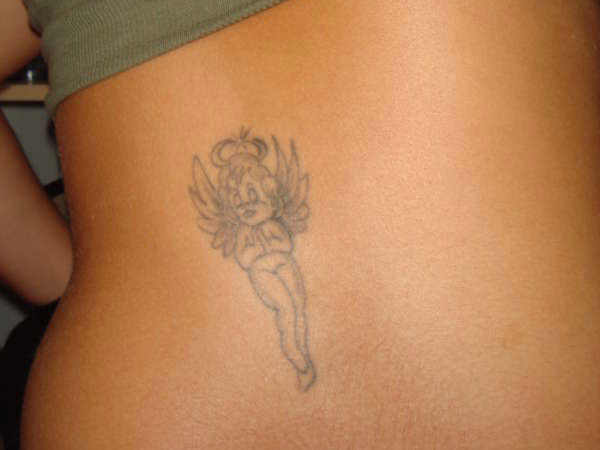 Cherubs Memorial Tattoo
These three cherubs carved on the back along with dates are a tribute to the dear ones who have departed for good.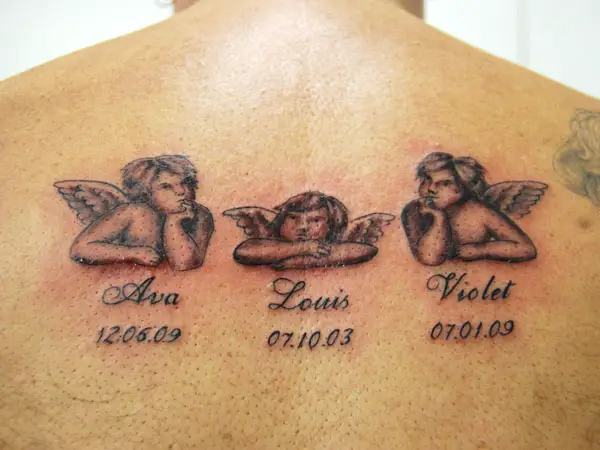 RIP Cherub Tattoo
This restful cherub tattoo is in memory of a lost child.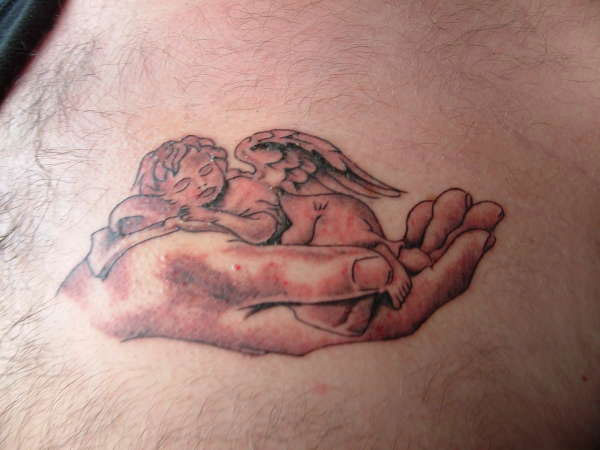 Twin Cherubs
Representative of love, affection and togetherness; this cherub tattoo looks very sweet.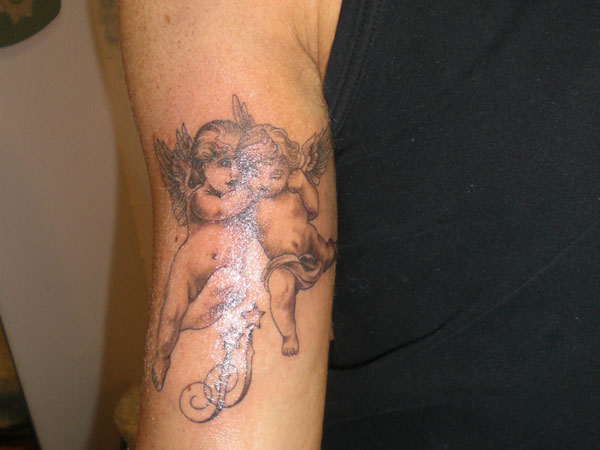 Joyful Cherub Tattoo
This tattoo celebrates the birth of the twin daughters of the wearer whose names are carved around the trumpet wielding cherub.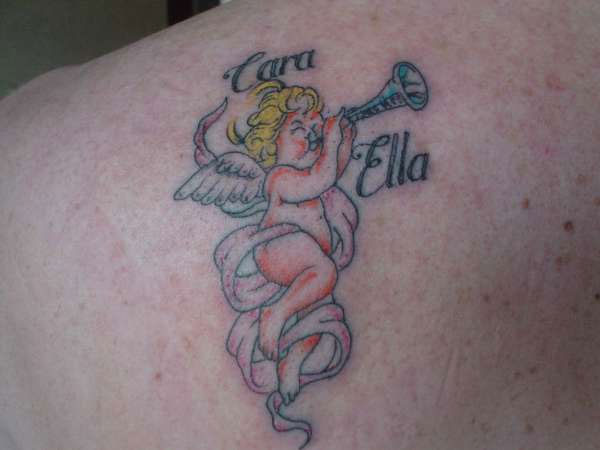 Alluring Cherub Tattoo
This black and white tattoo showing a cherub carrying flowers looks very captivating.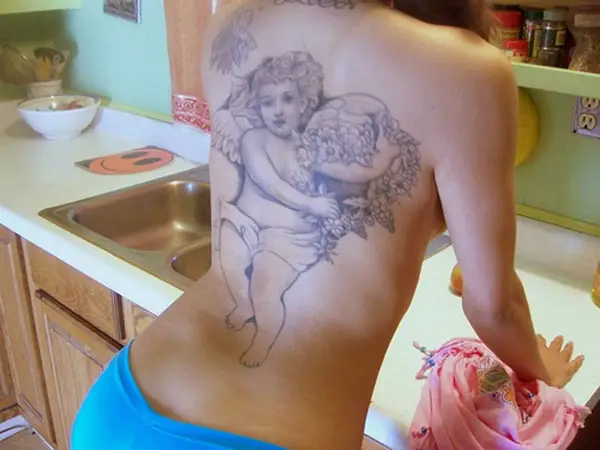 Solemn Sleeve Tattoo
Floating on the sleeve, this cherub tattoo looks very sacred and serene.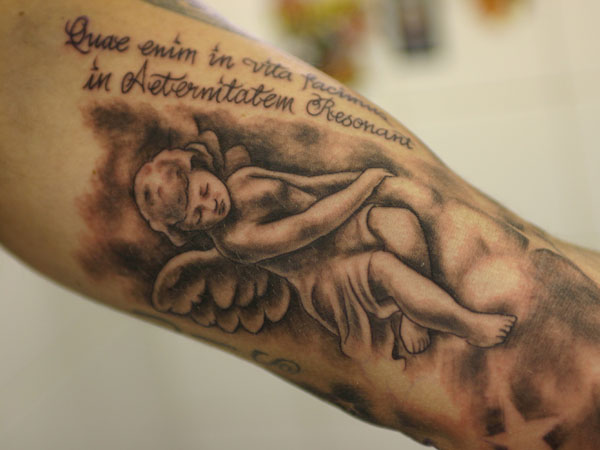 As you can see, there are some people out there that have some amazing cherub tattoos. Of course, you could take one of the pictures above to a tattoo studio and get the same tattoo and it would look great. However, I would highly suggest getting an original cherub tattoo. A tattoo is something that will be with you forever, so try to make sure the tattoo is unique to you. For instance, you could get a cherub tattoo with an inspiring quote underneath it that has changed your life.