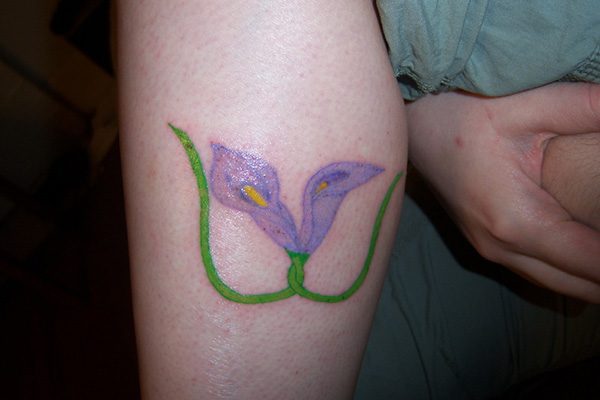 Want to get a fiery bloom tattooed on your skin? Does the soft beauty of lilies attract you? If you are looking for a flower tattoo that combines the beauty of a lily with bright colors, a Calla Lily Tattoo is a great idea. Native to the African hinterlands, a calla lily is not a true lily. In the language of the place from where it originates, its name means a pig's ear. The huge petal that forms a gentle arch gives rise to this name. The graceful form of a calla lily lends itself to gorgeous designs, and its delicate beauty makes it ideal as tattoos for women.
If you plan to get a calla lily inked, decide on the placement of the tattoo. On long areas such as your leg, you can go for a design showing a bouquet of calla lilies. The rounded area of your forearm looks great with a realistic flower tattoo. For the wide lower back, a lily in a supine position can make for an attractive design. You can have the distinctive large petal done in a sensuous style in a color of your choice. Calla lilies come in many vivid colors which can brighten a tattoo design. From fiery orange and lush magenta, to delicate white and pale pink, calla lilies are known for a wide color palette and an attractive shape. Choose a color for your tattoo based on the theme you want to showcase. Purple is a mystical color that resembles the evening sky, and you can go for a purple calla lily tattoo design. If you are in love and want to declare it to the world, twin calla lilies make for interesting designs. Intertwining stems and two flowers is a design many lovers choose for their tattoo.
While rich colors stand out in calla lily tattoos, you can also play up the simple form with a gracefully flowy design in black.
The elegant lines of a calla lily make them particularly suitable for intimate tattoos. A pretty pink calla lily tattoo peeping above your waistline can be both inviting and erotic.
If you like this article, you might be interested in some of our other articles on Angel Tattoos, Wedding Tattoos, Travel Tattoos and Tattoo Quotes.
Peace Of Lilies
Two delicate mauve lilies sit side by side in this calf tattoo design. The green stalks intertwine and curve upward to make a W shape.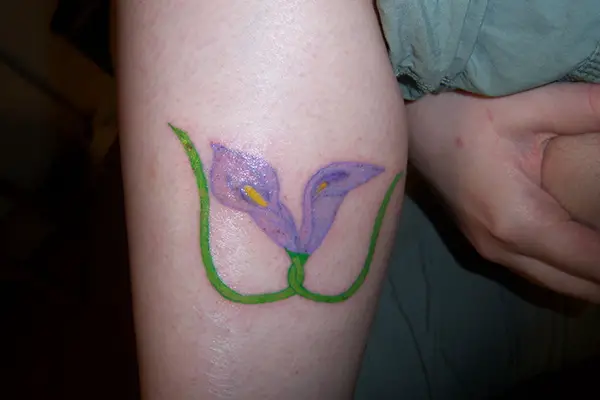 Calla Orange
The bright orange petal of a calla lily looks out at the viewer from this realistic forearm tattoo design.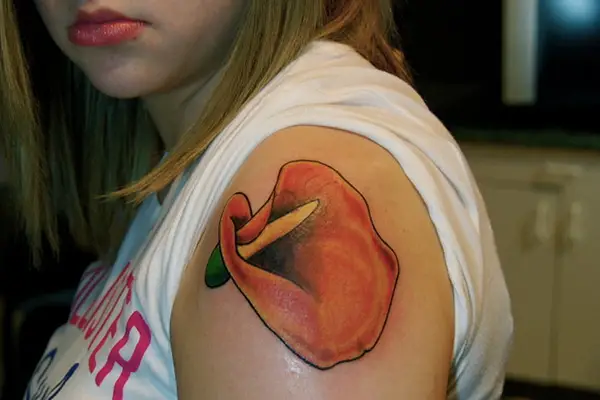 Calla Heart
A gray lily with an orange center makes an appearance in this delicate tattoo. The design is inked in flowy lines.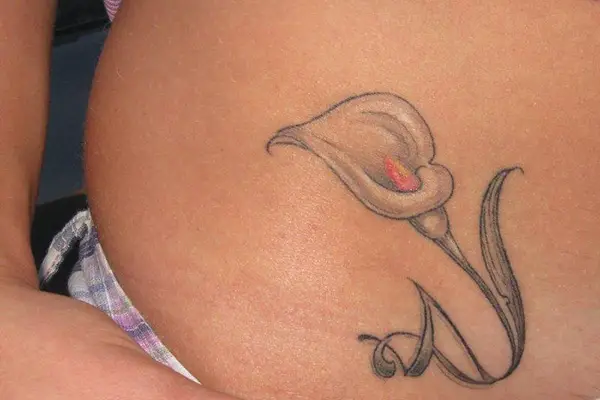 Calla Lilies Foot
White, golden-yellow and green come together with light blue in this colorful calla lilies foot tattoo.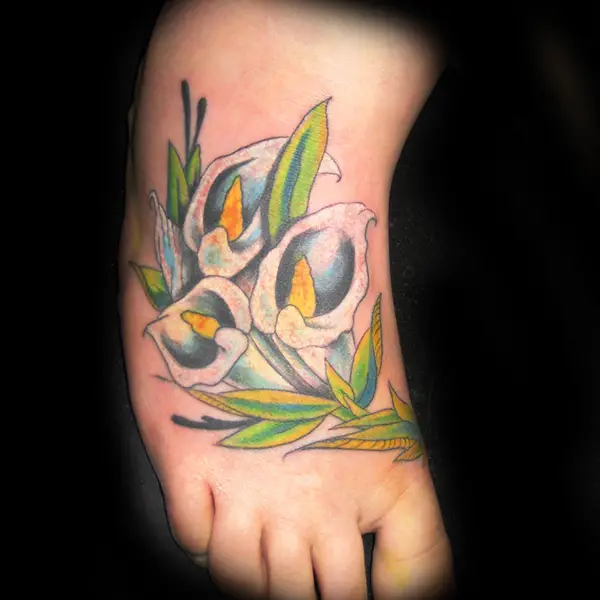 Sacred Calla Lily
A stylized stem with calla lilies combines with pentagrams in this artistic foot tattoo.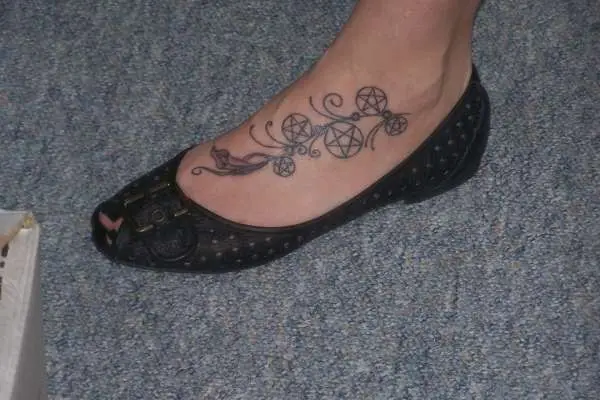 Organic Calla Lily
Take a look at this lower leg calla lily tattoo. The green leaf bends over the flower in a graceful arch.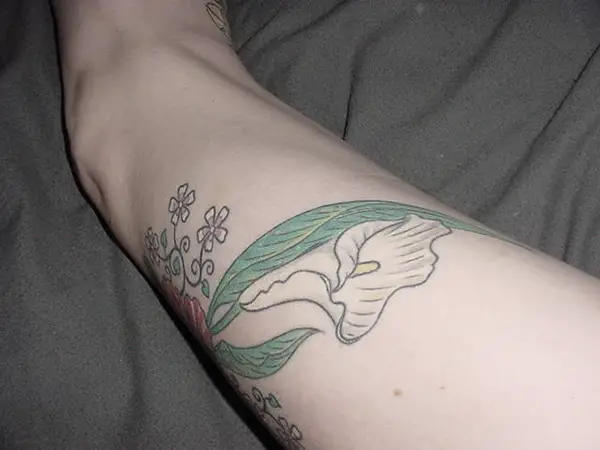 Split Calla Lily
The lower back becomes the canvas for a horizontal calla lily tattoo inked in black.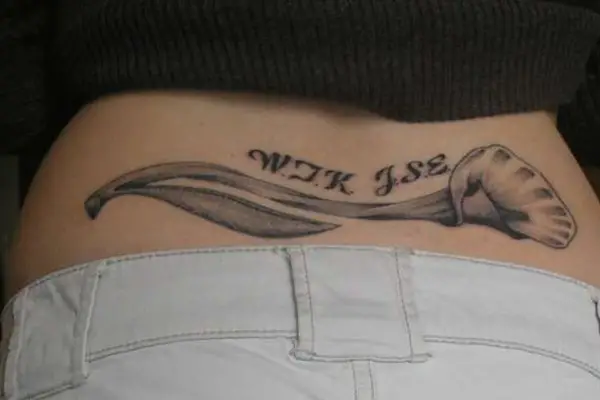 Calla Pink
A single petaled flower in baby pink makes for a lovely small tattoo design. Two large leaves droop below the petal.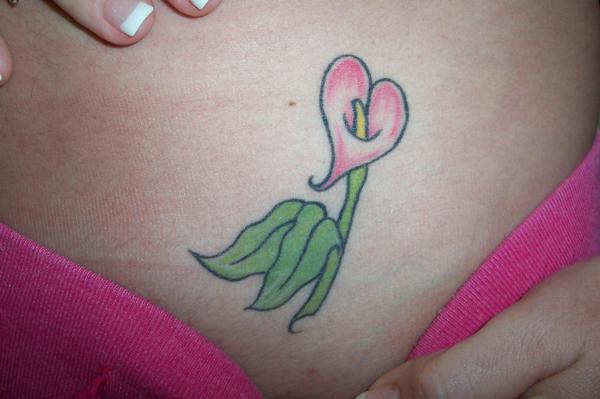 Gorgeous Lillies
Nuanced shading brings out the beauty of the twin calla lilies in this realistic flower tattoo for a couple.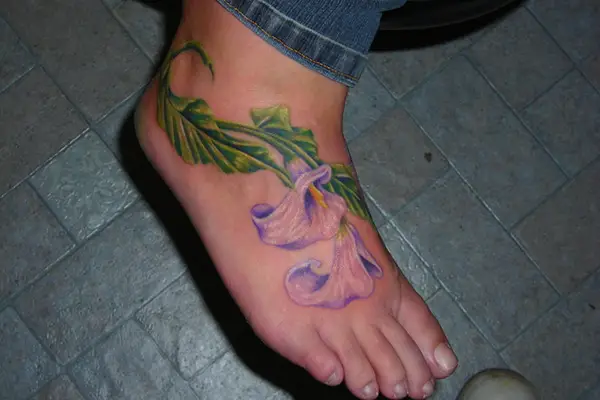 Pollinating Calla Lily
Elegant tendrils and soft orange petals combine in this graceful design inked below the navel. A butterfly hovers just above the navel, adding to the sensuous feel.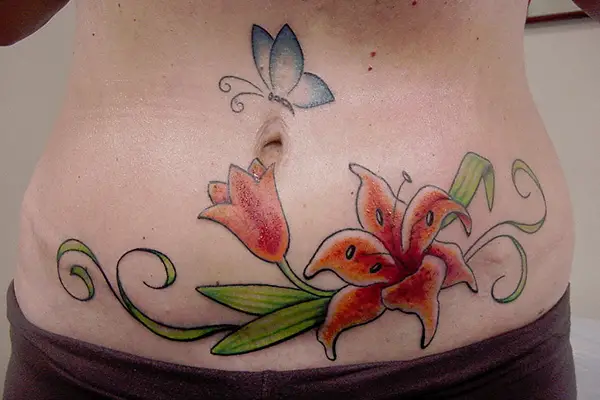 Colorful Lily Tattoo
In this fantasy theme tattoo, a tiny blue flower fairy sits kneeling amongst twin orange calla lilies.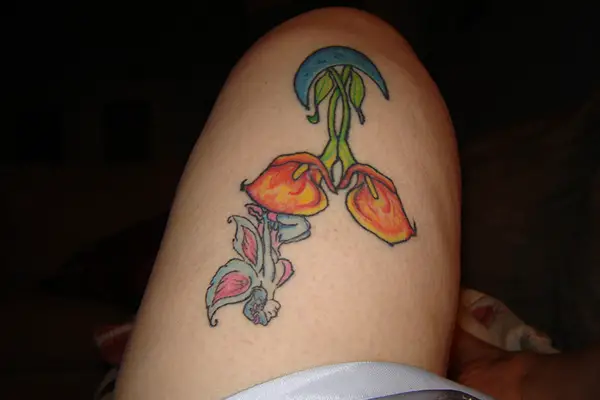 Calla Lily Tattoos
A graceful calla lily forms the pendant in the bracelet tattoo design. The lower leg is artistically inked with a tall-stemmed lily.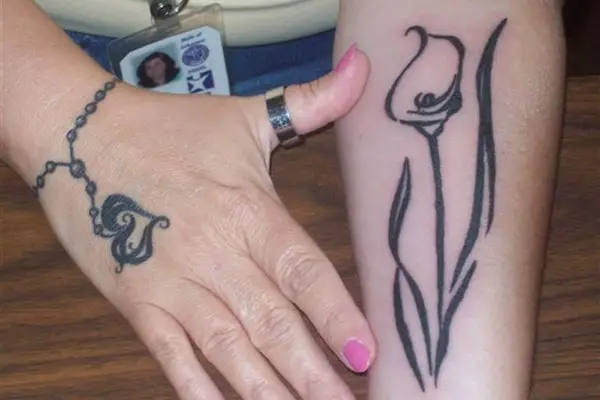 Calla Lily Natural Picture
A vividly shaded blue frog seems to be coming out of the pink calla lily in this surrealistic shoulder tattoo.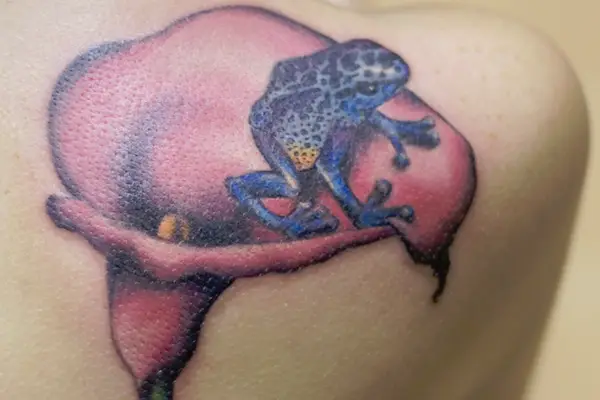 Blue Calla Lily
Graceful lines flow into spirals in this pale blue calla lily tattoo. The leaf has a light aqua tinge, matching the blue butterfly above the lily.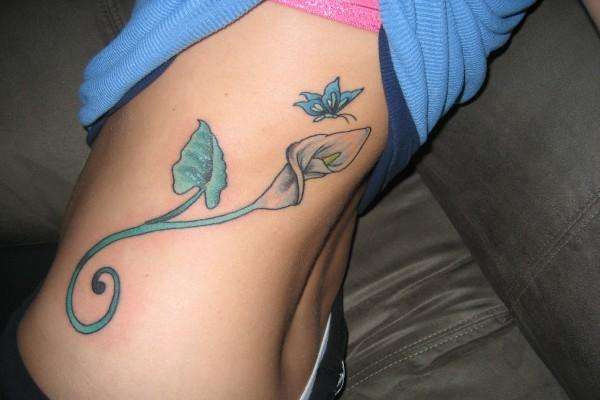 Grassy Wild Tattoo
The sensuous petals of calla lilies bend among tall grass stalks in this dynamic sleeve tattoo.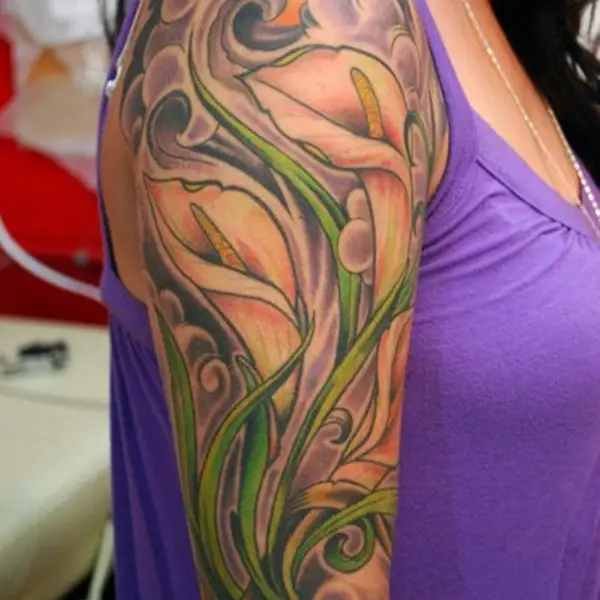 Calla White
Here's a fresh white calla lily with an orange heart. A white ribbon is tied into a bow on the stem.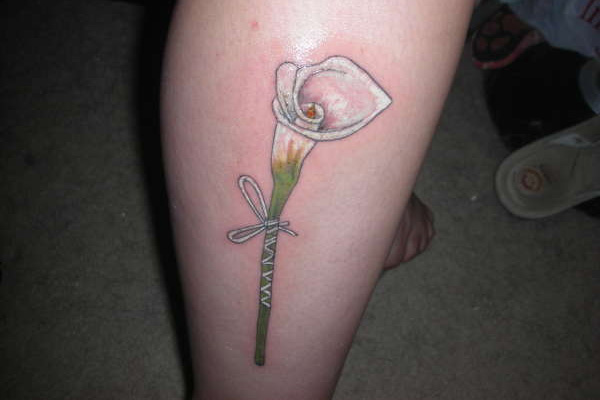 Delicate Lily Tattoo
Light blue combines with soft pink in this gorgeous calla lily tattoo. Bold black curves form the background of the design.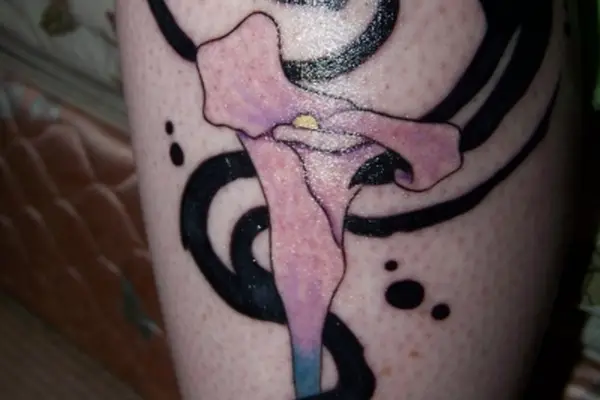 Calla Lily Purple
A pair of purple calla lilies on the lower leg looks on at the outline of a lily tattoo inked on the ankle.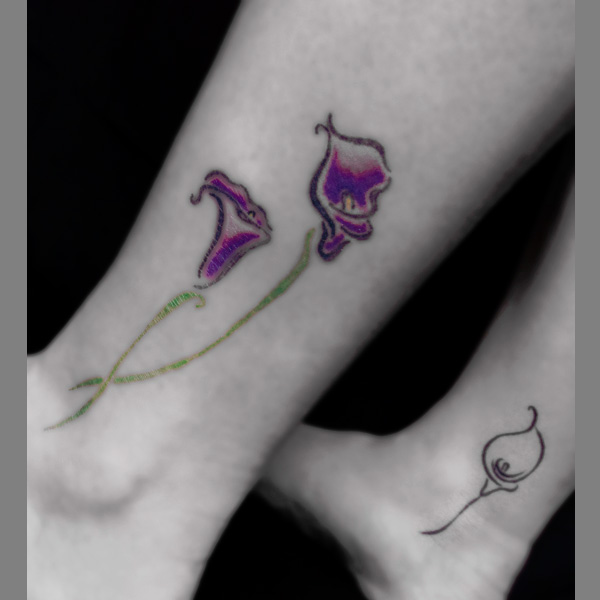 My Calla Lilly Tattoo
Rich shades of purple blend into inky blue in this royal calla lily tattoo. The sepal gracefully mimics the long tongue of the petal.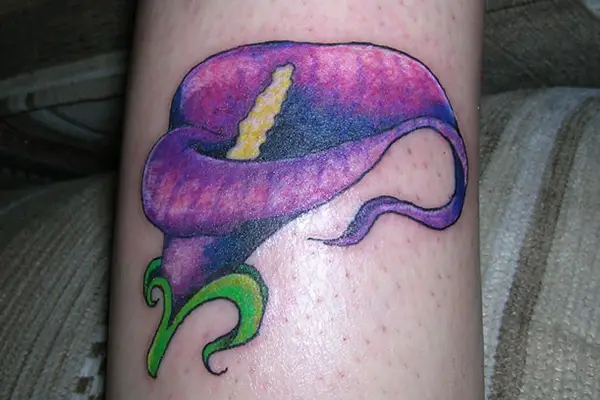 Blue Shadow Tattoo
Mauve shading gives depth to the joined calla lilies. Italian text sits between the flowers and their intertwined stem.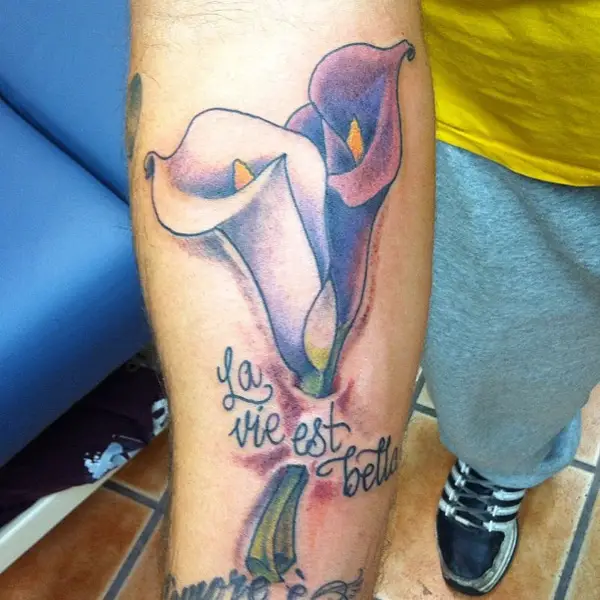 Eros Calla Lily
A mauve calla lily and a pink heart share space in this sensuous pastel hued tattoo celebrating love. The green of the stem softly blends with the skin tone.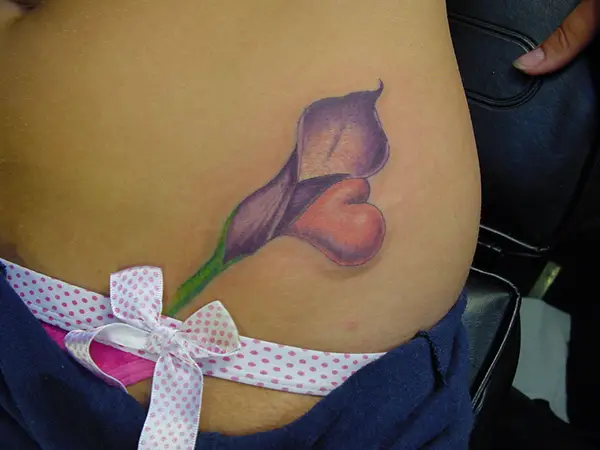 Calla Lilies Gold
Bold outlines give a vivid expression to the golden-yellow petals in this calla lilies tattoo design.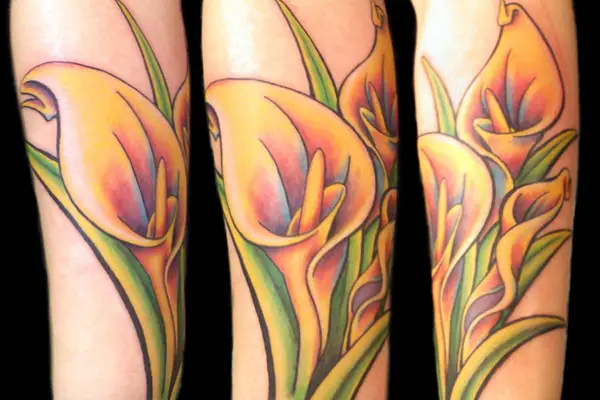 Calla Lilies Smile
Twin calla lilies gracefully bloom above a blue moon in this fantastical flower tattoo.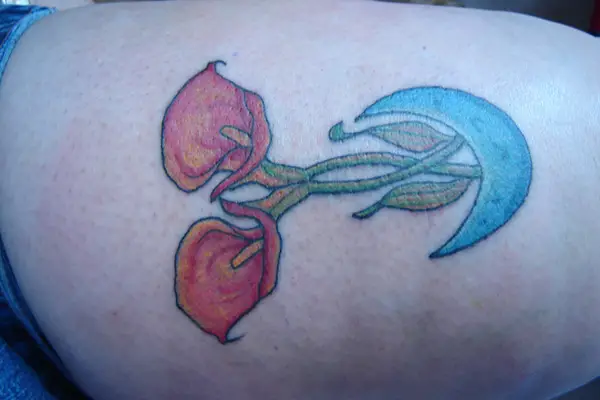 Pretty Calla
Lush pink calla lilies bloom, one above the other, in this beautiful leg tattoo. A rich purple ribbon ties the bouquet together.