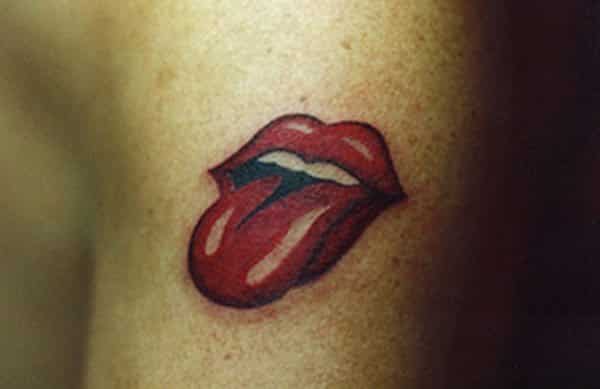 The Rolling Stones are one of the most popular and influential rock n' roll bands of our time. Established in 1962, The Rolling Stones have a couple dozen albums and a few hundred songs under their belts. And, they're  still going strong over 50 years later! There aren't many bands that you can say that about. Love 'em or hate 'em, you've gotta respect 'em!
Rolling Stones fans are still going strong too! This legendary rock band has a huge following, with fans from every generation. Hard core fans may also opt to get a Rolling Stones tattoo to honor one of the greatest rock n' roll bands of all time.
If you're a die hard Stones fan, you might be considering your own Rolling Stones tattoo.
Take a look at some of these Rolling Stones tattoo ideas for a little inspiration for your own ink!
1. Classic Rolling Stones Tongue Tattoo
One of the most recognized symbols in the history of rock n' roll, the bright red Stones tongue make a great simple Rolling Stones tattoo design!
2. American Flag Rolling Stones Tongue Tattoo
Although originally part of the British Invasion of the '60s, The Rolling Stones also have a huge following in the United States!
3. Different Rolling Stones Tongues Tattoo
Can't choose a favorite from the many Rolling Stones tongues? Pick a few for an awesome Rolling Stones tattoo!
4. Rolling Stones Tattoos on Forearm
There's no mistaking who this guy's favorite band is!
5. Keyboard Rolling Stones Tattoo
Great tattoo for Rolling Stones fans and music lovers in general.
6. Rolling Stones Banner Tattoo
Here's a classic artistic Rolling Stones Tattoo, with the tongue logo and the words "Rolling Stones" in banners.
7. Music Notes and Rolling Stones Tattoo
A blue background and music notes really dresses up this Rolling Stones tattoo.
8. Microphone Rolling Stones Chest Tattoo
An amazing Rolling Stones tattoo for guys looking for a chest tattoo!
9. Rolling Stones Tattoo You Tattoo
What better Rolling Stones tattoo design than an homage to the Tattoo You album?
10. Let It Bleed Rolling Stones Tattoo
But, every fan has a favorite Stones album, and you can choose to showcase any album you want.
11. Wild Horses Rolling Stones Tattoo
Lyrics from the song Wild Horses make a sweet and meaningful Rolling Stones tattoo design.
12. Rolling Stones Lyrics Tattoo
But if you try sometimes, you just might find…you get what you need!
13. Mick and Keith Stones Tattoos
Matching Mick Jagger and Keith Richards Rolling Stones tattoos on the forearms is an artistic and unique way to pay homage to two rock n' roll greats!
12. Keith Richards Tattoo
Everyone has a favorite Rolling Stone too! Here's an amazing homage to Keith Richards, the Stones' lead guitarist.
15. Mick Jagger Tattoo
Or, how about a portrait of the Rolling Stones front man, Mick Jagger, complete with his signature pout?
Whether you opt for the classic tongue logo, favorite album, or song lyrics, you can't go wrong with a Rolling Stones tattoo if you're a die hard fan! The Stones are and always will be one of the greatest rock bands in history. They've entertained fans for decades with classic rock songs, and—like their music—Rolling Stones tattoos will never go out of style!