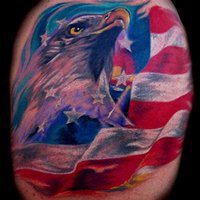 One of the most patriotic holiday that the United States celebrates is the 4th of July! Some people are very proud of the fact they are American, and go ahead and get a tattoo to show off their American pride. We have decided to make it easy to show just how patriotic some people are, and we have found some amazing tattoos that have the red, white, and blue!
We promise you that once you get done looking at this list, you too will feel proud to live in America, and you may be inspired to get a flag tattoo of your own! Are you ready to check out the list of 11 American Flag Tattoo Designs? If you are breathless with anticipation, you can go ahead and scroll down now.
American Flag Tattoo 1
Some very patriotic people often say that they have an American heart. This tattoo shows that someone's chest has been pierced, and through the skin, the red, white, and blue, can be seen!
American Flag Tattoo 2
There are many ways that the American flag can be hung, and some people prefer to hang it with the stripes going down, and this tattoo is located going down an arm.
American Flag Tattoo 3
There are some people that are proud to be an American, but also have another heritage mixed in that they also want to show. This American flag is mixed in with a Native American dream catcher, and it looks both spiritual and American at the same time!
American Flag Tattoo 4
Some Americans have a flag pole in their yard, and they take a lot of pride in putting a flag on the pole every day, and then taking it down at night. However, with this arm tattoo, the flag can stay out no matter what!
American Flag Tattoo 5
Another great example of an arm that has the American flag tattooed on it! However, instead of the stripes going down, this arm tattoo has the strips going up the arm instead of down it!
American Flag Tattoo 6
One way that people show their patriotism is to tie ribbons around their cars and tied around the trees in their yard. However, a ribbon tattoo of the American flag can make it a lot easier to keep a ribbon tied.
American Flag Tattoo 7
A tattoo on the chest can include a couple of words, and this chest may belong to a soldier because of the words. Soldiers are brave men and women that keep the United States a free nation, and they should always have the support they need.
American Flag Tattoo 8
This soldier wants to show his American pride with a shoulder tattoo, but there are dog tags included in it that has the name of both himself and someone that he loves very much and wants to preserve in ink!
American Flag Tattoo 9
Why just have a plain flag tattoo when you can take something like your favorite hobby and include it in the tattoo? Clearly, this person is a fisherman, and maybe one day he did catch a marlin.
American Flag Tattoo 10
Most people think that men are the only ones that get inked, but this is not true because this lovely tattoo is on a woman! Sparrows are delicate little birds, but this sparrow is special because he is a patriotic bird!
American Flag Tattoo 11
This tattoo can be on the body of a cowboy who lives in Texas, or it can just be someone that loves cow skulls and barbed wire! However, the American flag over the skull of the cow really adds something to the tattoo!
So, were we right about how awesome these tattoos are? Do you feel patriotic now? If you are impressed, then be sure to leave us a comment below. However, if you didn't like this list, we have links to even more lists below. All you have to do is click on one! Now, what are you waiting for? Let's get started looking at other great lists!
If you liked this list of 11 American Flag Tattoo Designs, then check out 25 Exceptional Graffiti Tattoos, 40 Staggering Mohawk Hairstyles, and 50 Tremendous Lady Gaga Pictures.