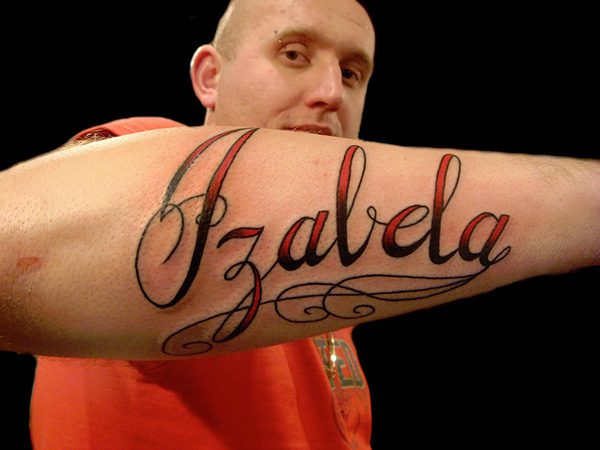 Shakespeare might not have configured anything significant in a name but the truth is our names hold a lot of importance for us. Not only this, the names of our dear ones are also as dear to us as the person who owns it. This same affection and attachment for names finds an expression in name tattoos. Tattoos of names are quite popular among men and women. It is a common sight to see people displaying tattoos that bear names in stylish and designer fonts. This name may belong to the wearer's mother, father, friend, kids, lover or any other person whom he/she loves and values.
If you are also in love with this name tattoo and want to get one for yourself then you must find out classic fonts that are the backbone of the name tattoo. Colors are not very significant and mostly people go for the dark shade. However, accompanying elements such as flowers, vines, heart shapes, etc. are very sought-after and form an important part of these tattoos. Here we have presented a collection of 32 pictures that will give you fabulous ideas and inspirations on the variety of this art form. Take a look.
If you like this article, you might be interested in some of our other articles on Lea Michele Tattoos, Tiki Tattoos, Traditional Tattoos and Black Widow Tattoos.
Gorgeous Name Tattoo
The fancy font displaying the name of the wearer's wife in red and black shades looks very appealing.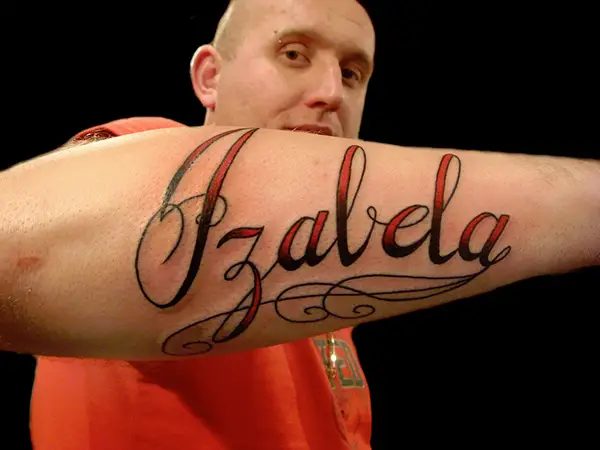 Religious Name Tattoo
The devout Christian girl gives expression to her faith with this bold and lovely name tattoo.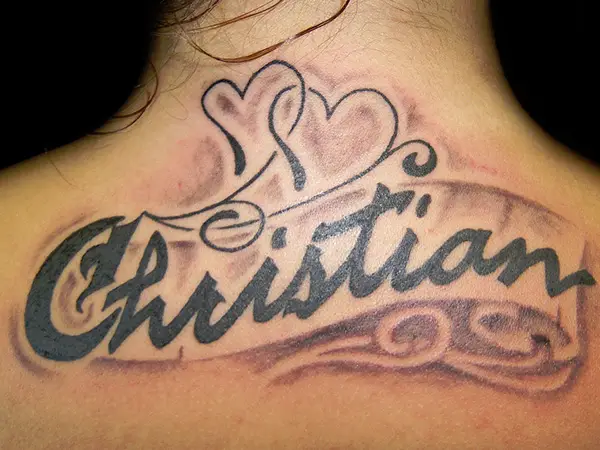 Kids Names Tattoo
The affectionate father is very protective about his kids. The name tattoos on his calf bear testimony to the fact.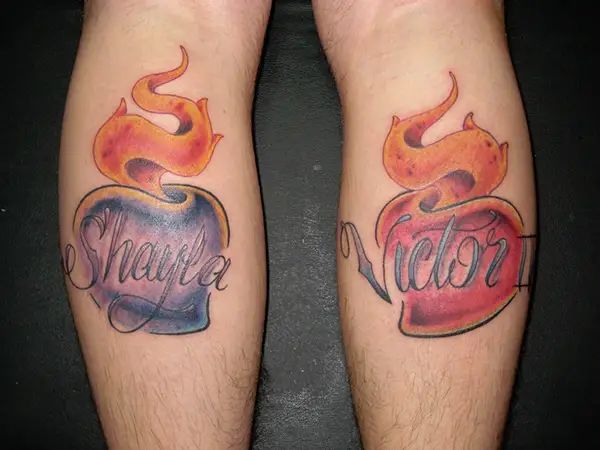 My Name Tattoo
Check the rippling effect created in this cursive name tattoo. It looks very fluent and flowing; an indicator of the wearer's easygoing nature.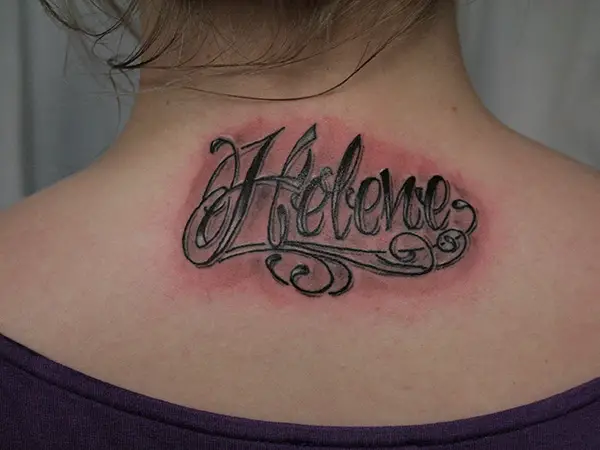 Lover's Name Tattoo
The girl expresses her affection for her lover with a cute name tattoo. The red hearts and the classic cursive font lend it a romantic look.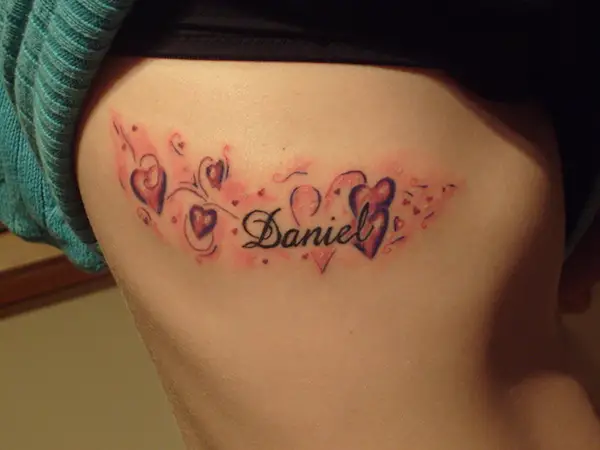 Daughter's Name Tattoo
The guy's daughter is the apple of his eye. Therefore, he got a name tattoo on his arm to immortalize his love.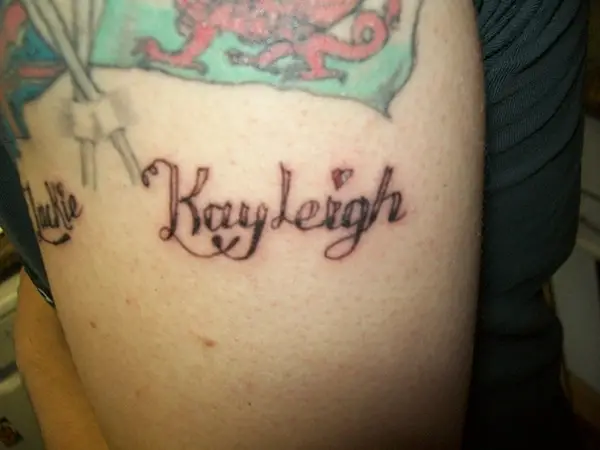 Arm Name Tattoo
The guy has got the name of his beloved carved on his arm in a breezy style that conveys his love and affection.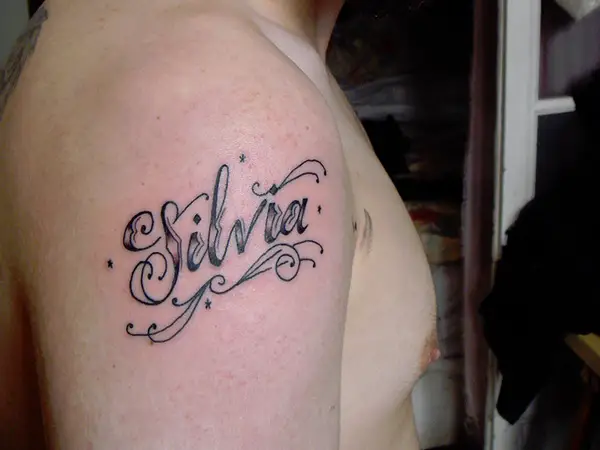 Name Tattoo On Neck
Look at the mother who has got the name of her little angel on her nape as a mark of love and affection.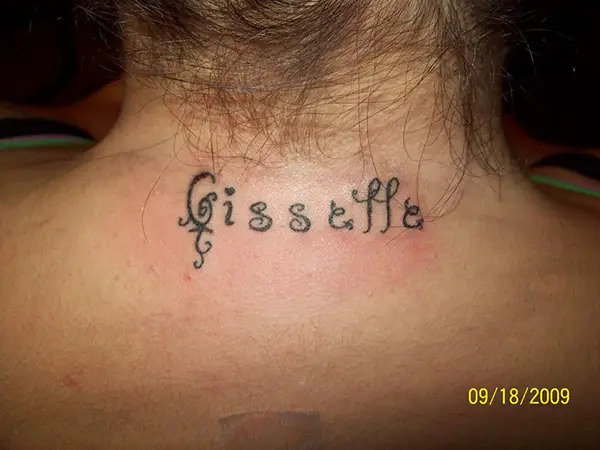 Scroll Name Tattoo
Elegant name tattoo that symbolizes the passion and love of the guy for his beloved "Sofia".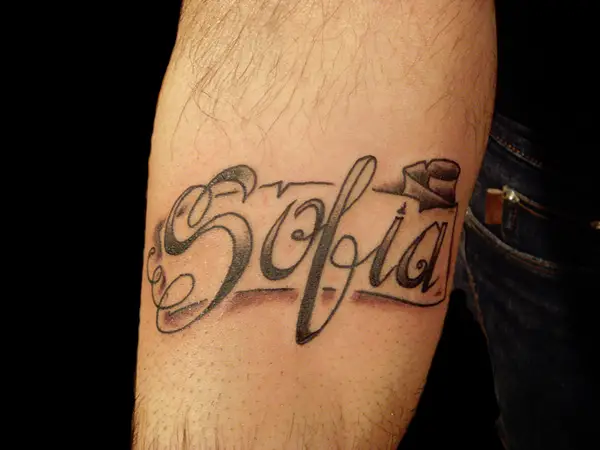 Last Name Tattoo
Bold and beautiful last name tattoo etched in the ambigram form makes a creative and cool style statement.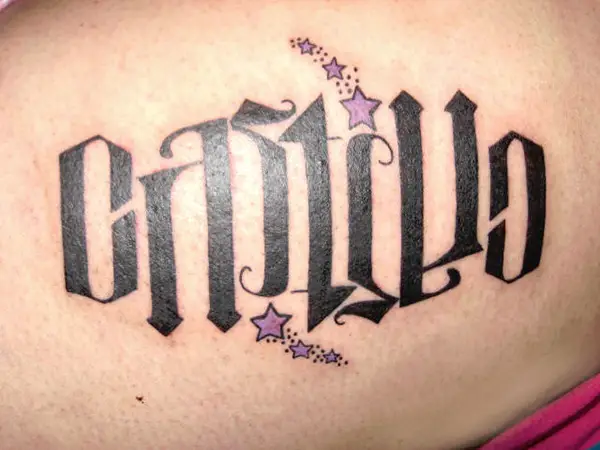 Daughters Names Tattoo
The proud father is thankful to god for blessing him with two lovely daughters. This names tattoo on his forearm is a symbol of gratitude.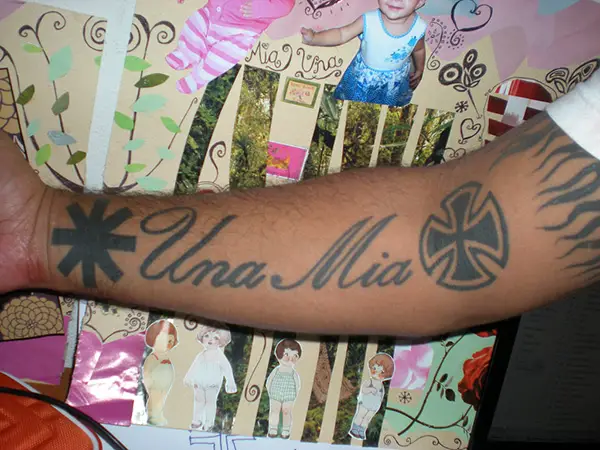 Classic Name Tattoo
Cursive, graceful and romantic; this name tattoo symbolizes the love life of the wearer.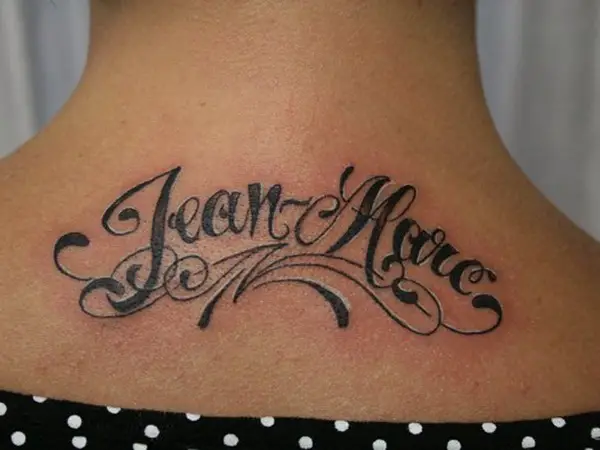 God's Name Tattoo
This Hebrew name tattoo represents the love and faith of the wearer in god.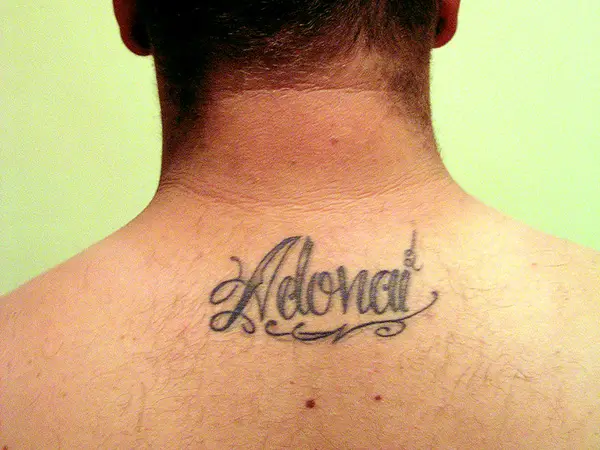 Catchy Name Tattoo
The rays backdrop makes the name tattoo acquire a glorious charm. It is a symbol that the daughter of the wearer brought sunshine in his life.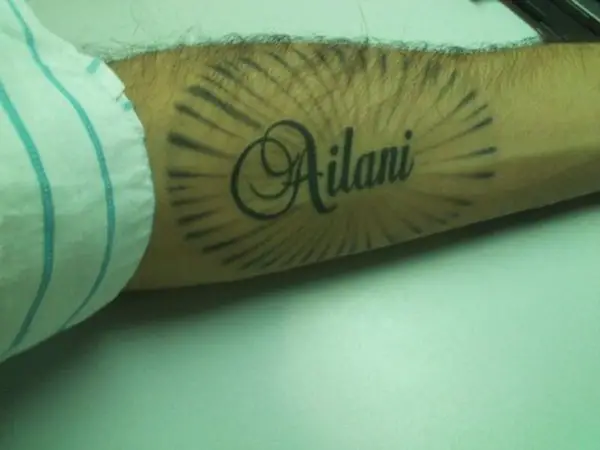 Roses & Name Tattoo
Sharp and sexy in outlook, this name tattoo is done in native script and symbolizes the love of the wearer for his beloved.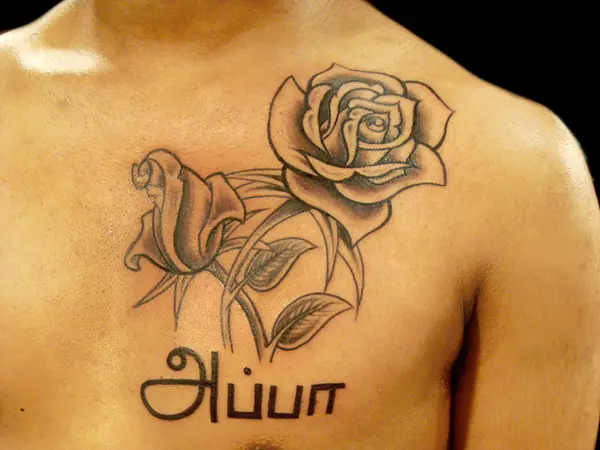 Back Name Tattoo
This badass and bold name tattoo is a tribute to the wearer's big brother who was a soldier.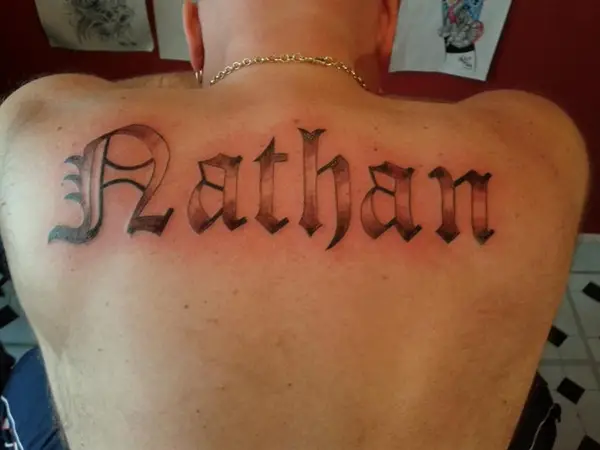 Calf Tattoo
The names of the wearer's son and daughter sit on her calf in the form of a cute tattoo. She got it to convey her love and gratitude.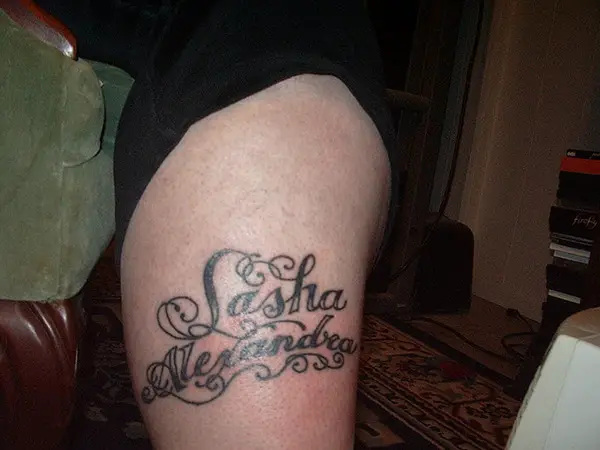 Foot Name Tattoo
The girl has got her name along with a butterfly on her foot to express her exuberant and freedom-loving spirit.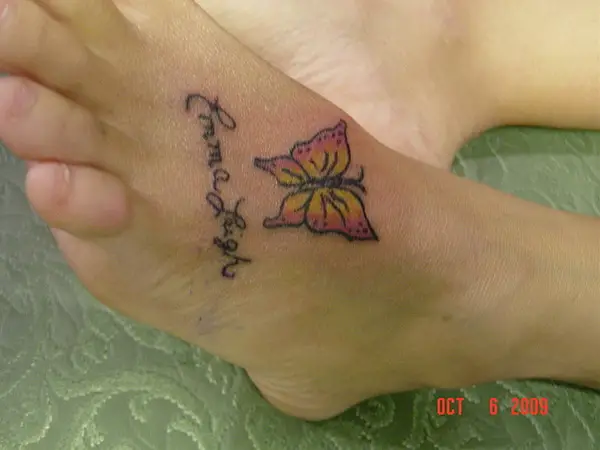 Shoulder Name Tattoo
"Jennifer" is the name of the wearer's wife and he got it carved on his shoulder to express his love and gratitude.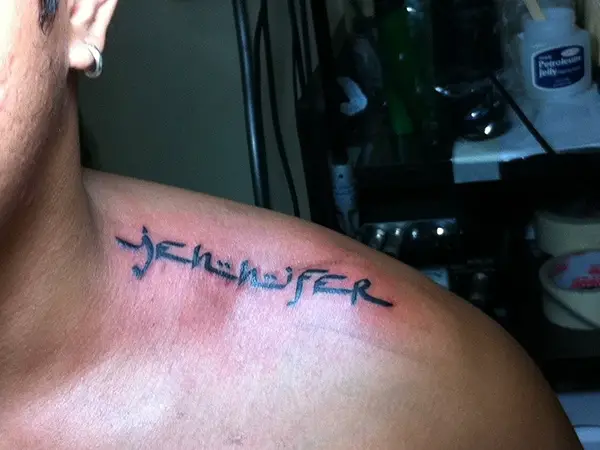 Pretty Name Tattoo
The lovely red rose and the equally cute name, done in an elegant font, look very sweet. It stands for the wearer's love for her little daughter.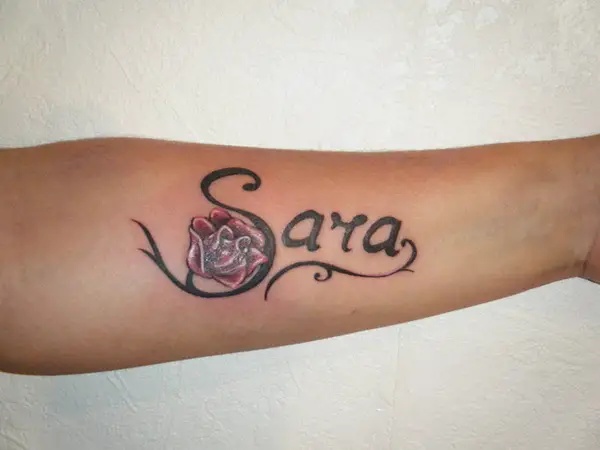 Mom's Name Tattoo
The beautiful cherry blossom flowers and the name symbolize the wearer's gratitude and affectionate feelings for her mother.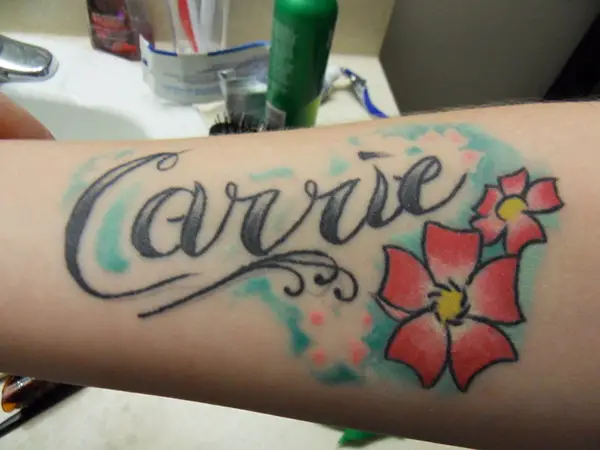 Flames & Name Tattoo
This name tattoo has a captivating look. It signifies the wearer's passionate love for his girlfriend.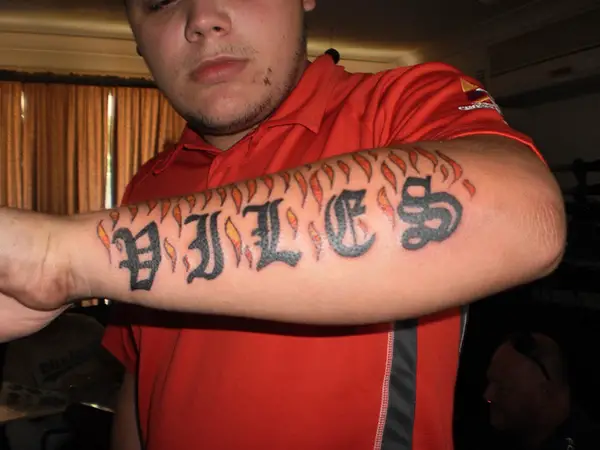 Radiant Name Tattoo
The proud father displays his son's name tattoo who was born on June 10, 2011.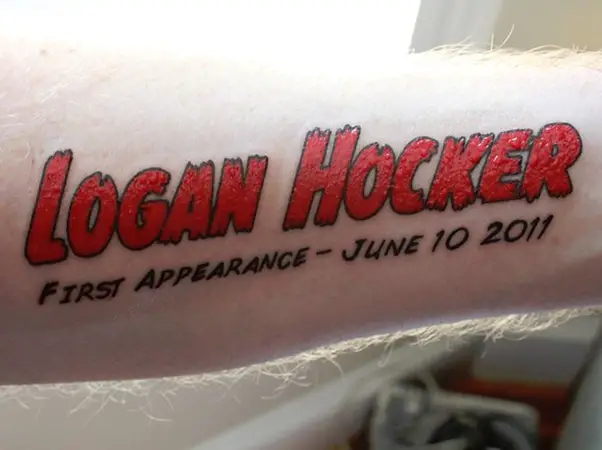 Radiant Name Tattoo
Badass Name Tattoo
Symbol of pride; this last name tattoo etched with red ink has a flashy and fearsome appeal.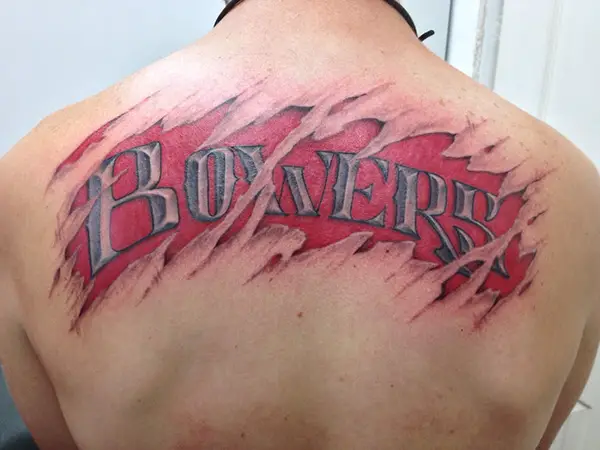 Striking Name Tattoo
The guy is very crazy about his girlfriend "Emily" and the tattoo on his forearm is an expression of the same craze and passion.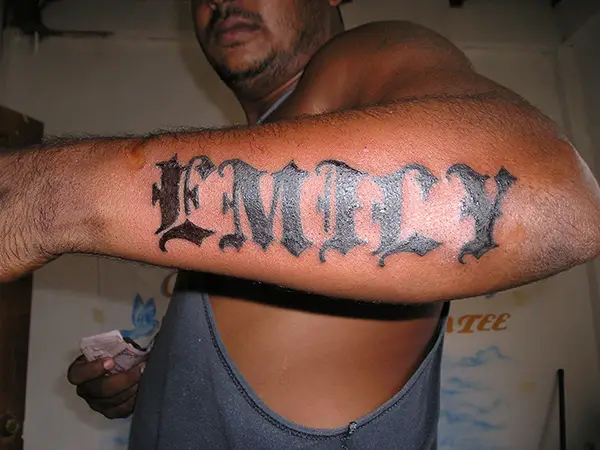 Beautiful Back Tattoo
The names of the kids and the clover leaf together create a super lovely tattoo that is symbolic of the mother's love. It also signifies that her kids are her lucky charm.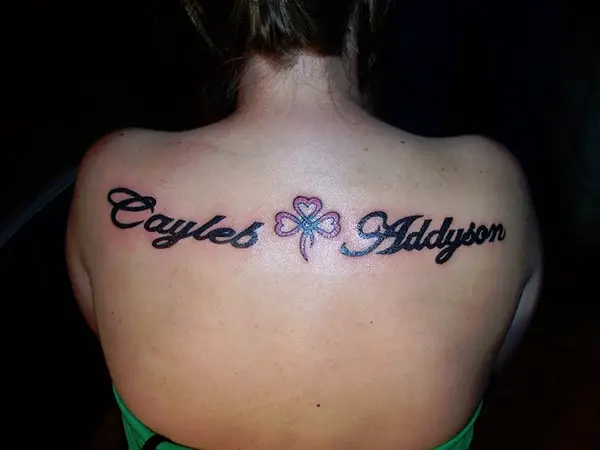 Cool Last Name Tattoo
The small skull above the letter "I" in the last name tattoo lends a catchy look to the whole art piece.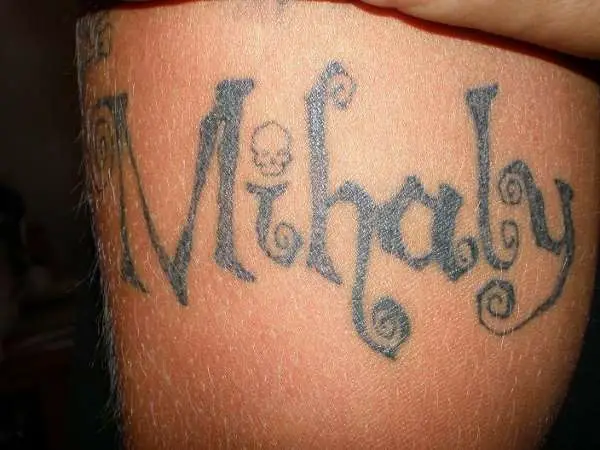 Name Tattoo On Neck
The guy has got the name of his best friend on his neck who is a musician as well as his music teacher.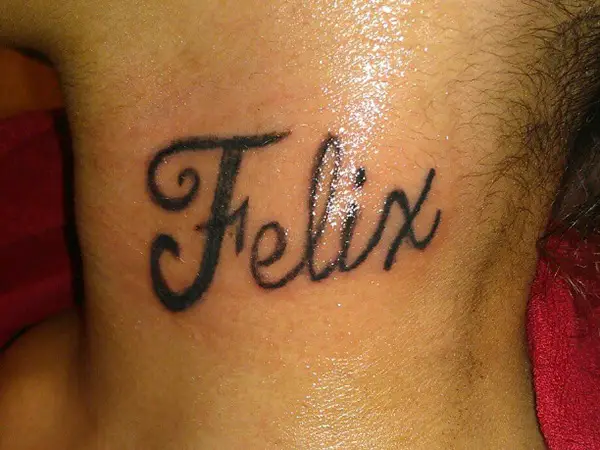 Impressive Name Tattoo
The fancy font gives shape to the name of the wearer's daughter. The tattoo looks very elegant and meaningful along with her date of birth.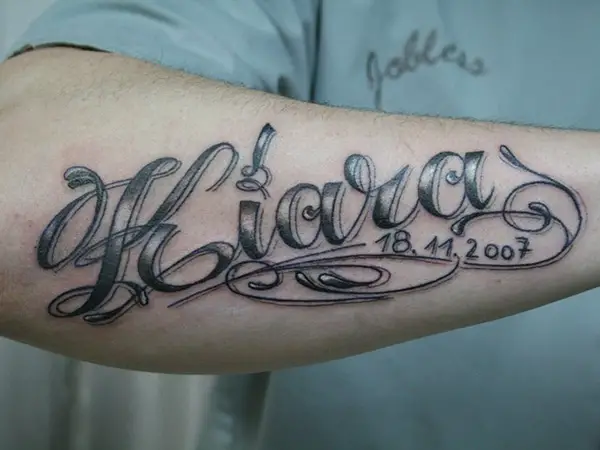 Father's Forearm Tattoo
This tattoo bears the name of the wearer's daughter and her date of birth. He got it to serve as an inspiration as it always reminds him to be responsible and caring.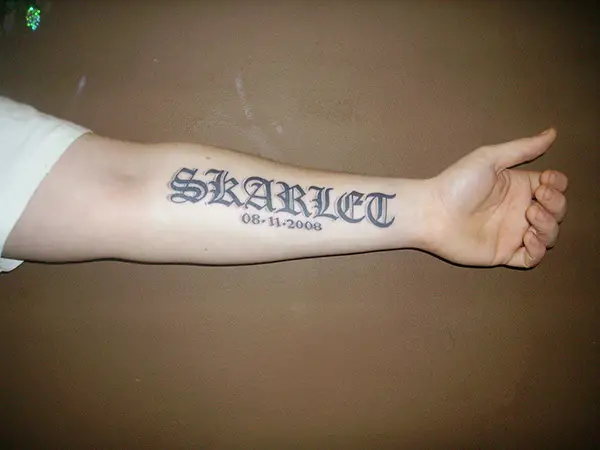 Son's Name Tattoo
Red and black shades grace this name tattoo created in capital letters that bear the name of the wearer's son. It has a glamorous and stylish look.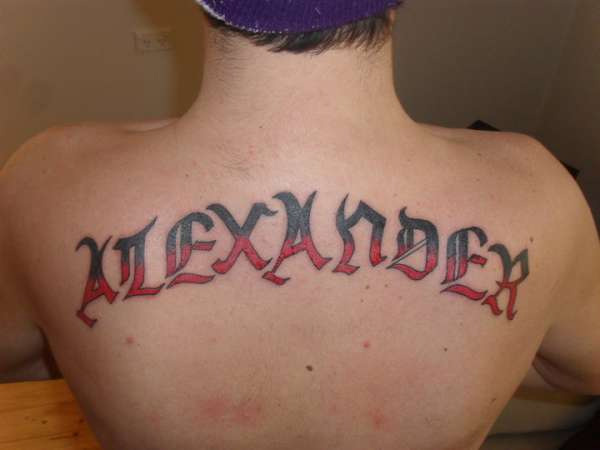 Forearm Name Tattoo
The wearer has got his father's name tattooed on his forearm. His father is his role model, guide and friend.