Tattoo art cannot be replaced with any other accessory. It is an art form that has its own place in the fashion world. There are different themes for different types of tattoos. Some like dark horrific themes and some like sweet romantic topics. Some like dark and bold designs, some like soft colored shades and others may like vivid splashes of color. But the most important reason why people go in for body painting and tattoos is for attention. These tattoos for young girls are fashion statements and can portray the strong message for everyone to see.
When you are constantly wondering what accessory would go well with which outfit the best solution would be to get a superb tattoo in bright colors and designs of your liking. An arm tattoo or a neck tattoo would eliminate the need for accessorizing and look superb too. The colors and themes used in tattoos today have so much variety that there are tattoos available for everyone. There are punk tattoos, romantic themes, horror, classic themes, cartoon characters, etc. to choose from.
If you like this article, you might be interested in some of our other articles on Free Tattoo Pictures, Cool Tattoos Pictures, Hot Tattoos and Girls With Tattoos.
The Girl and The Gargoyle
A gargoyle with horrifying eyes and scary teeth is the last thing one would expect a young beautiful woman like this one to wear. But surprises never cease! She has carried off the horror theme with an unmistakable panache that is worth imitating.
The Girl and The Gargoyle
Bright and Freehand
This is a freehand tattoo if ever there was one. There is no fixed theme since the purpose is to make a splash, which it does very well. The bright woolen bracelet adds to the jazzy look.
Color and Style
This young girl has the right idea if attention is what she wants. Her perfect figure, mini skirt, tank top, body piercing, and the perfect tattoo with bright colors blend to form a jazzy and chic effect.
Color and Style
Combination Style
There cannot be any theme left except maybe vehicles in this tattoo. The demon like face, the princess like face, flora and fauna all come together to form these arm and chest tattoos. The bright colors are worth noticing and each line, face and curve has been designed to perfection.
Combination Style
Flora and Fauna
This is a brilliant style that is showy as well as artistic. The arm tattoo has a marine theme with an octopus and an oyster. The back tattoo is a blend of plants, a flower and a butterfly. The colors are bright and eye-catching making it a superb display.
Flora and Fauna
Blended Beauty
A beautiful woman like this one would have no shortage of attention. But a tattoo with such a mix of designs and themes would attract even more. The bright-colored designs of a diamond, an insect, a skull, a lady, and whatnot are truly attention seeking.
Curiosity Personified
This tattoo is a curiosity. The colors are superb and there is brilliant artistic content. But the theme is a confusion of demonic claws, lettering, beautiful bird's feathers, bones, flowers, creepers, etc. to form a juxtaposition of the live and the dead.
Jazz and All
A superb figure, tank top and jeans deserve a great multi colored tattoo like this one. The myriad splashes of colors add to the style quotient with a jazzy effect.
Self Portrait
The beauty of the woman in the arm tattoo matches that of the wearer. Is this a self-portrait, one might wonder. The other arm sports a mixture of themes in bright colors too so the overall effect is very jazzy.
A Lady by Your Side
This young bride shows off her arm tattoo and it is worth it. The classy lines of the tattoo make the lady on the arm look as if she is going to stand up and attend the wedding. That's how realistic the tattoo is.
Radical and Odd
One can understand lettering as a tattoo art form. But getting a hand grenade tattooed on the neck is not only dark humor but shows a radical nature. The grenade has been tattooed so beautifully that it looks real.
Phew!
Phew! That's what any parent would exclaim on seeing this leg tattoo. This is definitely radical and full of bright colors to express that emotion. The general theme is nature with its stars, fish and flowers but the colors outshine the artistic design.
Ruthless Beauty
The arm tattoos are superb in form with simple black and gray shades. They go well with the funky ensemble of top, stockings, belt and body piercing that spell jazzy and cool.
Nature At Its Best
This duo is very proud of their individual tattoos. The themes of sea life and birds are very suitable for their youthful good looks and perfect figures. The octopus and the flying bird have a fairytale like appearance.
The Rainbow Effect
Is there any color that has been left out? Vivid red, dark green, yellow and blue have all been used along with the usual gray and black to create an attention grabbing set of arm tattoos. The artistic designs have done their job well. You can't miss them.
Getting Attention
The sad-looking doll's face on one arm seems to match the mood of the man's face on the other arm. Flowers, creepers and clouds complete the collage of a mixed theme. This is obvious attention seeking.
Curved Heart
A heart shape that looks more like a Polynesian tattoo with its geometric shapes in the center is a very unusual tattoo. Despite its small size it has the ability to draw attention.
abc
It's all about Colors
This tattoo is obviously all about vivid colors and showing off. The dark theme of skulls and demons too serves the same purpose. It is a fashion statement that is radical in its concept.
Party Time Tattoo
A young girl with white hair, bright nail paint and halter dress looks very unusually attractive. And then the tattoos on the arm in bright and startling colors add to the overall effect of radical.
Ladies in Waiting
Lady Luck and the other women are a superb piece of tattoo art. But the life-like peacock feather tattoo along the back takes the first price. This is the most brilliant tattoo art one might get to ever see.
A Splash of Gray
Why do you need bright colors for an arm tattoo if you have a figure like this one? The simple black and gray lines of the tattoo will do to create a jazzy look along with the body piercing and tank top look.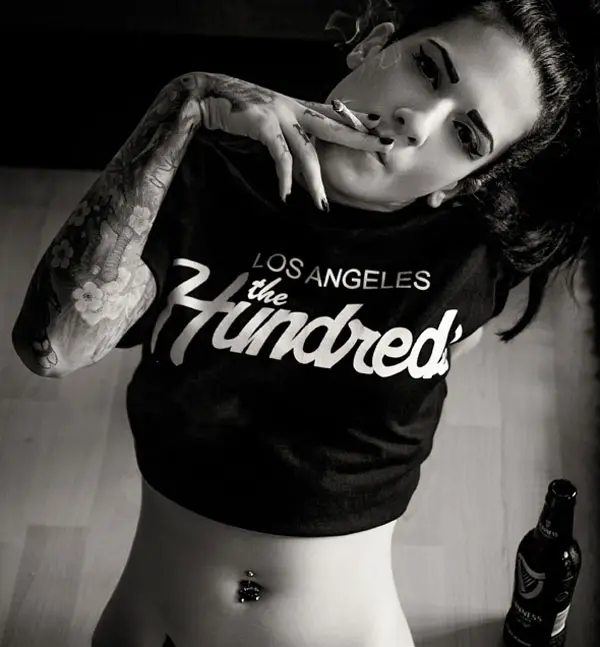 Razzy Jazzy
The weird-looking man's face tattooed on one arm goes well with the dark blue highlights and blue nail art. The ensemble defines jazzy and punk rock in vivid blue. The tattoo, despite its simple gray color, draws attention because of the creepy looking man.
Portrait of a Beauty
Who is more beautiful…the girl in this snap or her tattooed lady? They seem to match well as far as good looks are concerned. The clear and proportionate lines of the tattooed face make the lady look real to suit a pretty face.
Punk Blue
Dark blue hair of such a bright shade must have a great tattoo to match. But when there are so many tattoos with different colors and themes, then the blend is very punk rock and jazz.
Punk Blue
Rising Tide
The Little Mermaid and Flounder theme is a very popular tattoo with young women. Being a story of a young lady who rebels, it would naturally appeal to youngsters. It also has the scope for using bright colors and tints to your heart's content.
Modern Art
This is an unusual combo. The arms have some plant like designs in vivid green and muted grays. And then the words "yours faithfully" on the neck make it something different and stylish.
Little Angel
This is a tattoo theme that is different from the usual. The little angel with little wings is painting a mushroom bright red to add color to our lives. The subdued green of the creepers around the angel keep the balance of colors.
No Place Left
This girl is very proud of the tattoo art that she is sporting. There is hardly any place left for body painting. There is also a mixture of themes like portraits, flora and fauna, geometric shapes, etc. that all form to make a pleasant collage.
Little Mermaid
The figures of the Little Mermaid and the fish Flounder have come out very realistic in this beautiful tattoo. They look as good as the original cartoon characters in the film.
Punk Girl
A stylish halter mini, huge wedges and bright pink hair needs a tattoo that blends in well with the razzmatazz effect. And this arm tattoo does it with style. The theme is indiscernible but the colors go well with the ensemble to make a fashion statement.
Delicate Romance
This young girl is very proud of her sober yet perfect tattoo. The flower and butterfly theme signifies love and is a superb theme for this young girl. The subdued pink of the flowers and shaded pink and blue of the butterfly make this a masterpiece.
Delicate Romance
Showing it with Style
This young woman is proud of her arm and neck tattoos. Although only black and gray have been used throughout the designs, the combination of designs and lettering has made it look great together.
Mixed Up Stories
If you want a little of everything then this set of tattoos is perfect. There is the octopus on one arm, the geometric shapes on the back and the fearsome looking pattern on the other arm. Bright colors and gray have been used to create a superb combo.
Contrast
The girl is happy sporting a tattoo of a sad-looking doll. The reason for the theme is a mystery but the girl in the snap is proudly display the art behind the tattoo. The tattoo girl has almost come alive with the fine strokes used.