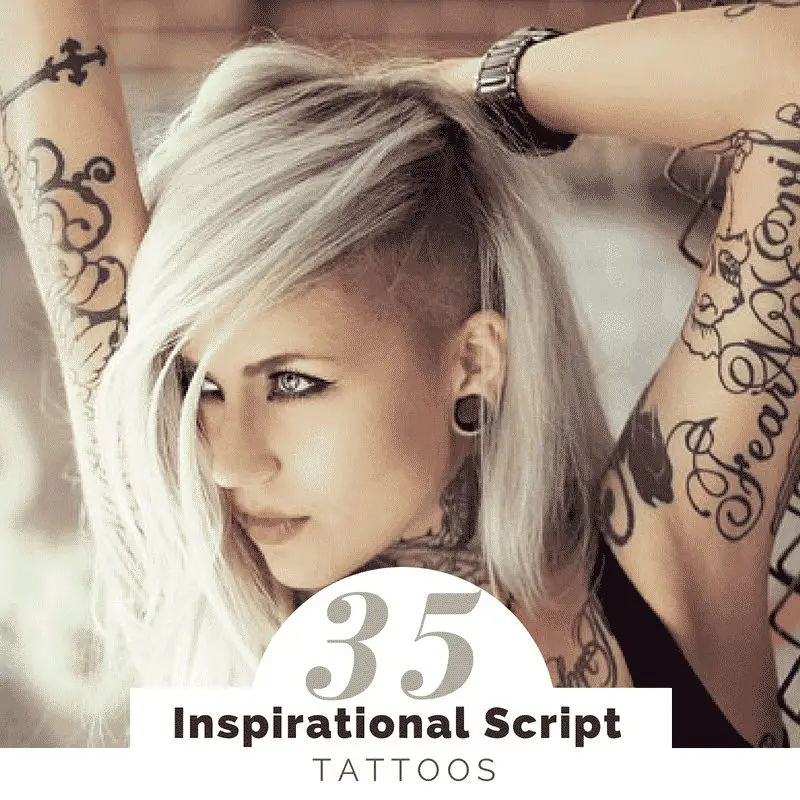 A script has so much to say about who you are and where you come from. If you believe life itself is a script with scenes of joy and sorrow you can get hold of this belief on your body in the form of tattoos. A word or phrase tattoos are great ways in which you can remind yourself of a powerful life-changing message, and if you ink the design on a place that's easily visible on your inner wrist or arm, you can always know the words are with you. Word ink designs have a deep impact on how you live your life, and they tell the world about your dreams, values, and passions.
The best part about Script Tattoos is that whatever the message you can get it inked in a variety of fonts, from simple and modern to traditional and flowery.
Literary style scripts with arches and curves take you back to the olden days of engraved book covers and handcrafted pages. The flourishes and flowing script used in the design give a very individual feel. The way the lines and curves are designed can say a lot about the effect you want. From an elegant 'Create' reminder word tattoo on the inner wrist to a colorfully designed owl with a script on your upper chest, to words inked below both your backbones, there are plenty of script tattoo designs you can choose for yourself. The wonder of words that stay with you forever, fading as you go through your journey in life, gives script tattoo designs a power that is all their own. Take a look at these beautiful designs in which the body has become the space to get inked with strong and positive life messages.
If you like this article, you might be interested in some of our other articles on Misspelled Tattoos, Graffiti Tattoos, Knuckle Tattoos and Chinese Tattoos.
Religious Script Tattoos
Two Christian phrases run in a horizontal pattern following the lines of the arms in this religious script tattoo design.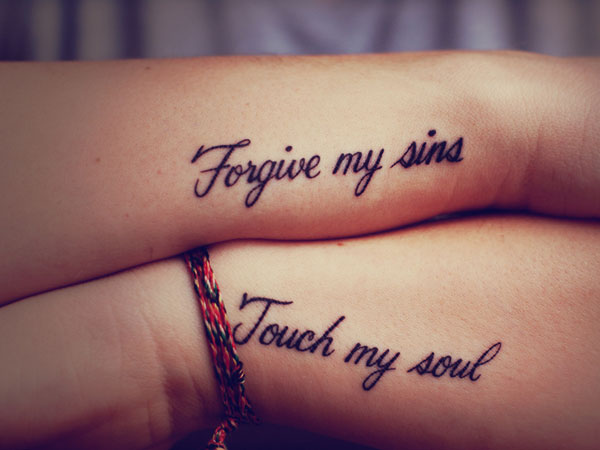 Colorful Chest Script
A richly detailed orange-eyed owl with green-feathered wings outstretched sits below the script tattoo in this colorful chest tattoo design.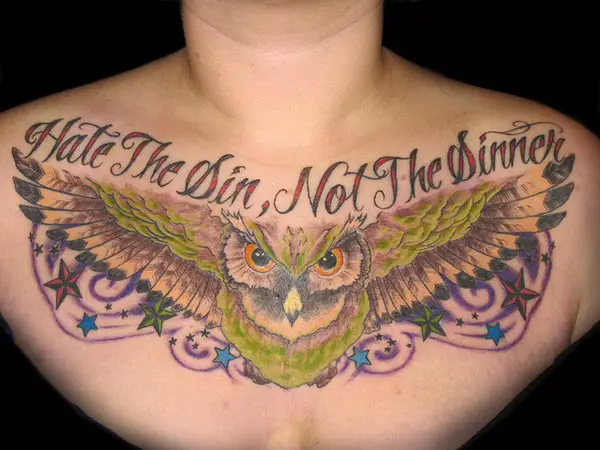 Mono Tattoo
Inked with strong lines and confident curves this script tattoo in a traditional font celebrates the power of One.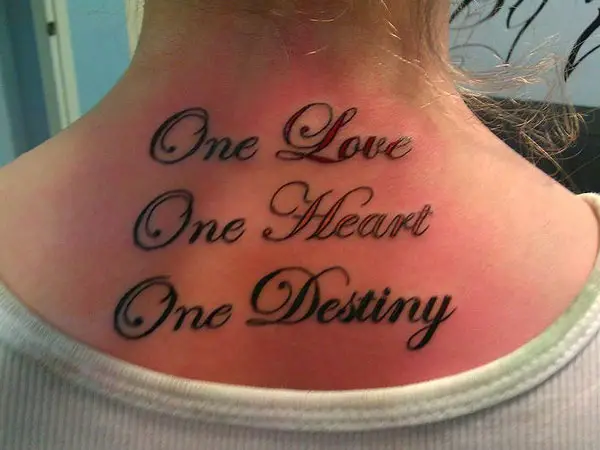 Live In The Present
This glorious three sentences tattoo about living in the present is inked in a vertical pattern on the man's stomach area.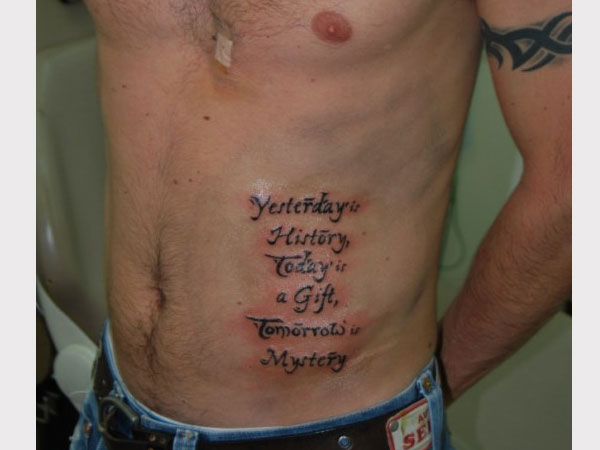 Knee Script Tattoo
'I will almost die for this beauty' says this neatly inked tattoo right above the woman's knee.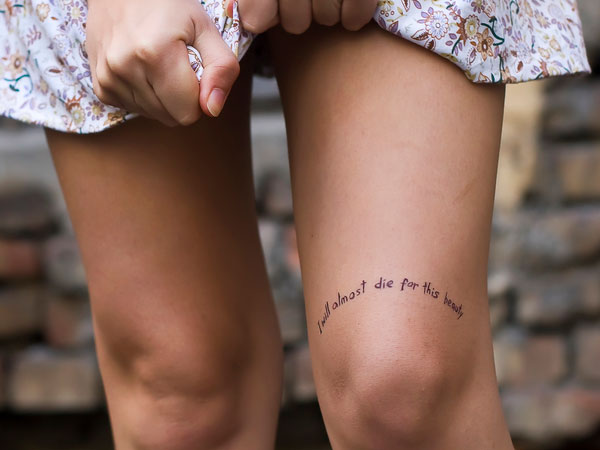 Beautiful Script Tattoo
Bold flourishes surround the edges and hold in the letters of this remarkable tattoo about uniqueness and beauty just below the back of the neck.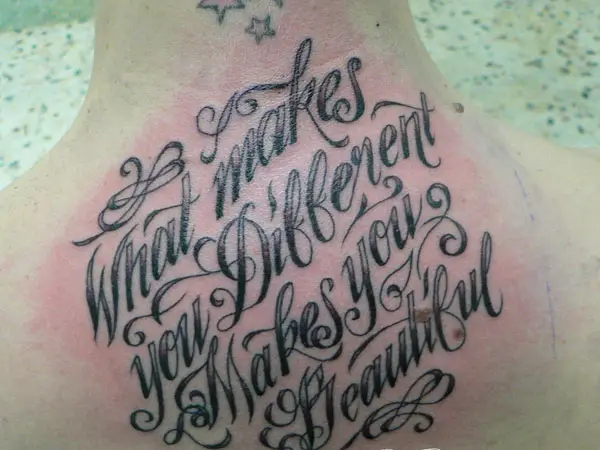 Love Is Life
This colorful Mexican tattoo with a blue skull on one side and a green face on the other celebrates love and life with its flowy script design.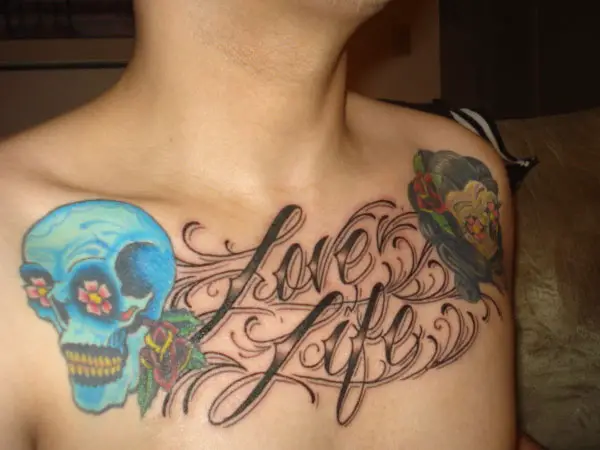 Endless Love
Endless love flows from the finger in this simple tattoo with a tiny heart inked right where the word ends.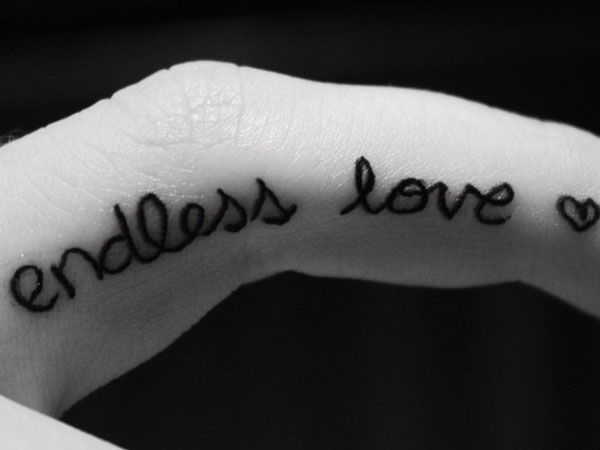 Daughter's Love Tattoo
The side of the body is a great place to get inked with a very long script. Check out these lines about a daughter's love for her dad inked on the side of the body.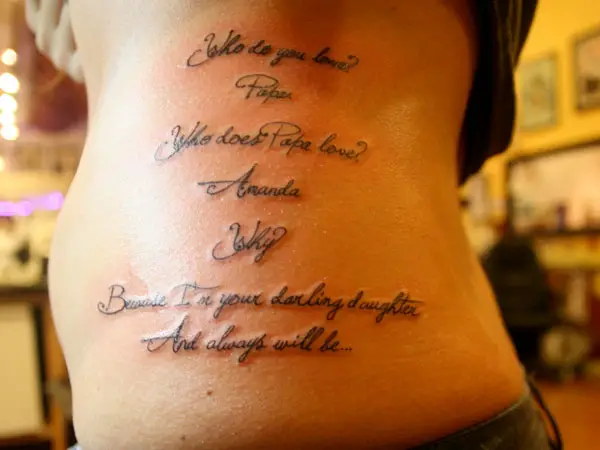 Daughter's Love Tattoo
Collar Bones Tattoo
'Have Heart' and 'Have Hope' are the two powerful messages inked in a stylish calligraphy font below both the collar bones in this tattoo design.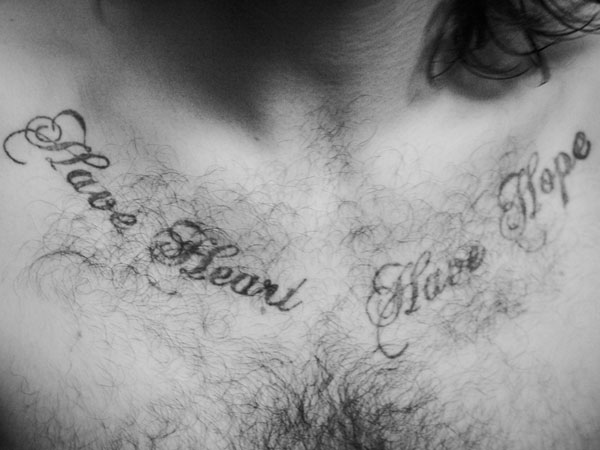 Shoulder Script
This fresh tattoo on the upper shoulder proclaims the power of love in an old style flowery font with loops and lines as a part of the design.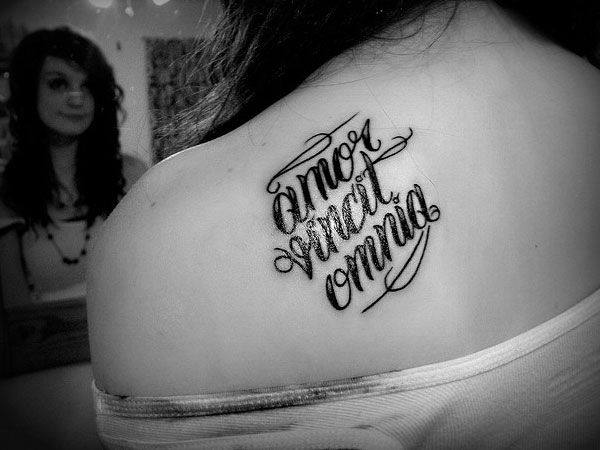 It's My Life
Huge loops form a part of the capital letters in the four powerful words making up this arm script tattoo design.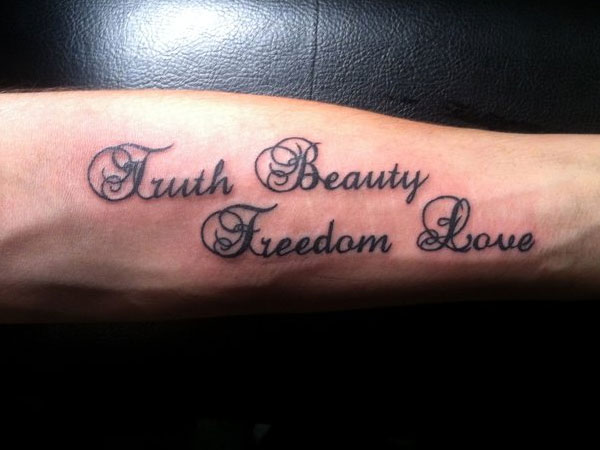 Wrist Script Tattoo
Styled in a font with curves and flourishes in the script this inner wrist tattoo saying 'Create' is just perfect for an artist.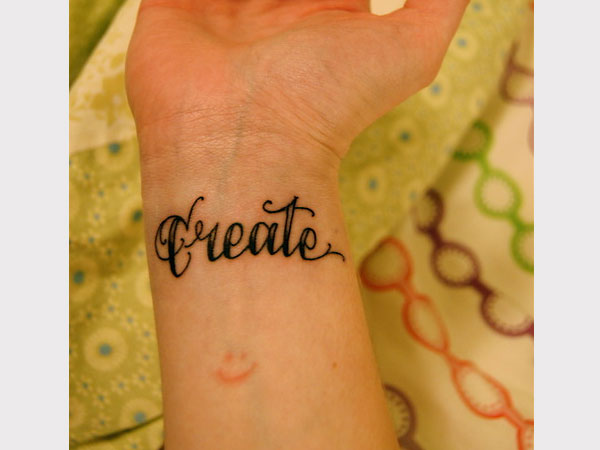 Wrist Script Tattoo
Back Script Tattoo
Curves, half-loops, and a beautiful dancing pattern define the lines of this elegant upper back script tattoo.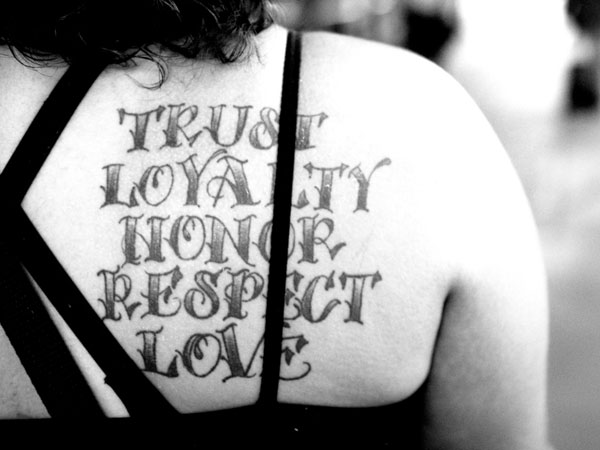 Survivor's Tattoo
Sharp angles in the lines of the letters show the edges of experience in this woman's foot script tattoo. Note the flourish with curves and angles that completes the design.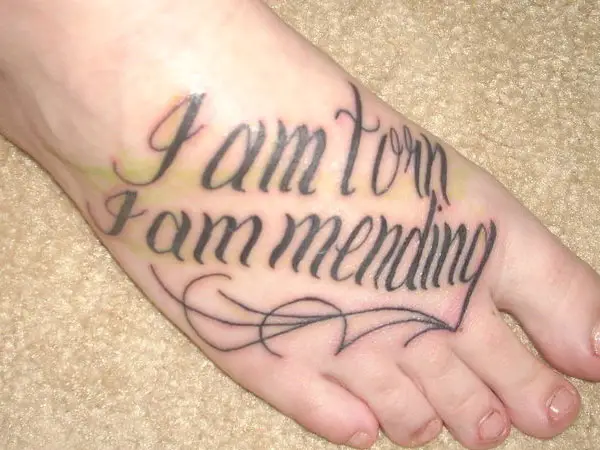 Coming Back to Life Tattoo
Large waves and arches form beautiful patterns in this script tattoo that says 'Only God can judge me'.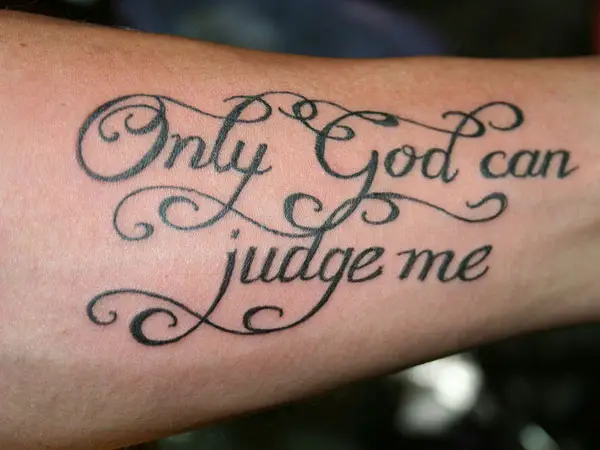 My Life Script
This is a glowing life manifesto with a scroll design inked on the side of the body. Gloriously colored birds and flowers sit on the corners of the scroll.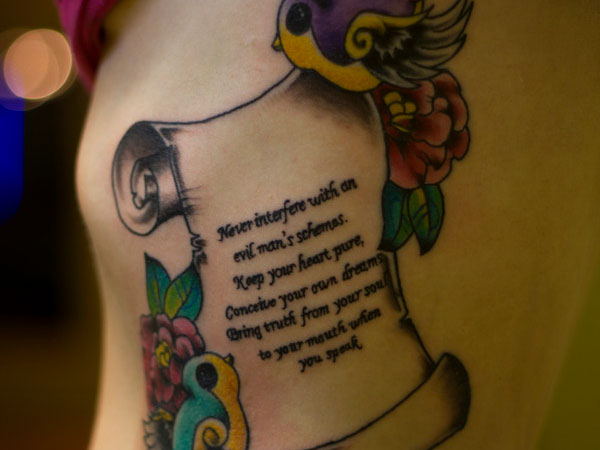 Fresh Script
Done with loops and elaborate flourishes this script tattoo saying 'Slip Away Across the Universe' is inked on the woman's foot in fresh black.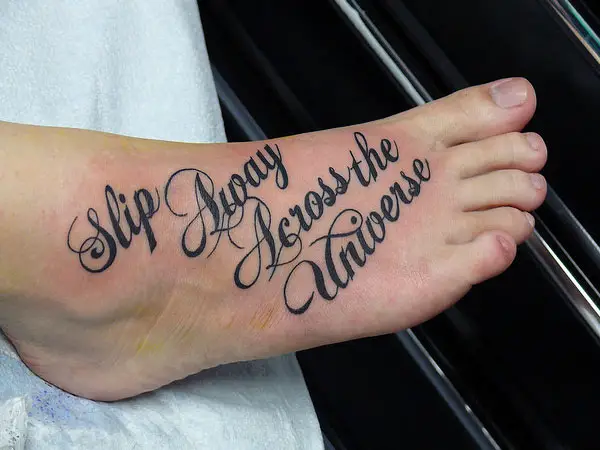 My Script Tattoo
Tattoos are all about individuality. A traditional font with arches and flourishes makes up this unique tattoo saying 'Let Me Be Myself'.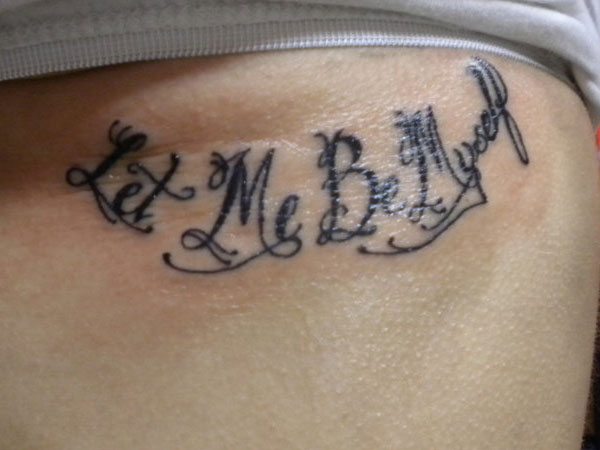 Mi Amor
This foreign language love script tattoo in a flowing design looks almost like it's been handwritten.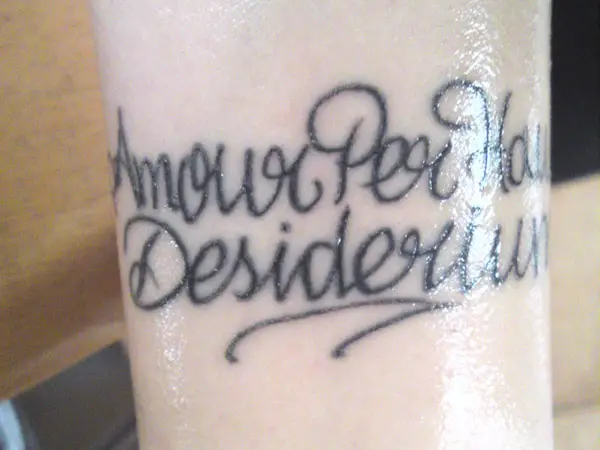 Astro Script Tattoo
A strong design in bold black and red marks the letters of this elaborate script tattoo on the upper back.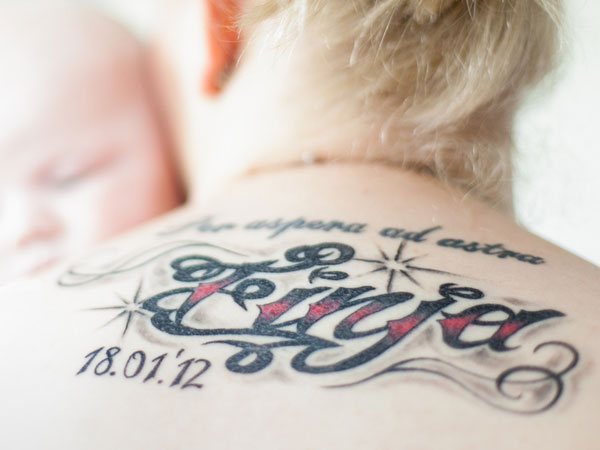 Imperfect Script
Fun and absolutely meaningful this elegantly inked tattoo in an artistic style celebrates the beauty of our imperfection.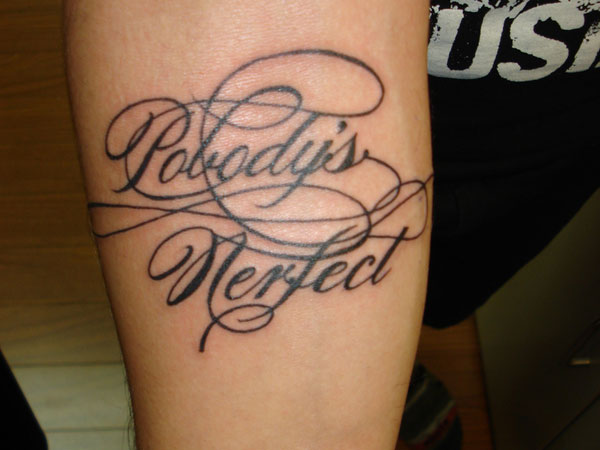 Creation Myth Script
This creation myth tattoo combines a pattern of graceful waves in red with a rhyming script in beautiful black.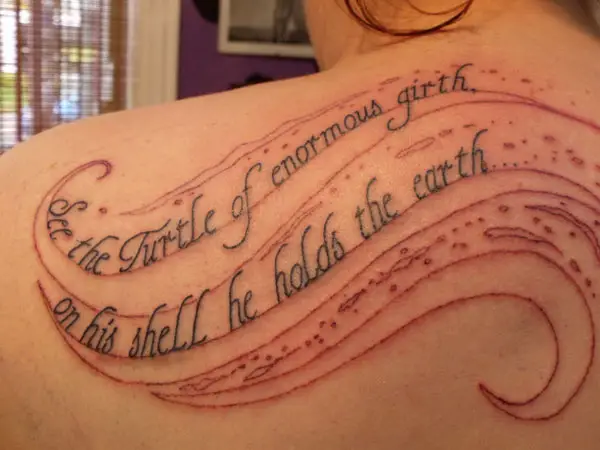 Optimistic Script
A double outline of red and black artistically defines the letters of this back script tattoo saying 'Stay Positive'.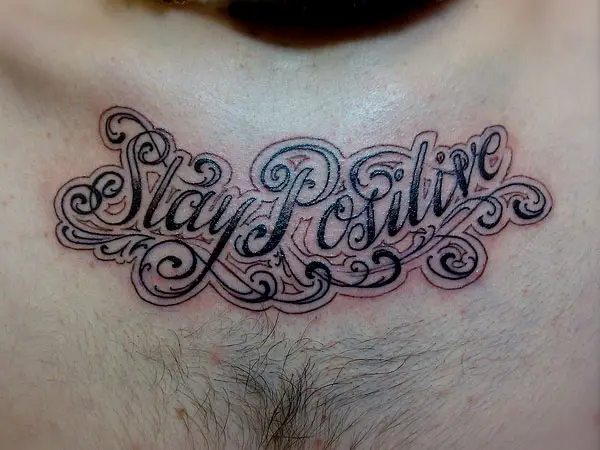 Love Foot Tattoo
Simple and elegant lettering marks the words of this script tattoo about love and living on the side of the woman's foot.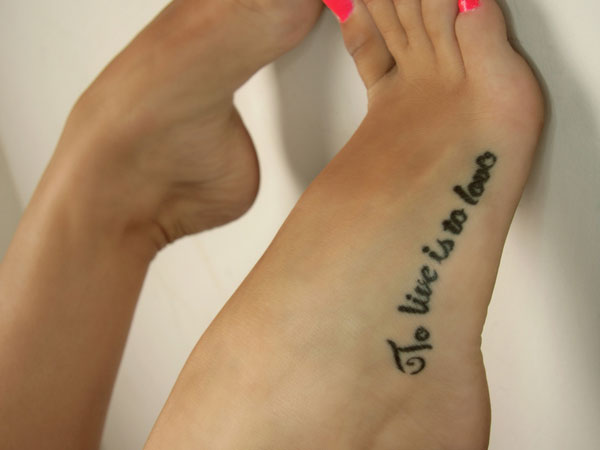 Love Foot Tattoo
Seize The Day Tattoo
Check out this literary script tattoo with Latin and English words as a part of the design. The pen shape on one side makes it look like the words have been freshly penned.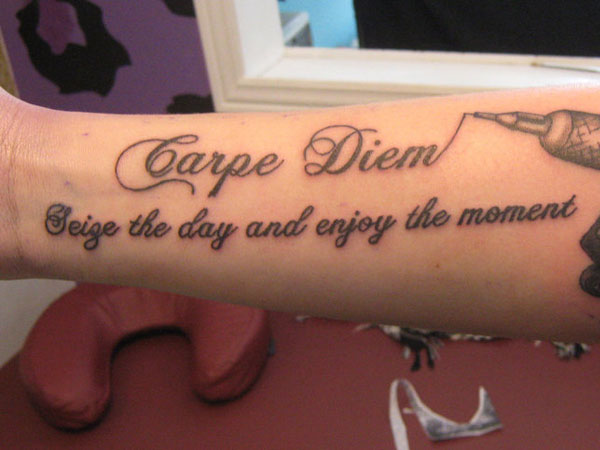 Scripted On My Arm
Script tattoos in elegant and flowing letters can be inked anywhere, from the arm to the collar bones. Check out this woman's amazing body art in black.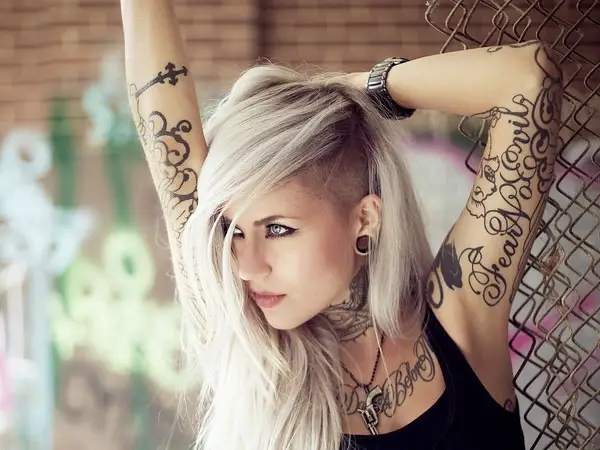 Wrist Scripts
This powerful tattoo splits the message over the two inner wrists, as an everyday reminder to be 'Forever Strong'.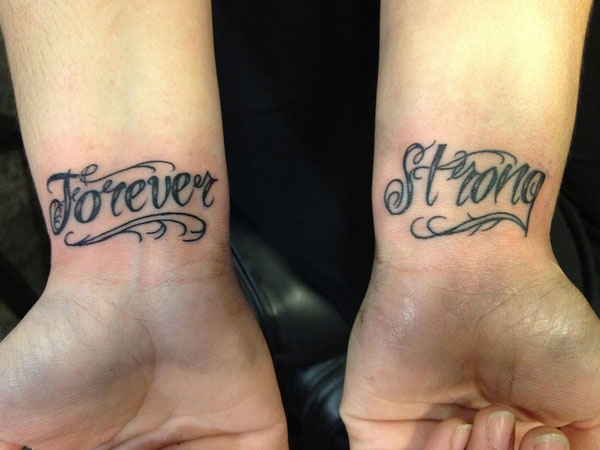 Tattoo Script
Vividly colored flowers, golden patterns, and shaded designs combine with the script in this detailed upper arm tattoo.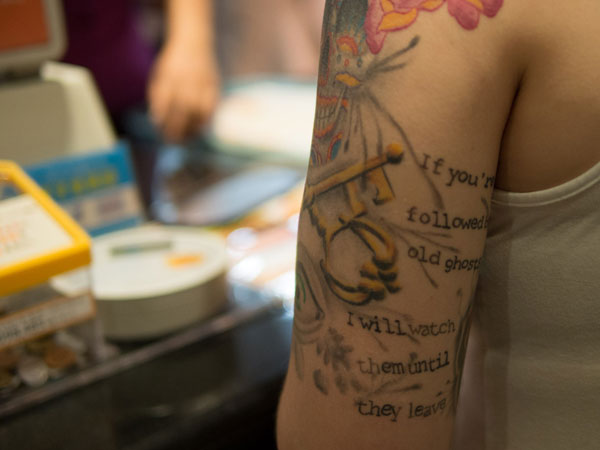 Powerful Message Tattoo
Designs of flowers and vines curl in graceful patterns on both sides of the words, framing in this powerful script tattoo about walking towards light.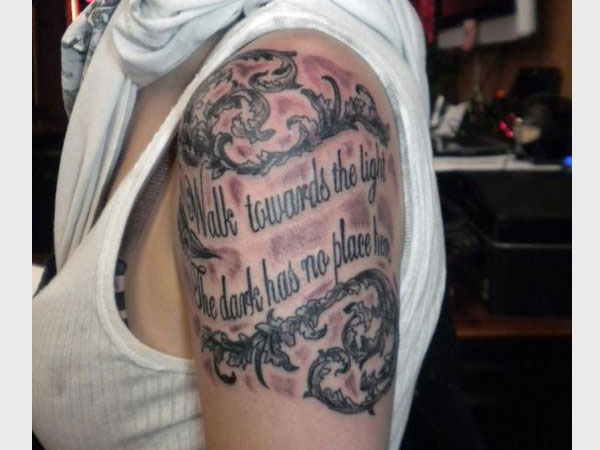 Script Ink
Take a look at this beautiful woman for whom her body has become her favorite scripting place. Note the script tattoos on her arms, collar bones, and right thigh.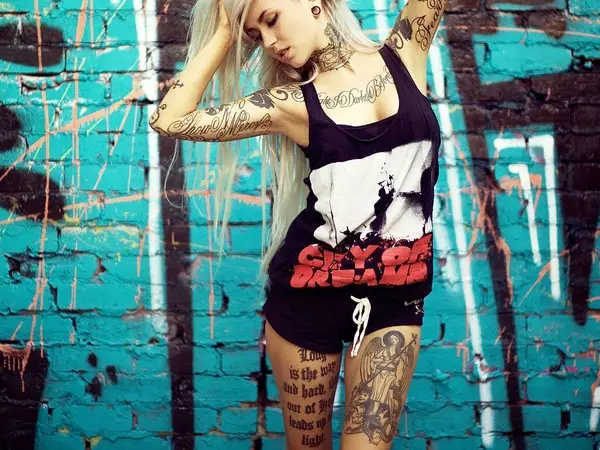 The World Is My Oyster
A design of loops and curves with straight lines adds boldness to this multitasker's script tattoo inked in black.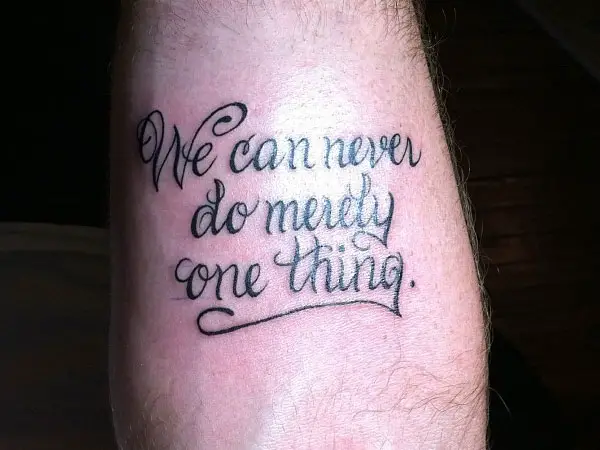 Gravity Side
This is a beautiful script tattoo on the foot in which the loop of a letter continues right over the curve of the foot, creating an artistic ink spill effect.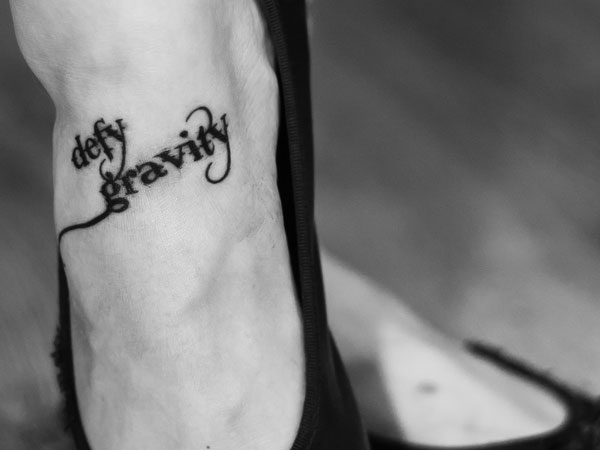 Gravity Side
Book Lover's Tattoo
The bold brush effect with deep lines adds to the powerful and confident feel of this script tattoo design.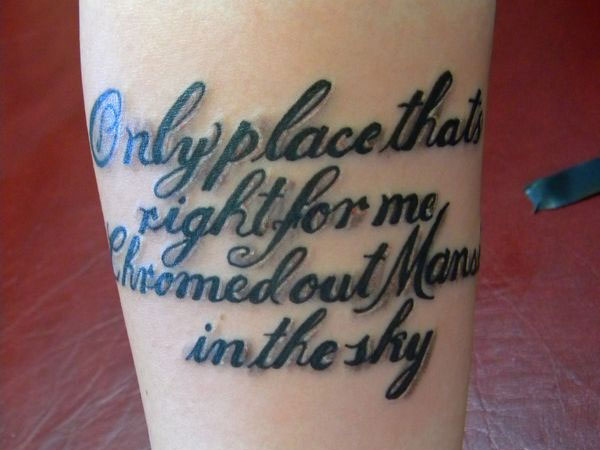 Book Lover's Tattoo
Live Tattoo
'Love Is Hell' proclaims this script tattoo in a strong and simple flowing font on the lower arm.