Are you on the hunt for fun ways to do up the playroom for kids? Decking up spaces so that kids feel excited and happy about playing is certainly no child's play. You have to be sure there are no sharp edges on the furniture where young people can injure themselves, the lighting in the room needs to be just right for a bit of reading or play, and the space needs to be well-equipped for fun activities. But with a bit of imagination and creativity you can really have fun exploring Kids Playroom Ideas.
Cost is not really concern when it comes to making the space child-friendly. All you need is a small corner of a room, or a side room which no one uses. If you want to make it a regular space simply keep it white and fresh with bare walls. Use bright carpets and tiny furniture with rounded edges to bring the fresh colors into the room. Have plenty of sun in the room so that kids feel active and cheerful. Use curtains if you like to keep out the bright noon sun. Painting the walls can be an exciting part of doing up a room for kids to play. You can use bright colors like orange or pretty strawberry shades to give a warm and vibrant look to the walls. Have bright geometrical patterns for the floor carpet as kids can have fun identifying shapes and colors. Alphabet themed carpets, animal safari style wall paintings and number tiles are all great elements for fun as you learn activities. Make sure to have a space on the side where toys can be put away neatly after playing. A small horizontal shelf or boxy open shelf arrangements are easy for small hands to keep away the toys and books. The brighter the colors, the more fun elements you can add to the playroom, the more lively the playroom for kids can become. Have fun with the ideas presented below.
If you like this article, you might be interested in some of our other articles on Blue Bedroom Ideas, Toddler Boy Room Ideas, Purple Bedroom Ideas and Spring Decorating Ideas.
Flooring Idea Kids
The unpainted natural finish of the wood gives a fresh and toned down look to this large playroom. The white-painted bookshelves on the side are ideal to fit in some colorful books.
Rounded Corners Kidsafe Zone
Kids playrooms should be as safe and secure for restless limbs as possible. See how every piece of pastel shaded furniture is molded with rounded corners in this playroom.
Play Time
The bright blue sky and cloud themed wall paintings are just perfect for two small boys to pretend they're in an airtight in this imaginative kids playroom.
Creative Play
This small kids playroom has been creatively done up with white-painted walls and a paper tree cutout in fresh green. The Scrabble style stickers on the wall is a great idea.
Bright Idea Kids Playroom
This is a simple but cheerful idea for a kids playroom. The walls and floors remain bare and white while bright solid colored carpets and furniture make splashes of color.
Pastel Shades Kids Play
The apple green wall paint pairs well with the dirty butterscotch colored furry floor carpet in this extra-large playroom. The white shimmery curtains filter the bright sunrays.
Kids Play Corner
The scenes from a mermaid tale splash across the wall in bright painting forms while in front you have the large neon colored play accessories for kids in this public playroom.
Toy Room
The bright and warm dark wood finish of the floor combines well with the fresh lemony green wall paint in this kids playroom painting idea.
Bricks Idea Kids
The bright brown bricks with white grout lines go well with the jungle safari scene painted on the top part of the wall in this kids playroom.
Carpet Idea Kids
Bright geometrical shapes look really cute in a kids playroom. See the large block patterns in pretty pastel shades on the large floor carpet in the center of this room.
Le Go Idea
The soft and natural finish of the floor carpet is great to cushion young feet in this small corner where the little girl has happily set up her huge building blocks set.
School Kids Playroom
With a bright blue wall covered with cloud motifs, large wooden spaces to stretch out and play and pastel shaded desks and chairs on one side, this is a dream playroom for kids.
abc
Balloons Decor For Kids
The raw and natural feel of the unpainted wooden interiors in this kids playroom is balanced by bright and cheerful balloons, a tiny kid-friendly green chair and red cushions.
Flower Walls Kids
The smooth wooden finish flooring is ideal for young feet to run about and play while the walls are covered with flower themed bright tiles in this large kids playspace.
Kids Playroom Warm Tones
This is a very small and sunny corner of the room for kids. The bright red sofa and the natural wood finish wardrobe look bright and warm.
Alphabets Room
This large playroom for kids goes for an orange paint for the walls with a pastel shaded alphabet carpet and matching decor to give a cheerful and fresh feel.
Orange Walls Kids Playroom
The bright orange shade used for the walls gives a cheerful look to this rather narrow and packed kids playroom.
Pistachio Chairs
The fresh white walls are painted with bright rainbows and kid friendly slogans while the tiny pistachio shaded chairs are perfect in this junior schoolroom.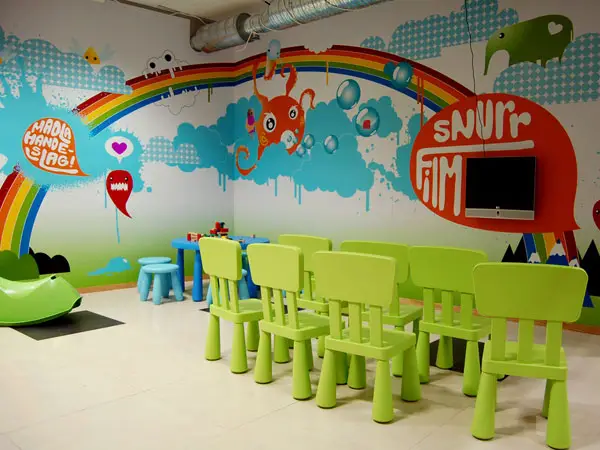 Bright Walls
The boxy arrangements on the side are perfect to keep the toys stacked away neatly in this orange walled playroom for kids.
Patterns For Kids Playroom
The wooden finish of the walls and floor in this kids playroom is enhanced with darker patterning all around. A cozy retreat for the two kids.
Regular Playroom
In case there is more than one kid to share the playroom it is a good idea to have the entire floor become the place to keep the toys.
Kid Corner
Small soft furniture is ideal for kids playspaces. Check out this soft cloth finish rounded red and orange stool that's just ideal for a baby girl to play around without getting hurt.
Pink Theme Kids Playroom
The pretty pink shade gives a lovely fresh look to this young girl's playroom. The flooring is done with a carpet styled in pink with flowers to match the walls.
Roomful Of Magic
Kids rooms look cheerful in bright shades, like this room painted a vibrant orange that almost reminds you of pumpkins.
What The Pooh
A bright Winnie the Pooh motif can be seen against the blue background of the carpet in this small corner of the kids playroom.