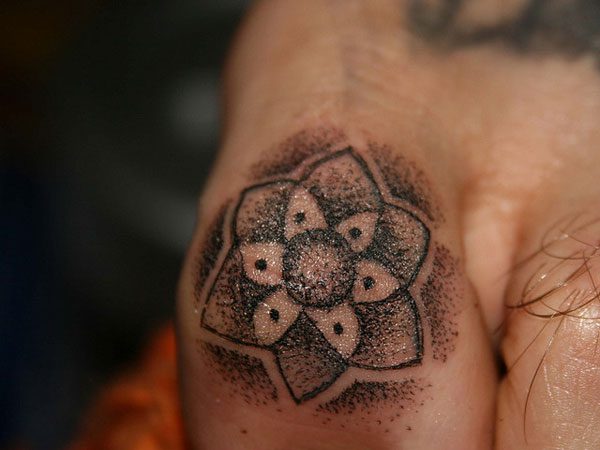 Tattoos are one of the most interesting and accepted ways to adorn the skin that have come down to us from the ancient times. Tribes and communities have often had private tattoo ceremonies to mark special occasions in the lives of individuals or to celebrate important festivities. Many Interesting Tattoos of today draw on ancient tribal motifs for inspiration. There are a host of source streams for tattoo ideas that intrigue and puzzle by their design and intricacy. These draw on Chinese traditions, Mexican ancient patterns and the scripture practices of Buddhist monks.
Tattoo designs are at once personal to the wearer and hold a deep significance for those who know more about a particular symbol. Be it mandala designs, six-petaled flowers with an inner pattern of six petals, symbolic geometrical shapes and spiral motifs, every tattoo art-piece tells its own story. When you look at designs that have many curves and shapes in bold patterns in striking single color or two colored motifs they tell you about the traditions of ancient tribes. The interest factor of a tattoo may also rely on a quirky design that does not borrow on traditional art. A sewing machine is a modern and interesting design idea for a tattoo. You also find tattoos that are inspired by scientific practices and studies, such as a tattoo showing the forms of prehistoric dinosaur like creatures. When these creatures are inked in a tribal motif they can produce very unusual and cool tattoo effects. Some tattoos can be interesting simply because of the art that has gone into them, such as a tattoo showing a guitar with a rose vine climbing around it, or a deftly inked tree trunk that climbs down the hand in a tattoo design. Combining black and white with bright colors can produce interesting effects, such as in a tattoo where you find flowers in shades of gray with pretty mauve butterflies in the design.
If you like this article, you might be interested in some of our other articles on Japanese Tattoos, Thigh Tattoos For Women, Women With Tattoos and Phoenix Tattoos For Women.
Symbolic Interesting Tattoo
A six petaled flower contains another six petaled flower with a circle at the center in this artistic single color tattoo.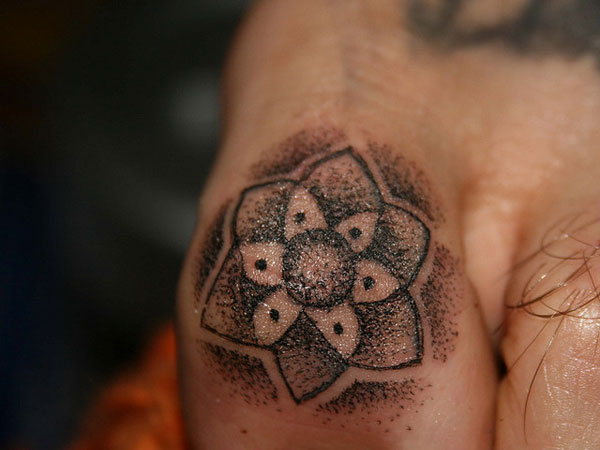 Interesting Prehistoric Design
Interesting slender dinosaur like figures with intricate legs take you back to prehistoric times in this tribal inspiration tattoo design.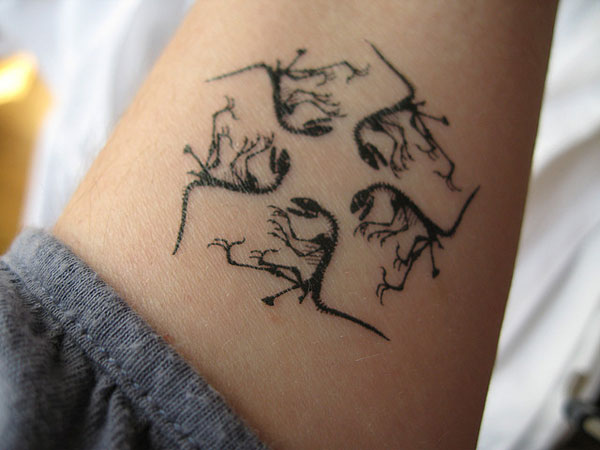 Interesting Prehistoric Design
China Inspiration Interesting Tattoos
Red patterned flames decorate one leg, while the other is styled in floral motifs in shaded designs in these interesting tattoos borrowing on traditional Chinese patterns.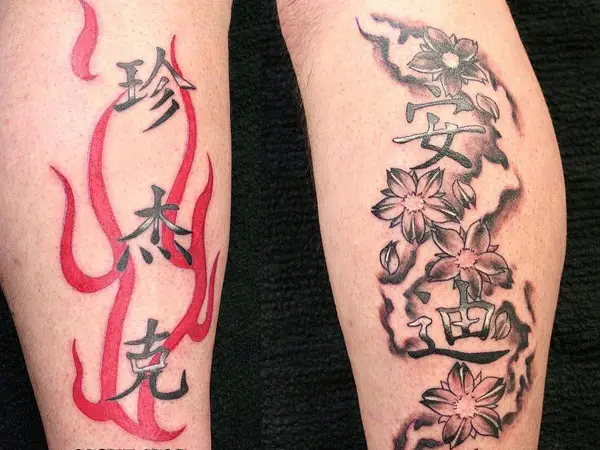 China Inspiration Interesting Tattoos
Plane Maker Interesting Tattoo
In this interesting tattoo idea you can see the entire process of making a paper airplane shown with separate diagrams as a part of the tattoo.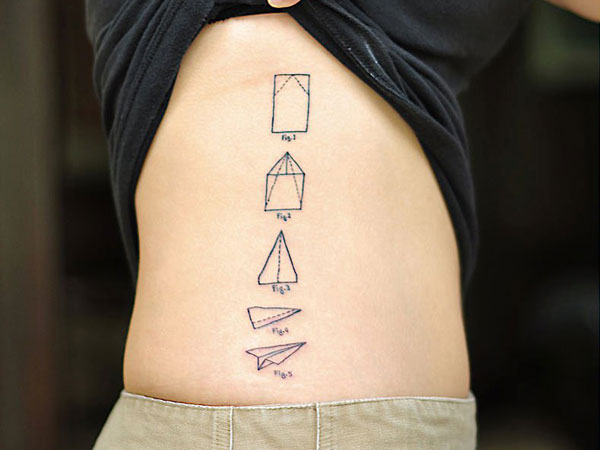 Plane Maker Interesting Tattoo
Interesting Face Motifs
The form of a harp like musical instrument with patterns and curves in bold tribal motifs are inked in this interesting face tattoo.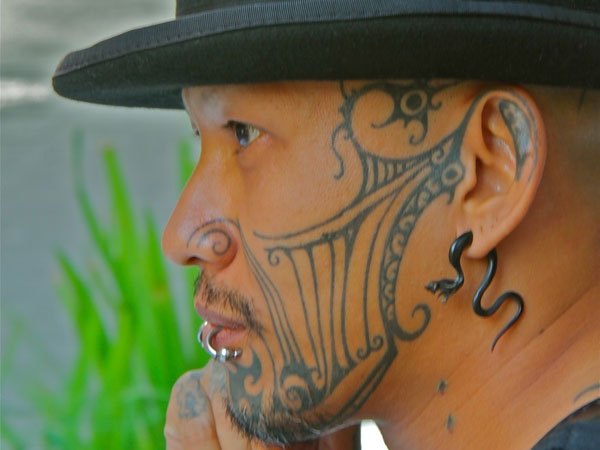 Floral Tattoo Ideas
Tiny flowers in many patterns and colors in a soothing color palette of black, maroon and pink sit inked on this woman's arms.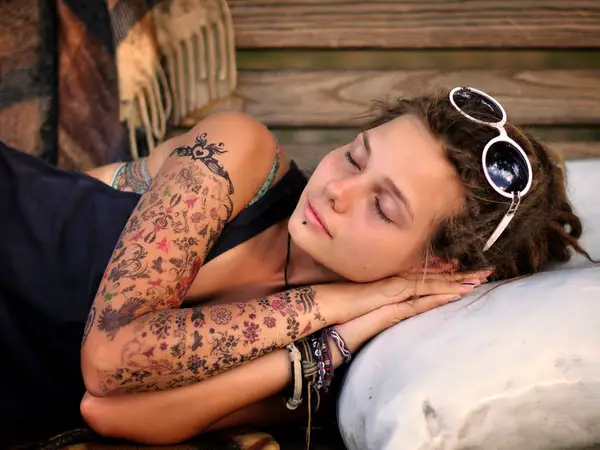 Interesting Boho Vine Tattoo
Delicate vine designs in a coiling fashion on one upper arm and the leafy pattern on the stomach make for interesting permanent jewelry style tattoos for women.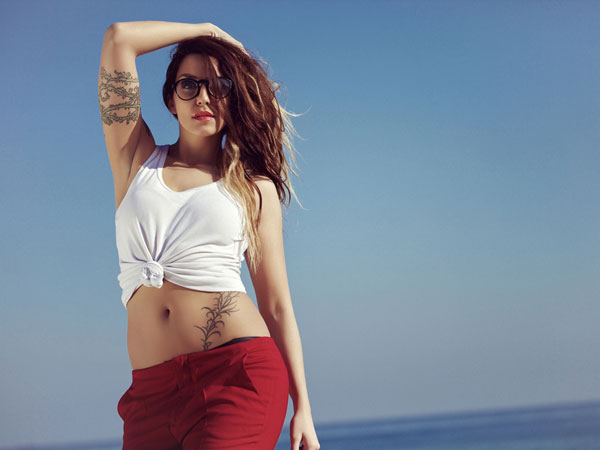 Delicately Shaded Tattoo Face
The powerful biceps of this man are inked with interesting and delicately inked tattoo designs one of which shows the face of a joker. Check out the flying creature tattoo on the man's upper chest.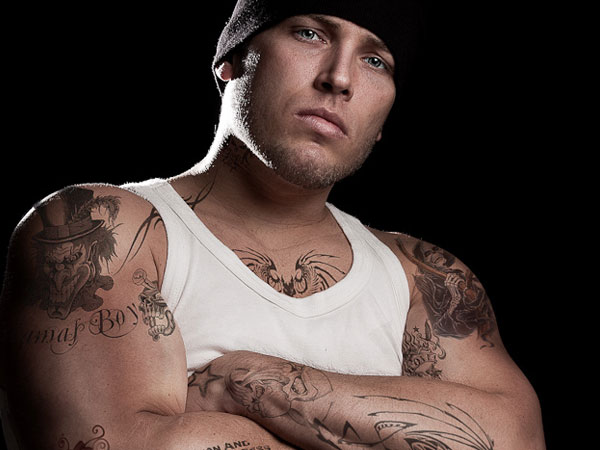 Esoteric Tattoo Design
These interesting tattoos on the monk's back contain symbols and patterns that draw on ancient spiritual scriptures.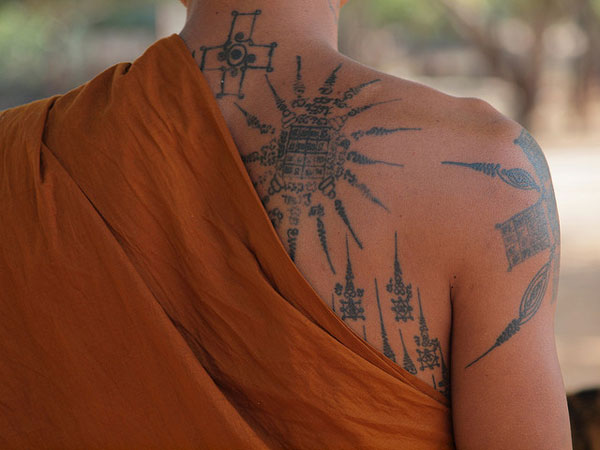 Interesting Sewing Machine Tattoo
The form of a tiny sewing machine with one blue thread hanging down makes an interesting back tattoo idea.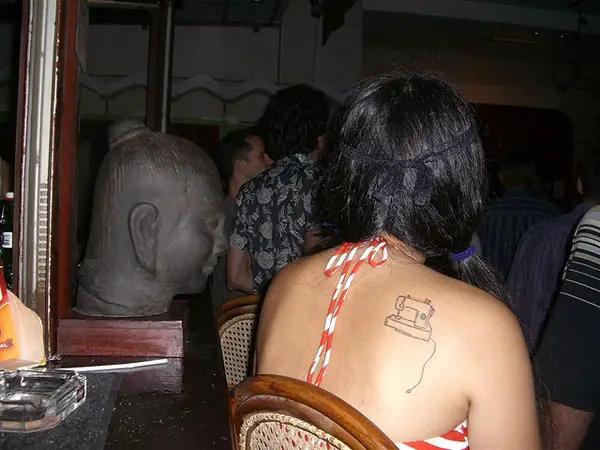 Interesting Sewing Machine Tattoo
Interesting Navy Theme Tattoo
The flowy ink lines trace out the figure of a handsome ship of the old times in this tattoo inked on the upper thigh.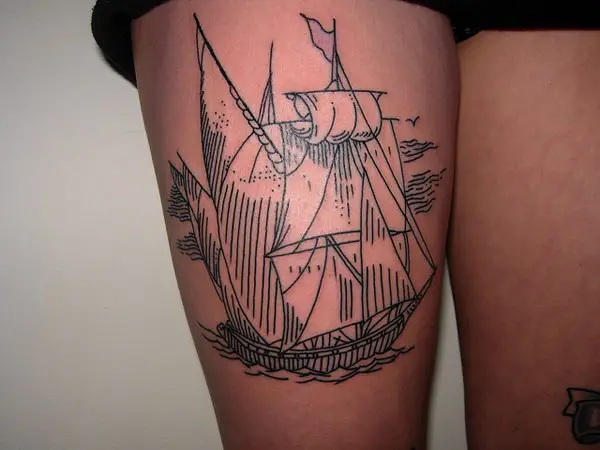 Interesting Bull Tattoo
An orange bull shape is inked behind one calf while the other calf holds the face of a cartoon character in these interesting tattoo designs.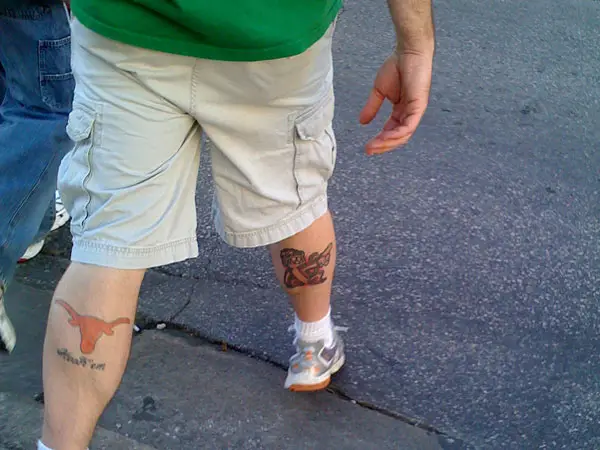 Rose Guitar Leg Tattoo
The delicately shaded colorful guitar in this tattoo is surrounded by a vine of fresh rose blossoms climbing upward. An interesting tattoo spelling the magic of love and music.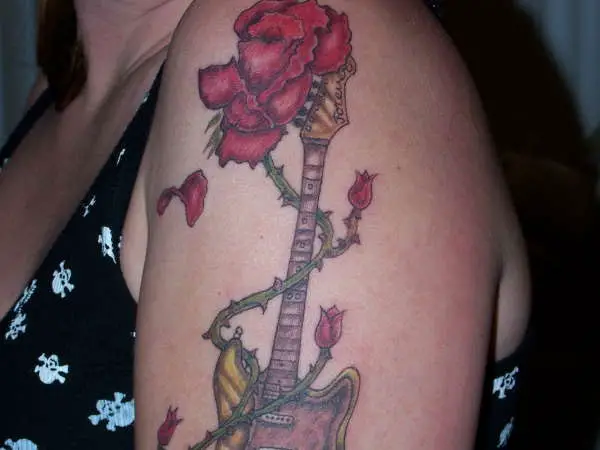 Abstract Roots Tattoo
The gracefully inked lines flow down one side of the hand in this artistic tattoo showing an ancient tree. The roots branch out towards the figures mimicking claws.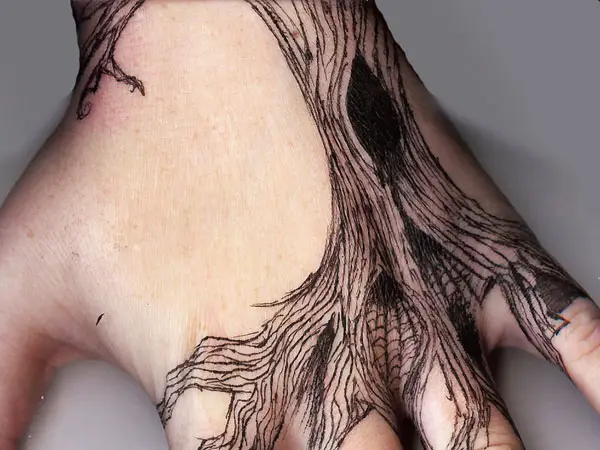 Cute Hello Kitty Tattoos
Two Hello Kitty figures, one a male in blue and the other a female in red sit inked on both the feet in this tattoo celebrating togetherness with the text, 'Together Forever'.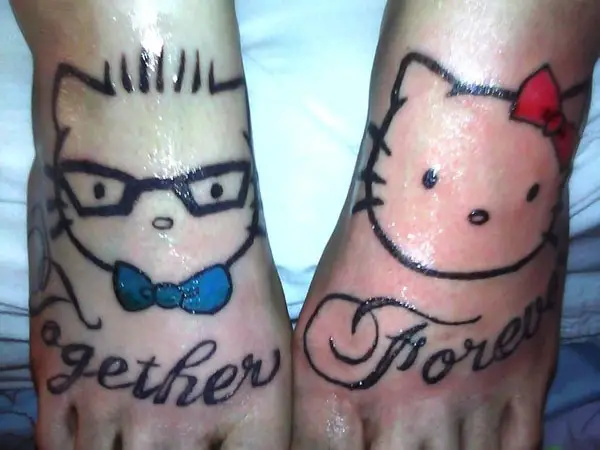 Interesting Flower Patterns Tattoo
This elegant tattoo with shaded gray flowers, mauve butterflies and small stars snakes upward in a sensuous design along the woman's spine. A fresh and feminine tattoo idea.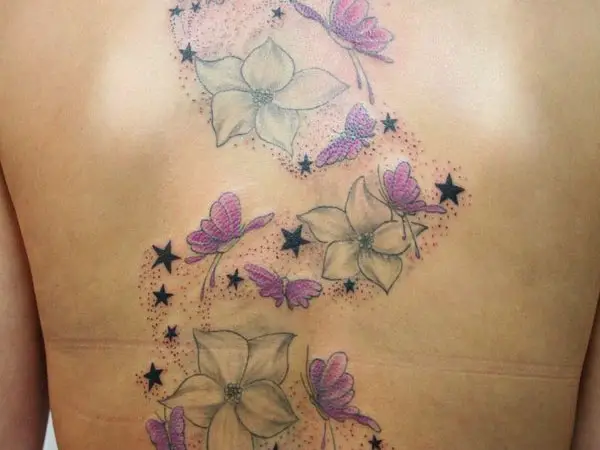 Interesting Flower Patterns Tattoo
Up Goes The Heart Tattoo
The little girl wearing a scarf throws up a heart with birds perched in this tattoo celebrating the theme of letting go.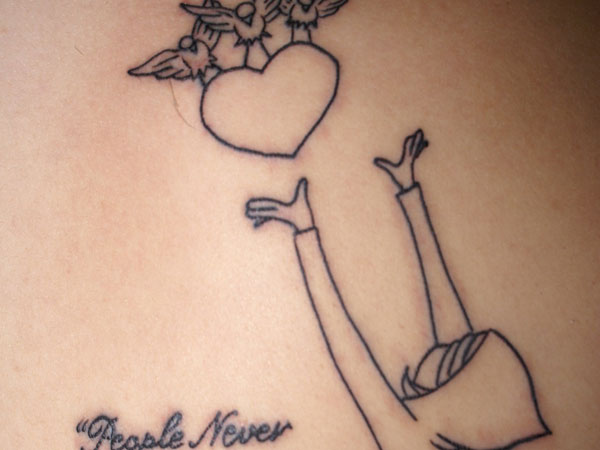 Up Goes The Heart Tattoo
Dream Flight Tattoo
The artistic blue-brown shades bring to life the feather shaped tattoo on the shoulder. Emerging from the feather as it crumbles on one side, a flock of birds fly outward marking dreams of freedom.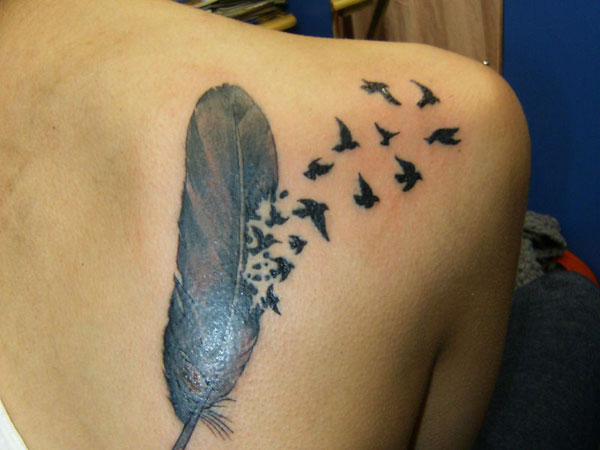 She Heard Text Tattoo
Pretty red angel style bird shapes sit alongside a text saying 'all she heard' in this interesting shoulder tattoo idea for women.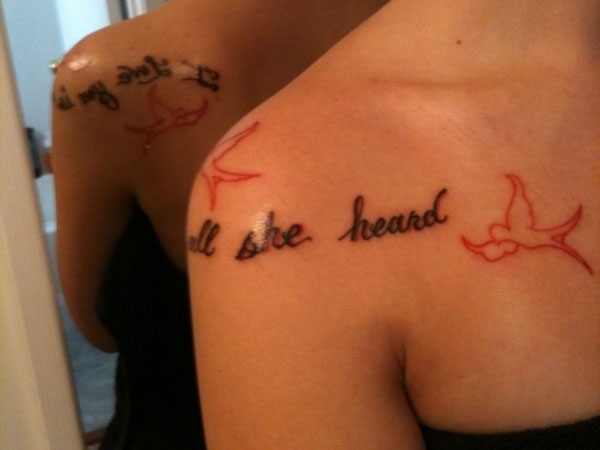 Revelation Bird Tattoo
Drawing on the Revelation text for inspiration this interesting tattoo shows a bird like twisted shape with many eyes looking out of the design.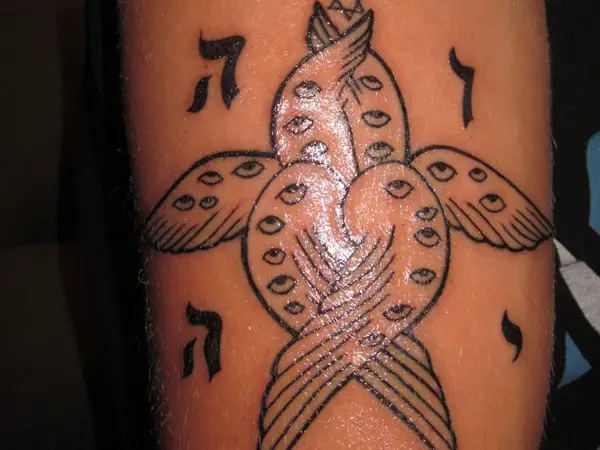 Interesting Geometric Tattoos
In all the colorful symbolic back tattoo designs a spiral occupies the center. From this spiral geometric shapes are formed. The shoulder areas have sunflower and sun-moon theme tattoos.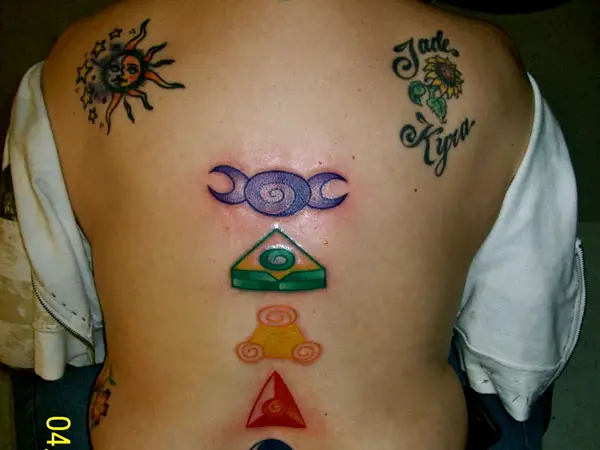 Interesting Tattoo Art
A gorgeous woman's face combines with patterns of tree branches that come out of her cap and neck in this tree woman theme artistic tattoo.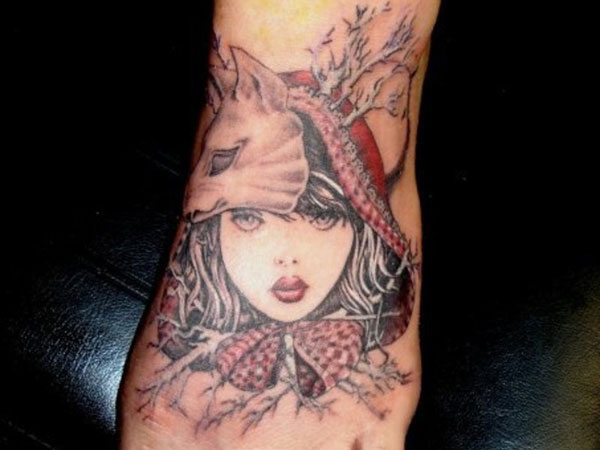 Chess Star Interesting Tattoo Design
This interesting tattoo shows a stylish curved steel pipe seen in a strange perspective, with the chess patterns and red star adding to the mysterious look.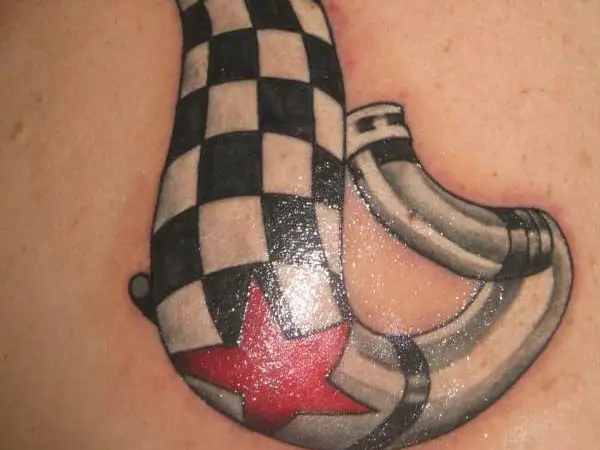 Chess Star Interesting Tattoo Design
Love Knots Interesting Art
Red the color of love forms interesting knots binding the whole family in a bond that won't be destroyed in this family celebration tattoo. Check out the names of the family members added in the design.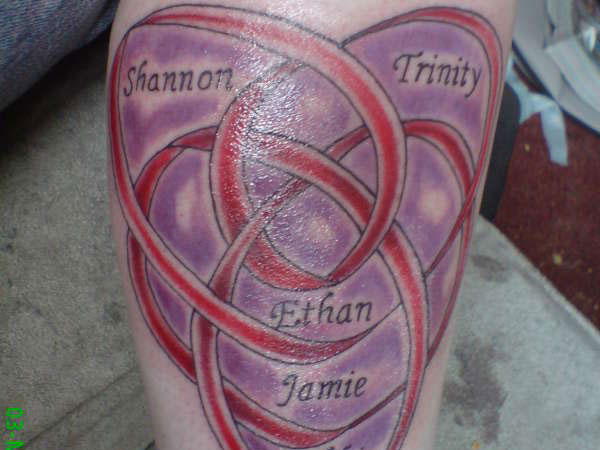 Interesting Mystical Tattoos
Inked in a different color for each this interesting spiritual spine tattoos idea shows all the Chakras of the human body.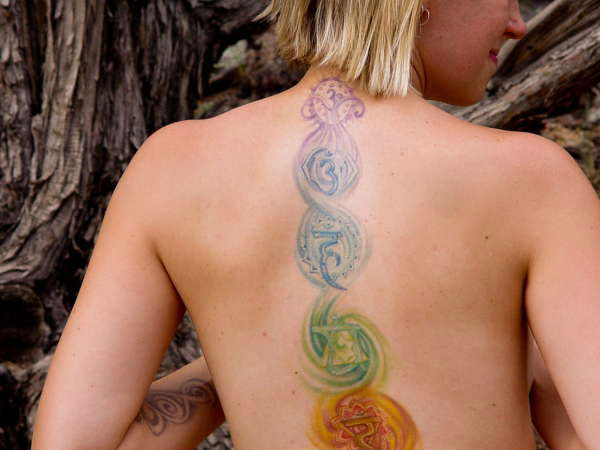 Feminine Power Interesting Tattoo
The fine lines in dancing shapes add to the beauty of the nude female figure inked in black patterns in this interesting tattoo idea.