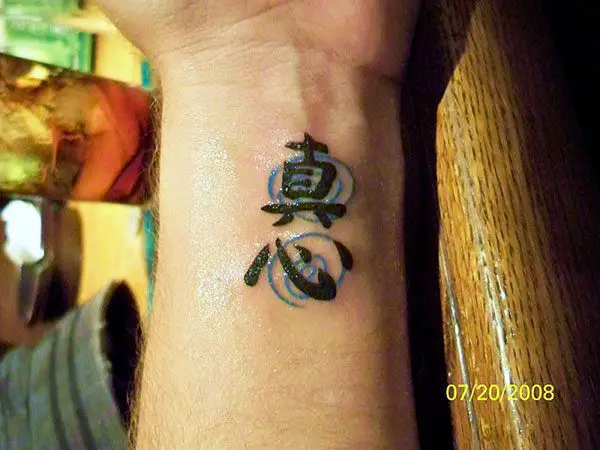 Japanese art forms have a fascination that invokes curiosity to know more about it. The oriental concepts of ikebana, origami, bonsai, etc are copied all over the world. These are highly evolved art forms in their ideas and depiction. The same is true with tattoo art. Just the design of Japanese letters can look really attractive when tattooed. When you have themes like cherry blossoms, chrysanthemums, dragons, fish, and Samurai warriors and kings the Japanese tattoos take on a new meaning. These are symbols that depict certain characteristics and philosophies; thus making the art more meaningful. Each design in this lot is a masterpiece that's worth copying.
Art from Japan fascinates everyone. Their concepts of bonsai and ikebana are world-renowned, besides other art forms. There are numerous symbols from nature as well as supernatural symbols that appear in Japanese art. The same applies to tattoos with Japanese themes. Flowers like the beautiful cherry blossoms and chrysanthemums form a major part of these tattoos. Geishas, warriors and kings also make very superbly artistic ideas for tattoos. The dragon, a symbol of power and invincibility, is another topic that is very popular Japanese tattoo. From simple black designs to vibrantly colored ones, each tattoo in this collection is a piece of art.
If you like this article, you might be interested in some of our other articles on Shark Tattoos, Leopard Print Tattoos, Fish Tattoos and Southern Cross Tattoos.
Sincerity In Man
This lovely Japanese tattoo through letters expresses the Shinto philosophy of sincerity in a man.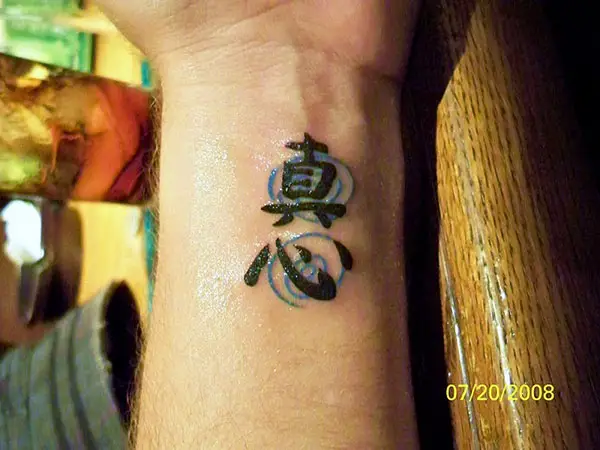 Picture of Intricacy
A dragon designed so intricately on the back is a Japanese tattoo that will be worth copying and showing off.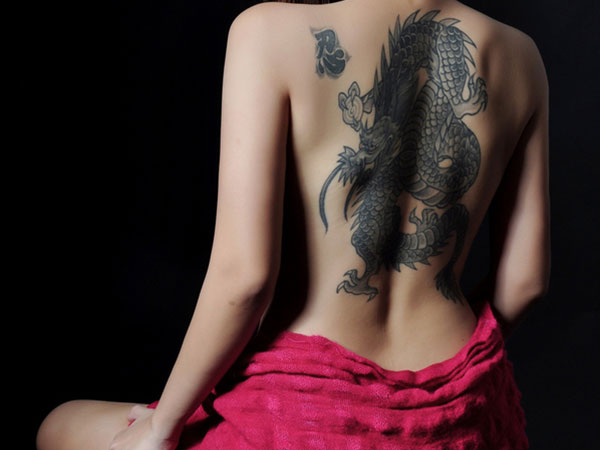 In Full Bloom
The Japanese cherry blossom tree in full bloom is one of the most beautiful sights and is very popular as a tattoo.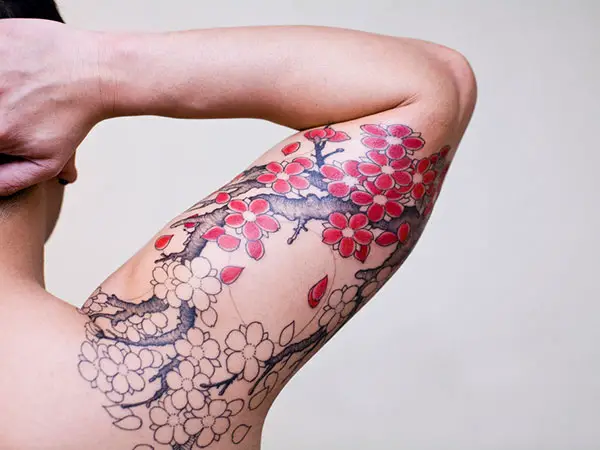 Surrounded By Beauty
As Japanese tattoos go this fearsome dragon surrounded by beautiful flowers makes a superb design.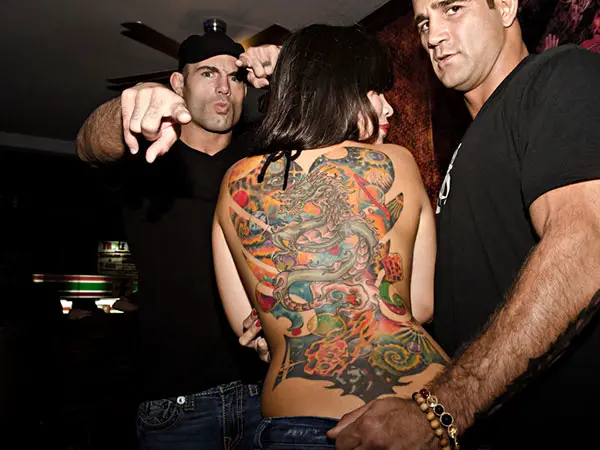 Body Painting
A warrior's face interspersed with many patterns and designs makes a very colorful and flashy Japanese tattoo.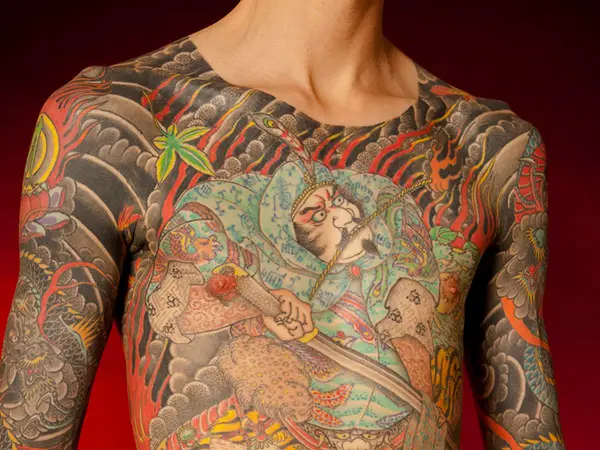 Fury Of Fire
A demonic fire in bright color takes center stage in this very artistic and attractive Japanese tattoo.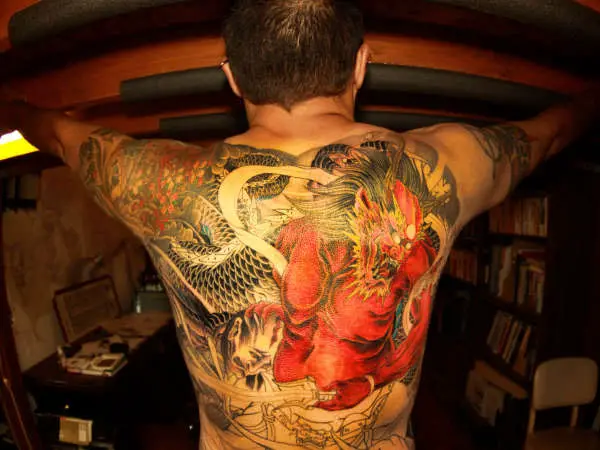 Dark Humor
This Japanese tattoo with a demonic face and amusing words shows the wearer's sense of humor.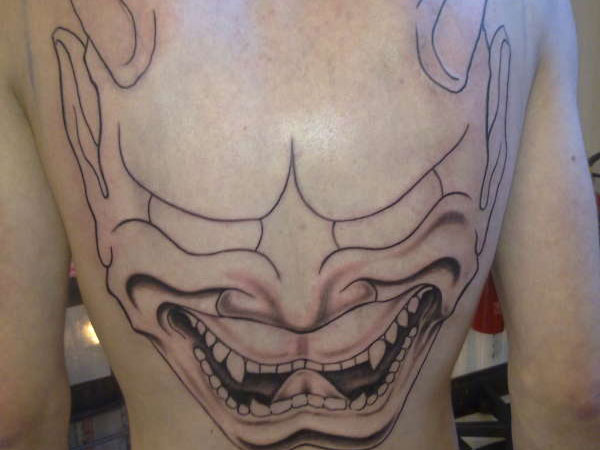 Beautiful Simplicity
Japanese letters look like beautiful designs, good enough to have one as a lovely neck tattoo.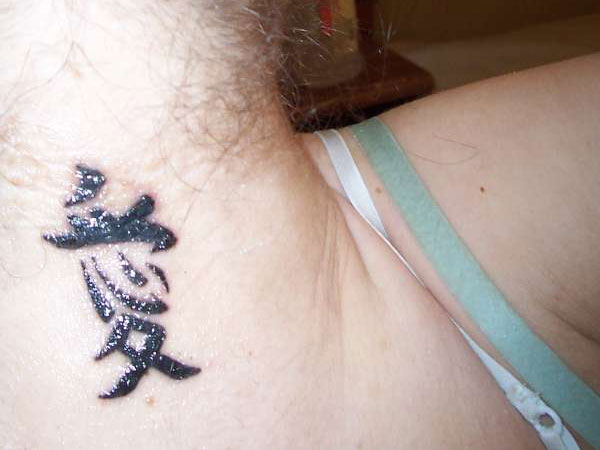 Baby Dragon
A small baby dragon drawn in intricate lines is a lovely artistic Japanese tattoo to have.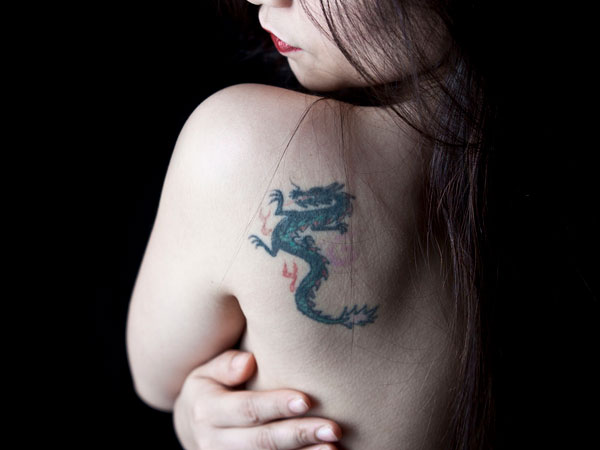 Mixed Menagerie
Soft themes like flowers and birds combine with the design of a dragon to create lovely Japanese tattoos on these men.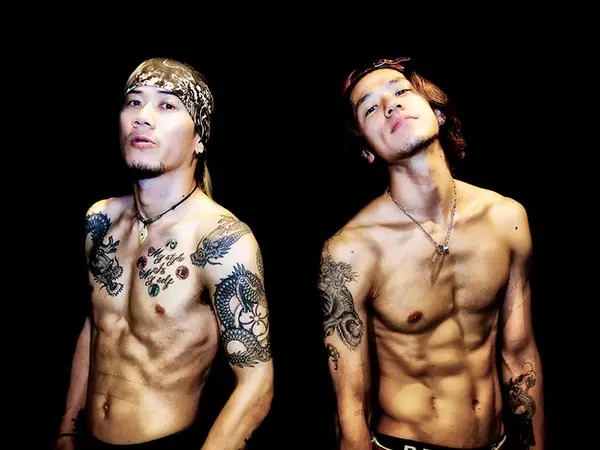 Classic Combo
A poem tattooed along with a lovely flower is a Japanese tattoo that the wearer must really be proud of.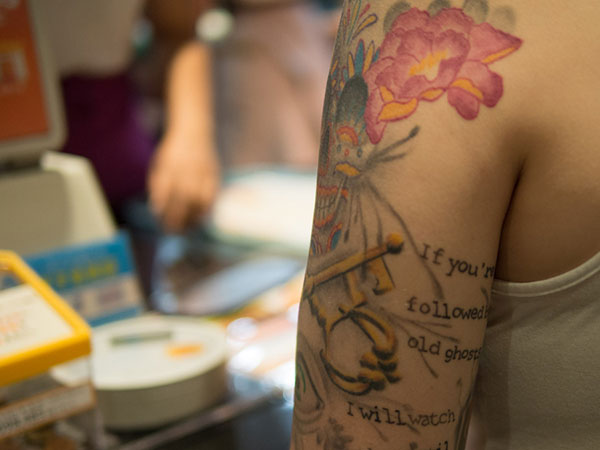 Balancing Act
As Japanese tattoos go this one with a dark background of curves and shapes for the bright flowers is a great combo.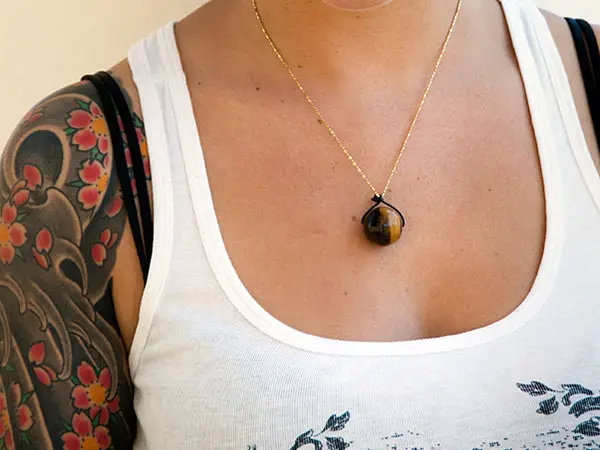 Always Known For Beauty
The cherry blossom, the symbol of extreme beauty is the most popular theme among Japanese tattoos.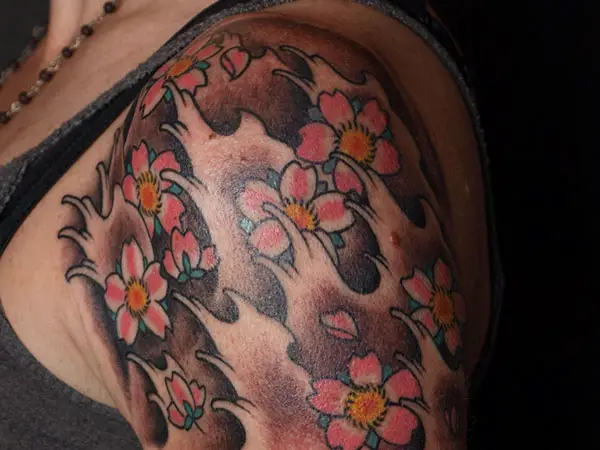 Fishy Story
A bright-colored fish designed so artistically is a great way to sport a Japanese style sleeve tattoo.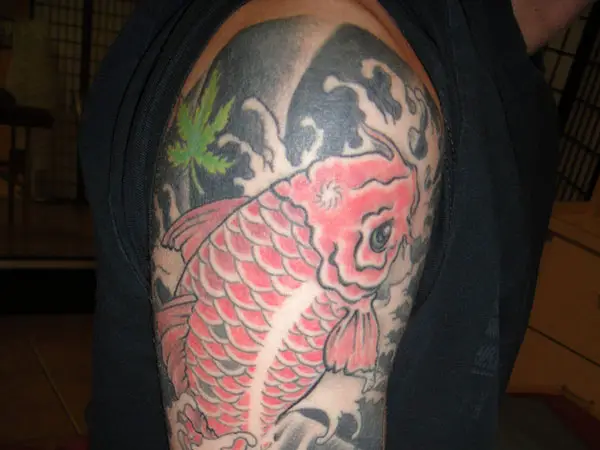 Cherry Blossom Symbolism
Beauty unto death…the Japanese cherry blossom tree is symbol that looks brilliant as a tattoo.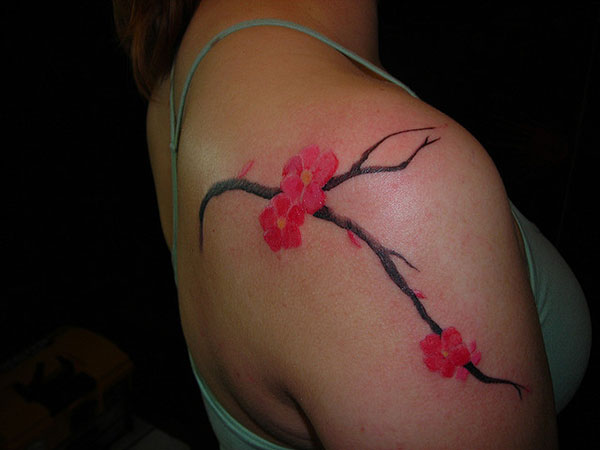 Realistic Cherry Blossom
This Japanese tattoo looks very artistic with its cherry blossom tree that looks almost real.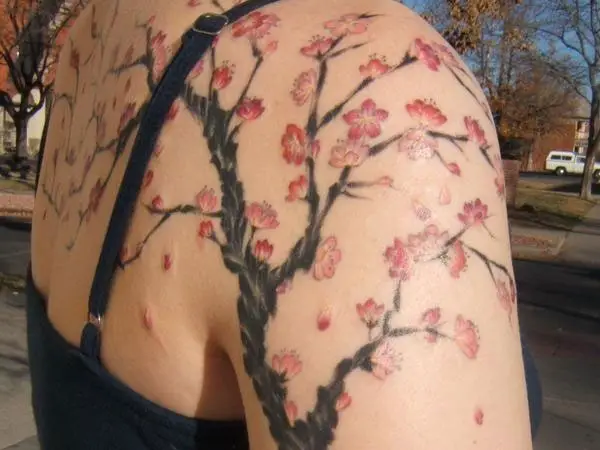 Dragonian Power
The power of a dragon has been depicted in a beautiful and intricate Japanese tattoo that's worth imitating.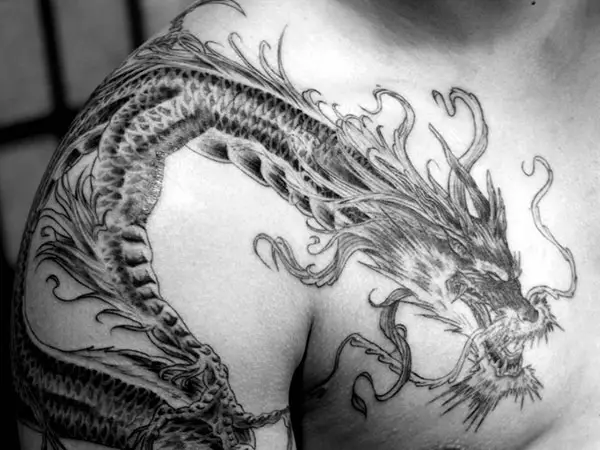 Maple Tree
Bright reddish-orange maple leaves are a superb design to sport an attention grabbing Japanese tattoo.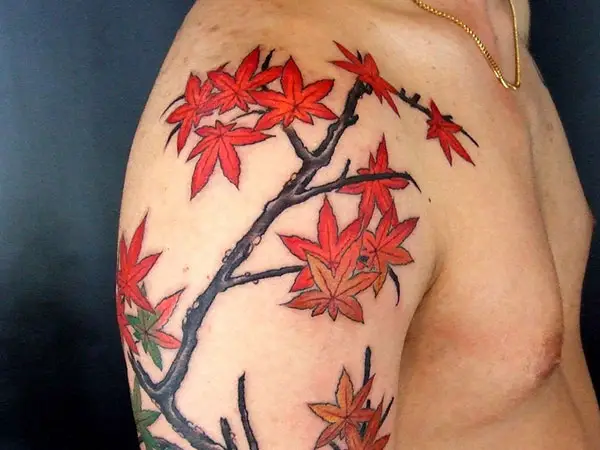 Fire Breathing Creature
For an attractive Japanese tattoo this fire-breathing dragon in intricate lines makes a real eye-catching tattoo.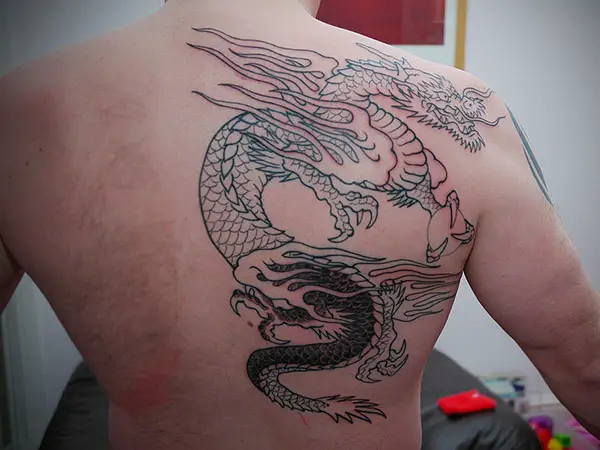 The Beauty Of Flowers
Chrysanthemums designed black ink and cherry blossom in bright red is a superb floral theme for a Japanese tattoo.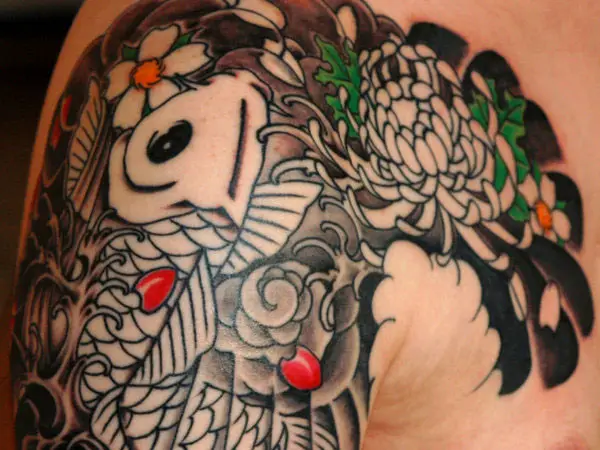 Flirtatious Butterfly
The colorful flowers and the flirtatious butterfly combine together to form a really beautiful Japanese tattoo.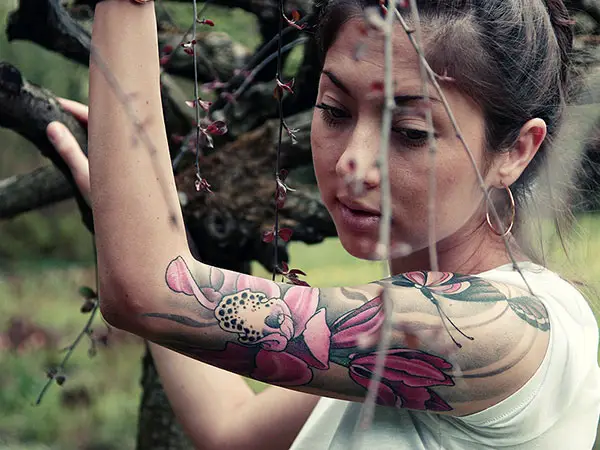 Dragon's Vibrancy
A dragon in vibrant orange and green shades is a very attention grabbing Japanese sleeve tattoo to have.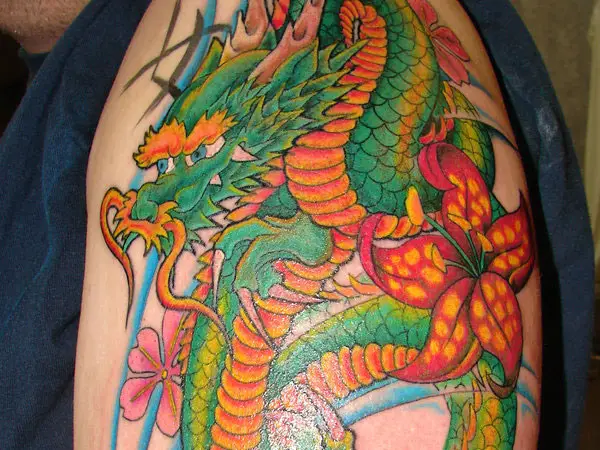 Serene Pagoda
The Pagoda designed in simple black and grey shades emphasizes the serenity and sanctity in a Japanese tattoo.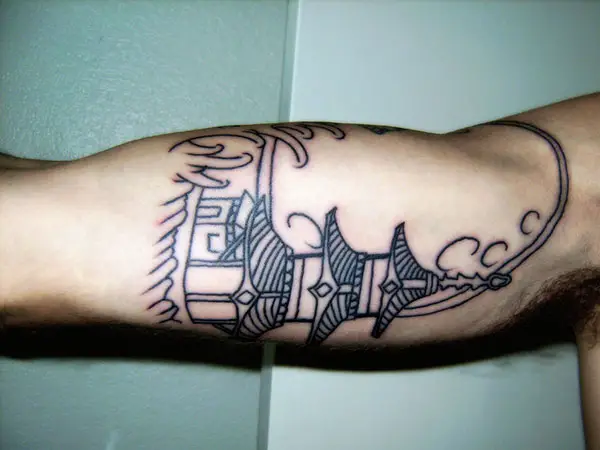 Name Tattoo
The Japanese and Elvish letters look attractive enough to get your own name tattooed with style.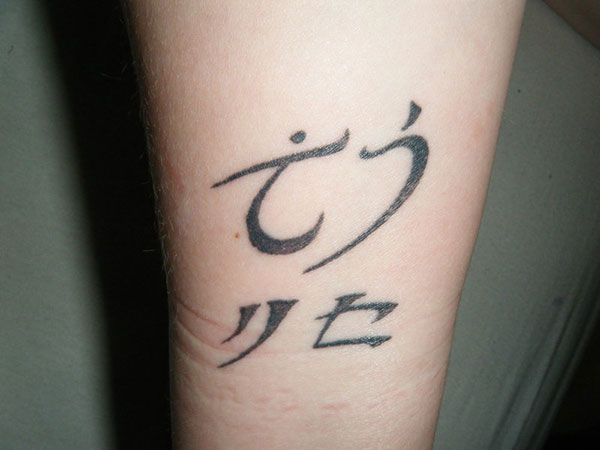 Strange Combo
The Japanese cherry blossom known for its beauty and a crow the symbol of evil is an unusually attractive theme for a tattoo.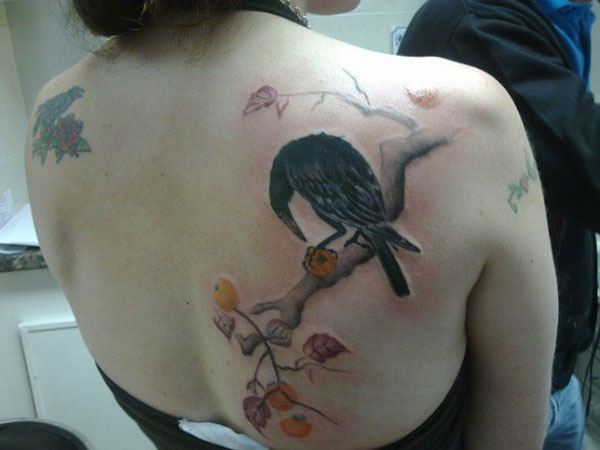 Geisha Zombie
A stylishly attired Japanese Geisha's zombie is a real attention grabbing tattoo to have.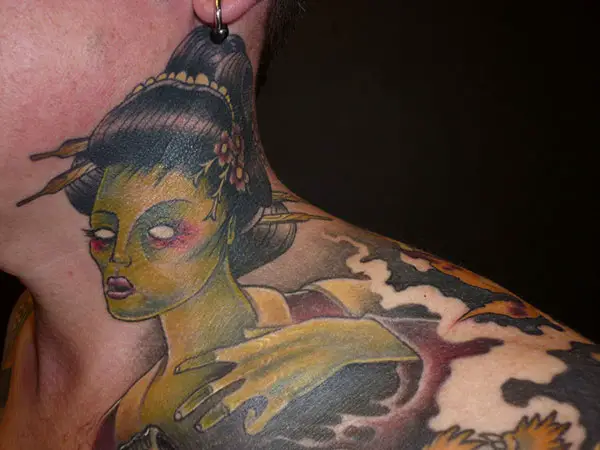 Demonic Koi
The koi fish designed artistically combines with a demonic face to form a very bright and artistic Japanese tattoo.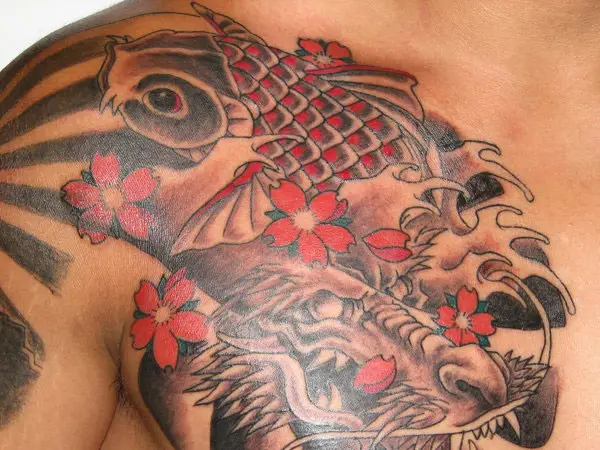 Pleasant Thoughts
The sight of a Japanese tattoo with a beautiful cherry blossom tree immediately invokes pleasant thoughts.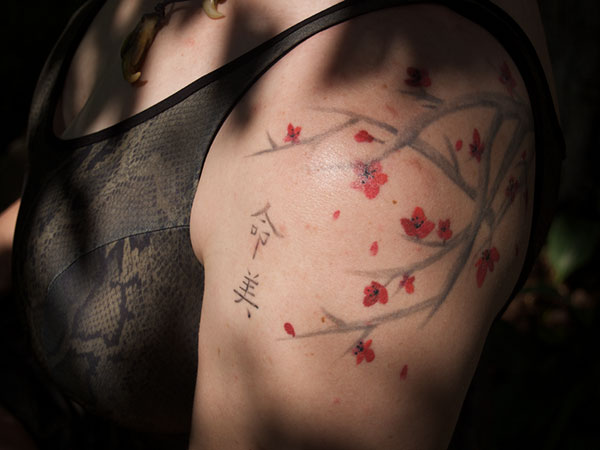 Lovely Japanese Doll
This is an attractive tattoo showing a Japanese doll in bright colors and artistic lines that's worth copying.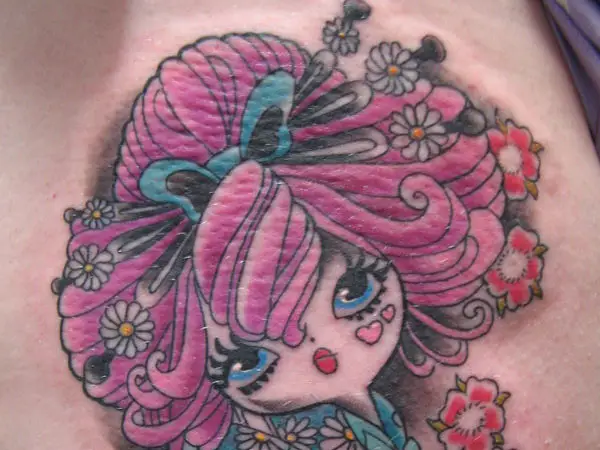 Cherry Blossom Closeup
The cherry blossom flower in closeup is a wonderful Japanese tattoo to have and is worth showing off.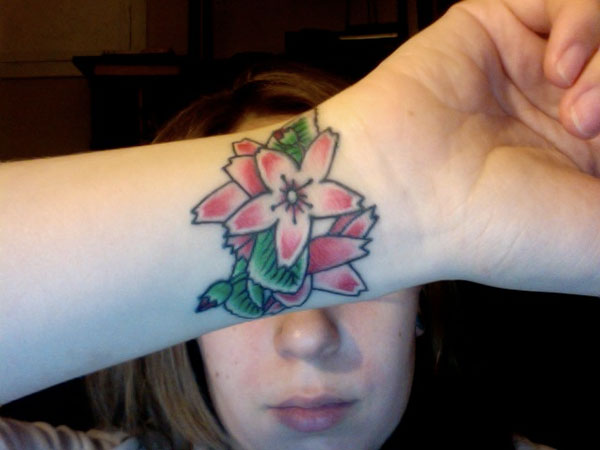 Ancient Warrior
As Japanese tattoos go the design of the ancient Samurai warrior is one of the most classic themes.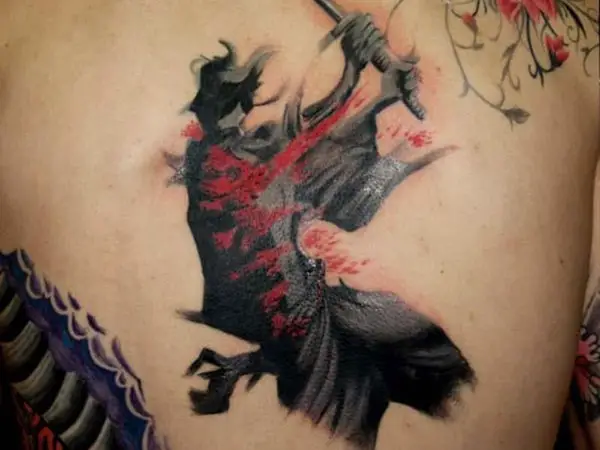 Peacock And Cherry Blossom
A colorful peacock perched on the cherry blossom tree makes a superlative Japanese tattoo worth imitating.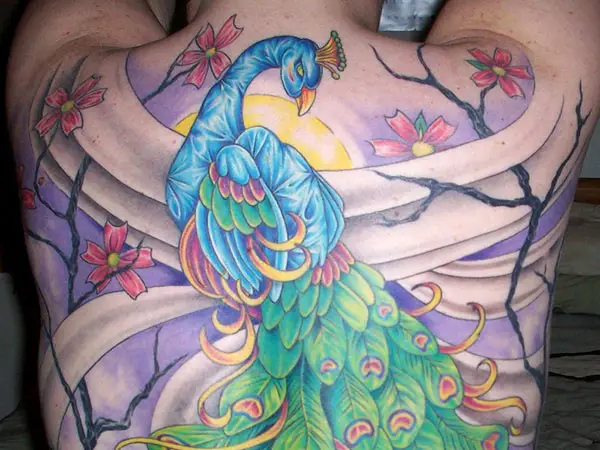 In Full Regalia
A Japanese king in full regalia looks powerful and regal even when the tattoo is designed in simple black lines.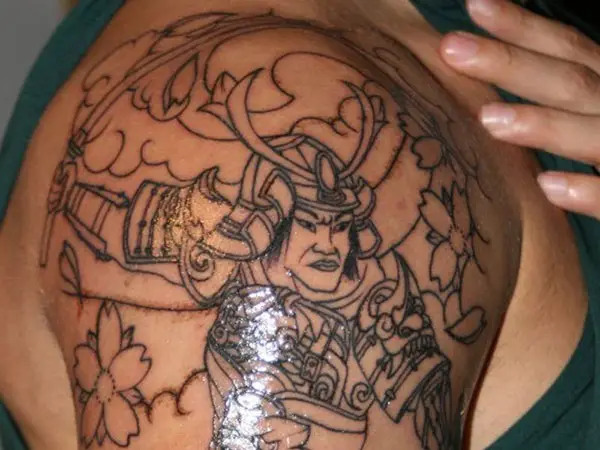 Glorious Chrysanthemum
Even when it is drawn in simple black lines the chrysanthemum in this Japanese tattoo looks really beautiful.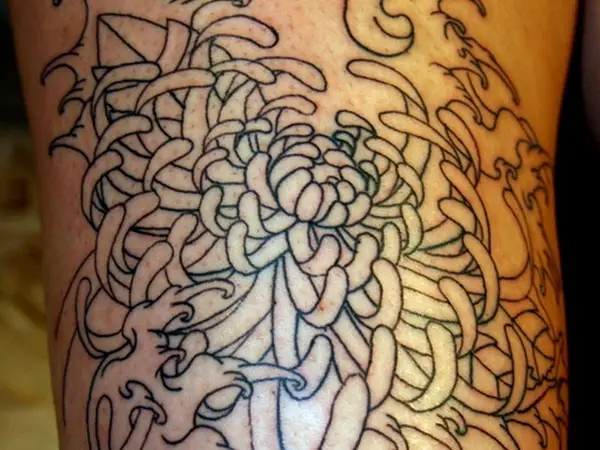 Glorious Chrysanthemum
Fishing In Air
A bright reddish pink fish along with cherry blossom tree is a very attractive combination for a Japanese tattoo.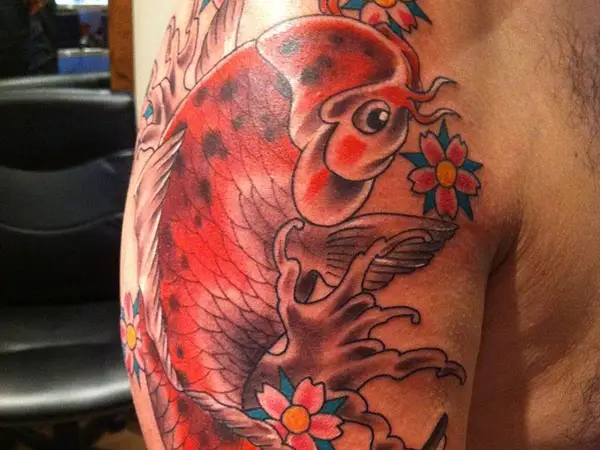 Fire Breather
When you want a smart attention grabbing Japanese tattoo then this intricate fire-breathing dragon is just perfect.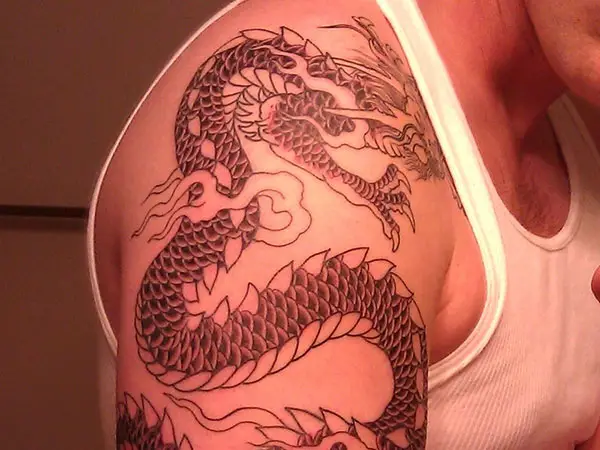 Perfect Dragon
This tattoo is the perfect depiction of the ferocity and power of the Japanese fire-breathing dragon.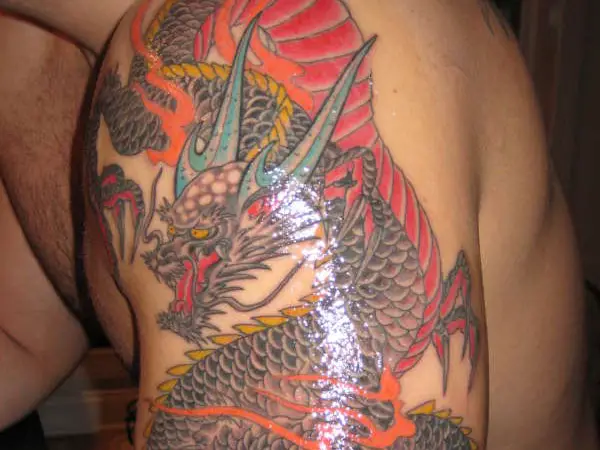 Bamboo And Letters
Artistic letters combine with the light-colored bamboo shoot to form a very beautiful Japanese tattoo.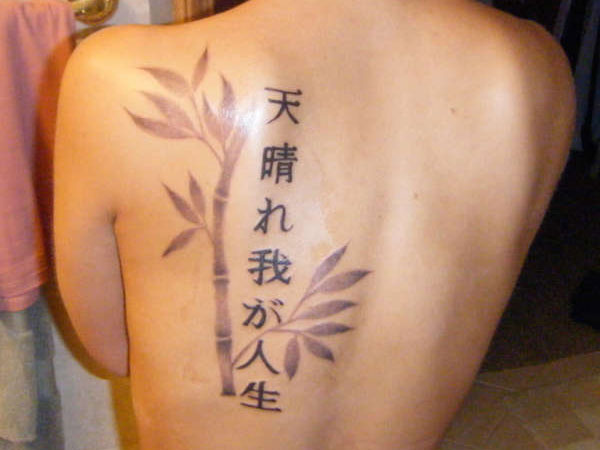 Nature's Glory
The lilac tree drawn in just black and grey makes a very artistic and attractive Japanese tattoo worth copying.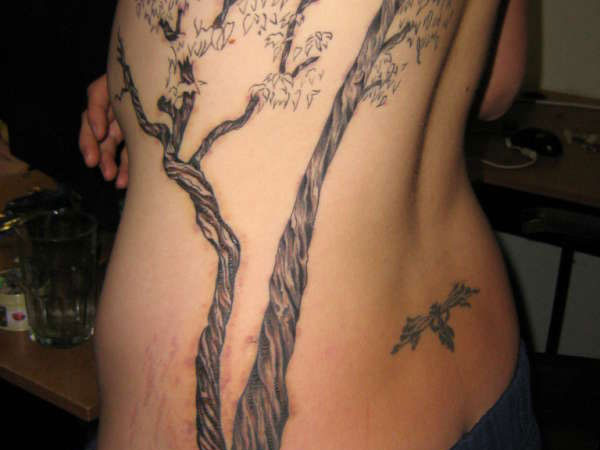 Mum's The Name
Despite using only black color, this artistic Japanese tattoo shows the full glory of the chrysanthemum flower.