Summer holidays are for relaxation and fun, away from school routine, projects and homework. It is a time for singles, couples as well as families to sit back and enjoy life. And what could be more exciting and joyful than a roller coaster ride? The small ones bring joy to the faces of little ones who are not yet ready for the big rides. School going children, youngsters, middle-aged folks, young or old, all enjoy rides on a roller coaster in equal measure.
Have you ever tried a roller coaster ride? When you see people of all ages screaming their lungs out you might wonder why they bother. And yet, roller coasters are the most sought after rides in all the amusement parks in the world. The fear is very much a part of the excitement. Fright and joy are two sides of the same coin. The scary parts in fact are what the people wait for in anticipation because it is part of the fun. These rides are an indispensable part of summer holidays.
If you like this article, you might be interested in some of our other articles on Clown Pictures, Funny Harry Potter Pictures, Random Funny Pictures and Fat People Pictures.
The Family Ride
This family is enjoying summer vacations. They look absolutely thrilled with the roller coaster ride at its beginning. Just one little boy in the front is not sure whether to be happy or frightened.
Child and Dad Time
This child is probably going on a roller coaster ride for the first time. His face is a picture of anticipated fear and enjoyment while he grips the rod tight for safety.
At the end of it
This quartet has had enough. They don't even want to be clicked because they know they look terrified and disoriented after an exciting and fast roller coaster ride.
Down and Away
Don't miss the fearful joy on the faces of this group of people. The downward motion of the roller coaster brings your stomach up in a heaving motion of its own. And yet, who would miss the ride?!
Watch Em
These two boys are not at all worried about the roller coaster ride and are probably hiding their faces just for kicks. In fact, they are putting up their arms in joyful anticipation.
Off we go
These children coming down on a roller coaster have faces that spell fear and joy at the same time. They are probably screaming in half-trepidation and half-enjoyment at being on a steep roller coaster like this one.
Peaceful Ride!!
Being peaceful during a roller coaster ride is not plausible. There is a feeling of trepidation even before it begins and then the excitement takes over. This priest is going to get a taste of real excitement once the rides starts.
Double Jeopardy
A roller coaster is exciting enough. But a roller coaster that also swings has double impact. This little group is all focused in enjoying every moment of their ride.
The Joy of Anticipation
These two have their eyes focused on enjoying the roller coaster ride from beginning to end. Their body language spells anticipation of expected thrill and excitement of the ride that they may have tried out many times before.
Some are not sure
After sitting on the roller coaster sometimes you are not so sure you want it to start, like the child in this picture. But once the ride begins there is nothing but exciting and fun for everyone.
Joy Ride
There is no greater pleasure than when you are on a roller coaster. These people are obviously very experienced in roller coaster rides and know what fun it can be. Their smiles say it without words.
Happy Group and Summer Time
The summer season brings with it vacations, trips, picnics and amusement park rides. This group is thoroughly enjoying its roller coaster ride that is just about to start. Their smiling faces and raised arms say it all.
The Little Coaster
This little girl is thoroughly enjoying the smaller roller coaster. It is summer holidays and what could be a more enjoyable activity that a roller coaster? Of course, she is gripping the handle for dear life!
Hanging on
The best way to enjoy a roller coaster ride is to hang on tight and enjoy the frightening parts too like these youngsters seem to be doing. The scary part is the best part of the ride or why else would one take the ride.
Hanging on
Baby Ride
A small wheel is enough for this little baby to experience a ride for the first time. The child is practicing for the bigger roller coaster rides when it grows up. This is a great way to enjoy summer.
Little Boys Flying
This picture shows how everyone reacts in different ways to a scary and exciting roller coaster ride. One boy is waving in exciting and the other has closed his eyes with a sense of trepidation.
All is fine
This group of youngsters have done it before. They seem very comfortable on the roller coaster and are waving and cheering without any signs of being frightened.
All is fine
Children and Summer Time
The smaller roller coaster for little children are a great summer time activity that they enjoy very much. This little boy is looking out at his mom with a beaming face showing her how much he anticipates the fun.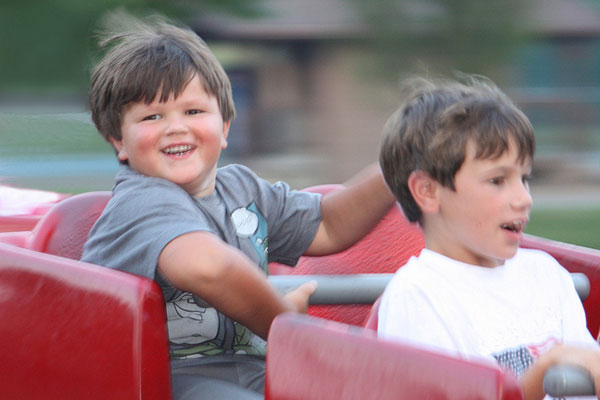 Angle of Exciting
A roller coaster ride at this angle is going to be a little too exciting. The stomach goes upside down too for a while but who would want to miss out on the sheer terrifying exciting that one looks forward to?
Angle of Exciting
Testing Waters
This little girl is trying out a smaller version of a roller coaster ride. Practicing on it will build her confidence in trying the larger ones as she grow up. Now she is a picture of anticipation and concentration at what is to come.