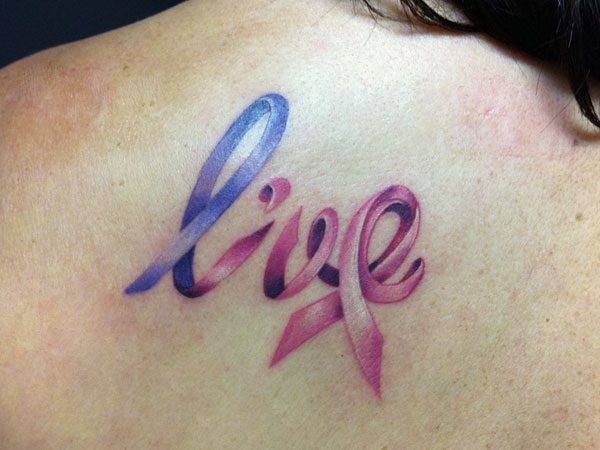 Tattoos are not only style statements they are also meaningful symbols that say a lot, sitting on your body parts. There are people who make noble use of the body art to generate awareness and express their feelings. One such tattoo is the cancer ribbon tattoos. These tattoos are a cool way of making people aware of the threat of the deadly disease. Many men and women die of cancer everyday just because of lack of awareness and therefore, it is very important to tell them that they need to attend to the threat of cancer looming over them which can take anyone as its victim.
Cancer ribbon tattoos are worn by survivors, patients and those who have lost someone to the disease. Some get it just with the purpose of creating awareness and as a mark of support to those who are fighting cancer or as a tribute to those who fought bravely. Since, cancers are of different types, there are different colors assigned to the ribbons representing them. For ex, the pink ribbon is for breast cancer. Below, we have presented a collection of 35 cancer ribbon tattoos that will give you more insights. Have a look.
If you like this article, you might be interested in some of our other articles on Believe Tattoos, Infinity Symbol Tattoos, One Word Tattoos and Treble Clef Tattoos.
Lovely Ribbon Tattoo
Creative and inspirational, this ribbon tattoo motivates the cancer patients and also creates awareness.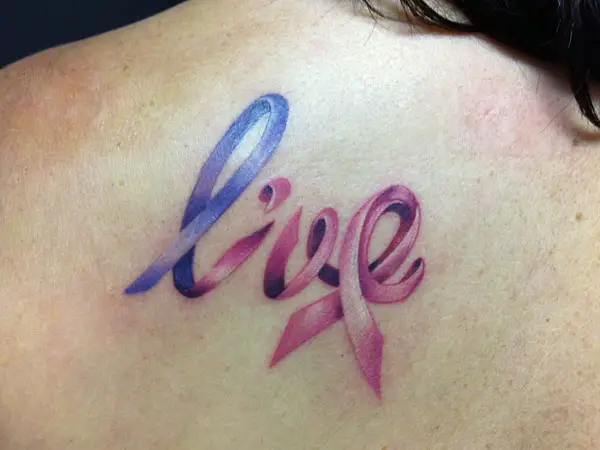 Cool Cancer Ribbon Tattoo
This cancer ribbon tattoo looks creative and has a got a spiritual touch in the form of little cross dangling at the corner.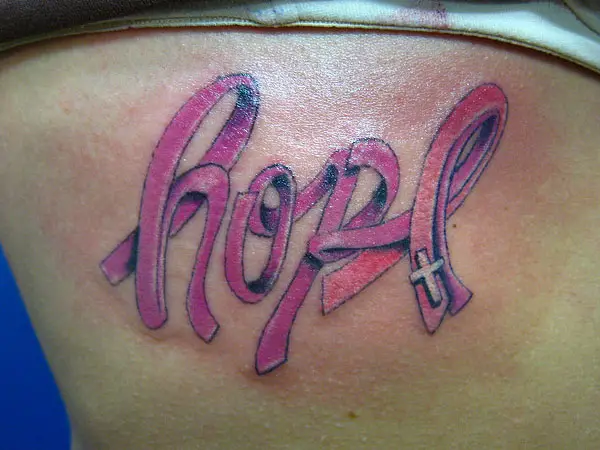 Lower Back Tattoo
Pink cancer ribbons created as heart shapes and initials of the dear one makes for a touching portrait.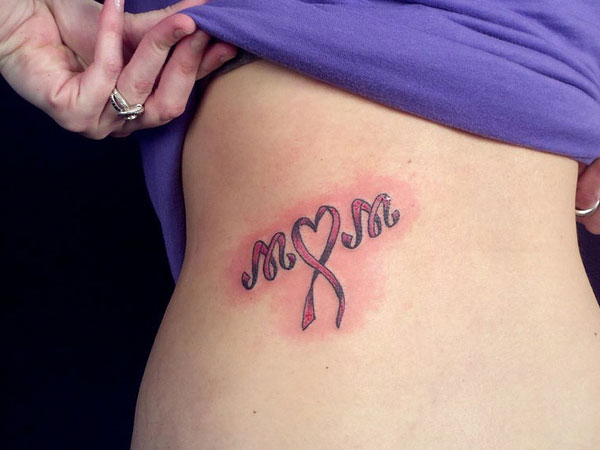 Brain Cancer Ribbon Tattoo
The girl got a grey ribbon tattoo for her grandfather who died of brain cancer and the anchor symbolizes the memories that are firmly placed in her mind.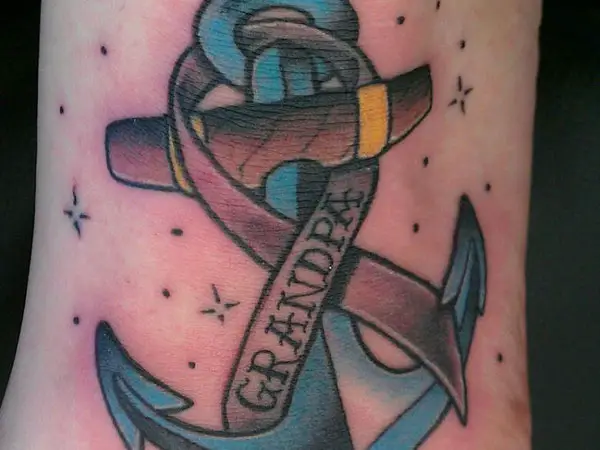 Brain Cancer Ribbon Tattoo
Beautiful Back Tattoo
Symbolizing cervical cancer, this tattoo shaped up as a butterfly makes for a lovely cancer awareness piece.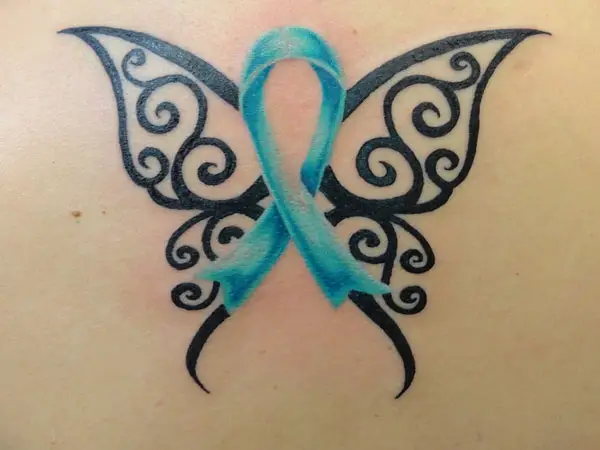 Breast Cancer Tattoo
This tattoo having a butterfly with the pink ribbon as her body symbolizes that one can lead a free life if one gets diagnosed in time.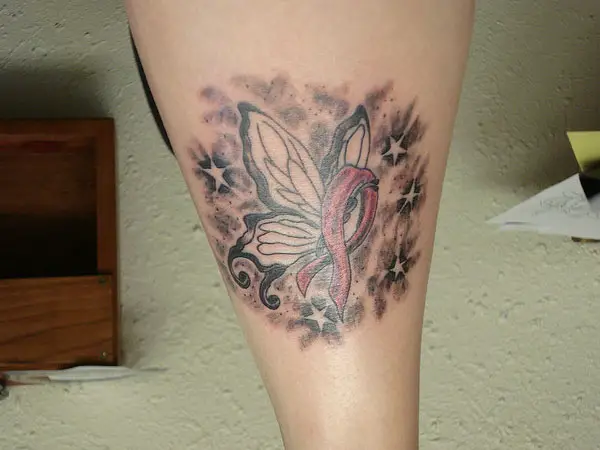 Arm Ribbon Tattoo
The girl has a cancer ribbon on her forearm, carved in the memory of her grandmother, who died of breast cancer.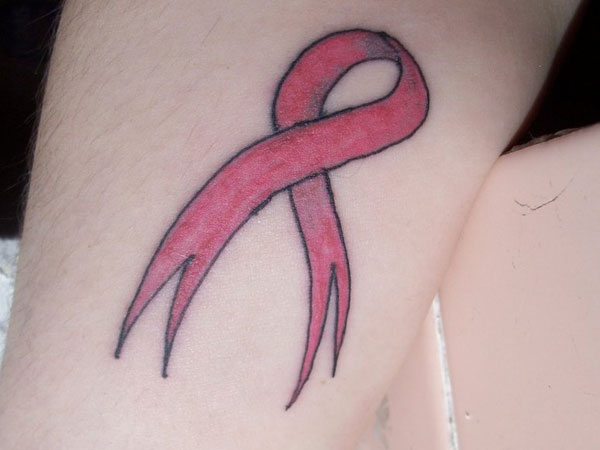 Cervical Cancer Tattoo
The girl got this tattoo in loving memory of her mother who died of cervical cancer and is no longer in the world but continues to live in her heart.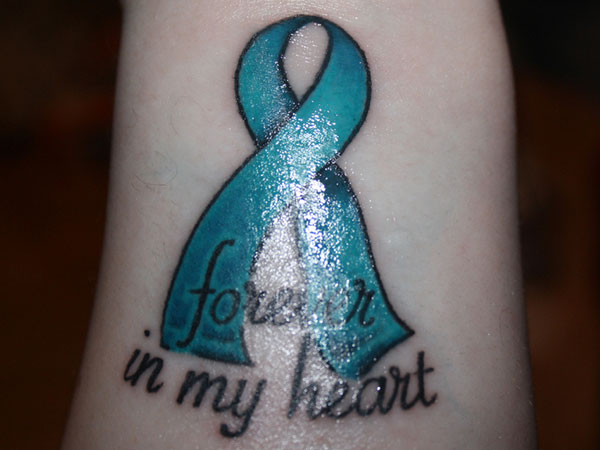 Somber Cancer Ribbon Tattoo
This tattoo is a symbol that some dear one of the wearer has passed away due to cancer and now she wishes for the soul to rest in peace.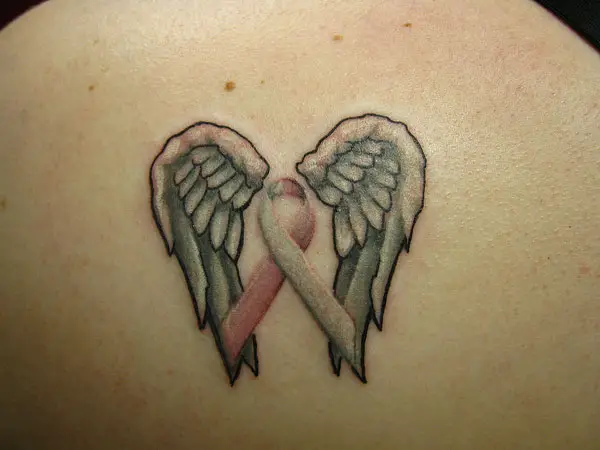 Foot Tattoo
Breast cancer ribbon with stars symbolizes the light awareness can bring into millions of lives of the women.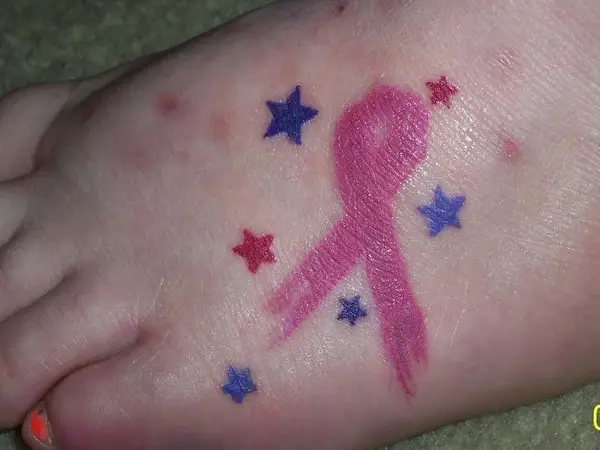 Floral Foot Piece
The flowers and the ribbon with a line below that says "we are fifty million strong" represents the fighting spirit of the cancer patients.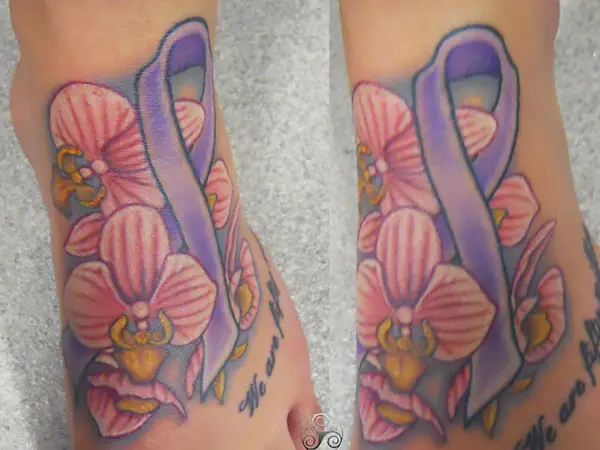 Ribbon Wrist Tattoo
Cancer ribbon tattoo that motivates the cancer fighters to feel every beat of life and never lose hope.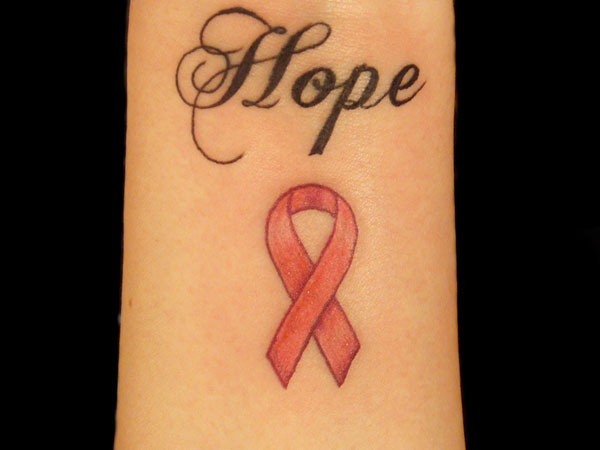 My Breast Cancer Ribbon Tattoo
The woman got this butterfly cancer ribbon tattoo as a tribute to all the women who fought cancer with courage.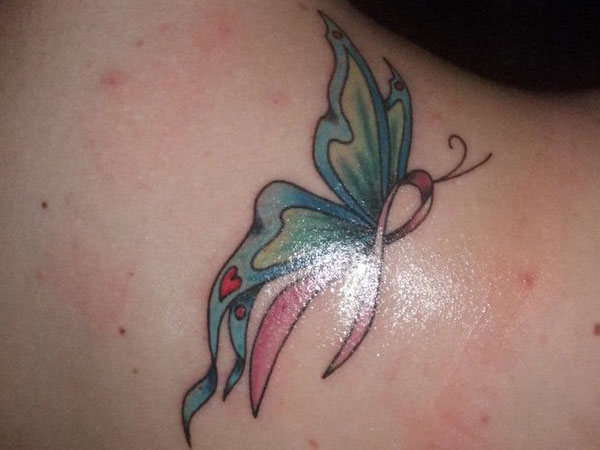 My Breast Cancer Ribbon Tattoo
Pretty Cancer Ribbon Tattoo
The colorful cancer ribbon tattoo with butterfly and stars makes a cool portrait that also generates awareness.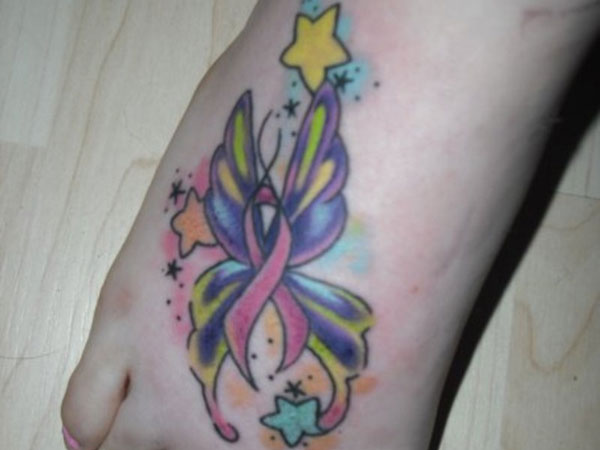 Awareness Ribbons
The twin colored ribbons are for diabetes and polycyclic ovarian syndrome and this girl has dedicated them to her mother.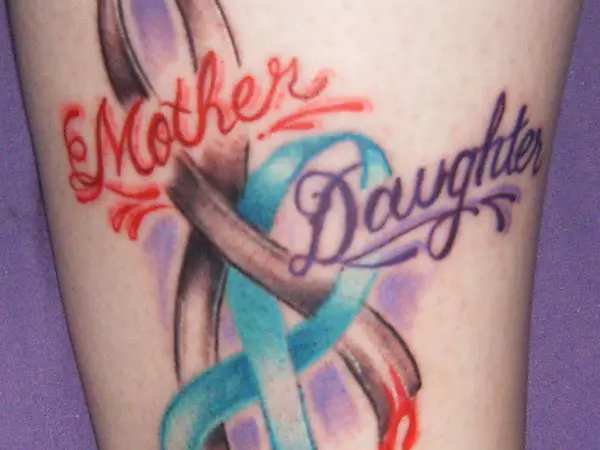 Upper Back Tattoo
This memorial tattoo with a small heart inside conveys the love of a sister to her sibling who died fighting cancer.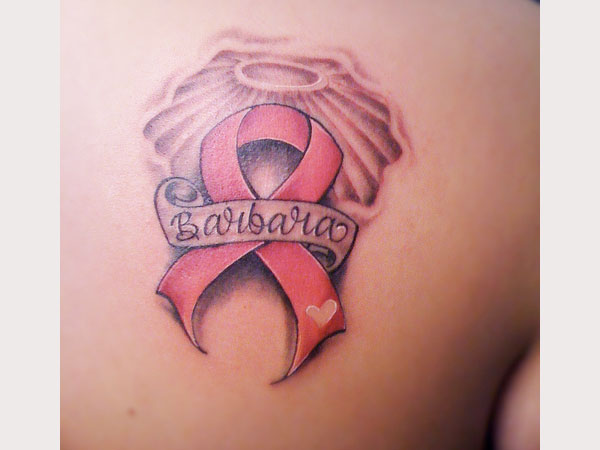 Unconventional Cancer Ribbon Tattoo
This is a different style cancer ribbon tattoo that displays a cute look and sends out the message of love for cancer patients.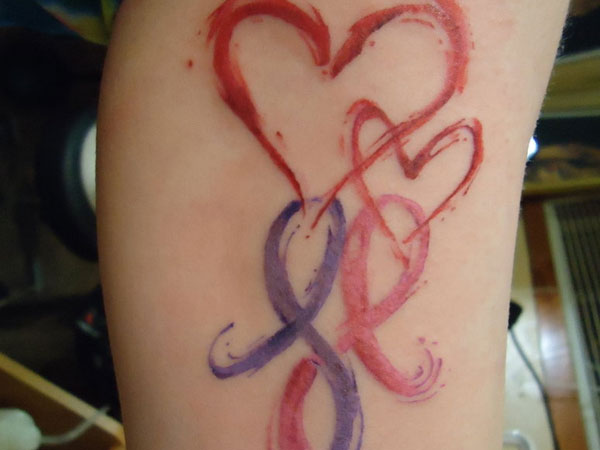 Unconventional Cancer Ribbon Tattoo
Initials & Cancer Ribbon
The red cancer ribbon and the initials of the mother carved in black ink create a lovely tattoo piece.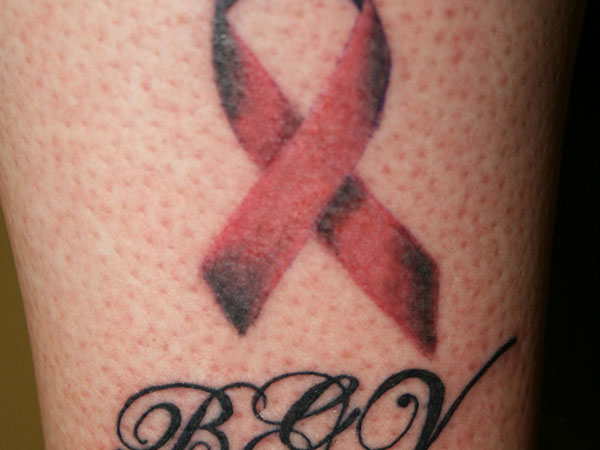 Simple Cancer Ribbon Tattoo
Plain cancer ribbon on foot that says our steps must be oriented towards creating awareness about the disease as this is the need of the hour.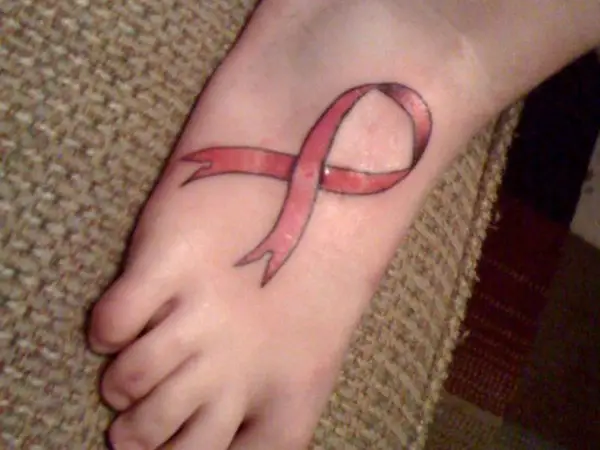 Live to The Hilt
The cherry blossom flowers, a symbol of temporary life and the cancer ribbon say that cancer patients must enjoy their day with full passion.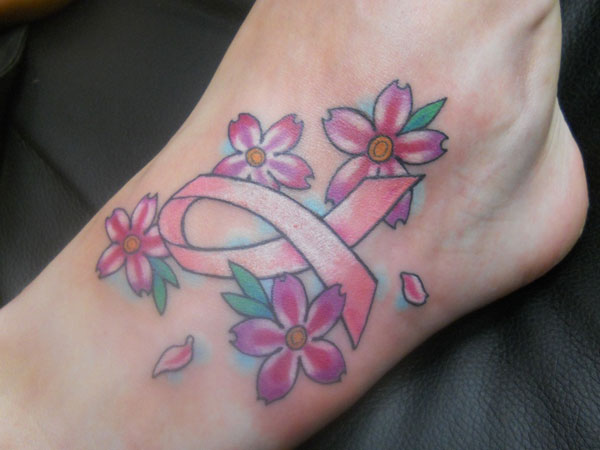 Cancer Patient Tattoo
The wearer of this tattoo has gone through the pain and came out victorious after the fight.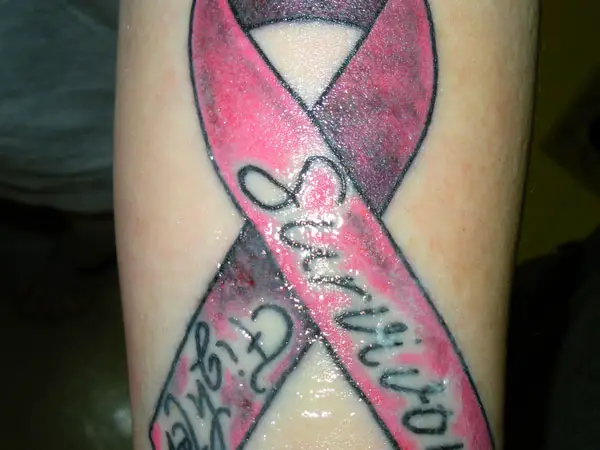 Brain & Breast Cancer Ribbon
The grey ribbon is for brain cancer and the pink ribbon for breast cancer and the angel wings say people need to be aware of both the threats.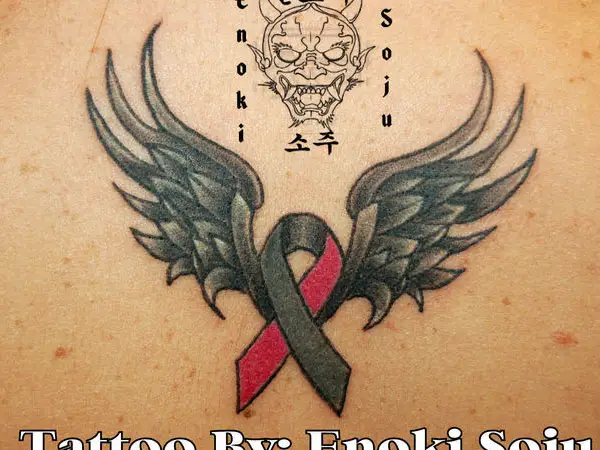 Pink Breast Cancer Ribbon
An inspirational cancer ribbon tattoo that speaks about faith, love and hope; the much-needed elements to fight cancer.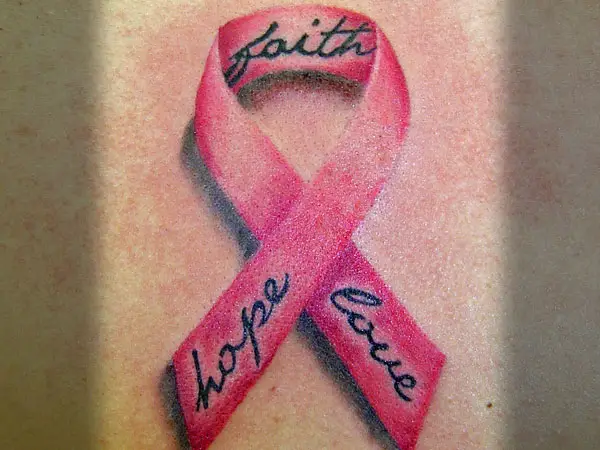 Cross Cancer Ribbon
This tattoo done below the leg asks for the blessings of the god to fight against cancer.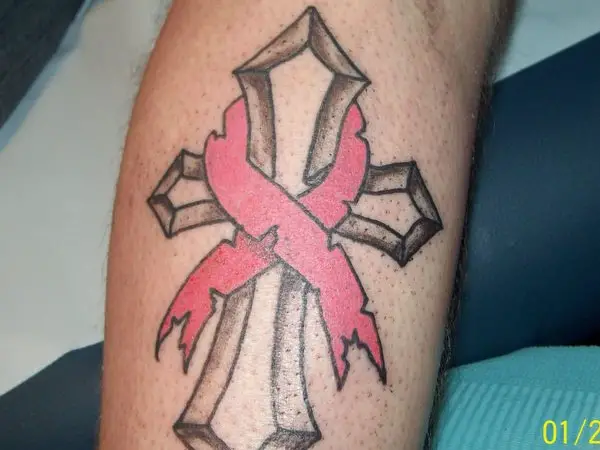 Arm Cancer Ribbon Tattoo
The boy got this cancer ribbon tattoo in memory of his mother and wants to express his belief so that her soul may rest in peace.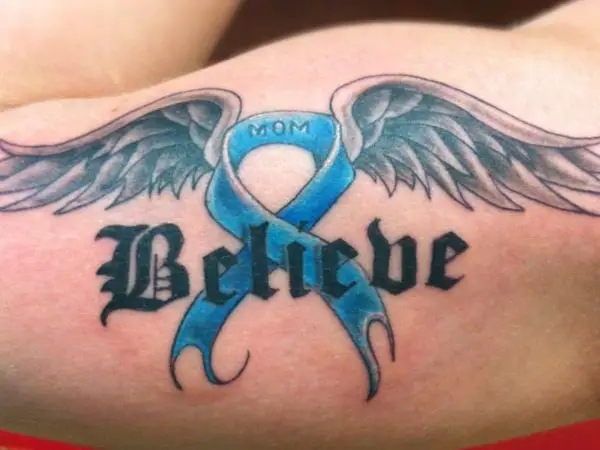 Bordering Danger
This pink ribbon tattoo carved on the edge of palm symbolizes the tough fight the wearer gave to the deadly disease and came out trumps.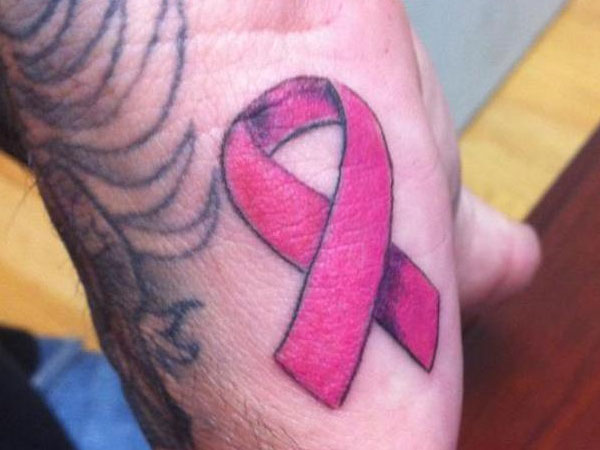 Feather Cancer Ribbon
Dedicated to all cancer patients and survivors, this somber cancer ribbon tattoo looks different and has an ethereal touch.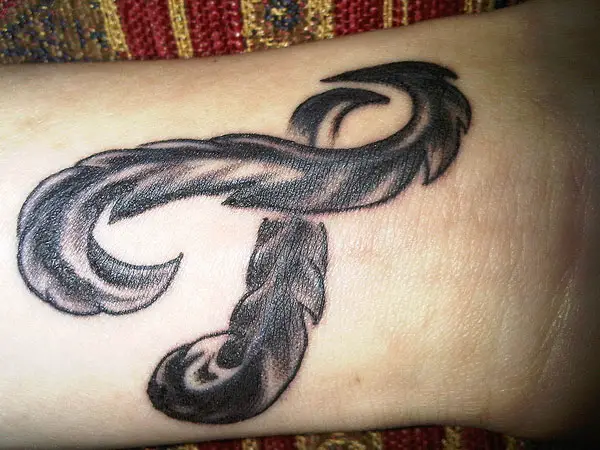 Wrist Tattoo
Plain and small cancer ribbon tattoo that the girl got in memory of her father who died from cancer.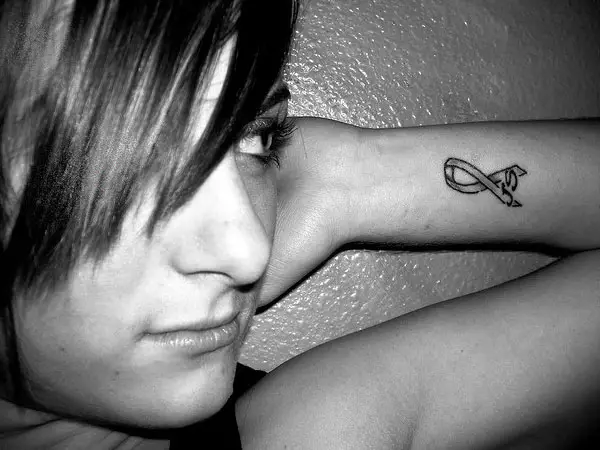 Shoulder Blade Tattoo
The pink ribbon is a symbol of breast cancer and worn as a mark of support for patients and also for creating awareness on the topic.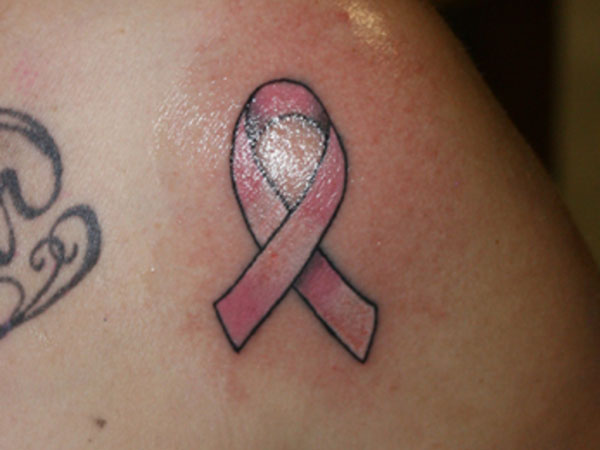 Yellow Cancer Ribbon
This bright cancer ribbon was carved in the memory of father and looks quite fabulous.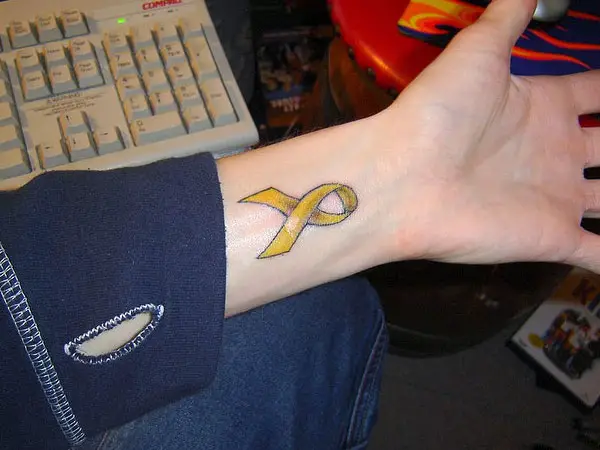 Yellow Cancer Ribbon
Memorial Cancer Ribbon
Blue cancer ribbon with the initials and dates, carved on the upper back, in the memory of a close person who died of colon cancer.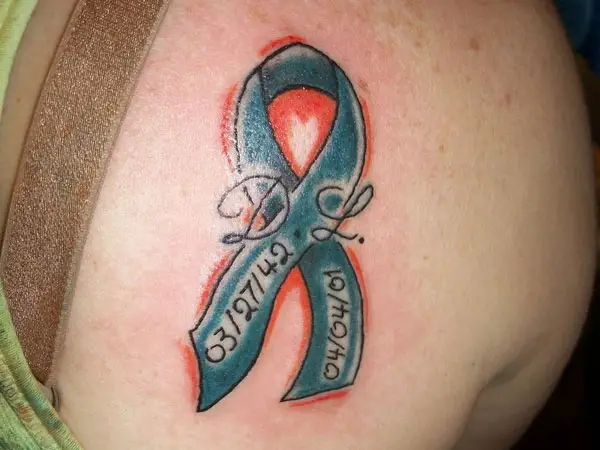 Ribbon Cancer With Cross
This tattoo depicts the faith and hope of the patient that saw her through the fight against breast cancer.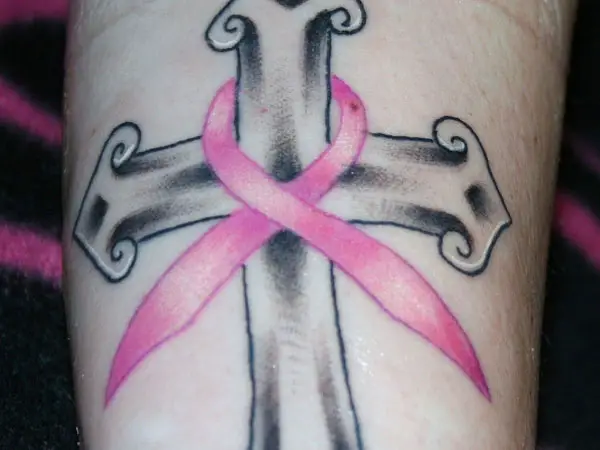 Rib Tattoo
The girl got the cherry blossom flowers and Kanji symbol that stands for strength, in memory of her grandma and mother, symbolized by the fallen petals.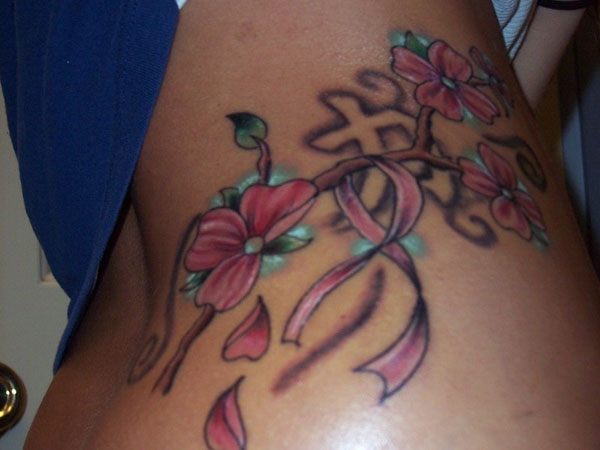 Love You Mom
The pink ribbon is for the dear mother who is a survivor and a lovely inspiration for the wearer.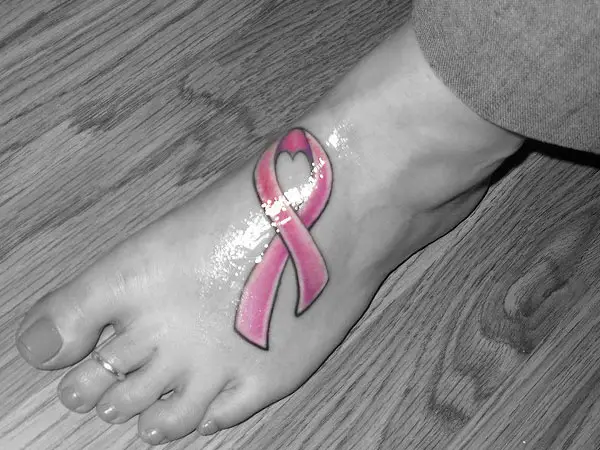 Forearm Tattoo
The pink ribbon with a golden arc over it and wings on both sides symbolizes that timely diagnosis and proper care can let you fly above the fear of cancer.