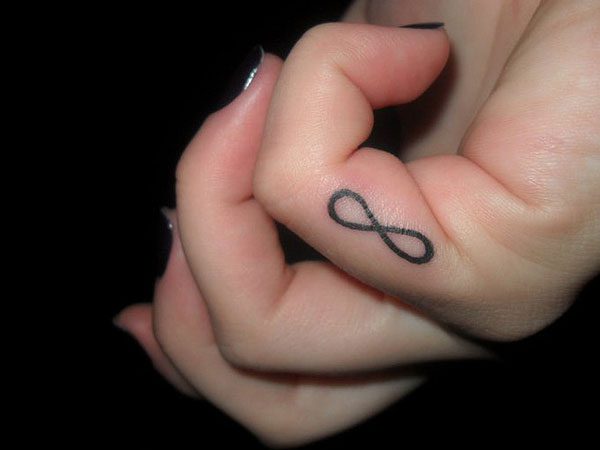 What is the infinite symbol? It is simply a loop with a twist through its center, which looks much like an '8' sign lying down. The idea of the infinite or something that never ever ends was there in most ancient cultures as a philosophical idea. It was in 1655 that infinity was introduced as a symbol by a mathematician John Wallis. Anything that has no bounds and just goes on and on is infinite, and that's what the infinity symbol represents.
The infinity symbol can be a very cool and interesting tattoo design. Imagine a loving relationship or a strong bond with your sibling that you never want to end. One way to depict forever can be with an Infinity Symbol Tattoo. A twist that loops round and round actually never ends, and that's what the infinity symbol shows. You can get a tiny infinity symbol in simple black, or a beautiful blue shade, or twisted around in a plant inspired vine design. The infinity symbol can be used in many different ways on its own, or with a combination of patterns like stars or names, in a beautiful tattoo design. The infinity symbol you get can be a tiny inked mark on the back of your neck or an inner wrist, or you could show off your stylish symbol tattoo in a large and beautiful design on your bare back. Check out these amazing infinity symbol designs.
If you like this article, you might be interested in some of our other articles on Yin Yang Tattoos, Tear Drop Tattoos, Dandelion Tattoos, Hourglass Tattoos.
Black Beautiful Symbol Tattoo
Check out this symbol of endlessness, the infinity symbol inked in a tiny black design on the finger.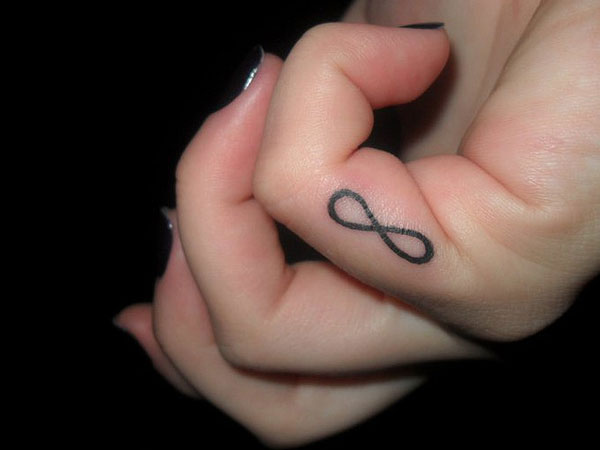 Paired Tattoos
With infinity symbol tattoos matched on their wrists this loving couple highlights their forever love.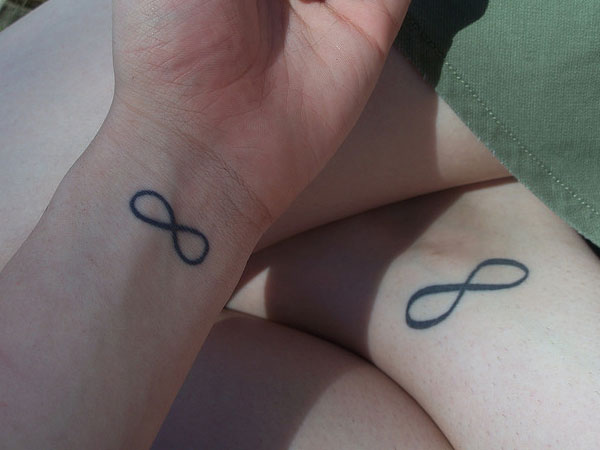 Infinity On My Finger
Imagine getting inked with a tiny loop pattern showing the idea of endlessness on your thumb. This tattoo design highlights the idea.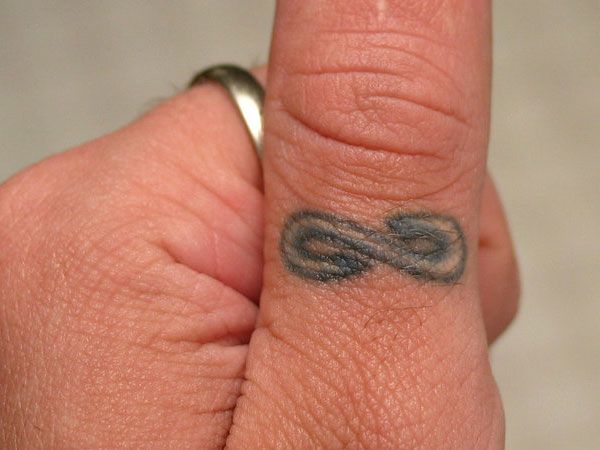 Eternal Love Tattoo
With two names inked, one above and the other below the design this symbol tattoo showcases a loving bond without end.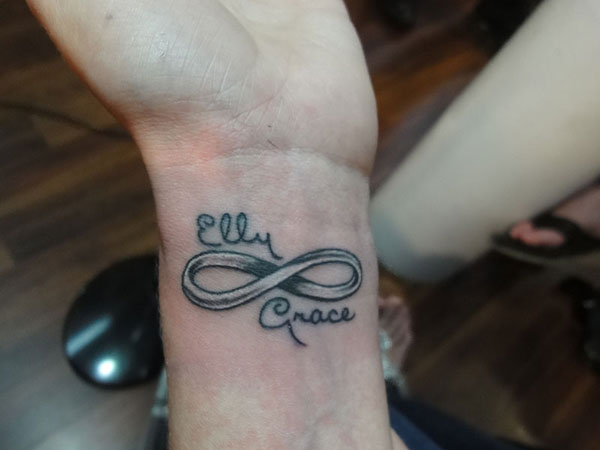 Blue Infinity Symbol Tattoo
A blue infinity symbol tattoo with an interesting vine pattern for decoration this is a really cool inner wrist tattoo.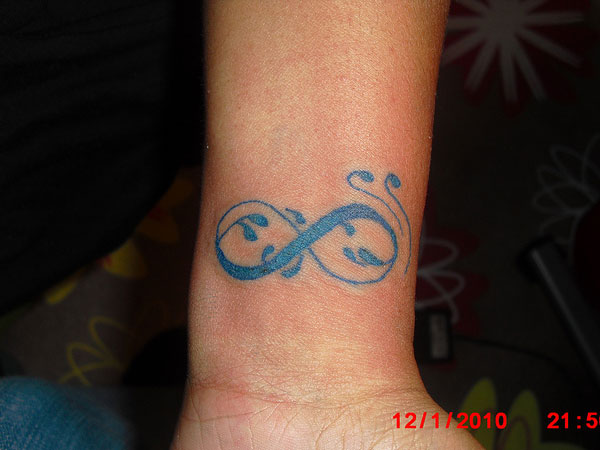 Infinity Symbol Classical
A symbol tattoo can come with many interesting elements. Here's a regular infinity symbol inked just below a set of Roman numerals on the wrist.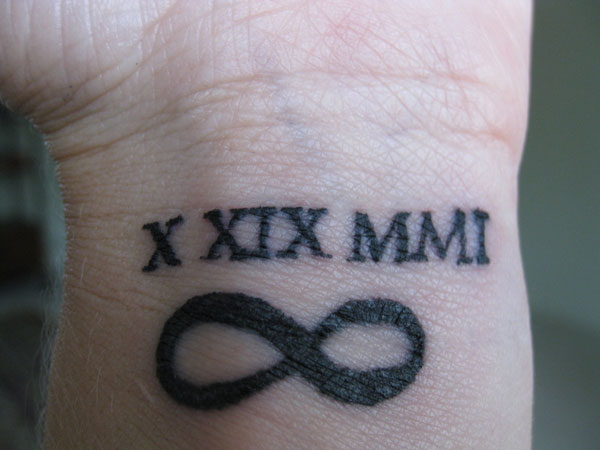 Basic Infinity Symbol
The graceful curves of the infinity symbol as it twists into a loop makes it a great black symbol tattoo.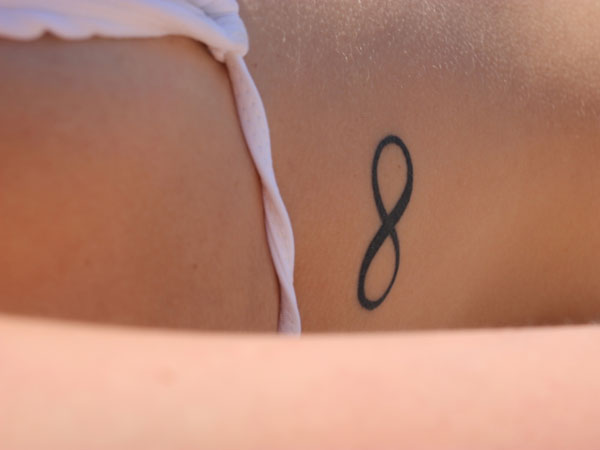 Infinity Symbol Custom Tattoo
The heart does go on and on, as this unique infinity symbol pattern combined with a blue heart design seems to say.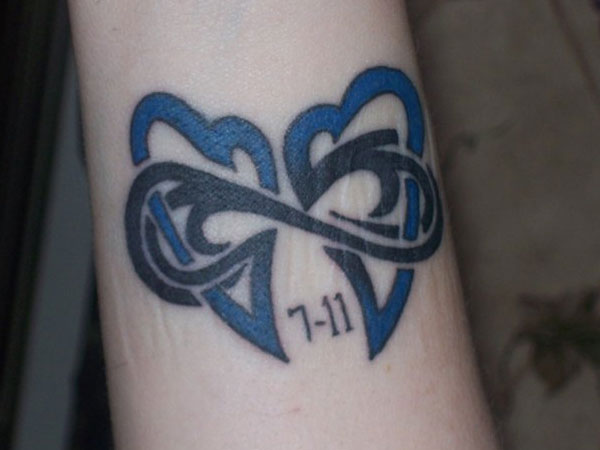 Infinity Symbol Custom Tattoo
Symbol Threadwork Tattoo
Imagine having a little piece of endlessness stitched onto your skin to carry with you always. That's what this threadworked infinity symbol tattoo shows.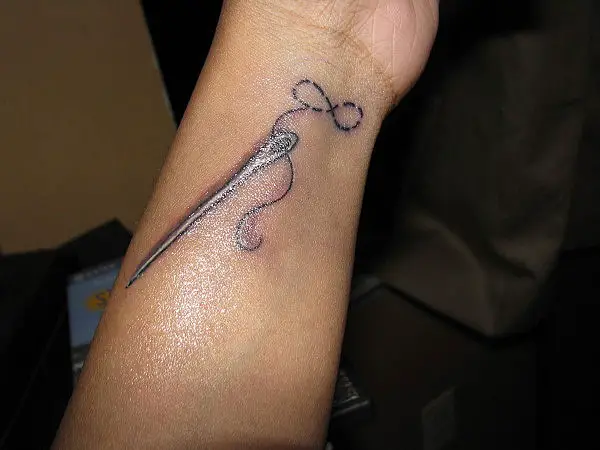 Interesting Symbol Tattoo
This symbol tattoo with a shaded single color design highlights the awesome concept of infinity, or something that goes on without an end.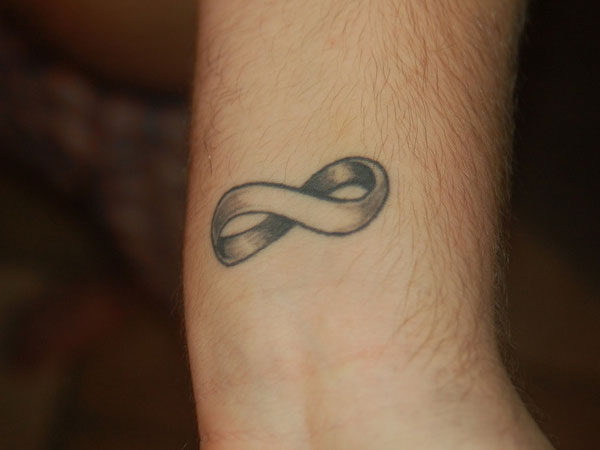 Symbol On My Neck
Done with a double line this is an infinity symbol tattoo that fits well into the compact area behind your neck.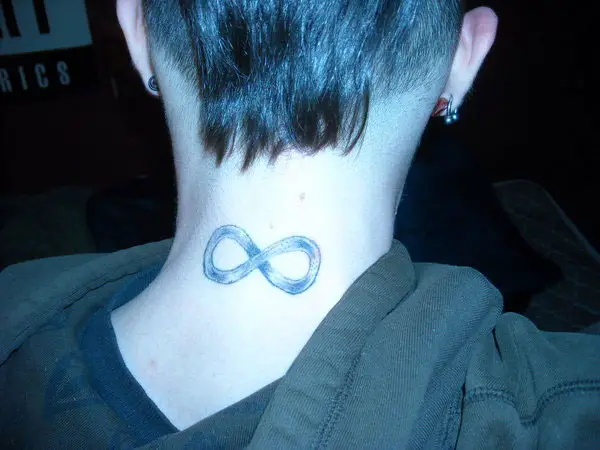 Double Infinite
What happens when an infinity symbol gets doubled? Drawn in a double loop, a vertical loop placed over the horizontal one, this tattoo showcases the amazing idea.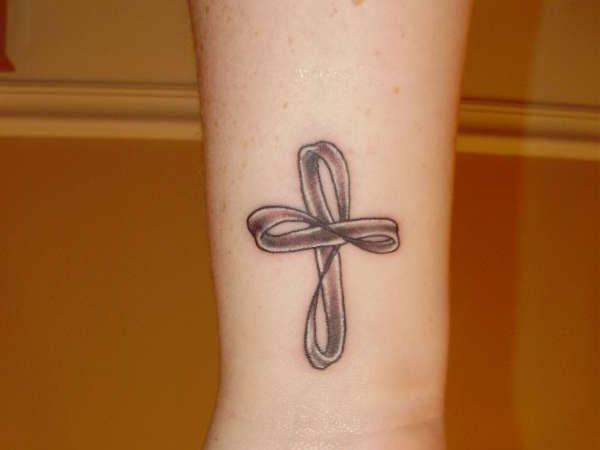 Fantastic Numbers Tattoo
Looking just like a really large '8' this number symbol tattoo combines in itself many interesting numbers in its two loops.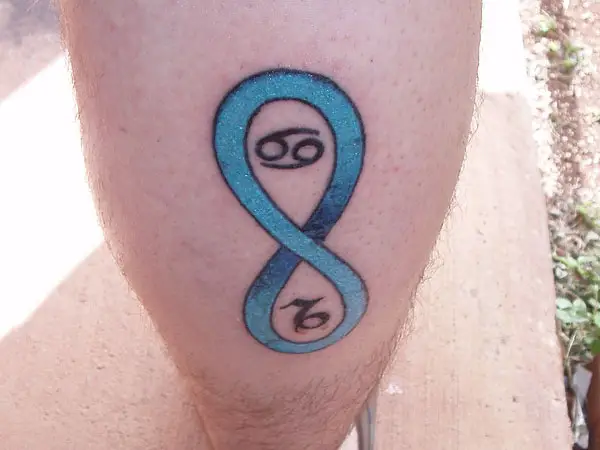 Colorful Symbol Tattoo
The mathematical symbol of the infinite in this strong tattoo design comes with an interesting variation, an orange sun design right in the middle of the twist.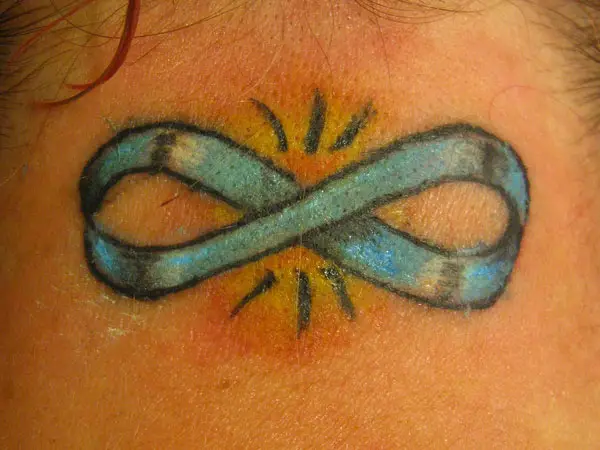 My Symbol Patterns
Gracefully looped with blue lines this mathematical symbol tattoo design comes with a pretty star pattern on either side.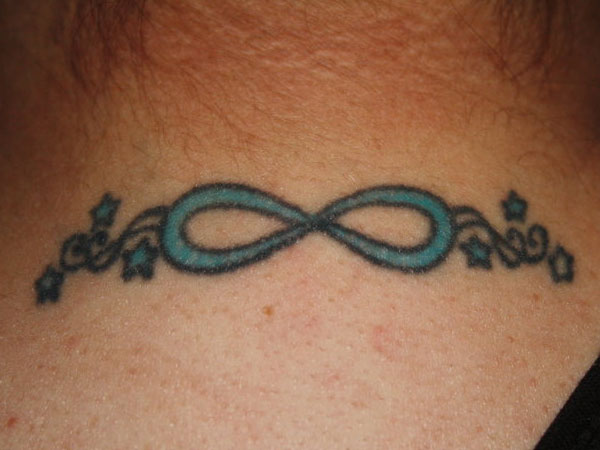 Showing My Infinity Symbol
Get as large as you can, says this amazing infinity symbol tattoo drawn with elegant narrow loops on the woman's beautiful bare back.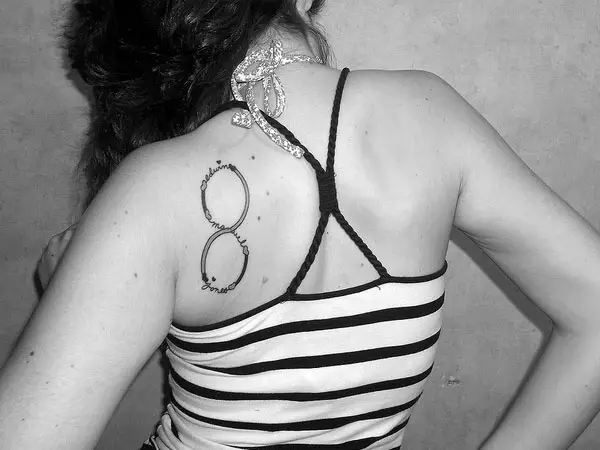 Showing My Infinity Symbol
Love Tattoo
True love passes all measures and cannot ever be bounded, says this beautiful infinity symbol tattoo with the word 'Love' slanting through the design.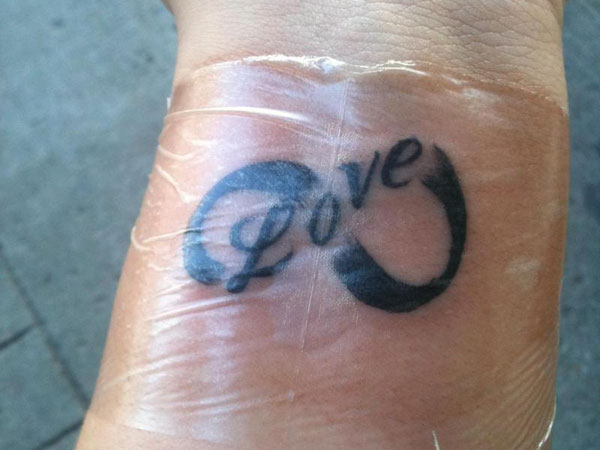 Infinity Jewel
Here you see the infinity symbol locked inside a brilliant blue seven-sided jewel tattoo design.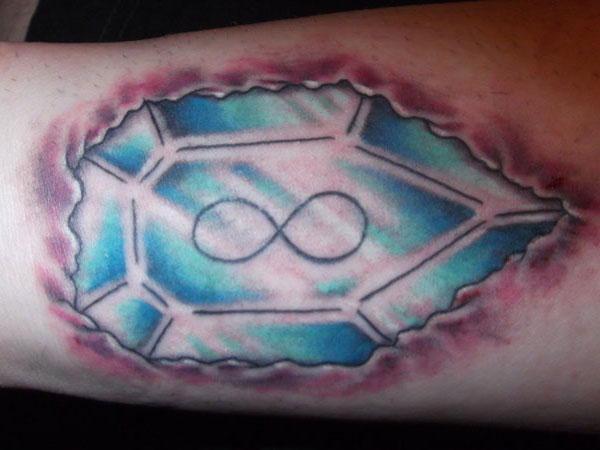 Upper Arm Tattoo
A horizontal loop that shows something without end this is a cool tattoo design for the upper arm. Check out the script design inked below the symbol tattoo.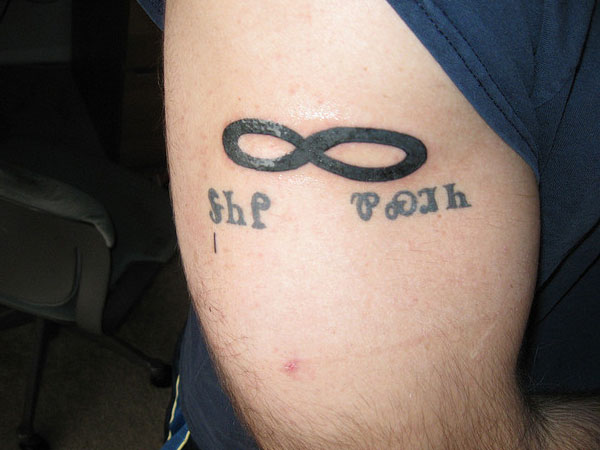 Infinite Peace
White, the color of peace marks this elegant symbol of infinity on the inner wrist. The two dots on either side of the curved loops completes the beautiful design.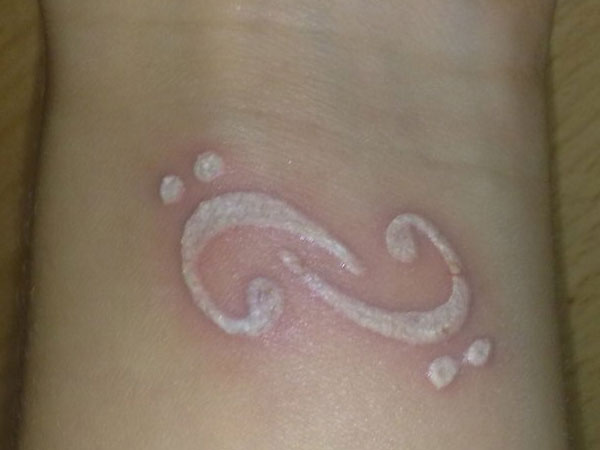 Our Infinite Bond
This superb engagement tattoo design with the infinity symbol inked on the couple's ring fingers showcases a loving bond without end.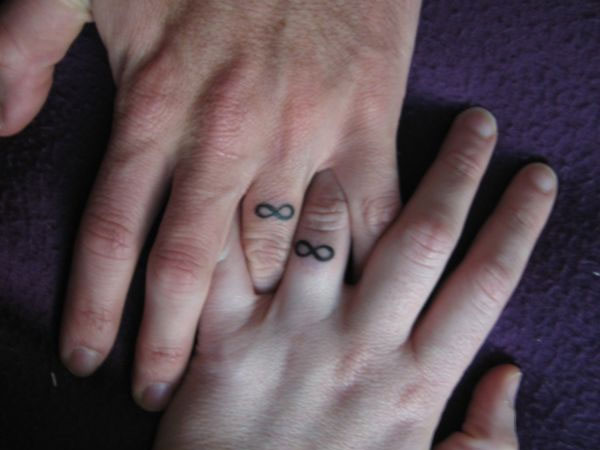 Infinite Symbol Decorations
This is a really stylish looped tattoo that plays with the idea of infinity. Check out the red beads necklace pattern that repeats the infinity symbol.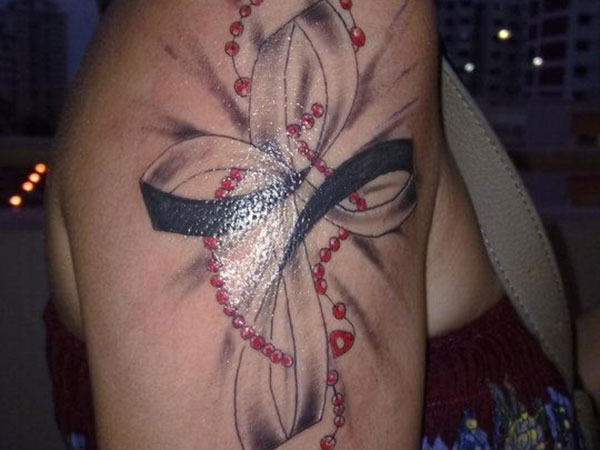 Flowers Symbolic Tattoo
Two delicate pink shaded flowers come together with a graceful vine loop pattern in this symbol of infinite love.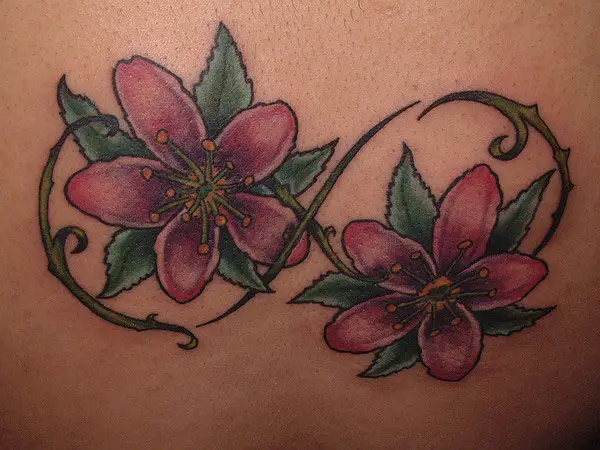 Fresh Ink
A powerful design with graceful black loops this infinity symbol tattoo sits freshly inked on the man's chest area.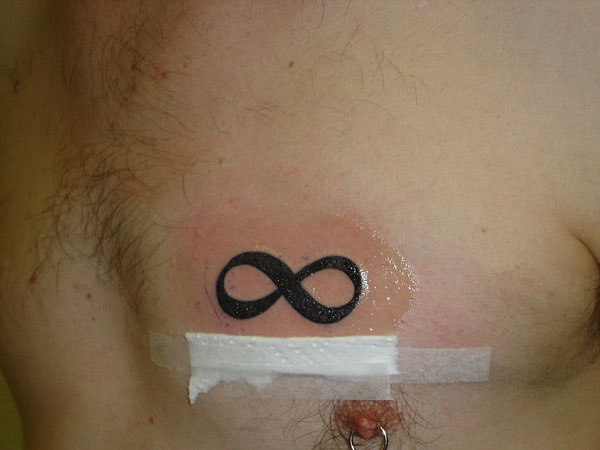 Tattoo Design
Combining a red sun, the word 'Fate', and a flower with a leaf this is an interesting tattoo design idea.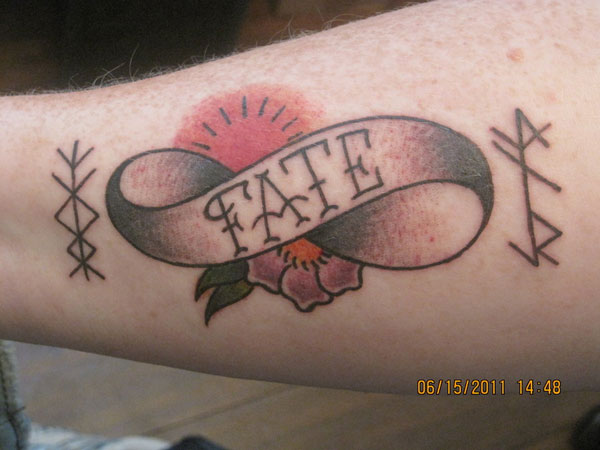 Elegant Tattoo
The slightly squarish form of the loop corners of this infinity symbol tattoo makes it a very strong and bold design.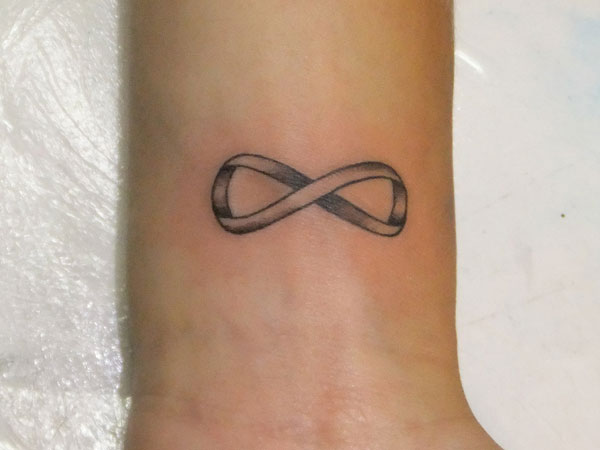 Infinity Loops
Endless patterns repeat in this amazing tattoo that shows two infinite symbols interlocked side by side in a loop.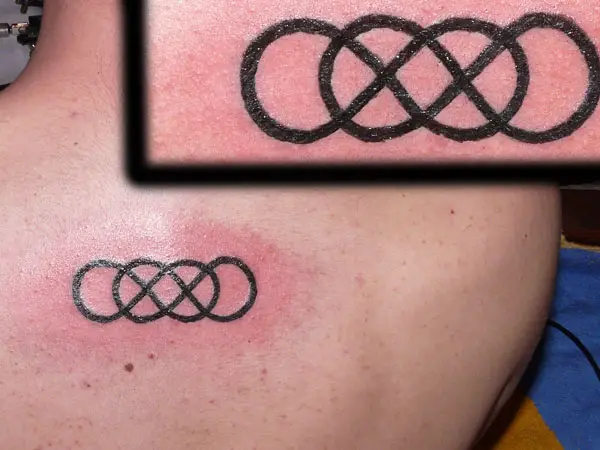 Wrist Symbol Tattoo
The powerful 'A' shape and a four point star combines with the infinity symbol in this stunning blue and black shaded tattoo design.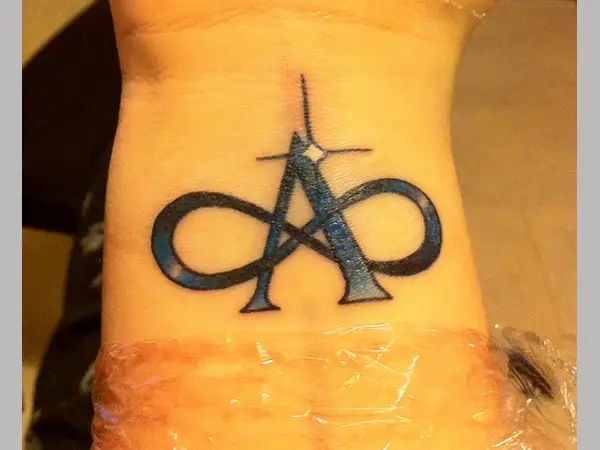 Symbol Leg Tattoo
Take a loop at this looped tattoo showing the idea of infinity on the lower leg. A cool design to showcase as you play your favorite sport!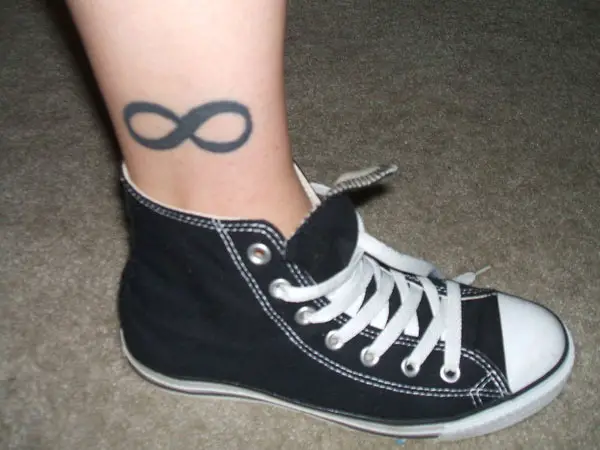 Wow Woman's Tattoo
The narrow lines of this looped infinity symbol along with a pretty star inside each loop makes this a beautiful inked design for the back of a woman's neck.